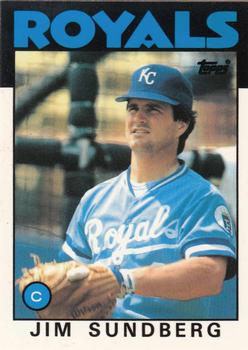 October 16, 1985: Royals complete comeback against Blue Jays to win AL pennant
---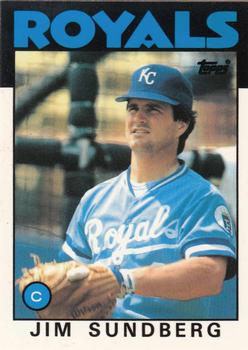 When Game Seven of the American League Championship Series began, the temperature at Exhibition Stadium in Toronto was 44 degrees and rapidly dropping as a brisk wind blew across the outfield from left to right. The fading Blue Jays, in the postseason for the first time ever, handed the ball to ace Dave Stieb, the American League ERA leader, pitching on three days' rest for the second time in the series. The postseason-experienced Royals handed the ball to their ace, Bret Saberhagen, the AL Cy Young Award winner, pitching on normal rest. Toronto had built a three-games-to-one series lead but Kansas City then won the next two, necessitating this winner-take-all Game Seven.
In the top of the second inning, Pat Sheridan, batting .063 in the ALCS, bunted for a single and went to second on a groundout. Catcher Jim Sundberg (batting .100) drove him home with two outs on a soft, opposite-field single to right-center, giving the Royals a 1-0 lead. It was a sign of things to come from the light-hitting pair.
Two innings later Sheridan lined the ball to right field. Buttressed by the wind, it kept carrying and sailed over the Royals' logo at the fence for a home run. Kansas City was now up 2-0, but abruptly right-hander Saberhagen's night was finished. His pitching hand had absorbed a hard comebacker by Willie Upshaw in the first inning. He pitched the second and third, but Kansas City manager Dick Howser brought in left-hander Charlie Leibrandt to start the fourth. The Blue Jays halved the Royals' lead in the fifth, on a single by Damaso Garcia, a groundout, and a double by Upshaw, but Leibrandt struck out pinch-hitter Cliff Johnson to end the inning.
Entering the top of the sixth, Stieb had thrown just 65 pitches, but he was approaching 280 innings overall and pitching on short rest in two straight starts for the first time all season. Reliever Jim Acker began warming up.
With one out, Stieb pitched around George Brett, walking the Kansas City third baseman on four pitches. In this series Brett led in runs, home runs, runs batted in, walks, on-base percentage, and slugging percentage, and would be named ALCS MVP hours later.
Stieb hit the next batter, Hal McRae, bringing Toronto manager Bobby Cox out of the dugout to check on his starter. Stieb stayed in the game as a surprised murmur rippled through the crowd. Sheridan was next and he slapped a bouncer into the hole between second and third. Shortstop Tony Fernandez backhanded the ball and threw to Garth Iorg at third to force out a sliding Brett.
Needing just one out to end the frame, Stieb continued to struggle with his control and walked Steve Balboni to load the bases. Stieb stepped in front of the mound, looked into the dugout and began flipping the ball up and down into his glove. Catcher Ernie Whitt got the message and slowly approached the mound, glancing into the dugout, too. Stieb began tapping the ball back and forth between his glove and right hand and looked into the dugout again, painstakingly trying to telegraph to Cox that he had nothing left in the tank.
Cox rose from the bench and conferred quickly with pitching coach Al Widmar. Acker was ready, as was relief ace Tom Henke, but Cox stayed in the dugout. It would be Stieb's inning to finish.
Sundberg stepped in. Earlier, his RBI single had opened the scoring. After the game he said, "I just knew I was going to do something good. I could feel it, especially after I got that hit in the second inning to drive in Pat [Sheridan] with the first run. That really got me loose."1Stieb started with a curve, low for ball one. His next pitch was a fastball over the plate. Sundberg swung and recalled that he "hit it real well, I didn't feel the ball hit the bat, which means you've hit it good."2
It looked like a catchable fly ball to the opposite field, but with the wind gusting out to right, it kept drifting deeper. In an image that would haunt Toronto sports fans for years, right fielder Jesse Barfield leaped in vain at the wall as the ball hit the top of the chain-link fence and slowly descended onto the right-center field warning track. Sundberg's wind-blown triple suddenly gave Kansas City a 5-1 lead.
In 1989, as the Blue Jays prepared to move from Exhibition Stadium to the SkyDome, their new home ballpark, Stieb blasted the Ex: "What a brutal stadium it is for a pitcher. [The] fly ball that Jim Sundberg hit pretty much ruined the year for me and the team in '85. In another ballpark, it's a routine fly caught by the right fielder. … Matter of fact, if they reduce this place to a pile of bricks, I'd be willing to come around and help."3(Exhibition Stadium was demolished in 1999).
Whitt echoed Stieb's sentiments: "Stieb made a good pitch and Sunny just hit it. To me it was a routine fly ball at best … [but] I looked up and saw Jesse drifting back and back and thought 'Wait a minute, what is going on here?' Then it hit the fence and there was just disbelief, really."4
Cox trudged to the mound as the shocked home fans erupted in boos. Manager and pitcher walked off the field together, dejectedly. After the game, Royals center fielder Willie Wilson complimented Stieb on his determination. "He didn't have that many days' rest. He didn't have what he's used to having but he tried to keep his club in this."5
Cox also defended his ace. "Stieb made the pitch on Sundberg. I thought it was a popup. It so happens it got up in the wind. I'm disappointed, frustrated. I thought we'd win it. I'm just sorry we lost on a popup."6
Frank White greeted Acker, now on in relief, with a bloop RBI single to make it 6-1 for the visitors. Sundberg crossed the plate and entered the dugout to effusive congratulations from his teammates. "I've never been a great hitter like George Brett, but I take pride in my hitting," Sundberg said during the postgame celebration.7 Kansas City batting coach Lee May tipped his cap to Sundberg and Sheridan. "Everybody focuses on George Brett, but the bottom part of our batting order really came through with some big hits," May said. "Our pitchers kept us in the game until somebody got a key hit."8
The comeback series victory was especially sweet for White and McRae, both Royals since 1973. "This is by far the best," White started, reflecting on his seven postseasons. "We were down so far and counted out so we went out and played loose and came up big."9Said McRae, "This is the sweetest win for me. Everybody thought we were out, but we came back. We just didn't quit."10
The Blue Jays' cold bats, 1-for-9 with runners in scoring position and seven runners left on base in the first five innings, turned to ice after Sundberg's game-breaking triple. From the bottom of the sixth to the beginning of the ninth inning, Toronto batters went 0-for-10 with one walk. The season ended with a whimper for Toronto. Despite a single, double, and RBI groundout in the ninth, Royals closer Dan Quisenberry finished the game and earned Kansas City its second AL pennant in six seasons.
The Blue Jays denied that pressure got to them in the last three games. "Nobody ever chokes. Not professionals. It's just a matter of the way things go sometimes," first baseman Willie Upshaw lamented.11
"It has nothing to do with pressure, nothing to do with choking. They beat us, they executed when they had to and their pitching was phenomenal, especially the last four games," agreed third baseman Rance Mulliniks.12
Brett disagreed, noting that pressure affected both teams. "When we lost that third game we came back relaxed and even though we lost, I said the pressure was on Toronto. I don't know why I said it, but I think I was right, the pressure was on them … I don't feel they gave away any games. We just played better than they did. In fact, in the second game, we choked. Then we came back."13
Manager Howser credited his hurlers as the key factor, saying, "Our pitching was a much more important factor than experience or lack of experience. … Seems to me that what happened was our pitching shut them down pretty consistently so that we could hang in and hang in until we got the runs we needed."14
The Royals became just the fifth team to win a postseason series after facing a three-games-to-one deficit. Kansas City played St. Louis in the first all-Missouri World Series in 41 years. (The Cardinals and St. Louis Browns faced each other in 1944.) Though the Royals were playing in their seventh postseason in 10 years, they had never won the World Series.
Would 1985 finally be the year that the Royals' crown-topped logo signified they were the kings of major league baseball?
Sources
Besides the sources listed in the Notes, the author consulted the following:
baseball-reference.com/boxes/TOR/TOR198510160.shtml
retrosheet.org/boxesetc/1985/B10160TOR1985.htm
"American League Championship Series Game Seven: Kansas City Royals at Toronto Blue Jays," NBC Television (Buffalo, New York, WGRZ, October 16, 1985).
Notes
Additional Stats
Kansas City Royals 6
Toronto Blue Jays 2
Game 7, ALCS
---
Exhibition Stadium
Toronto, ON
Box Score + PBP:
Corrections? Additions?
If you can help us improve this game story, contact us.
Tags
http://sabr.org/sites/default/files/SundbergJim.jpg
600
800
admin
/wp-content/uploads/2020/02/sabr_logo.png
admin
2016-09-16 12:46:08
2020-09-27 23:08:30
October 16, 1985: Royals complete comeback against Blue Jays to win AL pennant