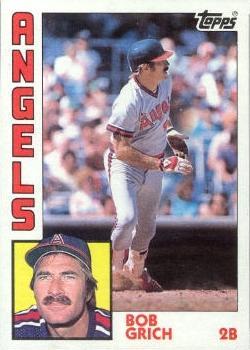 October 11, 1986: Angels move one win closer to World Series
---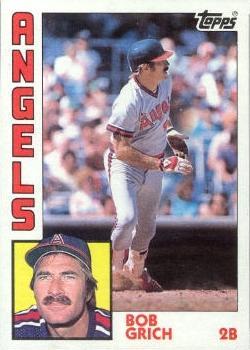 The Angels rallied for three runs in the bottom of the ninth inning against Roger Clemens and Calvin Schiraldi, and won the game, 4-3, in the 11th when Bobby Grich's one-out single scored Jerry Narron. California took a three-games-to-one lead in the best-of-seven ALCS, and put themselves one victory away from the franchise's first trip to the World Series.
For the Angels, it was yet another comeback in a season full of them. California led the American League with seven ninth-inning rallies in 1986, and became the first team to win an ALCS game in which it entered the ninth inning trailing by more than one run.
Before all that excitement, though, the game began as a pitchers' duel between Clemens and Don Sutton, California's 41-year-old starter. Clemens, who threw 143 pitches in Game One, was pitching on three days of rest for the first time. During the regular season, Clemens won 14 times after a Red Sox loss and his teammates needed him to come back strong after Boston lost Game Three. And although Clemens was somewhat erratic, giving up three hits and three walks in the first five innings, he kept the Angels off the scoreboard. Indeed, no Angels runner reached third base until the momentous ninth inning.
The Angels played without rookie first baseman Wally Joyner, who was hospitalized with a bacterial infection in his lower right leg. George Hendrick, usually an outfielder, took over at first.
The veteran Sutton, who overcame a rough start to the regular season and posted a 2.83 ERA after June 1, was superb through the first five innings, allowing only one baserunner: Wade Boggs's leadoff double in the fourth. In that frame, Marty Barrett bunted Boggs to third, but Sutton calmly worked out of the jam, getting Bill Buckner on a fly to short right and Jim Rice on a liner to shortstop.
California had its best scoring chance against Clemens in the bottom of the fourth. Brian Downing worked a nine-pitch walk to open the inning. Reggie Jackson flied to deep center. Doug DeCinces hit a grounder into the shortstop hole. Spike Owen ranged to his right and threw across his body to second base for the force, but his throw was low and got past Marty Barrett; it was Owen's third error of the series. The Angels had runners at first and second with one out. Hendrick hit a chopper up the middle and Owen was able to grab it, step on the bag and throw to first for an inning-ending double play.
Boston finally broke through against Sutton in the sixth. Tony Armas (1-for-12 in the series) lined a single to center and was bunted to second by Owen. Armas took third on Boggs's grounder to the right side and, after Barrett walked, he scored when Buckner ripped a double down the right-field line. Only a quick throw to the infield from right fielder Ruppert Jones held Barrett at third. Rice made the third out, but the Red Sox had a 1-0 lead.
Boston wasted a leadoff double from Don Baylor in the seventh, but struck for two runs in the eighth. It was an inning full of problems for the Angels, as it included two errors, a wild pitch, and a passed ball. Owen began with a groundball single off Vern Ruhle. Boggs hit a grounder to second. Bobby Grich wanted to go to second and start a possible double play, but he bobbled the ball and had to take the sure out at first. Ruhle's wild pitch moved Barrett to third and he scored when Marty Barrett sliced a single to right-center, giving Boston a 2-0 lead. Chuck Finley relieved Ruhle. With Buckner batting, Boone's passed ball put Barrett at second. Buckner hit a hard shot to Grich, but the ball bounced off his glove into short right field. By the time Grich tracked it down, Barrett had scored. Doug Corbett was the next California pitcher. Jim Rice reached base when his groundball went through DeCinces' legs for an error. Don Baylor struck out and, after a walk to Dwight Evans that loaded the bases, Rich Gedman grounded into a fielder's choice.
The eight-batter Red Sox rally was time-consuming and Clemens may have been a bit rusty from sitting during the top half of the eighth. Jones smoked his first pitch of the inning into the right-field corner for a double and Bobby Grich battled for eight pitches before hitting a hard fly to center. Clemens struck out Brian Downing on a high full-count fastball and got Reggie Jackson on a grounder to second.
Boston manager John McNamara let Clemens, at 123 pitches, start the bottom of the ninth. During the regular season, the Red Sox were 83-1 in games in which they entered the ninth inning with a lead. Doug DeCinces blasted Clemens's 1-0 pitch over the fence in left center, giving the Angels their first run. Clemens got a groundout from George Hendrick, but gave up line-drive singles to Dick Schofield and Bob Boone. And finally, after 134 pitches, Clemens was lifted in favor of Calvin Schiraldi.
Gary Pettis looked at a ball, then drove the ball to deep left. Jim Rice took a couple of steps in, then tried to get back. He couldn't. The ball sailed over his head and one-hopped the wall. Schofield scored and Devon White (who was pinch-running for Boone) went to third. McNamara: "He just lost it. He said he lost the ball."1
After Jones was intentionally walked, loading the bases, Schiraldi fanned Grich for the second out. Brian Downing took massive swings at Schiraldi's first two pitches, fouling one off, and falling behind 0-and-2. Schiraldi was one pitch away from nailing down a nailbiting 3-2 win, and tying the series at two games apiece, but his 1-and-2 offering slipped and hit Downing in the left thigh, forcing in the tying run. Schiraldi recovered to retire Jackson, but the game headed into extra innings.
"I had the situation in my hand," Schiraldi said. "And I bleeped it up. It was the first time that I didn't do my job in that situation. I wanted the game, I wanted that situation, and I blew it."2
Grich said afterward that Boone's single, Clemens's last batter, gave the team "a shot in the arm. That's when we really thought we could do it. Then there was Pettis's ball — Rice screwed it up in the lights or something — and we were on our way from that point on. The guys on the bench were just screaming and yelling."3
Angels reliever Doug Corbett had recorded the last two outs in the eighth inning — and he retired the Red Sox in order in the ninth, 10th, and 11th innings, allowing only two balls out of the infield.
Schiraldi breezed through the 10th on nine pitches, but surrendered a hard single to right field to backup catcher Jerry Narron in the bottom of the 11th. "I was looking for the fastball," Narron said, "something I could drive. I hooked it a bit, but it stayed fair."4
Pettis bunted Narron to second and Ruppert Jones was intentionally walked (his fourth walk of the night). Grich, who had seen 15 pitches in his last two plate appearances, wasted no time in this at-bat. He lined Schiraldi's first offering into left field. Rice grabbed the ball near the foul line and threw it in, but he had no chance to get Narron, who easily scored the winning run.
Thirty minutes after the game ended, Schiraldi was still in his uniform. "I screwed up. No question about it." He said the pitch to Pettis was "down and away, pretty much what I wanted to do with it," while the ball that plunked Downing and tied the game was the "worst pitch I ever made in my life."5
For Boston, lefty Bruce Hurst would pitch Game Five on three days of rest against Game One winner Mike Witt, as the Red Sox tried to keep their season alive.
This article appeared in "The 1986 Boston Red Sox: There Was More Than Game Six" (SABR, 2016), edited by Leslie Heaphy and Bill Nowlin. Read more game stories from the book at the SABR Games Project by clicking here.
Sources
https://www.baseball-reference.com/boxes/CAL/CAL198610110.shtml
http://www.retrosheet.org/boxesetc/1986/B10110CAL1986.htm
Notes
1 Leigh Montville. "Rice Lost the Ball and the Ballgame," Boston Globe, October 12, 1986: 29.
2 John Powers. "Sox on Top, Then Flop, 4-3; It Was a Disastrous Close for the Closer," Boston Globe, October 12, 1986: 29.
3 Ian Thomsen. "A Down-And-Up Ride for Grich," Boston Globe, October 12, 1986: 36.
4 Lesley Visser. "Corbett, Narron Surprised Heroes," Boston Globe, October 12, 1986: 36.
5 John Powers.
Additional Stats
California Angels 4
Boston Red Sox 3
11 Innings
Game 4, ALCS
---
Anaheim Stadium
Anaheim, CA
Box Score + PBP:
Corrections? Additions?
If you can help us improve this game story, contact us.
Tags
https://sabr.org/sites/default/files/images/GrichBobby.jpg
600
800
admin
/wp-content/uploads/2020/02/sabr_logo.png
admin
2018-02-22 12:05:41
2020-04-17 13:34:03
October 11, 1986: Angels move one win closer to World Series