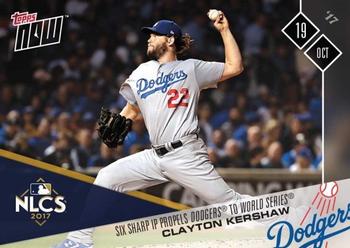 October 19, 2017: Dodgers ace Kershaw shuts down Cubs to clinch NL pennant; Hernandez wallops 3 homers
---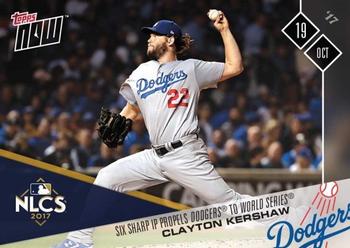 A year after rallying to beat Cleveland for their first World Series title since 1908, the 2017 Chicago Cubs used a second-half push to win their second straight National League Central title. They advanced to the National League Championship Series for the third consecutive season and second straight time against the West Division champion Los Angeles Dodgers. The Cubs became just the second team in the last 15 seasons to capture a division title the year after winning the World Series (the other was the 2009 Phillies). However, they would not move on, as this year's Cubs fell to the Dodgers in five games.
A frenzied sellout crowd of 42,735 packed Wrigley Field to root on their Cubbies. After three innings, none of the home team's fans were making any noise. Enrique Hernandez's hat trick of home runs in Game 5 gave Los Angeles seven runs of support, quieted the crowd, and put an exclamation point on the series.
Los Angeles handily won the first three games of the NLCS. After the Game 4 loss to the Cubs, Dave Roberts, LA's manager, said, "I think we're in a pretty good spot. We have our number-one pitcher going."1 That starter was seven-time All Star and three-time Cy Young Award winner Clayton Kershaw. He had not pitched at Wrigley Field since Game 6 of the 2016 NLCS, when the Cubs got to him for five runs and clinched the pennant. Despite missing five weeks of the season, Kershaw won 18 games (tops in the majors2) and posted a league-best 2.31 ERA. Interestingly, Kershaw was born in 1988, the same year the Dodgers last made the trip into the fall classic. Chicago countered with Jose Quintana, who was appearing in just his fourth postseason game and making his third postseason start. His 2017 numbers with the Cubs amounted to a record of 7-3, with an earned-run average of 3.74. (For the season, he was 11-11 with a mark of 4.15.)
Chris Taylor led off the game with a walk. After Quintana struck out Justin Turner, rookie Cody Bellinger stroked a double down the right-field line, driving in Taylor, and the Dodgers had a quick 1-0 lead. On the first pitch of the second inning, Hernandez met Quintana's fastball and sent it 399 feet over the center-field fence. This was his first postseason home run (in 17 games).
In the third inning, the first four Dodgers got hits to raise the lead to 3-0. Taylor doubled and scored on Turner's single. Bellinger and Yasiel Puig both singled to load the bases. Cubs skipper Joe Maddon strolled to the mound to replace Quintana with right-hander Hector Rondon. Rondon struck out Logan Forsythe on three pitches. Hernandez came up and swung at Rondon's first offering, blasting the 87-mph slider over the right-center wall for a grand slam. The ball landed 390 from home plate into the netting above the wall. With the Cubs now facing a seven-run deficit, Hernandez's smash "drained Wrigley Field of any energy."3
Meanwhile, Kershaw faced one above the minimum in the first three frames, only walking Kyle Schwarber in the first. John Lackey entered the game in the top of the fouirth as the third Cubs pitcher. Taylor greeted him with a single, reaching base for the third consecutive plate appearance. Turner struck out and Bellinger singled (his third hit). Lackey tossed a wild pitch, moving both runners up a base. Puig hit a grounder to third and Kris Bryant fired home to catcher Willson Contreras, who tagged Taylor out. Next up, Forsythe swung at an 0-and-1 offering, pulling the ball down the left-field line and plating both Bellinger and Puig. It was now 9-0 in favor of the visitors. After another wild pitch, on which Forsythe scampered to third, Lackey retired the hot Hernandez on a popout to short.
Schwarber worked a full count to lead off the bottom of the fourth before striking out. Bryant then jumped on Kershaw's first pitch and blasted it down the left-field line for a home run. Contreras also singled, but Kershaw retired the side without allowing any more runs. He had faced five batters in the fourth, the most he would face in any of the six innings he pitched. The Dodgers used Kenta Maeda, Brandon Morrow, and Kenley Jansen in the seventh, eighth, and ninth innings respectively, and the trio combined for five strikeouts and no walks. Morrow allowed a weak single up the middle to Ian Happ in between his three strikeouts, for the only Chicago baserunner against the trio.
With a 9-1 lead, the Dodgers had one more scoring opportunity. With Mike Montgomery on the mound, Bellinger struck out to lead off the ninth inning. Puig singled and Forsythe flied out to deep right field. Hernandez stepped into the batter's box. This time he took two pitches (both balls) before launching his third home run of the game, to left-center. The Dodgers now led 11-1, and that would be the final score. When the final out of the game was made, Los Angeles play-by-play announcer Charley Steiner described the scene: "The Dodgers win! It's been 29 years! The wait is over! The Dodgers are going back to the World Series!"4
Hernandez put himself in some rare company, becoming just the 10th batter to hit three home runs in a postseason game (and the first Dodgers player to do so5) and the very first batter to drive in seven runs in a League Championship Series game. He was at a loss for words after the game, telling reporters, "It's unbelievable. It's amazing. The third one, I don't even know what happened. I honestly don't know what happened."6
Dodgers manager Roberts praised Hernandez, saying, "For Kike to have a huge night, three homers, just providing so much energy for us and we fed off that."7 On the radio, Steiner told his listeners, "Hernandez had the offensive night of his life and one of the great postseason offensive nights of anybody as the Dodgers win it, 11 to 1."8
Kershaw also had a major part to play, never allowing the Cubs to get into a rhythm. He stifled the Cubs' offense in this final game of the year at Wrigley Field, allowing only three hits, a walk, and the solo home run by Bryant. After the game, amid the celebration, Kershaw said, "Up there with getting married and having kids, it's right up there with one of the best days of my life. Winning the World Series is really all that we play this game for. All the individual stuff is great, but at the end of the day, I just want to win a World Series."9 He added, "When you're a little kid, you want to go play in the World Series. That's all you ever dream about. I'm going to play in the World Series."10
The Cubs hit only .156 and averaged 1.6 runs per game (despite hitting seven home runs) in the 2017 NLCS against the Dodgers, while the Chicago pitching staff allowed 28 runs and issued 28 walks in the five-game series.
In making it to the postseason, the Dodgers had won 104 games in 2017, one better than the 2016 Cubs and 12 more than Chicago's 2017 squad. The Dodgers earned home-field advantage in the World Series, which for the first time was determined by overall record. Maddon tipped his cap to the NLCS champs, saying, "The better team won over the course of these five games. They kind of out-pitched us and everything else. So give them credit. I just want to say, 'Congratulations.' [We] know what it feels like coming off of last year — we were celebrating versus them in this exact same spot. So they've had themselves a spectacular year, and I want to wish them all well in the World Series."11
This article appears in "Wrigley Field: The Friendly Confines at Clark and Addison" (SABR, 2019), edited by Gregory H. Wolf.

Sources
In addition to the sources mentioned in the notes, the author consulted baseball-reference.com.
https://www.baseball-reference.com/boxes/CHN/CHN201710190.shtml
https://www.retrosheet.org/boxesetc/2017/B10190CHN2017.htm
Notes
1 Dylan Hernandez, "Game 5 Should Be a Fitting Moment for Clayton Kershaw," Los Angeles Times, October 18, 2017, found online at https://latimes.com/sports/la-sp-dodgers-hernandez-20171018-story.html. Accessed October 2017.
2 Kershaw's 18 victories led the National League and tied three pitchers in the American League: Cleveland's Corey Kluber and Carlos Carrasco and Kansas City's Jason Vargas.
3 Chris Kuc, "NLCS Game 5 Turning Point: Enrique Hernandez's Third-Inning Grand Slam," Chicago Tribune, October 19, 2017, found online at https://chicagotribune.com/sports/baseball/cubs/ct-cubs-turning-point-spt-1020-20171019-story.html. Accessed October 2017.
4 Phil Rosenthal, "End of Game 5 Sounded Different in Chicago, L.A. and Across the Country," Chicago Tribune, October 20, 2017, found online at https://chicagotribune.com/sports/baseball/cubs/ct-cubs-dodgers-broadcast-rosenthal-spt-1021-20171020-story.html. Accessed October 2017.
5 Carrie Muskat and Ken Gurnick, "Hollywood & Vines: LA Wins NLCS at Wrigley!" mlb.com, October 20, 2017, found online at https://m.mlb.com/news/article/259108988/dodgers-rout-cubs-win-nlcs-make-world-series/. Accessed October 2017.
6 Anthony Castrovince, "Trio Grand! Hernandez Has 3-HR, 7-RBI Clincher," mlb.com, October 20, 2017, found online at https://m.mlb.com/news/article/259105534/enrique-hernandez-has-monster-game-5-in-nlcs/?game_pk=526508. Accessed October 2017.
7 Kuc.
8 Rosenthal.
9 Muskat and Gurnick.
10 Andy McCullough, "Dodgers Crush Cubs in Game 5 to Advance to the World Series for First Time Since 1988," Los Angeles Times, October 19, 2017, found online at https://latimes.com/sports/la-dodgers-cubs-game-5-live-updates-dodgers-crush-cubs-in-game-5-to-advance-1508470354-htmlstory.html. Accessed October 2017.
11 Muskat and Gurnick.
Additional Stats
Los Angeles Dodgers 11
Chicago Cubs 1
Game 5, NLCS

---
Wrigley Field
Chicago, IL
Box Score + PBP:
Corrections? Additions?
If you can help us improve this game story, contact us.
Tags
https://sabr.org/sites/default/files/KershawClayton-2017.jpg
600
800
admin
/wp-content/uploads/2020/02/sabr_logo.png
admin
2020-01-09 15:41:11
2020-10-19 01:25:52
October 19, 2017: Dodgers ace Kershaw shuts down Cubs to clinch NL pennant; Hernandez wallops 3 homers