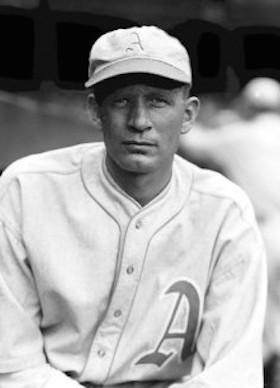 October 8, 1929: Howard Ehmke sets down Cubs in surprise start with a World Series record 13 strikeouts
---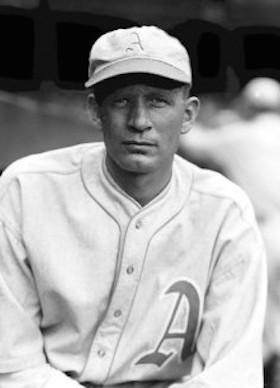 Poor Charlie Root. Here's a guy who had a very respectable 17-year career, almost all with the Chicago Cubs, in which he won 201 games, lost 160 and had a respectable 3.59 ERA. Yet for all that, he is best known for giving up Babe Ruth's "Called Shot" in the 1932 World Series, when the Bambino allegedly pointed to center field, then smacked the next pitch into the stands.
Giving up a home run that achieves the status of lore or myth — depending who you ask — is bad enough. Root was also on the wrong side for two other famous games, both of which occurred in the 1929 fall classic against Connie Mack's mighty Philadelphia A's. One of these was Game Four, Root's second start of the Series, when the Cubs blew an 8-0 lead in the eighth inning and went on to lose 10-8. He also started Game One against a middling pitcher whom Mack put on the mound on a hunch ahead of two 20-game winners. That hunch proved correct, as said pitcher set a one-game World Series strikeout record (13) that lasted until October 2, 1953, when Carl Erskine of the Brooklyn Dodgers struck out 14 New York Yankees. His name was Howard Ehmke.
Both teams were loaded with power. Root, who went 19-6 with a 3.47 ERA, faced an A's club that won 104 games and finished 18 games ahead of the second-place New York Yankees. Its lineup was second in the American League in runs (901) and home runs (122), and included future Hall of Famers Mickey Cochrane, Jimmie Foxx, and Al Simmons.
While it was understandable that Cubs manager Joe McCarthy would choose Root to open the Seriers, Mack's decision to go with Ehmke was a head-scratcher. Or was it? While he had a good 7-2 record with a 3.29 ERA, he hadn't pitched since September 13, when he went eight innings in a 5-2 win over the Chicago White Sox. Mack also had a smorgasbord of starters to choose from, including Lefty Grove (20-6, 2.81) and George Earnshaw (24-8, 3.29). The two had each pitched three innings in an 8-4 win on October 5 over the Yankees, which in an era when pitchers started one day and relieved the next, meant that both were ready. So why Ehmke? According to the great sportswriter Damon Runyon, the scenario went something like this:
"A long-legged, knock-kneed, loose-jointed supplicant shambled into the presence of old Cornelius McGillicuddy, the master mind [sic of Philadelphia's Athletics, this morning.
"'Mis't sic Connie, sir,' implored the caller, 'you lemme sic pitch today's game against these Cubs. You forget about Earnshaw, or any of our cock-eyed pitchers, and lemme pitch. "It's my last season in baseball, and I'll stand 'em on their ears. I'll do it, Mis't Connie, sir, as sure as eggs is eggs.'"1
Anybody who saw the show Guys and Dolls would be familiar with Runyon's ability to write fiction. The real story began during the A's mid-September series in Chicago. Both teams had huge leads in their respective leagues, so it was obvious they were going to meet in October. Since the Cubs happened to be at home against the Phillies, Ehmke scouted them at Wrigley Field prior to his start at Comiskey.
The 1929 Northsiders easily matched the A's in offensive firepower. They led the National League in runs scored (982), were second in home runs (139), and could boast their own trio of future Hall of Famers: Rogers Hornsby, Kiki Cuyler, and Hack Wilson.2 But of the starting eight for Game One, only Charlie Grimm was a left-handed hitter; Ehmke also noticed that they were free swingers. Armed with this information, Mack decided that starting the 35-year-old submarine-style hurler just might work.
The game remained scoreless through the first six innings, but each pitcher managed to escape early jams. In the second, singles by Foxx and Jimmy Dykes left Philadelphia with two on and one out. Root got out of that jam by inducing Joe Boley to hit into a double play.
Ehmke faced a much tougher problem in the third when Norm McMillan singled and Woody English doubled to put runners on second and third with one out and Hornsby and Wilson due up. Well, let's just say that these two sluggers have had better days, as both flailed helplessly at Ehmke's offerings before striking out.
"Hornsby was as futile as a gnat's attack on an elephant, while Wilson's efforts were as weak as boarding house coffee," wrote the legendary Grantland Rice. "Rog and Hack have scuttled many a good right-handed National League star this year, but they were duck soup for this certain individual Connie Mack sprang upon them in one of the most sensational pitching selections ever worked in a World's Series starter by a manager to upset the guessers and dopesters."3
Foxx broke the scoreless tie in the seventh with a solo home run to left-center. In the bottom of the inning, Cuyler and Riggs Stephenson both singled and advanced to third on Grimm's sacrifice. McCarthy went to his bench for a couple of pinch-hitters, but Ehmke wiggled out of this jam, too, by getting Cliff Heathcote on a popup and striking out Gabby Hartnett.
English's double was part of a 2-for-4 day at the plate, but it was his sloppiness in the ninth that sealed his team's fate. After Cochrane singled, Simmons and Foxx both reached on errors by English to load the bases with nobody out. Bing Miller cashed in two runs to give Philadelphia a 3-0 lead, and make the Cubs' chances for victory more difficult. They were not, however, going down easily.
Ehmke had 12 K's going into the ninth, which tied the record set by Ed Walsh of the White Sox in Game Three of the 1906 Series, also against the Cubs. Things got off to a rough start for him when Wilson smacked a liner that hit Ehmke in the groin, but he recovered and made the out at first. Dykes then rushed to field a bounder by Cuyler, but threw it away, which enabled Cuyler to reach second. Stephenson cashed Cuyler in to make it 3-1. Grimm gave Chicago fans hope with a single of his own that put two runners on and brought the winning run to the plate. McCarthy sent Footsie Blair up to pinch-hit for Mike Gonzalez, but Blair forced Grimm at second. Now there were two out.
It's doubtful that Chick Tolson, pinch-hitting for reliever Guy Bush, knew that Ehmke had tied the strikeout record, and he certainly didn't want to be yet another victim. To that end, he didn't panic after falling behind 1-and-2, and worked Ehmke to a full count before swinging at strike three, which put Ehmke's name in the record books and, more importantly, put the A's up 1-0 in the Series.
After the game, Ehmke wasn't shy about discussing his performance with reporters. "I don't like to say it, but it's a fact that when I'm anywhere near right I'm not afraid of any man who comes to the plate," he said. "That's not conceit — it's just confidence."4
The victory was the last of Ehmke's career, and helped Mack's charges take the world championship in five games. Lightning, however, did not strike twice. Ehmke started Game Five but was removed after allowing two runs on six hits in just 3⅔ innings. And he had no strikeouts.
This article appears in "Wrigley Field: The Friendly Confines at Clark and Addison" (SABR, 2019), edited by Gregory H. Wolf. To read more stories from this book online, click here.
Sources
In addition to the sources cited in the Notes, the author also accessed Retrosheet.org, Baseball-Reference.com, SABR.org, Mlb.com, the Chicago Tribune, and the SABR biography of Howard Ehmke by Gregory H. Wolf.
Notes
1 Damon Runyon, "I'll Stand 'em on Their Ears," Ehmke Promised — And He DID," Philadelphia Inquirer, October 9, 1929: 16.
2 A fourth Hall of Famer, catcher Gabby Hartnett, was limited to only 29 plate appearances in 1929 due to injury. He was hitless in three at-bats as a pinch-hitter during the World Series.
3 Grantland Rice, "A's Triumph 3-1; Ehmke Fans 13, Sets New Mark," Philadelphia Inquirer, October 9, 1929: 16.
4 Roscoe McGowen, "Athletics Joyful, but Remain Calm," New York Times, October 9, 1929: 25.
Additional Stats
Philadelphia Athletics 3
Chicago Cubs 1
Game 1, WS
---
Wrigley Field
Chicago, IL
Box Score + PBP:
Corrections? Additions?
If you can help us improve this game story, contact us.
Tags
https://sabr.org/sites/default/files/images/EhmkeHoward.jpg
600
800
admin
/wp-content/uploads/2020/02/sabr_logo.png
admin
2019-11-26 14:34:13
2020-04-17 13:33:55
October 8, 1929: Howard Ehmke sets down Cubs in surprise start with a World Series record 13 strikeouts