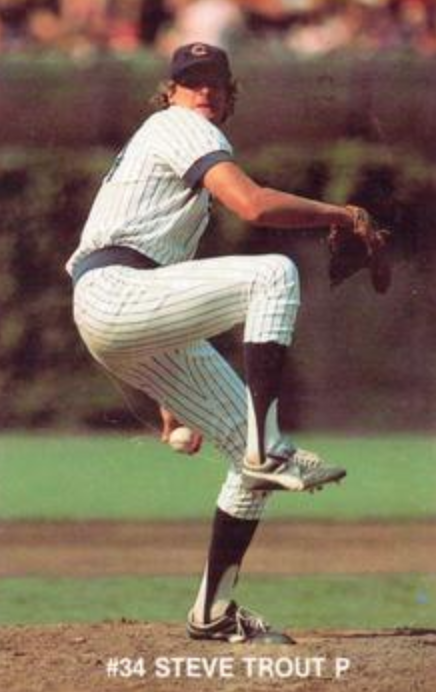 October 3, 1984: Steve Trout's solid performance puts Cubs one win away from World Series
---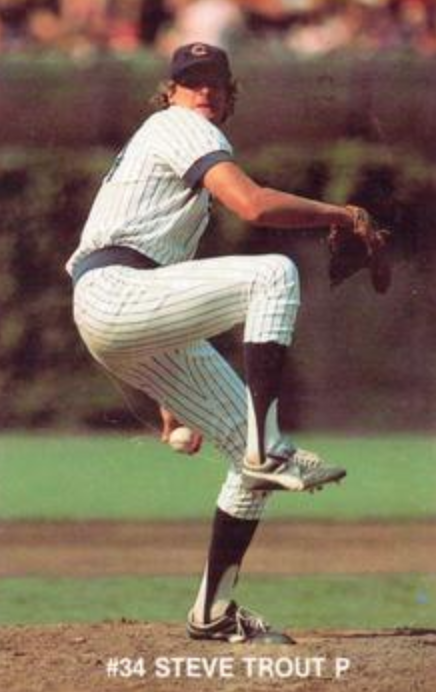 The Chicago Cubs and their fans were flying high on the first Wednesday in October 1984 as "Work came to a standstill, crime came to a halt and joy was the most abundant emotion in town."1 The Cubs crushed the San Diego Padres 13-0 in the opening game of the National League Championship Series. The Cubs had reached the postseason for the first time since 1945 by winning the NL East with a 96-65 record, finishing 6½ games ahead of the New York Mets. In Game One Rick Sutcliffe and Warren Brusstar combined on a six-hitter, receiving all needed offense from Bob Dernier's leadoff homer. Gary Matthews added a clout later in the first,2 and delivered a second blast as the Cubs exploded for six runs in the fifth inning. Sutcliffe contributed with his own solo shot in the third inning.3
Six months earlier, most prognosticators picked Chicago to finish fifth or sixth in the NL East. Baseball Digest forecast a last-place finish, citing "some power, deep bullpen, and adequate infield" but with an overall outlook of "tagging along."4 Even most Chicago Tribune writers predicted a fifth- or sixth-place ending, noting that the "spotty pitching – the Cubs were last in the league last year – will make it tough for Jim Frey's new charges to climb out of fifth place."5 But some contrarians, like Bill James, offered more hope for Cubs fans: "If anybody offers you 100-plus odds against the Cubs' winning the National League East in 1984, take it." James offered several reasons why the Cubs would fare well: inaccurately perceived differences between Chicago and other teams, managerial style change, compressed league, reigning division champion challenges, pitching upgrades, and their ability on artificial turf.6
The San Diego Padres suffered their worst defeat all season during that series opener. Shortstop Garry Templeton commented, "That's the first time this has happened to us all year and it had to happen in the playoffs."7 The 92-70 Padres were the only NL West team with a winning record, finishing 12 games ahead of both the Atlanta Braves and Houston Astros. The Padres were led by future Hall of Famer and 1984 NL batting champion Tony Gwynn, outfielder Kevin McReynolds, and 15-game-winner Eric Show. The Padres had joined the NL 15 years earlier, and the 1984 NLCS was the franchise's initial postseason appearance. That season was the first time the Padres finished higher than fourth in their division8 and the second time they attained a winning percentage higher than .500. The relatively young team included only four Padres with playoff experience: Bobby Brown, Steve Garvey, Goose Gossage, and Graig Nettles.
Cubs manager Jim Frey named Steve Trout as his starting pitcher. The left-handed sinkerball specialist set career bests for wins (13) and ERA (3.41) that season, following the previous year's inconsistent campaign. Frey was eager to improve his pitching staff's poor performance, as they finished 1983 with an NL-worst 4.08 team ERA. Trout signed a one-year contract with Chicago in late January,9 but was not guaranteed a rotation spot. As spring training started, Frey commented, "Our fourth starter will come from guys like Ferguson Jenkins, Rick Reuschel, Steve Trout, Don Schulze, Bill Johnson or Reggie Patterson."10 Green's expectations of Trout improving his performance increased after the Cubs failed to land a front-line starting pitcher through mid-February.11 Trout's season didn't start well; he allowed four earned runs in 4⅔ innings and lost an early lead in his season debut,12 but he subsequently delivered two complete-game victories and finished April with a 3-1 record and a 2.38 ERA in 34 innings. He eventually became a stalwart in Frey's rotation. Trout credited Cubs pitching coach Billy Connors for his success during the season, referring to Connor as his "avatar."13
Experienced Padres skipper Dick Williams selected Mark Thurmond against Chicago. The young left-hander was in his second year after finishing ninth in the NL Rookie of the Year voting the previous season. Thurmond led the Padres' starters with a 2.97 ERA in 178⅔ innings, tied with Ed Whitson for the second most wins on the staff (14). Like Trout, Thurmond was not guaranteed a rotation spot when spring training started.14 He struggled during the season's first half, but was 9-3 with a 2.23 ERA in the second half.
Trout quickly retired the first three Padres hitters with only six pitches, inducing two groundouts and striking out Gwynn looking. For the Cubs, leadoff hitter Dernier singled to left field, advanced to third on Ryne Sandberg's groundout, and scored on Matthews' groundout to give Chicago a first-inning lead. Keith Moreland doubled and Ron Cey walked, but Jody Davis struck out, stranding the runners. In San Diego's second inning, Carmelo Martinez singled and advanced no further. The Cubs threatened in the bottom half, leaving runners on first and second. Trout continued his effectiveness with an infield groundout and 6-4-3 double play that erased Thurmond's single in the following frame. In the Cubs' half, Matthews grounded out to shortstop and Moreland singled to right field. Cey doubled home Moreland and advanced to third on the throw home; he later scored on Davis's sacrifice fly to increase Chicago's lead to 3-0.
Gwynn started the Padres' fourth inning with a double to left field, giving San Diego its first runner in scoring position. Garvey advanced Gwynn on an infield groundout; Gwynn scored the Padres' first run in the series on McReynolds' fly to right field. The Cubs quickly responded; with one out, Trout reached first on an infield grounder and was forced at second on Dernier's groundball. With Sandberg up, Dernier stole second base, then scored on Sandberg's double. Williams wasted no time reaching into his bullpen, replacing Thurmond with Andy Hawkins, who started the year in the starting rotation but was used more often in relief during September. Hawkins walked Matthews and retired Moreland on a fly out. Both teams went down in order during the fifth inning, and the Cubs carried their three-run lead into the sixth inning. Pinch-hitter Mario Ramirez grounded out to third base, then the speedy Alan Wiggins walked. Wiggins, who finished third in NL steals with 70, had also finished first in caught stealing with 21 failed swipes. He moved to second base on Gwynn's tough groundout to first; although Wiggins advanced, Trout credited first baseman Leon Durham's defensive play from causing further damage, "Leon's play at first base was by far the biggest play of the game," Trout commented after the game.15 Wiggins scored on Garvey's single to left field, cutting the Cubs' lead to 4-2. Trout induced McReynolds to hit into a fielder's choice, halting the rally. In the Cubs' sixth inning, Dave Dravecky replaced Hawkins and retired the Cubs in order.
Through seven innings Trout allowed two runs on four hits and one walk. In the Padres' eighth, Templeton led off with a walk, but was erased when pinch-hitter Kurt Bevacqua hit into a double play. Wiggins utilized his speed to reach second on an infield single and Trout's throwing error. But Gwynn flied out to left field to end the inning. In the Cubs' eighth, Craig Lefferts replaced Dravecky on the mound and kept Chicago bats quiet on two fly outs and a groundout.
In the ninth, Trout got Garvey to lead off with an infield groundout, but walked McReynolds, and Frey summoned his closer, Lee Smith. In 8⅓ innings, Trout had allowed five hits and more importantly, only three walks.16 Smith saved 33 games during the regular season, finishing 12 saves behind leader Bruce Sutter of the St. Louis Cardinals. Smith quickly ended matters, striking out Martinez on four pitches, and retiring Kennedy to end the game on a fly ball to left field.
Chicago was flying high after taking the first two games,17 but the joy was short-lived. San Diego responded with a 7-1 victory at Jack Murphy Stadium the following evening, tied the series with a 7-5 win in Game Four, then advanced to its first World Series by winning the deciding game, 6-3. The Cubs jumped out to a 3-0 lead after two innings in Game Five, but the Padres finally solved Sutcliffe and Chicago's bullpen by scoring two sixth-inning and four seventh-inning runs to secure the lead they wouldn't relinquish.18
This article appears in "Wrigley Field: The Friendly Confines at Clark and Addison" (SABR, 2019), edited by Gregory H. Wolf. To read more stories from this book online, click here.
Sources
Besides the sources cited in the Notes, the author consulted Baseball-Almanac.com, Baseball-Reference.com, Retrosheet.org, and the following:
Carr, James. 2015 Chicago Cubs Media Guide (Chicago: Chicago Cubs Media Relations Department, 2015).
James, Bill. The New Bill James Historical Abstract (New York: The Free Press, 2001).
Thorn, John, and Pete Palmer, et al. Total Baseball: The Official Encyclopedia of Major League Baseball (New York: Viking Press, 2004).
https://www.baseball-reference.com/boxes/CHN/CHN198410030.shtml
https://www.retrosheet.org/boxesetc/1984/B10030CHN1984.htm
Notes
1 "There's 13-0 Joy in Cubville, " Chicago Tribune, October 3, 1984: 1.
2 Bernie Lincicome, "This Is Sarge's Time of the Year," Chicago Tribune, October 3, 1984: 48.
3 Fred Mitchell, "Cubs Blow Them Away," Chicago Tribune, October 3, 1984: 48.
4 George Vass, How Major League Pennant Races Shape Up for 1984," Baseball Digest, April 1984: 31.
5 Fred Mitchell, "Expos Have the Talent," Chicago Tribune, April 1, 1984: 529.
6 Bill James, "Cubs Appear Ripe for 'Miracle' Season, Chicago Tribune, April 1, 1984: 47.
7 Dave Distel, "Call This a Daymare at Wrigley," Los Angeles Times, October 3, 1984: 57.
8 Phil Collier, "Padres Calm for Clincher," The Sporting News, October 1, 1984: 22.
9 Fred Mitchell, "Sandberg, 5 More Cubs in Fold," Chicago Tribune, February 1, 1984: 38.
10 Fred Mitchell, "Cubs Serve Up Mound of Worries," Chicago Tribune, February 19, 1984: 30.
11 Fred Mitchell, "Green: Cubs Don't Gotta Make a Trade," Chicago Tribune, February 28, 1984: 37.
12 Fred Mitchell, "Cubs Fall Short Against San Diego," Chicago Tribune, April 8, 1984: 32.
13 Joe Goddard, "Trout Gets Fun From Winning," The Sporting News, October 15, 1984: 15.
14 Steven Dolan, "Is Williams Dreaming the Impossible?" Los Angeles Times, February 27, 1984: 164.
15 Fred Mitchell, "Cub Speed Kills Padres," Chicago Tribune, October 4, 1984: 72.
16 Bernie Lincicome, "Trout's in Right Zone," Chicago Tribune, October 4, 1984: 72.
17 Chicago Tribune, "Cubs' Victory Keeps Party Going," Chicago Tribune, October 4, 1984: 1.
18 Dave Nightingale, "The Cubs Find a Way to Lose It," The Sporting News, October 15, 1984: 2.
Additional Stats
Chicago Cubs 4
San Diego Padres 2
Game 2, NLCS
---
Wrigley Field
Chicago, IL
Box Score + PBP:
Corrections? Additions?
If you can help us improve this game story, contact us.
Tags
https://sabr.org/sites/default/files/TroutSteve.jpg
600
800
admin
/wp-content/uploads/2020/02/sabr_logo.png
admin
2019-12-16 15:07:23
2020-04-17 13:33:55
October 3, 1984: Steve Trout's solid performance puts Cubs one win away from World Series