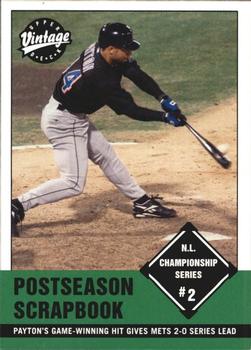 October 12, 2000: Ninth-inning rally leads Mets to win in NLCS Game 2
---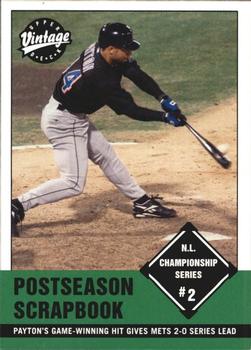 After losing the first game of the NLCS, the St. Louis Cardinals hoped to bounce back and win the second game in front of their hometown crowd. Cardinals manager Tony La Russa chose rookie Rick Ankiel to start. Ankiel finished the season with an 11-7 record and 3.50 ERA, and later in the offseason was second in the voting for the Rookie of the Year Award.
Ankiel had had an ineffective outing in the Division Series against Atlanta, throwing five wild pitches and allowing four runs in the third inning of Game One. "For me, I'm trying to forget about that day as much as I can," he said before the game. "I think it just makes me want to go out there that much more, and try to do better that much more."1
It was not to be. After Ankiel struck out leadoff batter Timo Perez, he walked Edgardo Alfonzo. Then he threw two wild pitches in the process of walking Mike Piazza, and Alfonzo ended up on third. Todd Zeile hit a fly ball to center field to score Alfonzo. Ankiel walked Robin Ventura and gave up a double to left field by Benny Agbayani that scored Piazza and gave the Mets a 2-0 lead. La Russa sent Ankiel to the showers and brought in Britt Reames, who got the final out when he struck out Jay Payton.
Al Leiter took the mound for the Mets. He had pitched eight solid innings against San Francisco in Game Two of the NL Division Series but didn't earn the win.2 In this game the Cardinals' Edgar Renteria singled with one out in the first and stole second, but Leiter struck out Jim Edmonds and got Fernando Tatis to pop out to second.
The Cardinals began to nibble away at the Mets lead in the second when Leiter gave up a double to Shawon Dunston and Ray Lankford singled. Eli Marrero got a hit on a grounder in the hole at second, and Dunston scored, making it 2-1.
Piazza hit his second home run of the series in the top of the third to give the Mets a 3-1 lead. Leiter shut down the Cardinals until the fifth inning, when Fernando Vina got a bunt single. Renteria battled Leiter to a full count before grounding a double to left field. The speedy Vina scored and the Mets lead was cut to one. It was Renteria's third hit of the game and when he stole third two pitches later, it was his third steal of the game. After Leiter got Edmonds to fly out to short right field, Tatis doubled down the left-field line to score Renteria, tying the score, 3-3.
The Cardinals' Matt Morris took over pitching duties from Reames in the sixth. He kept the Mets from scoring until the eighth, when Perez hit a two-out single and Alfonzo brought him home with a pop single to short left field. Morris intentionally walked Piazza to set up a double play. Dave Veres relieved Morris and gave up a single to Zeile. Alfonzo scored on the hit to left field, but Piazza was tagged out at third when he tried to take two bases. It was Zeile's second RBI of the game. He later said his hit was part of a team effort: "We're not relying on one particular guy, so you've got everyone pulling for everyone else."3
The Mets had little time to enjoy their newly regained lead. John Franco took over from Leiter in the eighth. After retiring the first batter, he walked Carlos Hernandez. Will Clark hit the next pitch for a single down the left-field line and Hernandez reached third. Franco threw a wild pitch on his first offering to Dunston and Hernandez scored. Franco had thrown just two wild pitches during the season. Dunston grounded out, and La Russa sent up right-handed batter Placido Polanco to pinch-hit for Ray Lankford, but when Mets manager Bobby Valentine brought in right-hander Turk Wendell from the bullpen, La Russa recalled Polanco and instead sent up the left-handed J.D. Drew. Drew doubled to center and the game was tied again. "I was yelling at J.D. to stop at first," La Russa later said.4
Mark McGwire, who had seen limited action in the series because of a knee injury, pinch-hit for pitcher Veres. The Busch Stadium crowd roared as he walked to the plate. The Mets did not take a chance that he might hit one over the fence: Valentine told Wendell to walk him intentionally. Wendell said later that he wasn't excited about the decision. He wanted to face McGwire. "It would have been awesome. I'd have loved that. That's what it's all about. That's what you dream about as a kid."5 Dreams aside, Wendell ended the inning with a strikeout of Craig Paquette.
With his closer out of the game, La Russa sent Mike Timlin to the mound in the top of the ninth. Ventura reached first when first sacker Clark let a groundball bounce off his foot. Agbayani's bunt down the first-base line moved Ventura to second. Valentine sent Joe McEwing to run for Ventura as the rookie Payton stepped to the plate. Payton fouled off three pitches before hitting a single to center field. McEwing scored and the speedy Payton ended up on third when Edmonds couldn't handle the ball. Although the Mets couldn't bring Payton home, his single gave them the lead.
Payton had struck out twice earlier in the game but his clutch hit put the Mets ahead. I always stay positive," he said after the game. "Even after I didn't get the job done in early opportunities, I was positive."6
"There's no one on the team, maybe no one in the league, who has as much confidence in himself as Payton in praise of his rookie center fielder. "He didn't have any hits going into that at-bat, but I know he believed deep down in his heart, right down to his toes, that he was the best man in that situation."7
With their second win in reach, Mets closer Armando Benitez took the mound in the bottom of the ninth. Benitez got Vina and Renteria to fly out to Payton in center field. Then he walked Edmonds to bring the Cardinals fans to their feet in hopes of one final rally. Benitez dashed those hopes as he struck out Carlos Hernandez on four pitches. Benitez's first save of the postseason gave the Mets a 6-5 win and a sweep of the two games in St. Louis.
For Cardinals fans, it was a very long evening. When the game ended one minute shy of being four hours in duration, it was the longest game to date in playoff history.8 After the game, La Russa said he was not disappointed in his team's play. He said his only mistake might have been starting Ankiel. "'He said something about how he didn't feel the baseball, but it's the manager's responsibility to put guys in the right position. I blame myself. I don't blame Ankiel — he's too special."9
As the two teams headed to New York for Game Three, Leiter, referring to the Cardinals, told sportswriters, "[the] team over there is not done."10
Sources
In addition to the sources cited in the Notes, the author used Baseball-Reference.com and Retrosheet.org for box-score, player, team, and season information as well as pitching and batting game logs, and other pertinent material.
baseball-reference.com/boxes/NYN/NYN200010140.shtml
retrosheet.org/boxesetc/2000/B10140NYN2000.htm
Notes
1 Brian Lewis, "Ankiel's Just Wild About Next Start," New York Post, October 12, 2000.
2 Armando Benitez blew the save but got the win, with John Franco earning the save.
3 Tyler Kepner, "Mets, Majoring in Drama, Win in 9th," New York Times, October 13, 2000.
4 Marty Noble, "Mets Halfway to Series / Payton's Hit in 9th Leaves Cards Reeling," Newsday, October 12, 2000.
5 "Turk Can't Hold Lead, Earns Win," Newsday.com, October 12, 2000.
6 Noble.
7 Kepner.
8 Noble.
9 Kepner.
10 Tom Keegan, "Leiter: It's Too Soon to Count Cards Out," New York Post, October 13, 2000.
Additional Stats
New York Mets 6
St. Louis Cardinals 5
Game 2, NLCS
---
Busch Stadium
St. Louis, MO
Box Score + PBP:
Corrections? Additions?
If you can help us improve this game story, contact us.
Tags
https://sabr.org/sites/default/files/PaytonJay-2000.jpg
600
800
admin
/wp-content/uploads/2020/02/sabr_logo.png
admin
2018-07-18 16:19:36
2020-04-17 13:34:01
October 12, 2000: Ninth-inning rally leads Mets to win in NLCS Game 2