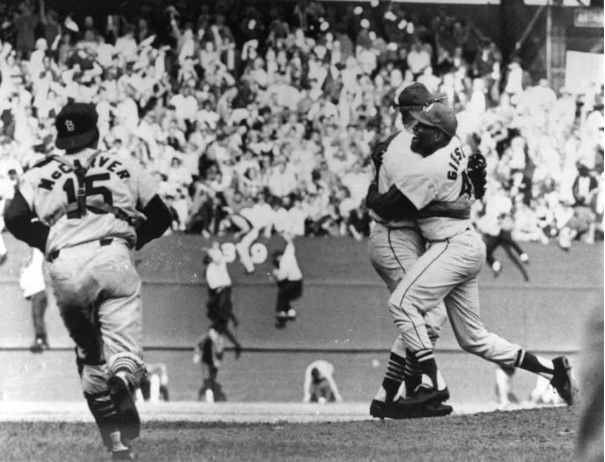 October 15, 1964: Bob Gibson pitches Cardinals to World Series crown in Game 7
---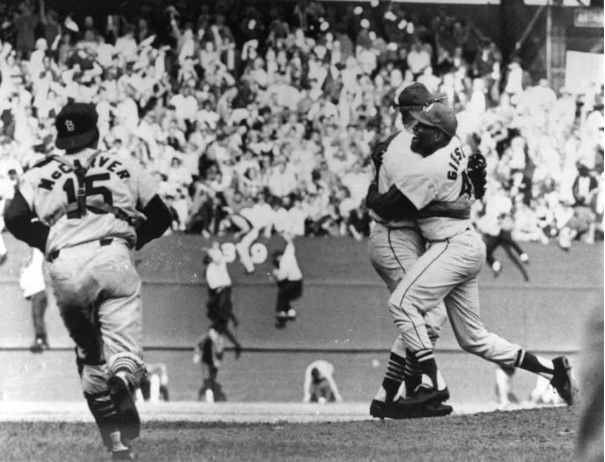 Prior to the start of Game Seven of the 1964 World Series, Cardinals starter Bob Gibson grudgingly obliged the press by posing for pictures with his mound opponent, the Yankees' Mel Stottlemyre. By this time in the Series, Gibson was running on fumes; after his 10-inning, complete-game victory in Game Five, he had commented, "I feel as though I'd just come out of a 10-round bout."1
In light of Gibson's fatigue, and taking his bulldog competitive nature into account, it should have come as no surprise that — after the photo-taking was at an end — he shook hands with Stottlemyre and said to him, "Hope all of your luck is bad today."2 As it turned out, Gibson's gutsy pitching on two days' rest and some bad plays by the Yankees, rather than bad luck, gave the Cardinals the edge they needed to prevail against the Yankees.
Gibson came out gunning and set the Yanks down in order in the first inning, striking out Bobby Richardson in the process. Stottlemyre, who had defeated Gibson in a complete-game effort in Game Two, allowed a two-out double to Bill White in the Cardinals' half of the first, but he escaped trouble with a strikeout of his own against Ken Boyer.
In the top of the second, Gibson set a World Series record when he fanned leadoff batter Mickey Mantle for his 24th strikeout of this Series; the old record had been set by Los Angeles Dodgers lefty Sandy Koufax against the Yankees just one year earlier.3 In spite of his strikeout skein, Gibson soon ran into his first jam of the day. Elston Howard singled and, following Joe Pepitone's out, Tom Tresh singled and Clete Boyer reached first safely on shortstop Dick Groat's error to load the bases. Gibson responded by striking out Stottlemyre on three pitches to end the scoring threat.
Stottlemyre matched Gibson pitch-for-pitch as both men put up zeroes for the first three innings. In the bottom of the fourth, however, Gibson's hoped-for misfortune befell New York; though the Yankees committed only one official error in the inning, they actually made four costly mistakes. Ken Boyer stroked a leadoff single and advanced to second when Stottlemyre, perhaps suffering under Gibson's bad mojo, pitched too cautiously to Groat and walked him on four pitches. Tim McCarver then hit what should have been a certain double-play grounder to Pepitone at first base, but shortstop Phil Linz threw the ball away on the relay back to first and was charged with an error; Boyer scored on the errant throw to give St. Louis a 1-0 lead.
The Cardinals were not finished scoring just yet. McCarver advanced to third base on Mike Shannon's single to set up the next Yankees misplay which, ironically, occurred due to a Cardinals mistake. As Dal Maxvill swung and missed on a hit-and-run play, Shannon broke for second base. Howard failed to throw him out at second, and second baseman Richardson's throw back to home plate was not good enough to nail McCarver, who scored the Cardinals' second run. Maxvill then singled, and Mantle committed the final Yankees mistake of the inning when his throw home was wide of the plate and allowed Shannon to score for a 3-0 St. Louis lead. Stottlemyre retired Gibson and Curt Flood to end the inning; after that, his day was at an end.
Cardinals manager Johnny Keane later affirmed, "There's no doubt that those three runs gave Gibson something to work with. … I've never had a gutsier ballplayer, but it was getting the lead that enabled him to last."4 Indeed, courage did not equal energy, and Gibson was laboring through this game. He walked Tresh to lead off the Yankees' fifth, and issued another walk — with one out — to pinch-hitter Mike Hegan, but he escaped unscathed courtesy of a double-play grounder from Linz.
Al Downing took the mound for New York in the bottom of the fifth, but he did not last long. After a sequence in which he surrendered a leadoff homer to Lou Brock, a single to White, and a double to Boyer without registering a single out, manager Yogi Berra pulled him out of the game and replaced him with Rollie Sheldon. Groat's grounder to second base enabled White to score, and McCarver's sacrifice fly drove in Boyer for a 6-0 edge in favor of the home team. Shannon struck out to end the onslaught, but the Yankees looked to be finished.
Still, the proud New Yorkers did not go down without a fight, and they scored their first runs of the game against an increasingly tired Gibson in the top of the sixth inning. Richardson and Roger Maris opened the frame with back-to-back singles, and then Mantle hit his 18th home run in World Series play to narrow the margin to 6-3.5 Gibson dug deep once more and, though he issued another walk to Tresh, he struck out Howard and Clete Boyer to hold the Yankees at bay.
Sheldon retired the Cardinals in order in the sixth inning, and Gibson allowed only a harmless Richardson single in the top of the seventh before the Cardinals added to their lead. Steve Hamilton, the Yankees' fourth pitcher of the day, struck out the first two batters he faced — Brock and White — before allowing a solo home run by Ken Boyer that gave St. Louis a 7-3 advantage.
A momentarily-reinvigorated Gibson then set down the Yankees one-two-three in the top of the eighth inning. In the Cardinals' half of the eighth, Hamilton found himself in a quick jam after a leadoff single by McCarver and an error by Clete Boyer on Shannon's grounder put men at first and second with no outs. After Maxvill advanced both runners with a sacrifice bunt, Pete Mikkelsen relieved Hamilton. Gibson came to bat and hit a grounder to Clete Boyer, who threw home to retire McCarver after a rundown. Mikkelsen kept the Cards from adding to their lead by retiring Flood on a liner to Boyer.
Now it was do-or-die time for the Yankees, and they alternated between the two outcomes in the top of the ninth inning. Tresh, the leadoff batter, fell into the die category by striking out, but Clete Boyer followed with a do in the form of a home run. The pattern repeated itself when pinch-hitter Johnny Blanchard, batting for Mikkelsen, struck out and Linz followed with an unlikely homer of his own to draw New York to within two runs, 7-5. With Maris and Mantle waiting in the wings, Gibson got Richardson to pop out to Maxvill at second base to give the Cardinals their seventh World Series championship. It was the first time the Yankees had lost consecutive World Series since 1921-22.
Gibson had amassed a 2-1 record and a 3.00 ERA; his two ninth-inning strikeouts had extended his record for a single World Series to 31. When he was informed of his strikeout record, he commented, "It's nice to know … but I'd rather have the money."6 In addition to getting a winner's share of the World Series money, Gibson also received a 1965 Corvette convertible when he was named the Series' MVP; the car was a gift from Sport magazine, which sponsored the award.7
All was well for the Cardinals after they won the championship on October 15, but the next day brought a surprising development when Keane resigned as the team's manager. Keane's letter of resignation was dated September 28, which was when he had decided that he would quit St. Louis no matter what the Cardinals' postseason fate turned out to be.8 Though Keane refused to disclose why he was leaving, it was well-known that he had been unhappy about two issues: 1) the ouster of his friend Bing Devine as the general manager on August 13, and 2) the persistent rumors that Keane would be replaced by Leo Durocher.9
That same day — October 16 — the Yankees fired Yogi Berra from his managerial post; in a strange twist of fate, they then hired Keane to be their new manager on October 20.10 Thus, while the 1964 World Series marked only the beginning of Gibson's postseason exploits, it denoted the end of Keane's tenure with the Cardinals, the end of the Yankees' long dynasty, and the end of playoff baseball at old Sportsman's Park in St. Louis, Missouri.
This article appears in "Sportsman's Park in St. Louis: Home of the Browns and Cardinals at Grand and Dodier" (SABR, 2017), edited by Gregory H. Wolf. Click here to read more articles from this book online.
Sources
In addition to the sources listed below, the author also consulted Baseball-Reference.com.
Notes
1 Joseph Durso, "Keane Confident of Title Victory," New York Times, October 14, 1964.
2 "Bad Luck for Mel: Gibson's Hopes Come True," The Sporting News, October 24, 1964: 34.
3 Koufax's record of 23 strikeouts was for a World Series of seven games or fewer. Bill Dinneen of the Boston Americans had struck out 28 batters in an eight-game World Series against the Pittsburgh Pirates in 1903. As it turned out, Gibson bested both marks with his 31 strikeouts in the 1964 World Series.
4 Leonard Koppett, "Talk of the Series," New York Times, October 16, 1964.
5 With his World Series-record-extending 18th home run, Mantle garnered additional records with 40 RBIs and 42 runs scored, surpassing Yogi Berra by one in both categories.
6 "Yankees Walloped 'Good Fast Balls,' Gibson Notes at Victory Celebration," New York Times, October 16, 1964.
7 "Gibson Voted Outstanding Player of Series, Wins Car," The Sporting News, October 24, 1964: 33.
8 Joseph Durso, "St. Louis Manager Turns in Notice Dated Sept. 28," New York Times, October 17, 1964.
9 Ibid.
10 There was one additional ironic result from the 1964 World Series: Little more than two months after being fired by St. Louis, Bing Devine was named Executive of the Year after winning The Sporting News' poll of baseball's general managers. Ed Wilks, "Devine Acclaimed as Executive of the Year: Rival Bosses Cite Former Redbird GM," The Sporting News, October 24, 1964: 1.
Additional Stats
St. Louis Cardinals 7
New York Yankees 5
Game 7, WS
---
Busch Stadium
St. Louis, MO
Box Score + PBP:
Corrections? Additions?
If you can help us improve this game story, contact us.
Tags
https://sabr.org/sites/default/files/GibsonBob.PNG
600
800
admin
/wp-content/uploads/2020/02/sabr_logo.png
admin
2018-11-28 15:17:58
2020-04-17 13:33:59
October 15, 1964: Bob Gibson pitches Cardinals to World Series crown in Game 7