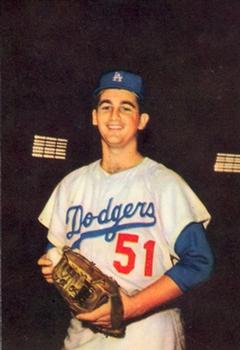 October 8, 1959: Dodgers win their first World Series after moving west to Los Angeles
---
"I guess maybe I was a little hasty, but I had complete confidence in Sherry." —Walter Alston, October 8, 1959.1
"I told Joe Becker, our pitching coach, that I felt real good, ready to pitch four or five innings. I never dreamed, actually, that I'd have to go that long." —Larry Sherry, October 8, 1959.2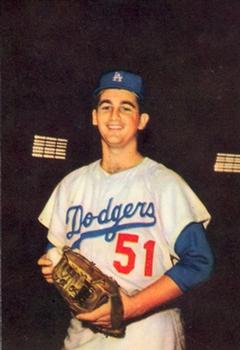 In 1959 Chicago's Comiskey Park saw its first World Series since the ill-fated Black Sox of 1919. The Go-Go Sox faced the Los Angeles Dodgers, who were just two years earlier domiciled in Brooklyn. In their first year in Los Angeles, they had stumbled to a seventh-place finish. Now they were on the precipice of becoming the first team to finish as low as seventh place in one season and win the World Series the next year. The White Sox were built on speed and the Dodgers were a blend of the old power merchants from Ebbets Field and the new speedsters that would come to define the Los Angeles Dodgers. The Dodgers led, three wins to two, as the Series moved back to Comiskey Park for Game Six on October 8.
After three games in front of more than 92,000 fans in the Los Angeles Coliseum, Game Six was played in front of 47,653 spectators. The field was drenched in sunshine as the game began. Johnny Podres, who had won the clincher in the Dodgers' first World Series win in 1955, was given the opportunity to bring the Dodgers another championship. Chicago's hopes of extending the Series were entrusted to veteran pitcher Early Wynn, pitching on two days' rest after being knocked out of the box in the third inning of Game Five.
"It was a fast ball away from me. As he always does (Early Wynn) was putting 'em in and out. (My swing) had that good feel to it. When you hit a ball real good, you don't feel the contact." –Duke Snider, October 8, 1959.3 
The Dodgers broke out on top in the third inning when after a two-out walk to Wally Moon, Duke Snider homered to left-center field. The Duke of Flatbush in two seasons at the spacious Coliseum had been shown to be a mortal insofar as his home-run production had been concerned, and he had acquired a new nickname —the Silver Fox. Nursing an ailing knee, he had not played in the three games in Los Angeles, and asked manager Alston to put him in the lineup for Game Six. After the game, Snider said, "I don't know why I did it, but I'm glad I did. And Walt said, 'okay.' So here I am."4 Snider's blast in Game Six was his 11th in World Series competition, tying him for second most all-time. The two RBIs put him atop all National League players in the World Series.
Podres kept the White Sox off the board and the Dodgers broke the game open with six runs in the fourth inning. Norm Larker opened the inning with a single and pinch-runner Don Demeter advanced to second on Johnny Roseboro's sacrifice. A single by Maury Wills and a double by Podres increased the lead to 4-0 and chased Wynn from the mound. Relief pitcher Dick Donovan was not the answer. A walk to Junior Gilliam and a two-run double by Charlie Neal were followed by a two-run homer into the right-field stands off the bat of Wally Moon. Neal's double was one of 10 hits in the series for the Los Angeles second baseman, tying the Dodgers' own World Series hit record. With the score 8-0 and only one out in the inning, Turk Lown came on for the White Sox and although he allowed Gil Hodges' infield hit, he prevented further scoring.
The speedy White Sox were not without power. Ted Kluszewski, whose bulging muscles had led to uniform modifications when he played for Cincinnati and Pittsburgh, was acquired by the White Sox in late August and had played in 31 games for Chicago. In this first World Series, the first baseman had singled and hit a pair of homers in his first three at-bats to lead Chicago to an 11-0 win in Game One.
In Game Six, trailing 8-0, the White Sox had six innings to salvage the game and force Game Seven. In their half of the fourth inning, Nellie Fox popped up to lead off and Podres appeared to have an aura of invincibility. But then he couldn't find home plate. He hit Jim Landis in the head with a pitch and walked Sherman Lollar. That brought up Kluszewski, who was 7-for-20 in the Series to that point. Big Klu's three-run homer put a modest dent in the Dodgers lead and, after Podres issued a walk to Al Smith, manager Walter Alston decided to bring on Larry Sherry.
Kluszewki's homer had set the record for RBIs in a six-game World Series. His three RBIs gave him 10 for the Series and broke the record of eight shared by Bob Meusel and Billy Martin. The runs would be the last scored by the White Sox in 1959.
Sherry, a native of Los Angeles, had not been on the Dodgers' Opening Day roster. After appearing in five games at the beginning of 1958 and posting an ERA of 12.46, he was sent back to Triple-A and rejoined the Dodgers on July 4, 1959. He went 7-2 with three saves. He had appeared in each of the Dodgers' three wins in the first five games of the Series, saving two and winning one. In seven innings, he had given up four hits and allowed only one run.
The right-hander, after allowing a single to Bubba Phillips that put runners at the corners, worked his way out of the inning, but not without an anxious moment or two. With runners on first and third, White Sox manager Al Lopez called upon Billy Goodman to pinch-hit for left fielder Jim McAnany. Sherry struck out Goodman for the second out of the inning and then Lown was removed for pinch-hitter Earl Torgeson. Sherry fell behind Torgeson and Dodgers coach Chuck Dressen took issue with the calls of home-plate umpire Frank Dascoli. First-base umpire Ed Hurley told Dressen to shut up, and Dressen came out of the dugout to discuss maters with Hurley. As Dressen said afterward, "I told him to shut up and he chased me." Dressen became the third man ever ejected from a World Series game.5 Torgeson wound up walking to load the bases, but Sherry avoided further damage by getting Luis Aparicio to pop out on the first pitch for the stanza's final out.
Gerry Staley took the mound for the White Sox in the fifth inning and pitched three scoreless innings. However, the White Sox were unable to mount a serious threat against Sherry. Billy Pierce pitched a scoreless eighth for Chicago, stranding two runners after allowing singles by Sherry (who went 2-for-2 at the plate) and Neal. Left-hander Pierce had been used sparingly in the Series as manager Al Lopez elected to go with right-handed starters in each of the games.  
The White Sox could have mounted a rally in the fifth inning, but Snider, playing on a bad knee, put an end to a budding rally. Nellie Fox led off with a double and Jim Landis stepped in. He sent a fly ball to short center field that Snider caught in full gallop.
The Dodgers tacked on one more run in the ninth inning. Snider was due up, but it was time to give his injured knee a rest. Chuck Essegian, batting for Snider, hit his second pinch-homer of the Series, becoming the first player to hit two pinch-hit homers in a World Series. It came off the fifth Chicago pitcher, Ray Moore, and made the final score 9-3. The Dodgers had banged out 13 hits in securing the win. In the bottom of the ninth, Snider's spot in the outfield was taken by rookie Ron Fairly.
In the bottom of the ninth inning, Sherry retired the side in order and when Dodgers left fielder Wally Moon corralled a fly ball off the bat of Aparicio, the Dodgers were the champions and Sherry had secured his status as the World Series MVP with two wins and two saves in four appearances.
Three thousand miles east of Los Angeles, there wasn't much enthusiasm for the Dodgers' win at their former home. Ebbets Field was empty, and the wrecking ball would soon be set in motion. Author Gay Talese said, "Ebbets Field, occasionally used for soccer, was surrounded by closed candy stores, rotting hotdog stands, and people who no longer care so much for the Dodgers."6
But Los Angeles was ecstatic. The large crowds at the Coliseum contributed to a record attendance for a World Series —420,784. The record still stood in 2018. By 1963, when the Dodgers next played in the Series, they were in a new ballpark in Chavez Ravine, Dodger Stadium.
Sources
In addition to Baseball-Reference.com and the sources cited in the notes, the author used:
Associated Press. "Series Success Climaxes Uphill Fight for Sherry," Hartford Courant, October 9, 1959: 27.
Drebinger, John. "Dodgers Win World Series by Beating White Sox, 9-3, in the Sixth Contest," New York Times, October 9, 1959: 1, 33.
Notes
1 Bill Lee, "Dodgers Rout Chisox to Win Series," Hartford Courant, October 9, 1959: 25.
2 Bill Lee, "With Malice Toward None," Hartford Courant, October 9, 1959: 25.
3 Associated Press, "'Old' Dodger Duke Snider ignored Bad Knee to Play," Hartford Courant, October 9, 1959: 27.
4 Ibid.
5 Lee, "Dodgers Rout Chisox to Win Series," Hartford Courant, October 9, 1959: 25.
6 Gay Talese, "Brooklyn Displays Little Enthusiasm as Dodgers Win," New York Times, October 9, 1959: 34.
Additional Stats
Los Angeles Dodgers 9 
Chicago White Sox 3
Game 6, WS
---
Comiskey Park
Chicago, IL
Box Score + PBP:
Corrections? Additions?
If you can help us improve this game story, contact us.
Tags
https://sabr.org/sites/default/files/SherryLarry.jpg
600
800
admin
/wp-content/uploads/2020/02/sabr_logo.png
admin
2020-10-25 00:00:41
2021-02-22 01:35:12
October 8, 1959: Dodgers win their first World Series after moving west to Los Angeles