Ryan Zimmerman and the Walk-Off Home Run
This article was written by Steven C. Weiner
This article was published in Fall 2021 Baseball Research Journal
---
Topps commemorated Ryan Zimmerman's 11th career walk-off with a collectible card in 2018. (THE TOPPS COMPANY)

"The pressure is on him, man. It's not on me. I'm supposed to get out." — Ryan Zimmerman1
Baseball games are filled with moments of great theater. What do we expect before the curtain rises? Perhaps a great pitching duel, or a milestone performance by a favorite player, perhaps even the major league debut of the game's next potential superstar. The possibilities are endless. The beauty of the game is that the many possible story lines we contemplate fail to reveal even a hint as to what might actually unfold on the field.
The drama might build slowly and treat us to a great pitching performance. For example, the possibility of witnessing a no-hitter is confirmed only when the last batter in the last inning makes the last out and the pitcher is mobbed on the field.
The most dramatic and emphatic of plays, the walkoff home run, must also wait for the last batter in the last inning. Every home team fan thinks of nothing less when its possibility arises. The reaction to a walkoff home run is as predictable as it is sudden. As the ball leaves the playing field and the batter circles the bases, the exuberance of the fans is immediate. The visiting team quickly leaves the field, while the home team emerges from the dugout, excited and victorious, to surround home plate as the umpires stand by stoically just to make sure that the batter touches every base. Game over, celebration begins!
The term "walk-off" didn't enter the baseball lexicon until 1988 as noted by author Paul Dickson. "The term was coined by Oakland Athletics pitcher Dennis Eckersley for that lonely stroll from the mound after a pitcher gives up the winning run (Gannett News Service, July 30, 1988)."2
Eckersley's use of the term had a rather negative connotation, referencing the losing pitcher as he leaves the field after yielding the home run. It is quite likely that he was referring to the Oakland versus Seattle game at the Kingdome on July 29, 1988. Eckersley came into the game in the 10th inning seeking his 31st save of the season with the A's leading, 3–2. Instead, Steve Balboni hit a three-run game-winning home run for the Mariners and the walk-off began.
To the chagrin of some, common usage of this terminology has evolved to highlight the achievement of the batter, regardless of how the walk-off was achieved. Larry Granillo's study, "Walking Off," defines a walk-off victory as "a run-scoring event in the bottom half of the last inning of the game that gives the home team a winning margin."3
An article in Sports Illustrated in 2000 noted, "Like crabgrass invading someone's lawn, "walk-off!" has taken root in sports lingo and gotten out of control. The term should appear in quotes and be followed by an exclamation point because, without TV's dime-a-dozen talking heads repeating it endlessly and effusively, there would be no "Aaron Boone wins the game with a walk-off!" Instead, we would simply (and gracefully) call a game-ending home run what we've always called it: a game-ending home run."4 The home run is not the only play given the designation: these days it's not unusual for a game to be ended by a "walk-off single," a "walk-off walk," or even a "walk-off balk."5
The history of major league baseball's walk-off home runs is rich and no player personifies that recent history better than Ryan Zimmerman. The arrival of Zimmerman as a Washington National virtually coincided with baseball's return to the nation's capital after a 33-season absence. The Nationals selected Zimmerman as the fourth player overall in the June 2005 amateur player draft. He spent the summer moving from Class A to Class AA minor league baseball, batting .336 and earning a September call-up for his major league debut. Zimmerman played in 20 games for the Nationals and batted .397, leaving a first and certainly lasting impression on teammates and fans alike.
There have been 1,084 walk-off home runs in the 16 seasons 2005–20.6 Since 2005, when the Montreal Expos franchise relocated to Washington, DC, Ryan Zimmerman has more game-ending home runs (11) than any other major league player, assuring his place among the career leaders as summarized in Table 1.
| | |
| --- | --- |
| Jim Thome | 13 |
| Jimmie Foxx | 12 |
| Mickey Mantle | 12 |
| Stan Musial | 12 |
| Albert Pujols | 12 |
| Frank Robinson | 12 |
| Babe Ruth | 12 |
| Ryan Zimmerman | 11 |
| David Ortiz | 11 |
| Tony Pérez | 11 |
Note: Stats current through the 2021 season
All eleven games that have ended with a Ryan Zimmerman walk-off home run are noted in Table 2, along with the name of the author who has chronicled each game for SABR's Baseball Games Project.7 Let's recap four of them, covering several different types of games and circumstances.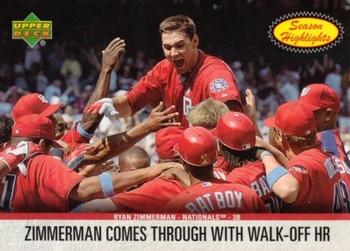 Ryan Zimmerman's first career walk-off home run came on June 18, 2006. (TRADING CARD DB)
HAPPY FATHER'S DAY, MR. ZIMMERMAN!
Father's Day weekend 2006 brought New York Yankees fans from everywhere for a three-game interleague series between the Nationals and Yankees in creaky old RFK Stadium. Ironically, the Yankees' last game in this same ballpark on September 30, 1971, against the American League rival Washington Senators, ended in the chaos of a swarming crowd on the field and a forfeit victory for the Yankees.8 Baseball was gone from RFK Stadium until the 2005 season.
Fittingly, Ryan Zimmerman's parents, Keith and Cheryl Zimmerman, were among the Father's Day crowd (45,157), the largest since the Nationals had played their first home game in 2005 against the Arizona Diamondbacks.9 As the Nationals came to bat in the bottom of the eighth inning, Yankees starter Chien-Ming Wang, on his way to leading the major leagues in wins (19) in 2006, was seemingly in control. The Yankees had a 2–1 lead and Wang had yielded only four singles through seven innings and thrown only 80 pitches.
After walking two batters in the eighth inning, perhaps Wang was tiring. When Wang finished the scoreless eighth with a 96-pitch count, Yankees manager Joe Torre seemed determined not to use his premier closer, Mariano Rivera, for a third game in a row. Rivera had won the first game of the series and lost the second one.
But Keith Zimmerman expressed a premonition about what was to come next for his eldest son, Ryan.10 After Marlon Anderson singled to right in the ninth inning with one out, Zimmerman came to bat as the potential winning run. If a tiring Wang left a pitch up in the strike zone, Zimmerman was ready to pounce. He did just that on the very first pitch, sending it over the left-field fence into the bullpen for his first-ever walk-off hit.
SABR author Laura Peebles described Zimmerman's trot around the bases: "The usually reserved Zimmerman smiled and raised his arm in triumph as he circled the bases, throwing away his batting helmet as he approached his teammates ready to mob him at home plate."11 After all, this was a first. Dating all the way back to his Little League days, Zimmerman had never ended a game in that fashion. "No walk-off, nothing," he noted later. "No single. Nothing."12 His walk-off home run was the first at RFK Stadium since the Nationals had become the new tenants a year earlier. The fans demanded a curtain call and got one. Indeed, there would be more such occasions to come.
INAUGURATING A NEW BALLPARK
A better script could not have been written for the Opening Night play at Nationals Park on March 30, 2008, Baseball Research Journal, Fall 2021 especially for the closing act. The Nationals successfully lobbied Major League Baseball and ESPN to open the season one day before the scheduled Opening Day, highlighting a spanking new ballpark to a nationally televised audience.13
The pre-game festivities had all the trappings of an Opening Night: flags unfolded across the field, F-16s roaring through the skies overhead, and esteemed mezzo-soprano Denyce Graves singing the National Anthem. The honor of handing a baseball to President Bush for the first pitch belonged to Ryan Zimmerman, by now the face of the franchise. President Bush, former owner of the Texas Rangers, threw that pitch—a ball, high and tight—to Nationals manager Manny Acta.14
The Nationals were swept up in the excitement of the night in the very first inning. Cristian Guzman lined a single to right on Braves starter Tim Hudson's first pitch and raced to third on an errant pick-off throw. With two outs, Nick Johnson's double and Austin Kearns's single gave the Nationals an early 2–0 lead. Braves pitching—Hudson, Will Ohman, and Peter Moylan—would not allow another batter to reach base until the fateful ninth inning.
Meanwhile, Chipper Jones cut the Nationals lead in half, 2–1, when he hit a solo home run off starter Odalis Pérez in the fourth inning. In the top of the ninth inning, the Braves tied the score against Nationals reliever Jon Rauch. Mark Teixeira's double eventually led to an unearned run when pinch runner Martín Prado scored on a passed ball.
After 24 consecutive batters had been retired, including two in the bottom of the ninth inning, Ryan Zimmerman came to bat. All this game needed was a rousing conclusion. As Nick Johnson moved into the on-deck circle and Kearns grabbed a bat in the dugout, veteran Dimitri Young had a premonition. "Put it down, he told Kearns, You won't need it."15 He was right. Zimmerman hit Peter Moylan's 1-and-0 fastball into the left-center stands for his fourth career game-ending home run and another curtain call. "Storybook ending," said Mark Lerner, the Nationals' managing principal owner. "It was the end of a perfect day. You can't write a script like that."16
THE 38th PITCH
It's August 19, 2011, and you are in first place by 8½ games in the National League's East Division. It's the bottom of the ninth inning and your team is ahead, 4–2. For Phillies manager Charlie Manuel, it was time to call on his closer, Ryan Madson, for a third consecutive game. His 23rd save on the previous night sealed a 4–1 victory for the Phillies over the Arizona Diamondbacks.
The inning began and ended with classic confrontations of pitcher versus batter, requiring the best of skills by both combatants. To open the ninth, Madson was facing ex-teammate Jayson Werth for the first time in his career. Werth was known for being able to work a pitch count to advantage. Werth was well on his way to leading the National League in 2011 with 4.37 pitches per plate appearance.17 Werth was quickly down 0-and-2 in the count. Over the next eight pitches, Werth fouled off five in between taking three balls. Finally, with the count 3–2, Werth lined a 95-mph fastball into left field for a single.
Was Madson unnerved by Werth's at-bat? Three more singles wrapped around an intentional walk and a sacrifice bunt tied the score at 4–4. With two outs and the bases loaded, Ryan Zimmerman came to the plate. It was well past midnight since a rain delay had been called only five minutes after the first pitch, which lasted over two hours. Only a fraction of the original crowd (37,841) remained to anticipate the possibilities of what might happen next.
Ryan Madson was now in uncharted territory. He had already thrown 32 pitches in the inning. The last time he had thrown that many pitches in a relief outing had come nearly three years earlier, in this very same ballpark.18 What did happen next? Bases loaded, two outs, full count. On Madson's 38th pitch of the inning, Zimmerman expected fastball and got one, inside at 92 mph. He deposited it down the left-field line, a grand slam, the eighth walk-off home run of his career and a Nationals 8–4 win.19
Zimmerman understood, as did Jayson Werth, the pressure of these pitcher-versus-batter confrontations. "The way I've always been taught is, the pressure is on the pitcher," Zimmerman said. "Obviously, I want to get a hit as much as anyone else. But if you kind of put it into that mindset, it puts the pressure on him, keeps you calm. The key thing is to try and not do too much."20
A PLAY IN TWO ACTS
As dramatic and emphatic as the walk-off home run may be, ambiguity can prevail. Is it a game-ending home run or a game-tying double?
On August 22, 2018, it's the bottom of the ninth inning and the Nationals trail, 7–6, as the Phillies bring in Seranthony Dominguez to close out the game. The Nationals were down to their last out after Bryce Harper flied out to short left and Anthony Rendon flied a first pitch to right. Juan Soto's double down the right-field line gave the fans what they wanted—Ryan Zimmerman coming to the plate as the winning run.
But this play took a strange turn. In act one, Zimmerman hit Dominguez's 2-and-1 offering just barely over the right-field wall. He reacted as if he had just hit his 11th walk-off home run, but the blast was initially ruled a double, with Soto scoring to tie the game at 7–7. The umpires went to video replay to review the initial call while Zimmerman stood on second base. When the home-run signal came from the umpires, act two began. The exuberant, 19-year-old Soto started running from home plate toward Zimmerman, who had resumed his home run trot. Soto just wanted to start an early celebration, but manager Dave Martinez thought about the rules and said, "If he touches Ryan, he's out. I was screaming bloody murder."21 Several other media outlets also reported Martinez's conclusion as correct.22 Soto got the message and retreated to home plate to await the arrival of "Mr. Walk-Off" with his 11th career game-ending home run and an 8–7 Nationals win.23
According to MLB umpire Gerry Davis, Martinez's assertion is incorrect because the ball was dead when Zimmerman resumed his home run trot.24 "While the ball is dead no player may be put out, no bases may be run and no runs may be scored, except that runners may advance one or more bases as the result of acts which occurred while the ball was alive (such as, but not limited to, a balk, an overthrow, interference, or a home run or other fair ball hit out of the playing field." (Section 5.06(c)—Dead Balls, Official Rules of Major League Baseball, 2019: 31).
For the record book, this walk-off home run was Zimmerman's fifth when his team was trailing at the time, tied for the most in major-league history with Babe Ruth, Frank Robinson, and Fred McGriff.25
MR. WALK-OFF
Ryan Zimmerman was called "Mr. Walk-Off" on MASN, the network that carries Nationals games, after hitting his 10th game-ending home run against the New York Yankees on May 19, 2015.26 Following the game, Dan Steinberg, columnist for the Washington Post, explored the nickname's background and discovered it was first used in 2008 by blogger William F. Yurasko following Zimmerman's fourth walk-off home run.27 Yurasko had attended the game marking the opening of Nationals Park. Yurasko exclaimed on his blog right after the game that "Ryan Zimmerman sent a telegram to the baseball world this evening: 'I am Mr. Walkoff.'"28
The name stuck in print media as well. One month after Zimmerman hit his ninth walk-off home run in 2013 against the New York Mets,29 the cover story photo and banner for the Nationals in-game program, Inside Pitch, greeted fans for a late August homestand, "Mr. Walk-Off."30 During the Nationals' stretch run to secure a spot in the 2019 postseason playoffs, Nationals Magazine writer Michael Bradley reminded fans of "The Legend of Mr. Walk-Off." He wrote that Zimmerman is focused on one thing in these clutch situations, "making the man delivering the ball worry about what happens if he surrenders the hit that gives Washington a victory."31
Retrosheet data through the 2020 season provide us with a statistical glimpse of Ryan Zimmerman's performance and success in the most dramatic of circumstances.32 The career .279 hitter's batting line when a walk-off situation confronts him is noted in Table 3.
| | | | | | | | | | |
| --- | --- | --- | --- | --- | --- | --- | --- | --- | --- |
| AB | R | H | 2B | 3B | HR | RBI | BB | SS | BA |
| 109 | 11 | 33 | 4 | 0 | 11 | 35 | 17 | 23 | .303 |
It is not surprising that Zimmerman's career has been publicly acclaimed for his propensity to end games with a home run (Table 4). In addition to 11 walk-off home runs, Zimmerman also knocked in the winning run in the last plate appearance in six other games with four singles, a walk, and a sacrifice fly. His 17 walk-off events place him in a tie for 24th place for the 1937–2020 seasons. How does that compare to others? Coincidentally, two of his former managers, Frank Robinson (27) and Dusty Baker (25), are the leaders, but Albert Pujols (21) was the only player active in 2020 with more walk-off events than Zimmerman.
| | | |
| --- | --- | --- |
| 1 | Ryan Zimmerman | 11 |
| 2 | David Ortiz | 8 |
| 2 | Jason Giambi | 8 |
| 2 | Adam Dunn | 8 |
| 2 | Albert Pujols | 8 |
Analysis of batting averages suggests at least one way to examine the performance of players in walk-off situations. How might we judge, even qualitatively, the performance of Ryan Zimmerman in comparison to his peers in this most dramatic, pressure-filled circumstance of batter versus pitcher?
From 2005 through 2020, 16 players recorded at least 100 at-bats in walk-off situations. Of those players, only five recorded higher batting averages in walk-off situations than in their other at-bats and only two recorded batting averages higher than .300 in doing so, Nick Markakis and Ryan Zimmerman (Table 5).
In Table 6, Zimmerman's performance in these pressure-filled at-bats is compared to three contemporaries from the top 10 list of career leaders in walk-off home runs. Jim Thome was inducted into the Hall of Fame in 2018 and Pujols and Ortiz are likely headed there in the future. Zimmerman is keeping good company with some true home run hitters as suggested by each player's 162-game career home run average. The 162-game home run averages for Babe Ruth (46), Barry Bonds (41), and Hank Aaron (37) provide a broader appreciation of Zimmerman's accomplishments.
Pitcher versus batter remains the most fundamental confrontation in baseball. Any interest to assess batter performance more quantitatively in walk-off situations will require the review and analysis of pitcher performance under those same circumstances.
Player introductions are a lasting tradition of any Opening Day at the ballpark as the respective teams take their places along the infield foul lines. When Ryan Zimmerman took his spot along the first-base line for the 2019 Opening Day ceremonies at Nationals Park, we were reminded of his baseball accomplishments. The capacity crowd heard the introduction clearly, "Number 11, Mr. Walk-Off, Ryan Zimmerman."33 A fitting title. 
STEVEN C. WEINER, a SABR member since 2015, is a retired chemical engineer and a lifelong baseball fan. During his undergraduate years at Rutgers University, Steven worked in the sports information office and broadcast baseball and basketball play-by-play on WRSU radio. Steven obtained his doctoral degree in engineering and applied science from Yale University. Steven currently serves as assignments editor for the SABR Baseball Games Project with essay contributions in five SABR books. He volunteers as an in-classroom and virtual teacher at local schools.
Acknowledgments
The author thanks fellow SABR members, Laura H. Peebles, Andrew Sharp and Tom Ruane for their contributions to this work. Peebles and Sharp authored SABR Games Project essays identified, discussed and referenced here. Ruane provided Retrosheet data for analysis of walk-off home runs and the career performance of Ryan Zimmerman and other players in game-ending situations. Baseball-Reference.com, which appropriately acknowledges "Mr. Walk-Off" as one of Ryan Zimmerman's nicknames, served as a rich resource for baseball-related data and information. Thank-yous are deserved for colleagues involved in many ways with the SABR Baseball Games Project for their hard work, inspiration and camaraderie.
Notes
  1. Amanda Comak, "Zimmerman's walk-off grand slam lifts Nats to 8–4 comeback win over Phillies," Washington Times, August 20, 2011.
  2. Paul Dickson, The Dickson Baseball Dictionary, 3rd Edition (New York: W.W. Norton & Company, 2009), 919.
  3. Larry Granillo, "Walking Off," BaseballAnalysts.com, August 27, 2009, accessed March 29, 2018, baseballanalysts.com/archives/2009/08/walking_off.php.
  4. Jeff Pearlman, "Walk-off! Crazy A Simple Turn of Phrase by Dennis Eckersley in 1993 Has Become an Overused Appellation for a Game-Ending Dinger," SI.com, July 17, 2000, accessed November 12, 2020, si.com/vault/2000/07/17/walk-off-crazy-a-simple-turn-of-phrase-bydennis-eckersley-in-1993-has-become-an-overusedappellation-for-agame-ending-dinger.
  5. On August 18, 2018, Dylan Floro balked in the winning run in the 10th inning and the Seattle Mariners beat the Los Angeles Dodgers, 5–4. It was the 22nd walk-off balk in MLB history. (Nick Greene, "The Walk-Off Balk is Actually a Great Way to Lose a Baseball Game," Slate.com, August 19, 2018, accessed July 24, 2021, slate.com/culture/2018/08/walk-off-balk-the-sea>le-mariners-beat-the-los-angeles-dodgers-5-4-on-friday-thanks-to-a-mostpeculiar-play.html.)
  6. Tom Ruane, emails to author, October 14, 2020, March 13, 2021.
  7. SABR Baseball Games Project, sabr.org/gamesproject.
  8. Shirley Povich, "The Senators' Final Game," Washington Post, October 1, 1971.
  9. Laura H. Peebles, "April 14, 2005: 'Baseball is back in Washington, DC!' as Nationals win home opener," SABR Baseball Games Project, sabr.org/gamesproj/game/april-14-2005-baseball-is-back-in-washington-dc-as-nationals-win-home-opener.
10. Barry Svrluga, "Zimmerman's Homer Lifts Nationals over Yankees," Washington Post, June 19, 2006.
11. Laura H. Peebles, "June 18, 2006: Ryan Zimmerman hits his first walk-off home run," SABR Baseball Games Project, sabr.org/gamesproj/game/june-18-2006-ryan-zimmerman-hits-his-first-walk-off-home-run.
12. Svrluga.
13. Barry Svrluga, "First Game at Nationals' New Ballpark Is Set 13 for March 30," Washington Post, December 15, 2007, E2.
14. Dave Sheinin and Daniel LeDuc, "A Storybook Ending," Washington Post, March 31, 2008.
15. Andrew Sharp, "March 30, 2008: Ryan Zimmerman sends D,C, fans home happy with walk-off homer in Nationals Park debut," SABR Baseball Games Project, sabr.org/gamesproj/game/march-30-2008-ryan-zimmermansends-d-c-fans-home-happy-with-walk-off-homerin-nationals-park-debut.
16. Dave Sheinin and Daniel LeDuc,
17. "MLB Player Batting Stats–2011," ESPN.com, accessed July 8, 2017, espn.com/mlb/stats/batting/_/year/2011/league/nl/sort/pitchesPerPlateAppearance/type/expanded.
18. The Phillies lost to the Nationals, 9–7, on September 3, 2008, at Nationals Park. Madson threw 32 pitches in two innings that included striking out the side in the sixth inning. In his first major-league start against the Chicago White Sox on June 8, 2004, Madson threw 37 pitches in two-thirds of an inning and was taken out of the game. It was his only start of the 2004 season.
19. Steven C. Weiner, "August 19, 2011: Ryan Zimmerman's walk-off grand slam beats Phillies," SABR Baseball Games Project, sabr.org/gamesproj/game/august-19-2011-ryan-zimmermanswalk-off-grand-slam-beatsphillies.
20. Adam Kilgore, "Nationals vs. Phillies: Ryan Zimmerman hits walk-off grand slam to cap Washington's improbable rally," Washington Post, August 20, 2011.
21. "Zimmerman hits 2-run HR in 9th, Nationals beat Phillies 8–7," USAToday.com, October 29, 2020, accessed November 12, 2020, usatoday.com/story/sports/mlb/2018/08/22/zimmerman-hits-2-runhr-in-9th-nationalsbeat-phillies-8-7/37575047.
22. Chelsea Janes, "Ryan Zimmerman lifts Nationals to walk-off win over Phillies," WashingtonPost.com, August 22, 2018, accessed November 12, 2020, washingtonpost.com/sports/nationals/ryan-zimmermanliftsnationals-to-walk-off-win-over-phillies/2018/08/22/39b6c696-a64a-11e8-97ce-cc9042272f07_story.html; Jamal Collier, "Zim hits 2-run walk-off HR vs. Phils after review," MLB.com August 22, 2018, mlb.com/news/ryanzimmerman-hits-2-run-walk-off-homerc291475236.
23. Steven C. Weiner, "August 22, 2018: Ryan Zimmerman's 11th walk-off home run, a play in two acts," SABR Baseball Games Project, sabr.org/gamesproj/game/august-22-2018-ryan-zimmermans-11thwalk-off-homerun-a-play-in-two-acts.
24. Gerry Davis, personal communication with author, June 29, 2019.
25. Charlotte Carroll, "Nationals Win on Ryan Zimmerman's Replay-Reviewed Walk-Off Homer," SI.com, August 22, 2018, accessed November 12, 2020, si.com/mlb/2018/08/22/ryan-zimmerman-walkoff-homer-nationals.
26. Steven C. Weiner, May 19, 2015: 'Mr. Walk-Off' Ryan Zimmerman's 10th-inning blast beats Yankees," SABR Baseball Games Project, sabr.org/gamesproj/game/may-19-2015-mr-walk-off-ryan-zimmermans-10th-inningblast-beats-yankees.
27. Dan Steinberg, "How Ryan Zimmerman got his 'Mr. Walk-Off' nickname," Washington Post, May 20, 2015.
28. William F. Yurasko, "Ryan Zimmerman is Mr. Walkoff," March 31, 2008, accessed November 12, 2020, yurasko.net/wfy/2008/03/ryanzimmerman-is-mr-walkoff.html.
29. Laura H. Peebles, "July 26, 2013: Ohlendorf's pitching, Zimmerman's walk-off homer lift Nationals over Mets," SABR Baseball Games Project, sabr.org/gamesproj/game/july-26-2013-ohlendorfs-pitchingzimmermanswalk-off-homer-lift-nationals-over-mets.
30. "Mr. Walk-Off," Inside Pitch 6 (2013).
31. Michael Bradley, "Ryan Zimmerman, The Legend of Mr. Walk-off," Nationals Magazine 15 (August/September 2019): 20–28.
32. Ryan Zimmerman opted not to play during the 2020 season due to the coronavirus pandemic. He returned to the Nationals active roster for the 2021 season.
33. The author watched and listened from Section 208 on March 28, 2019. The Mets won an old-fashioned pitchers' duel, 2–0. Max Scherzer struck out 12 and Jacob DeGrom struck out 10.
https://sabr.org/wp-content/uploads/2020/03/research-collection4_350x300.jpg
300
350
admin
/wp-content/uploads/2020/02/sabr_logo.png
admin
2021-11-16 23:36:32
2021-11-17 00:22:50
Ryan Zimmerman and the Walk-Off Home Run