This Week in SABR: August 14, 2015

Welcome to "This Week in SABR!" Click here to view this week's newsletter on the web. Here's what we've been up to as of August 14, 2015:
---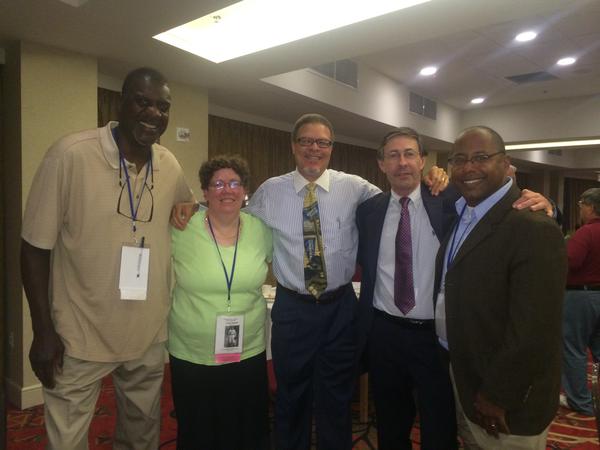 The 18th annual Jerry Malloy Negro League Conference was held August 6-8, 2015, at the Wyndham Grand Pittsburgh Downtown in Pittsburgh, Pennsylvania. The conference is open to all baseball, history and sports fans of all ages.
This year's conference celebrated the history of black baseball in the Steel City, including a one-hour session with Robert "Bob" Paige, son of Hall of Famer Satchel Paige; a talk by Kevin Kirkland, co-author of Lucky Bats with former Homestead Grays batboy Elijah "Lucky" Miller; and a diverse group of research presentations:
Richard Puerzer, "The Pittsburgh Crawfords vs. the New York Giants"
James Brunson III, "Black Ball in Pittsburgh and Allegheny, 1870-99"
Todd Peterson, "Kings of the Hill: The Pittsburgh Keystones, 1887-97"
David Krell, "Wendell Smith, the Pittsburgh Courier, and Black Sportswriters in the Age of Jim Crow"
Sherman Jenkins, "Ted Strong Jr.: A Negro Baseball League Enigma No More"
Tim Rives, "Segregated Baseball at Leavenworth Penitentiary"
Bernard McKenna, "Genesis of the Baltimore Black Sox"
Rick Kenney, "Dark Dragons: Doby and Newk in Nagoya, Japan, 1962"
Josh Howard: "The Wendell Smith Papers: Creating a Digital Exhibit at the Baseball Hall of Fame"
James Overmyer, "The Search for Sol White: A SABR Detective Story"
In addition, conference attendees took a special tour of PNC Park and saw a Pirates-Dodgers game; took part in a lively Negro Leagues trivia contest; watched a special video presentation, "Kings on the Hill: Baseball's Forgotten Men," from University of Pittsburgh history professor Rob Ruck; and listened to a panel on how to do Negro Leagues research from historians James Overmyer, Donald Spivey, James Brunson III, and Leslie Heaphy (moderator).
---
The Society for American Baseball Research is seeking Fall 2015 interns to work in our office in Phoenix, Arizona.
An internship with SABR will involve responsibilities across a variety of disciplines, possibly including:
Working on-site at a local SABR conference, such as the SABR Arizona Fall League Conference
Working with our Membership Director or Director of Operations on organizational duties, membership renewal drives, customer service
Working with our Web Editor to help publish and/or produce content for our website at SABR.org
Interested candidates should be able to demonstrate basic office-related computer skills. HTML knowledge is a plus.
A working knowledge of baseball — and an awareness of the game's general history and basic statistics — is required.
The internship is an educational opportunity that may count toward college credit, covering 15-20 hours per week (flexible schedule), at the SABR office in Phoenix, Arizona. The internship will be for a fixed period of time and is designed to provide the intern with skills and training that may be applicable to working in a nonprofit research environment or in other research-based organizations. No housing assistance will be provided.
Please send a resume and cover letter in PDF form to mappleman@sabr.org or jpomrenke@sabr.org by 5:00 p.m. MST Friday, September 4, 2015.
---
The Doug Pappas Award-winning research presentation "Little League Home Runs in MLB History," written and presented by Chuck Hildebrandt at SABR 45, was the first known attempt to categorize and catalog the play known as the "Little League Home Run," as it has been referred to for decades now.
The play, defined during the presentation as one in which two or more errors are committed and the batter ends up scoring, has by this definition occurred 258 times across the 148,390 major league games for which there are play-by-play data available. The complete list of Little League Home Runs can be viewed by clicking here.
An article version of the presentation, complete with video and audio of Little League Home Runs in action, was published at FanGraphs.com this past week in three parts:
The third part was cut from the original presentation because of time limits, but is an important piece because it's possible we still need to finalize the definition. Do we have it right the way it is? Or are we missing something? Is it defined too broadly? Too narrowly?
This is where YOU can help! We have posted a poll you can take in which you can help us determined exactly how a Little League Home Run should be defined:
https://www.surveymonkey.com/r/LLHR2015
You will have a hand in establishing a new baseball statistic, but your real reward will be watching several hilarious examples of the greatest players on the planet throwing the ball around like Little Leaguers. (Well, not like the players in the Little League World Series. Those kids are really, really good.)
So click on the link above and go vote in the Little League Home Run poll today!
---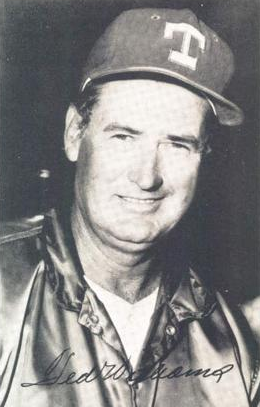 The Texas Rangers had decades of futility before their recent run of success, long years where they were out of the pennant race by the All-Star break. Maybe that's why the first Rangers team — the 1972 Rangers — has become so iconic in franchise history. Despite their record, Rangers fans look back on that team with great fondness, remembering the days when Major League Baseball finally came to North Texas.
We want to celebrate that team with a SABR BioProject book about the 1972 Texas Rangers. From the players you've heard of — Jeff Burroughs, Frank Howard, and Tom Grieve — to all the guys whose names may be forgotten today, the book will have bios of every player, along with manager Ted Williams, the coaches, the owner and others. We'll write stories about the ballpark, about the move of the team from Washington to Texas, a number of games during the season, and more.
The Dallas-Fort Worth chapter has picked up many of the articles for the book, but all SABR members have plenty of opportunities to be involved in the project. We need writers for a number of biographies and other stories. Most of the players are still alive, so you may be able to interview them for the bio you write. Maybe you have an idea for another story about the team. We will work with you to complete the story you choose to write, and get your work published in the resulting book.
If you are interested in writing any of the bios below, or have another story in mind, please contact the editor, Steve West, at texaskiwi98@yahoo.com.
Click here for the list of available topics for the 1972 Rangers book.
---
All SABR members are invited and encouraged to submit a Research Presentation Proposal Abstract for the 2016 Frederick Ivor-Campbell 19th Century Base Ball Conference.
The eighth annual 19th Century Conference will be held April 15-16, 2016, at the National Baseball Hall of Fame in Cooperstown, New York.
Abstracts of 200-500 words are being accepted through October 31, 2015, for a 20- to 25-minute oral research presentation on any topic about 19th-century baseball. Please include title and contact information. Proposals must be part of an e-mail or in the form of a Word or PDF document sent to Peter Mancuso at peterplus4@earthlink.net.
Details on conference registration will be available at SABR.org/ivor-campbell19c in early 2016.
To view coverage of the 2015 Ivor-Campbell 19th Century conference, click here.
---
We hope you'll consider a tax-deductible donation to SABR's new 19th Century Baseball Grave Marker Project, which identifies 19th-century baseball notables who either lack a grave marker or whose headstone is in dire disrepair, and then rectifies those issues.
The 19th Century Baseball Grave Marker Project Committee is chaired by SABR member Bob Gregory, who coordinates this project closely with the SABR office in Phoenix.
The first site chosen for this undertaking is that of an original New York Knickerbocker, James Whyte Davis, one of the Founding Fathers of baseball. Efforts are already under way for the Davis marker to be placed on his unmarked grave in the historic Green-Wood Cemetery in Brooklyn, New York. Donations are now being accepted specifically for the Davis grave site and/or the 19th Century Grave Marker Project in general. To learn more about James Whyte Davis at John Thorn's "Our Game" blog, click here.
Donations may be made in any amount, large or small, but to help initiate the project, a $25 donation is suggested; approximately the equivalent of one dollar at the time of Davis' passing in 1899. Thank you in advance for your generosity.
This project requires some real field research in many places (perhaps near you) to verify if a 19th-century baseball notable is in a marked grave or unmarked grave and to be part of the excitement of dedicating a grave marker. SABR's Nineteenth Century Committee has developed a list of all 19th-century players and managers, along with a number of umpires, sportswriters, and pre-professional players. If you are interested in helping, the committee can provide you with a list in your area for a cemetery visit to confirm the location, note if it is marked, and supply other information on the plot. Please contact Bob Gregory (mgregory128@hotmail.com) or a member of SABR's Nineteenth Century Committee for more details.
SABR is a 501(c)(3) organization and all donations to SABR are tax-deductible to the extent allowed by law. To learn more, visit SABR.org/donate.
---
In this week's installment of our "Working the Game" series of interviews for SABRMedia.org — revealing what it is like to work as a baseball media professional on a day-to-day basis — we feature Jim Weber, the long-time radio play-by-play announcer for the Triple-A Toledo Mud Hens. This interview was conducted by SABR member Steve Krah.
The longest tenured broadcaster in the International League, Weber called his 5,000th consecutive game for the Mud Hens in 2013 and the streak has continued from there. He has worked every game that Toledo has broadcast since the mid-1970s.
Read the full interview here: http://sabrmedia.org/2015/08/13/working-the-game-an-interview-with-jim-weber-toledo-mud-hens-radio-and-tv-play-by-play/
---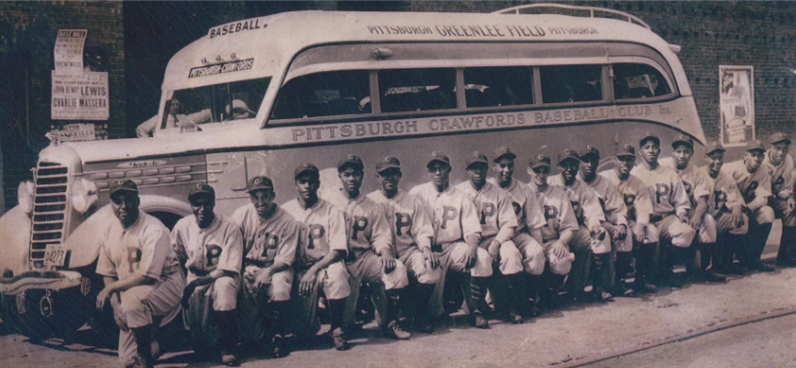 We're pleased to pass along this update from SABR member Gary Ashwill at Seamheads.com on August 13:
The 1932 East-West League, plus four independent east coast teams from that year, forms the latest addition to the Seamheads Negro Leagues Database.

This was the year when Pittsburgh numbers operator Gus Greenlee really got serious about baseball. He hired the architect Louis A. S. Bellinger to construct a lavish new ballpark in the Hill District, and opened up his wallet to sign some of the best players in black baseball. From the crosstown rival Homestead Grays he grabbed player-manager Oscar Charleston, young slugging star Josh Gibson, and catcher/pitcher Doubly Duty Radcliffe. Greenlee also retained Satchel Paige, whom he had briefly employed at the end of the 1931 season, and snapped up outfielder Rap Dixon.

How did Cumberland Posey react to the loss of these stars? He went looking for new ones. And the black baseball world of 1932 had plenty to offer, since Rube Foster's Negro National League had finally dissolved. After this, and two straight seasons with no black professional league on the east coast, it fell to the fiercely independent operator of the Homestead Grays (a team that had spent a grand total of one season in a Negro league, back in 1929), to try to reorganize black baseball.

His ambitious plan, in the midst of a worldwide depression, was to establish one league spanning the whole northeastern quadrant of the country, the same territory covered by the white big leagues. Big-time black baseball had been traditionally split into two regions, the northeast and the Midwest. To signify his determination to bring them together, Posey called his new organization the East-West Colored League. He also intended to play league baseball every day. Even the Negro National League in its 1920s heyday couldn't quite manage that.
Read the full update here: http://seamheads.com/2015/08/13/negro-leagues-db-update-1932-east-west-league/
To view the award-winning Seamheads Negro Leagues Database, visit http://www.seamheads.com/NegroLgs/index.php
---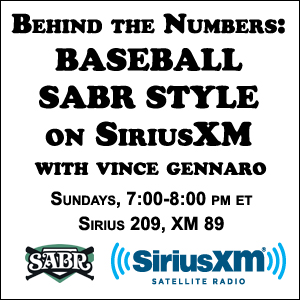 We invite you to listen to Behind the Numbers: Baseball SABR Style on SiriusXM, a new radio show hosted by SABR President Vince Gennaro, on Sunday nights on MLB Network Radio.
Baseball SABR Style focuses on examining and interpreting the statistical analysis that plays a critical role in baseball today. It will air weekly throughout the year on MLB Network Radio, available to subscribers nationwide on XM channel 89, Sirius channel 209, and on the SiriusXM Internet Radio App. (Recent shows are available afterward in the "on-demand" section of the SiriusXM app or website.)
For more information, click here.
---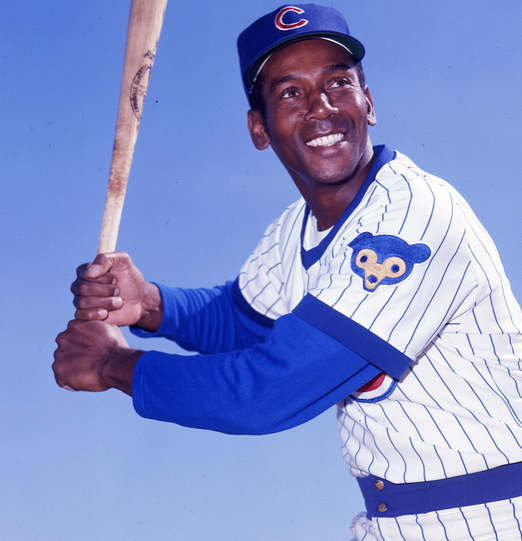 Two new biographies were posted this week as part of the SABR Baseball Biography Project, which brings us to a total of 3,319 published biographies. Here are the new bios:
All new biographies can be found here: http://sabr.org/bioproj/recent
You can find the SABR BioProject at SABR.org/BioProject.
Bios on more than just ballplayers: The ambitious goal of the SABR Baseball Biography Project is to publish a full-life biography of every major league player in history. But SABR members write about a lot more than just ballplayers. In addition, we have pages for Ballparks, Broadcasters, Executives, Managers, Scouts, Spouses, Umpires and a lot more on the BioProject website. You can browse all of these categories at http://sabr.org/bioproj/browse. So if you've ever thought, "Hey, that person (or ballpark) should get the full BioProject treatment" — write the story and we'll publish it!
Get involved! If you'd like to help contribute to the SABR BioProject, visit our BioProject Resources page or read the FAQs section to get started. We're also looking to expand the BioProject to include all "encyclopedic" articles on baseball-related subjects from past SABR publications or committee newsletters. If you come across an article you think should be included in the SABR "baseball repository" at the BioProject, send a copy or link to markarmour04@gmail.com or jpomrenke@sabr.org.
---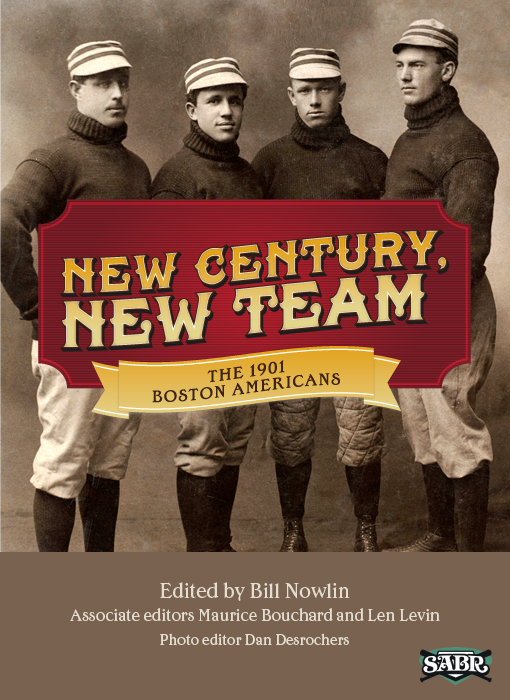 The team now known as the Boston Red Sox played its first season in 1901. The Boston Americans played in a new ballpark — the Huntington Avenue Grounds — literally on the other side of the railroad tracks from the Beaneaters and they out-drew the established National League team by more than 2-1, in part because they had enticed some of the more popular players: player/manager Jimmy Collins, pitcher Cy Young, and slugger Buck Freeman.
Their stories and many more are included in New Century, New Team: The 1901 Boston Americans, edited by Bill Nowlin and published by the SABR Digital Library in 2013.
The SABR BioProject biographies that appeared in that book can now be read online at:
http://sabr.org/category/completed-book-projects/1901-boston-americans
---
We've heard your feedback: Some of you have said you look forward to "This Week in SABR" every Friday, but sometimes there are just too many compelling articles and announcements to read every week. We're not complaining — hey, keep up the great work! — but we know the feeling. So in an effort to make the length of this newsletter more manageable to read, we'll summarize some of the repeating/recurring announcements in a special "In Case You Missed It (ICYMI)" section of "This Week in SABR".
Here are some major headlines from recent weeks that we don't want you to miss:
All previous editions of This Week in SABR can be found here: http://sabr.org/content/this-week-in-sabr-archives.
---
We'd like to welcome all of our new SABR members who have joined this week. You can find all Members-Only resources at members.sabr.org and the New Member Handbook can be downloaded here.
Please give these new members a warm welcome and help them make the most of their membership by giving them the opportunity to get involved in their local chapter or a research committee.
You can find contact information for any SABR member in the online membership directory (SABR.org/directory).
| Name | Hometown | | | Name | Hometown |
| --- | --- | --- | --- | --- | --- |
| Tyler Barton | Gilbert, AZ | | | Ray McMillen | South Lyon, MI |
| Nick Bendas | St. Louis, MO | | | Kent Osborne | Beaverton, OR |
| Alex Blair | Hinsdale, IL | | | Randy Richardson | Evanston, IL |
| Geoffrey Brann | Hartsdale, NY | | | Chip Scarinzi | Alameda, CA |
| Billy Brost | Riverton, WY | | | John Smith | Arlington, VA |
| George Cardono | Rehoboth, MA | | | Marilyn Stolar | New London, CT |
| Jeffrey Hollander | Valparaiso, IN | | | Debbie Vargas | San Leandro, CA |
| Desmond Loughman | Indian Harbor Beach, FL | | | David Warren | Las Vegas, NV |
| David Lucander | Stone Ridge, NY | | | Tom Wilkins | Pleasant Hill, CA |
| Ken Mars | Baltimore, MD | | | Melissa Wozny | Bourbonnais, IL |
---
Here are the new SABR research committee updates this week:
Minor Leagues: Summer 2015 newsletter

Statistical Analysis: At SABR 45 in Chicago, the committee began a project to compile a bibliography/list/guide for newcomers to sabermetrics. The SABR Guide to Sabermetric Research at SABR.org/sabermetrics is more of an explanation of what sabermetrics is than a "Sabermetrics 101" that would allow people to get an understanding of actual sabermetric knowledge. Committee chair Phil Birnbaum has set up a Yahoo! discussion group where you can submit your ideas for the bibliography. Click here to sign up. For more information, contact Phil at

birnbaum@sympatico.ca

.
Find all SABR research committee newsletters at SABR.org/research.
---
Here are the new regional chapter updates this week:
Visit SABR.org/chapters for more information on SABR regional chapters.
---
Here is a list of upcoming SABR events:
All SABR meetings and events are open to the public. Feel free to bring a baseball-loving friend … and make many new ones! Check out the SABR Events Calendar at SABR.org/events.
---
Here are some recent articles published by and about SABR members:
Read these articles and more at SABR.org/latest.
---
This Week in SABR is compiled by Jacob Pomrenke. If you would like us to include an upcoming event, article or any other information in "This Week in SABR," e-mail jpomrenke@sabr.org.
Have trouble reading this e-mail? Click here to view this week's newsletter on the web.
Are you receiving our e-mails? "This Week in SABR" goes out by e-mail to all members on Friday afternoons. If they're not showing up, try adding "sabr.notes@sabr.org" to your contact list to ensure they show up in your inbox (and not the spam folder.)
---
Originally published: August 14, 2015. Last Updated: April 3, 2020.
https://sabr.org/wp-content/uploads/2020/03/research-collection4_350x300.jpg
300
350
jpomrenke
/wp-content/uploads/2020/02/sabr_logo.png
jpomrenke
2015-08-14 15:00:00
2020-04-03 14:39:14
This Week in SABR: August 14, 2015