This Week in SABR: August 18, 2017

Welcome to "This Week in SABR!" Click here to view this week's newsletter on the web. Here's what we've been up to as of August 18, 2017:
---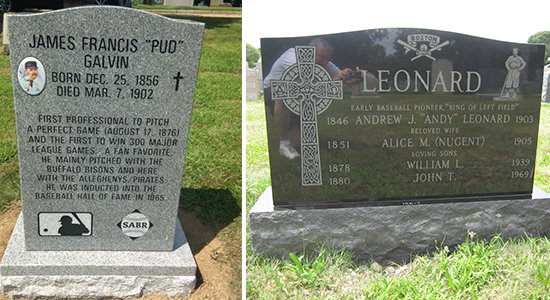 SABR's 19th Century Baseball Grave Marker Project is pleased to announce dedication ceremonies for their two latest installations, honoring Andy Leonard of early Cincinnati and Boston baseball fame and Hall of Famer James Francis "Pud" Galvin.
On Saturday, September 9 at New Calvary Cemetery in Mattapan, Massachusetts, join a band of 19th-century history buffs, baseball fans, and family members of one of baseball's "First Boys of Summer," Andy Leonard. A star left fielder of the undefeated Cincinnati Red Stockings, he subsequently joined Boston's first league "dynasty" champions of the 1870s. Ireland's National Baseball League crowns its seasonal best player with the Andy Leonard Most Valuable Player Award developed to honor this Irish-born athlete. Click here for complete details.
On Saturday, September 23, we celebrate the life of Hall of Famer Pud Galvin. Following the SABR Forbes Field Chapter meeting at the Heinz History Center in Pittsburgh, interested guests will meet at Calvary Cemetery (718 Hazelwood Ave., Pittsburgh, PA) at 4:00 p.m. Galvin is the third grave marked by the SABR 19th Century Grave Baseball Marker Project. The dedication ceremony will feature a bio of Galvin, prepared by his biographer Chip Martin, as well as other baseball notables and members of the Galvin family.
With the help of donations from SABR members as well as a generous grant from Major League Baseball, the Project attempts to provide the honor these players were denied at the times of their deaths. Their first stone was laid in May 2016 at Green-Wood Cemetery in Brooklyn for James Whyte Davis, member and officer of the New York Knickerbockers.
Click here to read the full article at SABR.org.
For more information, contact Ralph Carhart at thehallballproject@gmail.com.
---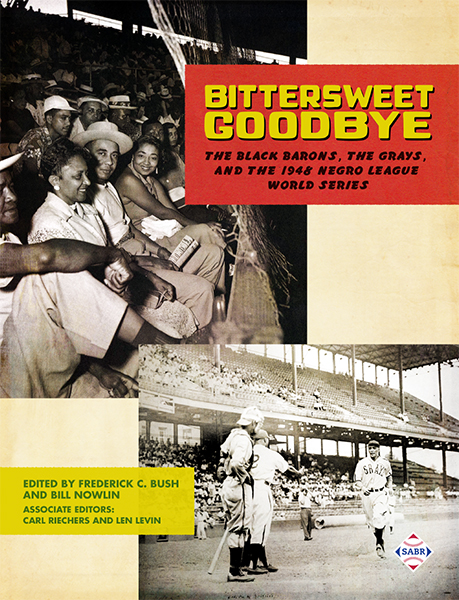 The newest publication from the SABR Digital Library focuses on the end of an era in black baseball:
Bittersweet Goodbye: The Black Barons, the Grays, and the 1948 Negro League World Series
Edited by Frederick C. Bush and Bill Nowlin
Associate Editors: Carl Riechers and Len Levin
ISBN (paperback): 978-1-943816-55-2, $21.95
ISBN (ebook): 978-1-943816-54-5, $9.99
8.5 x 11″, 438 pages
This book was inspired by the last Negro League World Series ever played and presents biographies of the players on the two contending teams in 1948 — the Birmingham Black Barons and the Homestead Grays — as well as the managers, the owners, and articles on the ballparks the teams called home.
Also included are articles that recap the season's two East-West All-Star Games, the Negro National League and Negro American League playoff series, and the World Series itself. Additional context is provided in essays about the effects of Organized Baseball's integration on the Negro Leagues, the exodus of Negro League players to Canada, and the signing away of top Negro League players, specifically Willie Mays.
The lack of detailed press coverage of the Negro Leagues, the fact that not every player was a star with a lengthy career, and gaps in public records of the era (especially in regard to African Americans) present a situation in which it is not possible to detail the life of every single player as fully as in other SABR publications. In the face of such challenges, the SABR researchers who have contributed player biographies and feature articles to this book have done utmost diligence to uncover every possible nugget of information that is currently available and, in many instances, new discoveries have been made. Many of the players' lives and careers have been presented to a much greater extent than previously.
This book represents the collaborative efforts of 49 authors and editors from the Society for American Baseball Research (SABR). Contributors include: Niall Adler, Jack Anderson, Brian Baughan, Ralph Berger, Richard Bogovich, Frederick C. Bush, Ralph Carhart, Alan Cohen, William Dahlberg, Dennis D. Degenhardt, Amy Essington, Charles F. Faber, James Forr, Dave Forrester, Charlie Fouche, Joseph Gerard, Irv Goldfarb, Margaret M. Gripshover, Tom Hawthorn, Leslie Heaphy, Jay Hurd, Bill Johnson, Thomas E. Kern, Norm King, John Klima, Japheth Knopp, Bob LeMoine, Michael Mattsey, Brian McKenna, Jack Morris, Justin Murphy, Rob Neyer, Skip Nipper, Bill Nowlin, Will Osgood, Mark Panuthos, Richard J. Puerzer, Chris Rainey, John Saccoman, John Schleppi, Curt Smith, Jeb Stewart, J.W. Stewart, Rick Swaine, Clarence Watkins, Steve West, and Dave Wilkie.
SABR members, get this e-book for FREE!
Having trouble downloading our e-books? To view PDF files on your computer, click here to download the free Adobe Reader software. Having trouble downloading e-books to your Kindle, Nook, Sony Reader or iPad? Click here for additional help.
SABR members get discounted rates for all Digital Library publications, including e-book downloads for free. Find all SABR Digital Library books at SABR.org/ebooks.

---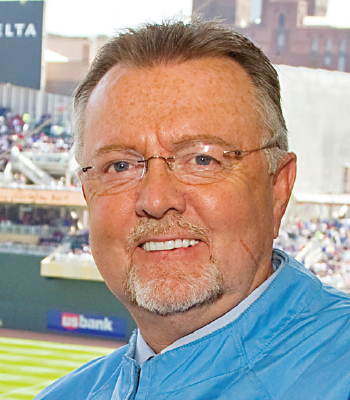 SABR's Board of Directors has approved the formation of a new international chapter.
The Bert Blyleven Chapter, led by Herbert Degens in the Netherlands, serves members in continental Europe. The Hall of Fame pitcher and Minnesota Twins broadcaster graciously allowed the use of his name for the new chapter. "It would be an honor," he said. Blyleven, a Dutch native, is the only European-born player inducted in the Baseball Hall of Fame. Learn more about Blyleven's life and career at the SABR BioProject.
SABR's 72 regional chapters cover 37 U.S. states, Puerto Rico, and Washington, D.C.; plus international chapters in Canada (Quebec, Ontario, British Columbia), Japan, South Korea, Nepal, Australia, Latin America (Venezuela, Dominican Republic), the United Kingdom, and Europe. For a list of all SABR chapters, visit SABR.org/chapters. A calendar of upcoming SABR meetings can be found at SABR.org/events.
To sign up for chapter email announcements and receive instant notification of upcoming SABR events in your area, click here to select from the list of chapters, then click "Join Group" at the top of the chapter page. All SABR members are eligible to sign up for announcements from any chapter or committee.
---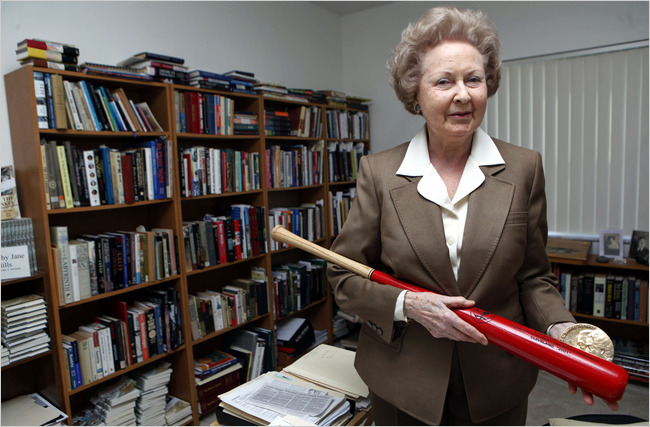 SABR's Women in Baseball Committee has established the Dorothy Seymour Mills Lifetime Achievement Award — "The Dorothy" — named in honor of Dorothy Seymour Mills and her lifetime of contributions to promoting women's baseball.
Nominations for the inaugural award will be accepted until September 5, 2017. Please click here for complete details or contact Leslie Heaphy for questions.
Eligible candidates include any person with a sustained involvement in women's baseball or any woman with a longtime involvement in baseball in any fashion — player, umpire, writer, executive, team owner, scout, etc. Candidates do not have to be living; it can be awarded posthumously. Self-nominations are accepted.
To learn more about the legendary baseball historian Dorothy Seymour Mills, click here.
---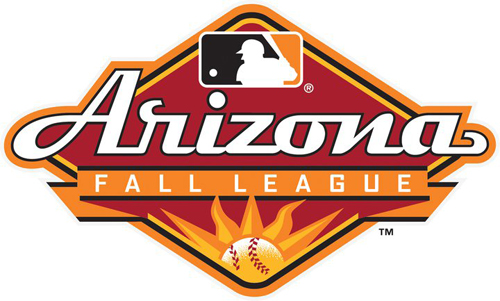 Save the date! Join us for the ninth annual SABR Arizona Fall League Experience on Thursday, November 2 to Saturday, November 4, 2017, in Phoenix, Arizona. Registration information will be available at SABR.org/AFL later this summer.
The annual conference, hosted by SABR's Arizona Hemond-Delhi Chapter, is held in conjunction with the Arizona Fall League (mlbfallball.com), baseball's premier player development league. In the first eight years of the conference, attendees have been treated to sneak peeks at MLB stars like Mike Trout, Bryce Harper, Buster Posey, Stephen Strasburg, Nolan Arenado, Gerrit Cole, Billy Hamilton, and Gary Sanchez before they hit the big leagues.
All baseball fans are welcome to attend the SABR Arizona Fall League Experience. Visit SABR.org/AFL for photos and highlights from past conferences.
---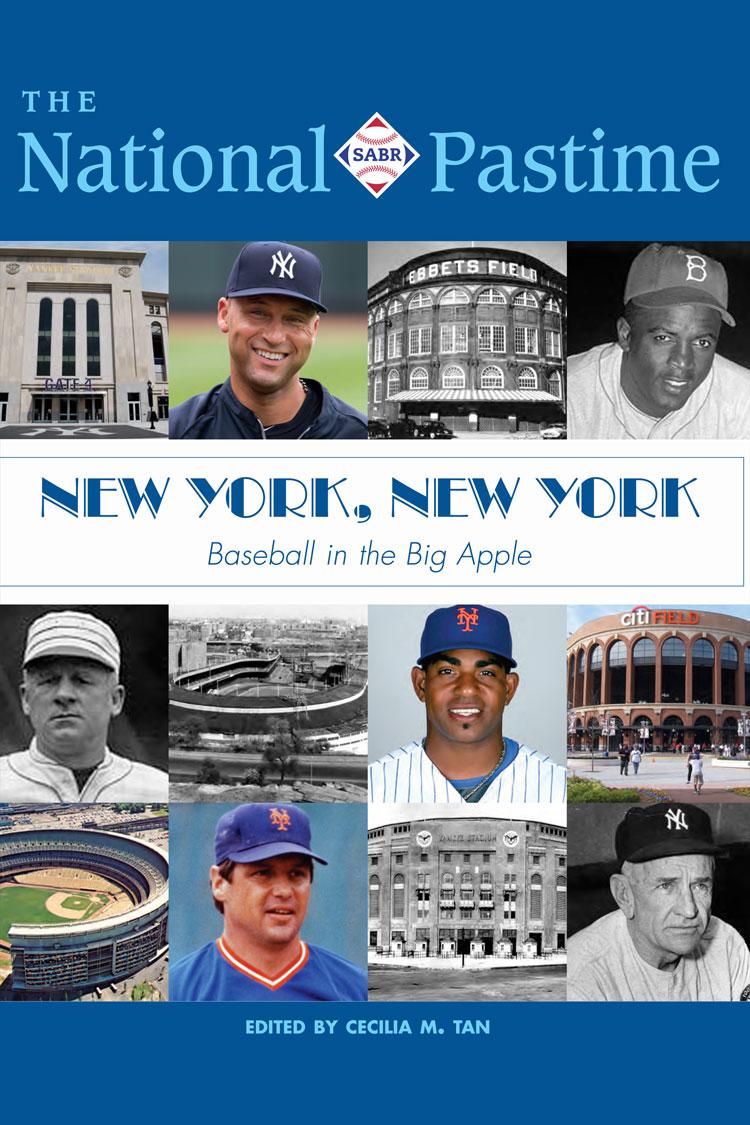 Since 2009, The National Pastime has served as SABR's convention-focused publication. Published annually, this research journal provides in-depth articles focused on the respective geographic region where the national convention is taking place in a given year. All SABR members receive a free e-book copy of The National Pastime as part of their membership benefits, while attendees of the national convention also receive a souvenir print edition in their goody bags.
SABR members can now read all articles from the 2017 convention journal, The National Pastime: New York, New York: Baseball in the Big Apple, online at SABR.org by clicking on the link below:
http://sabr.org/research/2017-national-pastime
Click a link below to download the e-book edition of the 2017 convention journal.
To purchase a copy of the print edition from the SABR Bookstore, click here.
If you weren't able to attend the convention in New York, please enjoy this issue of The National Pastime as your virtual trip to the Big Apple. Happy reading!
To learn more about contributing to a future SABR publication, click here.
— Cecilia M. Tan, Publications Director
---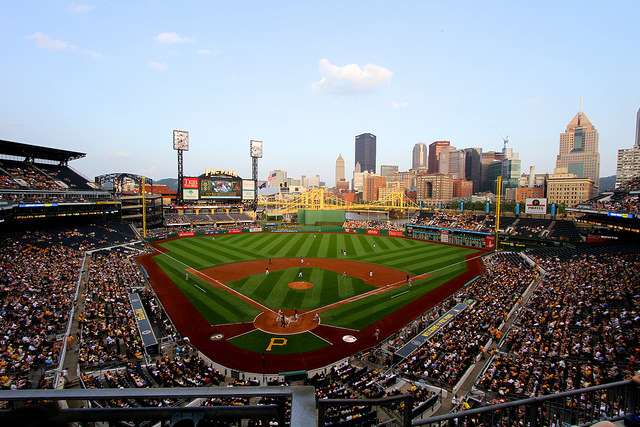 Save the date! SABR will be returning to the Steel City for our 48th national convention on June 20-24, 2018, at the Wyndham Grand in downtown Pittsburgh, Pennsylvania. Registration information will be available at SABR.org/convention in early 2018. The convention location is contingent on a Pirates' homestand that weekend.
The Wyndham Grand is conveniently located within walking distance from PNC Park and a light rail station, many downtown cultural amenities, and right across the street from the picturesque 36-acre Point State Park where the three rivers converge.
SABR 48 will be our second convention held in Pittsburgh and first since 1995. Our 25th annual convention that year featured a keynote speech from former Pirates manager Chuck Tanner and panel discussions commemorating the 1960 and 1971 World Series champions. Learn more about SABR's convention history by clicking here.
SABR's 2018 national convention will be our 48th annual gathering; the organization's founding in Cooperstown in 1971 is counted as the first.
For more information on the SABR convention, visit SABR.org/convention.
---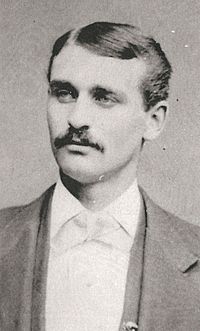 At 11:00 a.m. on Saturday, August 19 in Mount Morris, New York, a monument will be dedicated honoring baseball pioneer Ross Barnes. All baseball fans are invited.
The ceremony will be held at a small park in the village center. The Barnes memorial will be placed next to an old refurbished fountain which already has a memorial for Francis Bellamy, the author of the "Pledge of Allegiance." Both Barnes and Bellamy are natives of Mount Morris. Immediately following the dedication, a vintage base ball game will be played, made up of players from the Rochester area.
Barnes was selected as SABR's Overlooked 19th Century Legend in 2013.
The Barnes monument is part of SABR member David Stalker's Baseball Memorial Series. This series began in 2005, with Fred Merkle as the first honoree. It was followed with other players from the Deadball Era and a monument at Miller Park commemorating the AL beginning in Milwaukee and the 1901 Brewers.
Click here to learn more at SABR.org.

---
All SABR members are invited and encouraged to submit a Research Presentation Proposal Abstract on any topic of 19th-century baseball for the 2018 Frederick Ivor-Campbell 19th Century Base Ball Conference at the Baseball Hall of Fame in Cooperstown, New York. The 10th annual Ivor-Campbell Conference is scheduled for April 20-21, 2018.
The deadline for proposal Abstracts is October 31, 2017. Your abstract must be between 200-500 words for a 20- to 25-minute presentation. Please include name, title, and contact information and send your proposal as a Microsoft Word or PDF attachment to Peter Mancuso at peterplus4@earthlink.net.
---
A Student Group Affiliate Membership will provide students with access to many of the electronic benefits that SABR members enjoy, including "This Week in SABR," e-book editions of the Baseball Research Journal and The National Pastime, free SABR e-books, and access to the members-only section of SABR.org. This membership will not include any printed publications or voting rights.
In order to make the Student Group Affiliate Membership affordable for groups to join, here are the options we offer:
College/University groups/classes: For an annual fee of $250, a group of up to 25 students can receive a one-year electronic SABR affiliate membership.
High School/Middle School groups/classes: For an annual fee of $100, a group of up to 20 students can receive a one-year electronic SABR affiliate membership.
Any educational class or student group at the middle school, high school or college/university level is eligible for a SABR affiliate membership, as long as a faculty member, teacher, or advisor is an active SABR member (or registers to join.) The teacher/advisor will be listed as the group contact on the SABR website.
The teacher/advisor will be asked to collect the money, names and e-mail addresses for all students wishing to join, and submit those to the SABR office at one time. In addition, the advisor/instructor must be an active SABR member or sign up for a regular SABR membership; annual dues are $65, with discounts available for adults under the age of 30 or over 65.
To sign up for a Student Group Affiliate Membership, or if you have any questions about how it might work for your group or class, please contact Blane Ferguson at bferguson@sabr.org.
---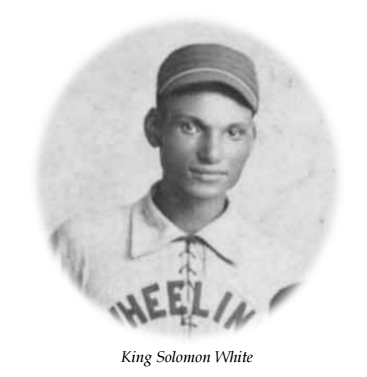 SABR member Ken Mars, with contributions from Mark Aubrey and John Thorn, has put together a new collection of articles about the first African American professional baseball league: the National Colored League in 1887. SABR members can now access the guide on the Research Resources page at SABR.org or by downloading the PDF at the link below:
The guide includes Mars's presentation, "Early Black Baseball in Baltimore: 1865-1887," from the 2017 SABR Jerry Malloy Negro League Conference, 1887 NCL standings and a day-by-day guide, plus notes on the NCL organization's formation, the season, and its aftermath.
As Mars writes:
1887 was a pivotal, destructive year for black baseball. Cap Anson protested a game versus Moses Fleetwood Walker and George Stovey, the St. Louis Browns refused to play the Cuban Giants, the Sporting News declared the "color line" had been drawn, and the majors had their "gentleman's agreement" not to hire any more black players. All of these stories are quite well known, while right in the middle of it was the first professional league founded by African Americans, and there was very, very little written about it in books or modern articles. This is really important stuff. Not just for baseball history buffs, but the cultural history of America. We need to know more. … I compiled this document with hope that others in SABR, and beyond, can further explore by providing a solid starting point.
Visit SABR.org/research/resources to view a comprehensive list of Research Resources available to all SABR members.
---
We want to highlight a feature that's one of our favorite benefits of SABR membership: research committee newsletters.
SABR members have a variety of interests, and this is reflected in the diversity of our more than two dozen research committees — from Baseball and the Arts, to Statistical Analysis, to the Deadball Era, to Women in Baseball.
All SABR members are eligible to sign up for — or contribute to — newsletters from any research committee. Committee newsletters are another outlet SABR offers for publication of your research articles, and also a respository for news and notes, pertinent announcements, and updates about committee goings-on.
The publication schedule varies by committee. Some newsletters come out once a month while most are published quarterly or bi-annually. So while you're waiting for the next Baseball Research Journal or SABR Digital Library publication to drop, these newsletters are a great source to read new baseball research from SABR members.
Here are some examples of original articles from our committee newsletters:
You can view all past committee newsletters by going to any Research Committee's page and selecting "Newsletters."
To sign up to receive a committee's newsletter, just go to members.sabr.org and select the "Join a committee" button.
And most importantly: To contribute an article to any committee newsletter, because none of these newsletters could be published without your efforts, contact a committee leader to discuss your ideas and learn how to submit a story.
---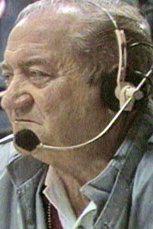 Three new biographies were posted this week as part of the SABR Baseball Biography Project, which brings us to a total of 4,179 published biographies. Here are the new bios published this week:
All new biographies can be found here: SABR.org/bioproj/recent
Search for any SABR biography: You can now visit sabr.org/bioproj_search to search for any player — or manager, executive, scout, spouse, broadcaster, or umpire — who appears in the SABR BioProject. You can also browse all of these BioProject categories and a lot more, including 300-game winners, Hall of Famers, 1960s All-Stars, or Negro Leaguers, at our Browse page: sabr.org/bioproj/browse.
---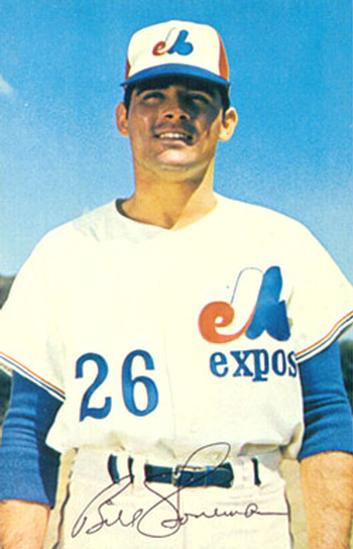 Five new game stories were posted this week as part of the SABR Games Project. Here are the new game stories:
These articles appeared in Au jeu/Play Ball: The 50 Greatest Games in the History of the Montreal Expos (SABR, 2016), edited by Norm King. To read more articles from this book, click here.
New Games Project stories can be found at SABR.org/gamesproject/recent. Find all published Games Project articles at SABR.org/GamesProject.
If you have any questions about the Games Project, please contact Greg Erion. If you want to know if a game is available to write about, please contact Bruce Slutsky. After the article has been completed in accordance with our Authors' Guidelines, please submit it to Len Levin, who will initiate the editing process and get your story started toward publication.
Get involved: Have memories of a game you attended? Or a game you watched that caught your interest? Write about it! Writing for the Games Project is an easy way to get involved as a SABR member. Find out how by reading the Games Project FAQs section or checking out the Authors' Guidelines. We have editors and fact checkers who are willing to help you write your first article.
Seeking volunteers to help enhance Games Project articles on website: Any volunteer who is willing to assist with linking player biographies in previously published Games Project stories on the SABR website, please contact Jacob Pomrenke. No experience necessary. Must be comfortable working in Drupal, WordPress or other standard content management systems.
---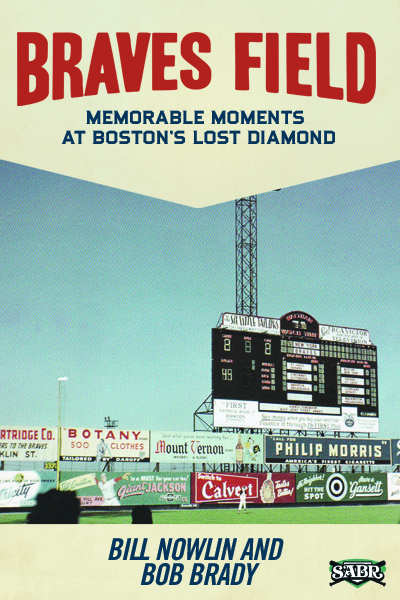 All articles from Braves Field: Memorable Moments at Boston's Lost Diamond, (SABR, 2015), edited by Bill Nowlin and Bob Brady, can now be found online at the SABR Games Project. To read more articles from this book, click here.
Here is a sampling:
To download your free e-book copy of the Braves Field book or to get 50% off the paperback edition, click here.
---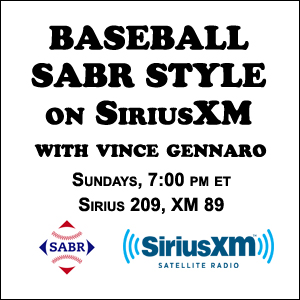 Behind the Numbers: Baseball SABR Style on SiriusXM, a radio show hosted by SABR President Vince Gennaro will air at its regular time from 7:00-8:00 p.m. ET this Sunday on MLB Network Radio.
This week's guests are SABR member and author Mitchell Nathanson on Ball Four author Jim Bouton and David Aufhauser from Intel.
You can also listen to archives of recent episodes on-demand on the SiriusXM Internet Radio App, and you can watch video highlights of Behind the Numbers: Baseball SABR Style on SiriusXM on MLB.com. Click here to watch more video highlights of Baseball SABR Style from MLB.com.
Behind the Numbers: Baseball SABR Style on SiriusXM focuses on examining and interpreting the statistical analysis that plays a critical role in baseball today. It airs weekly throughout the year on MLB Network Radio, available to subscribers nationwide on XM channel 89, Sirius channel 209, and on the SiriusXM Internet Radio App.
---
We've heard your feedback: Some of you have said you look forward to "This Week in SABR" every Friday, but sometimes there are just
too many compelling articles and announcements to read every week. We're not complaining — hey, keep up the great work! — but we know the feeling. So in an effort to make the length of this newsletter more manageable to read, we'll summarize some of the repeating/recurring announcements in a special "In Case You Missed It (ICYMI)" section of "This Week in SABR".
Here are some major headlines from recent weeks that we don't want you to miss:
All previous editions of This Week in SABR can be found here: http://sabr.org/content/this-week-in-sabr-archives.
For more information, click here.
---
We'd like to welcome all of our new SABR members who have joined this week. You can find all Members-Only resources at members.sabr.org and the Membership Handbook can be downloaded here.
Please give these new members a warm welcome and help them make the most of their membership by giving them the opportunity to get involved in their local chapter or a research committee.
You can find contact information for any SABR member in the online membership directory (SABR.org/directory).
| Name | Hometown | | | Name | Hometown |
| --- | --- | --- | --- | --- | --- |
| Luke Arkins | Shoreline, WA | | | Shawn Manning | Butler, PA |
| Martin Babicz | Longmont, CO | | | John Morris | Irving, TX |
| William Carron | Woodside, NY | | | Michael Murray | Picton, ON |
| Daniel Chaderjian | Fullerton, CA | | | Scott Roper | Lyndeborough, NH |
| Juan Diaz | Hollidaysburg, PA | | | Kenneth Snell | Houston, TX |
| Steve Durham | Austin, TX | | | John Starzyk | Waukesha, WI |
| Brian Hotson | Dartmouth, NS | | | Gary Voelker | Riverside, CA |
| Ben Leaf | Chicago, IL | | | Scott Wallace | Chico, CA |
| Jim Lucey | Gaithersburg, MD | | | Kenneth Zigmond | Lisle, IL |
| Jeff Maer | New York, NY | | | | |
---
Here are the new SABR research committee updates this week:
Find all SABR research committee newsletters at SABR.org/research.
---
Here are the new regional chapter updates this week:
Best Practices handbook: Chapter leaders, you can download the updated Chapter Leaders Best Practices Handbook on the Admin Tools page at admin.sabr.org. The handbook offers suggestions and guidelines for meetings, speakers, revitalizing a chapter, and getting publicity for SABR and chapter events.
Visit SABR.org/chapters for more information on SABR regional chapters.
---
Here is a list of upcoming events on the SABR calendar:
All SABR meetings and events are open to the public. Feel free to bring a baseball-loving friend … and make many new ones! Check out the SABR Events Calendar at SABR.org/events.
---
Here are some recent articles published by and about SABR members:
Read these articles and more at SABR.org/latest.
---
This Week in SABR is compiled by Jacob Pomrenke. If you would like us to include an upcoming event, article or any other information in "This Week in SABR," e-mail jpomrenke@sabr.org.
Have trouble reading this e-mail? Click here to view this week's newsletter on the web.
Are you receiving our e-mails? "This Week in SABR" goes out by e-mail to all members on Friday afternoons. If they're not showing up, try adding "sabr.notes@sabr.org" to your contact list to ensure they show up in your inbox (and not the spam folder.)
---
Originally published: August 18, 2017. Last Updated: April 3, 2020.
https://sabr.org/wp-content/uploads/2020/03/research-collection4_350x300.jpg
300
350
admin
/wp-content/uploads/2020/02/sabr_logo.png
admin
2017-08-18 15:00:00
2020-04-03 14:38:43
This Week in SABR: August 18, 2017