This Week in SABR: August 5, 2016

Welcome to "This Week in SABR!" Click here to view this week's newsletter on the web. Here's what we've been up to as of August 5, 2016:
---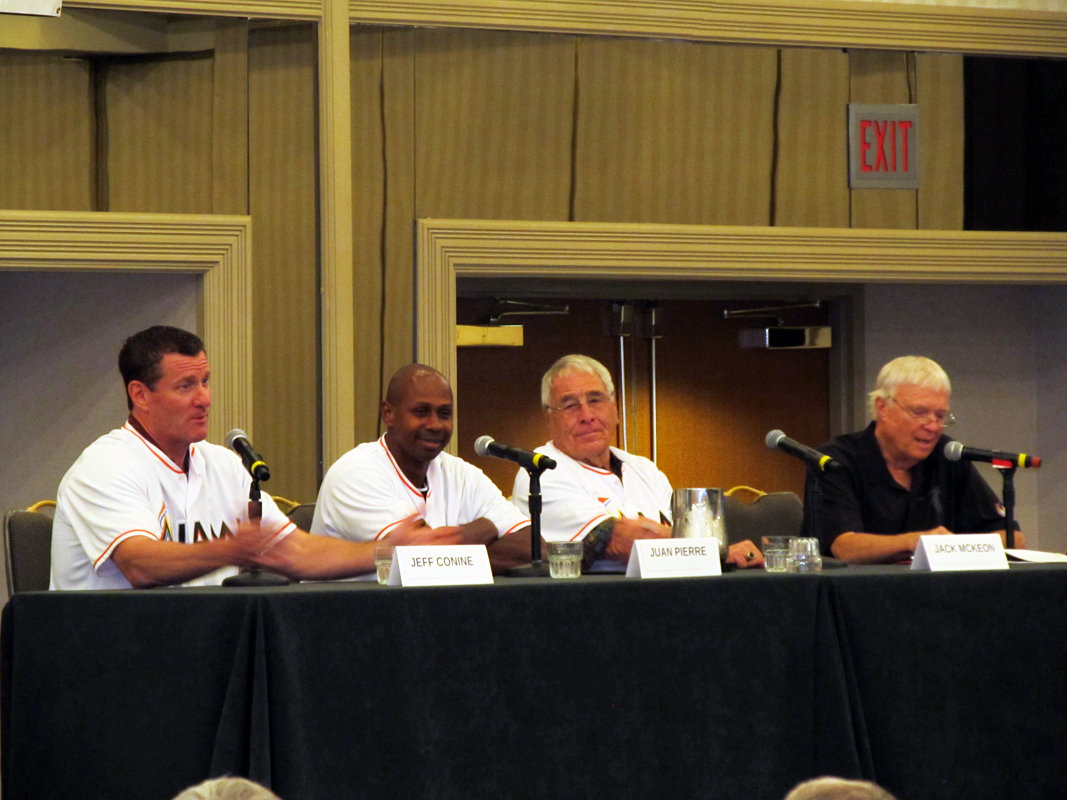 At the 2003 Marlins Championship Panel during SABR 46 on Thursday, July 28 at the Hyatt Regency Miami, former Marlins outfielders Jeff Conine and Juan Pierre, manager Jack McKeon, and Ford C. Frick Award-winning broadcaster Dave Van Horne looked back at their surprising run to a World Series championship and a memorable postseason. Here are some highlights:
Juan Pierre, on the Marlins' clubhouse culture: "After you've been around, you really realize how special the '03 team was. The unselfishness, everyone just got along. You could go to anyone's locker (to talk.) … When Conine came (back), he just fit right in. We had a million handshakes; we had to start the games three or four minutes late because we had to make sure we got everyone's handshakes in."
Dave Van Horne, on Game Six of the 2003 NLCS: "(The eighth inning) was perhaps the most exciting 27 minutes of baseball that team has ever played. … It's a shame it took (Cubs fan Steve Bartman) away from a game that he loved. I always go back, especially when talking to Cubs fans about it, 'Let's go back and look at the missed double-play ball.'"
Jack McKeon, on Game Six of the 2003 NLCS: "This club took advantage of every opportunity that came along. And we kept looking around in the dugout and thought, 'When we are going to get an opening?' As we all know, we did get that opening. And all hell broke loose and we came through with flying colors. … Prior and Wood had dominated us during the season. But there was a feeling in the clubhouse that we were not going to be denied."
Jeff Conine, on the final play of the World Series: "It was a miracle. Josh Beckett, while one of the most dominating, phenomenal pitchers on the mound, was one of the worst athletes you've ever seen. When that ball rolled over, I thought, 'Oh my god, that's going to be a disaster.' … And he picked it up like it was nothing and tagged him out. I think we were more in shock that Josh fielded the ball and tagged him than that we had just won the World Series!"

Click here to read more or to listen to audio highlights from the 2003 Marlins Championship Panel at SABR 46.
---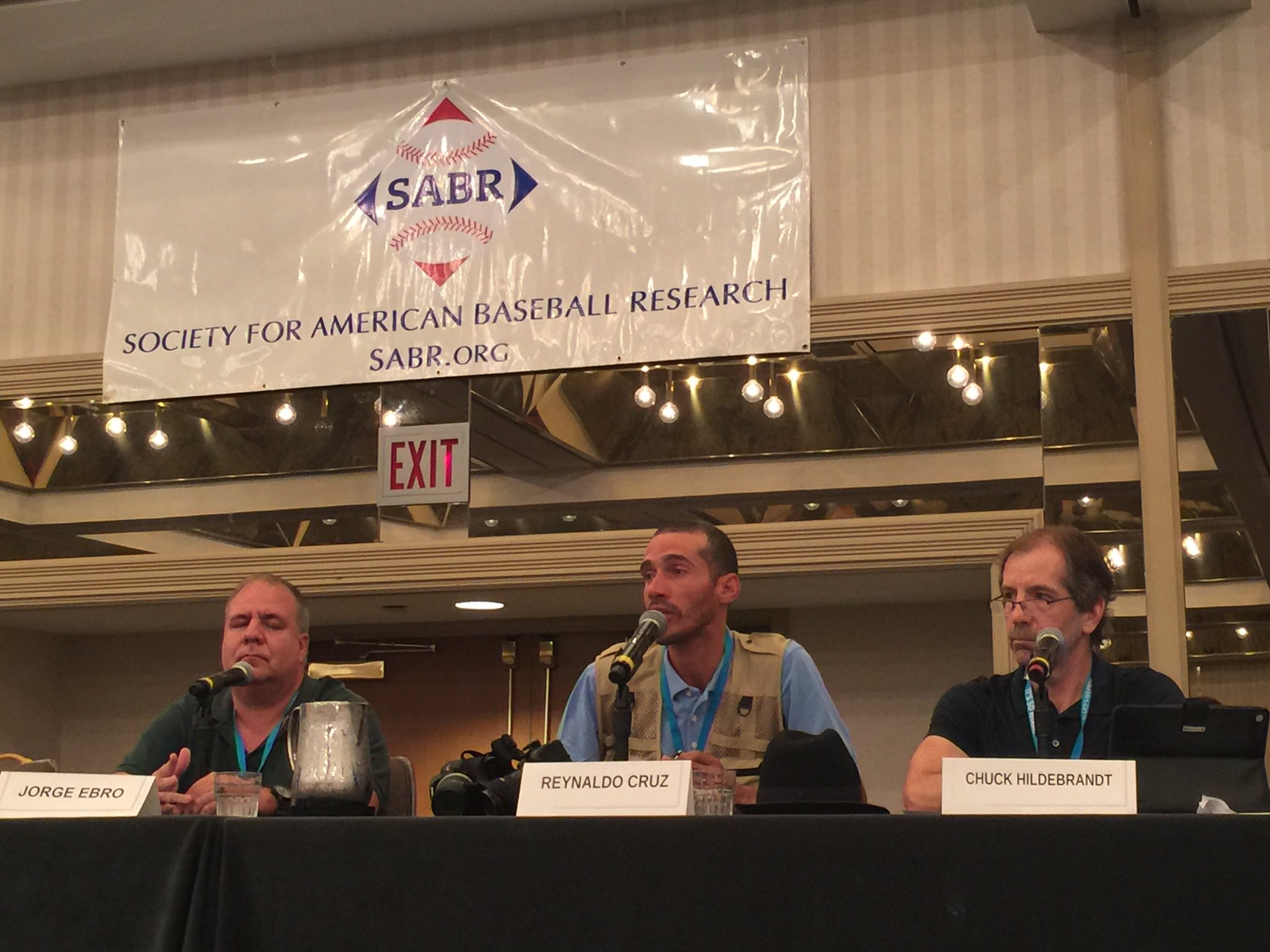 At SABR 46 on Friday, July 29 in Miami, our Media Panel gathered to discuss their experiences covering the game.
The panelists included Reynaldo Cruz, a Cuban journalist who founded the Universo Béisbol digital magazine; Jorge Ebro, the Miami Marlins beat writer for El Nuevo Herald; and moderator Chuck Hildebrandt, chair of SABR's Baseball and the Media Committee.
Audio: Click here to listen to highlights from the SABR 46 Media Panel (MP3; 47:43)
Here are some highlights:
Reynaldo Cruz, on coverage of Cuban players in MLB: "[Holds up a USB flash drive] This is the means of information for Cubans to know about Cuban ballplayers. Flash drives. … They [national media] try not to show success stories. They have no choice with [Yoenis] Cespedes because they have promised they would broadcast the entire World Series, and when the Mets made it to the World Series they had no choice but to put Cespedes on TV. But we have never seen [Aroldis] Chapman on TV, we have never seen [Jose] Abreu on TV. We have never seen [Yasiel] Puig."
Reynaldo Cruz, on the internal perception of Cuban baseball: "I grew up believing that if we ever played against major leaguers we would steamroll them. That's what the media in Cuba led us to believe. They told us we were better than the major leagues. I grew up believing that if we had a team in the major leagues, we would win 162 games and go on to win 11 playoff games. That's what I grew up believing."
Jorge Ebro, on the freedom of journalists in Cuba: "They're not going to throw you in jail. They're not going to beat you. But if you write something against the commission, the baseball federation, you're never going to travel with the team. You're never going to enjoy some of the things that the official media that covers the Cuban national team is earning. Let me tell you, in Cuba, sometimes travel is a way of life. It's the only way that you get access to doors and get access to know the world."
Jorge Ebro, on Cuba's diminishing interest in baseball: "I've seen the shift from my generation, all the Cuban generations that loved baseball a lot, now what I'm getting is soccer is almost the first sport in Cuba. Why it's happening is easy. When you see a Cuban television you can see the final of the World Cup in real time, the final of the Champions Cup in real time. You are constantly seeing the big leagues of soccer, every day. … That's happening because Cubans don't see a lot of what baseball can offer."
Visit SABR.org/convention for more information on SABR 46.
---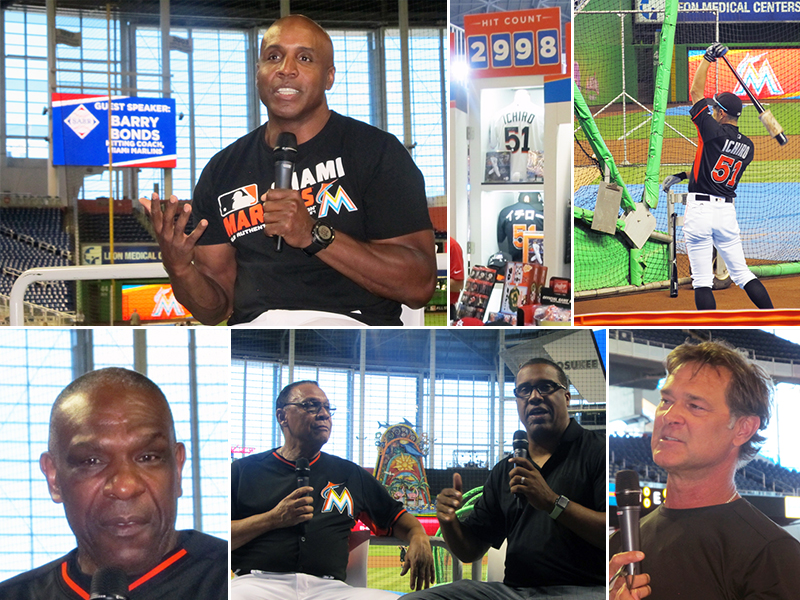 Couldn't make it to Miami for SABR 46? Check out stories, photos, and multimedia clips from the SABR 46 convention in Miami below:
Check out more coverage from the 2016 convention by visiting SABR.org/convention.
---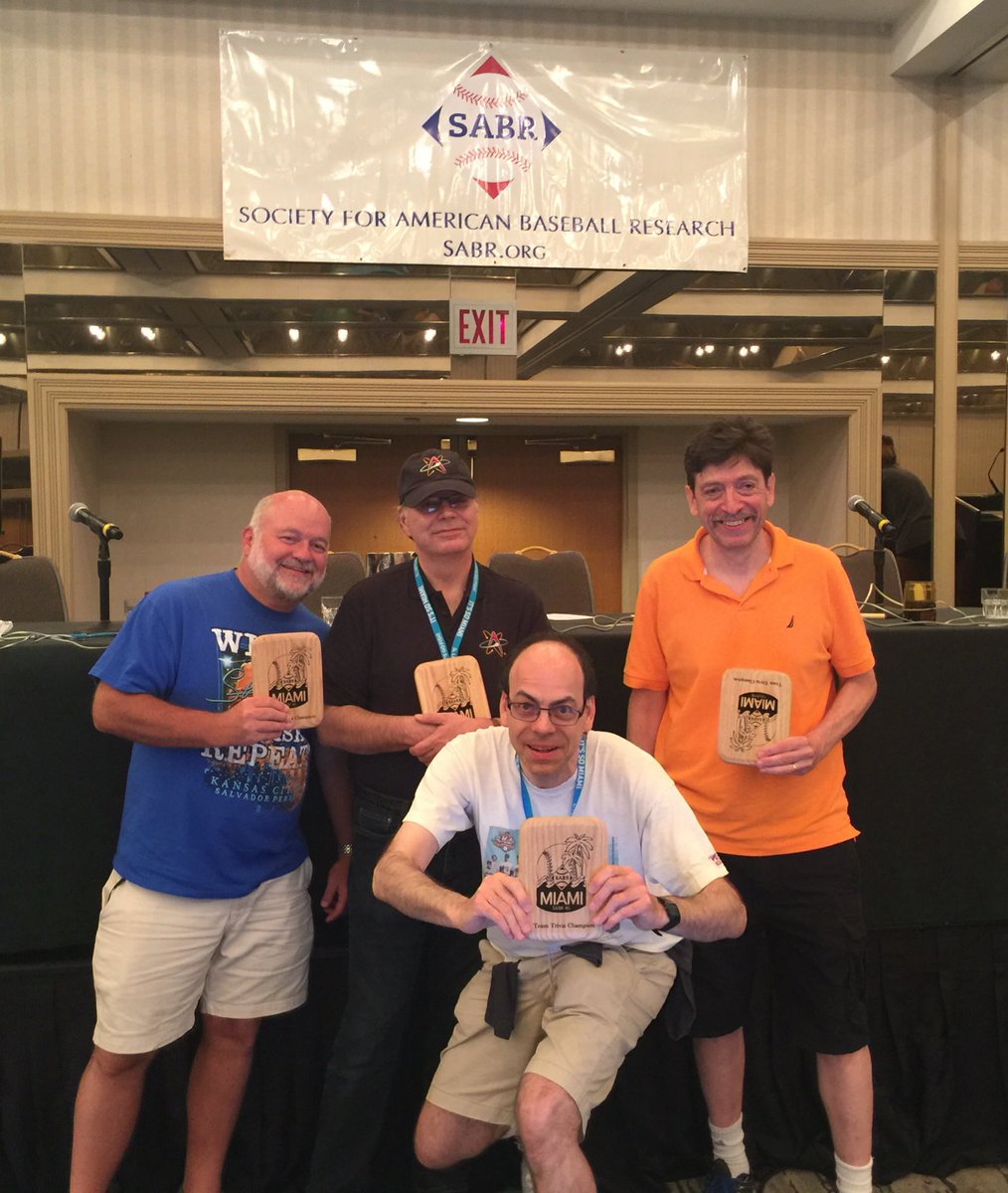 Rob Rafal of Douglaston, New York, became just the second SABR member to win the double — both the individual and team championships — in the SABR 46 Trivia Contest on Saturday night at the Hyatt Regency Miami.
Rafal, the defending individual champion, held off first-time finalist Mark Simon of Plymouth, Connecticut, in the final round. Simon's charge was thwarted after missing a "true daily double" question about former Cleveland Indians star Al Rosen setting the American League rookie home-run record.
Afterward, Rafal joined a quartet of past champions Bill Carle, David Fleitz, and Mark Kanter on the "Octavio Dotel Appreciation Society" to win the team title in a 39-7 rout. The foursome has now combined for 29 SABR Trivia Contest championships (eight individual, 11 team).
Rafal is the first person to win the individual and team trivia crowns in the same year since Mike Caragliano in 2012 at SABR 42 in Minnesota.
Kanter, of Portsmouth, Rhode Island, extended his overall SABR record with his 11th trivia contest win, all in the team competition. He has been part of the winning team in four of the last five years. Carle, of Lee's Summit, Missouri, won his eighth title (3 individual, 5 team) to move into third place all-time on the overall leaderboard, while Fleitz, of Pleasant Ridge, Michigan, won his second team title to go along with three individual.
For more from SABR 46 Trivia Contest, click here.
To view a list of previous SABR Trivia Contest winners, click here.
---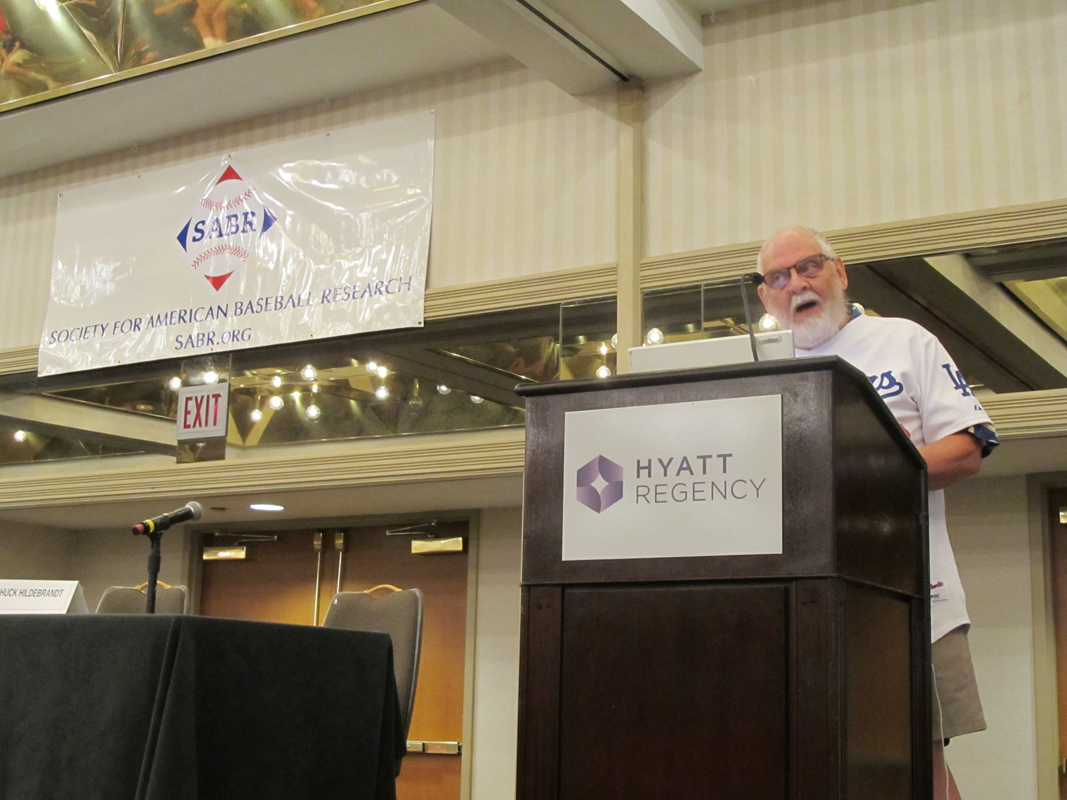 David W. Smith has won the 2016 Doug Pappas Award for the best oral research presentation and Francis Kinlaw has won the USA Today Sports Weekly Award for the best poster presentation at SABR 46 in Miami.
Smith, the founder and president of Retrosheet, won the Pappas Award for his presentation, "The Myth of the Closer," which he delivered Friday during SABR 46 at the Hyatt Regency Miami. He is a recipient of the Bob Davids Award and Henry Chadwick Award, and he previously won the Doug Pappas Award in 2001 for his presentation on the 1951 NL pennant race.
Kinlaw, of Greensboro, North Carolina, won the USA Today Sports Weekly Award for his poster presentation, "The Line Drive that Changed Baseball's History!" His poster presentation pertaining to Score was a long-delayed sequel to his oral presentation on a similar topic at SABR 27 in Louisville.
Honorable mentions for the oral presentation were:
Dirk Lammers, "No-Hitters Gone Global: Even Johnny Vander Meer Draws Company with the Breakdown of Borders"
Thom Henninger, "The Bay of Pigs and the Cultural Isolation of 1960s Cuban Players"
Ronnie Socash, "The Hidden Value of Competitive Balance Picks in the MLB Draft"
Honorable mentions for the poster presentations were:
Joy Benjamin, "The 2004 Japanese Professional Baseball Collective Bargaining Negotiations: A Qualitative Case Study"
Charles H. Martin, "The Reserve Clause and Employee Non-Compete Agreements: Will the Infamous Relic of Baseball's Past Make a Comeback in Your Future?"
For more coverage, click here.
---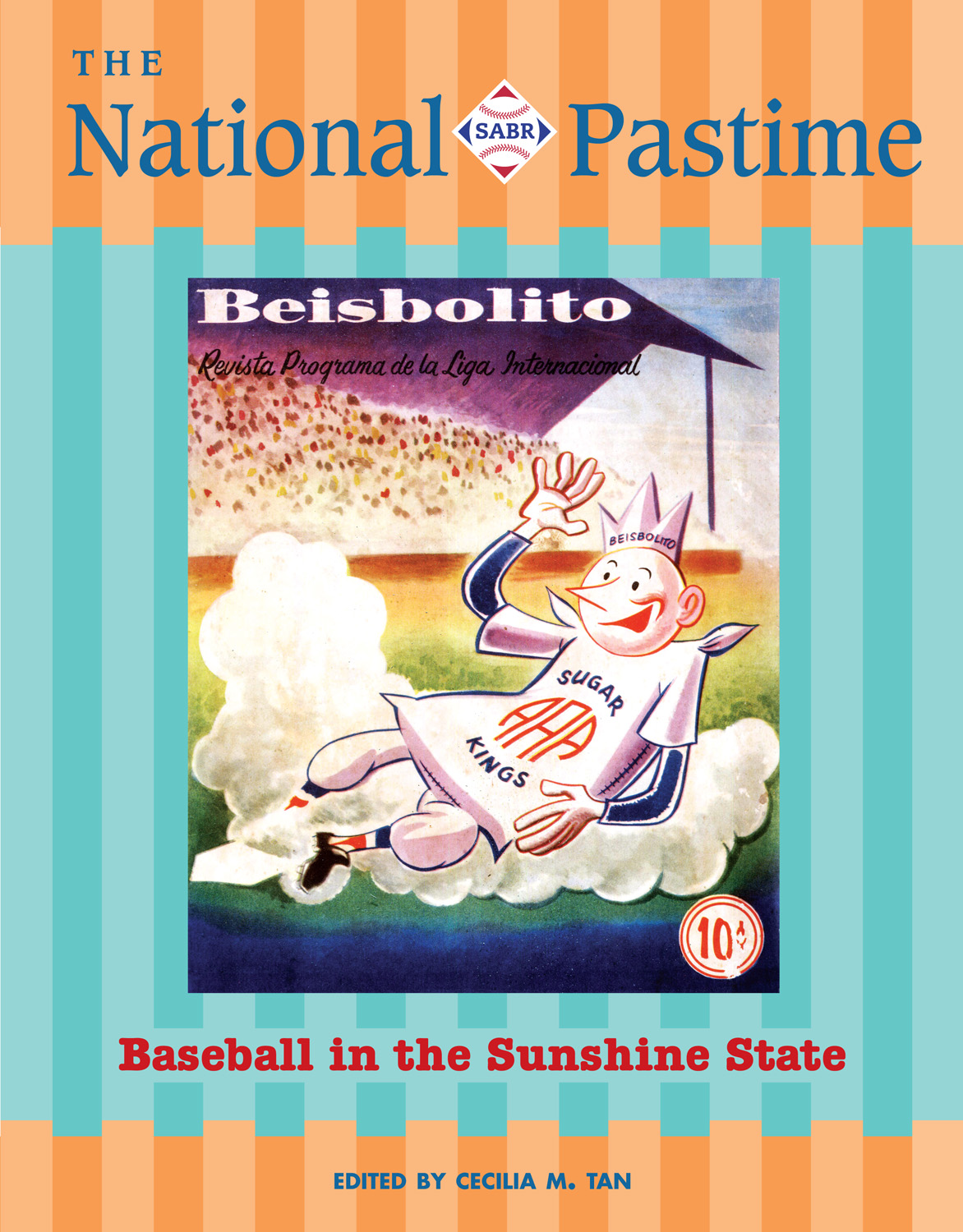 Since 2009, The National Pastime has served as SABR's convention-focused publication. Published annually, this research journal provides in-depth articles focused on the respective geographic region where the national convention is taking place in a given year.
The SABR 46 convention is set to begin this week in Miami, and we have dedicated the theme of The National Pastime to baseball in the Sunshine State. All SABR members receive a free e-book copy of The National Pastime as part of their membership benefits, while attendees of the national convention will also receive a souvenir print edition in their goody bags.
Having trouble downloading our e-books? To view PDF files on your computer, click here to download the free Adobe Reader software. Having trouble downloading e-books to your Kindle, Nook, Sony Reader or iPad? Click here for additional help.
If you aren't able to attend the convention in Miami, please enjoy this issue of The National Pastime as your virtual trip to South Florida. Happy reading!
To learn more about contributing to a future SABR publication, click here.
— Cecilia M. Tan, editor
---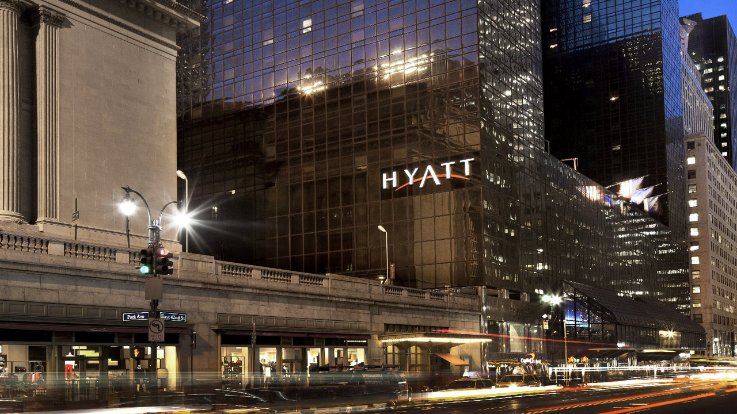 Save the date! SABR will be returning to the Big Apple for our 47th national convention on June 28-July 2, 2017, at the Grand Hyatt New York. Registration information will be available at SABR.org/convention in early 2017. The convention location is contingent on a Yankees' and/or Mets' homestand that weekend.
The Grand Hyatt New York, one of the city's most historic and luxurious hotels, is conveniently located in Midtown Manhattan just steps from Grand Central Terminal and within walking distance of many major attractions, including Times Square, the Empire State Building, and the New York Public Library.
SABR 47 will be our first convention held in New York City since 1991 and third in the New York metropolitan area. At SABR 21, famed Yankees announcer Mel Allen was the keynote speaker, while singer Terry Cashman performed a rendition of "Talkin' Baseball" and the famous Brooklyn Dodgers Sym-phony also performed. SABR's eighth convention in 1978 was highlighted by the release of the groundbreaking book Minor League Stars, the first major compilation of seasonal and career records for players, teams, and leagues at that level. The keynote speaker was longtime Dartmouth College coach and former major-leaguer Tony Lupien, and the convention ballgame at Yankee Stadium was on Old-Timers' Day when Billy Martin shocked baseball with the announcement that he had been "rehired" by George Steinbrenner after his firing just days earlier.
Learn more about SABR's convention history by clicking here.
SABR's 2017 national convention will be our 47th annual gathering; the organization's founding in Cooperstown in 1971 is counted as the first.
For more information on the SABR convention, visit SABR.org/convention.
---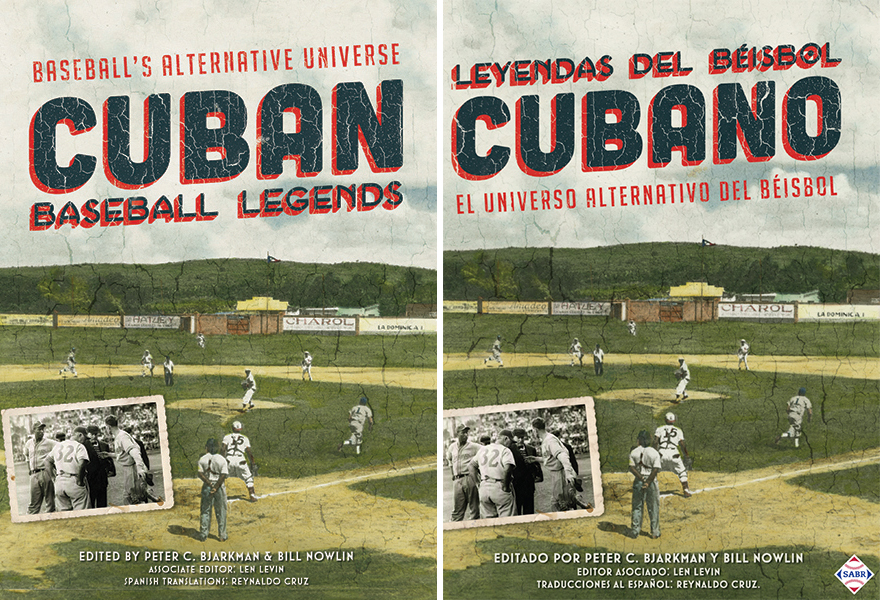 The newest (and first bilingual!) publication from the SABR Digital Library focuses on legendary ballplayers from Cuba's rich baseball history:
Cuban Baseball Legends: Baseball's Alternative Universe
Edited by Peter C. Bjarkman and Bill Nowlin
Spanish translations: Reynaldo Cruz
432 pages, 8.5″ x 11″
ISBN (ebook): 978-1-9438-1625-5, $9.99
ISBN (paperback): 978-1-9438-1624-8, $21.95
Minnie Minoso. Martin Dihigo. Luis Tiant Sr. and Jr. Orlando "El Duque" and Livan Hernandez. These are only a few of the leading lights profiled in Cuban Baseball Legends: Baseball's Alternative Universe. The 47 individuals profiled here represent only a small handful of the legions of memorable and sometimes even legendary figures produced over nearly a century and a half by an island nation where the bat-and-ball sport known as baseball is more than a national pastime, it is the national passion. The book presents 47 biographies in all, plus essays on Cuban baseball.
These biographies were researched and written by a team of members of the Society for American Baseball Research. SABR's BioBroject has produced bios of over 3,800 players since 2002. A Spanish-language edition of the book is also available, a new first for SABR. Haga clic aquí para obtener más información sobre las "Leyendas del Béisbol Cubano."
Contributors include: Mark Armour, Thomas Ayers, Ray Birch, Peter C. Bjarkman, Ron Briley, Phil Cola, Rory Costello, Reynaldo Cruz, Eric Enders, Joseph Gerard, Peter M. Gordon, Tom Hawthorn, Lou Hernandez, Douglas Hill, Joanne Hulbert, Len Levin, Brian McKenna, Zachary Moser, Bill Nowlin, Jose I. Ramirez, Rick Schabowski, Mark Stewart, John Struth, and Adam J. Ulrey.
SABR members, get this e-book for FREE!
Más información acerca de leyendas del béisbol cubano mediante la descarga más reciente libro electrónico de SABR:
Having trouble downloading our e-books? To view PDF files on your computer, click here to download the free Adobe Reader software. Having trouble downloading e-books to your Kindle, Nook, Sony Reader or iPad? Click here for additional help.
SABR members will get discounted rates for all Digital Library publications, including many for free. To find more SABR Digital Library books, visit SABR.org/ebooks.
---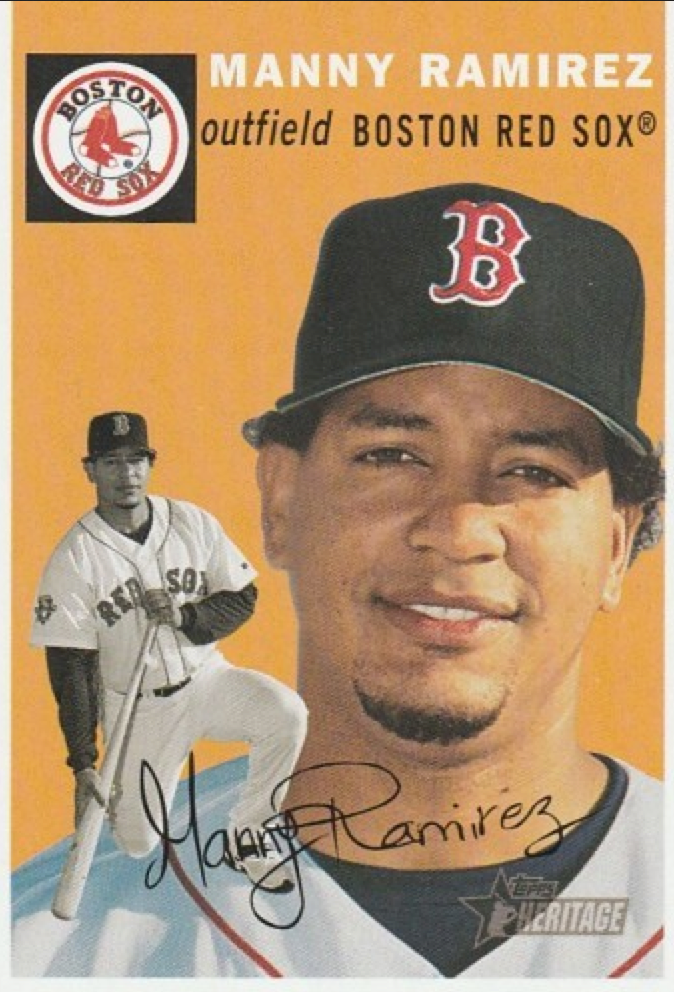 One new biography was posted this week as part of the SABR Baseball Biography Project, which brings us to a total of 3,822 published biographies. Here are the new bios published this week:
All new biographies can be found here: http://sabr.org/bioproj/recent
Search for any SABR biography: You can now visit sabr.org/bioproj_search to search for any player — or manager, executive, scout, spouse, broadcaster, or umpire — who appears in the SABR BioProject. You can also browse all of these BioProject categories and a lot more, including 300-game winners, Hall of Famers, 1960s All-Stars, or Negro Leaguers, at our Browse page: sabr.org/bioproj/browse.
---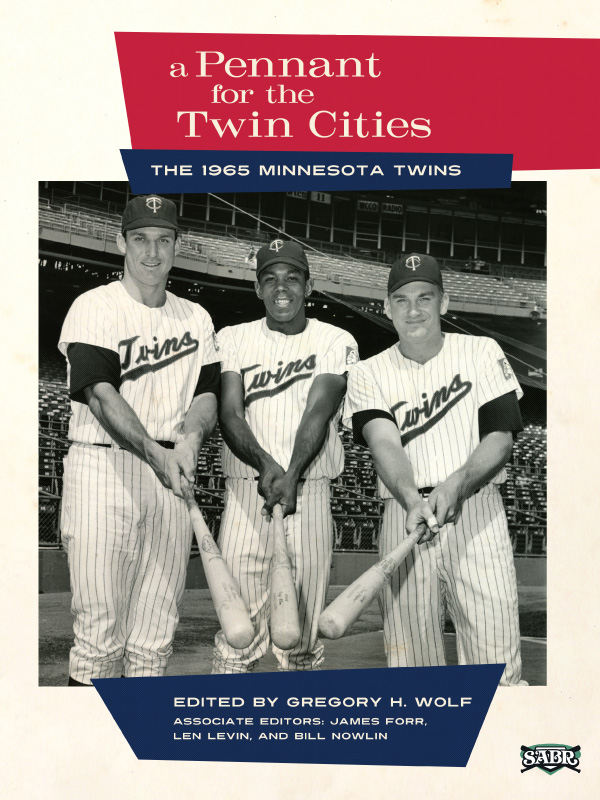 In SABR's A Pennant for the Twin Cities: The 1965 Minnesota Twins, edited by Gregory H. Wolf and published in 2015, we celebrated the 1965 Minnesota Twins, who captured the American League pennant in just their fifth season in the Twin Cities.
Led by an All-Star cast, from Harmon Killebrew, Tony Oliva, Zoilo Versalles, and Mudcat Grant to Bob Allison, Jim Kaat, Earl Battey, and Jim Perry, the Twins won 102 games, but bowed to the Los Angeles Dodgers and a herculean performance by Sandy Koufax in Game Seven of the World Series.
The SABR BioProject biographies that appeared in A Pennant for the Twin Cities can now be read online at: http://sabr.org/category/completed-book-projects/1965-minnesota-twins.
You can also purchase the book or download the e-book by clicking here. SABR members can download all SABR Digital Library e-books for free at SABR.org/ebooks.
---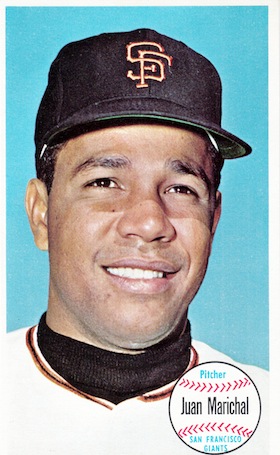 Four new game stories were posted this week as part of the SABR Games Project. Here are the new game stories:
The game stories listed above originally appeared in A Pennant for the Twin Cities: The 1965 Minnesota Twins, edited by Gregory H. Wolf and published by SABR in 2015. Find more game stories from past SABR books by browsing the Games Project here.
All new Games Project stories can be found here: http://sabr.org/gamesproject/recent
---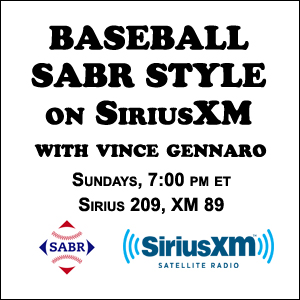 Behind the Numbers: Baseball SABR Style on SiriusXM, a radio show hosted by SABR President Vince Gennaro, will air this weekend at its regular time, 7:00-8:00 p.m. ET on Sundays, on MLB Network Radio.
This week's guests are Steve Phillips, MLB Network Radio host and former GM of the New York Mets; and Chris Mitchell of FanGraphs.
Now, you can also watch video highlights of Behind the Numbers: Baseball SABR Style on SiriusXM on MLB.com and you can also listen to all recent episodes on-demand on the SiriusXM Internet Radio App.
Click here to watch more video highlights of Baseball SABR Style from MLB.com.
Behind the Numbers: Baseball SABR Style on SiriusXM focuses on examining and interpreting the statistical analysis that plays a critical role in baseball today. It airs weekly throughout the year on MLB Network Radio, available to subscribers nationwide on XM channel 89, Sirius channel 209, and on the SiriusXM Internet Radio App.
---
We've heard your feedback: Some of you have said you look forward to "This Week in SABR" every Friday, but sometimes there are just too many compelling articles and announcements to read every week. We're not complaining — hey, keep up the great work! — but we know the feeling. So in an effort to make the length of this newsletter more manageable to read, we'll summarize some of the repeating/recurring announcements in a special "In Case You Missed It (ICYMI)" section of "This Week in SABR".
Here are some major headlines from recent weeks that we don't want you to miss:
All previous editions of This Week in SABR can be found here: http://sabr.org/content/this-week-in-sabr-archives.
For more information, click here.
---
We'd like to welcome all of our new SABR members who have joined this week. You can find all Members-Only resources at members.sabr.org and the Membership Handbook can be downloaded here.
Please give these new members a warm welcome and help them make the most of their membership by giving them the opportunity to get involved in their local chapter or a research committee.
You can find contact information for any SABR member in the online membership directory (SABR.org/directory).
| Name | Hometown | | | Name | Hometown |
| --- | --- | --- | --- | --- | --- |
| Peter Ayers | Roanoke, VA | | | Ross Lockwood | Meadville, PA |
| Douglas Belair | Germantown, MD | | | Mike Macon | Sonora, CA |
| Teodoro Benavides | Glenn Heights, TX | | | R. Scott McCay | Houston, TX |
| John Berman | Scarsdale, NY | | | Emmet Nowlin | Cambridge, MA |
| Melinda Brooks-Wilp | Rosemont, NJ | | | Alessandro Orland | Kissimmee, FL |
| Bob Corbin | Crown Point, IN | | | Matt Perry | West Chester, PA |
| Justin Decker | N. Hollywood, CA | | | John Purpura | Long Beach, CA |
| Chris Flynn | Westfield, NJ | | | Rikk Salamat | Toronto, ON |
| Christopher Gutierrez | Holbrook, NY | | | Joel Torbeck | Morris, IL |
| Vernon Harrison | Sugar Land, TX | | | William Vlasek | Long Beach, IN |
| Patrick Hotze | Austin, TX | | | Galen Wiser | Wayne, NE |
| Miles Lawlor | Manlius, NY | | | Hiroto Yukawa | Tokyo, JPN |
---
Here are the new SABR research committee updates this week:
Baseball Records: August 2016 newsletter
Official Scoring: As part of the Official Scoring Committee and Oral History Committee's joint project, click here to listen to an interview with Chuck Dybdal, who has been an official scorer for the San Francisco Giants and Oakland A's since 1980. He was interviewed by SABR member Wayne Strumpfer on July 2. Dybdal has scored over 1,000 major league baseball games including All Star and World Series games. He shares stories about the "Bash Brothers," arguments with Tony Phillips, home team advantage, replacement runner rules, how Joe Morgan on close plays preferred getting an error than giving his pitcher an earned run, and much more.
Find all SABR research committee newsletters at SABR.org/research.
---
Here are the new regional chapter updates this week:
Visit SABR.org/chapters for more information on SABR regional chapters.
---
Here is a list of upcoming SABR events:
All SABR meetings and events are open to the public. Feel free to bring a baseball-loving friend … and make many new ones! Check out the SABR Events Calendar at SABR.org/events.
---
Here are some recent articles published by and about SABR members:
Read these articles and more at SABR.org/latest.
---
This Week in SABR is compiled by Jacob Pomrenke. If you would like us to include an upcoming event, article or any other information in "This Week in SABR," e-mail jpomrenke@sabr.org.
Have trouble reading this e-mail? Click here to view this week's newsletter on the web.
Are you receiving our e-mails? "This Week in SABR" goes out by e-mail to all members on Friday afternoons. If they're not showing up, try adding "sabr.notes@sabr.org" to your contact list to ensure they show up in your inbox (and not the spam folder.)
---
Originally published: August 5, 2016. Last Updated: April 3, 2020.
https://sabr.org/wp-content/uploads/2020/03/research-collection4_350x300.jpg
300
350
admin
/wp-content/uploads/2020/02/sabr_logo.png
admin
2016-08-05 15:00:00
2020-04-03 14:38:45
This Week in SABR: August 5, 2016