This Week in SABR: January 3, 2014
Welcome to "This Week in SABR!" Here's what we've been up to as of January 3, 2014:
The fifth annual SABR Day is coming up soon: Saturday, January 25, 2014. SABR Day is an annual Hot Stove event that brings together SABR members and friends on the same day, regardless of where they live.
We're compiling details now on 2014 SABR Day chapter meetings around the country. Full details can be found at SABR.org/sabrday.
Chapter leaders, please send your SABR Day plans to Jacob Pomrenke at jpomrenke@sabr.org.
Here are 2014 SABR Day meetings we have listed so far on Saturday, January 25:
Boston, MA
Charlotte, NC
Columbus, OH
Denver, CO
Fort Wayne, IN
Houston, TX
Indianapolis, IN
Kenosha, WI (joint meeting of Chicago/Milwaukee chapters)
Knoxville, TN
Little Rock, AR
Los Angeles, CA
Louisville, KY
Middletown, CT
Nashville, TN
New Orleans, LA
New York, NY
Philadelphia, PA
Phoenix, AZ
Pittsburgh, PA
Rochester, NY
St. Petersburg, FL
Washington, DC
In addition, some chapters are holding their SABR Day meetings on other days because of conflicts with team FanFests or preferred venues.
San Marcos, TX (Saturday, January 11)
St. Louis, MO (Saturday, January 18)
San Francisco, CA (Sunday, January 26)
Cleveland, OH (Saturday, February 1)
San Diego, CA (Saturday, February 15
Click here to view all SABR Day 2014 events on our Google map.
Or visit http://bit.ly/SABR-Day-2014-spreadsheet to view all SABR Day 2014 events in spreadsheet format.
Regional SABR meetings are open to all baseball fans and are usually free to attend, so bring a friend! Guest speakers often include current and former baseball players, managers, umpires, executives, scouts, writers and authors.
Visit SABR.org/sabrday for more information on a SABR Day meeting close to you.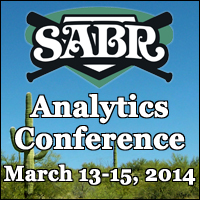 SABR has a long and storied history with baseball statistical analysis, evidenced by the link between our name and sabermetrics. While SABR is a multi-faceted organization involved in virtually every aspect of baseball, we have taken a major step to re-connect with our beginnings by producing and hosting the third annual:
SABR Analytics Conference
March 13-15, 2014
Hyatt Regency Phoenix
Phoenix, Arizona

Once again, we're bringing together the top minds of the baseball analytic community under one roof to discuss, debate and share insightful ways to analyze and examine the great game of baseball.
The schedule will consist of a combination of Guest Speakers, Panels and Research Presentations — plus the unique Diamond Dollars Case Competition, in which undergraduate, graduate and law school students from across the country analyze and present a real baseball operations decision.
Early registration rates:
— SABR members: $395 early rate; $595 full rate.
— Non-SABR members: $495 early rate; $695 full rate. If you are not a SABR member, click here to join.
— Students: $350; includes one-year membership to SABR. Must be a currently enrolled high school or college student. Please e-mail Deb Jayne with a photocopy of your student ID to receive the registration promo code.

Please note: Lunch is included with your registration on Friday, March 14 and Saturday, March 15. The mixer/welcome reception is included with your registration on Thursday, March 13. Specify any special dietary needs when you register.

Hotel: The 2014 SABR Analytics Conference will be held at the Hyatt Regency Phoenix, 122 N. 2nd St., Phoenix, AZ 85004. Click here to book your hotel room at the special SABR group rate of $169/night (plus tax.) Or call (602) 252-1234 and mention that you're with the SABR Analytics Conference.

Complimentary wireless Internet is available in all rooms booked under the SABR block. The cutoff date to book your room is February 18, 2014. The SABR group rate is only available for the nights of March 10 to March 18, 2014, based on availability. Book your room today!
Featured speakers and panelists are expected to include: Jack Zduriencik, Executive Vice President and General Manager of the Seattle Mariners; Brian Kenny of MLB Network; Aaron Boone, Buster Olney and Jon Sciambi of ESPN; SABR President Vince Gennaro; Rob Neyer of Baseball Nation; Dave Cameron of FanGraphs; Ben Lindbergh of Baseball Prospectus; Dr. Glenn Fleisig of the American Sports Medicine Institute; Jonathan Mayo, Bernie Pleskoff and Jim Callis of MLB.com; and more to be announced soon! We hope you'll join us in March for this spectacular event.

Some of the topics we are planning to cover include:
General Managers Panel on how analytics shapes front-office decisions
Player Panel – how major league players take advantage of analytics
Clubhouse Confidential Panel – with panelists from MLB Network's signature sabermetrics program
Prospect Analysis Panel – on using analytics to evaluate prospects NEW!
Biometrics/Injury Prevention Panel NEW!
International Baseball Panel NEW!
Check back soon at SABR.org/analytics as we announce more featured speakers, panels and presentations!
For complete coverage of the 2013 SABR Analytics Conference, visit SABR.org/analytics/2013.
SABR invites all members to present their research findings to their colleagues attending SABR 44, the 2014 annual convention in Houston, Texas. Oral presentations are expected to last 20 minutes, followed by a five minute question-and-answer period. Posters will be presented, with the author on-hand to discuss the work, during a poster session of 90 or so minutes, and will probably remain on display throughout the convention.
Through on-site judging, the most highly-regarded presentations will receive the Doug Pappas Award for best oral presentation and the USA Today Sports Weekly Award for best poster presentation.
SABR 44 will be held at the Royal Sonesta in Houston, Texas, from July 30-August 3, 2014. (Registration and hotel information will be available soon at SABR.org/convention.)
2014 represents an anniversary of local Houston baseball-related events that could provide inspiration for topics. For example, it has been:
5 years since Aaron Boone returned from heart surgery to play in the major leagues, Ivan Rodriguez set the all-time record for games caught, and original Colt .45 Hal Woodeshick died in Houston
10 years since Roger Clemens won the last of his 7 Cy Young Awards as an Astro
15 years since the Astros featured two 20-game winners, Craig Biggio's last 50-double season, Nolan Ryan was elected to the HOF, manager Larry Dierker suffered an on-field seizure, and the Astrodome hosted its last game
20 years since Jeff Bagwell's MVP Award, Biggio's first Gold Glove, and the trade of Steve Finley and Ken Caminiti
25 years since Mike Scott's only 20-win season
35 years since J.R. Richard's last full season and ERA championship, Dierker's first season as a broadcaster, and the disappearance of the rainbow uniform
40 years since Doug Rader's 5th consecutive Gold Glove, Cesar Cedeno's 3rd of five Gold Gloves, the acquisition of Jose Cruz, and Mike Schmidt's "single" off the loudspeaker
45 years since Rusty Staub was dealt to Montreal, Dierker recorded the club's first 20-win season, and the Astros first reached .500.
50 years since Ken Johnson lost his no-hitter, and the final season of both Colt Stadium and the Colt .45s
In general, we will follow the procedures used in recent years for reviewing and selecting research abstracts. For more details on the submission criteria, click here.
The submission deadline for SABR 44 abstracts is midnight PST, Sunday, FEBRUARY 16, 2014.
Submit abstracts to sabr2014-presentations@comcast.net, the research presentations address for SABR 44.
Questions regarding the submission, review, and evaluation procedures should also be sent to the sabr2014-presentations@comcast.net address.
The sixth annual Frederick Ivor-Campbell 19th Century Base Ball Conference will be held Friday and Saturday, April 11-12, 2014, at the National Baseball Hall of Fame and Museum in Cooperstown, New York.
The conference registration form and schedule details are available in the Nineteenth Century Committee's Winter 2014 newsletter, which you can download by clicking here (PDF).
The 2014 conference will be highlighted by a keynote address from baseball historian Dorothy Seymour Mills, a SABR Henry Chadwick Award recipient and co-author of the legendary three-volume Baseball series. The conference will also feature special presentations by Hall of Fame librarian Jim Gates and Bob Mayer; a 19th Century "Outsider Baseball" panel discussion with Scott Simkus, Gary Ashwill, James E. Brunson III and moderator John Thorn; a Member Spotlight interview of Alma Ivor-Campbell by Tom Simon; book signings, research presentations, and a lot more.
Conference registration is open to all SABR members and up to two non-SABR family members or friends (18 years old or over). Registration will continue until April 1, 2014 or until registration is announced "closed" due to space constraints.
For more information, or to submit a proposed research presentation, contact Peter Mancuso or visit SABR.org/ivor-campbell19c.
For those of you whose memberships expired recently, there's still a little time left to renew and be a part of the SABR community again in 2014. If you've already renewed, we thank you for your support and look forward to another exciting year ahead.
Renew now to receive the Spring 2014 edition of the Baseball Research Journal, plus discounts on registration to the 2014 SABR Analytics Conference and SABR 44 in Houston, and a lot more! We MUST receive your dues by February 28, 2014, in order for you to receive the upcoming BRJ.
You can renew your membership for 1 year or 3 years online at the SABR Store; by phone at (602) 343-6450; or by mailing this downloadable PDF form and your payment to the SABR office at 4455 E. Camelback Road, Ste. D-140, Phoenix, AZ 85018.
Special offer for 5-year renewal: SABR is also offering a special opportunity for renewing members in 2014: By opting to receive the digital Baseball Research Journal and The National Pastime, you can renew your SABR membership for 5 years at a special rate of $249, a discount of nearly 25% off a 1-year annual membership rate of $65. Choosing this new 5-year, digital-only membership plan — which is only available to current SABR members who renew — means you will receive two e-book editions of the BRJ, one e-book edition of TNP, "This Week in SABR" every Friday, all SABR Digital Library e-books, committee newsletters, and lots of other member benefits. To renew your SABR membership for 5 years at the digital-only rate: Click here to visit the SABR Store and select the "DIGITAL-ONLY BRJ/TNP – 5-yr renewal — $249.00" option when you renew.
We're excited about the upcoming year ahead of us and we hope you'll take advantage of all the membership benefits offered to SABR members in 2014 and beyond.
Four new biographies were posted as part of the SABR Baseball Biography Project, which brings us to a total of 2,616 published biographies. Here are the new bios:
All new biographies can be found here: http://sabr.org/bioproj/recent
You can find the SABR BioProject at SABR.org/BioProject.
New All-Star categories added! You can now browse for published SABR bios of All-Stars from each decade. For example, click here to find 1940s All-Stars, from Ted Williams and Joe DiMaggio to Boo Ferriss and Danny Litwhiler. This page has links for every player who was selected to one or more of the All-Star games played between 1940 and 1949 for whom we have a biography.
Bios on more than just ballplayers: The ambitious goal of the SABR Baseball Biography Project is to publish a full-life biography of every major league player in history. But SABR members write about a lot more than just ballplayers. In addition, we have pages for Ballparks, Broadcasters, Executives, Managers, Scouts, Spouses, Umpires and a lot more on the BioProject website. You can browse all of these categories at http://sabr.org/bioproj/browse. So if you've ever thought, "Hey, that person (or ballpark) should get the full BioProject treatment" — write the story and we'll publish it!
Get involved! If you'd like to help contribute to the SABR BioProject, visit our BioProject Resources page or read the FAQs section to get started. We're also looking to expand the BioProject to include all "encyclopedic" articles on baseball-related subjects from past SABR publications or committee newsletters. If you come across an article you think should be included in the SABR "baseball repository" at the BioProject, send a copy or link to markarmour04@gmail.com or jpomrenke@sabr.org.
The 1984 Detroit Tigers roared out of the gate, winning their first nine games of the season and compiling an eye-popping 35-5 record after the campaign's first 40 games — still the best start ever for any team in major league history. The Tigers, under Hall of Fame manager Sparky Anderson, led wire-to-wire in 1984, becoming only the third team in the modern era of the majors to have done so. Detroit's determination and tenacity resulted in a sweep of the Kansas City Royals in the AL playoffs and a five-game triumph over the San Diego Padres in the World Series. Tigers fans will tell you that the bottom of the eighth inning in Game Five was the first time Kirk Gibson hit an iconic home run in the Fall Classic.
Detroit Tigers 1984: What a Start! What a Finish!, edited by Mark Pattison and David Raglin, brings together biographical profiles of every Tiger from that magical season — from Jack Morris to Alan Trammell, from Willie Hernandez to Lou Whitaker, from Aurelio Lopez to Barbaro Garbey — plus those of field management, top executives, the broadcasters. A team of more than 40 SABR writers and editors compiled the biographies and supporting essays that make up the most comprehensive look at this remarkable team.
The SABR BioProject biographies that appeared in that book can now be read online at:
http://sabr.org/category/completed-book-projects/1984-detroit-tigers
SABR members, get this e-book for FREE!

You can find other team pages from our completed book projects — 20 and counting! — by going to SABR.org/BioProject and clicking the Browse button (http://sabr.org/bioproj/browse).
SABR member Ed Gruver, a writer, columnist and author for more than 30 years, has graciously allowed us to publish an extended excerpt at SABR.org from his upcoming book "October '72":
His team trailing by two runs in the bottom of the ninth inning, it didn't take Chuck Tanner long to pick a pinch-hitter.

"Okay, Dick," the Chicago White Sox skipper said to Richie "Dick" Allen. "Go in and hit."

His "chili dog" home run on June 4, 1972, still lives on in White Sox fan lore.It was late in the day on June 4, 1972, the second game of a doubleheader against the New York Yankees. The Sox had won the first game 6-1, Allen contributing two hits and a run scored as Chicago improved to 24-17 to stay in second place in the West, one-half game ahead of Minnesota and 3.5 games behind Oakland.

The doubleheader drew 51,904 fans to Comiskey Park and left another 8,000 hopefuls stranded on the sidewalks surrounding the jam-packed stadium. The crowd inside Comiskey was the old ballpark's largest in 18 years, lending a festive atmosphere to the proceedings. Thousands had come to see Allen, who was in the midst of an MVP campaign that would see him hit .308 and lead the league in home runs (37), RBIs (113), walks (99), on-base percentage (.420), slugging percentage (.603) and OPS (1.023). And he did all of this while playing his home games in pitcher-friendly Comiskey Park.

Each of Allen's homers seemed to come with a story, and June 4 provided one of his – and the Sox – more memorable moments: the "chili dog homer."
To read the full excerpt, click here: http://sabr.org/latest/dick-allen-and-team-saved-white-sox
This game summary is from the Retroactive All-Star Game Project. Voting was conducted to select retroactive MLB All-Star teams from the 1923 season and the games were simulated using Out of the Park 14.
The National League finally broke its string of futility with a hard-fought come-from-behind victory, plating three runs in the top of the ninth to beat the 1923 American League All-Stars, 10-8. It was their first mid-summer classic win since 1919. Cubs shortstop Charlie Hollocher rapped out four hits and drove in three runs and Jack Fournier belted a three-run homer to offset Ken Williams' two-homer day.
The AL holds a 4-3 lead in All-Star play but will head to Chicago's Cubs Park next year where the senior circuit hopes to even things up again. Cubs management filed plans to increase the seating capacity of their stadium last December when they were awarded next year's All-Star game. More than 10,000 seats are expected to be added, putting the total number north of 30,000.
Highlights and outstanding players from this year's game include:
Ken Williams belting two homers and driving in half of the AL's runs.
Fred Haney going 3 for 5 with two runs batted in.
Baby Doll Jacobson going 2 for 2 off the bench.
Grover Cleveland Alexander throwing three innings of scoreless ball in relief.
Charlie Hollocher going 4 for 5 with three RBI's and a run scored.
Pie Traynor going 3 for 5 with a mammoth home run.
You can find a full account of the game, box score, game log and stats at Seamheads.com.
Learn more about the Retroactive All-Star Game Project by clicking here.
SABR Analytics Conference Research Awards, due 1/15/2014: The SABR Analytics Conference Research Awards recognizes baseball researchers who have completed the best work of original analysis or commentary during the preceding calendar year in the following categories: Contemporary Baseball Analysis, Contemporary Baseball Commentary, or Historical Baseball Analysis/Commentary. Results are announced and presented at the annual SABR Analytics Conference. Please send all nominations via e-mail to this address: 2014-analytics-awards@sabr.org. Include author, title, date of publication and a URL link (if applicable).

SABR Baseball Research Award, due 1/31/2014: The SABR Baseball Research Award (formerly the Sporting News-SABR Baseball Research Award) honors those whose outstanding research projects completed during the preceding calendar year have significantly expanded our knowledge or understanding of baseball. To submit a nomination for the 2013 awards, please contact Bill Felber at bfelber@att.net.
McFarland-SABR Baseball Research Award, due 2/15/2014: The McFarland-SABR Baseball Research Award honors the authors of the best articles on baseball history or biography completed or published during the preceding calendar year. To submit a nomination for the 2013 awards, please contact Len Levin at lenlevin5@hotmail.com.

We are saddened to note the passing of SABR member Michael B. Readdy, 77, of Peoria, Illinois, who died Friday, December 27, 2013, at Kindred Hospital in Peoria.
Mike was born on November 23, 1936, in Mount Vernon, New York, to Thomas LeRoy and Katherine (McCue) Readdy. They preceded him in death. He is survived by his sister, Eileen Mounts; nieces, Peg (Jon) Secunda and Julie (Jonas) Bandy; nephew, Tim Mounts Jr.; and three great-nieces.
Mike attended St. Bernard Grade School, Spalding Institute, and the University of Dayton. He received his bachelor of science from Bradley University and his master of science from Golden Gate University. He served in the US Army Reserves from 1960 to 1966. Mike worked for American Airlines for 40 years, retiring in 1998 as the manager of human resources. His career with American Airlines had him assigned to Chicago, New York, Dallas, and San Francisco, and allowed him the opportunity to travel the world. He enjoyed fly-fishing, and was a member of Trout Unlimited.
An avid baseball fan, Mike was a member of the Society of American Baseball Research since 1987, and was both a Cubs and Red Sox fan. Mike is donating his body to science; and it was his wish to not have any formal services. Wright & Salmon Mortuary is handling the arrangements.
Memorials may be made to the Mercy Home for Boys & Girls, 1140 W. Jackson Blvd., Chicago, IL 60607; PO Box 1893, Memphis, TN 38101-9950; or National Headquarters, 1301 Pennsylvania Ave. NW Suite 800, Washington, DC 20004.
Tributes and condolences may be submitted to www.wrightandsalmon.com.
We've heard your feedback: Some of you have said you look forward to "This Week in SABR" every Friday, but sometimes there are just too many compelling articles and announcements to read every week. We're not complaining — hey, keep up the great work! — but we know the feeling. So in an effort to make the length of this newsletter more manageable to read, we'll summarize some of the repeating/recurring announcements in a special "In Case You Missed It (ICYMI)" section of "This Week in SABR".
Here are some major headlines from recent weeks that we don't want you to miss:
All previous editions of This Week in SABR can be found here: http://sabr.org/content/this-week-in-sabr-archives.
We'd like to welcome all of our new SABR members who have joined this week. You can find all Members-Only resources at members.sabr.org and the New Member Handbook can be downloaded here.
Please give these new members a warm welcome and help them make the most of their membership by giving them the opportunity to get involved in their local chapter or a research committee.
| Name | Hometown | | | Name | Hometown |
| --- | --- | --- | --- | --- | --- |
| Jon Abrahms | Whitefish, MT | | | Jeff Ludwig | Pittsburgh, PA |
| Steve Aleck | St. Charles, IL | | | Thomas Mahoney | Kearney, NE |
| Beth Arnold | Front Royal, VA | | | Anthony March | Corona, CA |
| Marco Barbanera | Rome, ITA | | | Jesse Marquart | Lancaster, PA |
| Robert Batts | Birmingham, ENG | | | Mike Massaroli | Staten Island, NY |
| Mike Bradley | Ebensburg, PA | | | Stephen Massarone | Johnston, RI |
| Ken Breese | West Henrietta, NY | | | Jack McCarthy | Marstons Mills, MA |
| Lucas Bryan-Gaumer | Saylorsburg, PA | | | Chuck Modiano | Silver Spring, MA |
| David Bush | Santa Monica | | | Tom Monitto | Bristol, CT |
| Denise Byrnes | Glenside, PA | | | Nikki Orvis | Chicago, IL |
| John Ciabattoni Jr. | Philadelphia, PA | | | Mark Panuthos | Seminole, FL |
| John Clowes | Cranberry Twp, PA | | | George Pappas | Oldsmar, FL |
| Carlos Colon | Coram, NY | | | Victor Piacentile | Yorktown Hgts, NY |
| Hampton Crow | Dallas, TX | | | Craig Pippin | McLean, VA |
| Reid Delaney | Waterbury, CT | | | Neal Polister | W. Hollywood, CA |
| Andrew Donofrio | Hamilton, VA | | | Brad Ridenour | Louisville, TN |
| Paul Dylan | Poulsbo, WA | | | Mike Robinson | Simsbury, CT |
| Mitchell Earnshaw | Wilsonville, OR | | | John Rouse | Muncie, IN |
| Matt Filippi | Belle Harbor, NY | | | Jeremy Salazar | St. Louis, MO |
| Morgan Foelsch | Black Hawk, CO | | | Christine Scully | Oglesby, IL |
| Wade Forrester | House Spings, MO | | | Jon Sherfy | Bradenton, FL |
| Jim Frick | Davenport, IA | | | Daniel Solzman | Louisville, KY |
| Matthew Goldman | Chicago, IL | | | John Somers | Bakersfield, CA |
| Corry Goodpaster | West Chester, OH | | | Joey Staehle | Montclair, NJ |
| Paul Hartley | Scottsdale, AZ | | | Michael Stone | Tuscaloosa, AL |
| Neale House | Los Fresnos, TX | | | Jeff Tiedeman | Omaha, NE |
| Bill Jenney | Northville, MI | | | Jeremy Tinker | New York, NY |
| Greg Johnson | Oakland, CA | | | Luis Torres | Norwood, MA |
| Jonathan Keisler | Spartanburg, SC | | | Thea Travis | Kalamazoo, MI |
| Ryan Kindl | Belmont, CA | | | Chaunce Venuto | Tooele, UT |
| Cole Kiner | St. Joseph, MO | | | Evan Wessman | Wakefield, RI |
| John Laabs | Lake Mills, WI | | | Tyler Wiegert | St. George, KS |
| Frank Larkin | Brattleboro, VT | | | Chris Wiseman | Lake Wales, FL |
| Jonathan Lee | Seattle, WA | | | Andrew Wittkugel | Blue Ash, OH |
| Michael Lee | Washington, DC | | | Peter Wolfe | Seabrook, MD |
| Tim Lee | Oakwood, IL | | | Teo Yang | Seoul, SK |
| Bob LeMoine | Rochester, NH | | | Bob Zalabak | Naperville, IL |
| Corey Lewis | Wyoming, PA | | | Andy Zeidler | Manchester, CT |
| Charles Lotzar | Scottsdale, AZ | | | Douglas Ziegler | Yorktown, VA |
Here are the new SABR research committee newsletters published this week:
Find all SABR research committee newsletters at SABR.org/research.
Here are the new chapter meeting recaps published this week:
Visit SABR.org/chapters for more information on SABR regional chapters.
Here is a list of upcoming SABR events:
All SABR meetings and events are open to the public. Feel free to bring a baseball-loving friend … and make many new ones! Check out the SABR Events Calendar at SABR.org/events.
Here are some recent articles published by and about SABR members:
Read these articles and more at SABR.org/latest.
---
This Week in SABR is compiled by Jacob Pomrenke, and sent out to all SABR members on Fridays. All previous editions of This Week in SABR can be found here: http://sabr.org/content/this-week-in-sabr-archives. If you would like us to include an upcoming event, article or any other information in "This Week in SABR", e-mail jpomrenke@sabr.org.
Find exclusive Members' Only resources and information here: http://members.sabr.org
Did you know you can renew your membership at any time? 1- and 3-year SABR memberships are available by clicking "Renew" at http://members.sabr.org. Please also consider a donation to SABR to support baseball research at SABR.org/donate.

Are you following us on Twitter or Facebook? Get SABR updates every day at @SABR or by searching "SABR" on Facebook.

Replying to this e-mail goes to an undeliverable address. If you would like to contact the SABR office, please visit: http://sabr.org/about/contact-sabr
---
Originally published: January 3, 2014. Last Updated: April 3, 2020.
https://h2j7w4j4.stackpathcdn.com/wp-content/uploads/2020/03/research-collection4_350x300.jpg
300
350
jpomrenke
/wp-content/uploads/2020/02/sabr_logo.png
jpomrenke
2014-01-03 15:27:21
2020-04-03 14:39:37
This Week in SABR: January 3, 2014