This Week in SABR: July 22, 2016

Welcome to "This Week in SABR!" Click here to view this week's newsletter on the web. Here's what we've been up to as of July 22, 2016:
---

We've got an exciting SABR 46 planned for next week and we hope you'll join us on July 27-31 at the Hyatt Regency Miami in downtown Miami, Florida.
Will we get to see Ichiro Suzuki reach the 3,000-hit milestone next week? Who will win the world-famous SABR Trivia Contest? What will Ozzie Guillen say? You won't know unless you join us at SABR 46!
Even if you can't make it for the entire convention, single-day registration for SABR 46 is also available on-site for $99 per day for Thursday, July 28 and/or Saturday, July 30. Registration includes admission to all convention panels, research presentations, and committee meetings at the Hyatt Regency Miami on those days. Registration can be purchased during normal registration hours via cash, check, or credit card (sorry, no American Express accepted.)
SABR 46 will include top featured speakers from around the baseball world — front office executives, players, managers, scouts, writers, and analysts — plus innovative panel discussions focusing on baseball in the Sunshine State and the Latino baseball experience. See below for details on our featured panels:
Opening Remarks: Michael Hill: The Miami Marlins' President of Baseball Operations will talk about his career in baseball and his nearly 15 seasons with the team in South Florida.
2003 Marlins Championship Panel: Panelists include former Marlins outfielders Jeff Conine and Juan Pierre, and manager Jack McKeon. Moderator: Dave Van Horne, Ford C. Frick Award-winning broadcaster.
Perspectivas del Béisbol: Covering Baseball for Hispanic Fans On ESPN Deportes: Panelists include former MLB player and manager Ozzie Guillen; Emmy Award-winning broadcaster Ernesto Jerez; and ESPN Deportes reporter Enrique Rojas. Moderator: Leonte Landino, ESPN Deportes producer and author.
Media Panel: Panelists include Raul Striker Jr., Miami Marlins Spanish-language broadcaster; Reynaldo Cruz, founder of Universo Béisbol; Jorge Ebro, Marlins beat writer for El Nuevo Herald. Moderator: Chuck Hildebrandt, chair of SABR Baseball and the Media Committee.
Latino Baseball Authors Panel: Panelists include César Brioso, USA Today digital producer and author of Havana Hardball: Spring Training, Jackie Robinson and the Cuban League; Peter C. Bjarkman, author of Cuba's Baseball Defectors: The Inside Story; and Adrian Burgos Jr., author of Playing America's Game: Baseball, Latinos, and the Color Line. Moderator: Anthony Salazar, chair of SABR's Latino Baseball Committee.
Cuban Players Panel: Panelists include Miguel "Mike" de la Hoz, former infielder who played parts of nine MLB seasons from 1960-69; Leo Posada, outfielder for the Kansas City Athletics from 1960-62 and the uncle of Jorge Posada; Jackie Hernandez, a shortstop who helped the Pittsburgh Pirates win the 1971 World Series; and Gonzalo "Cholly" Naranjo, who pitched for the Pirates in 1956. Moderator: Jose Campos, host and announcer for WWFE radio in Miami.
All baseball fans are welcome to attend. The full schedule for SABR 46 is now available online; click here to view a detailed schedule. Here are some more highlights and information:
All SABR 46 attendees will also receive a souvenir print edition of The National Pastime, our annual convention journal, focusing on baseball teams, players and events in the Miami area. All SABR members, whether you attend the convention or not, will receive the e-book edition of The National Pastime in their inboxes next week. Visit SABR.org/convention to register for SABR 46.
---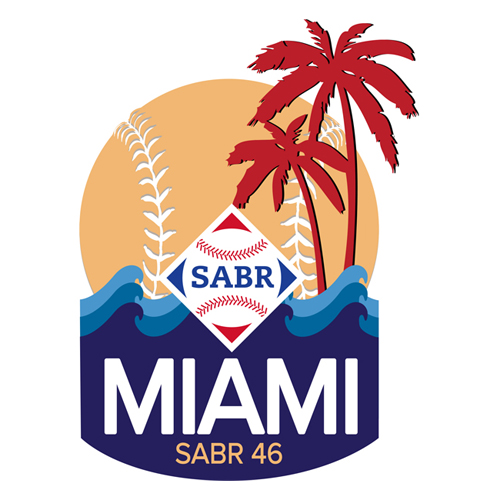 Want to throw out the first pitch at SABR 46? There's only one spot left, so sign up today!

Thanks to the generosity of the Miami Marlins, anyone who makes a donation of $1,000 or more to the SABR General Fund will have the opportunity to go on the field for batting practice before the Marlins game vs. the St. Louis Cardinals on Friday, July 29 at Marlins Park.
Participating donors will also be entered into a drawing to throw out the first pitch at the Marlins game on July 29. The drawing will be held during the Ross Adell Welcome Reception during SABR 46. This special opportunity is only available for up to six SABR donors (or a guest of your choosing.)
Following our SABR 46 ballpark session — highlighted by guest speakers Barry Bonds, Don Mattingly, Andre Dawson, Tony Perez, and Eduardo Perez — SABR donors will be able to go on to the field during batting practice before the game. Each one-time donation is good for one on-field ticket.
In addition to the on-field opportunity at Marlins Park and the chance to throw out the first pitch, the SABR 46 donation package also includes two tickets to the SABR 46 Donors Breakfast, a SABR logo commemorative crystal baseball, and a one-year membership to SABR.
SABR is a 501(c)(3) organization and all donations are tax-deductible to the extent allowed by law.
If you are interested in the SABR 46 donation package, please contact Jeff Schatzki at jschatzki@sabr.org.
---
On-site judges are needed for SABR 46 research presentations. Each judge will be responsible for viewing and evaluating oral and poster presentations during SABR 46 in Miami.
Judges need not be "experts" in particular topics. They may choose which oral presentations they wish to evaluate, but are requested to judge all oral presentations they attend.
Through on-site judging, the most highly regarded presentations will receive the Doug Pappas Award for best oral presentation and the USA Today Sports Weekly Award for best poster presentation. The Pappas Award winner will have the opportunity to repeat that presentation on Saturday evening.
If you're interested, send a message to the Research Presentations email at either sabr2016-presentations@comcast.net or sabr46-presentations@comcast.net.
For the complete SABR 46 presentation schedule, click here.
---
As you prepare for your trip to SABR 46 later this month, members of the host South Florida Chapter have compiled a list of transportation tips to help visitors and convention attendees enjoy their stay in the Sunshine State. If you have any questions during your stay, please don't hesitate to ask a friendly SABR 46 volunteer for assistance.
Visit SABR.org/convention/sabr46-transportation to view the SABR 46 Transportation Tips page, where you'll find directions on how to get to the Hyatt Regency Miami from Miami International Airport or Fort Lauderdale Airport, information about getting around Miami, and learn more about area attractions.
For more on Miami's award-winning restaurants and upcoming events, visit miamiandbeaches.com.
---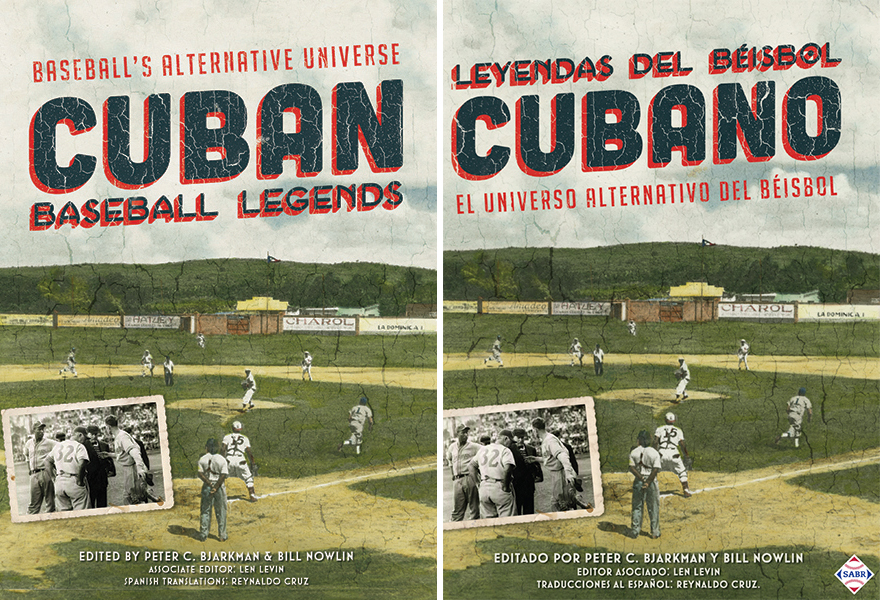 The newest (and first bilingual!) publication from the SABR Digital Library focuses on legendary ballplayers from Cuba's rich baseball history:
Cuban Baseball Legends: Baseball's Alternative Universe
Edited by Peter C. Bjarkman and Bill Nowlin
Spanish translations: Reynaldo Cruz
432 pages, 8.5″ x 11″
ISBN (ebook): 978-1-9438-1625-5, $9.99
ISBN (paperback): 978-1-9438-1624-8, $21.95
Minnie Minoso. Martin Dihigo. Luis Tiant Sr. and Jr. Orlando "El Duque" and Livan Hernandez. These are only a few of the leading lights profiled in Cuban Baseball Legends: Baseball's Alternative Universe. The 47 individuals profiled here represent only a small handful of the legions of memorable and sometimes even legendary figures produced over nearly a century and a half by an island nation where the bat-and-ball sport known as baseball is more than a national pastime, it is the national passion. The book presents 47 biographies in all, plus essays on Cuban baseball.
These biographies were researched and written by a team of members of the Society for American Baseball Research. SABR's BioBroject has produced bios of over 3,800 players since 2002. A Spanish-language edition of the book is also available, a new first for SABR. Haga clic aquí para obtener más información sobre las "Leyendas del Béisbol Cubano."
Contributors include: Mark Armour, Thomas Ayers, Ray Birch, Peter C. Bjarkman, Ron Briley, Phil Cola, Rory Costello, Reynaldo Cruz, Eric Enders, Joseph Gerard, Peter M. Gordon, Tom Hawthorn, Lou Hernandez, Douglas Hill, Joanne Hulbert, Len Levin, Brian McKenna, Zachary Moser, Bill Nowlin, Jose I. Ramirez, Rick Schabowski, Mark Stewart, John Struth, and Adam J. Ulrey.
SABR members, get this e-book for FREE!
Más información acerca de leyendas del béisbol cubano mediante la descarga más reciente libro electrónico de SABR:
Having trouble downloading our e-books? To view PDF files on your computer, click here to download the free Adobe Reader software. Having trouble downloading e-books to your Kindle, Nook, Sony Reader or iPad? Click here for additional help.
SABR members will get discounted rates for all Digital Library publications, including many for free. To find more SABR Digital Library books, visit SABR.org/ebooks.
---
This weekend, Ken Griffey Jr. and Mike Piazza will be inducted into the National Baseball Hall of Fame in Cooperstown, New York.
Griffey, the charismatic center fielder for the Seattle Mariners and Cincinnati Reds with the sweetest swing in baseball, received a record-setting 99.3 percent of the 440 ballots cast by the Baseball Writers' Association of America, missing out by three votes as the first unanimous selection in the Hall of Fame's history. The previous record holder was Tom Seaver, who was named on 98.8 percent of BBWAA ballots in 1992.
Piazza, the power-hitting catcher for the Los Angeles Dodgers and New York Mets, received 365 votes (83 percent) in his fourth year on the ballot. He is just the 16th player at his position to make it to Cooperstown.
Find all published SABR biographies for Baseball Hall of Fame inductees — including the Class of 2016 — by clicking here.
Join us on Induction Day! All baseball fans visiting Cooperstown this weekend are invited to join SABR's Cliff Kachline Chapter for its annual Induction Day meeting, starting at 6 p.m. on Sunday, July 24 at Tillapaugh's, just a block south of the Hall of Fame at 28 Pioneer Street. Our guest speakers are expected to include: MLB Network host Brian Kenny, author of Ahead of the Curve; Erik Sherman, author of Kings of Queens: Life Beyond Baseball with the '86 Mets; Mike Aronstein, founder of TCMA cards; and Bill Himmelman. Click here to learn more. For more information, contact chapter chair (and Mayor of Cooperstown) Jeff Katz.

---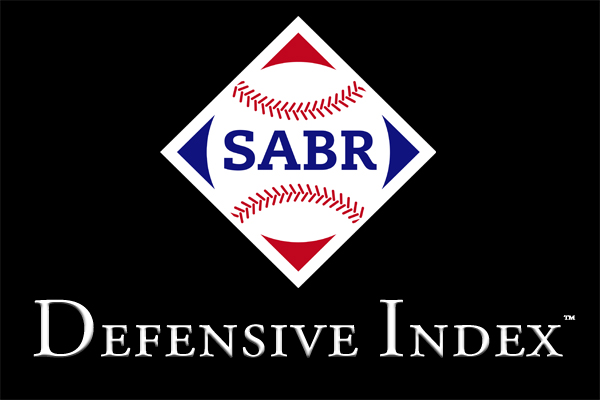 Chicago right fielder Adam Eaton retains a commanding lead in the AL and San Francisco shortstop Brandon Crawford has emerged as the NL's leader in the SABR Defensive Index™ rankings through games of July 10, 2016.
For the fourth consecutive season, the SABR Defensive Index will be used to help select the winners of the Rawlings Gold Glove Award® and Rawlings Platinum Glove Award™, presented by SABR. The SABR Defensive Index accounts for approximately 25 percent of the Rawlings Gold Glove Award selection process that will be added to the votes from the managers and coaches.
Eaton's SDI of 17.4 is the best in the game among all qualified defenders. In the AL, Cleveland shortstop Francisco Lindor (11.4), Kansas City catcher Salvador Perez (9.5), Texas third baseman Adrian Beltre (9.5), and Toronto center fielder Kevin Pillar (8.2) round out the top five.
Crawford's SDI of 12.9 leads the NL, followed by Chicago right fielder Jason Heyward (11.7), San Francisco catcher Buster Posey (8.9), Arizona shortstop Nick Ahmed (8.3), and Colorado third baseman Nolan Arenado (7.9).
The updated SDI results were released last week by the Society for American Baseball Research.
For more information on the SABR Defensive Index, visit SABR.org/SDI.
---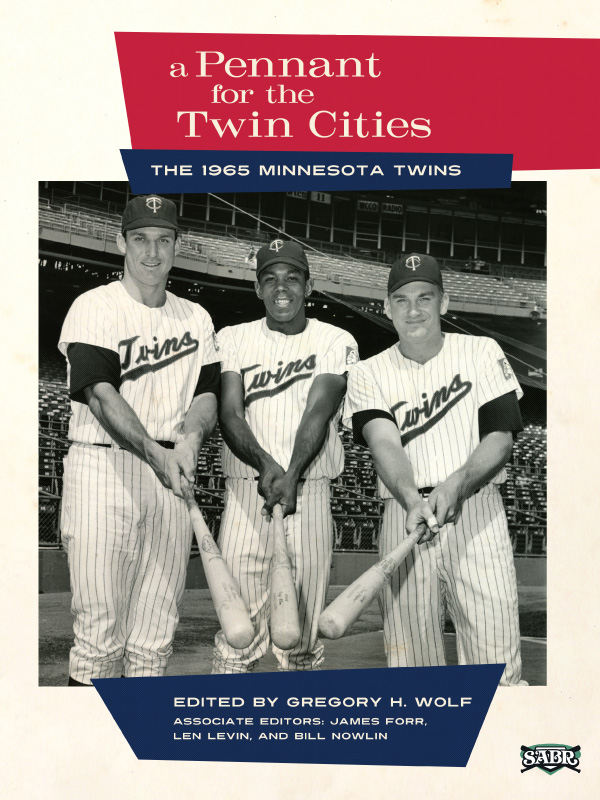 In SABR's A Pennant for the Twin Cities: The 1965 Minnesota Twins, edited by Gregory H. Wolf and published in 2015, we celebrated the 1965 Minnesota Twins, who captured the American League pennant in just their fifth season in the Twin Cities.
Led by an All-Star cast, from Harmon Killebrew, Tony Oliva, Zoilo Versalles, and Mudcat Grant to Bob Allison, Jim Kaat, Earl Battey, and Jim Perry, the Twins won 102 games, but bowed to the Los Angeles Dodgers and a herculean performance by Sandy Koufax in Game Seven of the World Series.
The SABR BioProject biographies that appeared in A Pennant for the Twin Cities can now be read online at: http://sabr.org/category/completed-book-projects/1965-minnesota-twins.
You can also purchase the book or download the e-book by clicking here. SABR members can download all SABR Digital Library e-books for free at SABR.org/ebooks.
---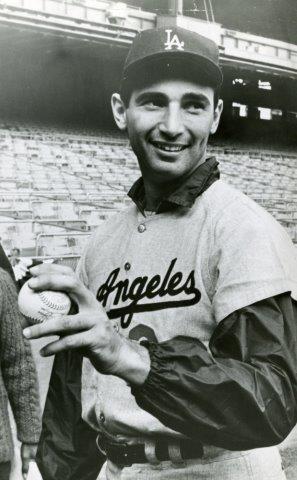 Seven new game stories were posted this week as part of the SABR Games Project. Here are the new game stories:
The game stories listed above originally appeared in A Pennant for the Twin Cities: The 1965 Minnesota Twins, edited by Gregory H. Wolf and published by SABR in 2015. Find more game stories from past SABR books by browsing the Games Project here.
All new Games Project stories can be found here: http://sabr.org/gamesproject/recent
---
The 2016 winners of the SABR Jack Kavanagh Memorial Youth Baseball Research Award are:
Click the links above to download and read the winning essays.
The winners will receive a plaque honoring their achievement, a $200 prize, and a one-year membership to SABR. Click here to learn more.
Winning entries from previous years can be viewed by clicking here.
---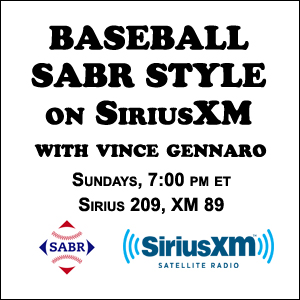 Behind the Numbers: Baseball SABR Style on SiriusXM, a radio show hosted by SABR President Vince Gennaro, will air this weekend at its regular time, 7:00-8:00 p.m. ET on Sundays, on MLB Network Radio.
This week's guests are Alex Chamberlain of Rotographs and Dan Symborski of ESPN.com.
Now, you can also watch video highlights of Behind the Numbers: Baseball SABR Style on SiriusXM on MLB.com and you can also listen to all recent episodes on-demand on the SiriusXM Internet Radio App.
Behind the Numbers: Baseball SABR Style on SiriusXM focuses on examining and interpreting the statistical analysis that plays a critical role in baseball today. It airs weekly throughout the year on MLB Network Radio, available to subscribers nationwide on XM channel 89, Sirius channel 209, and on the SiriusXM Internet Radio App.
---
We've heard your feedback: Some of you have said you look forward to "This Week in SABR" every Friday, but sometimes there are just too many compelling articles and announcements to read every week. We're not complaining — hey, keep up the great work! — but we know the feeling. So in an effort to make the length of this newsletter more manageable to read, we'll summarize some of the repeating/recurring announcements in a special "In Case You Missed It (ICYMI)" section of "This Week in SABR".
Here are some major headlines from recent weeks that we don't want you to miss:
All previous editions of This Week in SABR can be found here: http://sabr.org/content/this-week-in-sabr-archives.
For more information, click here.
---
We'd like to welcome all of our new SABR members who have joined this week. You can find all Members-Only resources at members.sabr.org and the Membership Handbook can be downloaded here.
Please give these new members a warm welcome and help them make the most of their membership by giving them the opportunity to get involved in their local chapter or a research committee.
You can find contact information for any SABR member in the online membership directory (SABR.org/directory).
| Name | Hometown | | | Name | Hometown |
| --- | --- | --- | --- | --- | --- |
| Cam Cain | Salem, NH | | | Jerome Nelson | Silver Spring, MD |
| David Cain | Swindon, ENG | | | Peter Ott | Miami, FL |
| Colin Campbell | Weston, MA | | | Larry Prather | Palmetto, GA |
| Todd Dzen | Hartford, CT | | | Sharon Robinson | Stamford, CT |
| Tom Graham | Clarksburg, MD | | | Joseph Schick | Flushing, NY |
| Joseph Gruber | Bryn Mawr, PA | | | David Soukup | Arlington, VA |
---
Here are the new SABR research committee updates this week:
Find all SABR research committee newsletters at SABR.org/research.
---
Here are the new regional chapter updates this week:
Best Practices handbook: Chapter leaders, download the new Chapter Leaders Best Practices Handbook, compiled by SABR staffer Marisa Elliot, on the Admin Tools page at admin.sabr.org. The handbook offers suggestions and guidelines for meetings, speakers, revitalizing a chapter, and getting publicity for SABR and chapter events.
Visit SABR.org/chapters for more information on SABR regional chapters.
---
Here is a list of upcoming SABR events:
All SABR meetings and events are open to the public. Feel free to bring a baseball-loving friend … and make many new ones! Check out the SABR Events Calendar at SABR.org/events.
---
Here are some recent articles published by and about SABR members:
Read these articles and more at SABR.org/latest.
---
This Week in SABR is compiled by Jacob Pomrenke. If you would like us to include an upcoming event, article or any other information in "This Week in SABR," e-mail jpomrenke@sabr.org.
Have trouble reading this e-mail? Click here to view this week's newsletter on the web.
Are you receiving our e-mails? "This Week in SABR" goes out by e-mail to all members on Friday afternoons. If they're not showing up, try adding "sabr.notes@sabr.org" to your contact list to ensure they show up in your inbox (and not the spam folder.)
---
Originally published: July 21, 2016. Last Updated: April 3, 2020.
https://sabr.org/wp-content/uploads/2020/03/research-collection4_350x300.jpg
300
350
admin
/wp-content/uploads/2020/02/sabr_logo.png
admin
2016-07-21 17:48:30
2020-04-03 14:38:45
This Week in SABR: July 22, 2016