This Week in SABR: March 14, 2014

Live from the third annual SABR Analytics Conference, welcome to "This Week in SABR!" Here's what we've been up to as of March 14, 2014: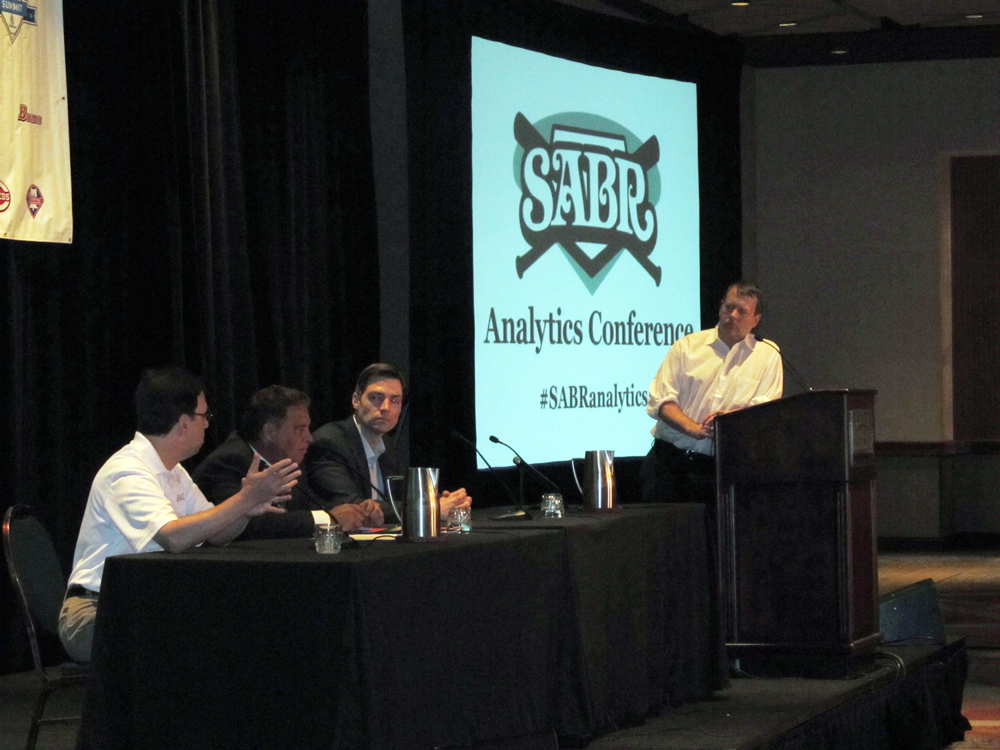 Couldn't make it to Arizona for the SABR Analytics Conference? Visit SABR.org/analytics for full coverage of this exciting event that brings together the top minds in the baseball analytics community in 2014. You'll feel like you're wandering through the Hyatt Regency Phoenix with stories and multimedia clips from the great panel discussions and research presentations on our schedule, photo galleries, and much more.
During the conference, you can follow along on Twitter by searching for the hashtag #SABRanalytics or by reading tweets from our account (@SABR) and from other conference attendees.
View our photo galleries from each day of the conference at SABR.org/analytics/photos.
We've already posted some highlights from the first day at SABR.org/analytics:
Listen to Milwaukee Brewers owner Mark Attanasio's exclusive one-on-one session with Ken Rosenthal (audio)
Listen to the Medical Analysis and Injury Prevention panel with Dr. Stan Conte, Dr. Glenn Fleisig, Chris Marinak and Buster Olney (audio)
Listen to the Which Numbers Athletes Love, Which Numbers Athletes Hate panel with Aaron Boone, Manny Acta, Eduardo Perez, Kirk Goldsberry and John Walsh (audio)
Diamond Dollars Case Competition winners: Duke University's Fuqua School of Business, Cornell University, Loras College
J.P. Hoornstra: Dodgers' Stan Conte, others study injury prevention (Los Angeles Daily News)
Matt Eddy: MLB, teams view injury prevention as the next frontier (Baseball America)
More stories, clips and photos to come soon!
The full schedule is available online at /analytics/schedule.
The 2014 Diamond Dollars Case Competition winners were announced Thursday, March 13 during the SABR Analytics Conference at the Hyatt Regency Phoenix in Phoenix, Arizona.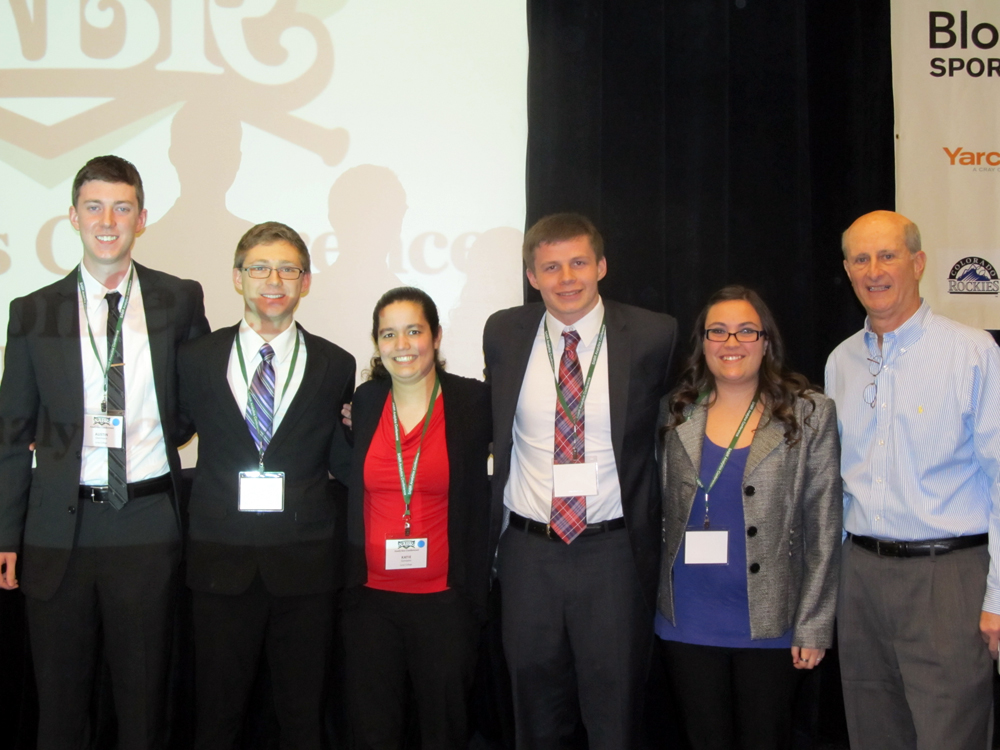 A team from Duke University's Fuqua School of Business won the Graduate and Professional School Division, narrowly beating out the University of Chicago-Booth. The team consisted of Greg Frank, Jontue Long, Ethan Mann, Hamilton Marx and Joe Smilari. The Case Competition judges cited the Duke team's "clarity in conveying and portraying the assessment of risk in the top pitchers in baseball."
In the two Undergraduate Divisions, the winning teams were from Cornell University in Ithaca, New York, and from Loras College in Dubuque, Iowa.
Cornell's team consisted of Hudson Belinsky, Max Fogle, Matthew Provenzano, Jesse Sherman and Alex Smith. Loras' team — pictured at right — consisted of Katie Gonzales, Nick Klein, Austin Overmann, Megan Tews and Shane Williams.
"It's amazing how the quality of the presentations has ramped up higher and higher each and every year," said SABR President Vince Gennaro, who develops the case studies in the Diamond Dollars Case Competition. "The judges always have a tough job choosing from a number of impressive and insightful presentations."
In this year's case, students were asked to analyze the top three "pitching assets" in the game today — the pitchers who will generate the greatest value to a team over the balance of his years under contract or team control. Answers ranged from rising stars such as the Miami Marlins' Jose Fernandez or the Pittsburgh Pirates' Gerrit Cole to the reigning Cy Young Award winner, Clayton Kershaw of the Los Angeles Dodgers.
Read the full article here: /latest/2014-sabr-analytics-duke-fuqua-cornell-loras-win-diamond-dollars-case-competition
Max Marchi and Jonah Keri were announced as winners of 2014 SABR Analytics Conference Research Awards this week at the SABR Analytics Conference in Phoenix, Arizona.
Marchi was voted as the winner of the Historical Analysis/Commentary award for his article "Catcher Framing Before PITCHf/x," published by Baseball Prospectus on May 16, 2013. Marchi, of Bologna, Italy, is a former contributor for Baseball Prospectus and The Hardball Times who last month was hired as an analyst by the Cleveland Indians. He is the co-author of Analyzing Baseball Data with R and he was a featured speaker at the 2010 and 2011 Sportvision PITCHf/x Summits.
Keri was voted as the winner of the Contemporary Baseball Commentary award for his article "Grand Theft Baseball," published by Grantland.com on March 20, 2013. Keri is a staff writer for Grantland. His book, The Extra 2%: How Wall Street Strategies Took a Major League Baseball Team From Worst to First, is a national best-seller. His new book Up, Up, and Away, on the history of the Montreal Expos, is now available for preorder.
The award for Contemporary Baseball Analysis will be announced on Saturday at the 2014 SABR Analytics Conference.
You can read all the 2014 finalists by clicking here.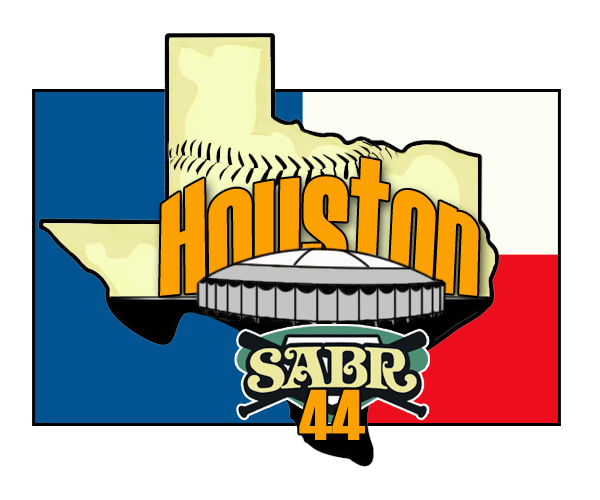 We hope you'll join us for what promises to be a spectacular SABR 44 convention in the summer of 2014 in Houston, Texas. The 44th annual SABR convention, which is open to all baseball fans, is scheduled for July 30-August 3, 2014, at the Royal Sonesta Houston.
Hotel: Click here to book your room at the Royal Sonesta online. The deadline to book your room at the SABR group rate of $129/night (plus tax) is Monday, July 14, 2014. The Royal Sonesta is at 2222 W Loop S Fwy., Houston, TX 77027, in the heart of the Galleria, just minutes from downtown and Minute Maid Park. If you have any questions about your reservation, please call the hotel at (713) 627-7600.
Conference registration: Click here for complete information on SABR 44 registration rates. Once again, we're offering an all-inclusive rate for the annual SABR convention. SABR members can pay $234 for an all-inclusive package with a Field Box ticket to the Astros game (and access to the special SABR 44 ballpark panels) on Saturday evening or $214 for an all-inclusive package with a Mezzanine Level ticket — each package is a savings of $30 off the regular rate. Non-members can pay $299 (Field Box) or $279 (Mezzanine Level) for the all-inclusive rate.
SABR 44 will include top featured speakers from around the baseball world — front office executives, players, managers, scouts, writers and analysts — innovative panel discussions, groundbreaking research presentations, major and minor league games, tours of historic ballparks, the SABR Trivia Contest, the Awards Luncheon, and most of all, the opportunity to make and renew baseball friendships over the course of this spectacular and memorable event.
We'll attend a game at the downtown Minute Maid Ballpark, which is one of the best in the majors, and we'll visit a brand-new independent league park in nearby Sugar Land, too.
Guest speakers at SABR 44 are expected to include:
Reid Ryan, President of Business Operations for the Houston Astros
Tal Smith, former Astros President and former SABR Director
Jimmy Wynn, original Colt .45 whose number has been retired by the Astros
Larry Dierker, longtime Astros player, broadcaster and manager
Bill Brown, current Astros television broadcaster
Pam Gardner, former Astros President of Baseball Operations
Eddie Robinson, longtime player, general manager and baseball executive
Bob Aspromonte, original Colt .45 and former Brooklyn Dodger
Mickey Herskowitz, noted baseball author and sportswriter
Experience SABR 44 at the ballpark: A special treat is in store for SABR 44 attendees this summer. On Saturday, August 2, SABR convention attendees will have the opportunity to visit Minute Maid Park for an exclusive ballpark session with Houston Astros executives and players. Before the Astros' 6:05 p.m. game against the Toronto Blue Jays, two SABR 44 panel discussions will take place inside the ballpark's Champions Pavilion, just above center field on the Mezzanine Level at Minute Maid Park.
Get your copy of Houston Baseball: The Early Years 1861-1961: All SABR 44 convention attendees will receive a free copy of Houston Baseball: The Early Years 1861-1961, edited by Mike Vance and produced by SABR's Larry Dierker Chapter, as part of their registration goody bag. Richly illustrated and expertly told, Houston Baseball: The Early Years 1861-1961 is a story for all fans of Houston baseball and Houston history. Learn more about the book at houstonbaseball.org.
Souvenir edition of The National Pastime: SABR 44 attendees will also receive a souvenir print edition of The National Pastime, our annual convention journal, focusing on baseball teams, players and events in the Houston area. All SABR members, whether you attend the convention or not, will receive the expanded e-book edition of The National Pastime in their inboxes later this summer.
We hope to see you in Houston this summer! For more information or to register, visit SABR.org/convention.
Registration for the 2014 Frederick Ivor-Campbell 19th Century Base Ball Conference, scheduled for April 11-12 at the Baseball Hall of Fame in Cooperstown, New York, is now closed; we have reached our conference venue capacity.
Those wishing to be placed on a waiting list for the 2014 conference in the event of a registrant's cancellation, please contact Peter Mancuso at peterplus4@earthlink.net.
The 2014 conference will be highlighted by a keynote address from baseball historian Dorothy Seymour Mills, a SABR Henry Chadwick Award recipient and co-author of the legendary three-volume Baseball series. The conference will also feature special presentations by Hall of Fame librarian Jim Gates and Bob Mayer; a 19th Century "Outsider Baseball" panel discussion with Scott Simkus, Gary Ashwill, James E. Brunson III and moderator John Thorn; a Member Spotlight interview of Alma Ivor-Campbell by Tom Simon; book signings, research presentations, and a lot more.
The conference schedule can be found in the Nineteenth Century Committee's Winter 2014 newsletter, which you can download by clicking here (PDF).
For more information, visit SABR.org/ivor-campbell19c.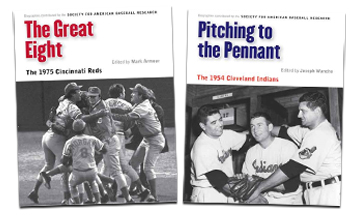 SABR continues its longstanding partnership with the University of Nebraska Press in 2014 with two new titles in the "Memorable Teams in Baseball History" series, which focuses on iconic teams with an unquestionable legacy in baseball history.
Each book focuses on a team's memorable single season and collects essays detailing the players, moments, and games that define these teams. The essays bring together contributions of many SABR writers and devoted fans who share passions for these teams and wish to relive those exceptional seasons.
You can now pre-order our two new books, to be published on April 1, 2014:
In 2012, SABR and UNP published the first two books in the "Memorable Teams in Baseball History" series: The Team That Forever Changed Baseball and America: The 1947 Brooklyn Dodgers (ed. Lyle Spatz); and Pitching, Defense, and Three-Run Homers: The 1970 Baltimore Orioles (eds. Mark Armour and Malcolm Allen.) Last year saw the release of Bridging Two Dynasties: The 1947 New York Yankees (ed. Lyle Spatz); and Drama and Pride in the Gateway City: The 1964 St. Louis Cardinals (eds. John Harry Stahl and Bill Nowlin.) For more information on the series, or to order a book, click here.
In one of the tightest races in the history of the Larry Ritter Book Award committee, four finalists have been named.
The finalists for the 2014 award are:
David L. Fleitz's Napoleon Lajoie: King of Ballplayers (McFarland)
Mike Lackey's Spitballing: The Baseball Days of Long Bob Ewing (OrangeFrazerPress)
William F. Lamb's Black Sox in the Courtroom: The Grand Jury, Criminal Trial and Civil Litigation (McFarland)
Gerald C. Wood's Smoky Joe Wood: The Biography of a Baseball Legend (University of Nebraska Press)
The winner will be announced next week.
Each year, SABR's Deadball Era Committee presents the Larry Ritter Book Award to recognize the best new baseball book primarily set in the Deadball Era that was published during the previous calendar year.
The Ritter Award Committee consists of Jack Carlson, Mark Dugo, Craig Lammers, John McMurray, Mark Pattison, Gail Rowe (chair), Doug Skipper, and Trey Strecker.
For a complete list of past Ritter Award winners, click here.
SABR's Board of Directors approved the formation of two new regional chapters on its February 23, 2014, conference call.
The Choo-Choo (Chattanooga) Chapter is based in Chattanooga, Tennessee. The chapter chair is David Jenkins. Its first meeting is scheduled for 6 p.m. on Friday, March 14 at Wally's East Ridge (6521 Ringgold Rd., East Ridge, TN 37412.) All baseball fans are welcome to attend.
The Maine Chapter will serve members in the state of Maine. The chapter chair is William Vigue.
SABR's 66 regional chapters cover 35 U.S. states, Puerto Rico and Washington, D.C.; plus international chapters in Canada (Quebec, Ontario and British Columbia), Japan, Italy, Latin America, South Korea, and the United Kingdom. For a list of all SABR chapters, visit SABR.org/chapters. A calendar of upcoming SABR meetings can be found at SABR.org/events.
Announcements:

To sign up for chapter email announcements and receive instant notification of upcoming SABR events in your area, click here to select from the list of chapters, then click the "Join Group" () button at the top of the chapter page. All SABR members are eligible to sign up for announcements from any chapter.
Find your regional chapter: Does your area have a regional chapter of its own? If not, it's easy to organize a new chapter — all you need is an interested group of SABR members. Click here for details.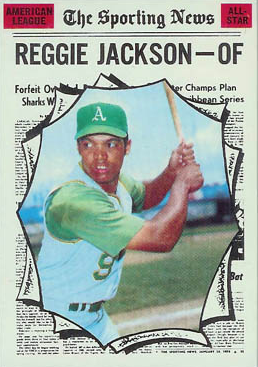 Four new biographies were posted as part of the SABR Baseball Biography Project, which brings us to a total of 2,684 published biographies. Here are the new bios:
All new biographies can be found here: /bioproj/recent
You can find the SABR BioProject at SABR.org/BioProject.
Bios on more than just ballplayers: The ambitious goal of the SABR Baseball Biography Project is to publish a full-life biography of every major league player in history. But SABR members write about a lot more than just ballplayers. In addition, we have pages for Ballparks, Broadcasters, Executives, Games, Managers, Scouts, Spouses, Umpires and a lot more on the BioProject website. You can browse all of these categories at /bioproj/browse. So if you've ever thought, "Hey, that person (or ballpark) should get the full BioProject treatment" — write the story and we'll publish it!
Get involved! If you'd like to help contribute to the SABR BioProject, visit our BioProject Resources page or read the FAQs section to get started. We're also looking to expand the BioProject to include all "encyclopedic" articles on baseball-related subjects from past SABR publications or committee newsletters. If you come across an article you think should be included in the SABR "baseball repository" at the BioProject, send a copy or link to markarmour04@gmail.com or jpomrenke@sabr.org.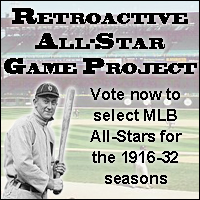 Editor's note: This game summary is from the Retroactive All-Star Game Project. Voting was conducted to select retroactive MLB All-Star teams from the 1928 season and the games were simulated using Out of the Park 14.
The American League exacted sweet revenge at Redland Field, pounding out 18 hits and crossing the plate 13 times for an embarrassing 13-0 beating over the National League. The junior circuit had lost two straight, scoring only seven runs in its last 18 innings, but they made up for it with six extra-base hits, including a homer by pinch hitter Lew Fonseca.
George Pipgras led a quartet of AL hurlers with three innings of shutout work in which he allowed only one hit. Tommy Thomas, Jack Quinn and Herb Pennock surrendered only two safeties over the final six frames.
NL starter Dazzy Vance, on the other hand, couldn't get out of the second inning and none of Donie Bush's slabmen escaped without allowing at least one run.
"Sunny Jim" Bottomley was the only senior loop slugger who showed up ready to play—he tripled and walked twice in his four trips to the plate.
Once again the series is tied up (6-6) and is heading to neutral territory in 1929, the game to be played at St. Louis' Sportsman's Park for the second time in four years. The Cardinals hosted the 1926 game won by the National League, 11-5. The Browns will host next year's contest.
Highlights and outstanding players from this year's game include:
Heinie Manush going 4 for 6 with a triple, two runs and two RBIs.
Jimmie Foxx going 2 for 3 with a double, run, and two RBIs in his first All-Star game.
Mickey Cochrane going 2 for 3 with two runs and two RBIs.
Lew Fonseca going 2 for 2 with a homer, two runs and an RBI coming off the bench for the AL.
George Pigras throwing three innings of one-hit ball.
Jim Bottomley tripling and walking twice in four plate appearances.
You can find a full account of the game, box score, game log and stats at Seamheads.com.
Learn more about the Retroactive All-Star Game Project by clicking here.
— Mike Lynch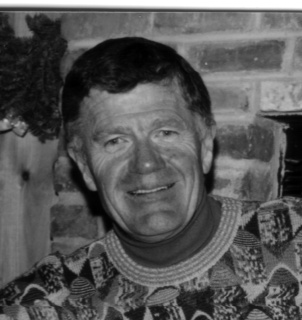 We are saddened to report that SABR member Dick Raymo, a native of Wilmington, Vermont, was tragically killed as a pedestrian on March 10, 2014, in Tampa, Florida.
Born on June 24, 1938, Richard Arthur Raymo Sr. was the oldest son of Richard Paul Raymo and Dorothy Alicia Day. He was a graduate of the University of Vermont in 1965 and Valedictorian of Wilmington High School. He owned W.W. Building Supplies, Inc. in Newfane and Wilmington, Vermont for more than 35 years.
Dick lived for his passion as a true baseball fan, always cheering on his beloved New York Yankees in the sea of surrounding Boston Red Sox fans. His annual spring sojourn to Florida marking the beginning of the baseball season filled him with anticipation of the upcoming season. He was a member of the Society for Baseball Research since 1992 and active within the Negro Leagues Committee in the study of the historic black baseball clubs celebrating many silent players not recognized in today's popular game. Dick was never conventional and supported "unsung" baseball heroes whenever he could. He was also an active member of the Baseball Hall of Fame in Cooperstown, New York.
A memorial service will be announced at a later date to be held in Wilmington, Vermont. Dick Raymo will be interred with his two daughters, Kimberly and Jennifer, as well as his parents and grandparents in Riverview Cemetery in Wilmington, Vermont. To celebrate his life of volunteerism, donations may be made to Grace Cottage Hospital in Townsend, Vermont in Dick Raymo's name.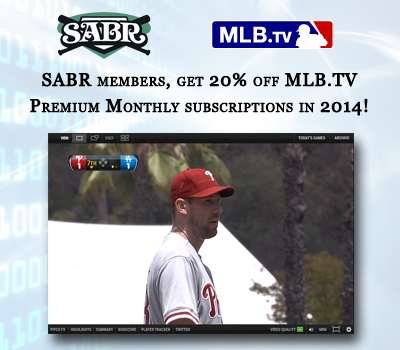 SABR members, you have the opportunity to take advantage of a special offer from MLB Advanced Media for the 2014 season:
The link above allows you access to purchase a 2014 MLB.TV monthly subscription at a special price for SABR members only.

This 20% discount is valid for each month of the 2014 season. Please note: This subscription DOES NOT automatically renew each month.

If you already have an MLB.com account, please click the link above to sign in at MLB.com. If you do not, you will create a new MLB.com account as you purchase.
Watch every 2014 Regular Season out-of-market game LIVE or on-demand in HD Quality. Choose home or away broadcasts. MLB.TV is on your favorite devices, including iPhone, iPad, Android phones, Xbox 360, Sony PlayStation and more. Watch up to four games at once with Mosaic. DVR functionality lets you pause or rewind live games. PLUS, watch select 2014 Spring Training games LIVE online.
For any questions about your subscription, please contact MLB.TV Customer Service.
Minutes from the Board of Directors conference call on February 23, 2014, have now been posted on the SABR website.
You can view all past minutes of SABR Board meetings by going to the page below:
Or you can go to the Members' Info page and click on "Org. files", then "Board Minutes" to view the minutes.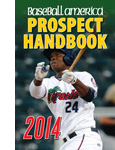 We're glad to pass along this special offer for SABR members from our friends at Baseball America:
The Baseball America Prospect Handbook is the definitive source on prospects. Order it directly from Baseball America and you will also get an exclusive supplement with 30 more scouting reports — one for every team — absolutely FREE!
Click here to order or call (800) 845-2726, Mon-Fri from 9 a.m.-5 p.m. ET.
We've heard your feedback: Some of you have said you look forward to "This Week in SABR" every Friday, but sometimes there are just too many compelling articles and announcements to read every week. We're not complaining — hey, keep up the great work! — but we know the feeling. So in an effort to make the length of this newsletter more manageable to read, we'll summarize some of the repeating/recurring announcements in a special "In Case You Missed It (ICYMI)" section of "This Week in SABR".
Here are some major headlines from recent weeks that we don't want you to miss:
All previous editions of This Week in SABR can be found here: /content/this-week-in-sabr-archives.
We'd like to welcome all of our new SABR members who have joined this week. You can find all Members-Only resources at members.sabr.org and the New Member Handbook can be downloaded here.
Please give these new members a warm welcome and help them make the most of their membership by giving them the opportunity to get involved in their local chapter or a research committee.
| Name | Hometown | | | Name | Hometown |
| --- | --- | --- | --- | --- | --- |
| Ryan Baranowski | Cedar Rapids, IA | | | Kevin Hug | St. Petersburg, FL |
| Eric Boedy | Austin, TX | | | Matt Koenig | Homer Glen, IL |
| Lisa Brown | Rochester, NY | | | Patrick Marotta | Troy, VA |
| Adam Brown | Chicago, IL | | | Manuel Martinez | Alto Apolo, PR |
| Frisco Del Rosario | San Mateo, CA | | | Mark Olson | Walker, MN |
| Rick Eichhorn | Cedar Rapids, IA | | | Jonathan Pac | Cockeysville, MD |
| Charlie Freret | Chantilly, VA | | | Charles Saeger | Minneapolis, MN |
| Robert Furst | Bronx, NY | | | William Tasker | Caribou, ME |
| Peter Goundie | Wilmington, DE | | | Michael Willee | Phoenix, AZ |
| Douglas Hedwig | Chattanooga, TN | | | Jaime Winchenbach | Cambridge, MA |
Here are the new SABR research committee newsletters published this week:
Find all SABR research committee newsletters at SABR.org/research.
Here are the new chapter meeting recaps published this week:
Visit SABR.org/chapters for more information on SABR regional chapters.
Here is a list of upcoming SABR events:
All SABR meetings and events are open to the public. Feel free to bring a baseball-loving friend … and make many new ones! Check out the SABR Events Calendar at SABR.org/events.
Here are some recent articles published by and about SABR members:
Read these articles and more at SABR.org/latest.
---
This Week in SABR is compiled by Jacob Pomrenke. If you would like us to include an upcoming event, article or any other information in "This Week in SABR," e-mail jpomrenke@sabr.org.
Are you receiving our e-mails? "This Week in SABR" goes out by e-mail to all members on Friday afternoons. If they're not showing up, try adding "sabr.notes@sabr.org" to your contact list to ensure they show up in your inbox (and not the spam folder.)
---
Originally published: March 14, 2014. Last Updated: April 3, 2020.
https://h2j7w4j4.stackpathcdn.com/wp-content/uploads/2020/03/research-collection4_350x300.jpg
300
350
jpomrenke
/wp-content/uploads/2020/02/sabr_logo.png
jpomrenke
2014-03-14 13:00:00
2020-04-03 14:39:36
This Week in SABR: March 14, 2014