This Week in SABR: March 7, 2014

Welcome to the 150th edition of "This Week in SABR!" We hope you've enjoyed the weekly roundup of SABR news and notes on Fridays over the last three years. We've made a few changes recently to help freshen up the newsletters, starting with a new TWIS logo above.
Here's what we've been up to as of March 7, 2014:
---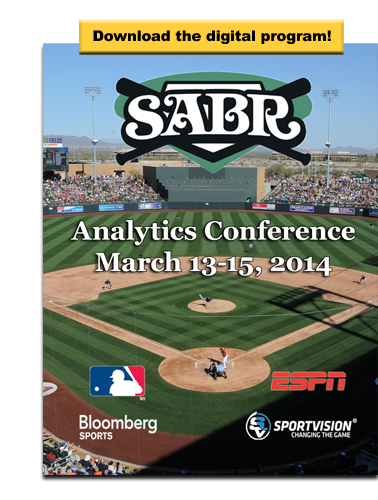 We're just a week away from the third annual SABR Analytics Conference, March 13-15 at the Hyatt Regency Phoenix, and we've got an All-Star lineup of speakers, panelists and presenters on the schedule this year.
Complete coverage of the SABR Analytics Conference, including a full schedule and panel descriptions, can be found at SABR.org/analytics. We'll be posting stories, photos and multimedia clips online next week. You can also follow along live on Twitter by searching for the hashtag #SABRanalytics during the conference.
Once again, we're bringing together the top minds of the baseball analytic community under one roof to discuss, debate and share insightful ways to analyze and examine the great game of baseball. Representatives from more than 25 Major League Baseball front offices — including all 15 Cactus League teams — are expected to attend this year's SABR Analytics Conference.
The conference schedule will consist of a combination of Guest Speakers, Panels and Research Presentations — plus the unique Diamond Dollars Case Competition, in which undergraduate, graduate and law school students from across the country analyze and present a real baseball operations decision.
Find more information on the 2014 SABR Analytics Conference below:
Visit SABR.org/analytics for more information.
---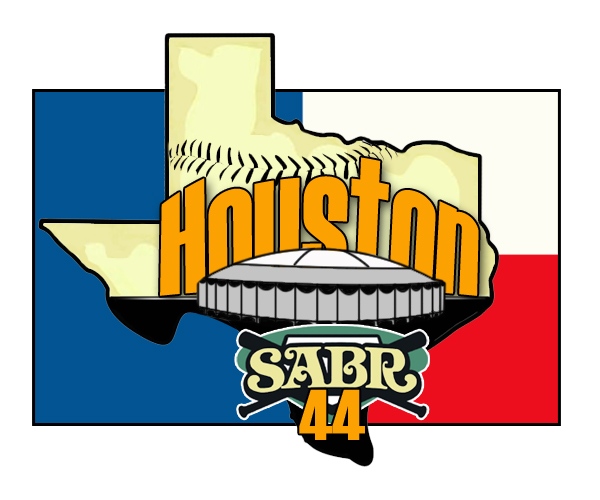 We hope you'll join us for what promises to be a spectacular SABR 44 convention in the summer of 2014 in Houston, Texas. The 44th annual SABR convention, which is open to all baseball fans, is scheduled for July 30-August 3, 2014, at the Royal Sonesta Houston.
Hotel: Click here to book your room at the Royal Sonesta online. The deadline to book your room at the SABR group rate of $129/night (plus tax) is Monday, July 14, 2014. The Royal Sonesta is at 2222 W Loop S Fwy., Houston, TX 77027, in the heart of the Galleria, just minutes from downtown and Minute Maid Park. If you have any questions about your reservation, please call the hotel at (713) 627-7600.
Conference registration: Click here for complete information on SABR 44 registration rates. Once again, we're offering an all-inclusive rate for the annual SABR convention. SABR members can pay $234 for an all-inclusive package with a Field Box ticket to the Astros game (and access to the special SABR 44 ballpark panels) on Saturday evening or $214 for an all-inclusive package with a Mezzanine Level ticket — each package is a savings of $30 off the regular rate. Non-members can pay $299 (Field Box) or $279 (Mezzanine Level) for the all-inclusive rate.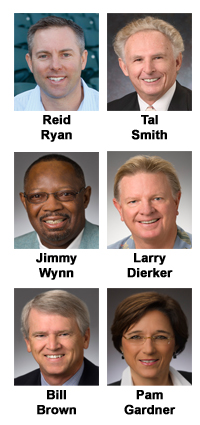 SABR 44 will include top featured speakers from around the baseball world — front office executives, players, managers, scouts, writers and analysts — innovative panel discussions, groundbreaking research presentations, major and minor league games, tours of historic ballparks, the SABR Trivia Contest, the Awards Luncheon, and most of all, the opportunity to make and renew baseball friendships over the course of this spectacular and memorable event.
We'll attend a game at the downtown Minute Maid Ballpark, which is one of the best in the majors, and we'll visit a brand-new independent league park in nearby Sugar Land, too.
Guest speakers at SABR 44 are expected to include:
Reid Ryan, President of Business Operations for the Houston Astros
Tal Smith, former Astros President and former SABR Director
Jimmy Wynn, original Colt .45 whose number has been retired by the Astros
Larry Dierker, longtime Astros player, broadcaster and manager
Bill Brown, current Astros television broadcaster
Pam Gardner, former Astros President of Baseball Operations
Eddie Robinson, longtime player, general manager and baseball executive
Bob Aspromonte, original Colt .45 and former Brooklyn Dodger
Mickey Herskowitz, noted baseball author and sportswriter
Experience SABR 44 at the ballpark: A special treat is in store for SABR 44 attendees this summer. On Saturday, August 2, SABR convention attendees will have the opportunity to visit Minute Maid Park for an exclusive ballpark session with Houston Astros executives and players. Before the Astros' 6:05 p.m. game against the Toronto Blue Jays, two SABR 44 panel discussions will take place inside the ballpark's Champions Pavilion, just above center field on the Mezzanine Level at Minute Maid Park.
Get your copy of Houston Baseball: The Early Years 1861-1961: All SABR 44 convention attendees will receive a free copy of Houston Baseball: The Early Years 1861-1961, edited by Mike Vance and produced by SABR's Larry Dierker Chapter, as part of their registration goody bag. Richly illustrated and expertly told, Houston Baseball: The Early Years 1861-1961 is a story for all fans of Houston baseball and Houston history. Learn more about the book at houstonbaseball.org.
Souvenir edition of The National Pastime: SABR 44 attendees will also receive a souvenir print edition of The National Pastime, our annual convention journal, focusing on baseball teams, players and events in the Houston area. All SABR members, whether you attend the convention or not, will receive the expanded e-book edition of The National Pastime in their inboxes later this summer.
We hope to see you in Houston this summer! For more information or to register, visit SABR.org/convention.
---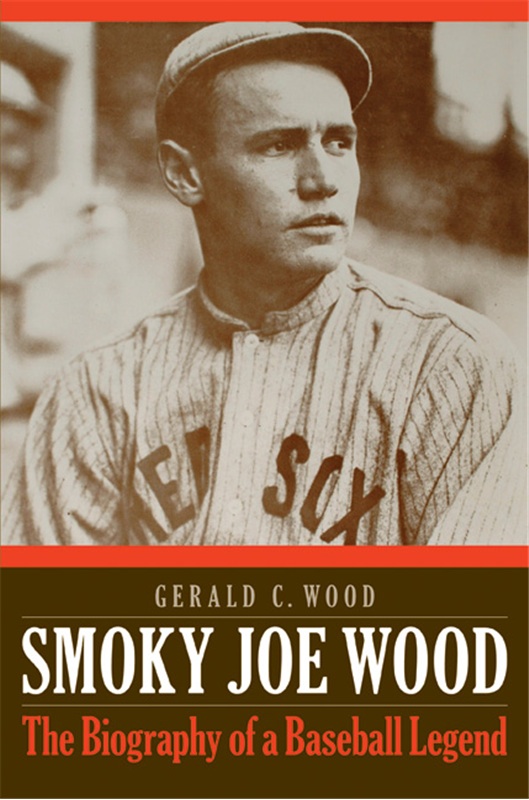 2014 Seymour Medal winner Gerald Wood, a retired English professor from New Market, Tennessee will receive his award at the banquet of the 21st annual NINE Spring Training Conference on Saturday, March 15 at the DoubleTree by Hilton Hotel in Tempe, Arizona (formerly the Fiesta Inn and Resort.)
The banquet includes the Seymour Medal ceremony with Dorothy Seymour Mills, dinner and the NINE Keynote address by George Gmelch, a professor of anthropology at the University of San Francisco and the author of a dozen books, including several on baseball: In the Ballpark; Inside Pitch; and Baseball Without Borders.
To register for the NINE conference, visit http://nineregistration.com.
Wood won the Seymour Medal — which honors the best book of baseball history or biography published during the preceding calendar year — for Smoky Joe Wood: The Biography of a Baseball Legend, published by the University of Nebraska Press.
"Smoky Joe has a certain mystique," said Gerald Wood, who is no relation to Smoky Joe. "His name shows up in Field of Dreams, he appears in The Celebrant, he's in all these famous documents of American literature. And then you hear his name come up any time we tell the story about Herb Score, or Kerry Wood, pitchers who had a promising future but got injured. His name has survived where others haven't."
The Seymour Medal, named in honor of Dr. Harold Seymour and Mrs. Dorothy (Seymour) Mills, was first awarded by SABR in 1996. To be considered for the medal, a work must be the product of original research or analysis. The winning book shall significantly advance our knowledge of baseball and shall be characterized by understanding, factual accuracy, profound insight and distinguished writing.
To see a list of previous Seymour Medal winners, click here.
---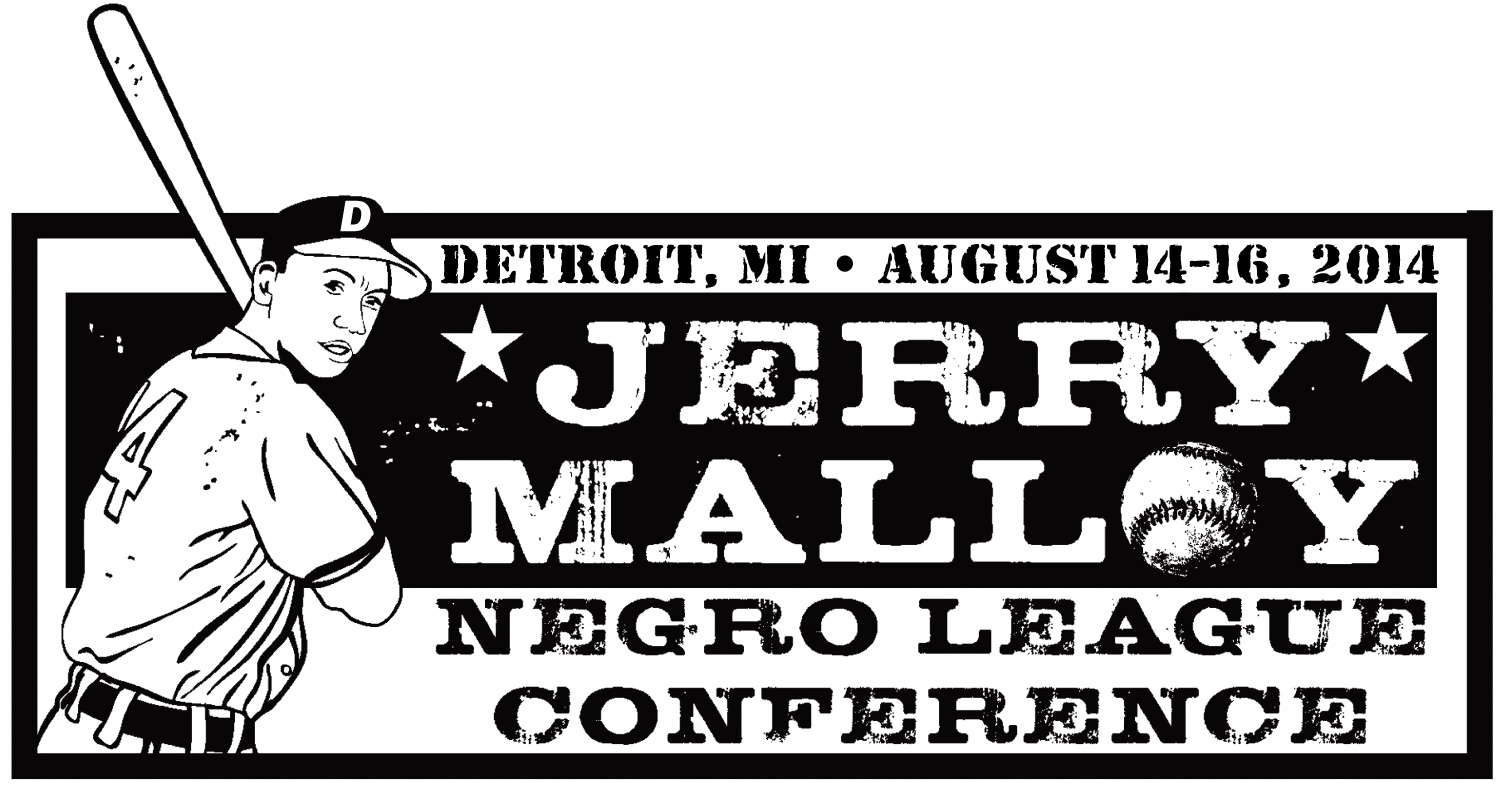 The fifth annual Jerry Malloy Negro League Conference Art Contest is now accepting applications in three categories: professional, amateur and youth. Art from the winners and runners-up will be on display in a special area at the Malloy Conference, scheduled for August 14-16, 2014, in Detroit, Michigan.
The winning entry in the professional and amateur categories will receive a $300 prize and a certificate. The winning entry in the youth category will receive $150 and a certificate.
To download a PDF application for the 2014 Art Contest, click here
Where to send: Lheaphy@kent.edu
Cost: $30 for up to 3 JPG entries; $10 for youth. Make your check out to "SABR."
Deadline for submissions: May 26, 2014
Entries should show clear relation to the Negro Leagues. Detailed criteria and submission requirements can be found in the PDF application above.
For more information on the Youth Art Contest, click here.
For more information, click here or contact Leslie Heaphy or Larry Lester.
---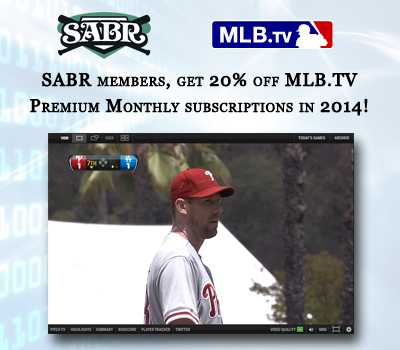 SABR members, you have the opportunity to take advantage of a special offer from MLB Advanced Media for the 2014 season:
The link above allows you access to purchase a 2014 MLB.TV monthly subscription at a special price for SABR members only.

This 20% discount is valid for each month of the 2014 season. Please note: This subscription DOES NOT automatically renew each month.

If you already have an MLB.com account, please sign in on the next page. If you do not, you will create a new MLB.com account as you purchase.
Watch every 2014 Regular Season out-of-market game LIVE or on-demand in HD Quality. Choose home or away broadcasts. MLB.TV is on your favorite devices, including iPhone, iPad, Android phones, Xbox 360, Sony PlayStation and more. Watch up to four games at once with Mosaic. DVR functionality lets you pause or rewind live games. PLUS, watch select 2014 Spring Training games LIVE online.
For any questions about your subscription, please contact MLB.TV Customer Service.
---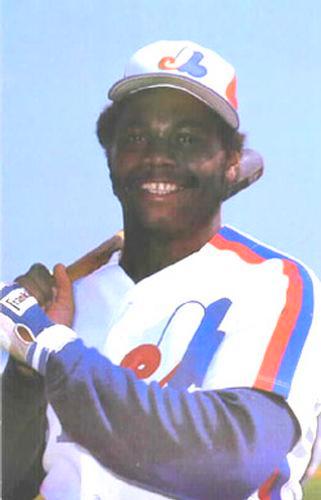 Three new biographies were posted as part of the SABR Baseball Biography Project, which brings us to a total of 2,680 published biographies. Here are the new bios:
All new biographies can be found here: http://sabr.org/bioproj/recent
You can find the SABR BioProject at SABR.org/BioProject.
Bios on more than just ballplayers: The ambitious goal of the SABR Baseball Biography Project is to publish a full-life biography of every major league player in history. But SABR members write about a lot more than just ballplayers. In addition, we have pages for Ballparks, Broadcasters, Executives, Games, Managers, Scouts, Spouses, Umpires and a lot more on the BioProject website. You can browse all of these categories at http://sabr.org/bioproj/browse. So if you've ever thought, "Hey, that person (or ballpark) should get the full BioProject treatment" — write the story and we'll publish it!
Get involved! If you'd like to help contribute to the SABR BioProject, visit our BioProject Resources page or read the FAQs section to get started. We're also looking to expand the BioProject to include all "encyclopedic" articles on baseball-related subjects from past SABR publications or committee newsletters. If you come across an article you think should be included in the SABR "baseball repository" at the BioProject, send a copy or link to markarmour04@gmail.com or jpomrenke@sabr.org.
---
We are saddened to pass along the news that longtime SABR member Frank C. "Bud" Kane, 84, of Webster Groves, Missouri, passed away on March 4, 2014.
Kane joined SABR in 1982 and was an active member of the Bob Broeg Chapter in St. Louis. He also served as the treasurer of the St. Louis Browns Fan Club for more than a quarter-century. As Bill Rogers reports, "Bud was somewhat of a walking encyclopedia of baseball with a heavy focus on the history of the St. Louis Browns. One of Bud's many memories was attending the first night game in Sportsman's Park against the Cleveland Indians and Bob Feller."
Born in 1929, Kane grew up in the historic Dogtown neighborhood of St. Louis and was a Browns fan from childhood. In 2012, he self-published a short memoir, Hooray It's the Depression: Memories of a Great Childhood, with stories about sandlot baseball, the golden age of radio, and his grandfather, John Simon, a well-known medical doctor and public figure in St. Louis in the early 20th century.
Kane is survived by his children, Kathleen (Fran Parr), John (Linda Daugherty), Joe (Anita Ward Kane), Pat (Aric) Schreiner, Rocky (Stacy Hayes Kane), Dot (David) Roknic, Dan (Colene Bucy Kane) and Jerry (Paola Jimenez Kane); 13 grandchildren and four great-grandchildren. He was preceded in death by his former wife, Jane Frances Shea Kane.
There will be no memorial service; Kane has donated his body to the St. Louis University School of Medicine.
---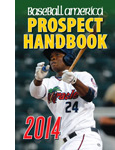 We're glad to pass along this special offer for SABR members from our friends at Baseball America:
The Baseball America Prospect Handbook is the definitive source on prospects. Order it directly from Baseball America and you will also get an exclusive supplement with 30 more scouting reports — one for every team — absolutely FREE!
Click here to order or call (800) 845-2726, Mon-Fri from 9 a.m.-5 p.m. ET.
---
We've heard your feedback: Some of you have said you look forward to "This Week in SABR" every Friday, but sometimes there are just too many compelling articles and announcements to read every week. We're not complaining — hey, keep up the great work! — but we know the feeling. So in an effort to make the length of this newsletter more manageable to read, we'll summarize some of the repeating/recurring announcements in a special "In Case You Missed It (ICYMI)" section of "This Week in SABR".
Here are some major headlines from recent weeks that we don't want you to miss:
All previous editions of This Week in SABR can be found here: http://sabr.org/content/this-week-in-sabr-archives.
---
We'd like to welcome all of our new SABR members who have joined this week. You can find all Members-Only resources at members.sabr.org and the New Member Handbook can be downloaded here.
Please give these new members a warm welcome and help them make the most of their membership by giving them the opportunity to get involved in their local chapter or a research committee.
| Name | Hometown | | | Name | Hometown |
| --- | --- | --- | --- | --- | --- |
| Ricardo Aponte | Washington, DC | | | Chris Jervis | Covington, GA |
| Stephany Brown | Denver, CO | | | Douglas Malan | Newington, CT |
| Keith Craig | Ventnor, NJ | | | Bob McPhail | Calgary, AB |
| Robert Dominguez | Forest Hills, NY | | | Matt Meuchel | Sparks, NV |
| Steve Eisman | Encino, CA | | | Ryan Mikkelson | Jamestown, ND |
| Justin Fuentes | Lake Forest, CA | | | Artie Pajak | San Diego, CA |
| Nicolò Gatti | Marnate, ITA | | | John Radford | Copell, TX |
| Hunter Gilbertson | New York, NY | | | Bill Seiple | Naperville, IL |
| Kerry Graul | Brentwood, TN | | | Eileen Storey | Havertown, PA |
| Maria-Elena Guadamuz | Hayward, CA | | | Donald Tullis | Cortez, CO |
| Francisco Hilario | Bronx, NY | | | Ty Zimmerman | Tyrone, PA |
---
Here are the new SABR research committee newsletters published this week:
Find all SABR research committee newsletters at SABR.org/research.
---
There were no new chapter meeting recaps published this week.
Rocky Mountain Chapter announces 2014 banquet keynote speaker: The Rocky Mountain Chapter announced today that Brad Lidge will be the keynote speaker for the 17th annual chapter banquet on November 15, 2014, at the Denver Athletic Club in Denver, Colorado. Lidge — who was on the SABR 43 Player Panel last summer in Philadelphia — is a two-time All-Star closer who retired in 2012 after 11 major league seasons with the Houston Astros, Philadelphia Phillies and Washington Nationals. He closed out the 2008 World Series-clinching victory for the Phillies in Game 5 over the Tampa Bay Rays and saved seven games during the Phillies' postseason run. He was also named NL Comeback Player of the Year in 2008, when he finished fourth in the Cy Young Award voting. Learn more at RMSABR.org.
Visit SABR.org/chapters for more information on SABR regional chapters.
---
Here is a list of upcoming SABR events:
All SABR meetings and events are open to the public. Feel free to bring a baseball-loving friend … and make many new ones! Check out the SABR Events Calendar at SABR.org/events.
---
Here are some recent articles published by and about SABR members:
Read these articles and more at SABR.org/latest.
---
This Week in SABR is compiled by Jacob Pomrenke. If you would like us to include an upcoming event, article or any other information in "This Week in SABR," e-mail jpomrenke@sabr.org.
Are you receiving our e-mails? "This Week in SABR" goes out by e-mail to all members on Friday afternoons. If they're not showing up, try adding "sabr.notes@sabr.org" to your contact list to ensure they show up in your inbox (and not the spam folder.)
---
Originally published: March 7, 2014. Last Updated: April 3, 2020.
https://sabr.org/wp-content/uploads/2020/03/research-collection4_350x300.jpg
300
350
jpomrenke
/wp-content/uploads/2020/02/sabr_logo.png
jpomrenke
2014-03-07 14:00:00
2020-04-03 14:39:36
This Week in SABR: March 7, 2014