This Week in SABR: September 8, 2017

Welcome to "This Week in SABR!" Click here to view this week's newsletter on the web. Here's what we've been up to as of September 8, 2017:
---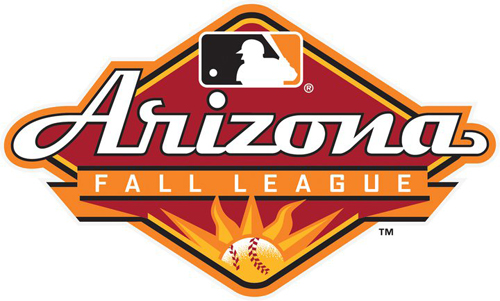 We hope you'll join us for the ninth annual SABR Arizona Fall League Experience, which will be held Thursday, November 2 to Saturday, November 4, 2017.
The event will feature three AFL games showcasing baseball's top prospects. We'll also have a ballpark dinner at Scottsdale Stadium with guest speakers on Thursday evening. On Friday night, we'll have a special dinner at Don and Charlie's, home of one of the best baseball memorabilia collections you'll ever seen. On Saturday, attendees will join members of SABR's Hemond-Delhi Arizona Chapter for their regional fall meeting, with research presentations and guest speakers. We'll conclude the conference with the nationally televised Fall Stars Game on Saturday evening at Salt River Fields at Talking Stick. All of this, including transportation, is included in one low registration price.
Register now by clicking here! Registration is $175 for all SABR members and guests before October 12, 2017; $195 afterward.
Host hotel: SABR's recommended hotel is the Embassy Suites (5001 N. Scottsdale Rd., Scottsdale, AZ 85251) in Old Town Scottsdale. Click here to book your room online or call the hotel at (480) 949-1414 or (800) 528-1456 and mention "SABR" to book your room at our special group rate of $129/night (plus tax).
Your registration fee includes all game tickets; an AFL Media Guide; dinner at the ballpark (Scottsdale Stadium) on Thursday and Don and Charlie's on Friday; and transportation to and from all events.
You can find the full schedule online at SABR.org/AFL. See you soon in Arizona!
Note: Local or visiting SABR members can purchase extra or optional tickets to the Thursday evening ballpark dinner and game ($35) at Scottsdale Stadium, the Friday afternoon game at Scottsdale Stadium ($7), the Friday night dinner at Don and Charlie's ($60), or the Fall Stars Game ($7) on Saturday night at Salt River Fields. Extra AFL Media Guides ($12) are also available for purchase while supplies last. Please contact Deb Jayne at djayne@sabr.org for details.
Related links:

---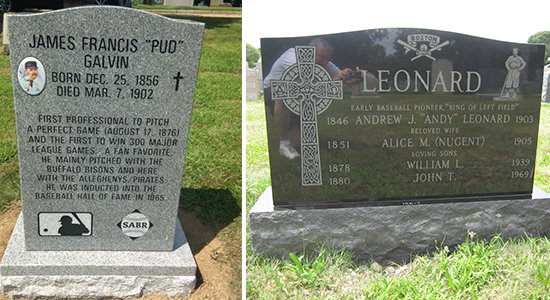 SABR's 19th Century Baseball Grave Marker Project is pleased to announce dedication ceremonies for their two latest installations, honoring Andy Leonard of early Cincinnati and Boston baseball fame and Hall of Famer James Francis "Pud" Galvin.
On Saturday, September 9 at New Calvary Cemetery in Mattapan, Massachusetts, join a band of 19th-century history buffs, baseball fans, and family members of one of baseball's "First Boys of Summer," Andy Leonard. A star left fielder of the undefeated Cincinnati Red Stockings, he subsequently joined Boston's first league "dynasty" champions of the 1870s. Ireland's National Baseball League crowns its seasonal best player with the Andy Leonard Most Valuable Player Award developed to honor this Irish-born athlete. Click here for complete details.
On Saturday, September 23, we celebrate the life of Hall of Famer Pud Galvin. Following the SABR Forbes Field Chapter meeting at the Heinz History Center in Pittsburgh, interested guests will meet at Calvary Cemetery (718 Hazelwood Ave., Pittsburgh, PA) at 4:00 p.m. Galvin is the third grave marked by the SABR 19th Century Grave Baseball Marker Project. The dedication ceremony will feature a bio of Galvin, prepared by his biographer Chip Martin, as well as other baseball notables and members of the Galvin family.
With the help of donations from SABR members as well as a generous grant from Major League Baseball, the Project attempts to provide the honor these players were denied at the times of their deaths. Their first stone was laid in May 2016 at Green-Wood Cemetery in Brooklyn for James Whyte Davis, member and officer of the New York Knickerbockers.
Click here to read the full article at SABR.org.
For more information, contact Ralph Carhart at thehallballproject@gmail.com.
---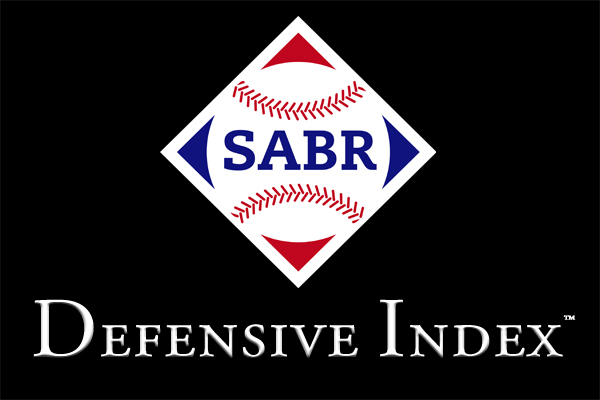 Boston right fielder Mookie Betts leads a powerhouse lineup of defenders in the AL and Colorado third baseman Nolan Arenado retains the NL's top spot in the SABR Defensive Index™ rankings for MLB games played through Sunday, August 27, 2017.
For the fifth consecutive season, the SABR Defensive Index will be used to help select the winners of the Rawlings Gold Glove Award® and Rawlings Platinum Glove Award™, presented by SABR. The SABR Defensive Index accounts for approximately 25 percent of the Rawlings Gold Glove Award selection process that will be added to the votes from the managers and coaches. The final SDI results will be released following the conclusion of the 2017 season at SABR.org/SDI.
Betts's SDI of 20.1 is the highest in the game among all qualified defenders, ahead of Minnesota center fielder Byron Buxton (18.2). Los Angeles shortstop Andrelton Simmons (15.2), Kansas City left fielder Alex Gordon (11.8), and Los Angeles catcher Martin Maldonado (11.8) round out the top five in the AL.
Arenado's SDI of 11.3 leads all fielders in the NL, followed by Chicago right fielder Jason Heyward (10.9) and San Francisco first baseman Brandon Belt (10.7). Arizona first baseman Paul Goldschmidt (9.7) and Milwaukee catcher Manny Piña (9.1) are close behind the leaders.
The updated SDI results were released last week by the Society for American Baseball Research. For more information, visit SABR.org/SDI.
---

Periodically throughout the year, SABR.org publishes The SABR Bookshelf, a listing of new books that are received at the SABR office. Here are The SABR Bookshelf listings for Summer 2017:
/content/sabr-bookshelf-summer-2017
Click on the link above for more detailed information on each of these books:
Bittersweet Goodbye: The Black Barons, the Grays, and the 1948 Negro League World Series, edited by Frederick C. Bush and Bill Nowlin
Puerto Rico and Baseball: 60 Biographies, edited by Bill Nowlin and Edwin Fernandez
Connie Mack's First Dynasty: The Philadelphia Athletics, 1910–1914, by Lew Freedman
The Cooperstown Casebook: Who's in the Baseball Hall of Fame, Who Should Be In, and Who Should Pack Their Plaques, by Jay Jaffe
Electric October: Seven World Series Games, Six Lives, Five Minutes of Fame That Lasted Forever, by Kevin Cook
Spirit of '67: The Cardiac Kids, El Birdos, and the World Series That Captivated America, by Thomas J. Whalen
Latino Stars in Major League Baseball: From Bobby Abreu to Carlos Zambrano, by Jonathan Weeks
The Best Season: The Challenging Finish, by Bob May
Mexican American Baseball in El Paso, by Richard A. Santillán, Eric Enders, Pete G. Flores, Donavan López, and Jorge Iber
The Love of Baseball: Essays by Lifelong Fans, edited by Chris Arvidson and Diana Nelson Jones
The Cultural Encyclopedia of Baseball, 2d ed., edited by Jonathan Fraser Light
Visualizing Baseball, by Jim Albert
Texas Heat, Chicago Fire: The Remarkable Life of Joe Horlen, by Robert L. McCartha
The Arena: Inside the Tailgating, Ticket-Scalping, Mascot-Racing, Dubiously Funded, and Possibly Haunted Monuments of American Sport, by Rafi Kohan
Between the Innings, by Dan J. Kirk
Nashville Baseball History: From Sulphur Dell to the Sounds, by Bill Traughber
Danger at the Ballpark, by Jack Herskowitz
Bolded names indicates that the author(s) is a SABR member. Click here for a list of publishers found in the SABR Bookshelf, along with their contact information.
In addition, check out new books published by SABR at SABR.org/ebooks (free for SABR members!)
To get your NEW book listed on The SABR Bookshelf, make sure a review copy is sent to: The SABR Bookshelf, Cronkite School at ASU, 555 N. Central Ave. #416, Phoenix, AZ 85004. An e-book file will also suffice; please send the e-book in PDF, EPUB or Kindle/MOBI format to jpomrenke@sabr.org.
To ensure a listing in The Baseball Index — SABR's online catalog of baseball research materials — make sure a review copy is sent to The Baseball Index, 4025 Beechwood Pl., Riverside, CA 92506.
---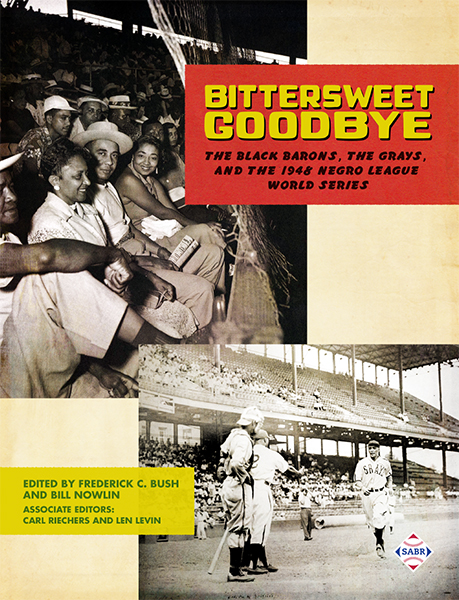 The newest publication from the SABR Digital Library focuses on the end of an era in black baseball:
Bittersweet Goodbye: The Black Barons, the Grays, and the 1948 Negro League World Series
Edited by Frederick C. Bush and Bill Nowlin
Associate Editors: Carl Riechers and Len Levin
ISBN (paperback): 978-1-943816-55-2, $21.95
ISBN (ebook): 978-1-943816-54-5, $9.99
8.5 x 11″, 438 pages
This book was inspired by the last Negro League World Series ever played and presents biographies of the players on the two contending teams in 1948 — the Birmingham Black Barons and the Homestead Grays — as well as the managers, the owners, and articles on the ballparks the teams called home. Click here to read the full description at SABR.org.
SABR members, get this e-book for FREE!
Having trouble downloading our e-books? To view PDF files on your computer, click here to download the free Adobe Reader software. Having trouble downloading e-books to your Kindle, Nook, Sony Reader or iPad? Click here for additional help.
SABR members get discounted rates for all Digital Library publications, including e-book downloads for free. Find all SABR Digital Library books at SABR.org/ebooks.
---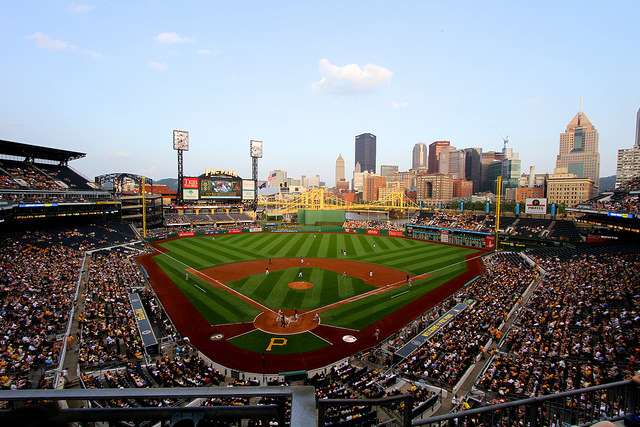 Save the date! SABR will be returning to the Steel City for our 48th national convention on June 20-24, 2018, at the Wyndham Grand in downtown Pittsburgh, Pennsylvania. Registration information will be available at SABR.org/convention in early 2018. The convention location is contingent on a Pirates' homestand that weekend.
The Wyndham Grand is conveniently located within walking distance from PNC Park and a light rail station, many downtown cultural amenities, and right across the street from the picturesque 36-acre Point State Park where the three rivers converge.
SABR 48 will be our second convention held in Pittsburgh and first since 1995. Our 25th annual convention that year featured a keynote speech from former Pirates manager Chuck Tanner and panel discussions commemorating the 1960 and 1971 World Series champions. Learn more about SABR's convention history by clicking here.
SABR's 2018 national convention will be our 48th annual gathering; the organization's founding in Cooperstown in 1971 is counted as the first.
For more information on the SABR convention, visit SABR.org/convention.
---
All SABR members are invited and encouraged to submit a Research Presentation Proposal Abstract on any topic of 19th-century baseball for the 2018 Frederick Ivor-Campbell 19th Century Base Ball Conference at the Baseball Hall of Fame in Cooperstown, New York. The 10th annual Ivor-Campbell Conference is scheduled for April 20-21, 2018.
The deadline for proposal Abstracts is October 31, 2017. Your abstract must be between 200-500 words for a 20- to 25-minute presentation. Please include name, title, and contact information and send your proposal as a Microsoft Word or PDF attachment to Peter Mancuso at peterplus4@earthlink.net.
---
A Student Group Affiliate Membership will provide students with access to many of the electronic benefits that SABR members enjoy, including "This Week in SABR," e-book editions of the Baseball Research Journal and The National Pastime, free SABR e-books, and access to the members-only section of SABR.org. This membership will not include any printed publications or voting rights.
In order to make the Student Group Affiliate Membership affordable for groups to join, here are the options we offer:
College/University groups/classes: For an annual fee of $250, a group of up to 25 students can receive a one-year electronic SABR affiliate membership.
High School/Middle School groups/classes: For an annual fee of $100, a group of up to 20 students can receive a one-year electronic SABR affiliate membership.
Any educational class or student group at the middle school, high school or college/university level is eligible for a SABR affiliate membership, as long as a faculty member, teacher, or advisor is an active SABR member (or registers to join.) The teacher/advisor will be listed as the group contact on the SABR website.
The teacher/advisor will be asked to collect the money, names and e-mail addresses for all students wishing to join, and submit those to the SABR office at one time. In addition, the advisor/instructor must be an active SABR member or sign up for a regular SABR membership; annual dues are $65, with discounts available for adults under the age of 30 or over 65.
To sign up for a Student Group Affiliate Membership, or if you have any questions about how it might work for your group or class, please contact Blane Ferguson at bferguson@sabr.org.
---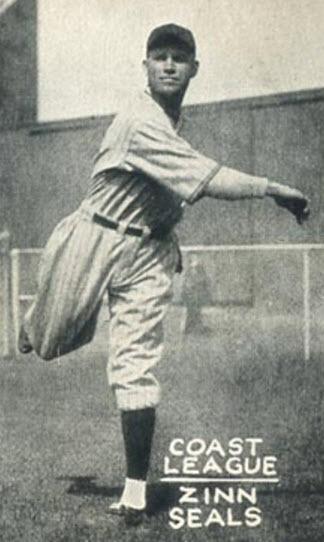 Two new biographies were posted this week as part of the SABR Baseball Biography Project, which brings us to a total of 4,189 published biographies. Here are the new bios published this week:
All new biographies can be found here: SABR.org/bioproj/recent
Search for any SABR biography: You can now visit sabr.org/bioproj_search to search for any player — or manager, executive, scout, spouse, broadcaster, or umpire — who appears in the SABR BioProject. You can also browse all of these BioProject categories and a lot more, including 300-game winners, Hall of Famers, 1960s All-Stars, or Negro Leaguers, at our Browse page: sabr.org/bioproj/browse.
---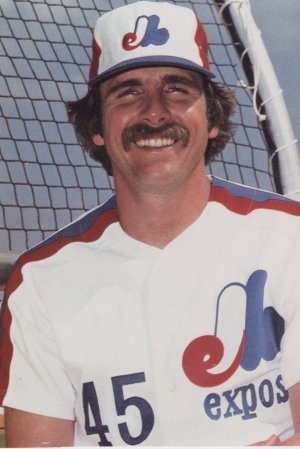 Five new game stories were posted this week as part of the SABR Games Project. Here are the new game stories:
These articles all appeared in Au jeu/Play Ball: The 50 Greatest Games in the History of the Montreal Expos (SABR, 2016), edited by Norm King. To read more articles from this book, click here.
New Games Project stories can be found at SABR.org/gamesproject/recent. Find all published Games Project articles at SABR.org/GamesProject.
If you have any questions about the Games Project, please contact Greg Erion. If you want to know if a game is available to write about, please contact Bruce Slutsky. After the article has been completed in accordance with our Authors' Guidelines, please submit it to Len Levin, who will initiate the editing process and get your story started toward publication.
Get involved: Have memories of a game you attended? Or a game you watched that caught your interest? Write about it! Writing for the Games Project is an easy way to get involved as a SABR member. Find out how by reading the Games Project FAQs section or checking out the Authors' Guidelines. We have editors and fact checkers who are willing to help you write your first article.
Seeking volunteers to help enhance Games Project articles on website: Any volunteer who is willing to assist with linking player biographies in previously published Games Project stories on the SABR website, please contact Jacob Pomrenke. No experience necessary. Must be comfortable working in Drupal, WordPress or other standard content management systems.
Read all articles from Braves Field: Memorable Moments at Boston's Lost Diamond online: All articles from Braves Field: Memorable Moments at Boston's Lost Diamond, (SABR, 2015), edited by Bill Nowlin and Bob Brady, can now be found online at the SABR Games Project. To read more articles from this book, click here. To download your free e-book copy of the Braves Field book or to get 50% off the paperback edition, click here.
---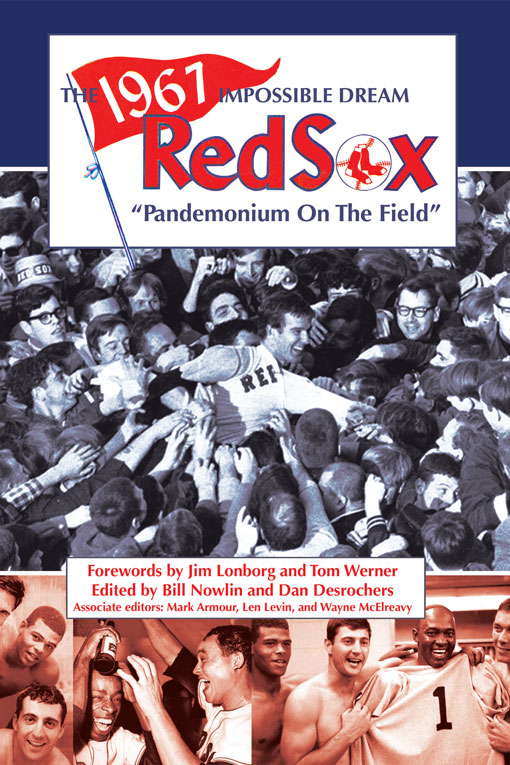 On the 50th anniversary of a pennant-winning season, more articles from The 1967 Impossible Dream Red Sox: Pandemonium on the Field (SABR, 2017), edited by Bill Nowlin and Dan Desrochers, were published this week at SABR.org. These essays include:
Click here to read all player biographies that appeared in The 1967 Impossible Dream Red Sox at the SABR BioProject.
To download the e-book version of The 1967 Impossible Dream Red Sox for free or to get 50% off the paperback edition, click here.
---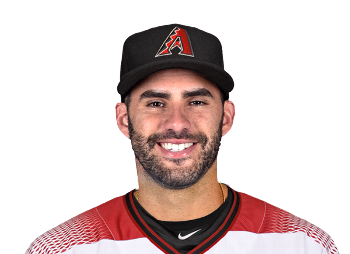 Arizona Diamondbacks right fielder J.D. Martinez became the 18th player in major-league history — and the second so far this season, along with Scooter Gennett of the Cincinnati Reds — to hit four home runs in a single game on Monday, September 4. The only other year in which two MLB players each hit four homers in a game was back in 2002, when Mike Cameron and Shawn Green accomplished the feat.
Martinez also became the first MLB player since Joe Adcock in 1954 to hit four home runs off four different pitchers in a game. He hit a two-run homer off Los Angeles Dodgers starter Rich Hill in the fourth inning, then followed up with homers in the seventh (off Pedro Baez), eighth (off Josh Fields), and ninth innings (off Wilmer Font) to enter the record books. Martinez finished 4-for-5 with 4 HRs and 6 RBIs.
SABR keeps a comprehensive list of all known players to have hit four or more home runs in a single professional game, first published by founding member Bob McConnell in The Minor League Research Journal, Vol. 2 in 1997, updated in Going for the Fences: The Minor League Home Run Record Book (2009), and now maintained online.
Click here to view the full list of 4-HR games at SABR.org.
---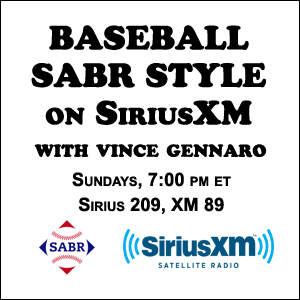 Behind the Numbers: Baseball SABR Style on SiriusXM, a radio show hosted by SABR President Vince Gennaro will air at its regular time from 7:00-8:00 p.m. ET this Sunday on MLB Network Radio.
You can also listen to archives of recent episodes on-demand on the SiriusXM Internet Radio App, and you can watch video highlights of Behind the Numbers: Baseball SABR Style on SiriusXM on MLB.com. Click here to watch more video highlights of Baseball SABR Style from MLB.com.
Behind the Numbers: Baseball SABR Style on SiriusXM focuses on examining and interpreting the statistical analysis that plays a critical role in baseball today. It airs weekly throughout the year on MLB Network Radio, available to subscribers nationwide on XM channel 89, Sirius channel 209, and on the SiriusXM Internet Radio App.
---
We've heard your feedback: Some of you have said you look forward to "This Week in SABR" every Friday, but sometimes there are just
too many compelling articles and announcements to read every week. We're not complaining — hey, keep up the great work! — but we know the feeling. So in an effort to make the length of this newsletter more manageable to read, we'll summarize some of the repeating/recurring announcements in a special "In Case You Missed It (ICYMI)" section of "This Week in SABR".
Here are some major headlines from recent weeks that we don't want you to miss:
All previous editions of This Week in SABR can be found here: /content/this-week-in-sabr-archives.
For more information, click here.
---
We'd like to welcome all of our new SABR members who have joined this week. You can find all Members-Only resources at members.sabr.org and the Membership Handbook can be downloaded here.
Please give these new members a warm welcome and help them make the most of their membership by giving them the opportunity to get involved in their local chapter or a research committee.
You can find contact information for any SABR member in the online membership directory (SABR.org/directory).
| Name | Hometown | | | Name | Hometown |
| --- | --- | --- | --- | --- | --- |
| Christopher Biolsi | Bowling Green, KY | | | Robert Hunt | Rock Hill, SC |
| Carl Bishop | Oakdale, CT | | | Aaron Mamparo | Huntley, IL |
| Mike Bonds | Brentwood, TN | | | Michael Murray | Narragansett, RI |
| Michael Fox | Memphis, TN | | | Don Nelson | Fairfax, VA |
| Bob Greenberg | Falls Church, VA | | | Jordan Raddick | Baltimore, MD |
| Sarah Grynpas | Toronto, ON | | | Da-Yang Wang | Taoyuan, TWN |
| Jim Halloran | Madison, GA | | | Charles Zahn | San Diego, CA |
| Hwai-Jung Hsu | Taichung, TWN | | | | |
---
Here are the new SABR research committee updates this week:
Find all SABR research committee newsletters at SABR.org/research.
---
Here are the new regional chapter updates this week:
Visit SABR.org/chapters for more information on SABR regional chapters.
---
Here is a list of upcoming events on the SABR calendar:
All SABR meetings and events are open to the public. Feel free to bring a baseball-loving friend … and make many new ones! Check out the SABR Events Calendar at SABR.org/events.
---
Here are some recent articles published by and about SABR members:
Read these articles and more at SABR.org/latest.
---
This Week in SABR is compiled by Jacob Pomrenke. If you would like us to include an upcoming event, article or any other information in "This Week in SABR," e-mail jpomrenke@sabr.org.
Have trouble reading this e-mail? Click here to view this week's newsletter on the web.
Are you receiving our e-mails? "This Week in SABR" goes out by e-mail to all members on Friday afternoons. If they're not showing up, try adding "sabr.notes@sabr.org" to your contact list to ensure they show up in your inbox (and not the spam folder.)
---
Originally published: September 8, 2017. Last Updated: April 3, 2020.
https://h2j7w4j4.stackpathcdn.com/wp-content/uploads/2020/03/research-collection4_350x300.jpg
300
350
admin
/wp-content/uploads/2020/02/sabr_logo.png
admin
2017-09-08 15:00:00
2020-04-03 14:38:43
This Week in SABR: September 8, 2017