Kauffman Stadium (Kansas City, MO)
This article was written by Curt Smith
---

On April 12, 1955, the former Philadelphia Athletics, having moved that winter to Kansas City, opened their first season at Municipal Stadium: A's 6, Tigers 2, before a standing-room crowd of 32,147. Flanked by franchise progenitor Connie Mack, former President Harry Truman tossed the team's first ball in Missouri's first American League (AL) opener since April 23, 1902. Harry, recently retired to Independence, an hour away, made Opening Day, as he always did, a pip. "In Washington, Truman had become the first president to throw the first pitch of the season right- and left-handed," said 1946-60 Senators Voice Bob Wolff. "One year he threw with both arms successively. Another, Harry used both to cup the same ball and hurl it above his head."1 Like most pitchers, he liked the A's sprawling new home, which housed the 1923-54 American Association Blues and 1923-31 and 1937-54 Negro League Kansas City Monarchs.
"For years we had a great Negro League and Yankees farm club tradition," said Kansas City Royals 1969-announcer Denny Matthews.2 By the early 1950s, Kansas City Star sports editor Ernie Mehl persuaded Blues owner Arnold Johnson that Kansas City merited a big-league team. Johnson, owner of both Blues and Yankee Stadium, bought the A's from Mack in November 1954. He then moved them from Philadelphia, Yankees owners Del Webb and Dan Topping fueling the American League's okay. Kansas City bought Blues Stadium, renamed it Municipal, and leased it back to the new A's owner.3 In 22 weeks, the city rebuilt and double-decked the park to a capacity of 30,716.4
Until 1955, baseball's most extreme geographic posts were Boston and St. Louis, train travel accessible and affordable. The Athletics' move to Kansas City made big-league rail kaput, ending at least one player's career. Jackie Jensen was a Red Sox perennial All-Star outfielder. "[He] drives home 100 runs every summer [sic, five times]," a writer said, "the way other men mow their lawns."5 His problem lay above — he wouldn't, perhaps couldn't, fly. "I can see him now," said 1951-65 Red Sox Voice Curt Gowdy. "Jackie'd take the train all night to get to a game on time. By plane we'd get in the night before. He just had a fear of flying."6 Worn, he retired in 1960, returned next year, and left again — for good.
The contrast in the effect of the Athletics' move on another well-known person could not have been more extreme. Less than a month after the A's debut, on Harry Truman's 71st birthday, May 8, 1955, his Presidential Library and Museum in Independence broke ground. "The boss is the real fan," Truman often said of wife Bess, as 1945-53 First Lady the greatest baseball student to be First Lady since 1923-29 Grace Coolidge.7 They had met in Sunday School, Harry carrying her books to elementary school, gaping at her golden hair, blue eyes, and ability to whistle through her teeth — and "impressed," said Wolff, "by how she played baseball as a child with her brothers and their friends as the only girl on an all-boys team.8
Bess's childhood position was third base — baseball's "hot corner," perhaps an augury of Harry's fiery rhetoric. As First Lady, Mrs. Truman often went to D.C.'s Griffith Stadium on her own, with daughter Margaret, or with friends, using her scorebook for every game. A picture shows Bess casting a fan ballot for the annual All-Star Game.9 In Washington, she watched, listened to, and scored as many games as possible even before her favorite spot was completed in 1948 — the second-floor Truman Balcony, overlooking the South Lawn of the White House. In 1955, Mrs. Truman dusted off her scorebook for Missouri's first-year sixth-placers, their 1,393,054 attendance quadrupling the prior year in Philadelphia. Bess barely missed an Athletics' Opening Day. In 1956, she found it hard to forgive Margaret for picking the day after the A's home debut to be married "when they were 364 other days in the year!"10 That season A's attendance barely hit one million for a club that berthed the second division each year before moving to Oakland in 1968.
In December 1960, Chicago insurance broker Charles O. Finley bought the A's. At one end, their new owner was cruel and stingy. At the other, Finley grasped baseball like a farmer senses rain. Catfish Hunter and John "Blue Moon" Odom got a bonus. Bert Campaneris arrived from Cuba. Sal Bando, Rick Monday, and Reggie Jackson helped forge baseball's amateur draft. "Charlie was his own scouting system," said Matthews.11 In 1963, the Trumans left Independence on Opening Day to sit with Finley and his wife, the men wearing 10-gallon hats vaunting the A's new color scheme of Kelly green and gold — each an iconoclast, albeit Harry much smarter. Finley even built a children's zoo with a mule named Charlie O. and monkeys that ate Vodka-soaked oranges fed them by Tigers pitchers, based on the pragmatic notion that A's ineptitude was best viewed through a bottle.
While health allowed, the Trumans frequented the Athletics in person, Harry saying, pricelessly, "May the sun never set on American baseball."12 A number of baseball books dotted his private collection, acquired year after year. America's last president to lack a college degree substituted a library for a classroom, owning more than thirty thousand books, the most of any president. Bess also read avidly, particularly about the pastime. In addition, she turned to the Athletics' four-state radio and TV network, usually in vain, Kansas City yearly ending between 19 and 45 games out of first. Merle Harmon was its 1955-61 play-by-play announcer, told by 1955-57 A's skipper and future Cubs Voice Lou Boudreau, "If your team is good, you can criticize. If it's lousy, show patience." In Missouri, Harmon rued, "Believe me, I was the most patient man in the world."13
Under Arnold Johnson, the ex-Yanks' farm club continued to send fine big-league players to New York — hence, called the "Yankees' cousins." Irate, Finley was so obsessed that their dynasty stemmed from Yankee Stadium's 296-foot right-field line that he built a Pennant Porch, a same-distance four-foot-high fence. (Municipal's right-field fence was originally 347 feet from the plate.)14 When baseball countered (the pole had to be at least 325 feet away), Charlie scripted a 325 line (indenting it to 296 five feet from the pole). The AL cried foul, at which point Finley painted "K.C. One-Half Pennant Porch" at the 325-foot pole.15 It didn't matter. The A's lost throughout.
On May 3, 1965, Finley himself greased the Bronx shuttle, acquiring pitcher Rollie Sheldon and catcher John Blanchard from New York for catcher John "Doc" Edwards. Former Pirates pitcher Steve Blass drolly tells how "Blanchard had been lucky, catching a little [behind Yogi Berra and Elston Howard], but cashing all sorts of World Series checks." The day of the trade Mickey Mantle entered the Yankees clubhouse, where his and Blanchard's lockers lay side-by-side.
"Mickey sees Blanchard crying," said Blass," and he says, "'What's wrong?"' genuinely concerned.
"Mick, today I got traded to Kansas City," Blanchard said.
Mantle: "That's great, you'll finally get to play."
Blanchard: "That's why I'm crying. You know I can't play."16 Exposed, he hit .200 in 52 games, was that year sold to Milwaukee, and never again glimpsed the bigs.
Next season Jackson County, Missouri, commissioned a study on the viability of building a new stadium in Kansas City. In the 1943 Broadway musical by composer Richard Rodgers and librettist Oscar Hammerstein II, Oklahoma, a song proclaimed, "Everything's Up to Date in Kansas City!"17 By 1966, Municipal Stadium, built in 1923, was still decidedly not: its baseball capacity remained 7,500 less than the city had promised when Johnson decided in 1954 that, paraphrasing W. C. Fields' reported epitaph, "On the whole, I'd rather [not] be in Philadelphia."18 Municipal had scant parking, was hard to reach, and braved limited amenities. The American Football League Kansas City Chiefs, sharing the joint, were restless, too.
In retrospect, the County-commissioned study mirrored how "Kansas City was thinking big,"19 wrote Craig Brown, proposing a multipurpose domed stadium for baseball and football, not excluding a smaller arena for hockey, basketball, and other events. The dome would have 49,000 fixed seats and 7,000 bleachers for a 56,000-baseball capacity — too large, history would show, in a building too huge. Two sites were suggested: the "Core Business District" (downtown) and the "Leeds area, nestled between Interstates between 70 and 435, deemed an option because of ease of access and availability of the site," said Brown. The second site was adopted. Thankfully, the multi-sport dome concept was not. In June 1967, a vote in Jackson County approved a $43 million bond issue for the Truman Sports Complex.20
Soon consensus formed: "They didn't want a single multipurpose site," said Denny Matthews — instead, a stadium for the Chiefs and a park for the A's, who had signed a lease to stay in Missouri.21 After Finley broke it by fleeing to Oakland, the County restated its support for two houses: 75,000-seat for football and 45,000 for baseball — showing ingenuity, since most locales then naively felt that one stadium could house both — Missouri U.S. Senator Stuart Symington vowed legislation to revoke baseball's anti-trust exemption if K.C. wasn't given another club. Ultimately, baseball expanded to four cities, including Symington's, in 1969: his Royals and Seattle to join the AL; Montreal and Seattle, swelling the National League; K.C.'s owner-to-be pharmaceutical czar Ewing Kauffman, whose Marion Laboratories had a market value of about $156 million and of which Kauffman and his family owned 31 percent.22 His community-first mantra put baseball first.
The name Royals originated from the American Royal, a livestock show, horse show, rodeo, and championship barbeque competition held yearly in Kansas City since 1899.23 In 1968, the team held a naming contest; more than 17,000 voting. Sanford Porte, a bridge engineer from suburban Overland Park, Kansas, won for "Royals," citing "Missouri's billion-dollar livestock income, Kansas City's position as the nation's leading stocker and feeder market and the nationally known American Royal parade and pageant."24 The team's board first voted 6-1, team owner Kauffman dissenting, then supporting for unanimity.25 By 1973, the Royals had a new home, turning heads, ground having been broken on Royals Stadium on July 11, 1968: park architect, Kivett and Myers; architect design associate, Charles Deaton; general contractor, Sharp-Kidde-Webb; cost, a 1972 players lockout and weather-delayed $70 million, or $386 million in 2017 change.26 Original capacity was 40,733.27 The footprint puta premium on pitching, defense, extra-base as opposed to home run-only swat, and speed.
The top two decks curled around home plate to each foul pole. A lower tier surpassed them to pens perpendicular to the field. Like them, every seat in smaller bleacher sections — here, "outfield plazas" — faced second base. No matter what your ticket, it was to be your supposed ticket to feeling part of the game. Royals Stadium's baseball-only core avoided a cookie-cutter's clang — remote seating, bad sightlines, and vast foul turf. In The Ultimate Baseball Road Trip: A Fan's Guide to Major League Stadiums, Kevin O'Connell and Josh Pahigian claimed that Royals hid such a core by limiting seats to those with a birds-eye view, few cursing a lively, baseball-only orb. 28 By some criteria it did define repetition, seeking "super blocks" to flank freeways, abut parking, and spur ease to help baseball and football, like oil and water, coexist. (Royals and football's Arrowhead Stadium stand next-door.) Like multi-sporters, Royals was concrete, with a smooth, largely roofless façade. Yet it was still the sole baseball-only park built between 1962 (Dodger Stadium) and 1991 (Comiskey II). Renamed Kauffman Stadium shortly before the Royals owner's August 1, 1993 death of bone cancer, "The K" kept baseball's faith in a dead-end ballpark age.
Unlike early parks with personality — Crosley Field, Comiskey Park, Ebbets Field — visual clones were rarely named for a person. Even here, Kauffman went back to the future. Unlike Riverfront, Three Rivers, or Veterans Stadium — seen one, seen 'em all, as in one too many — it was not dull, duller, dullest. The "K" also differed by flaunting wearability — the sole AL park named after a person and among the majors' 10 sans corporate name: their sixth-oldest field, hosting the 1973 and 2012 All-Star Game and World Series in 1980, 1985, 2014, and 2015. It prized the history of cathedrals like Fenway Park and Wrigley Field while adding modernity, renovated for $250 million in 2007-09 ($281 million now), including a new Royals Hall of Fame.29 The result was flexibility: "The Royals are a small market," announcer Fred White said, explaining Kauffman's initial faster-draining AstroTurf. "Artificial turf cuts rainouts. We need to draw from hundreds of miles away."30 For two decades the Royals drew heavily from the Mountain Time Zone, which lacked one big-league team, until the NL gave a 1993 expansion team to Denver.
Overnight this made AstroTurf less necessary, letting famed Royals groundskeeper George Toma get high on grass. The greatest-ever Royal, George Brett, once said, "When a lot of people turn a certain age, they want to do certain things. Some people retire from being an accountant and all they want to do is play golf. Some people retire from being a doctor and all they want to do is fish. George Toma never retired. All he wants to do is work on fields. That's why he's the best groundskeeper in the world."31 In fact, he retired at 70 full-time in 1999, but Brett's point rang. In 2012, Toma was an inaugural inductee in the Major League Baseball Groundskeeper Hall of Fame.32 George still consults, a quarter-century after the Royals freed baseball's best in his field to tend grass at Kauffman beyond the cutaway [base] areas and Baja 125-foot forest beyond left-center field. Toma mixed five strains of bluegrass and one kind of rye, "The K" looking less new-age model than baseball park.
Grass fit a park already deified in print and by the public. For one thing, the backstop was only 60 feet from the plate. For another, the park was fair — originally, each pole, 330 feet; alleys, 387 (later, 375; again 387 in 2004); and center field, 410 (400 in 1995; 410 by 2004) — and height (a 12-foot-high outfield fence dropped to nine in 1995 and eight today).33
"Municipal Stadium had served its purpose. It was a 1930s structure," said Denny Matthews. "From the start, Kauffman was a palace."34 A key Ewing Kauffman hire was Cedric Tallis, a California Angels executive who became Royals general manager and point man for the new park, which opened April 10, 1973, 39,464, braving 39 degrees as the Royals spanked Texas, 12-1. First/winning pitcher: Paul Splittorf. Batter: Dave Nelson. Hit: Amos Otis. Run: Fred Patek. Homer: John Mayberry.35 Seventeen days later, Steve Busby threw K.C.'s first no-hitter in Detroit. The Royals hosted the All-Star Game (NL, 7-1) and drew 1,345,341 (almost doubling Municipal in 1972). Otis and Mayberry started by nationwide vote.36 A visitor got there by Interstate 70, liked a baseball-high 22,000-slot parking lot, and saw inside the stadium from a car. A sea of red wowed a passerby. Three tiers soared above the infield. Dick Allen said he would not play on its surface, since his horse could not eat off its faux, not real, grass.37
Inside, the park's symbol towered atop an incline beyond the outfield fence — a $2.7 million 12-story high crown-shaped scoreboard, with the Royals insignia, using more than 16,000 light bulbs. Beneath and to one side a 322-foot-side water complex cost $750,000 — the largest privately-funded fountain in the world — one 10-foot waterfall from an upper cascade pool serving as a backdrop for two water fountain pools, each 40 feet wide, and ending in front with five 10-foot-high horseshoe falls. As volume swelled, water rose, 19 pumps circulating 70,000 cubic feet. Nearly 700 500-watt lamps lit up to 50,000 gallons sailing skyward at a time38  — noise seldom looked so fine. The Royals made the postseason seven times from 1976-85, then had just one winning year from 1995-2012. For 28 straight seasons — 1986-2013 — K.C. missed even a wild-card berth. In 2014-15, it made and won the World Series, respectively. W or L, the fountain was there — also, the team's oneness with fundamental baseball, Kauffman built for hit 'em where they ain't, not sluggers treating its dimensions like a miniature golf arcade.
At Royals, the outfield egressed quickly from each pole, becoming a classic alley, almost National League, yard. In 1976, Brett trumped in triples, total bases, hits, and average, edging mate Hal McRae, .333 to .332, on a last at-bat inside-the-park homer. K.C. won its first division, infielders Patek and Cookie Rojas partying in the fountain. The League Championship Series (LCS) followed: New York, in a maximum best-of-five. "The Royals knew they'd be back," said Matthews — and were.39 In 1977, Dennis Leonard (20-12), McRae (54 doubles), and Patek (53 steals) led the AL. If September waxed — a post-1953-high bigs 16-game win streak — for too long October waned. K.C. took a 2-1 LCS set edge, Mid-America atwitter, before New York won Game Four, whereupon the Royals led the final, 3-2, in the ninth inning, till "they hit us with three," said skipper Whitey Herzog. "It went slow motion." Patek cried in the dugout.
K.C. again seemed the "Yankees' cousins"40 — in 1978, too, the stripes beating their putative kin a third straight season in what seem "almost … adventure chapters in a serialized novel," Stan Isaacs wrote of a kindred context.41 That year Brett and McRae ranked 1-2 in doubles. Next year Willie Wilson whipped a most-since-1925 five-inside-the-park dingers in a season. Factors aiding speed included but were not limited to soft outfield padding, which contained drives in each foul corner; curving corners, fueling unpredictability and making it hard to guess the carom; and an almost concrete warning track, which kangarooed high hops off the wall past the fielder back toward the infield.
In 1980, Brett hit past and through it, averaging .390. As the Denny Matthews chapter tells, in the LCS Brett and the Royals finally made up for lost time. The World Series began with the Phillies accentuating the positive, 7-6 and 6-4. K.C. then won Game Three, 4-3, at Royals, Brett and Otis homering. Next day Willie Aikens homered twice for the home team to deep right field: 5-3. Kansas City led Game Five, 3-2, in the ninth inning, whereupon Del Unser and Manny Trillo drove in runs, pivoting the Classic, Tug McGraw over Dan Quisenberry, 4-3. Back at Veterans Stadium, the Phillies took a 4-1 edge into the ninth inning, McGraw loading the bases. Frank White fouled near the first-base dugout, catcher Bob Boone almost dropping the ball that Pete Rose nearby caught with his bare hand. At 11:29 p.m. ET, the 97-year-old Phillies won their first title, 4-1. The 12-year-old Royals lay ahead.
Once rain delays bred thousands of sawed webworm moths, a frogman cleaning the right-center field pond. Left field promised a George Hamilton fan. A Heartlander mixed barbecue beef and local Boulevard beer. After each game a water show took exactly 9 minutes, 58 seconds. Before it the A's and Yankees usually sold out; box and reserved seats, gone for even the Brewers. By this time Middle America slowly sensed the Royals becoming the king of baseball's hill. On August 8, 1983, a regular-season record 42,039 saw them split a twi-night twin-bill with Milwaukee. At Yankee Stadium, Brett wafted a ninth-inning July 24 homer for a 5-4 victory but was called out because pine tar on his bat topped 18 inches, violating Rule 1.10 (b). Enraged, he bolted from the dugout like a lynx on speed.42 For the first time an AL president (Lee MacPhail) overruled an umpire (Tim McClelland). The "Pine Tar Game" resumed on August 18, McRae making out to end the Royals' ninth. The Quiz retired the Yanks 1-2-3 before 1,245 in New York.
"It's tough to make predictions, especially about the future," Yogi Berra said.43 The Hall of Famer might have reconsidered, had he seen the 1984 Royals win the East and lose a taut LCS to ultimate world titlist Detroit, 8-1, 5-3 in 11 innings, and 1-0. "You could see us coming," said Matthews. "Two of the three games were really close."44 The pattern continued after an Opening Day record 41,086 greeted K.C. vs. Toronto April 8, 1985. (Other records: day, 41,329, Oakland, September 21, 1980; night, 41,860, New York, July 26, 1980.) Behind the Angels till September, the Royals won the West in the regular season's next-to-last set; trailed Toronto in the LCS, three games to one, and took three straight for the AL flag. In the World Series, Kansas City's habit of waiting lingered: losing three of the first four matches; beating St. Louis, 6-1, in Game Five; then using a 10th-inning pinch-single by Dane Iorg. "And there's a looper to right field for a base hit!" said ABC's Al Michaels. "[Onix] Concepcion scores! Here comes Jim] Sundberg! Here comes the throw! He scores! And we go to the seventh!"45 — the Royals surviving a Game Six of quiet desperation; a 2-1 near-death.
In Game Seven, K.C. scored three runs in the third inning and six in the fifth, imminent AL Cy Young Award winner Bret Saberhagen scattered five hits and Brett reaped four, and the Cardinals batted a Series worst-ever .185. Romping, 11-0, the Royals avenged defeat in the 1976-77-78-84 league playoff, 1981 divisional series, and 1980 Series — only the fifth Classic team to U-turn a 3-1 set deficit and first after losing the first two games at home, taking their first title in the franchise's seventeenth year. Randy Galloway of the Dallas Morning News opined: "Move it on over, you Mets of '69. Way over. Go to the history board and rip out a page about the Miracle Braves of '14. And don't let anyone tell you about the Giants' Miracle of Coogan's Bluff in '51. The Royals of '85 are in an upset class of their own."46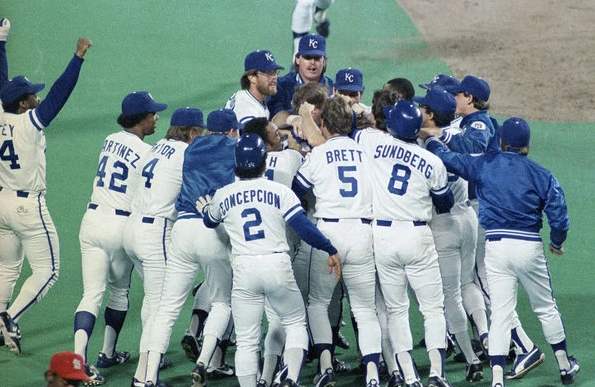 Later, Michaels mused, "[Dick] Howser is to Billy Martin what the Salvation Army is to the SWAT team."47 A brain tumor took Howser's life in 1987, his 404 victories behind only Ned Yost and Herzog among Royals skippers. Kevin Seitzer whacked a team six hits in a game vs. Boston. Saberhagen won another Cy Young in 1989. At 37, Brett won his third batting title — the sole player with 3,000 hits, 300 home runs, 600 doubles, 100 triples, and 200 steals. Under "all fame is fleeting," George got his 3,000th hit on September 30, 1992 — and was promptly picked off first base. Renamed Kauffman boasted a new JumboTron video-display board, amusement area with pitching booth, Royal Courtyard picnic and music area, and Fan-A-Gram, timing 14 tarp crew members cleaning up the infield after the home half of the fifth inning. All showed ownership's commitment to keeping the park up-to-date. Always in vogue there were famed barbeque and locally beloved Belfonte ice cream, the latter born, like the Royals, in 1969.48 Sadly, across 1986-2014, nothing helped K.C. contend.
At first the patient deceptively seemed healthy, drawing a still record 2,477,700 (1989) attendance. The longer the illness lasted, the worse the condition turned. From 2004-12 the realigned AL Central team six times finished last, including 2005's Death Valley 56-106. Yet as its present got lousier, the future got ritzier. On April 4, 2006, Jackson County, Missouri, OK'd a 3/8 cent sales tax ballot for revenue to renovate the Truman Sports Complex.49A second proposal on the ballot for a portable roof was defeated.50 Park renovation began with October 3, 2007 groundbreaking, complete by Opening Day 2009.51 It continued an age of ballpark evolution begun in 1992 by Oriole Park at Camden Yards and 21 later "retro" parks trying to outdo the first's pastiche of quirk and angle — ivy backdrop like Wrigley Field, arched façade like old Comiskey Park, and right-field scoreboard like Ebbets Field.52
Again, Kauffman Stadium became the exception, not rule, its evolution siring a more contemporaneous yet even cozier feel than the original. Unlike others, it needed less a new park than to make a fine park better, adding a new high definition scoreboard a.k.a. "Crown Vision," themed restaurant, Hall of Fame and conference center, better concession, circulation, and concourse, and some seating closer to the field — thus, lower (37,903) capacity and better supply and demand.53 The $8.3 million 84 feet wide by 105 feet tall high-definition scoreboard was among the first features installed.54 It replaced the matrix board shaped like the team logo since the park's birth, was operated by 17 staffers on game day, and vaunted the world's then-largest HD LED display, since exceeded by Seattle's Safeco Field.55 (Since 2008, a crown has graced it, strobe lights atthe top flashing each Royals home run.) About this time the team hailed its patrimony by placing four life-style bronze statues in the outfield plaza beyond the fountains — Ewing Kauffman and wife Muriel, waving; Brett, awaiting a pitch, bat cocked, right foot slightly raised; Howser, standing on the dugout steps; second baseman Frank White, artfully turning a double play.56 Nearby is a site where youth practice their own pitch, field, and hit, including "a base path kids can run and be timed on," read the Toronto Globe & Mail — "'Little K,' a miniature baseball field where big-league dreams are spawned …!" What especially wowed Navin Vanswani, he wrote in 2018, were employees everywhere, saying, "Welcome to the K!"57
At Kauffman, Brett's statue is a cynosure. At Cooperstown, No. 5 is the sole member of the Baseball Hall of Fame and Museum whose plaque's cap reads KC. Seven more with another cap on their plaque spent part of a career in Kansas City: designated hitters Orlando Cepeda and Harmon Killebrew, skippers Joe Gordon, Herzog, and Bob Lemon, pitcher Gaylord Perry, and (no cap) General Manager John Schuerholz. At the Hall, Negro League baseball is ubiquitous, caps on Willard Brown's and Bullet Rogan's plaques hailing the Kansas City Monarchs. Other Monarch Negro Leaguers are: Cool Papa Bell, Andy Cooper, Jose Mendez, Satchel Paige, Jackie Robinson, Hilton Smith, Turkey Stearnes, Cristóbal Torriente, Willie Wells, and owner J.L. Wilkinson.58 Buck O'Neil plays a special role. At Kauffman, the Royals fete the 1937-55 Monarch by placing a red seat among the blues behind home plate. Each game, said an official, a person "who embodies [his] spirit is selected from community nominees to sit" in the seat occupied by O'Neil. In 2007, Hall of Fame officials lauded the recently deceased's career by creating the Buck O'Neil Lifetime Achievement Award.59 In 2012, Buck was evoked anew at the All-Star Game at Kauffman, the NL again winning, 8-0, as it had at Royals in 1973, 7-1. An All-Star guest could also see the Home Run Derby, All-Star Futures Game, and Taco Bell Legends and Celebrity Softball Game.
Next year's Royals topped .500 for the first time since 2003. Still, by July 21, 2014, Kansas City's postseason absence seemed same/safe again — almost three decades and counting/mounting. The 48-50 team trailed the Central lead by eight games when inexplicably it staged a 22-5 revival, temporarily took first place, and finished a game behind Detroit — even as amateur baseball historian Dave Webster, as historical figure "KayCee Baseball," began placing a blue W to mark each home victory under the Hall of Fame star on the ballpark roof, like Chicago hoisting a white flag with a blue W at Wrigley Field.60 On cue, the Royals' first postseason since 1985, a home wild-card game — against all odds and teams, the A's — became as wild as a heart should brave, Salvador Perez's 12th-inning single turning a once-7-3 hole into 9-8 glee.61 K.C. then swept the favored Angels in the Division Series (DS). In the opener, Mike Moustakas's 11th-frame poke broke a two-all tie. A day later the Royals set a big-league postseason mark with three straight wins in overtime. Denny Matthews, who had seen it all, hadn't. "What role reversal!" he said. "And all since late July!"62 The DS Series sweep brought relief — an 8-3 laugher.
Next, another favorite: Baltimore, in the LCS. In the opener, visiting K.C. bombed two 10th-frame homers, winning, 8-6 — in five 2014 postseason games of eight extra innings, a big-league record four dingers. Set Two scripted a different play, Lorenzo Cain's four inside-the-park hits fueling a 6-4 decision. The Royals came home up, two games to none. Pitching kept the O's down: Jason Frasor and Jason Vargas each won, 2-1. Dating to October 1985, the Royals had now taken another record: 11 straight postseason sets. The 2014 Fall Classic began less kindly, Giants starter Madison Bumgarner sailing, 7-1, before things began to ricochet, like ping pong or debate over Donald Trump. The Royals answered: 7-2, next, moving west, 3-2. Form then reemerged: 'Jints, 11-4, and behind Bumgarner again, 5-0. Back home, Yordano Ventura started in a 10-0 rout. The best of Game Seven's seven pitchers was Mighty Mouse to save the day — Bumgarner's five scoreless relief frames three days after a 117-pitch shutout: up in the ninth inning, 3-2, getting Perez to foul to Pablo Sandoval with the tying run on third base: game, and Classic, done.
How to pop the cork? For K.C., win the next World Series. Having endured one stopper, lacked their own, and needing what Earl Weaver termed "deep depth," the 2015 Royals dealt mid-year for pitcher Johnny Cueto and Ben Zobrist (Utility) Superstar. First, Kansas City finished 95-67 to gain home-field edge. In the DS, it eyed the chasm, down, 2-1, to Houston in games and 6-2 in the eighth inning of Game Four before scoring five runs to survive, 9-6. Warranting his addition, Cueto took a 7-2 final. In the LCS opener, Edinson Volquez beat Toronto, 5-0. Next day another five-spot erased the Royals' fourth multirun debt, K.C., 6-3. The best game was the sixth. Zobrist and Moustakas homered: 2-0. In the eighth inning, the Blue Jays tied at three. After a long rain delay preceded the home half, Cain reached first base on a walk, then raced around the bases to score the decisive 4-3 run on Eric Hosmer's single. Enos Slaughter scored the same-score run from first on a double to win the 1946 World Series, though memory often disagrees. The lauded 1974 Mobil Oil Corp. book The Way It Was refers to "Harry Walker hits single."
The Royals' prize was to meet another expansion team in the 111th World Series — the New York Mets, hatched in 1962 — whose first manager had been Casey Stengel, born Kansas City in 1890. "The trick is growing up without growing old," the Perfessor said.63 By Series end, anyone who had ever rooted for the Royals must have felt age five. George Brett threw out the first ball at the opener, which took five hours and nine minutes, tying the longest-inning (14) Series game with 1916 and 2005.64 The Royals starter, Volquez, lasted six innings, learning upon exiting that his father had died earlier that day. K.C.'s Alcides Escobar hit Matt Harvey's initial pitch for an inside-the-park home run — first in an Oktoberfest since 1929's Mule Haas.65 In the 14th inning, Hosmer's sacrifice fly scored Escobar with the winning run. Having tallied his team's first run on the first pitch, Alcides plated its last run on the last pitch. The victor was the Royals' seventh pitcher, Chris Young. Next night they took a 2-0 set lead, Cueto hurling a complete 7-1 game of two hits. In Game Three, the Mets won for the only time, 9-3, at Citi Field: seven pitchers yielded 12 hits, David Wright and Curtis Granderson going yard.
Next evening, behind, two games to one, New York evoked the hapless 1962 Amazins' that made Casey say, "Can't anybody here play this game?"66 Kansas City rallied in the eighth inning on two walks by Tyler Clippard, Daniel Murphy's crucial error, and run-produced singles by Moustakas and Perez to score thrice and give Jeurys Familia a blown save and the Royals a 5-3 victory. Game Five on November 1 was as tense, taking 12 innings and four hours and 15 minutes. Needing to win to return west, the Mets took a 2-0 lead. In the ninth inning, the Royals rallied — again. Cain drew a leadoff walk off starter Harvey. Hosmer, then scored him with a double. Manager Terry Collins brought in Familia, who got Moustakas to ground out, Hosmer advancing to third base. The game pivoted on Perez's grounder to third baseman Wright. The Mets captain, hurt earlier in the year, checked Eric toward the bag, then threw to first baseman Lucas Duda, who made the second out as Hosmer's two-all run broke for home.
Hurrying the throw, Duda flung wildly: two-all, forcing more extra innings. In the 12th inning, Perez singled, Jarrod Dyson pinch-running. Christian Colon singled, Escobar and Cain each doubled, Paulo Orlando reached on another Murphy muff, and Zobrist was intentionally walked, each scoring. To much of the Mets' crowd, the Royals' half-inning could have mimed "The Twelfth of Never"'s67 "and that's a long, long time": final, 7-2, another five-spot profited winning pitcher Luke Hochevar. Wade Davis, postseason's definition of "deep depth," fanned Wilmer Flores to end the Series: in three games, four innings, three hits, and one save. K.C. outhit the Mets, .239 to .139. Perez batted .364 with eight hits and two doubles; Moustakas, .307, seven hits, and three RBIs; Zobrist, .261, six hits, four doubles, and 5 five runs; and Cain and Escobar, below or barely above .230, respectively, but teaming for 11 hits, seven runs, and eight RBIs.
On Tuesday, November 3, a day and a half after the final out, about 800,000 people of different age, race, and sex jammed downtown for the largest parade in Kansas City's history, waving hats, flags, and signs — "Thanks, Comeback Kids" referencing their record-setting eight postseason come-from-behind Ws.68 The day went deep from the time it began in the Power and Light District till ending 2.3 miles later69 at a rally at Union Station — one pickup truck after another, carrying players; cheers rippling from each side of the road; speeches following, politicians largely blessing by their absence — so suggestive of baseball's heartland Pleasantville that those beaten in the past month — the Astros and Blue Jays and Mets — had to smile at its success. It was a family feeling — different in look perhaps than that which Harry and Bess Truman bestowed sixty years earlier when they welcomed big-league baseball to Kansas City — but the same feeling, nonetheless.70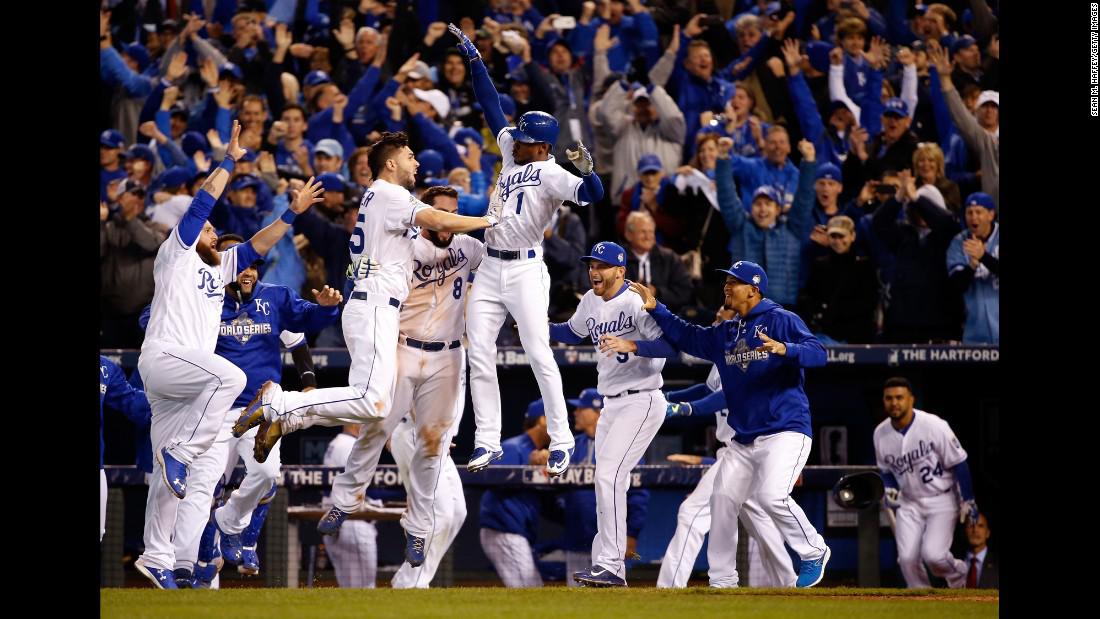 Last revised: June 1, 2019
This biography appears in "Kansas City Royals: A Royal Tradition" (SABR, 2019), edited by Bill Nowlin.
Sources
I wish to thank Dan Levitt for letting me read in advance his fine chapter on Ewing Kauffman which appears elsewhere in this book. My gratitude to Steve Friedman for reading my early draft, making suggestions, and letting me see his excellent early draft of a Kauffman Stadium biography. Mike Swanson, the Royals' Vice President, Communications & Broadcasting, was very helpful in finding material on Royals Stadium's birth. Grateful appreciation is made to reprint all play-by-play and color radio text courtesy of John Miley's The Miley Collection. In addition to the sources cited in the Notes, most especially the Society for American Baseball Research, the author also consulted: Baseball-Reference.com and Retrosheet.org websites box scores, player, season, and team pages, batting and pitching logs, and other material relevant to this history. FanGraphs.com provided statistical information. In addition to the sources cited in the Notes, the author also consulted:
Books
Coffin, Tristram Potter. The Old Ball Game: Baseball in Folklore and Fiction (New York: Herder and Herder, 1971).
Lowry, Philip L. Green Cathedrals: The Ultimate Celebration of Major and Negro League Ballparks (New York: Walker and Company, 2006).
Macht, Norman L. Connie Mack and the Early Years of Baseball (Lincoln, Nebraska: University of Nebraska Press, 1991).
O'Connell, Kevin and Josh Pahigian. The Ultimate Baseball Road Trip: A Fan's Guide to Major League Stadiums (Guilford, Connecticut: Lyons Press, 2012).
Rickey, Branch, and Robert Riger. The American Diamond (New York: Simon and Schuster, 1965).
Seymour, Harold. Baseball: The People's Game (New York: Oxford University Press, 1990).
Smith, Curt. Storied Stadiums: Baseball's History Through Its Ballparks. (New York: Carroll & Graf, 2001).
Westcott, Rich. Philadelphia's Old Ballparks (Philadelphia: Temple University Press, 1996).
Newspapers

The Kansas City Star has been a primary source of information about Royals, later Kauffman, Stadium. Other key sources include: Associated Press, Baseball Digest, Chicago Tribune, SportsBusiness Daily, St. Joseph News-Press, The Sporting News, Toronto Globe and Mail, and USA Today.
Magazines
Forbes SportsMoney
Interviews
Steve Blass, with author, March 2017.
Curt Gowdy, with author, May 1993.
Merle Harmon, with author, August 1995.
Denny Matthews, with author, February 2007; November 2015; and August 2018.
Mike Swanson, with author, October 2018.
Fred White, with author, May 1998.
Bob Wolff, with author, February 2012.
Notes
1 Bob Wolff interview with author, February 2012.
2 Denny Matthews interview with author, August 2018.
3 Bill Shannon and George Kalinsky, The Ballparks (New York: Hawthorn, 1975), 111.
4 1955 American League Red Book.
5 Sports Illustrated, April 14, 1958, 66.
6 Curt Gowdy interview with author, May 1993.
7 https://trumanlibrary.org. Harry S. Truman Presidential Library and Museum.
8 Wolff February 2012 interview.
9 Carl Anthony, "First Ladies at the Old Ballgame," http://www.firstladies.org/blog/first-ladies-at-the-old-ballgame/.
10 Gerry Van der Heuvel, "Remembering Bess," Washington Post, October 19, 1982. https://www.washingtonpost.com/archive/lifestyle/1982/10/19/remembering-bess./3ad55764-5296-4dd5-Bef1-8b2464067456/?utm_term=.fe21d025e32d. The article errantly says that Margaret Truman was wed the day of the 1956 A's home opener. It was the day after.    
11 Denny Matthews interview with author, August 2018.
12 Merle Harmon interview with author, August 1995.
13 Ibid.
14 https://ballparks.com/baseball/America/kcymun.htm.
15 Mark Armour, "Charlie Finley," Society for American Baseball Research. https://sabr.org/bioproj/person/6ac2ee2f.
16 Steve Blass appearance at broadcast media panel of Society of American Baseball Research convention, Pittsburgh, June 21, 2018.
17 htm https://broadwaymusicalhome.com/shows/oklahoma.htm.
18 John Bartlett, Bartlett's Familiar Quotations. Revised and enlarged, Fifteenth and 125th Anniversary Edition. (Boston: Little, Brown, 1980), 770.
19 www.royalsreview.com/2013/4/10/today-in-royals-history-royals-stadium. Craig Brown, "Kauffman Stadium Turns 40," Royals Review, April 10, 2013. www.royalsreview.com/2013/4/10/today-in-royals-history-royals-stadium.
20 Ibid.
21 Shannon and Kalinsky, The Ballparks, 111.
22 Allan T. Demaree, "Ewing Kauffman Sold Himself Rich in Kansas City," Fortune, October 1972, 101.
23 http://kxrb.com/how-did-the-kansas-city-royals-get-their-name/.
24 https://www.royalsreview.com/2018/4/12/17230714/here-are-your-favorite-kansas-city-royals. Bradford Lee, "Here Are Your 1969 Kansas City Royals," Royals Review, April 12, 2018, cover.
25 Ibid.
26 Mike Swanson interview with author, October 2018.
27 https://kansascity.royals.mlb.com/kc/history/ballparks/jsp. Official Royals Website: "Kauffman Stadium History."
28 Kevin O'Connell and Josh Pahigian, The Ultimate Baseball Road Trip: A Fan's Guide to Major League Stadiums (Guilford, Connecticut: Lyons Press, 2012).
29 https://kansascity.royals.mlb.com/kc/history/ballparks.
30 Fred White interview with author, May 1998.
31 Ian Wiseman, The Harbinger Online, December 16, 2009. https://smeharbinger.net/legendary-groundskeeper-George-Toma.
32 Dick Kaegel, "KC legend Toma earns groundskeeping honor," MLB.com, January 10, 2012.
33 https://kansascity.royals.mlb.com/kc/history/ballparks.jsp.
34 Denny Matthews interview with author, November 2015.
35 The Sporting News Official Major League Baseball Fact Book 2001 Edition. (St. Louis: The Sporting News Co.., 2001), 380.
36 https://kansascityroyals.mlb.com/kc/history/all_stars.  
37 http://www.baseball-almanac.com/quotes/quoalin.schtml. "If a horse won't eat it, I don't want to play on it," said Dick Allen.
38 https://kansascity.royals.mlb.com/kc/history/ballparks.jsp.
39 Denny Matthews interview with author, November 2015.
40 Official Major League Baseball Fact Book 2001 Edition, 326. www.worldcat.org/title/official-major-league-baseball-fact-book.
41www.worldcat.org/…was-great-sports-events-from-the-past/oclc/9158206. Stan Isaacs, The Last Subway Series: New York Yankees/Brooklyn Dodgers World Series, October, 1956," George Vecsey. Ed., The Way It Was (New York: McGraw-Hill, 1974), 174.
42 Official Major League Baseball Fact Book 2001 Edition, 332.
43 www.goodreads.com/author/quotes/79014.Yogi Berra.
44Denny Matthews interview with author, November 2015.
45 Play-by-play courtesy of The Miley Collection
46 Randy Galloway, "Move It On Over," Dallas Morning News, October 29, 1985.
47 https://www.si.com/vault/issue/43503/35, Sports Illustrated staff, "Octobercasts Well Worth Celebrating."
48 https://www.thrillist.com/eat/nation/mlb-baseball-stadium-fast-food-snacks.
49 http://kansascity.royals.mlb.com/kc/history/ballpark_milestones.jsp.
50 https://www.revolvy.com/page/Kauffman-Stadium.  
51 Ibid.
52 https://www.ballparksofbaseball.com/ballparks/camden-yards/.
53 https://www.revolvy.com/page/Kauffman-Stadium.  
54 Ibid., footnote 12, "Daktronics Installs Largest HD Dish for Kansas City Royals," October 4, 2007."
55 Ibid., footnote 13, "Royals Fans to Watch Highlights and Replays on World's Largest HD Display"; 14, "Baseball Stadiums by the Board," Chicago Tribune, April 14, 2012; and 15, "Royals scoreboard is a vision of the future," Kansas City Star, April 8, 2008.
56 Navin Vasmani, "They're Real and They're Spectacular," Toronto Globe and Mail, May 8, 2018. Artist Harry Weber forged the statues of Dick Howser, Ewing and Muriel Kauffman, and Frank White. Artist Kwan Wu did George Brett's.
57 Ibid.
58 www.baseballhall.org. National Baseball Hall of Fame and Museum.
59 Ibid.
60 https://www.kctv5.com/a-great-nine-year-run—kaycee-the-w/article_3329db6f-f279-576b-8666-2596f11935213.html. Webster was dismissed by KBMC Television, Kansas City, the "KayCee Baseball" tradition sadly ended. April 29, 2018.
61 https://kingsofkauffman.com. October 1, 2014.
62 Denny Matthews interview with author, November 2015.
63 . https://www.brainyquote.com/authors/casey_stengel.
64Ted Berg, "10 Crazy Facts About the Royals and Mets' Crazy Game 1," USA To
64] . https://www.brainyquote.com/authors/casey_stengday, October 28, 2015, 1Sports.
65 https://www.baseball-almanc-com/ws/yr2015ws.shtml.
66 http://www.baseball-almanac.com/quotes/quosteng.shtml . Originally, this quotation was more often and perhaps properly cited as the Perfessor's response to the 1962 expansion Mets: "Can't anybody play this here game!?" — an example of Casey's use of the language he was said to invent, Stengelese.
67 Julia Obert, Postcolonial Overtures: The Politics of Sound in Contemporary Northern Irish Poetry (reprinted). Poetry (Syracuse, New York: Syracuse University Press, 2015, retrieved 2017), 44. "The Twelfth of Never," written by Jerry Livingston and Paul Francis Webster in 1956.
68 Ryan Bort, "All of the Royals' Postseason Come-from-Behind Wins, Ranked from Least to Most Marvelous," Newsweek, November 2, 2018" — DS Game Four so seemingly decided that Texas Governor Greg Abbott prematurely hailed the Astros on making the ALCS.
69 https://www.mlb.com/news/royals-win-world-series/c-156205900.
70 The Truman Presidential Library and Museum has staged numerous baseball exhibits, including 2012's tribute to presidential-baseball history. https://trumanlibrary.org.Ibid
https://sabr.org/sites/default/files/KC-Kauffman-Stadium-2016-Royals-fountains.jpg
600
800
admin
/wp-content/uploads/2020/02/sabr_logo.png
admin
2019-06-20 00:09:19
2021-03-10 00:45:28
Kauffman Stadium (Kansas City, MO)