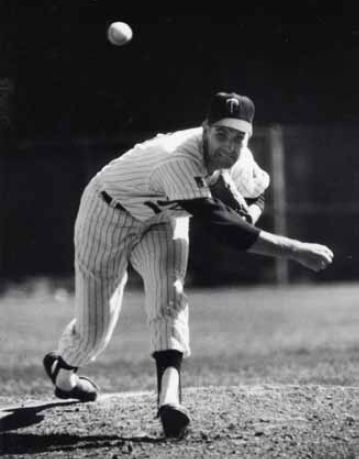 ---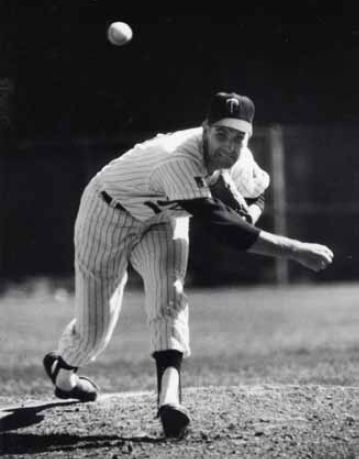 New York fans had to be pleased at the scene that was unfolding before their eyes on May 12, 1959. Their Bronx heroes trailed the league-leading Indians 7-6 heading into the bottom of the eighth inning. Cleveland starter Cal McLish, who was attempting to raise his record to 5-0, was lifted by manager Joe Gordon for Jim Perry. Jim Perry? Surely Gordon could turn to a more experienced arm in the bullpen. Why go with a green rookie in such a tight game? In his previous outing, in Chicago three days earlier, Perry faced four batters in the third inning, walked three, and gave up a hit to the other; all four players scored. When told that Gordon favored Perry because he threw hard and liked Perry's guts, a New York scribe commented that perhaps "Gordon had more guts than his pitcher." Gordon Cobbledick, sports editor of the Cleveland Plain Dealer, was watching the game on television back home. "That Gordon is crazy!" he remarked to his wife.1
Young Perry was visiting Yankee Stadium for the first time. Certainly the crowd of 36,000-plus would intimidate the young hurler. Gordon had simple advice for the rookie: "Joe told me to go in there and start firing and that's just what I did," said Perry afterward.2
Jerry Lumpe grounded out to first base, and pinch-hitters Enos Slaughter and Andy Carey struck out. Gordon left Perry in for the ninth inning, with the meat of the Yankees' order coming to the dish. Tony Kubek led off by stroking a double down the third-base line, sending the crowd into a frenzy. But Perry bore down and got Mickey Mantle on strikes for the first out. Yogi Berra popped out to second base, and Elston Howard struck out to end the game. Four punchouts for young Perry in two innings. "We knew before that Jim was pretty good," Gordon said. "Now we know for sure he can come in and throw his blazer over the plate and past the hitters. From now on he's my No. 1 tough-spot pitcher — early, late, or any time. A game like this can make a young pitcher."3
When the game ended, Mrs. Cobbledick turned to her husband and asked, "Which Gordon is crazy, dear?"4 Jim Perry made believers out of many fans that day. And for the next 17 years, he continued to prove himself.
James Evan Perry, Jr. was born on October 30, 1935, in Williamston, North Carolina. He was the oldest of three children born to James Perry, Sr. and Ruby Perry. Gaylord Perry, three years younger than Jim, went on to a Hall of Fame career. Sister Carolyn completed the family. Jim Sr. was a sharecropper, with tobacco being his major crop.
Jim pitched on the Williamston High School baseball team, while younger brother Gaylord played third base. "We won the state championship that year," said teammate Gerald Griffin. "When one of the Perry boys pitched, the other played third, and they switched off the next game." Jim Perry recalled that he and his younger brother "had nine shutouts in a row."5
Jim was attending Campbell College when he was signed by Cleveland scout Jim Gruzdis. His first stop in the minor leagues landed him in North Platte of the Class D Nebraska State League in 1956. In a victory over McCook, Perry limited the Braves to three hits, struck out 16, and set down 21 batters in a row. He rose through Cleveland's minor-league chain, making stops in Fargo-Moorhead (North Dakota) of the Class C Northern League in 1957 and then Reading (Pennsylvania) of the Class A Eastern League in 1958.
In 1959 the Indians invited Perry to the big-league spring camp in Tucson based on his 16-8 record at Reading. He came to camp with a determined attitude that some took as being brash. "I'm here to make the team," Perry proclaimed as he arrived. Although he was earmarked to pitch in Double-A in 1959, Gordon stuck with Perry. "He doesn't care who he is pitching against — he can throw strikes," said Tribe pitching coach Mel Harder.  "I don't think his inexperience necessarily counts against him because you cannot judge pitchers by any rule.  A man who can throw a strike with confidence may make it in three years instead of seven."6
The starting rotation for Cleveland was pretty much set in 1959 with Cal McLish, Herb Score, Gary Bell, and Mudcat Grant. Perry began the year throwing mostly out of the pen. Score was recovering from his eye injury two years earlier, and pitched sparingly in the second half of the season. Perry posted a 12-10 record his rookie season, with six of those wins as a starter after he took Score's spot in the rotation. He posted an ERA of 2.65.
Cleveland was in the race for much of the year, but after closing the gap on first-place Chicago to one game, the Tribe dropped a four-game set to the White Sox at home in late August and never recovered. Perry went up against Dick Donovan in the second game of that series and lost a tight game, 2-0.
Perhaps the way the Indians played down the stretch prompted general manager Frank Lane to make some major trades. In December he sent McLish, who had led the team with 19 wins, to Cincinnati. Two days before the 1960 season opened, Rocky Colavito was dealt to Detroit for Harvey Kuenn. Cleveland traded the home run king (Colavito) for the batting champion (Kuenn). Lane was vilified by the fans for trading Colavito, the team's most popular player. The next day Score was sent packing to the White Sox for Barry Latman. It was not enough for Lane, as he and his counterpart in Detroit, Bill DeWitt, pulled off an unprecedented trade in August. They swapped managers, Gordon going to Detroit for Tigers skipper Jimmy Dykes.
Through all this, it appeared that Jim Perry found his stride in 1960. He tied Chuck Estrada of Baltimore for the league lead in wins with 18. He won six in a row from May 21 through June 15, lowering his ERA from 4.14 to 2.63 during the streak. Unfortunately for Perry he also led the league in giving up home runs, 35 in 261⅓ innings. He gave up a round-tripper every 7½ innings.
In the offseason, Perry married Daphne Snell of Raleigh, North Carolina. They had three children: Chris, Michelle, and Pam.
Over the next two years Perry was inconsistent. His ERA jumped to over 4.00 in each season, and he was still giving up the long ball. He served up a combined 49 home runs in 1961 and 1962. On May 10, 1962, in Minnesota, Perry surrendered a home run to the first two Twins hitters, Lenny Green and Vic Power. He was the 12th major-league pitcher to accomplish the dubious feat. The irony was not lost on many when Perry took a job between seasons selling bomb shelters.
After Dykes piloted Cleveland in 1961, Mel McGaha managed the team in 1962. Now the Indians would hear from another voice in 1963; Birdie Tebbetts was hired to manage Cleveland. Perry found himself in the bullpen at the start of the season. He was the odd man out of a starting rotation made up of Latman, Grant, Donovan, and Pedro Ramos. On May 2 Perry was dealt to the Twins for pitcher Jack Kralick. Cleveland, needing a left-handed starter for its predominantly right-handed staff, had its sights set on Kralick for some time. Minnesota manager Sam Mele seemed unexcited by the deal. "We would like to have got Bell [Indians right-hander Gary Bell], but he just wasn't available," said Mele.7 Many years later, Cleveland pitcher Mike Paul had a different view of the deal. "Perry had more lives than a cat," said Paul. "It was hard to know he would have a career like that."8
Perry had plenty of hard luck in his first two starts for the Twins. In the first, against the Los Angeles Angels, he gave up just three hits, but lost 2-0. In his next start, against Kansas City, he surrendered one unearned run in a 2-1 defeat. Over 16 innings, he gave up 10 hits and 3 earned runs, but his record stood at 0-2. He quickly rebounded, winning four games in a row in June, and finishing the season with a record of 9-9 for the third-place Twins.
In 1965 former Boston Braves great Johnny Sain joined Mele's staff as pitching coach. Sain had a tremendous effect on the pitching corps. Under his tutelage, Perry learned to throw a sharp breaking curveball, and to turn over his fastball so it would break in on right-handed batters. Perry got his chance after injuries or illness sidelined Dave Boswell, Mudcat Grant, and Camilo Pascual. He became a stalwart of the rotation and helped propel the Twins to first place. "I've never seen a man work so hard on his own," said Sain. "The coaches and manager have been getting the credit for the team leading the league, but it's effort like Perry's that put us there."9
After picking up four wins as a reliever, Perry got his first starting assignment against Boston on July 5. He responded with a seven-hit shutout, fanning eight. He went 7-7 as a starter and posted an ERA of 2.63 for the season.
The Twins pulled ahead of Cleveland when Perry won his first start, and coasted to the pennant, finishing a comfortable seven games ahead of second-place Chicago. They met the Los Angeles Dodgers in the World Series, but lost in seven games. Jim Kaat and Grant each started three games for the Twins, and Perry went back to pitching relief. In two games he pitched four innings, giving up two earned runs.
Used primarily as a starter the next season, Perry went 11-7. His ERA was 2.54 and he struck out 122 hitters while walking 53. He won eight games after the All-Star break. "Perry has shown me too much," said Mele after the season. "He can do too many things and you need pitchers like that. He can start regularly, he can spot-start, he can relieve. When injuries start popping up, a man who can do all of those things can really help. Twice Jim started with two days of rest. And I haven't forgotten it."10
Mele may not have forgotten Perry's efforts, but Cal Ermer may not have been aware of them. Ermer managed Triple-A Denver and was promoted to replace Mele 50 games into the 1967 season. Another major change was Sain leaving the Twin Cities after 1966 to become Detroit's pitching coach. Under Ermer, Perry again bounced between starting and relieving. But in 1969, Billy Martin succeeded Ermer after serving as a Twins coach since 1965. Martin and Perry had been teammates at Cleveland in 1959, and Martin immediately inserted Perry into the rotation and, for the most part, let him be.
Perry made Martin seem like a genius, going 20-6 with a 2.82 ERA. Two of his wins came on the same day. On July 19 the Twins and Seattle Pilots battled to a 7-7 tie through 16 innings. The teams used 41 players in the game. After 16 innings, the game was suspended and completed the next day. Perry pitched the final two innings for the victory. He started the winning rally with a one-out double and scored the go-ahead run. In the regularly scheduled matchup, Perry started and blanked the Pilots 4-0, scattering nine hits. (Ironically, Perry could have been pitching for the other side; he had been left unprotected by the Twins in the expansion draft before the season, and Seattle could have claimed him.)
Over his first 10 years in the big leagues, Perry was considered an above-average hitter for a pitcher. His deftness with the bat was on display on June 22 in the second game of a twin bill in Oakland. With the score tied, 3-3, Tony Oliva led off the top of the 13th inning with a double and advanced to third base on a groundout by Graig Nettles. The Athletics walked Charlie Manuel in order to face Perry. But Perry laid down a suicide squeeze bunt to score Oliva with the eventual winning run. "Oliva waited for just the right moment to break for home-when the pitcher [Rollie Fingers] was at the top of his motion, and Perry did the rest," said Martin.11
Perry captured victory number 20 against the Pilots on September 20. His strikeout of Danny Walton in the first inning was the 1,000th of his career.
The Twins breezed through the newly formed American League West Division. They finished ahead of second-place Oakland by nine games while the rest of the division trailed the Twins by at least 26 games. Perry started Game One of the American League Championship Series in Baltimore, giving up three runs in eight innings, and received a no-decision as the Orioles won 4-3 in 12 innings. Baltimore went on to sweep Minnesota in three games in the best-of-five series. It was not enough to save Martin's job; he was fired shortly thereafter. The front office received backlash from fans who supported Martin. Although Martin later won at almost every stop in his  16 years of managing, many of his problems in the Twin Cities were self-inflicted. He refused to adhere to the club's policies, ripped the organization over the farm system, and fought with pitcher Dave Boswell. Most fans, and many players, saw wins and a division championship and opposed Martin's firing by team president Cal Griffith. "I owe Martin a lot," said Perry. "He gave me a chance to prove what I could do. I'm grateful for that. I know some players don't like the way some things were handled, but you can't satisfy 25 players."12
Minnesota hired Bill Rigney as its skipper for the 1970 campaign. Rigney, a former infielder for the New York Giants, had managed the Angels the previous nine seasons. In his first season guiding the Twins, Perry led the American League with 24 wins and 40 starts. Perry was without question the ace of the Twins' staff. He pitched in the All-Star Game at Riverfront Stadium in Cincinnati, giving up one run in two innings of relief. Meanwhile, his brother Gaylord tied Bob Gibson with 23 wins for most in the National League. They were the first brother combination to both win 20 games in the same season. "Jim is a hard man to keep up with, "said Gaylord. "I've been watching his progress closely. We always knew he'd be an outstanding pitcher."13 The Baseball Writers Association of America Association agreed, selecting Jim as the AL Cy Young Award winner. He beat a stellar group of pitchers, including Sam McDowell, Mike Cuellar, and Dave McNally; 11 points separated the top four vote-getters. Perry was also named to The Sporting News All-Star Team.
The next two years were subpar for Perry. In 1971 he gave up 39 round-trippers, almost doubling his total from the previous season (20). At the end of spring training, Perry was dealt to Detroit for pitcher Danny Fife. The move reunited Jim with Billy Martin, the skipper in Detroit. "I think he can help us win the pennant," said Martin. "I think he'll win over 15 games. We got the noncheating Perry [a reference to allegations that Gaylord threw a spitball]. We've been scouting him, we think he can win."14
Jim finished the year 14-13, one win short of Martin's prediction. Martin, meanwhile, was fired in August and was replaced by Joe Schultz. Before that, on July 3, Jim took the mound against Gaylord, who was now pitching for Cleveland. It was the first time in the American League that two brothers had pitched against each other in a regular-season game. Neither pitcher was around at the end; Jim got a no-decision and Gaylord was tagged with the loss in a 5-4 Tigers win. A disputed three-run homer down the right field line by Cleveland outfielder Charlie Spikes gave the Indians a slim 3-2 lead, but by the time the Tigers mounted a comeback, Jim had hit the showers. "I should've won and I would've if the umpire (Merlyn Anthony) didn't call the ball wrong," Perry said of Spikes' homer. "There's no way that ball is fair, and you can ask anybody who was in our bullpen. They were right there and saw it."15
In two of Perry's defeats in 1973, he was the victim of a no-hitter, by Steve Busby of Kansas City on April 27, and by Nolan Ryan of California on July 15. Perry had earlier been victimized by a no-hitter by Oakland's Vida Blue in 1970 when he was with the Twins.
As in the previous spring, Perry was dealt again in March 1974. This time he was part of a three-team deal with the New York Yankees that sent him back to Cleveland. He was going to be teamed with Gaylord. The trade was made with much anticipation, both for the Perry brothers and for Indians fans. "I'm looking forward to putting on a Cleveland uniform," Jim said. "I know I'll get a chance to pitch. You [Cleveland] have a good (defense) and you can score runs. I hope the brother combination can do a good job and get fans back to the park the way they used to come."16
The brother combination won 38 games for the Indians. Gaylord went 21-13 with a 2.51 ERA and Jim 17-12 with a 2.96 ERA. But the rest of the staff fell flat; no other pitcher posted double-digit wins. Their 38 wins were almost half of the team's total of 77.
For 1975 Cleveland replaced manager Ken Aspromonte with Frank Robinson, who became the first black manager in the big leagues. Robinson ran a tight ship and demanded that all of his players adhere to his regulations. Gaylord Perry fought him at almost every turn. Both Perrys had dismal starts to the season. It was only a matter of time before the sibling reunion came to an end, and on May 20 the Indians dispatched Jim to Oakland with Dick Bosman for Blue Moon Odom. Gaylord was dealt to Texas three weeks later.
Perry made 11 starts for Oakland. One was a one-hitter against Baltimore, a 3-0 win on June 10. Al Bumbry's single in the sixth inning ruined Perry's no-hit bid. "I'm not a no-hit pitcher," said Perry. "I'm just trying to win. I've been struggling, and I can't worry about that no-hit stuff."17
The A's released Perry on August 13, and he retired as a player shortly thereafter and became a scout for Oakland. His top signee was catcher Terry Steinbach, who was a core player for the dominant Athletics teams in the late 1980s. Perry eventually relocated to Sioux Falls, South Dakota, where he worked for DialNet, a long-distance telephone service. Campbell University named its baseball field in Perry's honor in 2012. His son, Chris, became a professional golfer, and had a successful career on the PGA tour.
Sources
Baseball Digest
Cleveland Plain Dealer
Cleveland Press
minors.sabrwebs.com/cgi-bin/index.php
National Baseball Hall of Fame archives.
Pluto, Terry, The Curse of Rocky Colavito (New York: Simon and Schuster, 1994).
The Sporting News.
Thielman, Jim, The Cool of the Evening (Edina, Minnesota: Kirk House Publishers, 2005).
Notes
1 Baseball Digest, September, 1960, 27-32.
2 Ibid.
3 Ibid.
4 Ibid.
5 Cleveland Plain Dealer, July 22, 1991.
6 New York World-Telegram, May 13, 1959.
7 Cleveland Plain Dealer, May 3, 1963.
8 Terry Pluto, The Curse of Rocky Colavito, 174.
9 The Sporting News, August 14, 1965.
10 The Sporting News, December 31, 1966.
11 The Sporting News, July 5, 1969.
12 The Sporting News, October 3, 1970.
13 The Sporting News, September 26, 1970.
14 Perry's file, National Baseball Hall of Fame.
15 Cleveland Plain Dealer, July 4, 1973.
16 Cleveland Plain Dealer, March 20, 1974.
17 Perry's file, National Baseball Hall of Fame.
Born
October 30, 1935 at Williamston, NC (USA)
If you can help us improve this player's biography, contact us.
http://sabr.org/sites/default/files/JimPerry.JPG
600
800
admin
/wp-content/uploads/2020/02/sabr_logo.png
admin
2012-01-04 20:49:35
2021-08-24 11:30:55
Jim Perry