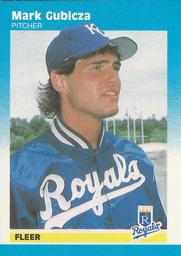 ---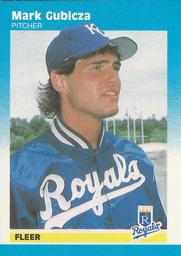 (On arriving at Kauffman Stadium for the first time)
"As we drive up we see the Crown. There was a little mist and I'm thinking 'this is an unbelievable sight.' The lights are on. It doesn't get any better than that. Then all of a sudden we pull in, we go into the clubhouse, and I said, 'This is bigger than my house at home in Philly, and it has more than one shower.'… I said, 'I love this place.' Then later that night to cap it off, I call my parents. I'm trying to explain to them about how beautiful the field was, the locker room, the big crown. I said, 'Guess where I'm calling from?' They go, where? I said, 'I'm calling from George Brett's house. I'm living with George Brett. … He let us live in his house.' I said, 'Dad, this is a dream.' He goes, 'Son, never wake up.' And I haven't woke up."
                        —- Mark Gubicza's Royals Hall of Fame induction speech, March 27, 2012
For Mark Gubicza, it was a dream realized for both a father and his son. Mark's father, Tony, pitched in the White Sox organization before a shoulder injury cut short his career. Post–baseball, Tony became a mail carrier and full–time coach and catcher for his son.
"He caught me all the time. There were a lot of times he'd catch me with his bare hands."1
Mark was born on August 14, 1962 in Philadelphia. Athletic success did not fall just on his father's side of the family. His uncle Robert Ames, the brother of his mother, Patricia, played on the 1954 NCAA champion LaSalle Explorers basketball team. So it was no surprise that baseball and basketball ran through Mark's blood and would lead to a constant debate in his mind throughout his formative years.
Besides starring on the court and on the diamond, Mark played football and hockey, and even boxed. However, "[H]e wasn't really good inside the ring, so that didn't last long."2 In Little League, Mark pitched and played shortstop. He recalled a stretch where he had 57 hits in just 17 games. Whether at the plate or on the mound, there was no doubt Mark knew what he wanted to be when he grew up.
 "Most kids wanted to be a fireman or police officer where I grew up. I only wanted to play in 'The Show.'"
Mark continued to grow on the field dominating the junior and senior leagues of his neighborhood, while at the same time growing his passion of the game watching his beloved Phillies. Despite having attended dozens of games at Veterans Stadium, he had never been to a game with his father until the chilly evening of October 21, 1980. It was Game Six of the World Series. Mike Schmidt and the Phillies trying to win their first World Series, taking on, of all teams, the Royals, led by George Brett. It was that night, Gubicza called "the best day of his life," he and his father watching as Tug McGraw struck out Willie Wilson, delivering the city its first World Series championship.
At the time, Gubicza was a high–school star. Under his father's tutelage, he had adapted a drop–and–drive pitching mechanic, emulating Tom Seaver. He was able to generate velocity on his fastball, hitting 92 mph on the radar gun. Being 6–foot–5 did not hurt, either. His curveball was topping out at 81–82 mph and he was quickly becoming a star at William Penn Charter School. Besides Seaver, he took a little from his idol, Hall of Famer Jim Palmer.
"I like the way he gets the job done, there's no wasted energy in his pitching motion and he's so darn consistent."3
Because of city rules, Gubicza was unable to play varsity baseball as a freshman. But once he was eligible, he was a three–year starter. He also started at forward his junior and senior seasons for the Quaker basketball team. He had decisions to make. Basketball or baseball? Shortstop or pitcher? Gubicza was getting some college hoop offers and he knew he could be a successful hitter in the big leagues, but his arm was the way to go. He knew it, the colleges knew it … and baseball scouts knew it. Gubicza was named to the all–city league as a sophomore, junior and senior. His numbers his final season with Penn Charter were off the charts. 8–1, 0.48 ERA, 83 strikeouts, and just 27 hits allowed in 58⅔ innings. His team won the Inter–AC title.4 Gubicza was named the Philadelphia Daily News' All–City Pitcher of the Year, picked by coaches, who declared, "Gubicza earned the award as far back as late April, the first time we saw him pitch."5
Just as impressive as his stats were the number of college coaches and major–league scouts who were taking notice. Pro scout Brad Kohler described some of Gubicza's attributes:
"Live arm. Will have above avg. fastball. Gets ball over with ability to get ahead of hitters. Many college offers. Loves BB (baseball). Definite ML prospect."6
"It was very odd and somewhat uncomfortable when I looked up and saw scouts with radar guns at all of my games," Gubicza said.
"My dad gave me the best advice: Just focus on what you can do and the rest will work its way out."
Colleges were also calling. Gubicza made the rounds. "Visiting colleges during my recruitment process was pricey," he said. "I met coach (Bear) Bryant at Alabama, Coach K (Mike Krzyzewski) at Duke, met Herschel (Walker) and Dominique (Wilkens) at Georgia. Visited 'The Ohio State' and realized how big that campus was. And had one last visit to choose from (USC [University of Southern California], the other USC [University of South Carolina], OSU [Oklahoma State] and U of Miami)."
Despite settling on Duke, it was the prospect of being drafted that was first and foremost for Gubicza. He was sure to be selected in the June 1981 draft, but how high would he go and who would take him? Royals scout Tom Ferrick had been keeping an eye on him. He was sending reports to the Royals director of scouting and player development, John Schuerholz, who remembered Ferrick talking about not only Gubicza's physical attributes, but also his makeup both on and off the field. Gubicza recalled his conversations with Ferrick as "open and honest throughout the entire process."
June 8 was draft day. Gubicza had heard rumors about the Braves and Yankees and that the Phillies were interested. "My ultimate dream in life was to put on the Phillies uniform," he said.
It didn't happen. Gubicza was selected in the second round by the Kansas City Royals, the club his beloved Phillies had just beaten in the World Series. Gubicza was picked ahead of future Hall of Famer Tony Gwynn as well as another future Hall of Famer, the last pick of the second round: John Elway.
"I was extremely excited to get drafted by an organization that won every year," Gubicza said in 2018. He remembered playing stickball that day with his friends when he got the word from his father: "My dad drove up and shouted, 'You got drafted,' and all my boys from the schoolyard went nuts. They were so happy one of us got the chance of a lifetime. My dad and brothers were super pumped, but my mom was sad. She wanted me to go to Duke in the worst way. She loved the campus."
The Duke scholarship was still on the table as negotiations began. Schuerholz had come from Kansas City and met the Gubiczas for the first time. "Here I was sitting at their dining room table with the entire family negotiating a contract," he recalled.
"I still remember John telling me years down the road that, and I quote, 'I better get this done or else your whole family may put cement shoes on me and throw me in the river by your house,'" Gubicza said. "I laughed forever with that. A Hall of Famer who loved me and my family."
No cement was needed and the deal was done. But leaving the comforts of home for the unknown of minor–league baseball wasn't easy. He would write to his family and friends daily. Gubicza was assigned to the Royals Gold, one of the club's two entries in the Gulf Coast Rookie League. He immediately found success. When he took the hill for the first time, he was amazed "because his landing foot didn't land in a huge hole." The field was well groomed. As were his stats. He finished his first season in the organization going 8–1 with a 2.25 ERA, 40 strikeouts, and just 38 hits allowed in 56 innings pitched.
"It's hard to believe. I wanted to do well, but I never dreamed of stats like that. When I got there, I was thinking that the adjustment period – to the hitters, to the incredible heat, to being away from home – would take lots of time. But I felt comfortable almost from the start and that made it much easier to pitch. The coaches treated me nice and so did my teammates. There were only four high–school kids. The rest were coming out of their junior and senior years of college. But we (the young kids) were never looked down upon."7
That fall Gubicza was assigned to the Royals Instructional League program, which was designed to accelerate the progress of top–notch prospects. The program was headed by Gary Blaylock, to whom he credits much of his success, saying, "Gary was stern, but very good at getting his point across."
It was there that Gubicza began the transition from a straight fastball/curveball pitcher to adding a sinker and slider to his repertoire. He also became friends with a pair of future teammates, David Cone and Tony Ferreira, and they quickly became known as the Three Musketeers throughout the organization. They would go to each other for tips as well as support. Not to mention rooming together to save money.
In 1982 all three were assigned to the Fort Myers Royals of the Class–A Florida State League. While Cone and Ferreira found success, Gubicza was working on honing his new pitches, which was not always easy. He finished the season just 2–5 with a 4.13 ERA and 25 walks in 48 innings. Despite the numbers, Schuerholz was receiving glowing reports.
"The praise Mark received continued to escalate throughout the organization," Schuerholz said. "It was clear he had not only the talent package, but a bulldog mentality which would be a key to his future success."
Once again Gubicza was assigned to the Fall Instructional League, where he worked with a couple of other top pitching prospects. Gubicza, left–hander Danny Jackson, and right–hander Bret Saberhagen were the three who really stood out to Schuerholz and the organization.
"Gary (Blaylock) kept telling me he was certain Mark, DJ, and Bret could pitch in the big leagues," Schuerholz said. "I kept asking him about their makeup. Was it strong enough to withstand temporary failure? The answer continued to be that their makeup was great."
In 1983 Gubicza attended his first big–league spring training, in Fort Myers. "I loved my first big–league spring training because I got to pick the brains of people like Vida Blue, Dennis Leonard, Steve Renko, Gaylord Perry, etc.," he said. Out of camp, he was assigned to Jacksonville of the Double–A Southern League.
"Toward the end of my year at Double A, Gene Lamont, my manager, said don't worry about Triple A next year because you might not even need to see that level next year. I said 'Hmmm, maybe?'"
Around the same time, the Royals were dealing with major off–field issues. After the 1983 season, four players were sentenced to federal prison for involvement with cocaine. At this point, Schuerholz and the organization decided to go in a different direction. "Due to the positive reports on DJ, Bret, and Mark, I was confident they could handle any potential temporary failures," he said. "We made the decision to clean the slate and we were going to go with the young pitchers."
Before that could happen, Gubicza needed a strong spring training to impress the front office. And he delivered right from the start. In his first outing, he beat the defending American League West champion White Sox, including striking out future Hall of Famer Carlton Fisk as well as Greg Luzinski, whom he had watched playing for the Phillies World Series championship team. The 21–year–old pitched well and was tabbed to go north with the Royals. "I came to spring training trying to make a good impression," Gubicza said. "I was being realistic. I didn't think I had a shot. I was just hoping to be assigned to Omaha. I would have been happy with that. But here I make the team and am going to pitch in the starting rotation. I almost have to pinch myself."8
He was named the team's fourth starter, joining a rotation that featured four southpaws. "They needed someone who was right–handed and hopefully could throw hard, and I fit," Gubicza said.9 His teammates knew the benefit of having a righty in the mix. Said Frank White, "If you can fit him in the middle of those left–handers, it might break the timing of the other teams. Sometimes a guy who throws hard and has good stuff can mess things up and help the guys who don't throw as hard."10
Before taking the mound he and Saberhagen, who had made the team as a long reliever, needed a place to stay. Enter a legend. "George Brett asked me and (Saberhagen) if we had a place to stay and we said no. So he said, 'You do now, you are staying with me.'"
Days later he was in his first big–league clubhouse. "It was a total honor and privilege to put on that Royal uniform for the first time," Gubicza said. "I watched them in the World Series against the Phillies and knew they were real good."
He took the Royals Stadium mound for the first time as a big leaguer on April 6, 1984, against the Indians. "Before my first game, my teammates and dad said the same thing: Have fun and remember this is a special day." But it was not a memorable start to his big–league career. The first batter he faced was Indians center fielder Brett Butler. "I walked him on four pitches. After that I settled down."
Actually the box score shows the speedy Butler reached on an infield single, stole second, advanced to third on Tony Bernazard's single, and scored on a groundout by Julio Franco. Just like that, he was down 1–0. But he did settle down, and despite taking the 2–0 loss, it was a quality start in his big–league debut. Six innings pitched, five hits allowed, one run, one walk, four strikeouts. "Hall of Fame pitcher Bert Blyleven pitches for them that night. My mom and dad were at my first MLB start. They were so excited."
Gubicza finished his first season going 10–14 with a 4.05 ERA. He walked 75 while striking out 111 in 189 innings. He threw four complete games, including two shutouts. He finished seventh in the Rookie of the Year balloting, one spot below Roger Clemens. He was also introduced to his first big–league nickname: "I was known as Goob or Little Goob all my life. But once I got to the Bigs, it became Goobie!"
As Goobie would often mention, it was a nickname that would come in handy following a rough home outing.
"I always told myself they (the fans) weren't saying boooo. … They were saying Gooob."
Despite the offseason turmoil and Brett's torn meniscus, costing him the first six weeks, the 1984 Royals hung around the top of the AL West. Gubicza picked up one of his most important wins of the season on September 4. He gave up one run in 8⅔ innings, helping the Royals catch the Minnesota Twins atop the division. KC finished the month 17–11. When the Twins suffered back–to–back walk–off losses, the Royals clinched the division. They finished with just 84 wins and a playoff date with the wire–to–wire AL East champion Detroit Tigers. Goobie did not pitch in that series as the Royals were swept in three straight by the team that eventually won the World Series. A bitter ending, but the foundation had been laid for future success.
"The energy was great on our team in '84," Gubicza said. "We had veteran players and a bunch of young talented rookie pitchers."
Schuerholz said at the time, "We have a brighter future than anticipated. We'll be better next year and better than that the year after."11
Gubicza's future also looked brighter off the field when he attended his best friend's wedding.
He recalled, "I met (Lisa) at Bret Saberhagen's wedding. It sounds cliché, but I knew at that moment I was going to marry her."
Gubicza got off to a tough start in 1985, winning just one of his first seven starts with an ERA hovering around 5. His season turned around on June 8 in a game in Anaheim against the Angels. He had a shutout working into the ninth before Ruppert Jones hit an RBI single, knocking him from the game. Dan Quisenberry got Reggie Jackson to hit into a double play, giving the Royals a 4–1 win. Gubicza then went 12–3 over his next 18 starts. In his final start of the season, he defeated the Oakland A's, pitching 6⅓ innings of one–run ball. Quisenberry closed it out. That win, coupled with an Angels loss, meant the Royals clinched at least a tie for the division crown. The next night Willie Wilson singled in the 10th, driving home Pat Sheridan, and the Royals walked off with the AL West title. Armed with Saberhagen (20 wins, Cy Young Award), Charlie Leibrandt (17 wins), Jackson and Gubicza (14 wins each), and Bud Black (10 wins), the Royals faced Toronto in the ALCS.
Gubicza's first postseason appearance came in relief during Game One. With the Royals trailing 6–0, he entered in the fifth and pitched three hitless and scoreless innings in a game the Royals lost, 6–1. That performance led to his first playoff start. With the Royals trailing the best–of–seven series three games to two and on the brink of elimination, manager Dick Howser handsed the ball to Gubicza for a win–or–go–home Game Six at Exhibition Stadium.
"I remember just before Game Six George Brett came up to me and joked, either we play Game Seven or we play golf the next day," Gubicza said. "It helped me relax."
The Royals were staked to a 1–0 lead in the first inning , but in the Blue Jays' first, a leadoff double by Damaso Garcia and a single by Lloyd Moseby put runners on the corners with nobody out. Gubicza got Rance Mulliniks to bounce back to the mound for a 1–6–3 double play. Garcia scored, tying the game. The Royals again took the lead in the third, but Gubicza ran into more trouble in the bottom of the inning. With one out, Tony Fernandez doubled down the left–field line, went to third on a wild pitch, and scored on a groundout, tying the score again. In the fifth, Brett hit a then record ninth LCS home run, giving the Royals the lead for good. There was a tense moment in the sixth when Mulliniks nearly took Gubicza deep for a two–run shot, but Willie Wilson was able to track it down. Gubicza left the game a batter later with a 5–2 lead. Black and Quisenberry finished the job and the Royals evened the series, 3–3.
After the game Howser was asked about the decision to start Gubicza in the crucial Game Six. He replied, "Gubicza was a starter for me all year, I had no qualms about starting him. That gave me the luxury of having a guy like Bud Black in the bullpen."12
The Royals took Game Seven in Toronto, earning a trip to the World Series. It was the "I–70 Showdown Series" or the "Show–Me Series" against their interstate rival, the St. Louis Cardinals. With the Royals going to a four–man rotation, Gubicza did not pitch in the Series. It was a thrilling series highlighted by one of the most controversial calls in World Series history. In Game Six, with the Cardinals leading the Series three games to two and the game 1–0, Jorge Orta led off the bottom of the ninth with a grounder between first and second. Cardinals first baseman Jack Clark threw to pitcher Todd Worrell covering first. Umpire Don Denkinger called Orta safe on a bang–bang play. Replays showed Orta should have been called out.
"I was in the bullpen at the time," Gubicza said. "I thought from my angle that Worrell missed the base and that's why Don called him safe."
With no instant replay available in 1985, the call stood, and eventually pinch–hitter Dane Iorg blooped a single to right, driving in the winning runs. The Series was tied.
As exciting as Game Six was, Game Seven was anticlimactic. Saberhagen threw a shutout and the Royals pounded the Cardinals, 11–0, winning Kansas City's first World Series title.
"After we won the World Series, all I could think of was I was there for the Phillies clincher in 1980 with my dad and now I get to experience what the Phillies players must have felt," Gubicza said.
Success did not carry over to the 1986 season. Gubicza got off to a terrible start, going 0–4 with an ERA of nearly 7.50. He finally broke into the win column on May 14 with a three–hit shutout of the Indians.
On June 5 Gubicza suffered one of his worst starts in the big leagues, lasting just 1⅔ innings, giving up two runs on a hit and four walks. At one point he missed the strike zone on 13 straight pitches. And in his next start, two days later, he was struck on the head by a thrown ball during batting practice. Gubicza was placed on the disabled list with a fractured outer plate of the right orbital sinus. Returning in July, he worked out of the bullpen. He returned to the rotation in August and had a great finish to the season, winning eight of his final nine decisions and lowering his ERA nearly a run a game. Gubicza ended the season 12–6 with a 3.64 ERA. The Royals finished third in the AL West.
That was the season Bo Jackson made his debut. "Playing with Bo was beyond cool," said Gubicza. "Besides playing with George Brett, no one came close to their talents. They made you stop and watch every second."
That year Gubicza also picked up another win off the field. On November 7 he and Lisa were married.
Gubicza got off to another slow start in 1987, winning just three of his first 13 starts. Nevertheless, he was showing the type of mound mentality GM Schuerholz knew his tall right–hander had, as Gubicza completed nine of his final 22 starts, including two shutouts. 
"Mark was a bulldog," said Schuerholz. "He was tough–minded and wanted the ball. Every time he took the mound, he wanted to beat every opponent. He had the aptitude and attitude to just keep fighting and never wanted to come out."
Despite a 13–18 record, Gubicza made 35 starts, threw 241⅔ innings and had 10 complete games. The Royals again missed the playoffs, finishing two games behind the eventual World Series champion Twins.
Gubicza got off to a better start in 1988, winning three of his first four starts. However, three straight losses to start May left him with a 3–4 mark. Looking to right the ship, Mark looked for help. "I had a long conversation with our new pitching coach, Frank Funk," he said. "We talked about 'trying easy.' It was the turning point for my career."
By backing off what Schuerholz called a "forced delivery," Gubicza started to see great results. He hit the All–Star break winning nine of 10 and earning the June American League Pitcher of the Month Award. His final start before the break was a four–hit shutout of the Yankees. The dominant stretch earned him his first All–Star Game selection.
Gubicza entered the game, at Cincinnati's Riverfront Stadium, in the fourth inning, giving up a single to leadoff hitter Vince Coleman. The speedster stole second and went to third on a bad throw by catcher Terry Steinbach. After Gubicza struck out Ryne Sandberg, Coleman scored on a wild pitch. Back–to–back singles by Andre Dawson and Darryl Strawberry (neither ball leaving the infield), put Gubicza on the ropes, but he got Bobby Bonilla to line out and Will Clark to ground out.
Gubicza then pitched a scoreless fifth as the American League won, 2–1. For Gubicza, "The coolest thing … was meeting Willie Mays, Lou Brock, and Vice President George Bush!"
Gubicza was just as dominant in the second half of the season. On August 27 he beat the Twins, allowing just one run and striking out 14. He ran his record to 16–7. On September 26 he shut out Seattle for his first 20–win season. He finished 20–8 with a 2.70 ERA, in 269⅔ innings pitched. He was a serious contender for the Cy Young Award, and finished third in the balloting. "Frank Viola [the winner] was amazing for the Twins in 1988, but I felt good about my numbers as well," Gubicza said.
Gubicza was once again a workhorse in 1989. He led the league with 36 starts. He stayed around the .500 mark most of the season, but did have a hot stretch in June. For the second season in a row, he was named the June American League Pitcher of the Month. He was also named to his second consecutive All–Star Game, and pitched a 1–2–3 fourth inning as the American League won, 5–3.
He was hot again after the break, winning five straight in late August/early September. By season's end he was 15–11 with a 3.04 ERA in 255 innings for the second–place Royals. However, internally something was not right. "My shoulder started hurting toward the end of '89. An average of 250–plus innings took a toll."
The 1990 season did not start well for Gubicza. He was just 2–4 with an ERA over 8 after his first start in May. After a June 29 start against the Tigers, he was 4–7 with an ERA of 4.50. It was his last start of the season. On July 10 he was placed on the 21–day disabled list with inflammation in his right shoulder. The hope was that he would be able to begin throwing in a week or two. "Being injured and not being able to compete with my teammates was very difficult," Gubicza said.
On July 27 it was announced that he would undergo arthroscopic surgery on a partially torn rotator cuff in his throwing shoulder and would miss the rest of the season.
"Talking to my dad is what got me through the tough times. But he passed away shortly after my major surgery," Gubicza said.
After missing just over a month at the start of the 1991 season, Gubicza was back on the hill on May 14 against the Blue Jays. He took a loss, but struck out eight in five innings. Since he was still recovering from the surgery, he was not expected to be the workhorse of years past. He was limited to just 133 innings, finishing 9–12 with a 5.68 ERA.
Gubicza seemed to be back to full strength in 1992. Heading into July, he had already thrown 105⅓ innings. He was 7–6 with an ERA just under 4. But on July 5 he left his start against Milwaukee with stiffness in that right shoulder. Five days later, he came out after just an inning. On July 15 he was placed on the disabled list again with inflammation in the shoulder. On August 14, the day he turned 30, Gubicza experienced more pain while warming up for a simulated start. On August 24 he was examined in Los Angeles by Dr. Lewis Yocum, who determined that the pain was most likely caused by weakness in the rotator cuff. Gubicza was shut down for the remainder of the season.
After signing a one–year deal in the offseason, Gubicza was ready to go in the spring of 1993. He was back in the rotation, but struggled out of the gate. He gave up seven runs in just 1⅔ innings in his first outing. After a loss on May 20, his record stood at 0–5 with an ERA close to 7. The next day he was pulled out of the rotation and put into the bullpen.
"It'll be a new experience, trying to be ready every two days or so," Gubicza said at the time. "But if it helps the team, that's great. I just hope it turns out to be a meaningful role."13
Gubicza flourished out of the pen. In 43 appearances, he won five games and recorded the first two saves of his career. He struck out 61 in 72⅓ innings.
"Goobie is very tough mentally. He's a fighter, a battler," said pitching coach Guy Hansen. "That's the type of mentality you want for that job. And I think he's done a terrific job."14
But at the same time, Gubicza was left pondering the future. As a free agent after the season, and now working out of the bullpen, would the team keep him in the fold?
"Mark has been a loyal part of this organization," said GM Herk Robinson. "He could have left after last year, but he chose to come back. If it can be worked out, we'd love to have him back."15
Still, Gubicza filed for free agency after the season. He fielded offers from Kansas City and other clubs, and in December he decided to return to the Royals for an 11th season. "It was a little tempting with the Phillies," he said, "but I'm not sure I wanted to go prove myself again with another team."16
Gubicza agreed to a one–year deal. Near the end of spring training, he learned he was back as a part of the Royals rotation. He hovered around the .500 mark most of the season, but on the positive side, he was again throwing six to seven innings a start. By the end of July, he had thrown nearly 130 innings. On August 1 he beat the Yankees as the Royals won their 10th straight game. The streak reached 14 and ended on Gubicza's final start of the season, on August 6. Four days later the players went on strike. The walkout lasted the rest of the season and into spring training of 1995.
Gubicza was now playing a role off the field instead of on it. "I was the alternate player rep so I was constantly on the phone and tried also to keep the fans in KC, whenever I ran into them, hopeful that the season wouldn't be lost," he said.
It would be. There was no World Series. On April 2, 1995, the strike ended. After a spring full of replacement players, the big leaguers were coming back. "It's a fresh start right now," Gubicza said. "I think the players are excited to get it going."17
Gubicza was slotted into the Royals rotation as the number–three starter. The only remaining member of the 1985 World Series champions, now he was the veteran pitcher surrounded by a bunch of hungry kids.
Nearly five years after his rotator–cuff surgery, he was no longer the power pitcher he had been. By using more of his slider and concentrating on ball placement, he was pitching pain–free. Despite finishing 12–14, he was back to being the innings–eater of his prime. He led the league with 33 starts, throwing 213⅓ innings.
After the season Gubicza was back on the free–agent market. He had talks with other teams, but again decided to stay in Kansas City, signing a two–year deal.
Things did not go as planned in 1996. Gubicza struggled out of the gate and never really caught fire. He lost all five starts in June, leaving him with a 4–12 record. His season was cut short on July 5 against the Twins. With two outs in the bottom of the first, Paul Molitor hit a line drive off his left knee. He was diagnosed with a fractured tibia, costing him the rest of the season. The pitch that Molitor smashed was Gubicza's last in a Royals uniform. In October the Royals traded their longest–tenured player to California for designated hitter Chili Davis. Gubicza had a chance to veto the trade, but agreed to go to California, where he and his family now lived.
"I thought I would be a Royal for life because I had survived many a trade rumor," Gubicza said. "But when I was traded to California it was a blessing in many ways because my daughter was just starting school and being close to home allowed me to be there every day."
Gubicza's Angels career was short–lived. Starting in spring training, he began experiencing pain in his shoulder. He had hoped to pitch through it. However, after being unable to hold a 7–1 lead in his first start and getting shelled in his second start, he knew something had to be done.
"I thought I could battle through this, make some pitches, get some outs. But there were times I didn't have anything on the ball," he said. "I'm obviously not doing the club any good going out there and not giving them a chance to win."18
Gubicza initially received good news as an MRI was normal. The hope was that a trip to the 15–day disabled list would be all he needed. He was further encouraged on May 12 when he was able to throw off the mound for 10 minutes without pain. However, after he threw a simulated game in June, the pain returned. He was shut down until at least July 1. On August 5, with a rehab stint in sight, the club determined that, if healthy, Gubicza would not return to the rotation. As it turned out, he would not return at all. Despite his attempts to make it back, he could not shake the pain in his shoulder and his season was over.
Entering the winter of 1997, Gubicza was again a free agent. He had hoped to return to Anaheim, but was unable to work out a deal. "The most difficult and disappointing time in my professional career was not being able to pitch well for the Angels," Gubicza said. "It still hurts because I felt I owed them so much and I didn't produce on the field for them."
Gubicza eventually signed a minor–league deal with the Los Angeles Dodgers. However, just days before heading to Vero Beach for 1998 spring training, he decided to retire. "I'm disappointed I'm not able to go down to Florida and compete for a job with the Dodgers, but I just didn't think I could pitch the way my shoulder has been feeling," he said.19
After the 1998 season, Gubicza contemplated a comeback. He declined the Royals' offer of a job as a roving minor–league pitching instructor. "The Red Sox called me to try out for them. I did, which was another dream come true. But I didn't sign with them and stayed retired," Gubicza said. After nearly two decades in baseball, at age 36, his playing days were over.
"When I retired, all I thought of was spending time with my family," he said. Mark and Lisa, whom he called "my hero since the day I met her," along with their three children, settled into retirement in Southern California.
"I got a chance to coach a travel team with Bret Barberie shortly after my retirement and I knew that I wanted to do that," Gubicza said. "It led to being the head coach at Chaminade High School in the West Hills area of Los Angeles."
Among the players he coached at Chaminade were Blue Jays outfielder Kevin Pillar, veteran pitcher Dan Runzler, and Yankees 2016 first–round pick Blake Rutherford.
"I always told my players to work hard, have a ton of fun always believe someone is looking at you. So run out everything and run to your positions every inning," Gubicza said.
One day he received a phone call from Fox Sports Net. They were interested in having him audition for a role on a new show, Baseball Today.
It was something Gubicza had been indirectly training for throughout his big–league career. One way he would pass the time between starts was coming up with nicknames for players. Not exactly Chris Berman's "Bermanisms" (i.e., Bert "be home" Blyleven, Wally "Absorbine" Joyner), nevertheless he was proud of a few.
"I gave Jeff Montgomery the nickname "Snake Bliskin" for the character in Escape from New York. Because he would sneak under home plate like a snake and place the baseball anywhere he wanted for a strikeout."
John Schuerholz knew Gubicza would be a good fit in television, saying he had "the ability to match movie–star looks with tenacity to get people out."
Joining other ex–big leaguers like Steve Sax, Ron Darling, and Kevin Kennedy, Gubicza began his broadcasting career as an analyst. Talking about something he loved was not a hard transition.
"TV certainly wasn't anything I thought much about after retirement. But it feels great to be back in the game, expressing opinions," he said. "It's like I'm back in the clubhouse again – and I get to go home afterward."20
Gubicza eventually became an analyst on Angels pre– and postgame shows for Fox Sports West, then took on his current role (as of 2018) as the Angels color commentator on FSW. He was happy to emulate a couple of his childhood heroes, "Harry Kalas and Richie Ashburn. "(They) were my favorites," he said. "I loved how they entertained me and educated me at the same time."
Sixteen years after pitching at Kauffman Stadium for the final time, Gubicza returned to the mound again in 2012, this time as a newly inducted member of the Royals Hall of Fame. As of 2018 he was third on the Royals career list for wins (132), second in innings pitched (2,218⅔), and second in strikeouts (1,366).
Gubicza called his induction a "tremendous honor," the perfect ending for a little boy who grew up to realize his big–league dreams.
A few fun facts from Mark himself and Baseball–Reference.com:
Toughest hitter faced: Don Mattingly (.413, 4 HR, 17 RBIs in 80 at–bats).
Surprise success against: Kirby Puckett (.238 in 84 at–bats), Rickey Henderson (.229 in 70 at–bats), Dave Winfield (.245 in 49 at–bats).
1,000th strikeout: Dan Gladden (September 10, 1991).
Author's note:
I would like to thank my friend Mark (Goobie!) for his time, energy, and enthusiasm in talking with me and answering more than a few questions.
I would also like to thank John Schuerholz (and his wife, Karen, for taking the wheel) for answering my questions while driving through the mountains of Georgia.
Sources
In addition to the sources cited in the Notes, the author consulted Baseball–Reference.com.
Notes
1 Joseph Turkos, "Far from Phila., Not Far from Home," mongomerynews.com, August 21, 2009.
2 All otherwise unattributed quotations come from interviews conducted with Mark Gubicza on August 21 and October 11, 2018 as well as a telephone interview with John Schuerholz conducted on August 16, 2018.
3 Ted Silary, "Big Leagues Eye Gubicza," Philadelphia Daily News, April 17, 1981: 65.
4 Inter–AC is the Inter–Academic League, a high school athletic conference consisting of private schools in the Philadelphia area and the surrounding suburbs. 
5 Ted Silary, "Gubicza Easy Selection as Best Pitcher," Philadelphia Daily News, June 24, 1981: 50.
6 National Baseball Hall of Fame Scouting Reports Collection: collection.baseballhall.org/PASTIME/mark–gubicza–scouting–report–1981–march–31–1#page/1/mode/1up.
7 Ted Silary, "Gubicza Has Major Success in Minors," Philadelphia Daily News, September 9, 1981: 59.
8 Warren Mayes, "A Storybook Beginning," Springfield (Missouri) Leader and Press, April 6, 1984: 6D. 
9 Ibid.
10 Ibid.
11 Max Rieper, "A Look Back at the 1984 Royals," royalsreview.com, September 13, 2017.
12 John Sonderegger, "Royals Force a Seventh Game," St. Louis Post–Dispatch, October 16, 1985: 1D.
13 Associated Press, "Gubicza Loses His Position in Royals' Pitching Rotation," Des Moines Register, May 21, 1993: 1S.
14  "Gubicza's Career as Royal Is Nearing an Intersection," St. Louis Post–Dispatch, August 22, 1993: 3F.
15 Ibid.
16 Associated Press, "Gubicza Signs with Royals," Manhattan (Kansas) Mercury, December 8, 1993: B2. 
17 Associated Press, "KC's Boone Ready for Second Spring Season," Manhattan (Kansas) Mercury, April 3, 1995: B2.
18 Mike Digiovanna, "Indians Put Angels in Deep Freeze," Los Angeles Times, April 12, 1997: C7.
19 Associated Press, "Trachsel Stays With Cubs, Gets Nearly $3 Million," Arizona Republic, February 14, 1998: C7.
20 Tom Hoffarth, "Full–Service Olbermann," Los Angeles Daily News, July 21, 2000.
Born
August 14, 1962 at Philadelphia, PA (USA)
If you can help us improve this player's biography, contact us.
https://sabr.org/wp-content/uploads/2012/01/MarkGubicza.jpg
256
181
admin
/wp-content/uploads/2020/02/sabr_logo.png
admin
2012-01-04 20:42:56
2020-09-29 11:59:38
Mark Gubicza