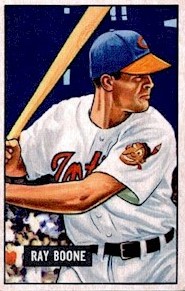 ---
On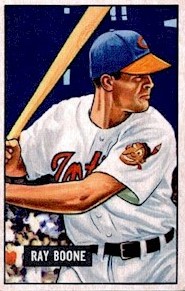 July 15, 2003, Ray Boone was taking in the scene at the All-Star Game at Chicago's U.S. Cellular Field. "Anybody that's not proud in this situation," he said, "there's something wrong with them."1 As the patriarch of the first three-generation family in the major leagues, Boone had reason to beam with pride. His son Bob spent 19 years as a catcher, primarily with Philadelphia and California. His two grandsons, Aaron, an infielder with Cincinnati, and Bret, a second baseman with Seattle, were both participating in the 2003 Midsummer Classic. The Boone family was not only the first family to have three generations play in the majors but also the first and only family to have all members in each generation participate in the All-Star Game. Ray was a two-time All-Star for Detroit, in 1954 and 1956; Bob was a four-time All-Star, in 1976, '78, '79, and '83. Another son, Rod, played in the Kansas City Royals and Houston Colts minor-league systems, and Ray's daughter, Terry, was a champion swimmer.
Boone played in 89 games, batting a solid .306 with Wausau, but put his baseball career on hold by enlisting in the Navy in 1942. He missed the 1943, '44, and '45 seasons. After his discharge, in 1946, the Indians assigned Boone to Wilkes-Barre, Pennsylvania, of the Class-A Eastern League. He split catching duties with Ralph Weigel and hit .258. On October 12, 1946, Boone married his high school sweetheart, Patsy Brown. In 1947 Boone was assigned to Oklahoma City of the Class-AA Texas League, where he began the season splitting catching duties with Ray Murray. When injuries struck the club, manager Pat Ankenman asked Boone to finish the season at shortstop. He brought his average up slightly, to .264.
As spring training opened in 1948, Cleveland player-manager Lou Boudreau kept Boone as the third-string catcher and also had him take infield practice as a possible backup to Boudreau at shortstop. With defensive stalwart Jim Hegan behind the plate, the Indians had no room for Boone, who wanted to play every day. Boone asked Boudreau if he could be sent to Hollywood of the Pacific Coast League. Boudreau granted Boone's request, but three weeks later, hitting .250 for Hollywood, Boone was returned to Oklahoma City. There, his bat caught fire, and he was leading the league with a .355 batting average when the Indians recalled him on August 27. Because Boone played in only 87 games at Oklahoma City, he fell short of the 100-game minimum needed to qualify for the batting title. He did, however, make the Texas League All-Star team.
Boone made his debut for the Indians on September 3, 1948, in St. Louis. He relieved Boudreau at shortstop midway through the first game of a doubleheader and doubled in a run in the eighth inning. For the month, Boone appeared in six games and had five plate appearances. Because he had been called up in August, he was eligible to play in the World Series, in which the Indians faced the Boston Braves. In Game Five, Boone faced Braves great Warren Spahn as he pinch-hit for right fielder Walt Judnich in the eighth inning. Spahn, who was working in relief of Boston starting pitcher Nels Potter, struck Boone out on the way to an 11-5 victory. It was Boone's only appearance in the World Series. The Tribe came back to win Game Six behind starter Bob Lemon, and Cleveland won its first World Series since 1920.
On June 6, 1949, Boudreau named Boone his starting shortstop when the player-manager took over at third base to replace the slumping Ken Keltner. Boone responded by hitting the first two home runs of his career on June 15 at Fenway Park, belting the first off Walt Masterson and the second off Ellis Kinder. Boone played in 76 games at shortstop for the Tribe, and committed 21 errors. His batting average was a modest .252. Boone struggled in learning a new position and replacing the popular Boudreau who, while nearing the end of his playing career, had starred for nearly a decade. Boone had a pep talk with himself. "Raymond, what now?", Boone said. "You have been a catcher all your baseball life. Now you are told you could be a good shortstop. You belong to Cleveland and the Indians have the greatest shortstop the American League has ever seen. Connie Mack says so."2
The Tribe faced major changes with the approach of the 1950 season. Al Rosen took over at third base for Ken Keltner, who was released on the first day of the season and signed the same day with the Red Sox. Boone replaced Boudreau at shortstop on a full-time basis, and Bobby Avila was splitting second base duties with Joe Gordon. Luke Easter became the first baseman when the Tribe shipped Mickey Vernon to Washington on June 14.
Out of options, neither Avila nor Rosen nor Boone could be sent to the minors again without the Indians risking losing them. Given every chance to make good, Boone batted .301 in 106 games, third best on the team behind Larry Doby and Dale Mitchell. Cleveland finished a close fourth, six games behind the eventual world champion Yankees.
Released on November 21, Boudreau signed with the Red Sox (as a player) six days later. Al Lopez replaced Boudreau as Cleveland's manager. Boone now had the shortstop position all to himself. Nevertheless, he could never quite seem secure in the shortstop spot, having so-so seasons in 1951 and 1952, during which he hit .233 and .263 respectively and made 26 and a league-leading 33 errors.
In 1952, the Indians finished only two games behind the Yankees, and Boone received much of the criticism for his team's falling short. Late in the season, Lopez benched Boone in favor of George Strickland, who had come to the Tribe in a trade with Pittsburgh in August. Boone alone did not experience defensive lapses, as Rosen, Boone, Avila, and Easter combined for 94 errors, the most of any infield in 1952.
General manager Hank Greenberg continued to back Boone. "I will tell you something about Boone," said Greenberg. "Many people in Cleveland think we ought to get rid of him. If we do, I know of at least four American League clubs that would be happy to have him. It's easy for someone to see that a player has had a bad season. It isn't so easy to find a fellow who is certain to do better. If Boone is not a big-league shortstop, why are those four other clubs anxious to get him?"3
Boone beat out Strickland for the starting shortstop position in 1953, but by June, the Indians had kept Strickland while unloading Boone. After the Yankees swept the Indians in a four-game series just before the June 15 trading deadline, Greenberg traded Boone (hitting .241 in 34 games) and pitchers Al Aber, Steve Gromek, and Dick Weik to Detroit for pitchers Art Houtteman and Bill Wight, infielder Owen Friend, and catcher Joe Ginsberg. Initially, Cleveland was thought to have gotten the better of the deal since Houtteman was considered to have great potential, although he had struggled since winning 19 games in 1950 for Detroit.
Detroit manager Fred Hutchinson immediately inserted Boone at third base, and Ray responded by going 3-for-3 with a home run to lead the Tigers to a 5-3 victory over the Red Sox at Fenway Park on June 16. Hutchinson liked the left side of his infield now that Boone manned third base alongside rookie shortstop Harvey Kuenn. "With Boone and Kuenn," Hutchinson said, "I believe we can figure that the left side of the infield is in good hands for at least five years."4
Boone's offense and defense improved dramatically as a result of his relocation to third base after joining the Tigers. In 31 games at shortstop with Cleveland that season, he had made eight errors for a .952 fielding percentage. After the trade, Boone played in 97 games at third base for Detroit, making 14 errors with a fielding percentage of .958. He hit .312 with 22 home runs and 93 runs batted in only 101 games for the Tigers. Boone tied a major-league record since broken by hitting four grand slams in a season. Tigers general manager Charlie Gehringer was impressed. "He found himself at third at Detroit and gained confidence in the field. That helped his batting," Gehringer said. "I always considered him a sound hitter. He isn't fooled often. Have you noticed how he guards the plate and tries to hit to right field when the count is two strikes? Other hitters would profit if they did this instead of taking that last wild swing."5
While Boone became a fan favorite in Detroit, the Tigers were a second-division team for most of his time there, always appearing to lack both pitching and power hitting. During Boone's five years with the Tigers, only he, Al Kaline, and Charlie Maxwell hit more than 20 home runs in a season, and no one hit more than 30.
Fans voted Boone the starting third baseman for the 1954 All-Star Game. The game took place in Cleveland, and Avila started at second base and Rosen at first. Rosen hit a three-run home run off Robin Roberts of the Phillies in the bottom of the third inning, and Boone followed his old roommate with a solo shot off Roberts. Boone ended the 1954 season hitting .295 with 20 home runs and 85 runs batted in. New York Yankees manager Casey Stengel said, "In my book, that Ray Boone of the Tigers is the best clutch hitter we face in the course of the season. There's a guy who makes you give him good pitches. Then, when you give them to him, he's apt to belt 'em a mile." 6
In 1955, Bucky Harris replaced Hutchinson as the Tigers' manager in a year that saw Boone develop injury issues, a problem that plagued him for the rest of his career. Boone suffered from aching knees, which worsened the more he played. Doctors discovered that he had calcium deposits in his knees, a condition he had suffered from since boyhood. But he overcame both a slow start and the injuries to tie Boston outfielder Jackie Jensen for the American League RBI crown at 116, and batted .284. In 1956 he hit .308 with 25 home runs, and again made the All-Star Team, appearing as a pinch-hitter at the game in Griffith Stadium in Washington.
In 1957, new Detroit manager Jack Tighe moved Boone to first base to minimize the wear and tear on his knees, which required regular cortisone injections. The Tigers had acquired Jim Finigan from Kansas City to play third base, and Boone approved of his new position. "I believe I can play more games there," he said. "If my knee acts up later in the season like it did last year, I feel I can stay in the lineup at first base. I couldn't do that at third base."7 But his batting average dropped off to .273 and his RBIs fell to 65.
In 1958, the Tigers added some veterans by bringing in Billy Martin to play shortstop (Kuenn moved to center field) and Boone's former teammate Jim Hegan from Cleveland to help the young pitching staff. Boone started the season manning first base for the Tigers, but finished the year playing the same position for the White Sox. On June 15, 1958, five years to the day after Detroit had traded for Boone, he was sent along with pitcher Bob Shaw to Chicago for outfielder Tito Francona and pitcher Bill Fischer.
Boone performed steadily for the White Sox. His former manager at Cleveland, Al Lopez, inserted him at cleanup as part of a revamped batting order. Shortstop Luis Aparicio was dropped from leadoff to eighth. The leadoff spot and the third position were rotated between third baseman Billy Goodman and center fielder Jim Landis. Second baseman Nellie Fox batting second and catcher Sherm Lollar batting cleanup were for the most part the only constants in the batting order. The White Sox finished in second place, 10 games over .500, but 10 games behind New York. Between Cleveland and Chicago, Boone finished with a .242 average with 61 RBIs.
Relegated to the bench when the 1959 season started, Boone played sparingly in the early weeks. His best day came on April 24 in Cleveland, when he went 2-for-3 with a home run, had two RBIs, and scored a run. He had appeared in only nine games, going 5 for 21 (.238) with one home run and five RBIs, when the White Sox, looking for added power from the left side of the plate, dealt Boone to Kansas City for Harry Simpson on May 2. In spite of rumors that Boone, stilled plagued by his knee problems as well as bursitis, might retire rather than play with the Athletics, after a conversation with White Sox president Bill Veeck, Ray reported to Kansas City. After playing in 61 games for Kansas City and hitting .273, Boone was claimed on waivers in late August by the Milwaukee Braves, who were involved in a tight pennant race with the Los Angeles Dodgers and San Francisco Giants. Appearing mostly as a pinch-hitter, Boone got into only 13 games for Milwaukee in 1959 and in seven more in 1960 before being dealt again, this time to the Boston Red Sox. Released by the Red Sox on September 14 after batting just .205 in 34 games, Boone didn't think he could be of much value to any team given his knee pain, so he decided to retire. He had a lifetime batting average of .275 with 151 home runs and 737 RBIs.
Boone began a second career with the Red Sox, signing on as a scout to work in the San Diego area, a role he fulfilled for more than 30 years. He also served as an extra coach at spring training. He signed many players for the Red Sox, including Curt Schilling, Gary Allenson, Sam Horn, Marty Barrett, Phil Plantier, and Kevin Romine. Even after retiring as a full-time scout, Boone maintained an association with the Red Sox.
Ray Boone died on October 17, 2004, at the age of 81. He suffered a heart attack after being hospitalized after experiencing complications from intestinal surgery. Boone had also suffered from diabetes for many years. He was survived by his wife, Patsy, sons Bob and Rod, and daughter Terry. He also left nine grandchildren and five great-grandchildren.
Boone's memorial service was held on October 24, 2004. At the same time that his family and many friends were paying their last respects, Curt Schilling of the Red Sox was throwing the first pitch to start Game Two of the World Series at Fenway Park. The symbolism was not lost on those who were celebrating Ray Boone's life, for Boone had signed Schilling to his first major-league contract, in 1986 with Boston.
Bret Boone told the gathering at the memorial service, "All the stories I saw referred to (Ray) as the patriarch of the Boone family," Bret told the funeral assembly. "I looked up the word 'patriarch' to see exactly what that meant. It said a patriarch was the father and ruler of the family. That's what Gramps was."8
An earlier version of this biography appeared in SABR's "Go-Go To Glory: The 1959 Chicago White Sox" (ACTA, 2009), edited by Don Zminda.
Notes
1 "Great Grandfather," Sports Illustrated, October 25, 2003.
2 Dan Daniel, "Converted Catcher Subs for Lou at Shortstop, The Sporting News, June 29, 1949.
3 Ed McAuley, "Trade Talks Bring High Henry Nothing But a Battered Ear," The Sporting News, October 15, 1952.
4 Watson Spoelstra, "Aber, Branca Join Hoeft in High Spots in Tiger Hill Plans," The Sporting News, August 26, 1953.
5 Watson Spoelstra, "Tigers First Division Club Since June," The Sporting News, September 23, 1953.
6 "Stengel Calls Ray Boone 'Mr. Clutch' of the Majors," The Sporting News, July 14, 1954.
7 Watson Spoelstra, "Boone Experiment Success, Feels at Home at First Base," The Sporting News, April 10, 1957.
8 Chris Jenkins, "Boones eulogize their patriarch at El Cajon services, San Diego Union-Tribune, October 25, 2004.
Born
July 27, 1923 at San Diego, CA (USA)
Died
October 17, 2004 at San Diego, CA (USA)
If you can help us improve this player's biography, contact us.
http://bioproj.sabr.org/bp_ftp/images5/BooneRay.jpg
600
800
admin
/wp-content/uploads/2020/02/sabr_logo.png
admin
2012-01-04 19:50:07
2012-01-04 19:50:07
Ray Boone