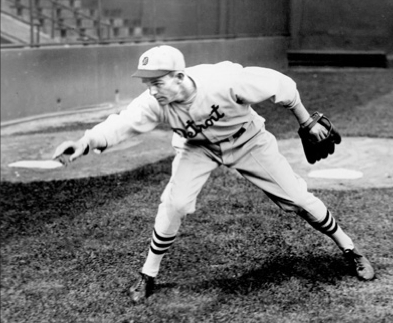 ---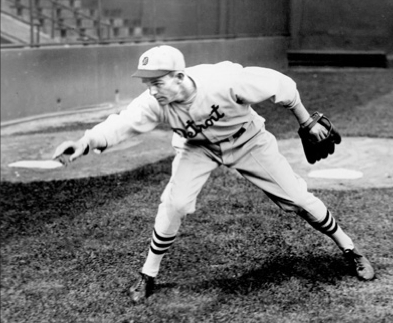 Thomas Jefferson Davis Bridges was born on December 28, 1906, in Gordonsville, Tennessee, 50 miles east of Nashville. Tommy's father and grandfather were doctors, but after pursuing a bachelor's degree at the University of Tennessee for two years, Tommy enrolled in the business school. In those days, major leaguers who attended college for a few years were almost invariably described in later press reports as "graduates" of that college, and this was true of Bridges. But while he did spend four years in Knoxville, starring for the Volunteers on the diamond, he left for professional ball before earning his degree.
In 1929 Tigers scout Billy Doyle signed Bridges to his first pro contract. Pitching that summer for Wheeling in the Class C Middle Atlantic League, Bridges went 10-3 with a 3.14 ERA. In 1930 Bridges moved up to Evansville in the Class B Illinois-Indiana-Iowa League. When the Three-I League finished its schedule, Bridges ranked just 28th in the league with 140 innings … but first in the league with 189 strikeouts. He was 23 by then, and playing a different game than everybody else. Well before Evansville ended its season, the Tigers had summoned Bridges to the majors.
His first outing with the big club came on August 13 against the New York Yankees in the Bronx, and it was a humdinger. According to columnist Sam Murphy, manager Bucky Harris asked Bridges, "Tom, you think you'd be ready to face those fellows the next inning?"
Bridges nodded.
"You know who you're going to face, don't you," said Harris. "Well, Babe Ruth, Gehrig, and Lazzeri are going to come up. It is a hard test."
"I'll be ready," Bridges said.
It all sounds a bit fanciful. But the record does show that in the sixth inning, with the Tigers trailing the Yankees 10-6, Bridges did face those three future Hall of Famers in order. He got Ruth on a pop fly, gave up a single to Lazzeri, struck out Gehrig, and retired Harry Rice to end the inning.
Twelve days later, Bridges made his first major-league start, in Detroit against the St. Louis Browns, and he beat them 7-5 despite walking a dozen batters. Bridges never walked 12 in one game again, but he did struggle with his control. In 1931, he walked 108 in 173 innings; in '32, 119 in 201 innings. So in 1933, Bucky Harris told Bridges to avoid throwing his curveball until he was ahead in the count. As Ralph Cannon later wrote, "It is easier, of course, to control a fast ball, and so by relying more on it—and he has a very good fast ball, too, as well as a good change of pace—Bridges gradually acquired the control that was all he needed to make him a great pitcher."
History is rarely so tidy. Bridges' control did improve in 1933, but he also continued to walk his share of batters. And it was back in '32 that Bridges had pitched the greatest game of his major-league career.
On August 5, pitching against the Washington Senators in Detroit, Bridges sailed through the first eight innings. On the advice of Harris, he relied mainly on his fastball and set down the first 24 Washington hitters in order. Meanwhile, the Tigers were building a huge lead, the score 13-0 after eight innings.
In the ninth inning, Bridges retired the first two Senators. Due next was Bob Burke, a pitcher. Would manager Walter Johnson send up a pinch-hitter for Burke? He did: Dave Harris, a good fastball hitter. Would Bridges continue to rely on his fastball? He did, and Harris lined Bridges' first pitch over shortstop Billy Rogell's head for a clean single. Bridges got the next guy, but the perfect game was gone.
There were people who thought it something less than sporting for Johnson to send up a pinch-hitter with the Senators so far behind. Bridges wasn't having any of it. "I didn't want the perfect game given me on a platter," he said. "I wanted it with the opposition doing its best to keep me from winning."
If Bridges didn't spend a lot of time worrying about the perfect game that wasn't, he did continue to worry about throwing strikes. According to a 1941 article in Baseball Magazine, "Being a college man, Bridges is only moderately superstitious. He carries only one luck piece and that is a constructive item. It contains the story of a ball game he lost to Oglethorpe College while he was pitching for the University of Tennessee. Tommy lost that game on a wild pitch. During the years he was struggling to perfect his control with the Tigers he would occasionally take that yellowed clipping out and look at it. He never again wants to lose a game on a wild pitch."
Bridges pitched two famous games in his career. The first was that nearly perfect game against the Senators. The second was Game Six of the 1935 World Series. Heading into the ninth, the Tigers and the Chicago Cubs were tied, 3-3. Stan Hack led off for Chicago, and drove Bridges' second pitch to the flagpole in Navin Field's deepest center field for a triple. Man on third, nobody out. As Joe Williams wrote in the New York World-Telegram, "The odds were 5 to 1 that at least one run would score. Under the circumstances, what with more than $2,000 riding on every thrown ball, that being the difference between the individual winners' and losers' share, the odds were probably 25 to 1. A passed ball, a wild pitch, an ordinary fly, an infield error—any of these could produce a run."
Billy Jurges came up next. Bridges threw three curveballs. Jurges swung three times and missed three times. One down.
Cubs pitcher Larry French came up next—and yes, manager Charlie Grimm probably should have considered a pinch-hitter, but baseball was different then—and French swung at three straight curveballs, the last resulting in a weak grounder back to Bridges. Two down, and Hack was still standing on third base.
Augie Galan came up next. A ball, a strike, a ball, "and then Galan lifted an easy fly to old Goose Goslin out in left, and to all intents and purposes the series was over."
Not quite. The Tigers still had to score. Which they did, thanks to Goslin's RBI single with two outs in the bottom of the ninth. Bridges missed it. In the locker room after the game, Mickey Cochrane, who'd scored the winning run, asked Bridges, "Boy, did you see that hit Goslin got?"
"No, I didn't," Bridges replied. "I was hunched down in the dressing room tunnel having a smoke. I heard the roar of the crowd when you got a hit and I decided to stay put for the rest of the inning just for luck."
A few minutes later, Cochrane said of Bridges, "Just look at him. That's what I said, just look at him and feel proud you were ever on the same team with him. I can say it only one way, he's 150 pounds of sheer guts." Decades later, old teammate Doc Cramer would say, "Tommy Bridges was 150 pounds of guts."
Baseball players in the 1930s weren't nearly as big as they are today, but even then, few could write about Bridges without mentioning his slight build. In just the first few years of his career, he was described at various weights ranging from 144 pounds to 165 pounds. In 1940 Ed Bang noted of Bridges, "It has been said of him, most of his weight is heart." After the war, Red Smith described Bridges as "a wry-necked, thin-featured old gentleman about as big as 80 cents worth of liver." Back in 1933, Tigers manager Bucky Harris said, "Honestly, he has more sheer courage than any ballplayer I ever saw." In 1939, W.R. Hoeffer wrote in Baseball Magazine":
"Oh, the big and husky hurlers are impressive blokes to view
whenever they get out there fogging hooks and fast ones through.
But when you gotta have that game, with big dough on the line,
it's little Tommy Bridges that I'll take out there for mine."
Thanks to all those guts and curveballs, the Tigers were World Series champs for the first time in franchise history in 1935, and the party in the city's streets and taverns lasted until dawn the next day. As Fred Lieb wrote, "Detroit had a terrible hang-over, but, gosh, it was worth it."
Just a year earlier the Tigers had lost the World Series. Bridges had pitched well in that one, too. He'd been knocked out early in Game Three, but came back in Game Five and pitched a complete game to beat the Cardinals, 3-1. He also pitched an inning in the Tigers' Game Seven blowout loss.
What was the key to Bridges' performance in Game Six of the '35 Series? According to a press release sent out by the Cincinnati Reds, "He had been pitching fast balls all through the game and then, after Hack tripled, he changed to curve ball pitching and no pitcher ever broke sharper curves to three successive batters than Bridges did. For the space of the few minutes that it took him to retire three men he was unhittable by any three batters you can name."
Bridges' decisive Game Six performance merely solidified the reputation of his tremendous curveball, which was generally rated the best in the league, and perhaps the best anyone had seen since Three Finger Brown was pitching for the Cubs back in the Deadball Era.
In 1933 Ralph Cannon wrote, "Hitters say that Bridges has one of the best curves in baseball, a fast, sharp-breaking ball that drops down and out." Also in '33, Jimmy Dykes said, "He has a hook that is a hook, and when he's on his game and can lay it where he wants to, you might as well bring a match up to the plate as a bat. Give Bridges control and he'll curve you right back to the bench." And in 1934, Dan Daniel wrote, "Bridges boasts the best right-hand curve in the American League." Bridges might have thrown what today is sometimes called a "spike curve"; in '33, Ralph Sampson wrote in The Sporting News that Bridges had "an unusual way of gripping the ball in his long, powerful fingers, using mostly the second finger instead of the first two fingers to grip the ball, and gripping it somewhat below the equator."
As great as his curveball was, Bridges was far from a one-pitch pitcher. Contemporary stories about him rarely fail to mention his fastball—in fact, sometimes there's no mention of his curveball at all—and Mickey Cochrane said that Bridges actually won more games with his fastball than his curve. Bridges himself said, "A curve isn't worth a hoot unless they respect your fastball."
Then again, Bridges' curve was often so unhittable that it didn't matter much if the hitters knew it was coming. As Birdie Tebbetts, who caught Bridges for eight seasons, remembered many years later, "Bridges won for 12 years with a curve every hitter knew was coming. He tipped off every curve, but if he got rid of the tip-off, he wouldn't have been able to throw the curve."
And like a lot of pitchers in those days, Bridges had a trick up his sleeve, which was especially useful after he'd lost the good zip on his fastball. Charlie Metro was a teammate of Bridges' with the Tigers in 1943. Nearly 60 years later, Metro recalled,
"Tommy Bridges was in Detroit toward the end of his career. He had an absolutely great curve ball. Every once in a while, I would catch batting practice. Tommy would say, 'Hey, Rook, get that glove.' I'd get the glove, and we start warming up. Without telling me, he'd break off a curve that would drop down and hit me on the toes. Finally he would let me know. Then he'd say, 'Now watch this. You haven't seen this.' And he'd throw me the dangedest spitter you ever saw! That thing would hit me all over. I had a heck of a time catching it. I said, 'When do you throw this?' He said, 'You watch. You just keep watching me. You'll recognize it.' Boy, if he'd get two strikes on a guy and maybe he had just one guy out or maybe this was the deciding hitter in the ball game, here would come that spitter. I never saw how he did it, and I watched him real close."
How Bridges threw his spitball might have been a mystery, but that he threw it wasn't much of a secret around the American League. Paul Richards told a story about catching Bridges one day against the Senators. Richards put down his signal for a curve. Bridges shook him off.Richards put down his signal for a fastball. Bridges shook him off. Richards put down his signal for a changeup. Bridges shook him off.
"Well," Richards thought, "the only thing left is the spitter."
Richards was right, and Bridges struck out Stan Spence with three straight wet ones. Spence flung his bat to the ground, protesting to umpire Bill Summers. Senators manager Ossie Bluege came out and joined the fray. After a bit of that, Bluege, Spence, Richards, and Summers all trooped out to the scene of the supposed crime.
"Tommy," Summers said, "these gentlemen say you've been throwing spitters."
"Why, Mr. Summers," Bridges said, "don't you know the spitter has been outlawed for years? How would I ever learn to throw one?"
Thus assured, the various actors headed back to their assigned places. Before they got far, though, Bridges put his glove next to his mouth and addressed Summers in a stage whisper: "Hey, Bill. Wasn't that last one a sweetheart, though?"
A workhorse from 1934 through '37, Bridges would never make 30 starts or pitch 200 innings in a season after that. He could still pitch, though, and feasted on the American League's war-depleted ranks in 1942 and '43, posting the lowest ERAs of his entire career. In both seasons (and also in 1941) he made exactly 22 starts, essentially starting once per week.
While Bridges might not have been durable enough to take his turn in the rotation every four or five days, he was healthy enough for Uncle Sam. In November of 1943, Bridges was inducted into the US Army and reported for duty at Fort Sheridan, Illinois. "I'm ready to go wherever the Army thinks I can be most useful," he said.
That turned out to be Camp Crowder, Missouri, where Bridges did a lot of pitching. He was discharged in late August 1945, and just a few days later started for the Tigers against the White Sox. He got the victory but didn't pitch all that well, and pitched only three more times, all in relief, the rest of the season. He also pitched a couple of innings in the World Series, with the Tigers topping the Cubs in seven games.
In 1946, with so many younger players finally back from the service, Bridges signed on with the Tigers as a coach. Or at least that was the plan. A couple of months before the season started, Bridges asked to be dropped as a coach and added as a player. Manager Steve O'Neill said, "I'll use him as a spot pitcher. Tommy needs only seven more victories to break into the 200 victory class. He thinks he can make it, and so do I."
Said Bridges, "I'm a cinch to do it."
He didn't. He won just once all season, in the second game of an early-May doubleheader, and he lost once (at Fenway Park just three days earlier, when Ted Williams homered in the bottom of the tenth inning). On September 16, having worked in only nine games all season, Bridges drew his release.
Like a lot of star pitchers in those days, Bridges went to the minors. In 1947, Bridges hooked up with the Pacific Coast League's Portland Beavers, and in his first start he pitched a two-hitter. Afterward, manager Jim Turner said, "My intention is to use Bridges as our 'Sunday pitcher,' much as the Chicago White Sox used Ted Lyons so effectively for many years."
Turner had his man. And on April 20, Tommy Bridges finally got his no-hitter. It was his first start in Portland, with the San Francisco Seals visiting. Bridges would allow just one baserunner, walking Bones Sanders in the eighth. Just like in 1933, Bridges faced a pinch-hitter with two outs in the ninth … but this time the pinchhitter, Sal Taormina, tapped a grounder to the first baseman, and Bridges had the honor of recording the last out. After the game, Turner said, "In 24 years of professional baseball, and starting on my 25th, Tommy Bridges' no-run, no-hitter Sunday was the best pitched game I have ever seen. Not one of the best—the best of all, by far. … I saw Vander Meer of Cincinnati shut out our Boston club in '38, the first of his two consecutive no-run no-hitters and 21 no-hit innings … and it didn't compare with Tommy's game. … I said when we signed Tommy Bridges I felt sure he was still a major league pitcher, and repeated it emphatically after his first game in Los Angeles. Now let me add that Tommy could still take his pitching turn with any club in either major league and win his 15 games a season."
Maybe he could have. But he never got the chance. Injuries limited Bridges to only 13 appearances with the Beavers in '47. Healthy in '48, Bridges went 15-11 with a 2.86 ERA, fourth-best in the league. In 2003 Charlie Silvera, Portland's primary catcher in 1947 and '48, told me that Bridges could have returned to the majors in '48 … with the Yankees:
"Back in 1948, Portland had a partial agreement with the Yankees. The Yankees were in a pennant race in '48, and in Portland we had a chance to get into the playoffs. Tommy missed his assignment, and I went to Turner and I said, 'Jim, what's wrong with Tommy?'
" 'Well,' he says, 'I'll tell you what happened. The Yankees want to bring him back for the stretch drive, for the last month or so. Tommy's been thinking about it, and I'm going to hold him out one more day and he's going to give me his decision.' And Tommy decided not to go.
"But Tommy still had great stuff. Still had the great curveball. He was a little erratic at that time, though, and his fastball was erratic. I don't think he could see. Of all the pitchers I caught, Tommy Bridges crossed me up more than anybody else. I'd go out there sometimes and look at him, and I'd doubt where he could see. I think that's one of the reasons that he didn't want to go back."
So Bridges stayed in Portland, and in '49 he pitched again for the Beavers. He was 42 years old and went 11-11 with a 3.82 ERA. Late that season, a number of PCL players were asked about "their toughest things in baseball." Bridges' answer: "Trying to throw the same stuff as I did ten years ago."
Bridges pitched again in 1950, but washed out after brief trials with both Seattle and San Francisco. The rest of his life seems to have been a trial. And probably for a few years before that, as well. Elden Auker wrote in his memoir, "Tommy and I roomed together on the road for six years with the Tigers. I didn't see Tommy have a drop to drink in those six years. The bottle found him after we went our separate ways, and it never let go."
In 1930, Bridges married college sweetheart Carolyn Jellicorse. Five years later, Carolyn gave birth to daughter Evelyn, the couple's only child. "But in 1948," according to one account, "the booze and another woman threw his life into a tailspin and his marriage fell apart." According to Auker—a granted, he heard this secondhand from Charlie Gehringer—Bridges' drinking problem began in 1939, when he began rooming with Al Benton. "Gehringer told me that they didn't even come downstairs for dinner. They drank their meals."
In 1950 Bridges married the other woman. At some point, the couple moved to Detroit. That's where erstwhile Tigers shortstop Billy Rogell, by then a city councilman, came across his old teammate …
"When I'd drive down to council meetings, I'd go down First Street. That was a one-way street. There was a sporting goods shop. One day, as I was crossing Michigan Avenue, I noticed this guy lying by this store. I drove about two stores down and I thought, 'Goddamn, that looked like Bridges.' So I backed the car up and got out and sure enough, it's Tommy Bridges. Jesus Christ, he looked horrible.
"So I took him over to City Hall, the old one, and got him cleaned up. Got him some coffee to drink, took him out to breakfast, talked to him. I said, 'Tom, where the hell do you live? I didn't know you were in Detroit.' He says, 'I live in Toledo.' See, he'd gotten divorced from his wife and married this waitress he'd met in Seattle or some damned place. The husband was after him to kill him and all that crap. He came to Detroit looking for a job."
Rogell got Bridges a job selling beer for a local brewery. Maybe not the best position for a fellow down on his luck. A few days later, someone called from the brewery: "Where the hell's Tommy?"
As Rogell recalled, "Well, how the hell do I know where Bridges is? He never showed up. He went way down. It was terrible to see that. But nice guys go, too, you know."
Auker tried to help Bridges, too. When Bridges knocked on Auker's door one evening and asked for $125 to buy some new clothes and "get straightened away" for a job interview, Auker gave it to him, with the stipulation that if Bridges could go for six months without a drink, the loan would be forgiven.
The next morning, Bridges was found on his front lawn, passed out. He'd cashed Auker's check at a local tavern, and drank the money away.
It's not clear when these incidents occurred. Probably in the 1950s. From 1958 through '60, Bridges worked for the Tigers as a scout and minor-league pitching coach, and he scouted for the Mets from 1963 until his death. During offseasons, he reportedly sold tires in Detroit and Lakeland, Florida.
In 1967 Bridges was diagnosed with liver cancer. He and his second wife moved from Lakeland to Nashville, and he died there in April 1968.
This biography is included in the book "Detroit the Unconquerable: The 1935 World Champion Tigers" (SABR, 2014), edited by Scott Ferkovich.
Author's note
This article is a revised version of an article originally published in The Neyer/James Guide to Pitchers (Fireside, 2004). For sources, I relied on a large number of newspaper clippings from Bridges' file at the National Baseball Hall of Fame Library. Other key sources include Richard Bak's Cobb Would Have Caught It (Detroit: Wayne State University Press, 1993), Elden Auker's Sleeper Cars and Flannel Uniforms (Chicago: Triumph Books, 2001), Portland newspapers in 1947, and the periodical Pacific Coast League Baseball News from the late 1940s. Ken Beck's 2011 article in the Wilson (Tennessee) Post was the primary source of information about Bridges' family and his life after leaving the major leagues.
Full Name
Thomas Jefferson Davis Bridges
Born
December 28, 1906 at Gordonsville, TN (USA)
Died
April 19, 1968 at Nashville, TN (USA)
If you can help us improve this player's biography, contact us.
http://sabr.org/sites/default/files/Bridges-Tommy.png
600
800
admin
/wp-content/uploads/2020/02/sabr_logo.png
admin
2012-01-04 20:49:43
2022-05-17 11:09:54
Tommy Bridges