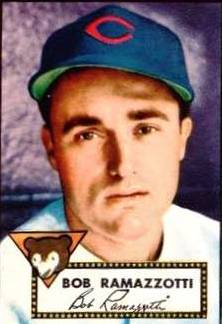 ---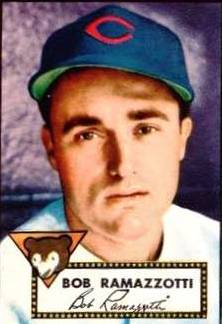 Some major league players are blessed with good fortune. Their talents are discovered early, they remain relatively healthy throughout their careers, and they always seem to be in the right place at the right time. Bob Ramazzotti was not one of those guys. His career began late, was interrupted by war, and was stifled by a mind-boggling string of serious injuries, one of which almost ended his life. But Ramazzotti, though not particularly lucky, was well stocked with courage and grit, which he used to defy the fates and carve out a respectable seven-year major league career.
Robert Louis Ramazzotti, the son of Italian immigrants, was born January 16, 1917 in Eleanora, Pennsylvania. The Ramazzotti family-father Paolo, mother Madalena, three boys, and three girls-lived in Altoona, a grimy industrial city nestled in the mountains of central Pennsylvania, about 100 miles east of Pittsburgh. Like so many other men living in Altoona in the early 20th century, Paolo Ramazzotti supported his family by working for the Pennsylvania Railroad, which at its peak employed about 15,000 people at its massive complex of shops in Altoona.
Bob Ramazzotti graduated from Altoona High School in 1936-not an insignificant accomplishment during the depths of the Great Depression, when many young people had to drop out of school to help their families make ends meet. Altoona High did not offer a varsity baseball program, but Ramazzotti was active in intramural sports, winning his school's 135-pound boxing championship as a senior. Shortly after graduation, he began making a name for himself as a shortstop on the sandlots of Altoona and Midland, Maryland. By 1939, major league teams had Ramazzotti in their sights, but he wasn't about to sell himself short. The Altoona Mirror reported that Ramazzotti "won't move out of the city unless he is sure to get enough to pay for board and room and some cash left over." Early in 1939, the Pirates invited Ramazzotti to Pittsburgh for a workout. They were impressed enough to offer him a contract, but he didn't like the money, so he jumped on the train and went back home. Later that summer he spurned the Pennsylvania State Association's Johnstown Johnnies, Class D affiliate of the Philadelphia Phillies. The next suitor in line was the Brooklyn Dodgers. On August 2, Dodgers' coach Bill Killefer left the team to come to Altoona and have a first-hand look at the player the New York Times called, "an embryonic Honus Wagner." With Killefer in the stands the next evening, Ramazzotti went 1-for-2 and scored a run for his Columbia Park team in the Altoona City League. Killefer was impressed, declaring Ramazzotti "well worth observation." Ramazzotti finished that season with a .381 batting average, leading Columbia Park to the regular season title. Trailing one game to none in the league's championship series, the Columbia Park manager, apoplectic over an umpire's call, ordered his team from their field and forfeited the rest of the series. On that weird note, Ramazzotti left behind his sandlot days and signed with the Dodgers, who assigned him, ironically, to Johnstown, which became a Brooklyn affiliate over the winter.
Ramazzotti made a remarkable professional debut on May 10, 1940. In front of a lively Johnstown crowd that included Branch Rickey Jr., the Dodgers' director of minor league operations, Ramazzotti blasted a grand slam to help the Johnnies over McKeesport, 15-8. Although he was erratic with the glove at shortstop, the 23-year-old Ramazzotti dominated Class D pitching all season. Manager Bill Sample quickly moved Ramazzotti from seventh in the batting order to second, and later to leadoff. He even hit in the number three hole for a time. The Johnstown Tribune Democrat, in a fit of hyperbole, compared Ramazzotti favorably to future Hall of Fame shortstop Joe Cronin, who had played minor league ball in Johnstown 15 years earlier. That was an unfair comparison-Cronin was only 18 years old when he played in Johnstown. Ramazzotti was no Cronin. Nor was he an "embryonic Wagner" as the New York Times had suggested. But, make no mistake, his first year in pro ball was impressive. His 143 hits and 30 doubles were tops in the league. He batted .306 with 11 home runs, 71 RBIs, and 23 stolen bases in 109 games. A reporter for Butler Eagle, hometown newspaper of the league's Butler, PA club, made a case for Ramazzotti as the league's best player. He was a unanimous selection to the Pennsylvania State Association all-star team at shortstop. After Johnstown's defeat in the playoffs, the Dodgers rewarded Ramazzotti with a brief call-up to the big league club, although he didn't see any action with Brooklyn. It was a great year for Ramazzotti all the way around-he also met his future wife, Johnstown native Jean Levy, whom he would marry in 1947.
Ramazzotti leapfrogged to Durham of the Class B Piedmont League in 1941. He also shifted to a new position, third base. His numbers were down across the board, although he was still a solid contributor for the Bulls, who swept Greensboro four games to none in the league championship series. In a league-leading 140 games (the most he would ever play in a single season) Ramazzotti batted .264 with one home run and 49 RBIs. He again swiped 23 bases. Other than the stolen bases, those stats seem rather pedestrian, but people around the league were impressed. The league's managers and writers named Ramazzotti the third baseman on their respective all-star teams.
The Dodgers had Ramazzotti on a fast track to the majors, assigning him to Montreal of the Class Triple-A International League for the 1942 season. But Uncle Sam had other plans. In the spring of '42, Ramazzotti, along with legions of other young Americans, headed off to fight in World War II. He would serve as a staff sergeant in the Army's 71st infantry division in Central Europe and the Rhineland from 1942 to1945. That time in the service robbed Ramazzotti of what probably would have been his peak years as an athlete.
In the spring of 1946, the 29-year-old Ramazzotti appeared destined to pick up his career where he had left off. His contract was again assigned to Montreal. But just before the season opener, Dodgers' third baseman Cookie Lavagetto went on the shelf with bone chips in his elbow. On Opening Day Dodgers president Branch Rickey announced that the team, needing infield insurance, had purchased Ramazzotti from Montreal. He made his major league debut two days later, on April 20, 1946, appearing as a pinch runner in Brooklyn's 9-8 win over the New York Giants. As a rookie (and a rusty one at that, just having returned from the war), Ramazzotti saw very little action in 1946. With the season almost half over, he had only four hits in 28 at-bats. Then in mid-July in St. Louis, in the heat of a pennant race and with starting second baseman Eddie Stanky nursing a bad back, manager Leo Durocher wrote Ramazzotti's name into the lineup. The rookie responded brilliantly, going 9-for-16 in the four game series, and raising his batting average to .295. He also accepted 26 chances at second base without an error. Stanky was feeling better when the Dodgers moved on to Cincinnati, so Durocher, hoping to ride a hot bat as long as possible, moved Ramazzotti to third base and kept him in the lineup for the next 16 games. Third base was a revolving door for the Dodgers in '46, so it was a great opportunity for a young player to establish himself, but Ramazzotti cooled off dramatically after his sensational series in St. Louis. By early August, Ramazzotti was back on the bench and would see only token action the rest of the season as the Dodgers lost the National League pennant to the Cardinals by two games. He ended his rookie season with a .208 batting average in 120 at-bats.
One special moment for Ramazzotti occurred August 20 at Pittsburgh's Forbes Field. An estimated 500 fans from Altoona made the 2 1/2 hour drive to honor their hometown hero. The Altoona City League postponed its games so that its players, many of whom had competed against Ramazzotti almost a decade earlier, could make the trip. On the field before the game, members of an Altoona American Legion post presented Ramazzotti with a $50 savings bond, a Gladstone luggage bag, and an Elgin watch. The game that night was a dud; the Pirates blasted the Dodgers, 10-0. But Ramazzotti entered the game at second base in the fifth inning and singled in two at bats-one of only four Brooklyn hits.
With Arky Vaughan returning from his four-year-long retirement and Spider Jorgensen staking a firm claim on the third base job, Ramazzotti found himself out of Brooklyn's infield mix in 1947. Instead, he ended up in St. Paul, with the Dodgers' American Association affiliate. (Also making his St. Paul debut in '47 was future multi-sport standout Charlie Brown. Charles Schultz began drawing a comic strip called Li'l Folks for the St. Paul Pioneer Press that year. The strip, of course, would eventually morph into Peanuts). With his new bride ill back home in Pennsylvania, Ramazzotti missed a significant amount of spring training, so perhaps it was no surprise that he got off to a slow start with the Saints, hitting just .147 through the first eight games. But by May he had lifted his average to near .300, was leading the league in stolen bases, and was drawing rave reviews for his strong arm at shortstop. Ramazzotti missed almost a month with a chip fracture of his wrist after being hit by a pitch on May 31, but he continued to swing the bat well upon his return to the lineup. On Thursday, August 7, his average stood at .305. The right-handed hitting Ramazzotti took full advantage of the cozy dimensions of St. Paul's Lexington Park (315 feet to left field) to blast a career-high 13 home runs, along with 44 RBIs. Despite having missed almost a month of action, he was tied for the team lead with 67 runs scored and had stolen 18 bases. But on that evening, Ramazzotti's season would come to an abrupt end.
St. Paul was playing on the road against the Columbus Redbirds. Ramazzotti stepped in to hit against former Red Sox right-hander Otey Clark, who came up and in with a fastball that Ramazzotti didn't pick up right away. "It was a big field and the lights weren't anything like they are today," Ramazzotti recalled years later. "I saw the ball and tried to turn, but the ball hit me flat in the left temple." He was severely injured with a triple fracture of the skull. Redbirds' team doctor Frank Wilson attended to Ramazzotti on the field for 20 minutes while they waited for an ambulance. By Friday evening doctors at Columbus' White Cross Hospital were listing Ramazzotti in serious condition, but they believed he was out of danger. However, by Saturday, he had taken a turn for the worse. A blood clot had formed in his brain. After consulting with his wife Jean, who had rushed to Columbus to be by her husband's side, Ramazzotti's team of three physicians (including two brain specialists) decided to operate to remove the clot and alleviate the pressure on his brain. "What I didn't know was how grave his condition was," Jean said. "The doctors didn't tell me until after the operation. It really was a matter of life and death." The surgery was successful. By Tuesday, the St. Paul Pioneer Press was reporting that Ramazzotti was showing "marked improvement."
Obviously, Ramazzotti's season was over. In fact, his baseball career was up in the air. "No worse luck could have overtaken the club than to lose Ramazzotti," wrote Pioneer Press sports editor Joe Hennessey. In addition to his performance on the field, Ramazzotti was, according to Hennessey, a quietly positive influence in the clubhouse. "On a team that had more than one griper…Ramazzotti never had a beef."
Ramazzotti would remain hospitalized for about two weeks. On August 19, Jean Ramazzotti drove to St. Paul to visit with the other wives and provide an update on her husband's condition. "Bob is coming along fine now. Just the other day he lit one of those vile smelling Philadelphia stogies, so I know he's all right. His only complaint is that they shaved his head. But he's well enough to play gin rummy now." Although he was improving and his memory had returned, he wasn't back to 100 percent yet. "The only trouble remaining is that he still has a little difficulty in talking," Jean said. "But his mind is very clear." The Saints proclaimed the August 28 game against Kansas City "Bob Ramazzotti Night," and encouraged fans to drop off cards and gifts at Lexington Park. After driving back home to Altoona with his wife, Ramazzotti sent a letter to Hennessey, asking him to tell readers of the Pioneer Press that he was "almost completely well" and to extend his thanks for the "wonderful cards and well wishes." Ramazzotti would be forced to return to Columbus for another round of surgery in January when a blood clot re-formed in his brain. At that time, surgeons drilled a hole in Ramazzotti's skull to relieve the pressure and filled the hole with a metal plate the size of a silver dollar. He would carry the plate in his head for the rest of his life.
Less than two months after that second operation, Ramazzotti was back with the Dodgers as they sweated through spring training in the Dominican Republic. "We all admire him for his raw courage," said Dodgers' coach Burt Shotton, who would take over as manager in July. Ramazzotti was optimistic that he could make a complete comeback, free of any lingering physical or emotional effects from his beaning. "At the time I didn't think [it would affect my career] but evidently it did as I look back," he later recalled. "I guess it might have had an effect on my hitting. You tend to shy away. In the back of your mind you guess it might happen again." If he was feeling gun-shy at the plate, it wasn't apparent in 1948. Ramazzotti made the big league team out of spring training, but spent most of his time on the bench until he was returned to St. Paul in May. Optioned to the Saints at the same time was Roy Campanella, who became the first black man to play in the American Association. With Saints shortstop Buddy Hicks in the top ten in the league in batting, Ramazzotti was plugged in as the starting third baseman. He marked his return to Lexington Park with a single, triple, and homer in an 11-6 Memorial Day victory over Minneapolis. However, his comeback was put on hold on June 6, when he suffered a severely sprained hand while sliding. He was off to a hot .333 start for St. Paul, whose manager Walter Alston lamented, "We've had a few tough breaks this year [but] losing Bob Ramazzotti from four to six weeks is the toughest yet." Out until late July, Ramazzotti slumped upon his return but picked it up again late in the year, providing a valuable spark down the stretch as St. Paul breezed into the American Association playoffs. In just 47 regular season games, he hit .286 with five homers and 30 RBIs. He continued to hit in the playoffs, hitting .280 (7 for 25) and scoring seven runs in a semifinal series victory over Indianapolis. In the first game of the finals against Columbus, he belted a 3-run homer off Harvey Haddix to lead the Saints to victory. He hit .310 (9 for 29) for the series as the Saints won the American Association crown in seven games. Ramazzotti wouldn't fare as well in the Junior World Series against the International League champion, fellow Dodgers' affiliate Montreal. Thanks to a sore back, Ramazzotti was limited to one appearance as a pinch runner over the first three games. Then upon returning to the lineup in Game Four, he committed a crucial error that opened the door for a five-run inning that sealed St. Paul's fate. Montreal took the best-of-seven series in five games, as Ramazzotti went 1-for-9 at the plate.
Despite having established himself at the Triple-A level, the 32-year-old Ramazzotti remained a spare part in the Dodgers' organization. Brooklyn was rich in middle infielders and third basemen, and with his age and injury history Ramazzotti was no longer a high-ceiling prospect. However, the Chicago Cubs, coming off a last place finish in 1948, needed help wherever they could find it. They openly coveted a trio of Dodger infielders-Ramazzotti, Hicks, and Eddie Miksis-but Brooklyn drove a hard bargain. "That club always wants players at the $10,000 waiver price," claimed Shotton. "We haven't got that kind. They're going to have to come up with their prices if they want our boys." Ramazzotti again made the Brooklyn roster coming out of spring training, but again languished on the bench in the early weeks of the season. In the ninth inning of a game against the Pirates on May 11, he deposited a Bill Werle pitch into the lower left field stands at Ebbets Field for his first major league home run. But less than a week later, on May 16, the Dodgers and Cubs finally pulled off a trade, sending Ramazzotti to Chicago in exchange for infielder Hank Schenz and $25,000.
The press was critical of the Cubs for making the trade. Indeed, Schenz and Ramazzotti were players of comparable skills, so it seemed curious that the Cubs would throw in $25,000 to sweeten the pot. (For the record, Schenz would never play a game for Brooklyn, and would be sold to the Pirates following the season). Ramazzotti's early pratfalls in Chicago heightened the criticism. He made his Cubs debut, ironically, against the Dodgers on May 18, replacing Gene Mauch at shortstop and going 0-for-2 as the Cubs fell 8-5 in 11 innings. That was appropriate foreshadowing for what would be a terrible rest of the season for Ramazzotti and the Cubs. He went hitless in his first 15 at-bats as a Cub, finally scratching out a couple of hits on June 10. Four days later, Frankie Frisch would replace popular Charlie Grimm as Cubs manager. In August, Frisch moved Andy Pafko to center field and put Ramazzotti in the lineup at third base. For a brief time, Frisch even batted Ramazzotti third in the order in front of slugger Hank Sauer, presumably so that Ramazzotti would get some good pitches to hit. But nothing worked, as Ramazzotti ended the season with a .177 average and the Cubs slogged to their second consecutive last place finish. Meanwhile, Ramazzotti's ex-teammates in Brooklyn were winning the National League pennant. One of the few bright spots was Ramazzotti's nine stolen bases-including a straight steal of home off Werle and Pirates in September-which was good enough for ninth in the National League.
The mid-season managerial switch from Grimm to Frisch must have been jarring. "Jolly Cholly," as his nickname would suggest, was an extremely nice man, popular with fans, players, and the media. Frisch, on the other hand, was volcanic, ready to spew a pyroclastic flow of obscenities at a moment's notice. In Wrigleyville, longtime Cub Phil Cavarretta told author Peter Golenbock, "He was tough to play for. We were a young club and you'd have a meeting before every series, go over the hitters, and some of the meetings we had, and some of the language he used-I used to watch the young players, Bill Serena, Roy Smalley, Bob Ramazzotti, Ransom Jackson, man, they were all quivering at the language he would use…Jesus, these kids were scared."
Frisch planted Ramazzotti firmly on the bench at the start of the 1950 season. He had only four at-bats through the first 25 games, usually only seeing the light of day for an occasional pinch-running cameo. But from May 23-25, with rookies Bill Serena and Randy Jackson struggling at third base, Frisch gave Ramazzotti a shot, starting him at third for a three game series against Brooklyn. For a guy who had been moldering on the bench for a month, Ramazzotti held his own at the plate, going 4-for-13. But his three errors-one in each game-were enough to send him back to the pines for a while.
Again in early June, Frisch's impatience with a young player-Wayne Terwilliger, this time-afforded Ramazzotti another opportunity, this one at second base. Ramazzotti, batting leadoff, provided the Cubs' offense with an unexpected jolt. On June 29, after three weeks as the Cubs everyday second baseman, Ramazzotti was batting .303. He also had hit his second career home run, a shot off former Dodger teammate Ralph Branca on June 13. The Cubs, meanwhile, were hanging around the fringes of the pennant race. At the end of June they were 31-30 and only 4 1/2 games back of St. Louis and Philadelphia.
However, bad luck rubbed out Ramazzotti's chance for a breakthrough season. On July 2, with the Cubs leading Cincinnati 12-0, the Reds' Eddie Erautt slid into second base and spiked Ramazzotti on the left forearm. Ramazzotti left the game, took 11 stitches to his arm, and was out of the starting lineup for the next two weeks-a stretch in which Chicago lost eight out of 10 games and fell out of the pennant race. Ramazzotti was back for only a few days when, on June 19, he injured his knee while attempting to turn a double play against the Boston Braves. He was disabled for almost a month, and even after he returned there was no room for him in the lineup, what with Serena and Terwilliger both having gotten themselves together. The end of Ramazzotti's season was much like the beginning-the occasional pinch-running or defensive appearance and not much else. He wrapped up with an average of .262 in 61 games; and Chicago escaped the cellar, beating out the Pirates for seventh place.
The 1951 season was another train wreck for the Cubs. Things started slipping off track on Opening Day when shortstop Roy Smalley, who had belted 21 home runs in 1950, broke his ankle. Frisch passed over Ramazzotti and instead plugged the hole with 22-year-old Jack Cusick, a Rule V draftee from the Yankees who proved to be completely overmatched by major league pitching. Chicago again played competitive baseball for the first month or so, but then began their annual freefall into the second division. Not even the July return of a hobbling Smalley helped. As the losses piled up, the ultra-competitive Frisch started becoming unglued. He was ejected four times during one July road trip-including three games in a row-with the last banishment coming on July 20. The next day, Frisch abruptly resigned, and the Cubs replaced him with Cavarretta, who promised a change in attitude in the clubhouse. "You can't cuss and rant and rave at players anymore like you used to," he asserted.
Ramazzotti played little during the first half of 1951, but on July 18, near the end of Frisch's personal implosion, Cusick injured his ankle, leaving Ramazzotti as the only able-bodied shortstop on the roster (Smalley was playing as much as he could, but his ankle was still a problem). The Cubs' newly minted manager gave Ramazzotti a vote of confidence. "Roy Smalley is ready to play, but for the moment we'll keep Ramazzotti in the lineup," promised Cavarretta. "I like his spirit. He gives 100 percent all the time. He is alive and he is trying hard to win."
The managerial change, like most managerial changes, didn't help. In fact, Chicago played worse under Cavarretta than it had under Frisch. They went 27-47 for their new skipper, finishing in last place for the third time in four years. Ramazzotti started at shortstop for much of the final 2 1/2 months of the season. His play was unremarkable-a .247 average with one home run and 15 RBI's-but he was a significant improvement over Cusick, if nothing else.
During spring training in Mesa, Arizona, in 1952, the 35-year-old Ramazzotti was looking like the odd man out of Chicago's infield mix. Smalley was completely healthy again, and Cavarretta reportedly was leaning toward keeping Bill Serena and rookie Bud Hardin as his utility infielders. But Hardin came up with a sore arm, so Ramazzotti gained a reprieve and headed east with the team. That was a lucky break for Ramazzotti-and, as it so happened, for the Cubs. On Opening Day in Cincinnati, Eddie Miksis doubled in the third inning, but injured his leg in the process. On came Ramazzotti to run for him. Pitcher Herm Wehmeier wheeled and fired a pickoff throw to second, striking Ramazzotti in the back of the head. Cavarretta and the Cubs' trainer, aware of the skull fracture Ramazzotti had suffered five years earlier, rushed out to make sure he was all right. He stayed in the game but was a little bit woozy, and was lifted after committing an error in the bottom of the inning. Two days later Ramazzotti was feeling better, starting at second base in place of Miksis, and about to begin the most impressive stretch of his major league career. With Ramazzotti, Frank Baumholtz, Toby Atwell, and Hank Sauer (who would be named National League Most Valuable Player) enjoying career years at the plate and Bob Rush doing likewise on the mound, the Cubs rocketed to a shocking 34-19 start, and found themselves just four games out of first place. Through 14 games, Ramazzotti was batting .333 and leading the team with 13 runs scored. He cooled off a little bit, but by early June he was still hitting .289 and hovering around the top 20 in the league in batting average. Fans were taking note-Ramazzotti was in sixth place among second basemen (albeit miles behind Jackie Robinson) in voting for the National League All-Star team.
But that's when the bad luck that always seemed to be lurking in Ramazzotti's shadow emerged again. He injured his right knee in a game against Brooklyn on June 2. At first, Chicago's medical staff didn't think much of it-they thought he would be back on the field in about a week. In reality, it was two weeks before Ramazzotti came back, and even then his knee was still giving him problems. He played in a handful of games in mid-June, went 2-for-16, and then went back on the shelf. In the meantime, the Cubs were suffering through the June swoon with which their fans had become all too familiar. Gene Hermanski fell into a dreadful slump, Baumholtz, who was hitting .321, had his hand broken by a Warren Spahn fastball, and the resulting nine-game losing streak dropped the Cubs 10 1/2 games behind the first-place Dodgers. Ramazzotti returned to the lineup on July 12, following the All-Star break, and the next day went 3-for-4 in the first game of a doubleheader against Philadelphia. But the knee gave out on him again, and this time he was done for good. Doctors diagnosed him with torn cartilage in the knee and placed his leg in a cast the next day. They thought a month of rest might do the trick, but Ramazzotti had to undergo season-ending surgery in early September. Nineteen fifty-two was by far the best season of his major league career. He hit .284 with an on-base percentage of .338, which was nearly 50 points higher than his next-best seasonal mark. He was solid defensively, too-statistically, about average for National League second basemen. And it didn't turn out to be that bad of a year for the Cubs, either. They finished 77-77, the only season from 1947-1962 that they would reach .500.
Nineteen fifty-three was a lost year for Ramazzotti. Injuries (including a double fracture of the finger) limited him to just 26 games and a .154 batting average. Late in the season, he must have sensed that his time in Chicago was drawing to a close. The Cubs' middle infield of the future had just arrived, in the persons of Gene Baker and Ernie Banks-the first two black players to wear the club's uniforms. The Cubs wanted Baker, an all-star shortstop in Pacific Coast League, to switch to second base so that he could play alongside Banks. Ramazzotti worked unselfishly with Baker, teaching him the fine points of the position. At the end of the season, the Cubs dropped Ramazzotti from their roster and sold his contract to Triple-A Los Angeles. Over the winter, he bounced to the Cincinnati Reds' organization, beginning the 1954 season with the Havana Sugar Kings, a new entry in the International League. He was Havana's starting second baseman on Opening Day, playing in front of a raucous home crowd. But he played in just nine games, hitting .207, before the injury bug struck again. In June-37 years old, his body falling apart, and with his chances of returning to the major leagues looking remote-Ramazzotti announced his retirement. His daughter, Nancy Harris, joked, "I think he wanted to get out while he could still walk." He ended with a career major league batting average of .230.
In 1953, The Sporting News polled more than 100 baseball writers in hopes of providing fans with an inside look at the abilities, personalities and habits of major league players. The writers were asked to rank players in 44 different categories ranging from the typical ("most feared batter in the clutch" and "fastest runner") to the personal ("least generous" and "worst dressed") to the downright odd ("best pinball player," "seen most movies," and "best dancer"). Among Cubs players, Ramazzotti was voted "most serious minded," "best student of the game" and "least talkative." The survey pegged him pretty well. Any newspaper reporter describing Ramazzotti was obliged to mention how quiet he was; Irving Vaughn of the Chicago Tribune called him "Bob the Silent." Like many introverted people, Ramazzotti could come across as cold and austere at times. According to Harris, "He was very distant. I remember the very first time I can actually remember him showing any affection was the first time I came home after I went away to college. He hugged me and I almost fainted!" But most people seemed to find Ramazzotti's shyness kind of endearing. The wife of teammate Roy Smalley said that with the exception of her husband, Ramazzotti was her favorite player. "There is nobody I would rather see get a hit than Bob because he's a grand little guy," she told the Chicago Sun Times. "He plays wherever they want him to and he never complains." National League umpire Augie Donatelli said, "There's always one thing I remember about [Ramazzotti]. He was a perfect gentleman at all times. He never gave anybody any trouble." His only apparent vice was those stogies. Randy Jackson remembered, "He was a wonderful guy, but he smoked Italian cigars that just curled your hair." Jackson and Ramazzotti roomed together on the road for a while, but those arrangements didn't last long. "I didn't smoke," said Jackson, "so I told him he'd have to get someone else."
After his retirement, Ramazzotti moved back to Altoona and tried to latch on as a scout with a major league team. According to Bob Ramazzotti Jr., "A lot of letters were sent out, but nothing came of it." However, Ramazzotti kept his hand in baseball by helping out with various youth league teams off and on through the early 1970s. Jim Lane, longtime sports editor at the Altoona Mirror, played for Ramazzotti as a teenager and said Ramazzotti commanded instant respect. "We were kind of always enamored with the guy. When he came back to coach our team we couldn't actually believe that here was a major leaguer who was coming back and helping to coach our team." Lane said Ramazzotti had a knack for teaching. "He obviously knew the game, and he was a guy who never hollered at you. He was real patient," Lane remembered. "He had played in the big leagues and here he was working with kids who were 16, 17 years old. I think sometimes you see guys who have played professional ball-no matter the sport-and it's tough for them to relate to young kids because they're used to the highest level. But he was a guy who related really well to the young kids." Dan Milliron, who played for Ramazzotti in the 1970s, agreed. "He never told us he had been a major leaguer, but we knew it," said Milliron. "I learned more fundamental baseball that year than I ever did. He took us to another level. I always had great respect for him. All the guys did."
Ramazzotti, who studied radio and television engineering during the offseason when he was a player, spent most of his post-baseball working life at SKF Industries, a Swedish ball bearing manufacturer that had a plant in Altoona. He worked there as an inspector, retiring in 1979 after 20 years of service. At various other times he operated (with his wife) a sandwich shop called "Bob and Jean's" (he and Jean split up in the 1970s), managed a beer distributorship, pitched in at his brother Paul's billiards supply shop, and worked as a night manager at a bowling alley.
In fact, bowling was one of Ramazzotti's lifelong hobbies. He also became rather passionate about golf, a sport he didn't take up until after leaving baseball. In his later years, not even poor health could keep him off the links. "He was a really good golfer," Harris noted, "even after he had a stroke and could only golf with one arm. I went golfing with him once when I had just started golfing and I was put to shame by the one-armed man." Ramazzotti also allowed a somewhat bohemian side of himself to emerge. He dabbled in painting and drawing, became fervently dedicated to his garden, and enjoyed reading. "He had tons of atlases," according to Harris. "He liked to read things about different countries."
In May 1988, Ramazzotti underwent triple bypass surgery in Pittsburgh. The timing was especially unfortunate because it forced him to miss his induction into the Blair County (Pennsylvania) Sports Hall of Fame-although he would videotape a brief acceptance speech from his hospital room. Bob Ramazzotti Jr. remembers going in see his father immediately following the operation, and bringing along a unique get-well gift-a replica portrait of the elder Ramazzotti's 1952 Topps baseball card, done by a friend of the family. "He wasn't awake yet so we slipped in and threw the picture right across from him on a chair. Then we kind of left the room so that was the first thing he saw. So he was kind of dumbfounded when he saw that."
Ramazzotti "wasn't much for calling people on the phone," according to his son, so he didn't actively stay in touch with his former teammates, although he did cross paths with some old-time Cubs and Dodgers every now and then. Once when his dad came out to California to visit, the younger Ramazzotti arranged for him to meet actor and ex-teammate Chuck Connors for lunch. He also renewed acquaintances with legendary Cubs' equipment manager Yosh Kawano. Harris was in for a surprise when she joined her father for a Pirates game at Three Rivers Stadium. "They were playing the Dodgers and he wanted to see Tommy Lasorda. So he just marched down to the dugout, leaned over the edge, and asked for Tommy Lasorda. He said, 'Tell him it's Bob Ramazzotti,'" she recalled with a chuckle. "He came out and yelled at my dad for having on a Pirate hat instead of Dodger Blue. So [Lasorda] went and got him a Dodger hat. I couldn't believe it. It was the first time I ever saw him do something that was outgoing."
The story of that trip to Pittsburgh belies the fact that Ramazzotti had soured on modern baseball. "Back in my time, we didn't have a lot of the things they have now," observed Ramazzotti in 1988. "There were only eight teams in each league. Now there are more players and more opportunities. That kind of thins it out and I don't think there's the quality they used to have." His daughter said Ramazzotti didn't think players cared as much about the game as much as players of his generation, and that even the atmosphere at big league games was all wrong. "Even at that Pirate game-the JumboTron and all the music. He didn't like that. He watched it on TV sometimes, but he was kind of disgusted with it. He didn't really follow baseball as much as you would think."
Toward the end of his life, Ramazzotti "pretty much stayed to himself," according to his son. The stroke he suffered in the mid 1990s, and the resulting partial paralysis, slowed him down but did not stop him. After the stroke, he moved his bed into the dining room of his house so that he wouldn't have to navigate the stairs. A friend described Ramazzotti as a tireless worker. "Nothing would stop him from being out in the yard and doing things, and he didn't want a lot of help. He was proud and so determined to do things. He sat down more often in later years, but he'd always go back at it." Despite his own physical limitations, Ramazzotti from time to time volunteered to help out a neighbor who was in failing health. Clearly, the fortitude that Ramazzotti had shown 50 years earlier when he recovered from that near-fatal beaning hadn't diminished.
In October 1999, Ramazzotti traveled to New York's Downtown Athletic Club for a 50-year reunion of the 1949 Dodgers and Yankees, who had met in the World Series. Although Ramazzotti was traded in May of that year, they recognized him as a part of the team and presented him with a plaque marking his induction into the Brooklyn Dodgers Hall of Fame. It was a gratifying two days for Ramazzotti. "A lot of the fellas I played with were there. Eddie Miksis and Dick Whitman. Spider Jorgensen was there, too. It was very nice. It was good to be out for a change and see some of the fellas I hadn't seen for a long time."
All things considered, Ramazzotti was in fairly good health as he celebrated his 83rd birthday on January 16, 2000. He remained quite independent. Harris says, "Whenever I'd ask him how he was doing he'd say, 'Oh, I'm getting older. I'm going to have to go soon.' But he never complained about anything." But just a couple of weeks after his birthday a neighbor happened by Ramazzotti's house and noticed that he hadn't picked up his newspaper. According to Bob Ramazzotti Jr., "The neighbor went by and could see that he was still back there in bed and didn't want to bother him. Then when he didn't come out later I guess that's when they checked on him-I guess they had a key-and that's when they determined that he'd had a heart attack. It just kind of surprised everybody." Ramazzotti was rushed to the hospital where he lingered in a coma for almost two weeks. "[The doctors] wanted to try to do some other things, but they couldn't until he could breathe on his own," said his son. "And he had some liver problems and pneumonia, so he never really could get off the ventilator." Never regaining consciousness, Ramazzotti died on February 15, 2000.
Sources
Altoona Mirror; August 4-5, 1939; June 4, 1945; August 16, 1946; December 16, 1957; May 14, 1988; May 21, 1988; October 21, 1999; February 17, 2000.
Altoona Tribune; August 30, 1939; September 14, 1939.
baseball-reference.com
Cava, Paul; Tales from the Cubs Dugout, Champaign, Illinois: Sports Publishing Inc., 2000.
Chicago Tribune; April 2, 1949; May 18, 1949; May 23, 1950; June 14, 1950; July 4, 1950; July 20, 1950; July 20-22, 1951; October 14, 1951; June 10, 1952; June 15, 1952; June 29, 1952; July 15, 1952;
Golenbock, Peter; Wrigleyville, New York: St. Martin's Press, 1999.
Harris, Nancy; telephone interview with author; July 19, 2004.
The Horseshoe -1936, Yearbook of the Altoona Senior High School.
Johnstown Tribune Democrat; May 8, 1940; May 10, 1940; July 17, 1940; August 13, 1940; August 22, 1940; August 31, 1940.
Lane, Jim; telephone interview with author; August 15, 2004.
Los Angeles Times; July 15, 1952; July 28, 1953.
New York Times; August 2, 1939; August 4, 1939; August 21, 1946; January 7, 1948; May 12, 1949; June 17, 1951; September 3, 1952; May 5, 1953.
Polk's Altoona City Directory–1957, Pittsburgh: R.L. Polk and Company, 1957.
Polk's Altoona City Directory–1960, Pittsburgh, PA: R.L. Polk and Company; 1960.
Ramazzotti, Robert Jr.; telephone interview with author; July 9, 2004.
St. Paul Pioneer Press; April 14, 1947; August 8-10, 1947; August 12, 1947; August 21, 1947; September 4, 1947; June 8, 1948.
The Sporting News; August 28, 1941; September 11, 1941; July 24, 1946; June 2, 1948; June 9, 1948; July 16, 1948; August 18, 1948; October 6, 1948; October 13, 1948; December 22, 1948; August 1, 1951; April 23, 1952; May 28, 1952; July 23, 1952; January 6, 1954; May 26, 1954; November 3, 1954.
**Minor league statistics courtesy of Ray Nemec
Photo Credit
The Topps Company
Born
January 16, 1917 at Elanora, PA (USA)
Died
February 15, 2000 at Altoona, PA (USA)
If you can help us improve this player's biography, contact us.
http://bioproj.sabr.org/bp_ftp/images/RamazzottiBob1952.jpg
600
800
admin
/wp-content/uploads/2020/02/sabr_logo.png
admin
2012-01-04 20:45:41
2012-01-04 20:45:41
Bob Ramazzotti