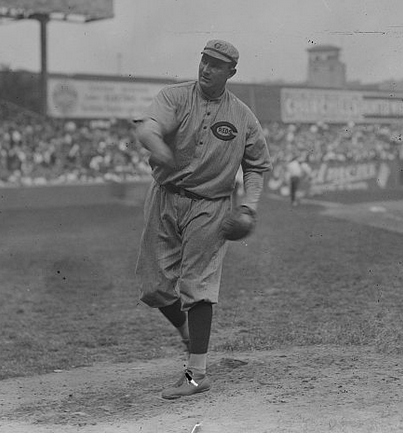 ---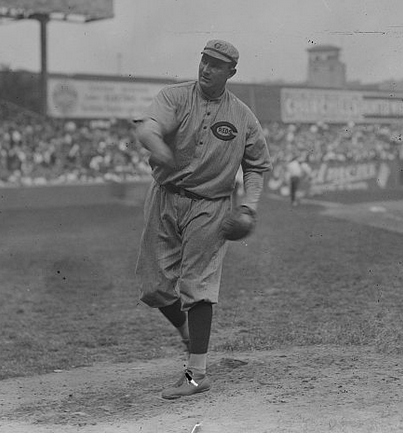 Fred Toney was a big, strong, temperamental right-handed pitcher who authored two of the best performances in baseball history. Pitching for the Winchester Hustlers of the Class-D Blue Grass League, the 6-foot-2, 195-pounder tossed a 17-inning no-hitter in 1909. But it was his 10-inning no-hitter against the Chicago Cubs on May 2, 1917, that put him on the map and made him a household name. Toney was more than just a two-trick pony, however, and was one of the better pitchers in the National League during his prime. In fact, from 1915 to 1921 only Grover Cleveland Alexander had a better ERA in the National League than Toney's 2.39, and only Walter Johnson and Eddie Cicotte were better in the American League.
Fred Alexandra Toney was born on December 11, 1888, in Nashville, Tennessee, to John A. and Alice (Richardson) Toney. Fred's father worked as a railwayman, first for the Louisville & Nashville Railroad, and later for the Nashville, Chattanooga and St. Louis Railway, while his mother stayed home to raise their family.1 When Fred was a boy there wasn't enough level ground for a baseball diamond in his neighborhood and he spent his childhood playing a game called "drop 'em dead" (pronounced "drap 'em daid" in Nashville), in which he and his friends threw fist-sized rocks at tin cans or bottles mounted on sticks.2
Legend has it that Toney would challenge his friends, with the winner getting rifle ammunition from his opponents, and was so good that "he kept his whole family supplied with cartridges."3 When Toney was a teenager, a furrier from Winchester, Kentucky, spotted him playing "drap 'em daid" and the Tennessean was invited to Winchester, where he learned to pitch.4
Toney's professional career began in 1908 when he signed with Winchester at only 19. He was very good in 1909, going 22-15, throwing the aforementioned no-hitter, in which he fanned 19 batters, and leading the team to a first-place finish, then followed that up with a 23-10 season in 1910. The Chicago Cubs purchased Toney in August 1910 for $1,000,5 reportedly the largest sum ever paid for a Class-D player.6
In 1911 Toney impressed fans and writers alike in spring training, particularly after a three-inning performance against the University of Notre Dame on April 7. Sam Weller of the Chicago Tribune compared him to Rube Waddell, the left-handed flamethrower who won six consecutive strikeout crowns for the Philadelphia Athletics from 1902 to 1907.7 Toney showed "so much smoke that he almost clouded a clear sky," wrote Weller.8
Toney made his major-league debut on April 15, 1911, and appeared in 18 games for the Cubs, finishing second on the team with a 2.42 ERA. On June 17 the Chicago Defender reported that the Cubs thought they'd found the next Amos Rusie (the New York Giants star dubbed "The Hoosier Thunderbolt" because of his exceptional fastball that resulted in five strikeout crowns from 1890 to 1895.9 ) "He possesses a huge, powerful frame and has speed to burn when working," wrote the Defender.10
The paper also reported that catchers Jimmy Archer and Johnny Kling were "preparing Toney for the hill," before Kling was traded to the Boston Rustlers (later the Braves).11 The two backstops were considered the best of the era, Kling for his intelligence and Archer for his strong arm that he used to gun down baserunners from his knees. Needless to say, Toney was in good hands.
In January 1912 the powerful righty won the long-distance throwing contest at a field day held at Chicago's Comiskey Park, which featured a 100-yard dash, run around the bases, fungo hitting distance, and accurate throwing contest, among others. Toney's throw went more than 392 feet and beat runners-up Joe Tinker, his Cubs teammate, and Boston Red Sox right fielder Harry Hooper.
Despite his success Toney threatened to quit and go into business, notifying Cubs owner Charles Murphy that he wanted to "devote his time to developing a system for reducing the switching cost of freight traffic."12 He married Alice Walker on May 16, and changed his mind about his baseball career, although he spent most of the season with Louisville of the Double-A American Association, with whom he went 10-11 with a 2.70 ERA before rejoining the Cubs late in the season. He went only 1-2 with a 5.25 ERA in nine appearances with Chicago and reports in early 1913 claimed that Cubs manager Johnny Evers was going to convert Toney into a spitball pitcher.13
Toney began the 1913 season with the Cubs but went 2-2 with a 6.00 ERA in seven appearances before he was sent back to Louisville in early July. He went 13-8 with a 2.30 ERA for Louisville, then won 21 games for the Colonels in 1914. After the season the NL's Brooklyn Robins drafted Toney in the Rule 5 draft, but it was reported that he'd signed a contract with the Pittsburgh Rebels of the Federal League, claiming he "would rather play with the Feds for cigarette money than the salary the Brooklyn club is offering him."14
Toney denied the reports and early in 1915 he was selected off waivers by the Cincinnati Reds. He made his Cincinnati debut on June 1 and his first five appearances came as a reliever before he earned his first start on June 17 against the Philadelphia Phillies. He was 17-6 with a 1.58 ERA, second-best behind Pete Alexander's 1.22. Brooklyn's star outfielder Zack Wheat attributed Toney's success to a new approach. Where he relied mostly on his fastball with the Cubs, he was a different pitcher with the Reds.
"He had five or six styles, all sorts of deceptive motions, and as good a change of pace as there is in the National League," Wheat told The Sporting News in December. "Side-arm, overhand and under-hand were all the same to him. Instead of that constant fast ball, he had a half dozen speeds. … Don't let any one kid you into thinking Toney is fluking through."15
Before the 1916 season Toney demanded $6,000, almost double what he earned in 1915, or his unconditional release, but Reds president Garry Herrmann countered with $4,000 and told his hurler he'd pitch for that amount or not at all.16 The sides split the difference and Toney signed his contract in late February.17 The Reds ace enjoyed another excellent season, tossing a then-career-high 300 innings and posting a 2.28 ERA, but he went only 14-17 thanks to a paucity of run support.18 He insisted he'd win 25 games a year if the Reds would give him four runs per game.
Toney proved prophetic when he won 24 games in 1917 while averaging 3.81 runs of support, but it was his performance on May 2 that put his name in the record books. On a cold, windy day in Chicago, Toney held the Cubs hitless for nine innings. But Cubs southpaw Jim "Hippo" Vaughn matched him and also went nine innings without allowing a hit. The Reds finally broke through in the 10th when shortstop Larry Kopf shot a clean single to right field, then came around to score on an error by center fielder Cy Williams and an infield hit by legendary athlete Jim Thorpe.
Toney threw one more hitless inning to win the game, 1-0, and became only the second pitcher of the Modern Era to win a 10-inning no-hitter.19 He was almost as impressive on July 1 when he started both games of a doubleheader against the Pittsburgh Pirates, completed both of them and allowed only six hits and one earned run in 4-1 and 5-1 victories that ran his record to 13-8. That kicked off a run of excellence in which Toney pitched to a 1.81 ERA in his last 24 appearances, and when he shut out the St. Louis Cardinals on August 12 to win his league-leading 20th game, he was rewarded with a $1,000 bonus.
Toney looked to be the front-runner to pace the NL in wins, holding a two-win lead over Alexander, but "Old Pete" won 12 of his last 15 decisions to win 30 for the third consecutive year and easily outpaced the Reds ace. That 1917 campaign would prove to be Toney's best season on the field. Things took a drastic turn in December when he was arrested for allegedly dodging the World War I draft. When he registered under the Draft Act he falsely swore that his wife, child, mother, stepfather, and sister were dependent on his $5,000 salary. According to reports, Toney and his wife had lived apart for three years and he had provided little support to her while she worked as an operator for the Cumberland Telephone and Telegraph Company.20
Toney was held on a $2,500 bond but released when a Nashville restaurateur put up the money. The penalty for "conspiring to make fraudulent representation of dependencies" was a year in prison followed by military service. In March 1918 Toney swore before a judge that his mother, stepfather, brother, niece, and deceased sister had been dependent on him for their livelihood and would suffer if he was imprisoned or forced into military service.21
The Washington Post reported that Toney would be lost to the Reds for the 1918 season,22 and that appeared to be true when witnesses for the prosecution insisted that Toney wasn't supporting his family as much as he'd claimed.23 But his estranged wife, Alice, testified that Toney had been sending her and their child $70 a month during the 1917 campaign and a mistrial was declared on April 10.24 The pitcher's troubles were far from over, however; during his trial he was indicted for violating the Mann Act, also known as the White Slave Traffic Act, for transporting a woman across state lines for the purpose of having sex.25 The sex was consensual, but still against the law.
Before Toney returned to the Reds, the club put him on waivers, fearing that public opinion would be harsh. Any team in either league could have claimed the pitcher for the waiver price of $1,500, but all passed, not wanting the backlash that might come with his signing.26 Those fears turned out to be unfounded. Toney wasn't with the Reds to start the season, but he made his first start on May 5 and beat the Pirates 3-1. Perhaps more important is that the Cincinnati crowd greeted him with a rousing ovation and cheered him throughout the game.
"The greeting he got was a tribute to him," wrote Jack Ryder in the Cincinnati Enquirer, "and showed that the fans had finally learned to understand his case and to realize that he was simply the victim of circumstances and not an intentional slacker." Ryder also wrote, "(T)here had been talk of booing him off the field, but none of the patriots who threatened such a thing made a public appearance."27
Toney won his first five decisions but lost 10 of his next 11 to fall to 6-10 and was sold to the New York Giants on July 22. He threatened to go home to Nashville if he didn't get a cut of the purchase price, but made his first start for the Giants on August 1. He was overweight when he joined the Giants – some reports listed him at 250 pounds and newspapers began to refer to him as "Man Mountain"28 – and lost his first two decisions with New York, but rebounded and finished strong, going 6-0 with a save in his last 11 appearances and dropping his ERA from 3.03 to 2.43.
Giants skipper John McGraw predicted that once Toney lost weight he'd be the best pitcher in the National League.29 But legal troubles hounded him again and he went on trial for the Mann Act violation in early January 1919. He was also retried for dodging the draft in 1917. Toney's ex-sister-in-law testified that his sister worked in Gallatin, Tennessee, and didn't require assistance from Toney as he'd stated when he applied for draft exemption.30
Toney was acquitted of evading the draft on January 4, but sentenced to a four-month jail term for violating the Mann Act. By this time he had remarried, making Goldie May Strange his wife. After spending three months in jail, the hurler decided to retire from baseball, but had a change of heart and made his first appearance of the season on May 31. He went 13-6 with a 1.84 ERA that was second best on the Giants behind Art Nehf's 1.50 and fourth best in the NL among qualifiers.
Toney and Nehf paced the Giants in wins in 1920 with 21 apiece and Toney pitched to a 2.65 ERA, good for second on the team, a tick behind Jesse Barnes's 2.64. He was mostly mediocre through mid-July, going 9-8 with a 3.22 ERA, and challenged catcher Frank Snyder to a fight when the backstop berated his batterymate for his careless pitching against the Cubs on July 8, an 8-5 loss. But Toney went 12-3 with a 2.04 ERA down the stretch to save his season.
Then, in the wake of the Black Sox Scandal that rocked Organized Baseball when it was discovered that eight members of the Chicago White Sox conspired to throw the 1919 World Series to the Reds, Toney testified before a grand jury that former teammate Heinie Zimmerman offered him a bribe to throw a game against the Cubs. Giants outfielder Benny Kauff also implicated Zimmerman, and second baseman Larry Doyle testified that first baseman Hal Chase offered him a bribe to throw an exhibition game against a team of "colored" players from Philadelphia.31
Zimmerman and Chase were both blackballed from major-league baseball after the 1919 season and Kauff, ironically enough, was linked to the Black Sox Scandal and eventually banned from the majors for auto theft. Even though McGraw lost three of his better players, he wasn't done cleaning house and it was reported that Toney had "outlived his usefulness" in Gotham.32
Despite the reports, Toney stayed with the Giants and enjoyed another solid season in 1921, going 18-11 with a 3.61 ERA, and finishing among the top 10 in several categories. In July he was implicated in the Black Sox Scandal when Sleepy Bill Burns testified that the hurler had been present during meetings between the players and gamblers at the Ansonia Hotel in New York.33 But NL President John Heydler issued a statement that called Burns's testimony misleading and saying Toney had nothing to do with the conspiracy.34
The McGraws won their sixth pennant since 1905 and faced the Yankees in the World Series, but Toney wasn't up to the task. He started Game Three but lasted only two innings in which he surrendered four runs before Jesse Barnes relieved him and stopped the bleeding in a 13-5 victory that pulled the Giants to a two-games-to-one deficit.
Toney started again in Game Six with the Yankees up three games to two and allowed three runs in two-thirds of an inning before being pulled in favor of Barnes again, who saved him for the second time with 8⅓ brilliant innings in an 8-5 win that tied the Series at three wins apiece. The Giants won the Series in eight games in a best-of-nine format, but Toney was dismal, pitching to a 23.63 ERA and establishing a record for futility that still stands.35
The 1922 campaign started off inauspiciously when Toney developed a sore arm during spring training and was sent home to get in shape. He didn't make his debut until May 16 and struggled through his worst season, going 5-6 with a 4.17 ERA in 13 games. According to Ralph McGill of the Atlanta Constitution, Toney could be volatile and was the only player John McGraw ever managed whom he truly feared.
And for good reason. Toney once punched Reds teammate Greasy Neale in the face after criticizing the outfielder for his shoddy play in the field and at bat.36 But "Little Napoleon" wasn't one to mince words and he had some choice ones for Toney, who'd struggled in his last three starts, going 1-2 with an 8.41 ERA.37 Toney threw a water bottle at his manager and let him know with "cold, knife-like words" how he felt about McGraw.38
A day later, on July 30, Toney was traded to the Boston Braves along with pitchers Larry Benton and Harry Hulihan and $100,000 for pitcher Hugh McQuillan. A few days later it was reported that Toney would rather quit than play for a last-place club. "I have $50,000 and don't have to play baseball with the Braves," he told friends.39
The Boston Globe thought Toney was bluffing in an effort to get cash considerations from the Braves, but he stood firm and was placed on waivers. The St. Louis Cardinals claimed Toney on August 17 and hoped he'd help bolster a club that was only 3½ games out of first place. But he refused to report, citing an illness in the family, and not even a two-day visit to Nashville by Cardinals president Branch Rickey, during which "he had used every effort, both financial and persuasive, to induce Toney to report immediately," could convince the pitcher to change his mind.40
St. Louis finished in a tie for third place, eight games behind the Giants, but Rickey held no grudges and insisted Toney was in good standing with the team and expected him to report for work in 1923. The hurler told reporters that after spending the winter "in the open, he would be in grand shape for a comeback,"41 but the hurler surprised the Cards when he announced in February that he was through with baseball.42
Sportswriter John B. Sheridan tore into Toney in The Sporting News soon after. "Toney never much appealed to me as a player," he opined. "He seemed to be a big, fat food-destroying animal, eating as much as would keep three better men." He also called him a "jail bird" and a "large, fat draft dodger," and concluded, "As I see it, Toney is pretty well shot as a pitcher. Not at any time would I want him for a baseball team."43
Toney changed his mind and joined the Cards, for whom he was consistently inconsistent, trading wins and losses with equal measure and staying within two decisions of .500 throughout the season en route to an 11-12 mark and a 3.84 ERA. His season wasn't without controversy and he threatened to quit again in June after fans jeered him for reprimanding young shortstop Specs Toporcer for not heeding his advice about where to position himself.
Toney knew how he wanted to pitch to Chicago Cubs batter Cliff Heathcote and tried to get Toporcer to play closer to third base. Toporcer refused and when Heathcote shot a hit through the area where Toney wanted Toporcer stationed, the pitcher laid into the much smaller shortstop, who took off his glasses and offered to settle the argument with his fists. Toney scoffed at the idea, boasting that "he could meet a dozen Toporcers in a room, lick them all at once and come out without a scratch."44 But when the fans turned on Toney and cheered Toporcer, the mercurial pitcher left the game and claimed he was through with the Cardinals.
In typical fashion, Toney reversed field and decided to stay with the team, but the 1923 season proved to be his last in the majors. Rickey gave Toney his unconditional release on April 6, 1924. He sat out the '24 season, then appeared in nine games with the Nashville Volunteers of the Southern Association in 1925, with whom he went 4-3 with a 4.09 ERA before he quit in a huff after his teammates kicked away three straight games in which he pitched brilliantly. After the third loss, "Fred Toney said not a word," wrote Ralph McGill. "He walked out of the box and into the clubhouse. He took a bat and knocked the lock off the locker, put on his clothes and went home. He never pitched again."45
Toney made headlines in December 1925 when he was arrested for violating Tennessee game laws after being found with two red fox pelts in his possession.46 In 1926 his wife, Goldie, gave birth to a son named Rogie.47 In his post-playing life, Toney worked as a spinner in a textile mill, coached for Nashville, ran a roadhouse 14 miles west of his hometown,48 operated a soft-drink and sandwich stand, worked as a security guard, and finally as a court officer for the Davidson County Sheriff's Office.49
He died of a heart attack in Nashville on March 11, 1953. He was 64.
An updated version of this biography appears in SABR's No-Hitters book (2017), edited by Bill Nowlin.
Notes
Born
December 11, 1888 at Nashville, TN (USA)
Died
March 11, 1953 at Nashville, TN (USA)
If you can help us improve this player's biography, contact us.
http://sabr.org/sites/default/files/Toney-Fred-LOC.png
600
800
admin
/wp-content/uploads/2020/02/sabr_logo.png
admin
2012-01-04 20:46:56
2022-06-09 06:40:21
Fred Toney