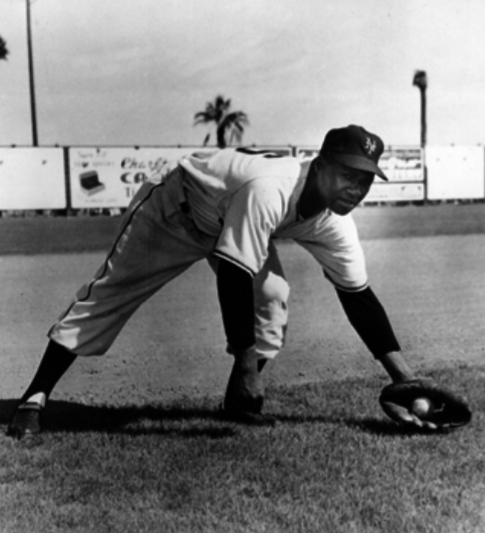 ---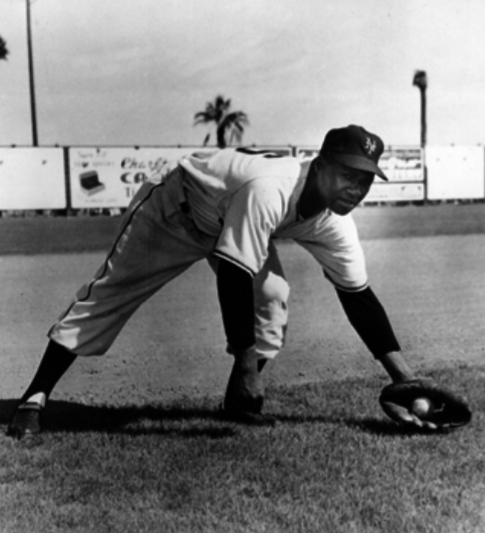 Hank Thompson, a New York Giants mainstay from 1949 to 1956, is the answer to a host of trivia questions about black players. He was the first acknowledged black player to play for the Giants. He was also the first acknowledged black player to take the field for the St. Louis Browns, having received a brief trial with the American League club in 1947. Thus he is the only black player to break the racial barrier for two different major-league franchises.
In his July 17, 1947, debut with the Browns, 12 days after Larry Doby's debut with the Cleveland Indians, Thompson became the second black American Leaguer as well as the third black 20th-century major leaguer, after Doby and Jackie Robinson. Only 21 years old at the time, Thompson gained the lasting distinction of being the youngest black player to integrate a big league team. Two days later, he and Willard Brown became the first black players to play together in the big leagues since Moses "Fleet" Walker and his brother Welday teamed up for Toledo in the 19th century. A few days after that, Thompson became the first black player to appear in an official major-league game at Yankee Stadium, and later that season he and Doby became the first black players to compete against each other in a big league game. Interestingly, Thompson, not Jackie Robinson, who was stationed at first base his rookie year, was the first black major-league second baseman.
When Thompson led off for the Giants against the Brooklyn Dodgers in his National League debut on July 8, 1949, he became only the fifth black National Leaguer behind Robinson, Roy Campanella, Don Newcombe, and Dan Bankhead of the Dodgers. Facing Newcombe in his first plate appearance, he became the first black hitter to hit against a black pitcher in the big leagues. During the 1951 season, he would again make history when he and future Hall of Famers Monte Irvin and Willie Mays became the first three black major leaguers to load the bases, and in the World Series that fall, the same trio formed the first all-black big-league outfield.1
And Hank Thompson literally was "The Man Who Killed Jim Crow."
Henry Curtis "Hank" Thompson was born in Oklahoma on December 8, 1925. Most sources list his birthplace as Oklahoma City, but in a 1965 interview, Hank claimed he was born 125 miles away in Muskogee. His father, Ollie Thompson, was a railroad worker who liked his liquor. His mother, Iona, was a cook and domestic worker. The family moved to Dallas, Texas, when Hank was an infant. His parents separated when he was still a youngster and divorced shortly thereafter. Young Hank lived with his mother, and it was the job of an older sister, Florence, to watch him while mom was at work – a job that proved too much for the young girl.2
Growing up, Hank eschewed school for the streets of Dallas. At age 11, he had his first official brush with the law when he was picked up on suspicion of swiping some jewelry from a car, a crime he claimed he didn't commit. Either the cops believed his protestations of innocence or couldn't prove his guilt, so they busted him for truancy instead and shipped him to Gatesville Reform School, about 115 miles from Dallas.3
Gatesville had a baseball program in which Hank got his first chance to play on an organized team. It motivated the youngster to keep his nose clean, but when he got out, he was sent to live with his father for a year. Thompson claimed that his father wouldn't let him play ball and often beat him, so he was glad to go back to live with his mother.4
Still not interested in scholarly pursuits, Hank spent his free time hanging around Burnett Field, where the Texas League Dallas Steers played, rather than continuing his education. The Steers allowed him to shag flies and throw some batting practice, and soon a local semipro Negro team recruited the then 15-year-old. By the end of the following season, he'd attracted the attention of Kansas City Monarchs star Bonnie Serrell, who recommended him to the Monarchs, one of the premier franchises in the Negro American League. The next spring Monarchs secretary Dizzy Dismukes sent Thompson $25 train fare to the club's training camp in New Orleans, and his professional career was under way. Playing on a veteran team that included future Hall of Famers Satchel Paige, Willard Brown, and Hilton Smith, as well as veteran stars Buck O'Neil and Newt Allen, the 17-year-old kid the veterans called "Youngblood" played right field and hit .314.5
Thompson spent most of the next two years in the employ of Uncle Sam, serving as a machine gunner with the 1695th Combat Engineers. He was inducted into the Army in March 1944 and was mustered out with a couple of battle stars and the rank of sergeant on June 20, 1946. He fought in the Battle of the Bulge, later recalling, "If there was a moment in my life I did something for society, that was it." 6
After his discharge Hank settled in as the Monarchs' second baseman. The Biographical Encyclopedia of the Negro Leagues credits him with a .287 batting average while batting leadoff for the 1946 Negro American League pennant winners and hitting .296 in their loss to the Newark Eagles in that year's "Colored World Series."7
Immediately after the regular 1946 season, Thompson joined up with Satchel Paige to barnstorm against a team of major leaguers put together by Cleveland great Bob Feller. In Feller's opinion, Thompson, the youngest player on the Negro League squad, was also the best.8
After the successful and lucrative tour, Thompson journeyed to Cuba to play third base for the Havana Reds in the Cuban Winter League. There he met his future wife, Maria Quesada. Hank played three winter seasons with Havana, hitting over .300 each year, leading the league in RBIs in 1947-48 and runs scored, hits, and triples in 1948-49. On the island he was known by the nickname "Ametralladora," a Spanish word that translates to "machine gun" in English.9
Hank really hit his stride in 1947. The 21-year-old was hitting around .340 as the Monarchs' shortstop when his contract was purchased by the St. Louis Browns in mid-July.
On Opening Day of the 1947 season, Jackie Robinson of the Brooklyn Dodgers had crossed Major League Baseball's color line and set National League turnstiles humming wherever he played. Almost three months later, former Newark Eagles star Larry Doby broke the American League color barrier, prompting the Browns, mired in last place and drawing more flies than fans, to try to capitalize on the novelty of Negro players. The Browns reportedly purchased the contracts of Thompson and the veteran outfielder Willard Brown, one of the biggest names in the Negro Leagues, from the Monarchs on a conditional basis for a mere $5,000. Immediately plugged into the Browns lineup, Thompson played second base and batted seventh, going hitless in four at-bats and contributing an error to a 16-2 whipping by the visiting Philadelphia Athletics.10
Despite a cool reception by the St. Louis players, Thompson performed adequately for the woeful Browns. His .256 batting average and .341 on-base average in 27 games both exceeded the team norm. Yet the Browns shipped him and Brown (who hit only .179 in 21 games) back to Kansas City in late August rather than pony up another $5,000 to retain their services.
Thompson finished his fragmented 1947 campaign hitting .344 and scoring 54 runs in 48 games for the Monarchs. With future major leaguers Curt Roberts and Gene Baker manning the keystone spots for the Monarchs in 1948, Hank moved to the outfield and hit a phenomenal .375 in 70 games, according to The Negro Leagues Book, while scoring 75 runs and driving in 58. He also began displaying good power, finishing with 11 homers and an imposing .633 slugging average. Hank is sometimes credited with leading the Negro American League that year with 20 stolen bases, but other references indicate that Sam Jethroe stole 29 for the Cleveland Buckeyes before his contract was purchased by the Brooklyn Dodgers during the season.11
In 1948 the Dodgers and Indians had been the only two teams to employ black players at the major league level, but other teams were starting to show interest. The February 9, 1949, edition of The Sporting News announced that the Giants had signed Thompson, Newark Eagles veteran star Monte Irvin, and Monarchs hurler Ford Smith to play for their Jersey City minor-league club in the International League. Thompson reportedly negotiated a $2,500 bonus for his signature.12
But before Hank could start his career in the Giants organization, there was that "Jim Crow" matter to deal with.
On April 4, 1948, Thompson had shot and killed one James Crow in a Dallas bar. Hank was on his way from Kansas City to the Monarchs' spring-training base in San Antonio when he stopped to visit his oldest sister, Margaret, and her husband. Visiting a local beer garden, they encountered Crow, who was nicknamed Buddy. Hank had played sandlot ball with Crow and knew him to be a dangerous character. So when Crow threatened him with a knife, Thompson shot him three times across the chest with a .32 caliber automatic he was in the habit of carrying (the Dallas Morning Star and The Sporting News reported that Crow was shot six times). Hank left the bar not knowing if Crow had survived and promptly turned himself in the next morning when he found out that Crow had died. He was charged with murder, but his lawyer argued that it was a case of self-defense. Thompson was released on $5,000 bond and was soon on his way to San Antonio to continue his baseball career. With some help from the Giants, the case was eventually ruled justifiable homicide, clearing the way for his return to Organized Baseball.13
Thompson, Irvin, and Smith began the 1949 campaign with the Jersey City Giants. Smith posted a mediocre 10-8 record for the season, but Thompson and Irvin spent the first half of the year tearing up the International League. Irvin, the bigger Negro League name, outshone Thompson with Jersey City, although Hank's .296 batting average, 14 homers, sensational .447 on-base percentage, and lusty .565 slugging average in 68 games was pretty impressive. When the pair were called up to the parent club in July, Hank, who'd bounced between shortstop and left field with Jersey City, took over the parent Giants' regular second-base job. While Irvin stumbled in his first big-league exposure, Thompson hit a credible .280 and belted nine homers in 75 games. He was originally slotted in the leadoff spot, but was shifted to the third spot in the Giants batting order late in the season.
Before his promotion to the Giants, Hank and Maria Quesada had been married in Brooklyn. That offseason he didn't play in the Cuban Winter League for the first time since 1946-47.14
The next spring, the Giants shifted Thompson to third base to clear second base for newly acquired Eddie Stanky. Often hitting in the cleanup spot, Hank enjoyed an excellent all-around season, batting .289, smacking 20 homers, and driving in a team-leading 91 runs in 148 games. In the field he participated in 43 twin killings in 138 appearances at third, breaking Pie Traynor's 25-year-old National League record for double plays by a third baseman. Thompson's record stood until 1974, when Atlanta's Darrell Evans participated in 45 double plays in 160 games at third base.
On a team filled with pleasant surprises – unsung veterans enjoying career years and unheralded rookies making headlines – Hank Thompson was the 1951 Giants' biggest disappointment. After his strong 1950 performance, the 25-year-old third sacker had been counted on to be a force in the middle of the New York lineup. Instead he lost his regular job in midseason and ended up watching the club's sensational stretch run for the pennant from the bench. Although he subsequently won back the Giants' regular third-base job and starred for the 1954 world champions, he never fulfilled his early promise.
Opening Day of that fateful 1951 season found Thompson manning third base and hitting in the third spot against the Boston Braves. He got off to a horrible start, but by June 4 his average was up to a respectable .278 and his seven home runs were the second highest total on the club. But by July 18, the Giants 88th game of the season, Hank's average was down to .239 and he'd added only one homer to his total. That day he was spiked by Chicago's Frank Hiller and knocked out of action. The next afternoon outfielder Bobby Thomson, who'd lost his center-field job to rookie sensation Willie Mays almost two months earlier, was installed at third base.15
A few days later, it was announced that Thompson had been optioned to the Giants' Ottawa International League farm club with pitcher Al Corwin coming up to take his place. But Hank never actually reported to Ottawa, instead spending his time with the Giants working himself back into shape. He was activated and saw his first action since the injury when he appeared unsuccessfully as a pinch-hitter on August 1. Over the next two weeks, he made five more pinch-hitting appearances with only a lone single before he was optioned to the Giants' Minneapolis Millers farm team in the American Association.16
Hank found his batting eye in Minneapolis, slamming seven homers and hitting .340 with a torrid 1.209 OPS (on-base percentage plus slugging average) in 14 games. Thanks largely to his phenomenal hitting, the Millers won 12 of the games in which he participated to climb back into the American Association pennant race before his recall to New York on August 28.
Back with the Giants, Thompson resumed his place on the bench behind hot-hitting Bobby Thomson. Several sources credit Hank with contributing greatly to the Giants' sensational stretch drive, but that was not the case. After starting 68 of the Giants' first 88 games at third base, he didn't start another game the rest of the season. In fact, his only notable contribution to the "Miracle of Coogan's Bluff" came on September 16 when he replaced Bobby Thomson at third base after Bobby was ejected in the fourth inning of the second game of a doubleheader with the Pirates. Hank banged out two hits and drove in the go-ahead run with a ninth-inning fly ball in a 6-4 Giants victory. His only other action after his recall was seven unsuccessful pinch-hitting appearances.17
On the play immediately preceding Bobby Thomson's "Shot Heard 'Round the World," Giants right fielder Don Mueller broke his ankle sliding safely into third base on a Whitey Lockman double. Therefore, Hank Thompson was pressed into service in right field for the World Series. Though Hank hadn't played the outfield for the Giants all year, he'd played left field during his two-week stint in Minneapolis because the Millers' third-base job was manned by future Negro League Hall of Fame third baseman Ray Dandridge.
Hank didn't exactly distinguish himself in the garden or at the plate in the Fall Classic. He committed two damaging errors in right field and hit only .143 for the Series as the Yankees won in six games.
After he finished the 1951 season with a .235 batting mark and only eight homers in 87 games, there didn't appear to be a regular role for Thompson with the Giants in 1952. Then left fielder Monte Irvin, the reigning National League RBI king, broke his leg before the start of the season. Thus, the Giants began their defense of the National League pennant with Thompson and newly acquired veteran Bob Elliott platooning in left field. Hank handled his assignment well enough that he was entrusted with the Giants center field job when Willie Mays was inducted into the Army in late May. Eventually Hank moved back to third base for the last third of the season, swapping positions with Bobby Thomson. For the season, Hank started 51 games in center field, 43 at third base, and 17 in left field, while also filling in at second base and right field. He finished with a .260 batting average, 17 homers, and 67 RBIs in 128 contests, while recording a solid .798 OPS. In the offseason, he signed on with Roy Campanella's All-Stars, touring the South with an all-black team that featured Campanella, Irvin, Larry Doby, Joe Black, Harry Simpson, and George Crowe. Willie Mays even put in a couple of appearances with the All-Stars while on furlough from the service.18
Thompson spent the first month of the 1953 campaign warming the Giants' bench while highly touted rookie Daryl Spencer was tried at third base. Finally inserted back into the hot corner spot in mid-May, he responded with his finest big league season. He appeared in only 114 games, sitting out most of the first month of the season and missing most of the last month after suffering a concussion when a bad-hop grounder knocked him out. Yet he slammed 24 homers and drove in 74 runs while hitting .302. His .567 slugging average was the seventh highest in the National League that year, and his outstanding .967 OPS was the sixth highest mark.19
In 1954 Hank shook off a painful chipped kneecap suffered early in the campaign to set a career high with 26 homers, while hitting .263 and driving in 86 runs in 136 games for the world champion Giants. He also walked 90 times, finishing ninth in the league in on-base percentage and tenth in OPS.20
Thompson enjoyed his best day as a major leaguer on June 3 of that year. Playing in St. Louis, he homered in his first three times at bat before the Cardinals intentionally walked him in the top of the seventh inning with no outs and a man on second. Hank did get a chance for his fourth homer, but could only manage a single to drive in his eighth run of the game.
In the Giants' four-game World Series sweep of the heavily favored Cleveland Indians, Hank posted an amazing .611 on-base percentage, hitting for a .364 average and breaking Lou Gehrig's record by drawing seven bases on balls. He also earned accolades for his flawless defense and alert baserunning.21
Still just 29 years old, with two fine seasons behind him going into the 1955 campaign, Thompson should have been at the peak of his career. But his average dropped to .245 and his home run output fell to 17. The next year he injured his shoulder in spring training and lost his regular job to light-hitting rookie Foster Castleman. For the season, he hit only .235 with eight homers in 83 games, although he excelled as a pinch-hitter, hitting .333 with a pair of homers in 24 pinch at-bats.22
Before the 1957 season, Thompson was sent down to the minor leagues with a missed exhibition game in San Diego probably having some bearing on the demotion. Playing the outfield for Minneapolis, he endured nagging leg injuries and hit only .243 with a pair of homers in 78 games before leaving the team in late July. In subsequent interviews, he remembered ending his playing days on that note, but he did in fact try to resurrect his career with Ponce in the Puerto Rican Winter League after the season – an effort that lasted only three games before his career as a professional baseball player was truly over.23
Thompson's off-the-field behavior had been a problem throughout his baseball career. He began drinking as a teenage semipro player and admitted to being an alcoholic by the age of 17. In the service he went AWOL on one occasion and spent time in the stockade for fighting on another. He liked to carry a gun, which led to his killing a man before joining the Giants. In 1953 a violent altercation with a cab driver made headlines, prompting the black publication Our Sports to publish a profile of Thompson entitled "Problem Child?"24
Stanley Glenn, a catcher with the Negro League Philadelphia Stars before entering Organized Baseball said, "Hank was a little bit off-center. He had a drinking problem and a woman problem. … But he was all baseball on the field."25
Former Monarchs teammate Sammy Haynes remembered, "He (Thompson) had a lot of little kid in him … but he had a temper and liked to play rough."26
Well-respected strong man Monte Irvin, a longtime teammate, apparently exerted a positive influence on Hank. "Every once in a while Thompson would get out of line and Monte would get on his case," recalled former teammate and coach Bill Rigney.27
In his autobiography Nice Guys Finish First, Irvin said, "Hank was known as a carouser." He recalled when Leo Durocher came over to his locker and said, "Monte, I'm going to put you in charge of Hank while we're in St. Louis. Watch him and make sure he doesn't go astray. Make sure he gets to the hotel on time. Make sure he catches the bus. You're in charge of him."28
It's probably no coincidence that Thompson's performance began deteriorating in 1955, the year the Giants cut Irvin in midseason.
Not surprisingly, Hank's troubles worsened after he left baseball. He couldn't hold a job, and though he'd made good money with the Giants, he'd blown it as fast as he earned it. During his first year out of baseball, he was arrested for stealing a car, and soon after that he was charged with unlawful entry and third-degree assault of a woman he claimed was his girlfriend when she refused to lend him money. The car-theft matter was subsequently dropped, but he spent a week in jail and paid a fine for the assault charge. He and Maria divorced in 1959, and he was still living in Brooklyn in 1961 when he held up a local bar where he was well known, having previously hocked his 1954 World Series ring there. He was convicted of stealing $37, but was released on probation with orders to leave New York after Giants owner Horace Stoneham and Baseball Commissioner Ford Frick interceded on his behalf. That fall Stoneham gave Hank a job at the Giants' spring training facility in Casa Grande, Arizona, but the former player soon hooked up with an old girlfriend and moved to Los Angeles.29
By 1963, Hank had drifted to Houston, where he stole $270 from a liquor store at gunpoint. He was convicted of armed robbery and sentenced to ten years in the Texas corrections system.30
Thompson reportedly got his life together in prison. He joined Alcoholics Anonymous, found religion, became a trusty, coached the prison baseball team, and began counseling first-time offenders. His fall from World Series hero to 31-year-old has-been in two short years is graphically documented in "How I Wrecked My Life – How I Hope to Save It," which was published in Sport Magazine in 1965 while he was still in jail.
Apparently Hank said all the right things, because he was paroled in 1966 after serving four years. He moved to Fresno, California, where his mother lived, got a job as a playground director, and began working with troubled teens. Plans for a movie about his life, starring Sidney Poitier, were reported in early 1969. During the summer Thompson appeared at a Giants old-timer's game and told friends he'd quit his job in Fresno and would be working for the team. But he died suddenly of a heart attack at his mother's home in Fresno on September 30, 1969.31
Like his baseball career, Thompson's life ended prematurely. He had always lived fast – arrested at 11, drinking at 15, playing professional baseball at 17, becoming a war hero and an alcoholic at 19, making his major-league debut at 21, and setting World Series records at 28. But he was already past his prime at the age of 29, out of the major leagues at 30, and through with baseball at 31. When he died, he was only 43 years old.
Hank Thompson was a truly unusual talent. Despite a pedestrian .267 lifetime batting average, he combined power with a sharp eye at the plate to finish with an excellent .825 career OPS. For comparison purposes, Hall of Fame third-base contemporary George Kell retired with a .781 career mark. In fact, according to Baseball-reference.com, "Thompson has a higher Adjusted OPS than ten of the third basemen in the Hall of Fame, although his career was much shorter than most of them."32
Listed at a smallish 5-feet-9 and 174 pounds (he personally claimed to be only 5-8½ and 168), Thompson managed to generate tremendous power with the bat. He was reportedly awarded $2,000 for hitting a homer into the distant center-field bleachers during a Cuban Winter League game. The back of his 1957 Topps baseball card states, "He has been known to put the ball out of the park high over the Polo Grounds 450 feet sign many times." A bit of hyperbole, maybe, but he obviously had a reputation for hitting the ball a long way.33
Though not a prolific basestealer in the major leagues, Thompson was fast on the bases. In fact, his power-speed rating ranked seventh and eighth in the league in 1950 and 1953 respectively.
Hank demonstrated this rare blend of speed and power on August 16, 1950, when he hit two inside-the-park homers in one game against the Dodgers at the Polo Grounds. He was the first big leaguer to accomplish that feat since 1939, and it wasn't matched again until Dick Allen did it in 1972.34
In nine big league seasons, Thompson came to bat 3,529 times in 933 games, blasting 129 homers, driving in 482 runs, and walking 493 times. For the equivalent of a little less than six seasons of regular duty (600 plate appearances), this translates to an impressive average of around 22 homers, 82 RBIs, and 84 bases on balls per year. A left-handed hitter who was often platooned, he ranked among the National Leaders in such diverse categories as on-base-percentage, slugging, OPS, triples, home runs, homers per times at bat, bases on balls, stolen bases, sacrifice flies, and times hit-by-pitch – a category in which the early black major leaguers dominated.
On defense Thompson was extremely versatile, playing regularly at third base, shortstop, second base, and all three outfield positions at various times. He was somewhat error-prone at third base, his primary position, so he didn't enjoy a particularly good defensive reputation. But his range factor at the hot corner was good and his defensive win shares seem to indicate he was a better than average third sacker.35
Hank Thompson never truly capitalized on his ability. After his baseball career ended, he admitted he had a serious alcohol problem and had been an alcoholic while he was playing, though he claimed that he never drank during or before a game. "I'd say 99 percent of my trouble came right out of a bottle," he estimated shortly before his death.36
"I became a baseball has-been at 32," he said. "I couldn't move around third base. Balls were going by me that I should have had. I was disgracing baseball and I still kept boozing it up." He played his last major-league game on September 30, 1956, the same day fellow pioneer Jackie Robinson made his last big-league appearance.37
This biography is an adaptation of a profile in the author's book "The Black Stars Who Made Baseball Whole: The Jackie Robinson Generation in the Major Leagues" (Jefferson, North Carolina: McFarland, 2004). It also appears in "The Team That Time Won't Forget: The 1951 New York Giants" (SABR, 2015), edited by Bill Nowlin and C. Paul Rogers III.
Notes

Born
December 8, 1925 at Oklahoma City, OK (USA)
Died
September 30, 1969 at Fresno, CA (USA)
If you can help us improve this player's biography, contact us.
https://sabr.org/sites/default/files/ThompsonHank.png
600
800
admin
/wp-content/uploads/2020/02/sabr_logo.png
admin
2012-01-04 20:33:02
2022-06-11 16:50:38
Hank Thompson