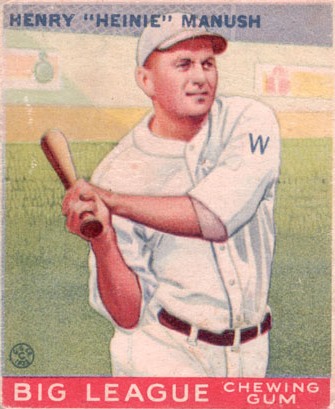 ---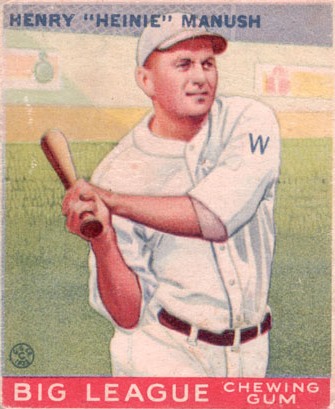 Mastering the art of the line drive but unable to master his own temper, Heinie Manush burst onto the major league scene with the Detroit Tigers and quickly became one of the fiercest and most feared hitters in the game.
Born July 20, 1901, in Tuscumbia, Alabama, Henry Emmett Manush was raised in the Deep South. Growing up, the son of German immigrants quickly realized that he was a talented baseball player – one with a short fuse. In fact, his family was full of talented baseball players. Manush was one of seven sons, and six ended up playing professional baseball at some level.
At age 17, Manush was a student at Massey Military Academy in Pulaski, Tennessee. Then he drifted west and worked for one of his brother's plumbing companies in Burlington, Iowa, and finally got into professional baseball in 1921. He began his career in Edmonton of the Western Canadian League. The following year, he joined Omaha of the Western League before joining the Detroit Tigers at age 21.
It was 1923 when Manush made his first appearance in the major leagues. He quickly blossomed under the tutelage of teammate Ty Cobb, who holds the career record for batting average (.366), and was a fellow Southerner with a strong temper who was then player-manager of the Tigers. The two, along with four-time batting champion Harry Heilmann, formed perhaps the best outfield in the history of baseball from 1923-27. But it didn't begin that easily for Manush. When he joined the Tigers, Cobb and Heilmann were joined by three-time RBI champion Bobby Veach in the outfield. Also on the roster were veterans Bob Fothergill and Babe Herman. Detroit began platooning Manush with Veach, who was starting to show his age. Heinie did well under that system and batted .334.
His second season wasn't as glamorous. Manush wasn't hitting as well as he had as a rookie, and as a result, had to battle for playing time with Fothergill and Al Wingo, but still managed to hit a respectable .289 in 120 games and .302 in 99 games in 1925. Cobb immediately began working with Manush, urging him to choke up some on the bat, shorten his swing, and hit the ball where it was pitched instead of trying to pull everything. It was hard to argue with Cobb's instructions in light of Heilmann's emergence as one of baseball's premier batsmen … they had become a collection of smart, skilled men at the plate. "In all modesty," Cobb said in his autobiography, "I could teach hitting."
In 1926, Manush was out to prove that he deserved a starting job. He finally won it and responded with one of the best seasons of his career. His average jumped from .302 to a robust .378, which led the American League. Even more impressive, was the way he won the batting title. On the last day of the season, Manush trailed not only Babe Ruth, but teammates Fothergill and Heilmann, in the race. But he pounded out six hits in nine at-bats during a doubleheader to overtake all three and win his only batting title.
Things would be different for Manush in 1927. Cobb left the Tigers to play the final two seasons of his career with the Philadelphia Athletics. Cobb was replaced in the dugout by George Moriarty, who played for the Tigers from 1909 to 1915. Manush wasn't the same without Cobb; his batting average down to .298 — an 80-point tumble. Even worse, he wasn't getting along with the new manager. After the season, Moriarty prompted the Tigers to trade Manush. He and first baseman Lu Blue were sent to the St. Louis Browns in exchange for Harry Rice, Elam Vangilder and Chick Galloway.
Manush found new life in St. Louis, and married Elizabeth "Betty" Lloyd in 1928, and the Tigers paid for their quick dismissal of the former batting champ, who returned to the top of the batting race in 1928. He was in a battle with Washington slugger Goose Goslin for the batting title. Again, Manush finished the season at .378, almost completely reversing his 80-point slide from the prior season. Fittingly, the Tigers and Senators faced off on the final day of the season. After July, Goslin was still hitting above .400, and had a comfortable lead in the batting race. He cooled off in August, but by the end of the month was still leading the league and appeared on his way to his first batting title. In September, Manush got hot and closed in on Goslin, setting the stage for an unusual conclusion to the season.
As luck would have it the Senators were scheduled to play the last four games of the season in St. Louis, with Goslin's average at .376, Manush's at .372. In the first two games Manush went 5-for-8, but Goslin retained his lead by going 2-for-3 in the third game and had a two-point lead with one game left to be played. Players on both teams wanted to help their respective teammate win the title, and the umpiring crew was fully aware of the close battle, including the man who would get the assignment to work behind the plate for the final game of the season, Bill Guthrie.
Goslin struck out and grounded out the first two times he came to the plate, then got hold of one and sent it over the center field fence. But in his next at-bat he grounded out to fall three-tenths of a point behind. Manush, however, made an out in his last at-bat to give Goslin a one-point lead.
With the game headed into the top of the ninth, Goslin was due to bat. A note came to the dugout from the press box updating Goslin on the batting race, with the author including his advice to sit out the at-bat, reminding him if he batted and made an out he would lose the title. Joe Judge warned him Manush might think he was yellow if a pinch-hitter batted for him. The other players got involved in the conference, with everyone giving his opinion, and as the debate went on Goslin made a decision. He would bat.
In no time Goslin was in trouble with two strikes, no balls, and his batting title in jeopardy. He thought of an idea to save his title: if he could make the umpire angry enough to throw him out of the game, he therefore wouldn't be charged with an out and would preserve the batting title. And what better umpire was there than Bull Guthrie, who had a short fuse, and was known to be quick to eject a player.
"Why those weren't even close," Goslin told Guthrie.
"Listen, wise guy, there's no such thing as close or not close. It's either dis or dat," responded Guthrie.
Goslin responded by acting mad; he yelled, stepped on Guthrie's big feet, and called him names. Guthrie waited for Goslin to finish before speaking.
"OK, are you ready to bat now? You are not going to get thrown out of this ball game no matter what you do, so you might as well get up to the plate. If I wanted to throw you out, I'd throw you to Oshkosh. But you are going to bat, and you better be up there swinging. No bases on balls, do you hear me?"
Goslin heard him, all right. The next pitch Goslin swung and hit a fly ball to right-center field. Browns right fielder Beauty McGowan, knowing if he made the catch Manush would win the batting title, ran hard, reached out with his glove hand, but couldn't get the ball in time, and when the ball landed on the outfield grass Goslin won the batting title.
It would be the first of many clashes between Manush and Goslin. After their battle for the 1928 batting crown, Manush and Goslin playfully made an annual bet on who would record the higher batting average. The loser would have to pay the winner 50 dollars and buy him a new suit. Manush won the bet five times, with Goslin besting him three times. Heinie still led the league with 241 hits and 47 doubles. He scored 104 runs, drove in 108, smashed 20 triples, and hit 13 homers. His .575 slugging percentage was his career-best, he stole a career-high 16 bases, and he made only three errors in 154 games. In 1929, Manush again led the American League in doubles with 45.
A big break came for Manush on June 13, 1930, when he was traded from the hapless Browns to Washington for none other than Goose Goslin, who wasn't getting along with former teammate Walter Johnson, who was the manager. "We're going to win the pennant as sure as I'm a foot high," said Manush.
Manush gave the Senators a boost, hitting .362 in the 88 games he played after the trade. Following his trend of drop-offs in batting average after a big year, Manush batted .307 in 1931, but as always, his stellar hitting skills returned a year later when he hit .342 and smashed 214 hits.
Missing from Manush's career was a World Series championship. In 1933, Goslin returned to Washington, creating a formidable one-two punch in the outfield. Manush was on fire the entire season. He cranked out hitting streaks of 26 and 33 games during the season and finished at .336, second to Hall of Famer Jimmie Foxx. Manush got his wish of playing in the World Series when the Senators, led by player-manager Joe Cronin, won the American League pennant on September 21, 1933. Thursday afternoon, September 21, was a beautiful day in the nation's capital as a ladies' day crowd of 10,000 filed into Griffith Stadium. The sun was bright, the temperature was a comfortable 68 degrees, and the Senators got ready to face the Browns, with one more victory, or one more Yankees defeat, to wrap up the pennant. The good news was the Yankees were idle, meaning the Nats had the opportunity to clinch in a winning effort. With one out to go for the pennant, the crowd began to buzz, as Browns second baseman Oscar Melillo was ready at the plate. In left field, Manush needed time to adjust his sunglasses, and he frantically waved his arms to get the umpire's attention. Cronin noticed and called to Stewart, but the pitcher had already started his windup. Melillo swung and lifted a fly to left field. Manush ran to his left, his sunglasses dangling from his left hand, got under the ball, and snared it with his glove hand to clinch the 1933 American League pennant.
The Senators faced the New York Giants in the 1933 World Series. The Giants were led by a trio of Hall of Famers: pitcher Carl Hubbell, right fielder Mel Ott, and first baseman-manager Bill Terry. Apart from Cronin, the Senators could not get their bats going during the Fall Classic. That included Manush, who after his stellar season managed just two singles in the Series as the Giants won in five games. Before the start of the third game, Manush scrambled to retrieve the ceremonial first pitch thrown by President Franklin D. Roosevelt from his box seat. Ably supported by Cronin, Roosevelt threw the ball and his off-line toss set off a mad scramble. Manush bulled his way through a bunch of souvenir-seeking ballplayers to come up with the treasured keepsake. Southpaw Earl Whitehill's tosses were more on the money as he scattered five hits and shut out the Giants 4-0. In appreciation of his sterling performance, Manush presented Whitehill with the "FDR ball," which Earl would treasure for the rest of his life.
It was a thrill to be in the World Series, but Manush was terribly disappointed in his performance. During the Series, he took it out on the umpires. In Game 3, the Senators had the tying run on second with two out in the sixth inning, when Manush hit a ball past a diving Bill Terry that Howie Critz somehow grabbed and flipped to Hubbell to nip Manush — that is, according to umpire Charlie Moran. It was an extremely close play, and an enraged Senators outfielder and his infuriated manager hotly debated the call! The home plate umpire finally broke up the fierce confrontation by ordering Cronin and Manush to take their positions in the field. While Cronin reluctantly sauntered out to shortstop, Manush gave Moran one more verbal blast on his way out to right field and was tossed from the game. It took all of Cronin's strength to restrain his right fielder from attacking Moran. After being dragged off the field, Manush had to be physically restrained from throwing things at the first-base umpire. Washington fans showed their displeasure at the call by heaving hundreds of soda bottles in the umpire's direction. Manush recalled the play years later. "It actually was more than an argument," he said. "Moran had every right to chase me when I tell you what I did. I was too smart to lay a hand on Moran when I was arguing the call. But when he bellied up to me and asked me what I wanted to make of it, there was a temptation that was too great. Moran, like the other umps in those days, was wearing a black bow tie, the kind that comes with an elastic band. What I did was grab the tie and let it snap back into Moran's neck. That's when he gave it to me."
Commissioner Kenesaw Mountain Landis, who was at the game, disagreed with the umpire's decision to kick Manush out, and ruled from then on that no player in the World Series could be thrown out without first getting the commissioner's almighty permission.
During the 1933 season, baseball held its first annual midsummer All-Star Game. Manush was not selected for the team despite his average being second in the league that season. In 1934, Manush appeared in the only All-Star Game of his career. In the first inning, he faced Hubbell for the first time since the 1933 World Series and drew a walk. Hubbell shook it off and struck out Babe Ruth, Lou Gehrig, Jimmie Foxx, Al Simmons, and Cronin in succession.
Manush bounced around after 1935, spending time in both the majors and the minor leagues. He joined the Boston Red Sox in 1936, then the Dodgers in 1937, which was his final season as a regular player. After leaving the Dodgers in early 1938 he spent most of that season with Toronto in the International League, before finishing the season with the Pittsburgh Pirates. There he joined fellow future Hall of Famers Paul and Lloyd Waner. Soon to become a drinking buddy of Paul's, Manush had a similar approach to life and baseball as the brothers. The left-handed Manush was similar to the Waners: lots of doubles and triples, little power, and a solid grasp of hitting technique. The Waners were still regular players, while Manush mainly pinch-hit.
After drawing his release from the Pirates in early 1939, his major league career was over, and he again spent the summer playing for the Toronto Maple Leafs. He started a career as a minor league manager the following year, and continued to play on occasion for several years.
Heinie's final career numbers are often overlooked, but he was one of the most dominating hitters of his time. He slapped 200 hits four times, 40 doubles five times, and finished his 2,008-game career with a .330 batting average, 2,524 hits, 491 doubles, 1,288 runs scored and 1,183 runs batted in.
Manush remained around baseball for many years. He was a manager in the minor leagues with Rocky Mount (North Carolina) in 1940, Greensboro (North Carolina) in 1941 and '42, Roanoke (Virginia) in 1943, Scranton (Pennsylvania) in 1944 and Martinsville (Virginia) in 1945 before becoming a scout for the Pirates and Senators in the late 1940s and 1950s. In 1954 he served with the Senators as a major league coach.
In 1949, Manush's wife Betty died of cancer at age 44. Heinie never remarried. He had three daughters: Shirley, who died at age 58 in 1987; Lillis, who also died in 1987 at age 56; and Sue McCaw, who lives in Florida and tuned 76 in 2009.
His last job in the game was in 1961-62 when he was a scout for the expansion Senators (the first Senators became the Minnesota Twins). Two years later, he was elected to the Baseball Hall of Fame by the Veterans Committee, four years before Goslin got the call. Manush was in Cooperstown, New York, to see Goslin inducted. It wasn't the last time he returned to the Hall of Fame. "He went to games and he always went to Cooperstown every year and old-timers games," daughter Sue McCaw said. "He went to everything he was invited to. He loved it because it was his life."
Manush remained active throughout his life, and was a staunch competitor to the end. Golf was his game of choice as a retiree and he played almost every day in Florida, many games with Paul Waner. "Pound for pound, Paul was the greatest. We had been friends since 1927, and what a guy he was. Day in and day out, Waner could beat me anytime he wanted to. He was a real good putter. I called him 'One Putt' and that's all he ever took. He still had that beautiful swing. But he couldn't hit the ball more than about 150 yards. I usually saw him about once a week."
Manush's health started to fail in 1969. He lost his voice after a cancer operation and was forced to answer questions with notes. While being interviewed in July of 1970, he and a reporter were watching a game on television. A player was ejected and Manush promptly grabbed his pad. "They give the umpires too much authority these days," he wrote. "You saw it there. I wish I could tell you about the 1933 World Series," itching to speak of his own ejection incident once more.
Manush moved to Florida and continued his competitiveness in a different sport: golf. He played just about every day until his death, which came on May 12, 1971, in Sarasota, Florida, after a long fight with cancer. The connection between Manush and Goslin continued as Goslin died three days later in New Jersey.
Sources
Alexander, Charles. Ty Cobb. New York: Oxford University Press. 1984.
D'Addona. Dan. Telephone interview with Sue McCaw, April 2009.
National Baseball Hall of Fame and Museum, Cooperstown, NY.
Parker, Clifton Blue. Big and Little Poison: Paul and Lloyd Waner, Baseball Brothers. Jefferson, NC: McFarland and Co. 2002.
Sarnoff, Gary A. The Wrecking Crew of '33: The Washington Senators' Last Pennant. Jefferson, NC.: McFarland and Co. 2009.
thebaseballpage.com
Born
July 20, 1901 at Tuscumbia, AL (USA)
Died
May 12, 1971 at Sarasota, FL (USA)
If you can help us improve this player's biography, contact us.
http://bioproj.sabr.org/bp_ftp/images3/ManushHeinie.jpg
600
800
admin
/wp-content/uploads/2020/02/sabr_logo.png
admin
2012-01-04 19:54:25
2012-01-04 19:54:25
Heinie Manush