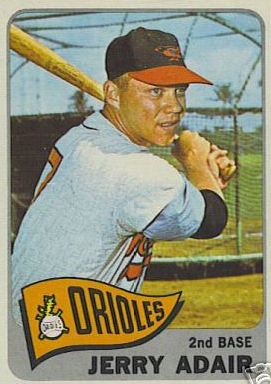 ---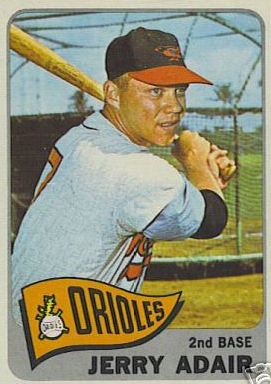 Kenneth Jerry Adair was born to Kinnie and Ola Adair on December 17, 1936, at Lake Station, an unincorporated area named for a station on a trolley car line between the northeastern Oklahoma cities of Sand Springs and Tulsa. Jerry claimed Sand Springs as his hometown. He was a fair-skinned, blond-haired descendant of mixed-blood Cherokee tribal leaders who once were the warlords of the southern Appalachians. The strong "will to win" of Cherokee warriors was exemplified in the life of Jerry Adair, who was an exceptional multisport competitor.
A notable Adair who lived with the Cherokee tribe in the eighteenth century was an Irish trader, James Adair. He wrote a lengthy book about his belief that the unique, dignified Cherokees were one of the biblical lost tribes of Judah. In 1838, a majority of the Cherokees under the terms of an onerous treaty with the United States government were forcibly removed on the Trail of Tears to Indian Territory. Thousands of Cherokees died along the way. In 1907, Indian Territory and Oklahoma Territory were combined to form the state of Oklahoma.
Bordering on the state of Arkansas in the flint hills of northeastern Oklahoma, Adair County is named for one of Jerry Adair's Cherokee family members of the Civil War era, Judge William Penn Adair. Jerry's grandfather George Starr Adair was enrolled in a tribal census as a 28-year-old member of the Cherokee Nation in 1900 in what became Adair County, Oklahoma. His son, Kinnie Adair, spoke Cherokee when he visited with friends and relatives from Adair County. Today, heavy concentrations of the inhabitants of the county are descendants of the original Cherokee settlers.
Jerry Adair's life was described by the Tulsa World's sports editor Bill Connors as "an experience of two lifetimes." Connors' obituary after Jerry's death in 1987 surmised, "The first half was exaltation. The second half was tragedy." Connors described Jerry as "the best athlete to come out of the Tulsa area in his lifetime." He would not have stretched the truth if he had stated that no athlete from Oklahoma had a more storied pre-professional career than Adair, not even Mickey Mantle, who was 5 years older than Adair. Mantle had close relatives who were Cherokee; his grandmother was born in Indian Territory, but he was not a mixed-blood American Indian.
Jerry's father played sandlot baseball on his employer's teams in the Sand Springs area. Like Mantle's father, Kinnie Adair always had time after work to play ball with his son. A tool grinder by trade, Kinnie also coached Jerry's Little League teams. Jerry told Ray Fitzgerald, a Boston Globe sports columnist, about his Little League days when he "did a lot of pitching. Anybody who could throw a curveball was a pitcher, and I was a pretty good one."
Kinnie Adair died in 1986, one year and three days before Jerry's death. He had remarried after Jerry's mother died in 1952 and had a son, Dennis, who died in 2005. Jerry's only sister, Joyce, who was born in Adair County, still lives in Sand Springs.
Jerry's high school coach, Cecil Hankins, was a legendary football and basketball player at Oklahoma A&M College, now Oklahoma State University (OSU), in Stillwater, Oklahoma. Hankins regarded Jerry as the greatest all-around athlete he ever coached. Jerry earned nine letters at Sand Springs High School, three each in football, basketball, and baseball. During his high school years, he earned the nickname "Iceman" because of his coolness. He is particularly remembered for his coolness during the football game against Ponca City during his senior year. Ponca City grabbed a 20-0 lead in the first quarter. Playing quarterback, Jerry scored just before halftime and kicked the extra point to cut the deficit to 20-7. In the third quarter, Jerry engineered a scoring drive and kicked another extra point for a 20-14 score. Late in the fourth quarter, Jerry scored a touchdown and kicked the extra point to win the game 21-20 for Sand Springs. Bill Connors once wrote, "Adair demonstrated All-American possibilities as a high school quarterback at Sand Springs."
After football season in the fall of 1954, Daily Oklahoman sports writer Ray Soldan telephoned coach Hankins to tell him that he had selected Jerry for the all-state football team. For many years Soldan made Oklahoma's all-state team selections. Only seniors were eligible and a player could be selected for only one sport. Coach Hankins spoke with Jerry, who said he did not want to make all-state in football; he wanted to make it in basketball. Soldan said he would give no assurance that Jerry would be selected for basketball, but Jerry said he would take the chance. Another player was named to replace Jerry on the all-state football team. After basketball season, Jerry was selected on the all-state basketball team. Playing in the state all-star game in the summer of 1955, Jerry was selected as the most outstanding player in the game.
Jerry also played Ban Johnson League baseball during the summer of 1955. He was scouted by Toby Greene, the longtime head baseball coach at OSU. Jerry's team was leading 1-0 in the bottom of the ninth inning, but the opponent had loaded the bases with no outs. Greene watched as the manager motioned for Jerry to pitch. Jerry nodded and walked to the mound from his third base position with a big cud of tobacco in his mouth. He threw two balls to the catcher and announced he was ready. Greene thought this was the cockiest player he had ever seen. Jerry struck out the three batters he faced. Greene later declared to Coach Hankins, "I'll take him–he can play anywhere." Jerry Adair was one of Coach Greene's seven All-Americans at OSU.
Jerry entered OSU in the fall of 1955 on an athletic scholarship to play basketball and baseball. Freshmen were not then eligible for varsity competition and played only limited schedules in all sports. Jerry's first varsity competition was during the 1956-1957 basketball season under Hall of Fame coach Henry Iba, the Iron Duke. A rare sophomore starter at OSU, the 6-foot, 175-pound Adair was the team's playmaking guard and second leading scorer on the nation's top defensive team. During his junior year, he was again the team's second leading scorer. Bill Connors once wrote, "Long time Iba watchers say Adair was one of the few players who was not yelled at by Iba. 'There was no need to yell at Jerry,' Iba said at the time. 'He does everything right.'"
To this day, what is referred to as "The Game" at Gallagher Hall (now Gallagher-Iba Arena and Eddie Sutton Court) at OSU is the February 21, 1957, rematch between OSU and the Kansas Jayhawks, led by their phenomenal sophomore center Wilt "The Stilt" Chamberlain. Earlier in the season, Iba's team was said to have played one of their best games of the season when they held the Jayhawks to a ten point winning margin on their home court at Lawrence, Kansas.
Chamberlain did not disappoint the fans as he scored an arena record of 32 points. But OSU came from far behind to win the game, 56-54. The high OSU scorer with 18 points was forward Eddie Sutton, who would return to his alma mater as head coach in 1990. Although he scored only six points, Jerry Adair, according to Bill Connors, "played brilliantly on the floor." Jerry had no fouls and one field goal, and was four-for-four from the free-throw line.
The highlight game of Jerry's junior year and his last basketball season at OSU was a 61-57 verdict over the Cincinnati Bearcats. Their future Hall of Fame player, Oscar Robertson, scored 29 points. Jerry was OSU's second leading scorer, and made two free throws and a field goal down the stretch to preserve the victory. The 1957-1958 OSU team finished 21-8 and won two games in post-season NCAA play. They were eliminated by Kansas State in the western regional finals, one game from the final four.
Baseball was a much lower profile sport than basketball at OSU in the 1950s as well as today. OSU won the NCAA basketball championships in 1945 and 1946. Henry Iba had been the OSU basketball and baseball coach from 1934 to 1941. When he was also the athletic director in 1942, he passed the baseball coaching reins to Toby Greene, who was Jerry Adair's head baseball coach during the 1957 and 1958 seasons.
The 1957 OSU baseball season was essentially "called on account of rain." Nine games were canceled because of rain or unplayable fields. The year's record for OSU was 12 won and three lost. When three consecutive days of rain prevented the Missouri Valley conference championship series from being played, Bradley University was given the NCAA tournament bid because of its better conference record.
Regarded as a "converted basketballer," sophomore Jerry Adair was the starting shortstop on the experienced 1957 OSU baseball team. Two of his senior teammates signed professional contracts at season's end. Center fielder Mel Wright, who was the other starting basketball guard with Adair during the 1956-1957 season, signed with the Kansas City Athletics. He had four undistinguished seasons in the minor leagues. Pitcher Merlin Nippert signed with the Boston Red Sox, with whom he had a cup of coffee in 1962 before finishing his career in the Pacific Coast League.
Competing in the Big Eight conference in 1958 for the first time, OSU was rained out of its last two games of the year with champion Missouri, which thus backed into the NCAA tournament bid. OSU's record for the year was 17 won, six lost. Junior shortstop Jerry Adair was the team's leading hitter with a .438 batting average. He was the first player from OSU named to the All-Big Eight team. He was also named to the All-American second team by the American Baseball Coaches Association. One of three excellent OSU pitchers was future Chicago White Sox ace Joel Horlen, who would lead the Adair-less 1959 team to OSU's first and only NCAA baseball championship.
On August 24, 1957, Jerry married his high school sweetheart, Kay Morris. They had met in an English class at Sand Springs High School. While he was playing semipro baseball during the summer of 1958 for Williston, North Dakota, in the Western Canada Baseball League (WCBL), Kay gave birth in Tulsa to Kathy, their first of four children.
Adair won the batting title with a .409 average, with the runner-up trailing at .371. He tied for the lead in home runs and finished close behind the RBI leader. Jerry was the league's top fielding shortstop. He was the starting pitcher in three games and was credited with the victory in each. He batted .444 in 14 playoff games and led his team to the league title on August 30, 1958.
After being signed by Baltimore Orioles scout Eddie Robinson for a reported $40,000, Jerry made his major league debut defensively at shortstop for the O's on September 2, 1958, in a 4-3 loss to the Senators in Washington. Playing right field for the Orioles that day was former Yankee Gene Woodling whose steadying influence and advice helped Jerry adjust to major league baseball. At third base for the Orioles was future major league manager Dick Williams who would be Jerry's future ticket to participate in three World Series.
The news that Adair had signed a professional baseball contract came as a complete surprise to OSU's athletic director and basketball coach, Henry Iba. He had understood that Jerry would return to OSU for conferences with him before making a definite commitment to a major league club. Iba had once counseled OSU's baseball and football star, Allie Reynolds, to take a baseball contract offered by the Cleveland Indians instead of one offered by the New York Giants in Allie's then favorite sport, football. As to Adair, Iba was quoted in the Tulsa World as saying "He has an excellent chance in baseball, I believe, for he is a fine baseball player and a boy with a great competitive spirit." With his playmaking guard not in the lineup for the 1958-1959 season, Iba was to suffer through just his second losing basketball season (11 won, 14 lost) since his arrival at OSU in 1934.
The Red Sox has offered Jerry a larger signing bonus than Baltimore, but he figured he would move up the ladder quicker with the Orioles.
After playing in only 11 games with the Orioles in 1958, with just 19 at-bats, Jerry was shipped in the spring of 1959 to the Amarillo Gold Sox, the Orioles' farm team in the Double-A Texas League. His Amarillo manager, George Staller, was quoted in the Tulsa World as saying that Jerry was a surefire major leaguer but that he needed a season of Triple-A experience. At the beginning of the season in Amarillo, Jerry batted around .275 and failed to cover much ground. Suddenly he caught fire, both at bat and in the field. Staller credited Adair with being instrumental in Amarillo's surge from 17 games below .500 to four over that mark. Recalled Adair in a Tulsa World article, "My fielding improved when my hitting got better and I learned to play the batters. That's the big difference. When you're hitting everything seems to go well. Knowing the hitters is the key. That's why I didn't do so well with Baltimore."
In 146 games, mostly at shortstop, for Amarillo in 1959, Jerry batted .309. Called up at season's end by Baltimore, he batted .314 in 12 games, playing second base or shortstop, mostly as the starter. After playing in an instructional league in the fall of 1959, he batted .266 in 1960 playing for the Miami Marlins of the Triple-A International League. He was named the league's all-star shortstop.   He played three games at second base for the Orioles at the very end of the year.
Jerry had an excellent 1961 spring training with the Orioles to make the club, but by Opening Day was still unable to dislodge veterans Ron Hansen at shortstop or Marv Breeding at second base. But as the season progressed, he replaced Breeding as the regular second baseman and substituted occasionally for Hansen at shortstop. Batting .264 for the season, he outhit both Hansen and Breeding and played 107 games at second base, 27 games at shortstop, and two at third base. Jerry hit nine home runs and drove in 37 runs. During the seasons 1961-1965, Adair was recognized as one of the premier fielding infielders in the American League. He batted .258 during these five seasons, substantially above the league average for middle infielders. However, he was overshadowed by the Orioles' spectacular third baseman and future Hall of Famer, Brooks Robinson.
Adair is particularly remembered for setting a major league record for second basemen. In 89 games from July 22, 1964, to May 6, 1965, he handled 458 chances without an error. In 1964 and 1965, he led all American League second basemen in fielding percentage. He shares an American League record with Bobby Grich and Roberto Alomar for the fewest errors in a season by a second baseman (five in 1964). For his career he had a better fielding percentage (.985) than three Hall of Fame second basemen of his era: Nellie Fox, Joe Morgan and Bill Mazeroski.
Although Jerry was known primarily for his glove, he told the Boston Globe's Ray Fitzgerald in August of 1967 that his biggest moment in the major leagues came in late August 1962 in a five-game Orioles-Yankees series. Jerry recalled that the Orioles won all five games and that he had 13 hits in the series. His best day came in a twi-night doubleheader that opened the series when he was 3-for-4 in the first game and 5-for-6 (with a double and a triple) in the second game.
When Orioles manager Hank Bauer gave the second base job to rookie Dave Johnson, Jerry demanded a trade — more than once — and was finally dealt to the White Sox for Eddie Fisher on June 13, 1966. The trade cost him the opportunity to be a member of the Orioles when they defeated the Dodgers in the 1966 World Series and also cost him about $12,000 World Series money.
After hitting .243 for the White Sox in 1966, he shared second base with Wayne Causey early in the 1967 season. After having missed out on a pennant in 1966, things balanced out when on June 2, 1967, the White Sox traded him to the Red Sox. Dick Williams was glad to get him; the two had been teammates for several years in Baltimore and author Bill Reynolds said that Williams viewed him as "the ultimate professional." Adair's toughness appealed to Williams. Reynolds recounted a 1964 doubleheader when Jerry was hit in the mouth by a throw in the first game, received 11 stitches, then played in the second game. He described Adair as having "a face right out of the Grapes of Wrath." Jerry was hitting only .204 with the White Sox when the trade was executed, but would hit .291 in 89 games while playing three infield positions for the Red Sox. The Red Sox were 22-21 before he joined them but were 70-49 afterward.
Adair filled in for the injured Rico Petrocelli at short off-and-on for a month, playing errorless defense. Adair played pivotal roles on offense in several games, too, but his biggest single day was likely the Sunday doubleheader at Fenway Park on August 20. Jerry was 3-for-3 in the first game, a 12-2 rout of the Angels. In the second game, California got off to an 8-0 lead after just 3½ innings. The Sox crept back, and Adair's single in the bottom of the sixth tied the game, 8-8. In the bottom of the eighth, his leadoff home run gave the Red Sox the lead and the 9-8 win. As Herb Crehan wrote in Lightning in a Bottle, "Role players like Adair seldom get their moment in the sun. But in the summer of '67 every Red Sox fan thought of Jerry as a hero."
In the final game of the season, Adair was 2-for-4 at the plate. He singled and scored the tying run in the bottom of the sixth, but his big play of the day came in the top of the eighth as Jim Lonborg was working with a 5-2 lead. Pinch hitter Rich Reese singled to lead off the inning, but César Tovar grounded to second. Adair charged in on the ball, sweeping it up with his glove, tagging the oncoming Reese, and firing accurately to George Scott at first, though spiked so severely he had to leave the game and have several stitches. Red Sox broadcaster Ken Coleman called Jerry Adair "Mr. Clutch" and wrote that if there had been a "Tenth Player Award" in 1967, he would have deserved it.
After the wild clubhouse celebration when the Red Sox clinched the American League pennant on the last day of the season, Jerry telephoned his sister to say that manager Dick Williams had just kissed him and other Red Sox players. In the World Series that was won by the pitching heroics of Bob Gibson for the St. Louis Cardinals in seven games, Adair appeared in five games, starting the first four (all against righthanders), but had only two hits in 16 at-bats. He did have Boston's only stolen base of the series and had one RBI. Williams started Mike Andrews in Game Five against lefty Steve Carlton, then stuck with Andrews in Games Six and Seven.
Neil Singelais, a sports writer with the Boston Globe later quoted 1967 Red Sox catcher Russ Gibson as saying, "No one could pivot as well as Jerry on a double play ball. He could play anywhere and he was a tough guy to get out." Jim Lonborg, the 1967 pitching ace of the Red Sox staff, added that the trade that brought Adair to Boston "was like adding a gem to a beautiful necklace. He did such a magnificent job for us. He was a quiet guy around the clubhouse. He was so invaluable, older and more experienced."
In 1968, Jerry had a poor year at the plate for the Red Sox, batting only .216 in 74 games while filling a journeyman's role and playing four infield positions. In the 1968-1969 off-season, he was selected by the Kansas City Royals in the American League expansion draft. He was the regular second baseman for the Royals in 1969 and batted .250 for the season. On April 8, in the first game the Royals ever played, Adair hit second and knocked in their first-ever run: Lou Piniella led off with a double, and Jerry singled him home.
In 1970, the Royals awarded the second base position to Luis Alcaraz, and Adair played sparingly. In May, the Royals abruptly released Adair as he was boarding an airplane. He had spent most of the spring with his daughter, Tammy, who died of cancer shortly after his release. Jerry resented the Royals not taking his family problems into consideration at the time of the release. Later that season, Adair played near his hometown with the Tulsa Oilers of the Triple-A American Association, the top Cardinals farm club.
In 1971, Adair joined the Hankyu Braves in Japan and batted .300 for the season. The Braves won the pennant in the Pacific League, but were defeated by the perennial champion Yomiuri Giants of the Central League in the Japan Series. In 1972 and 1973, Jerry earned World Series rings as a coach under his friend, manager Dick Williams of the Oakland Athletics. Williams quit as manager of the A's after the 1973 World Series. Jerry earned another World Series ring in 1974 as a coach for manager Alvin Dark of the A's, who won their third straight World Series. In 1975 and 1976, Jerry was a coach for manager Dick Williams of the California Angels. The major league coaching doors were closed to Jerry after the Angels fired Williams during the 1976 season.
Jerry's wife, Kay, died of cancer in June 1981. Personal and financial problems forced Jerry, always an introvert, into a shell. A cancerous mole was removed from his arm in 1986. Prior to gall bladder surgery, it was discovered that the cancer had spread to his liver. As the former OSU basketball players were making plans to have a Saturday night banquet in Stillwater, Oklahoma, honoring Henry Iba, Jerry was out of the hospital and optimistic for a new treatment for his disease. Friday night he was readmitted to the hospital. At the very hour of the event that Iba called the happiest of his life, Adair's condition worsened. He died Sunday morning, May 31, 1987. Jerry was survived by his sister, Joyce; his half-brother, Dennis; and three children, Kathy, Judy, and Michael. Graveside funeral services were held at Woodlawn Cemetery in Sand Springs.
Sand Springs friend Ron Dobbs helped perpetuate Jerry's memory by displaying Jerry's sports memorabilia at his pizza restaurant in Sand Springs. Many of the items were still on display years after Dobbs owned the restaurant. Jerry's fierce competitive nature was evident early on, according to Dobbs. Like the Dodgers' Pee Wee Reese, Jerry was regarded by his friends as a world class marbles shooter in grade school. He was said to have more marbles at his house than any other kid in Lake Station. Dobbs and one of Jerry's former Sand Springs teammates, Oklahoma State Representative David Riggs, helped get the Sand Springs Little League complex named in his honor. In 1992, Jerry was inducted into the Sand Springs Sandite Hall of Fame. In 2001, he was inducted into the OSU Baseball Hall of Fame.
An updated version of this article appeared in "Mustaches and Mayhem: Charlie O's Three Time Champions: The Oakland Athletics: 1972-74″ (SABR, 2015), edited by Chip Greene. It originally appeared in "The 1967 Impossible Dream Red Sox: Pandemonium On The Field" (Rounder Books, 2007), edited by Bill Nowlin and Dan Desrochers.
Sources
I interviewed Jerry Adair's only surviving sibling, Joyce Bachus, and a close friend, Ron Dobbs, both of Sand Springs, Oklahoma. They also reviewed and provided helpful comments as to my draft of this article. Like Jerry, I have a Cherokee heritage and was a student at OSU when Jerry was making his records in basketball and baseball.
In addition, I made use of the following sources:
Bischoff, John Paul. Mr. Iba: Basketball's Aggie Iron Duke. Oklahoma Heritage Association, 1980.
Burke, Bob; Kenny A. Franks, and Royse Parr. Glory Days of Summer: The History of Baseball in Oklahoma. Oklahoma Heritage Association, 1999.
Coleman, Ken and Dan Valenti. The Impossible Dream Remembered. Stephen Greene Press, 1987.
Crehan, Herb with James W. Ryan. Lightning in a Bottle. Branden Publishing, 1992.
Echohawk, Rodney. "Jerry Adair, Sandite Athlete Without Equal," Sand Springs Leader, May 31, 2001.
Ehle, John. Trail of Tears: The Rise and Fall of the Cherokee Nation. Doubleday, 1988.
Hankins, Cecil. "Adair" in Sand Springs, Oklahoma: A Community History. Sand Springs, Oklahoma Museum, 1994.
King, Richard. "Jerry Adair" by Royse Parr in Native Americans in Sports, Sharpe Reference, 2004.
Parr, Royse. Allie Reynolds: Super Chief. Oklahoma Heritage Association, 2001.
Reynolds, Bill. Lost Summer. Time Warner, 1992.
Woodward, Grace Steele. The Cherokees. University of Oklahoma Press, 1963.
Prepared by the Commission and the Commissioners of the Five Civilized Tribes. The Final Rolls of Citizen and Freedman of the Five Civilized Tribes in Indian Territory, 1907.
1957 Redskin and 1958 Redskin, yearbooks of Oklahoma A&M College.
Press book, Oklahoma State 1999 Cowboy Baseball.
Numerous articles and game reports from the sports section of the Tulsa World on microfilm at the Tulsa City-County Library, particularly writings by its sportswriters Bill Connors and John Cronley, 1956-1987.
Boston Globe, August 7, 1967, with articles about Kay Adair by Laura Holbrow and about Jerry Adair by Ray Fitzgerald.
Internet sources last viewed for Jerry Adair information in January 2006 included www.findagrave.com, www.baseballlibrary.com, www.thebaseballpage.com, www.thedeadballera.com, and www.attheplate.com/wcbl.
Photo Credit
The Topps Company
Born
December 17, 1936 at Sand Springs, OK (USA)
Died
May 31, 1987 at Tulsa, OK (USA)
If you can help us improve this player's biography, contact us.
http://bioproj.sabr.org/bp_ftp/images2/AdairJerry.jpg
600
800
admin
/wp-content/uploads/2020/02/sabr_logo.png
admin
2012-01-04 20:00:28
2020-10-02 11:18:44
Jerry Adair