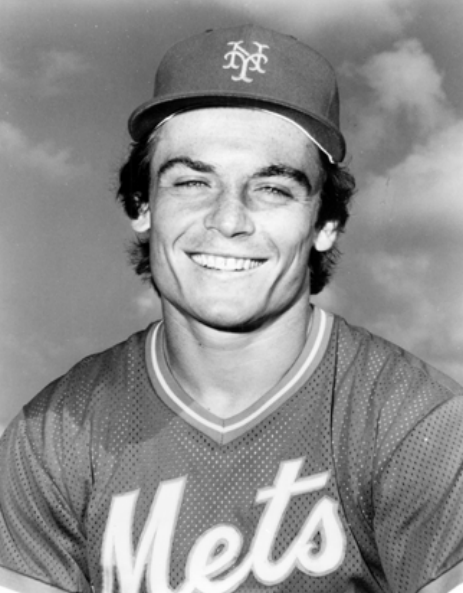 ---
John Gibbons has seen a lot of ups and down in his career. A highly touted prospect for the Mets who was expected to be their future catcher, but a lack of production and the acquisition of Gary Carter stood in the way. Gibbons became a major-league manager for the Toronto Blue Jays, but mediocre success and publicized fights with his players led to his dismissal. He was rehired as the manager of the Blue Jays and finally broke through in 2015, when he managed the Blue Jays to the American League Championship Series. Throughout his career, Gibbons determined to succeed while staying true to his roots.
Gibbons based his philosophy on the game on simplicity. "Baseball's not rocket science. … It's really pretty much a simple game."1 His colleagues said this simple philosophy and his easygoing demeanor made Gibbons a successful manager. "I think one of the things he brings, other than great baseball knowledge, is a great way with people," said former Blue Jays coach Brian Butterfield. "He's always got his players' backs, he always has his coaches' backs."2
Gibbons' high-school baseball coach, Syl Perez, said, "John has never been full of himself. Just the fact that we still have a relationship 33 years later indicates he's never forgotten where he came from."3 His best friend said: "Look at John, major-league status, manager, still the same guy."4 Describing himself as "a normal guy," Gibbons said, "I'm not too fascinated by myself."5  The simple approach to the game and to himself made Gibbons the second-winningest manager in Blue Jays history.
John Michael Gibbons was born on June 8, 1962, in Great Falls, Montana. His father, William, was a US Air Force colonel6 and his mother was a dental hygienist.7
Gibbons spent his high-school years in San Antonio, Texas, where he was drafted 24th overall in 1980 after playing at Douglas A. MacArthur High School. He turned down a scholarship from the University of Texas to begin his pro career.8
Gibbons was assigned to Kingsport of the rookie-level Appalachian League, along with fellow Mets first-round selection Darryl Strawberry. Gibbons caught in 34 games, the most of any catcher on the team, and batted.276. For the 1981 season, he was promoted to Shelby of the Class-A South Atlantic League., where his batting average plunged to .189.
Gibbons stayed with Shelby to start the 1982 season, and was the team's primary catcher. He raised his batting average to .265 and late in the season was promoted to Jackson of the Double-A Texas League, playing in six games.
Gibbons stayed with Jackson as the starting catcher in 1983, and posted career bests in offense and defense up to that point. He batted .298 and posted solid defense, with a .982 fielding average. This was enough to promote him to Triple-A Tidewater for the International League playoffs. He went 3-for-5 (including two doubles) during Tidewater's march to the league title.9 His 1983 production earned Gibbons a spot on the Mets' 40-man roster.10 Manager Davey Johnson thought Gibbons needed a full year at Triple A, but a "desperate"11 catching situation forced Gibbons onto the 1984 Mets. By mid-March Johnson seemed to change his mind on Gibbons, saying, "He's mentally mature, with a lot of heart and a lot of drive."12 Gibbons' offense, his ability to call a game, and his past performances earned him the chance. Fellow rookie Dwight Gooden was a supporter as well, saying of Gibbons after a spring-training game, "He calls a good game. I didn't have to shake him off much, maybe once."13 
Gibbons was hitting .28014 and had seemingly convinced the Mets that he was the number-one catcher, until a collision with the Philadelphia Phillies' Joe Lefebvre landed him on the 15-day disabled list to start the season.15 After his activation on April 9, he started six straight games at catcher, seven for the month. His offense was anemic (.040), but his defense was error-free. Another injury, this time a sore arm, landed Gibbons on the disabled list again at the end of April.16 Fellow rookie Mike Fitzgerald stepped in and took the starting job away. Gibbons was sent back to Tidewater when he was reactivated. He was recalled in September, but played in only two games.
Gibbons was still considered to be the catcher of the future when the Mets acquired All-Star Gary Carter from the Montreal Expos in December 1984 in a package deal that sent Mike Fitzgerald to Montreal.17 Gibbons went into spring training in 1985 hoping to be Carter's backup,18 but the Mets brass decided that he would benefit from being the everyday starter in Tidewater.19 Davey Johnson said, "I like John Gibbons, but he may be too young to sit around (backing up Gary Carter)."20 Gibbons took the news of the Carter acquisition in stride. "I was frustrated when I heard we got Carter, but you can't get ticked off when it's the best catcher in baseball. I've got something to prove, coming off a tough year. I want to be here, but I know I need the work."21 Once again, the "catcher of the future" showed his potential, his solid defense and decent hitting. This time, though, the Mets would not call him up in September.
Gibbons' offense slipped a bit in 1986 at Tidewater, but his solid defense (.993 fielding percentage) once again earned him a late-season call-up. He played in eight games and in the last one, he hit his only major-league home run, against Phillies pitcher Michael Jackson.22 Gibbons was left off the postseason roster inasmuch as the Mets already had two solid catchers, Gary Carter and Ed Hearn. Although he earned a World Series ring as a bullpen catcher, he never played in the major leagues again.23 He spent 1987 at Tidewater before being traded to the Los Angeles Dodgers for utility man Craig Shipley, and played in 1988 for Triple-A Albuquerque before being released. Gibbons spent 1989 with the Texas Rangers' Triple-A team at Oklahoma City, and 1990 with Scranton /Wilkes-Barre, the Phillies' Triple-A team.
After the 1990 season Gibbons decided to retire as a player and venture into coaching. He spent four years in the Mets organization as an instructor and coach with Capital City (Columbia South Carolina) of the South Atlantic League. This earned him the job as manager of Kingsport, his first minor-league team, in 1995. The lack of experience as a manager did not hurt him; Kingsport went 48-18 en route to the Appalachian League championship. Gibbons was named Appalachian League Manager of the Year, and subsequently promoted to manage St. Lucie of the Class-A Florida State League, and won another league championship in 1996. After a 54-81 performance in 1997, Gibbons was promoted to Double-A Binghamton, where he earned another Manager of the Year award, going 82-60. The Mets organization took notice, and gave him the Casey Stengel Award as the Mets organizational Manager of the Year. Along with the award came a promotion to manage Triple-A Norfolk. Gibbons's three-year record at Norfolk was 227-199, and his team had a first-place finish in 2001. 
In 2002 Gibbons returned to the major leagues as the bullpen catcher for the Toronto Blue Jays. When manager Buck Martinez was fired in June and replaced by third-base coach Carlos Tosca, Gibbons was promoted to first-base coach. He held that position through 2003 and until August 8, 2004, when Tosca was fired and Gibbons was named interim manager. (This was not the first time Gibbons had managed the Blue Jays. He filled in for Tosca in 2 games in May 2003 when Tosca's daughter was graduating, and for a game in September 2003 when Tosca was suspended for his actions toward an umpire. The Blue Jays won all three games.) Gibbons went 20-30 for the rest of the 2004 season. On October 4, 2004, Toronto general manager J.P. Ricciardi (a teammate of Gibbons at Class-A Shelby in 1981) named the 42-year-old Gibbons the permanent manager.24
The 2005 Blue Jays (80-82) finished in third place in the AL East. Expectations were high for 2006. Toronto brought in closer B.J. Ryan, starting pitcher A.J. Burnett, and third basemen Troy Glaus. The Blue Jays (87-75) finished second, 10 games behind the New York Yankees. The season was marked by two confrontations between Gibbons and one of his players, Shea Hillenbrand. Hillenbrand, upset over his lack of playing time, wrote negative comments about the team on a whiteboard in the clubhouse, including the comment that the "ship was sinking."25 Gibbons and Hillenbrand got into a heated argument and the manager challenged Hillenbrand to a fight. Hillenbrand was later designated for assignment,26 then traded to the San Francisco Giants. Later, in August 21, Gibbons and pitcher Ted Lilly got into a shoving match in the tunnel leading to the dugout after Gibbons removed Lilly from a game, with Gibbons getting a bloody nose.27 Lilly left Toronto as a free agent during the offseason.
For 2007 Toronto obtained free-agent slugger Frank Thomas and called up young outfielder Adam Lind from Syracuse. These changes produced little change as the Jays (83-79) finished in third place in the AL East.
The 2008 campaign started off rocky for Gibbons. He benched DH Frank Thomas after a slow start. Later released, Thomas accused the Blue Jays of preventing him from reaching an option clause in his contract. (If Thomas reached 364 at-bats, his 2009 option would be guaranteed for $10 million.) The club played mediocre ball through late June, when Gibbons was fired with Toronto mired in last place in the division. He was replaced by Cito Gaston, who had led Toronto to World Series championships in 1992 and 1993. 
In 2009 the Kansas City Royals hired Gibbons as the bench coach under manager Trey Hillman. When the Royals dropped Hillman, Gibbons was not rehired. After a couple of seasons, he managed Double-A San Antonio for the San Diego Padres in 2012. Toronto came calling again in the offseason. Gibbons was named manager for 2013, taking over for John Farrell, who had left to manage the Boston Red Sox. The Blue Jays went 74-88 in his first season, and improved to 83-79 in 2014.
In 2015 the Blue Jays improved dramatically. Bolstered by midseason trades for shortstop Troy Tulowitzki and pitcher David Price, along with a November 2014 trade for All-Star third baseman Josh Donaldson, the team finished first in the AL East at 93-69, their best record since the World Series-winning 1993 Blue Jays won 95 games. The 2015 team advanced to the American League Championship Series before falling in six games to the eventual World Series champion Kansas City Royals. Gibbons was disappointed by the loss but remained hopeful for the future. "The good outweighed the bad," he said. "We have a lot to look forward to next season."28
As of 2015 John and Julie Gibbons reside in San Antonio, Texas.29 They are the parents of three children.
Notes
1 Robert Macleod, "Jays' Gibbons: A Keen Mind Behind a Good-ol'-boy Exterior," Toronto Globe and Mail, theglobeandmail.com/sports/baseball/manager-john-gibbons-knows-job-is-on-the-line-if-blue-jays-dont-improve/article20087549/?page=all, accessed December 1, 2015.
2 Ibid.
3"John Gibbons, Lucky or What?" Waterloo (Ontario) Region Record, therecord.com/sports-story/2621866-john-gibbons-lucky-or-what-/,February 8, 2013, accessed January 8, 2016.
4 Ibid.
5 Macleod.
6 Bob Elliott, "Toronto Blue Jays to Name John Gibbons Manager," Toronto Sun, torontosun.com/2012/11/20/toronto-blue-jays-to-name-john-gibbons-manager, accessed December 1, 2015.
7 Brendan Kennedy, "Blue Jays Manager John Gibbons Opens up about Quitting Tobacco," Toronto Star, thestar.com/sports/bluejays/2015/06/07/blue-jays-manager-john-gibbons-opens-up-about-quitting-tobacco.html, accessed December 1, 2015.
8 "Mets Pick Outfielder Strawberry; Bosox Take Vienna's Brown," Washington Post, June 4, 1980.
9 Jane Gross, "Gibbons, a Rookie, May Catch for Mets," New York Times, March 19, 1984.
10 "Scoreboard," Chicago Tribune, November 11, 1983.
11 Gordon Edes, "NL notebook," Los Angeles Times, March 25, 1984.
12 Gross.
13 Ibid.
14 "Orioles Trade Landrum to Cardinals," Philadelphia Inquirer, March 26, 1984.
15 "Transactions," New York Times, March 29, 1984.
16 Peter Gammons, "Equal Dollars Make Sense," Boston Globe, May 6, 1984.
17 Joseph Durso, "Mets get Expos' Carter for Brooks and 3 Others," New York Times, December 11, 1984.
18 Joseph Durso, "Met Pitching Vulnerable," New York Times, February 18, 1985.
19 Joseph Durso, "Carter Connects in Catching Debut," New York Times, March 12, 1985.
20 Joseph Durso, "For Mets, the Sweet Smell of Success," New York Times, February 21, 1985.
21 Durso, "Carter Connects."
22 youtube.com/watch?v=H436iRMu40w.
23 Macleod, "Jays' Gibbons."
24 "Blue Jays Name John Gibbons as Manager," Canada News Wire, October 4, 2004.
25 Rob Gilles, "Jays' Gibbons, Lilly Get Into Argument," ABC Sports, abcnews.go.com/Sports/wireStory?id=2340295 (accessed December 1, 2015 through web.archive.org/web/20070309224524/http://abcnews.go.com/Sports/wireStory?id=2340295).
26 Ibid.
27 ESPN.com news services, "Lilly-Gibbons Confrontation Leads to 'Mayhem' in Tunnel," ESPN.com, sports.espn.go.com/mlb/news/story?id=2556925, accessed December 1, 2015.
28 Hal Bodley, "Sting of Blue Jays' Loss Fading for Gibbons," MLB.com, m.mlb.com/news/article/157153560/alcs-loss-still-stings-for-blue-jays-gibbons,accessed January 8, 2016.
29 Macleod, "Jays' Gibbons."
Born
June 8, 1962 at Great Falls, MT (USA)
If you can help us improve this player's biography, contact us.
http://sabr.org/sites/default/files/Gibbons-John.png
600
800
admin
/wp-content/uploads/2020/02/sabr_logo.png
admin
2012-01-04 20:37:56
2021-03-06 10:30:19
John Gibbons