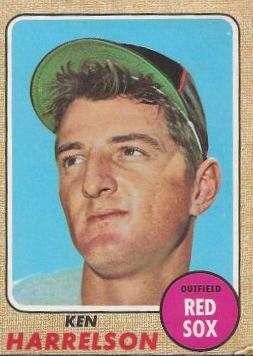 ---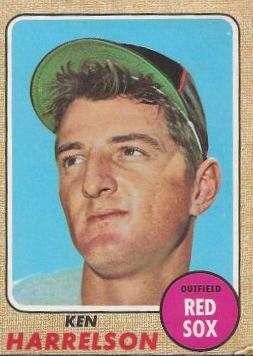 Kenneth Smith Harrelson was born on September 4, 1941, in Woodruff, South Carolina. In the sixth grade, he moved to Savannah, Georgia, where he and his older sister would grow up. Harrelson was the youngest child of a single mother, Jessie, who was his biggest supporter, closest confidante, and best friend. Jessie worked hard to support her son, and she held a difficult and poor-paying job as a secretary in order to provide for him. Fortunately, Ken had proved at a very young age that he was an extraordinary athlete, and when it came time for him to go to high school, the schools came to him, recruiting the athletic youngster by offering jobs, money, and financial support as incentives. Harrelson chose Benedictine Military School, because it was his mother's first choice. And despite Harrelson's strong aversion to the school's strict military code, he flourished as an athlete and obtained solid jobs through generous alumni.
By the time he was 17, Kenneth had matured into a street-smart young man and become the family's primary breadwinner.1 While he was still in high school, Harrelson met his first wife, Betty Ann Pacifi, whom he would marry that year. Harrelson was an excellent baseball player who hit three home runs in the first Little League game ever played in Savannah, but was by nature a competitor who also played football, basketball, and golf. Ironically, he regarded baseball as his worst sport.
Despite being an excellent baseball player and a Basketball Schoolboy All-American, Harrelson was fondest of football and he accepted a scholarship to play at the University of Georgia. His mother, making no more than $65.00 a week, asked him to reconsider, feeling that baseball would pay better, so her doting son decided instead to play baseball professionally.2
The two teams offering serious money were Kansas City and the Los Angeles Dodgers, and Los Angeles promised a larger bonus, but Harrelson signed with the A's because intrepid Kansas City scout Clyde Kluttz was able to convince him that he would be in the majors faster if he chose the Athletics.
Ken Harrelson and Hawk Harrelson are two very different sides of Kenneth Smith Harrelson, and, in a 2004 article for The State, the newspaper in Columbia, South Carolina, Patrick Obely pinpointed the exact moment that the two sides met. It was a Gulf Coast Instructional League game in Florida in 1959, and one of Harrelson's teammates, Dick Howser, had come up with a new name for him. Harrelson's nose, which had been broken several times and had started to take on a distinctly beak-like aspect, was a point of great amusement for Harrelson's teammates and childhood friends. Howser, who thought that Harrelson looked like a character in a popular comic strip, took to calling him "Henrietta Hawk" in a mocking manner.
Aggravating the matter was the fact that Harrelson, one of Kansas City's most touted prospects, "wasn't doing squat as far as hitting goes,"3 and the usually thick-skinned teenager from Savannah began to take offense to Howser's name calling, dubbing him "Slick" in retaliation. One day, after another especially disappointing effort at the plate for Harrelson, Howser again poked fun at the frustrated rookie, causing the latter to lose his cool. "Hey Slick, why don't you lay off?"
"I'll lay off," Howser retorted, "when you get a hit."
Disgruntled but inspired, Harrelson took the field the next day and hit two homers. "Okay," said Howser, "I'll drop the Henrietta."4 The name "Hawk" stuck.
After two more or less average years in the minor leagues in 1959 and 1960, Harrelson started to show promise in 1961, where he hit 25 home runs, with 114 RBIs, and had a .301 average in 135 games. The next year, Harrelson exploded; in a magnificent season with Binghamton, he set Eastern League records with 38 homers and 138 RBIs. In 1963, Harrelson continued to improve, and his solid play with Portland of the Pacific Coast League, did not go unnoticed, as the Athletics promoted Harrelson to the majors, where he began to discover his more colorful side. In '64, Harrelson played only 49 games with the Athletics, who finished in tenth place. In 1965, the Hawk played 150 games and slug 23 homers — though the Athletics still finished in tenth again anyway.
Harrelson was a shrewd businessman and colorful hustler who always understood the value of a dollar, and, before long, he began to realize that the "Hawk" character was a persona that could make him lots of money. Harrelson was right, and as the outfielder began to hit home runs and grow more popular, "The Hawk" began to surface more often, and, almost overnight, his flashy alter-ego made Harrelson a fan favorite throughout the American League. After the 1964 season, Harrelson decided to play winter baseball in Venezuela, and it was there that he really discovered "The Hawk" personality.5 "The Hawk was a character," says Harrelson's former Venezuela winter ball teammate Billy Bryan, "he was a hell of a pool shooter and arm-wrestler, and a fun roommate besides."6
Harrelson also learned some lessons about relating to fans during his early years in Kansas City. One day, after a tough day at the plate, Harrelson, who was in a hurry to get to a party, rebuffed a bunch of kids requesting his autograph. While he was shoving his way through the overeager youngsters, he felt a firm hand on the back of his neck, pulling him back towards the clubhouse. Harrelson, by now incensed and ready to fight, turned towards the person who the hand belonged to, but felt his anger melt away when he found himself face to face with his mother's favorite player and his own childhood hero, baseball legend Rocky Colavito. Colavito pulled Harrelson aside, and let him have it, telling the rookie on no uncertain turns that he should always take the time to sign autographs for the people who paid his salary. Harrelson never forgot the lesson, and from that point on would treat the fans with respect and courtesy.7
Though "The Hawk" would soon make a name for himself on the baseball field, what really would put him on the radar in professional baseball was his prowess on the golf course. In 1964, just a year after his major-league debut, Harrelson played in his first golf tournament for major leaguers. After he earned second place behind Albie Pearson, one of baseball's best golfers, many players, managers, and owners began to take notice of the sweet-swinging outfielder.8 Golfing, besides being The Hawk's passion, would become part of his legacy: the popularization of the batting glove.
One day in 1963 after two long rounds of golfing with Athletics teammates Ted Bowsfield, Sammy Esposito and Gino Cimoli, Harrelson developed painful blisters on his hands.9 Arriving at the ballpark for that night's game, he found it would be easier to grip a bat if he wore the gloves he had used earlier that day to golf. When The Hawk stepped to the plate in the first inning against the New York Yankees, his teammates scoffed, but after Harrelson had a great night at the plate, both the Athletics and the Yankees showed up at the ballpark the next day wearing golf gloves. And thus, the batting glove was born.10
Growing up with little money, Harrelson could always sense when there was something to be earned. Raised in a rough-and-tumble area of Savannah, Harrelson chose his battles carefully and cautiously measured his actions. Despite his portrayal as an impulsive individual, the skinny baseball player learned how to maneuver his way out of unavoidable tight spots, using perceptive street smarts, the power of persuasion, and his extensive network of contacts and friends. Harrelson's autobiographical tome, Hawk, written with Al Hirshberg in 1969, describes the adventures of "The Hawk" in great detail. From pool hustling to golfing for money, dozens of anecdotes depicting shrewd play and smooth operating are contained in the book's 244 pages, and the stories, which start to pick up speed around 1964, show us the reluctant, slow emergence of the outspoken Hawk persona from the small-town Ken Harrelson, who took care of his mama and spoke with a Southern accent.
However, not everyone was a fan of the flashy façade, and The Hawk ruffled a few people's feathers and rubbed some the wrong way. Unfortunately, one such person bothered by the outfielder's flamboyance was Charles O. Finley, who owned the A's. Finley tried over and over again to irk The Hawk, and refused him a raise; Harrelson had to call his mother for financial support.11 In 1966, after 63 games, a series of heated public arguments and angry private exchanges, Harrelson was traded to the Washington Senators, where he played for the remainder of the season and some of the next before he was reluctantly reunited with Finley, who bought him back in the early months of 1967. Harrelson had never seen eye to eye with the eccentric owner, but he liked Kansas City, and thus patiently put up with Finley's shenanigans. Harrelson had always been co-operative with Finley, even when he was asked to take part in one of the baseball mogul's more infamous pranks — a donkey named Charlie O. that Finley repeatedly forced Harrelson to ride.12 Finley's antics were usually rash and impulsive, often causing more harm than good, and Harrelson bore them with tolerance. "Charlie had some good ideas and some bad ideas," Harrelson says, "but overall he was not a nice man."
After Finley suspended pitcher Lew Krausse on August 18, 1967, for what many viewed as a trumped-up offense, Krausse's teammates, led by Jack Aker, Harrelson and a half dozen other players, read a statement criticizing Finley. Manager Alvin Dark revolted, refusing to bench Krausse, instead choosing to voice his support for the pitcher.13 Finley, not known for level-headed decisions, fired Dark, prompting Harrelson to publicly denounce the owner. On the morning of August 24, the Kansas City papers wrote that Harrelson had called Finley a "menace to baseball." Finley seethed, and all the extra effort The Hawk had employed to try to appease his boss was wasted when he was put on irrevocable waivers on August 25—because of his refusal to attend a press conference to apologize for a statement he says he never made.
Because Harrelson was having an excellent year (he had been hitting .273 at the time of his release), he found himself the subject of one of the first free agent bidding wars in modern baseball history. Among the bidders in the battle for Harrelson were the Boston Red Sox. The Red Sox were in the middle of a pennant race and had started the season with Tony Conigliaro as their right fielder. When Conigliaro, a popular and talented local sports hero, was tragically felled by a fastball on August 18, ending his season and curtailing a very promising career, the Sox began searching for a replacement. General Manager Dick O'Connell saw the release of Harrelson as an opportunity to fill the gap left by the injury to Conigliaro. After an intense struggle with several major league teams (and even the Tokyo Giants), O'Connell and the Red Sox finally signed "The Hawk" for $150,000 on August 28—approximately a $138,000 increase in salary.
In many ways, the signing of Hawk Harrelson marked the end of the age where the owner was boss, and the beginning of the era in which players controlled their own destinies. Harrelson was someone the Red Sox desperately needed, and while O'Connell knew it, so did The Hawk. The end result, an incredibly lucrative contract by the standards of the time period, was what Bill Reynolds called "a sneak preview of free agency" in his book Lost Summer.
The Red Sox and Hawk Harrelson were a perfect fit, and it was really in Boston that The Hawk took wing: the Red Sox needed a power-hitting right fielder, and Harrelson, who was having a great season, filled the bill perfectly. And not only did Boston love The Hawk, but The Hawk reciprocated that love.
"The Hawk was really a product of the fans of Boston," Harrelson says, "The Red Sox were a great team, but they didn't have any real personalities up there… after some success, The Hawk evolved, and that is really how it happened. For many reasons, one of them being that, Boston will always have a special place in my heart." To Harrelson, The Hawk wasn't just some false persona to utilize for monetary purposes — though that was a very nice side effect — The Hawk was something that gave Harrelson, someone who always thought of himself as an overachiever, support when he was behind or slumping. He credits the fans with "bringing The Hawk to the forefront," and maintains that he never could have been successful in baseball without The Hawk backing him up.
In 1967, the fans were behind Ken Harrelson — and The Hawk — all the way, and the now-happy outfielder helped the Red Sox take the pennant. Besides being a solid outfielder, he was also a great clubhouse influence who could take the strain of a pennant race off other players, players like Carl Yastrzemski. Especially Carl Yastrzemski. In 1967, Yaz was, as Harrelson wrote in his book, "the greatest ballplayer who ever lived, in fact or fiction. Compared to him [fictional sports hero] Frank Merriwell was a piker." Harrelson provided a great help in taking the press load off the media-conscious Yaz. Like every other member of the 1967 team maintains, Harrelson recalls the Red Sox as having a great year, a magical, unbelievable, impossible year. Everyone did their part, even self-proclaimed Johnny-come-latelies like The Hawk. Harrelson did not have a good World Series, and the Red Sox lost in seven games.
In the clubhouse immediately after the final game, Harrelson would finally lose his composure, sobbing uncontrollably as the victorious St. Louis Cardinals celebrated just down the hall. Harrelson had not played his best with the Red Sox, hitting just .200 with only 14 RBIs, and though Hawk had knocked out some clutch hits, including a key RBI in their October 1, pennant-clinching game, it was a definite possibility that his poor play would result in a trade.
Despite the rumored trade offers, by the spring of 1968, The Hawk was flying high. Harrelson had established himself as one of the baseball's best golfers, and won a number of golf tournaments in the offseason.14 As soon as spring training started however, The Hawk totally dedicated himself to getting ready for a good year, and even gave away his clubs so he could focus on baseball.15
Red Sox fans, many of whom were initially upset at the thought of Harrelson replacing their beloved Conigliaro, had begun to open their arms to their flamboyant right fielder. Nonetheless, rookie Joe Lahoud was showing some promise in right, and with George Scott already at first base, Harrelson's second position, trade rumors regarding The Hawk abounded. Fortunately for Harrelson — and, as it would turn out, the Red Sox — Conigliaro's injury still prevented him from playing and Lahoud proved to still be too young. Shortly after Opening Day, it became clear that the Hawk would roost in right field at Fenway for at least one more season.
The 1968 season would become known as "The Year of the Pitcher," and in the American League, Detroit Tigers right-hander Denny McLain won 31 games and the MVP award. But despite the mastery of pitching that year, the Hawk excelled.16 The Red Sox won no pennant in 1968, but Harrelson helped keep them competitive. He valued runs batted in above all other measures of individual success, and leading the league in RBIs in 1968 with 109 is something he remains proud of more than 40 years later.
Again and again, The Hawk picked up the Sox, seemingly always getting a big hit when one was most needed. He hit 35 home runs during the season, 13 of them game-winners. Harrelson was enjoying Boston immensely and playing better than he ever had before, and his effusive, explosive alter-ego, The Hawk, was having the time of his life, earning more money then he ever had before — and spending that money just as quickly, which only helped build the "Hawk" persona.
The Hawk had become more than just a nickname, it was now a commodity, and lavish possessions proliferated. A lavender dune-buggy. A sandwich shop, an insurance company and travel agency. A song by a popular Boston band entitled "Don't Walk The Hawk." The emblem "Hawk" embroidered on every piece of clothing, including his trademark Nehru jackets. He attended an Academy of Professional Sports Show that was televised from Hollywood — and, reportedly, his attire made the movie stars "look like rag pickers."17 The Hawk loved the attention, but Harrelson was overwhelmed by it. Carl Yastrzemski, who was no stranger to endorsements himself, offered some helpful financial advice: Hire Bob Woolf.18 Woolf, a Boston lawyer who had become one of the world's most well-known sports agents when he negotiated Larry Bird's contract with the Celtics in 1979, would manage The Hawk's finances for the rest of his career and serve as a voice of reason in times of trouble.
In the early stages of the 1969 season, in a shocking transaction, the Red Sox dealt Harrelson to the Cleveland Indians along with Juan Pizarro and Dick Ellsworth in exchange for Sonny Siebert, Joe Azcue, and Vicente Romo. George Scott and Dalton Jones would split time at first base, and Tony Conigliaro would try to making a comeback in right field. The move came as a paralyzing blow to Harrelson, who loved Boston, and could not imagine leaving it. The previous season, Red Sox owner Tom Yawkey had announced in a newspaper article that he was thankful that the Red Sox had not traded Harrelson prior to spring training in 1968: "Often," Yawkey said, "the best deals are the ones you don't make."19 Harrelson's Red Sox teammates were distraught, and the Hawk himself was inconsolable. Angry fans picketed the front office protesting the trade. Despite Harrelson's public displays of disappointment, when Harrelson announced that he would retire rather than play for another team, jaws dropped across the country, and chaos reigned.
How could The Hawk nest anywhere else but Boston? He was loved by the fans, loved by his teammates, loved by sponsors, endorsers, businessmen, and consumers. Harrelson simply could not leave Boston — he would rather not play. On the other hand, baseball meant too much to The Hawk to simply leave it behind. For Red Sox General Manager Dick O'Connell, Cleveland Indians president Gabe Paul, and Baseball Commissioner Bowie Kuhn, the situation was a nightmare. Azcue and Siebert had already said they would not go back to Cleveland, and the other three players involved in the transaction were caught in limbo — freshly dressed in their new uniforms but not eligible to play. Meanwhile, Harrelson waited, in the middle of the frenzy, exhausted from lack of sleep and emotionally in shambles, The Hawk lay mostly dormant throughout the entire solemn ordeal, but shone through briefly when Harrelson met Kuhn for the first time. Though the distressed Harrelson had a serious matter on his mind, his flashy alter-ego was distracted by the finely-dressed commissioner's attire, and, unable to help himself, The Hawk commented extensively on the sartorial elegance of Kuhn's suit.20 On April 21, Harrelson and his agent, Wolff, met with the commissioner, AL President Joe Cronin, Paul, and O'Connell at the MLB offices in New York, and resolved the situation. Harrelson loved baseball "too much to hurt it," and he reported to Cleveland the next day, reunited with friend and former manager Alvin Dark.21
Despite Harrelson's reluctance to leave Boston, he was pleasantly surprised to be welcomed with open arms in Cleveland, and business deals abounded. He again endorsed products, and while in Cleveland his autobiography (written with Al Hirshberg) was published. The Hawk was huge again. But the style didn't lack substance, as Harrelson hit 30 homers and drove in 92 runs, en route to another great year.
In 1970, tragedy struck in the form of a debilitating injury. Playing in a spring training game on March 19 against his former team, the Oakland Athletics, Hawk slid into second base and immediately felt a shooting pain in his leg. It was broken. Harrelson was laid up for a long time, and while he was injured, rookie Chris Chambliss took his place. After the 1971 season, having played only 69 games since his injury, The Hawk felt an emotion that was entirely new to him. "I just lost my desire to play baseball," Harrelson said in his 2006 interview, "I was still a competitor, The Hawk was still there, but I didn't want to play baseball anymore." Harrelson sadly announced that he would quit the game he had loved for so long to pursue a professional golfing career. That pursuit ended badly, and Harrelson turned back to baseball once more in 1975, coming back to Boston—this time as an announcer. Many Boston fans have fond memories of Harrelson's work behind the mike.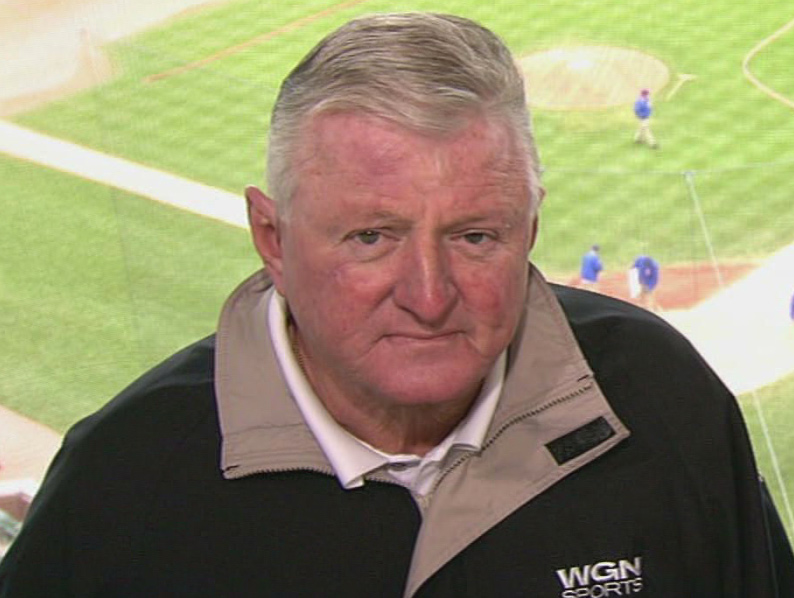 In 1981, Harrelson was hired as play-by-play announcer for the Chicago White Sox, where he served until 1986, when he moved from the broadcast booth to the front office, serving as the White Sox executive vice president of baseball operations for a year. In 1987, Harrelson returned to the broadcast booth for good, taking a position doing play-by-play for the New York Yankees. He returned to the White Sox in 1991 and worked there for nearly three more decades, retiring after the 2018 season. His Southern twang and enthusiastic catchphrases made him a fan favorite—and also led to some fans calling for his dismissal, claiming that his accent was unintelligible and his baseball phrases hackneyed.
He was honored with the Ford C. Frick Award for baseball broadcasting excellence in 2020 and will participate in Induction Weekend ceremonies at the Baseball Hall of Fame in Cooperstown.
Deep down, the competitive nature of The Hawk remained and whether he was defending Lew Krausse or Jerry Reinsdorf, he never shied away from an issue. In 2006, The Hawk's opponent wasn't an owner named Charlie Finley, but a journalist named Jay Mariotti. Mariotti, who constantly attacked Reinsdorf, has been affectionately nicknamed "Hiney Bird" by The Hawk. Harrelson explains: "The Hiney Bird is a creature that flies in perfectly concentric circles over and over again until it flies up its own ass and disappears forever."
Today, Harrelson resides in Granger, Indiana, about two hours outside of Chicago, with his wife, Aris. They are the proud parents of two children, Casey and Krista, and several grandchildren. Casey tried his hand at professional golf trying to make the PGA Tour, and also spent a year in professional baseball. The Hawk usually lies dormant, and for nearly four decades the Southern charm of Kenneth Smith Harrelson was what millions of White Sox fans heard every night when they tuned in to the White Sox games on WGN-TV. Harrelson claimed he loved the game "more than ever."
Hawk Harrelson summarizes how he says he viewed the game: "Our two rules were play your ass off, and have fun. … Sure, you wanted money … but that was third or fourth down the line."
Last revised: January 21, 2020

An earlier version of this biography originally appeared in SABR's "The 1967 Impossible Dream Red Sox: Pandemonium On The Field" (Rounder Books, 2007), edited by Bill Nowlin.
Notes
1 Ken Harrelson interview with author on May 4, 2006. All quotations not otherwise attributed are from this interview.
2 Bill Reynolds, Lost Summer: The 1967 Red Sox and the Impossible Dream (New York: Warner Books, 1992).
3 Harrelson interview with author.
4 Reynolds, op. cit.
5 Or "El Hawko," as Caracas fans referred to him. There are many stories about Harrelson's adventures in South America. For instance, once, when Harrelson was tossed from a game in Venezuela, he charged out of the dugout to argue with the umpire, who immediately struck him in the jaw. Harrelson fought back, punching the umpire repeatedly. A newspaper article commenting on the event, written by George Minot Jr. of the Washington Post (June 10, 1966) remarked that Harrelson's jaw must have been a "prominent target."
6 Interview with Billy Bryan, May 23, 2006.
7 Harrelson interview with author.
8 Ken Harrelson and Al Hirshberg, Hawk (New York: Viking Press, 1969).
9 Harrelson interview with author.
10 Harrelson interview with author.
11 Harrelson, Hawk, op. cit.
12 Ibid. Harrelson says he was paid $25.
13 In Hawk, Harrelson claims that Krausse got a "bum rap," and wasn't even slightly disorderly.
14 Harrelson, Hawk, op. cit.
15 "Harrelson: The Hawk Flies High With Boston," Los Angeles Times, May 30, 1968.
16 Harrelson won AL Player of the Year and came in third in the MVP race behind McLain and Bill Freehan of Detroit. He also made his only All-Star appearance in a game that seemed typical of the year — a 1-0 pitchers' duel in favor of the National League.
17 Bob Addie, "The Lavender Hawk", Washington Post, February 27, 1969.
18 Harrelson, Hawk, op. cit.
19 Dick Dew, "Harrelson No Longer On Block for Any Price," Boston Record American, May 22, 1968: 15.
20 George Vescey, "Williams Joins Lombardi's Fan Club." New York Times, April 27, 1969.
21 Harrelson, Hawk, op. cit.
Born
September 4, 1941 at Woodruff, SC (USA)
If you can help us improve this player's biography, contact us.
http://bioproj.sabr.org/bp_ftp/images2/HarrelsonKen.jpg
600
800
admin
/wp-content/uploads/2020/02/sabr_logo.png
admin
2012-01-04 20:18:51
2012-01-04 20:18:51
Ken Harrelson