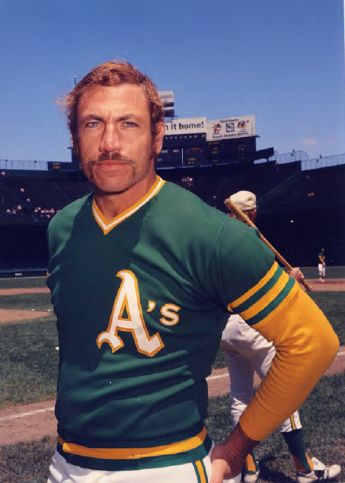 ---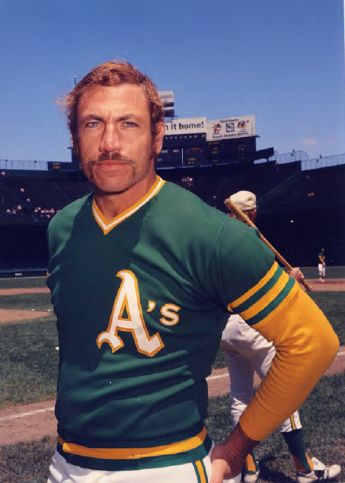 Sports writer Phil Jackman once called Mike Epstein "Babe the Blue Ox with brains."1 The name did not stick, but it was an apt description of the brawny man's prodigious power and academic bent, traits that Epstein carried throughout a baseball career that featured nine seasons in the major leagues.
Michael Peter Epstein was born on April 4, 1943 in the Bronx, New York. His parents, Jack and Evelyn, moved the family to Hartsdale, New York, in Westchester County to provide better educational opportunities for Mike and his two sisters, Linda and Carole.  Mike's uncle Irving took him to watch the Yankees play and was the first to start Mike dreaming of playing big-league baseball.
Opportunity came knocking for Jack Epstein in 1957 when he opened a new office for his company in Los Angeles. Epstein remembered the two-week drive across the country to his new life, and the palm trees that greeted them as they entered the city. The California sunshine provided Mike his first chance to play sports all year long. 
Epstein played ball at La Cienega Park, near his house, and honed skills that led him to a productive career at Fairfax High School, where he starred in all sports. His high-school football team won only two games in three years, but Epstein excelled. He played fullback on offense, also played on defense and was "in on 90 percent of the tackles."2
He was a pitcher on the baseball team, coached by Frank Schaffer, who had mentored big leaguers Larry and Norm Sherry, Chuck Essegian, and Barry Latman. In Epstein's sophomore year his arm gave out and instead of a bonus to pitch in the big leagues, it was football that provided a lucrative scholarship for him at the University of California at Berkeley.
He had great success on the gridiron at Berkeley, playing for future NFL coach Marv Levy. As a sophomore running back, Epstein was the number-two ground gainer in a backfield that included future All-American and NFL quarterback Craig Morton. At that juncture in his career Epstein believed firmly that playing with Morton, "we would both make All-American before we were through."3
A chance occurrence led Epstein back to baseball. Walking back from spring football practice, he and other football players made their way past the baseball field, where the freshman team was warming up. Their coach, Al Mathews, needled them about the average football player's lack of real athletic talent. "Not one of them has the athleticism to hit a baseball," he said loudly.4
Epstein yelled back that he could hit anything the coach could throw. Mathews took him up on the notion, and though Epstein struggled to make contact initially, he finally started to drive one ball after another over the fence. Varsity coach George Wolfman was handed his star player for that season and the next. 
The next fall Epstein quit football and focused on baseball, fearing the gridiron was only a chance for injury. During his junior season Epstein became a college all-star, hitting .384. He had only five home runs, but in a stadium where it was 420 feet to the right-field wall, which stood 80 feet high.
Epstein played in 20 games for the US team in the 1964 Tokyo Olympics. The team was coached by the legendary Southern Cal coach Rod Dedeaux. Epstein led the team in hitting. He credited Dedeaux and the other instructors he had in his collegiate career with making him into an All-American slugger in a relatively short period. But his greatest experience learning from the best was yet to come.
Epstein was drafted by the Baltimore Orioles and signed for a bonus estimated at more than $20,000. Orioles general manager Harry Dalton said, "He's a kid who could hit 50 home runs." Epstein's work ethic was one of two attributes that impressed those in his first spring-training camp with the Orioles. "As Emerson said, 'Nothing great was ever achieved without enthusiasm,'" Mike said. His desire to quote literary figures earned Epstein a new nickname, Egghead.5
Epstein quickly converted his college success into an all-star minor-league career. He was assigned to Stockton, in the Class A California League. Batting .338 with 30 home runs, he was voted the Most Valuable Player in the league. His 30 homers tied a league record set by Vince DiMaggio. 
At Stockton the nickname "Superjew" first surfaced. The term could have a pejorative connotation, but Epstein warmed to the sobriquet when Rocky Bridges applied it for the first time after Epstein hit a prodigious home run. When asked whether it was spelled as one word or two, Epstein replied, "Well, you spell Superman with one word."6 
Epstein's manager at Stockton, Harry Malmberg, was the first to raise questions about his finesse with the glove, saying his slugging first baseman  needed to "improve around first base, especially on pop flies."7 Years later Epstein admitted that his eyesight was never good enough to follow a pop fly, especially during night games.
The next season was no less successful as the Orioles jumped Epstein to Triple-A Rochester. He started the season slowly but made quick progress in May, hitting .456 for the month with six home runs in a nine-game stretch. He credited his sudden surge to adjusting his stance. He was quick to credit others with coaching tips, including manager Earl Weaver and former Cleveland Indians and Negro League star Luke Easter, who was serving in public relations for the Red Wings after a stint as hitting coach. Joe Altobelli, a longtime coach and manager in the Orioles' and other teams' organizations, was another who offered wisdom, telling Epstein, "Always be content, but never satisfied."8
Epstein was working hard on his fielding as well, and in one article was described as an agile fielder. "The harder you work, the more breaks come your way," he quoted Branch Rickey as saying.9 He was also making strides in his personal life. He married Barbara Gluskin while playing for Rochester. The two had met in Stockton, where her father was the president of the synagogue that Epstein attended briefly. Epstein brought his bride back to Rochester where she began her career as a baseball wife, one that has lasted for 47 years as of 2013.
Epstein was named International League Player of the Month in June 1966. Writers noted his major-league potential, but added that he was blocked effectively by Boog Powell, who was well-established as the slugging first baseman for the Orioles. By the end of the 1966 season Epstein had a .309 batting average, 29 home runs, and 102 RBIs. The numbers earned him recognition by The Sporting News as the Minor League Player of the Year, as well as a September call-up to the Orioles.
With Powell firmly entrenched at first base for the Orioles, rumors surfaced that the Orioles might trade Epstein. Speculation centered on a possible trade to the New York Yankees for Mel Stottlemyre. The trade never happened. Epstein went to the instructional league after the season to learn to play the outfield. But in spring training in 1967, it was evidence that despite his effort, no amount of hard work was able to make Epstein into an outfielder. His trouble judging fly balls around the first-base bag was warning enough that he was not a good fit chasing them full time in the outfield. 
Epstein believed, however, that all the minor-league success and hard work had earned him a shot at the majors. Shortly after the 1967 season began, the Orioles decided to send Epstein to Rochester again and he bristled at the news. Rather than report, he and his wife went to New York, where they stayed with Epstein's grandmother.10
General manager Dalton tried  to lure Epstein back. Epstein asserted that Dalton had promised him a trade if he failed to make the big-league roster. In late May Baltimore sent Epstein and pitcher Frank Bertaina to Washington for Senators pitcher Pete Richert. 
Washington manager Gil Hodges made Epstein the everyday first baseman and Epstein had some initial success, hitting a grand slam against the Orioles. But he was unable to hit with consistency, managing only a .226 batting average with nine home runs in 297 at-bats. (He did set a fielding record, getting 32 putouts in a 22-inning game against the Chicago White Sox.)
The next season started with the same disappointing production and in May the Senators sent Epstein to Buffalo, their Triple-A affiliate. Epstein acknowledged that this demotion was "an entirely different set of circumstances" than the prior year when he had refused to report to Rochester.11 He showed that there was nothing left for him to learn in the International League, hitting .400 with five home runs in 11 games. When he came back in June he had only slightly better results than in his rookie season. He hit only 13 home runs for the year and his .234 batting average was well off the minor-league figures that had made him such a "can't-miss" prospect.
Epstein's career took a fortunate turn in 1969 when Ted Williams became the Senators' manager. He proved the best of all the instructors Epstein worked with. Mike became Williams's special project. Beginning in 1969 spring training, Williams subtly remade Epstein's approach at the plate. 
Williams knew the importance of Epstein to the Senators' offense and said of him, "Epstein has the tools.  He should be a great hitter."12 Cutting through all the theories about how Epstein could make the most of his talents, Williams told him to go back to the swing that had made him Minor League Player of the Year. He suggested that Epstein shorten his swing, saying, "Why the big swing? With his power, if he connects, it's gone."13 As he did with all of the Senators' hitters, Williams preached to Epstein the need to be more selective at the plate. Epstein recalled the constant refrain from the dugout to the Senators as they came to the plate: "Come on, Bush, get a good pitch to hit."14 Like the rest of the Senators, Epstein learned to swing at strikes and make the most of his opportunities at the plate. His spring tutelage was a resounding success and he started to hit major-league pitching with gusto. By the end of May Epstein was batting .267 and he had a dozen home runs.
One game in Chicago was especially sweet for Epstein. The Senators were playing in Comiskey Park for the first time under Williams, who told Epstein it was the toughest park for him to hit home runs in. Meanwhile Williams told reporters that Epstein was going to be a slugger who would "hit 40 home runs some day." Encouraged by his manager's confidence, Epstein hit three home runs that day off Sammy Ellis and Wilbur Wood. Williams was not pleased. Having told Epstein of his own problems hitting home runs in Comiskey Park, he saw the young player as attempting to show him up. Williams refused to speak to Epstein when he returned to the dugout after the final home run and again after the game. But Williams was unaware that the walls had been moved in for the 1969 season, and quickly forgave Epstein. The two remained friends for many years after they were no longer active in baseball.
Much of the friendship was based on the sense of gratitude Epstein had toward Williams for bringing him to life as a power hitter. Epstein had 30 home runs for the year and hit a respectable .278, both career highs. Perhaps most impressive of all was the success he had putting Ted Williams' advice into play about swinging only at strikes. His on-base percentage of .414 was perhaps his most impressive accomplishment, and it was another career mark.
Williams earned Manager of the Year honors from The Sporting News for his work with sluggers Frank Howard and Epstein. But Ted was concerned that Epstein could not repeat his 1969 performance and encouraged team owner Bob Short to trade him. During much of the 1969 season, Williams had platooned Epstein and was concerned that he could not handle left-handed pitching. In '69 Epstein hit .259 against lefties while hitting .283 against right-handers. Williams's analysis proved prescient as Epstein fell off as a hitter in 1970 (.256, 20 home runs). Much of the fall-off was due to the fact that he faced left-handed pitching more often, and managed only a .199 batting average against them. The Senators' offense overall was far less successful in Williams's second year.
Bob Short was convinced that Williams had been correct in his assessment of Epstein, and in May of 1971 the Senators traded Mike and relief pitcher Darold Knowles to the Oakland Athletics for three players and an undisclosed amount of cash. (It may have been the money that prompted the trade, as Short needed funds to pay on the borrowed money he had used to purchase the Senators.)
Epstein was back at home in California as an Oakland Athletic and it showed in his immediate performance for his new team. When he was traded, his batting average stood at a meager .247 and he had but a single home run. In his first six weeks in Oakland he batted over .300 and had ten homers and seven doubles. "You take more pride with a first-place club," Epstein said, acknowledging that the atmosphere in Washington had quit being conducive to a player's top performance. Epstein was no longer being platooned. Manager Dick Williams had him hitting against all comers. But the long season wore on Epstein. In July his batting average neared .300, but the August heat wore on him and he failed to hit a homer in the month. His average sank to .243. Tommy Davis began playing first for Oakland against left-handed pitching. By season's end Epstein's batting average was down to pre-Ted Williams levels: .237, with 19 home runs.
In October Epstein saw his first postseason action with Oakland. It was the American League Championship Series against his old team, the Orioles. Although Epstein had found motivation in prior years playing against his old team, his hitting funk now continued. He played in only two games and managed just a single in five at-bats. The Athletics were swept in three games.
The next season Epstein started strong again. He lost weight — 30 pounds, according to press accounts — and was more nimble around the first-base bag as a result.15 In the first half of the season Epstein had 18 home runs and his batting average held just below .300. He hit fifth in the lineup, behind Reggie Jackson and Sal Bando, and provided essential support for the pair who were the heart of the Athletics team. He continued his strong numbers against both right- and left-handed pitching throughout July, and Dick Williams was no longer platooning him. "Mike's a totally different player than he was last year," Williams said.16 Again Epstein's numbers fell off as the season dragged through the August heat. But he still had one of his best seasons as a hitter. He led the Athletics with 26 home runs, more than either Jackson or Sal Bando. He established himself as an integral piece in the Oakland lineup. He hit .270 and had 70 RBIs.
With a rejuvenated Epstein, the Oakland Athletics were primed for the American League Championship Series against the Detroit Tigers. The A's defeated the Tigers in five games. Epstein started every contest, even against the tough left-handers Mickey Lolich and Woodie Fryman. He had his best games against Lolich, going 2-for-3 against him in the first game and hitting a solo home run in the fourth game that Oakland lost in extra innings. 
The Athletics moved on to face Cincinnati's Big Red Machine in the World Series. Oakland won the first two games, but Epstein, batting cleanup, went hitless in both games. In Game Two manager Dick Williams took Epstein out of the game for a pinch-runner in the sixth inning. Epstein had made an error the inning before. Epstein and Williams got into a shouting match on the plane back to Oakland and the fracas made the press.
Oakland won the Series in seven games with Epstein starting at first base in the first six. He remained hitless during the Series and in Game Seven, Williams replaced him with Gene Tenace at first base. It proved to be a deciding factor as Tenace went 2-for-3, knocking in two of victorious Oakland's three runs. Epstein believed that there was lingering ill will, not with manager Williams, but from a locker-room altercation with Reggie Jackson late in the season when the two men came to blows and Reggie missed several games. Owner Charlie Finley sided with Jackson. He traded Epstein back to the Senators franchise, which was now in Texas. Finley said that Gene Tenace had lingering shoulder problems that would mean he could play only first base, making Epstein expendable.
Epstein was not pleased by the trade. "What is shocking is that I am going from a good ballclub to a bad ballclub," he said. "I am going from the best ballclub in the world to the worst in the world."17 Bob Short helped ease the pain for Epstein by giving him a new contract worth $60,000, making him the highest-paid member of the Texas Rangers. There were rumors that Short was trying to trade his expensive new slugger and that Finley wanted him back in Oakland. Whatever options Short may have had, Epstein did not stay long in Texas. He was traded to the California Angels early in May with his batting average just north of .200 and a single home run to his credit.
In 312 at-bats with California in 1973, Epstein's numbers were the worst in his career. He hit only .209 and the slugger that Ted Williams had predicted would hit 40 home runs in a season managed only nine in 1973. Epstein also did not get along with manager Bobby Winkles, who had managed the Arizona State University team that produced Oakland stars Sal Bando, Reggie Jackson, and Rick Monday, but had trouble adapting to professional athletes who did not have patience for his college approach. But it was more than Winkles. After he started the 1974 season hitting at an even more anemic pace, Epstein was released by the Angels on May 6. He still drew a full year's salary under new rules negotiated by the Major League Players Association.18
Epstein said that at this point in his career he was just burned out. He was only 31 years old and players would earn free agency at the end of that year. But Epstein walked away from the game and the pending explosion in salaries. It was several decades before he returned to baseball.  
Epstein made a successful transition into the world of business. He turned around a small company that refined and traded precious metals and had less than a million dollars in annual sales. Two years later the firm grossed $25 million.19 He started his own commodities trading company and had success before selling the business for a profit.
After moving to Colorado, Epstein got back into baseball to stay. His son Jake proved to have real baseball talent. Epstein coached a youth team for 11- and 12-year-olds called the Denver Reds that played their way to the National Championship tournament in Atlanta and finished second. Both father and son were hooked.
Epstein moved his family to Orange County in Southern California, where his son could play year-round. Jake's team won three consecutive national championships in the Amateur American Baseball Congress. Epstein coached the team, that included future major leaguers Eric Chavez, Nick Punto, and Ty Wigginton.
Epstein's success earned him a shot with the Milwaukee Brewers, who made him their minor-league manager in Helena, Montana. But Epstein's theories of hitting learned from Ted Williams went against the grain at a time when the Charley Lau theory of hitting was still popular. Leaving Helena, Epstein established his own hitting school in Southern California in 2000. In 2003 Jake joined the business after playing college ball at the University of Missouri and California State Fullerton.  He signed with the Angels but quit after one season to concentrate on a burgeoning family. Jake Epstein was one more believer in the wisdom of Ted Williams, teaching the same approach that his father had learned in 1969.
In 2013 the Epstein School of Hitting was operating in Colorado. It has certified 600 instructors who have taken back to their homes the Ted Williams approach at the plate. It is the best legacy Teddy Ballgame could ever have, helping kids of all ages take their game to the next level. And Mike Epstein said he was proud that he could still keep his old coach in the game.
Epstein has been inducted into the National Jewish Sports Hall of Fame. Summing up, he said his baseball career "was a great ride," adding, "How often can a nice Jewish kid from the Bronx bat fourth on a winning World Series team?  I have been truly blessed."20
Sources
Telephone interviews with Mike Epstein, June 15, 2007, and September 4, 2013.
Leavengood, Ted, Ted Williams and the 1969 Senators (Jefferson, North Carolina: McFarland and Company, 2009).
The Sporting News, 1966-1974.
Notes
1 Phil Jackman, "Orioles Will Be Sitting Pretty If Epstein Cuts It as Flyhawk," The Sporting News, March 18, 1967, 7.
2 Doug Brown, "Egghead Epstein: the Slugging Scholar," The Sporting News, April 3, 1965, 5.
3 Ibid.
4 Telephone interview with Mike Epstein, July 15, 2007.
5 Brown, "Egghead Epstein."
6 Doug Brown, "Orioles Slugger Epstein: A Bomb Ready to Go Off," The Sporting News, November 13, 1965, 22.
7 Ibid.
8 Epstein interview, September 4, 2013.
9 Epstein interview, September 4, 2013.
10 Doug Brown, "Epstein Insists He's Earned Wings — But Not Red Variety," The Sporting News, May 27, 1967, 12.
11 George Minot, "Senators Farm Epstein to Buffalo," Washington Post, May 23, 1968, C1.
12 Merrill Whittlesey, "Ted Tutors Promising Pupil Epstein," The Sporting News, March 22, 1969, 23.
13 Ibid.
14  Epstein interview, July 15, 2007.
15 Ron Bergman, "Epstein Meets Cepeda Challenge With Hot Bat," The Sporting News, July 22, 1972, 4.
16 Ibid.
17 Rob Bergman, "Epstein Exit Traced to Tenace Shoulder Ailment," The Sporting News, December 23, 1972, 37.
18 Dick Miller, "Epstein to Get Big Payoff," The Sporting News, May 18, 1974,  30.
19 Telephone interview Mike Epstein, September 4, 2013.
20 Epstein interview, September 4, 2013.
Born
April 4, 1943 at Bronx, NY (USA)
If you can help us improve this player's biography, contact us.
http://sabr.org/sites/default/files/MikeEpstein.JPG
600
800
admin
/wp-content/uploads/2020/02/sabr_logo.png
admin
2012-01-04 20:37:52
2020-10-20 05:39:41
Mike Epstein