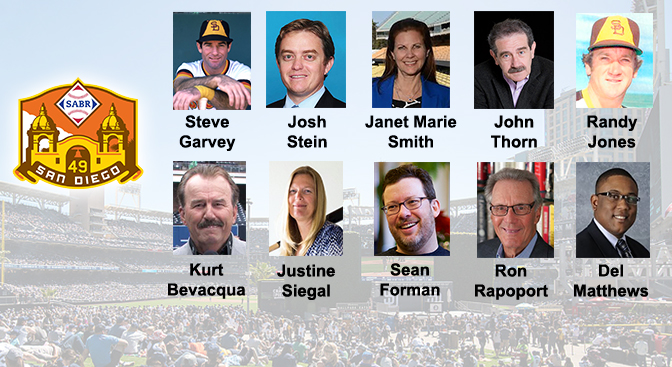 Here are our featured speakers and panelists for the SABR 49 national convention, which was held June 26-30, 2019, at the Manchester Grand Hyatt in downtown San Diego.
Click here to learn more about our SABR 49 committee meeting speakers — including a Steve Garvey oral history Q&A, a 100th anniversary Black Sox Scandal panel, and more — and our SABR 49 research presentations.
Click on a link below to listen to highlights from our featured panels at SABR 49:
SABR 49 Welcoming Remarks: Josh Stein
9:30-10:30 a.m., Thursday, June 27
Josh Stein is in his sixth season as the San Diego Padres' Assistant General Manager, where he assists in all player acquisitions as well as roster, payroll and budget management. He is involved in all contract negotiations, including coordinating the club's salary arbitration efforts, while also managing the Padres' statistical analysis and video scouting systems. He first joined the Padres' front office in 2003 as a baseball operations intern and rose through the ranks to become Advance Scouting Coordinator in 2006 and Director of Baseball Operations in 2009 before taking on his current role in 2013. He graduated from the University of California, Berkeley, with a degree in psychology and holds a JD from the University of California's Hastings College of Law.

1984 Padres Panel
10:30-11:30 a.m., Thursday, June 27
Kurt Bevacqua played 15 seasons in Major League Baseball, including stints with the San Diego Padres from 1979-80 and 1982-85, where he helped lead the team to the World Series in 1984. In the fall classic against the Detroit Tigers, he hit .412 with two home runs as the Padres' designated hitter, including a go-ahead three-run shot off Dan Petry in Game Two. He was also the Bazooka Bubble Gum Blowing Champion and he currently hosts his own podcast, "Dirty Kurt's Dugout."
Ron Rapoport was a sports columnist for the Chicago Sun-Times for more than 20 years and a sports commentator for National Public Radio's "Weekend Edition Saturday." He has won the Ring Lardner Award for Excellence in Sports Journalism and authored several books, most recently Let's Play Two: The Legend of Mr. Cub. The Life of Ernie Banks.
Ballard Smith was President of the San Diego Padres from 1979 to 1987, and he played a key role in assembling the 1984 National League championship team. From 1984 to 1987, he served on the Executive Committee of Major League Baseball. He also served on the Board of Directors of the McDonald's Corporation and was a district attorney in Pennsylvania. He is the co-founder of Science of Sport, an educational organization that works with major-league teams, and a board member for Natural High, a youth drug prevention nonprofit. He is a graduate of the University of Minnesota Law School.
Bill Center is a sports columnist for the San Diego Union-Tribune, where he has covered San Diego sports since 1967. He has been involved in covering the Padres for more than 35 years, including both World Series runs in 1984 and 1998, and he is also the newspaper's lead motorsports and boating writer. He has covered dozens of Rose Bowls, Indianapolis 500s, and boxing title fights, eight America's Cups for sailing, two men's soccer World Cups, and the 1984 Summer Olympics. He is a past president of the Baseball Writers' Association of America and has lived in San Diego since 1950.
Moderator: Bob Chandler was a TV and radio broadcaster for the San Diego Padres from 1970 to 2003 and he knows more than almost anyone when it comes to San Diego baseball. He has called play-by-play for the NFL's San Diego Chargers, the NBA's San Diego (now Houston) Rockets, San Diego State University, and many other professional, college, and high school sports events. He is the author of Bob Chandler's Tales from the San Diego Padres, which chronicled the first four decades of Padres baseball history.
Women in Baseball Panel 
2:00-3:00 p.m., Thursday, June 27

Ila Borders broke barriers in baseball in 1997 when she became the first woman to pitch in the minor leagues with the Northern League's St. Paul Saints. She also pitched for the Duluth-Superior Dukes, the Madison Black Wolf, and the Zion Pioneerzz in her three years in the minors, and became a role model for millions of young girls and women who want to play baseball. She won a scholarship to play baseball at Southern California College and completed her degree at Whittier Christian College, where she became the first woman to pitch for an NCAA Division III team. In 2003, she was elected to the Baseball Reliquary's Shrine of the Eternals and she was a finalist this year for SABR's Dorothy Seymour Mills Lifetime Achievement Award. Since her retirement from professional baseball, she has worked as a firefighter and currently lives in Oregon. 
Perry Barber was the inaugural recipient of SABR's Dorothy Seymour Mills Lifetime Achievement Award, honoring women in baseball, in 2018. She is one of very few women to have umpired major-league spring training games in the United States, and the only woman to umpire major-league exhibitions in both the United States and Japan. She assembled the first (and so far, only) four-woman crew to umpire a major league spring training game in 2008, and when she's not umpiring international tournaments in Taiwan and Hong Kong or spreading the gospel of umpiring to the next generation of male and female umpires, she travels the world speaking to diverse audiences and writing about the rewards of umpiring. She is a board member of the International Women's Baseball Center, an accomplished singer/songwriter, as well as a former Jeopardy! champion.

Jewel Greenberg is the producer of Girls of Summer: Big Diamond Dreams, a documentary film about the girls and women who play baseball throughout the world, focusing on members of the US Women's National Baseball Team at the Women's Baseball World Cup in South Korea. She is a filmmaker, actor, and storyteller who was born in Saudi Arabia and is now based in Los Angeles.
Justine Siegal is the founder of the Baseball For All nonprofit organization, a nonprofit organization that empowers women to play, coach, and lead in baseball. She earned her doctorate in Sport and Exercise Psychology from Springfield College, where she served as an assistant coach for the baseball team from 2008-10. In 2011, she became the first female pitcher to throw batting practice to major-league teams and in 2015, she was a coach with the Oakland A's in the Arizona instructional league.   
Janet Marie Smith is the Senior Vice President of Planning and Development for the Los Angeles Dodgers, where since 2012 she has overseen the renovations to Dodger Stadium. She is well known in baseball for her work on Oriole Park at Camden Yards, which set the standard for a new wave of ballparks after its opening in 1992 and her oversight of renovations at Fenway Park for the Boston Red Sox from 2002-09. She worked on the transformation of Ed Smith Stadium for the Baltimore Orioles spring training home in Sarasota in 2011 and for the Atlanta Braves' conversion of the 1996 Olympic Stadium to Turner Field. She is trained as an architect and urban planner and recently served as the Edward P. Bass Fellow at the Yale University School of Architecture. Her work outside of sports has included projects such as Battery Park City in New York and the revitalization of Baltimore's waterfront.
Kelsie Whitmore was born in 1998, and has been playing baseball since she was 6 years old all the way up to high school. She was part of an all-girls traveling baseball team called "The Dream Team" when she was 13 and  a participant in Baseball For All with Justine Siegal when she was 15. Since the age of 16, she has played on the US Women's National Baseball Team. From 2016-18, she played outfield and pitched for the Sonoma Stompers of the independent minor-league Pacific Association. She currently is attending Cal State Fullerton on a softball scholarship and majoring in kinesiology. Her bat and helmet are now in the National Baseball Hall of Fame Museum in Cooperstown, New York. 

Moderator: Jean Ardell is the author of Breaking into Baseball: Women and the National Pastime and the co-author with Ila Borders of Making My Pitch: A Woman's Baseball Odyssey. She co-edited with Andy McCue the 2011 SABR convention journal, Endless Seasons: Baseball in Southern California, and was the longtime chair of the NINE Spring Training Conference in Tempe, Arizona.
Increasing Diversity in Youth Participation
10:30-11:00 a.m., Friday, June 28

Del Matthews is Vice President of Baseball Development at Major League Baseball, where he oversees day-to-day operations of the MLB Urban Youth Academies and the coordination of the SiriusXM All-Star Futures Game. He spent nine seasons in the Chicago White Sox front office from 2007 to 2016, most recently as Assistant Director of Player Development and Scouting. He was the Director of Baseball Operations for the Arizona Fall League and is a product of MLB's Executive Development Program. He is a graduate of the University of Illinois at Chicago and the son of former All-Star outfielder Gary Matthews Sr.
Padres Player Panel
11:00 a.m.-12:00 p.m., Friday, June 28
Randy Jones is one of the most popular players in San Diego Padres history. He won the 1976 National League Cy Young Award, recording an NL-high 22 wins, a 2.74 ERA, and 315 1/3 innings pitched. He also finished runner-up for the Cy Young Award in 1975, with another 20-win season and a league-leading 2.24 ERA. Arm injuries limited his production afterward, and he finished his 10-year career with the Padres and New York Mets with 100 wins and a 3.42 ERA in 305 games. The Padres retired his number 35 and inducted him as a charter member in the team's Hall of Fame in 1999. He is currently an analyst for the Padres' pregame and postgame radio shows and you can often find him at Petco Park operating the Randy Jones barbeque stand in the center-field plaza.
Mark Sweeney played 14 seasons as an outfielder, first baseman, and pinch-hitter extraordinaire from 1995 to 2008 with the San Diego Padres and six other teams. He helped lead the Padres to the 1998 World Series, and recorded two pinch-hits in three at-bats during the fall classic. He batted .357 in postseason play in 17 games with the Padres and St. Louis Cardinals. Since 2012, he has served as a pregame and postgame analyst for Padres broadcasts on Fox Sports San Diego and as a studio analyst on national baseball broadcasts for FS1.
Moderator: Rob Neyer is an award-winning author and the host of SABRcast with Rob Neyer, a weekly baseball podcast that launched in 2019. He was a longtime baseball writer and editor for ESPN.com, SB Nation, and FoxSports.com. Rob began his career as a research assistant for groundbreaking baseball author Bill James, and later worked for STATS, Inc. He has also written or co-written seven baseball books, including The Neyer/James Guide to Pitchers (with Bill James), winner of the Sporting News/SABR Baseball Research Award, and most recently Power Ball: Anatomy of a Modern Baseball Game, which won this year's CASEY Award.
The Baseball Encyclopedia 50th Anniversary Panel
3:15-4:15 p.m., Friday, June 28

Sean Forman is the President of Sports Reference, LLC, which includes Baseball-Reference.com, the game's premier statistical website that launched in 2000. Over the past two decades, Sean has built and engineered what has become the go-to site to look up statistics for any baseball player or team, and he was a recipient of SABR's Henry Chadwick Award in 2011 to honor baseball's greatest researchers.
David S. Neft was the driving force behind The Baseball Encyclopedia, affectionately known to a generation of baseball fans as "Big Mac." It was published by Macmillan in 1969, totaling 2,338 pages and weighing six and a half pounds. Working for Information Concepts Inc., David led the work that produced the Big Mac, which was the first computer-based compilation of baseball records, setting the stage for much of what has come since. The three-year task filled in many gaps in the official data from the early years of baseball history, especially from the 19th century. After leaving ICI, David established The Sports Encyclopedia: Baseball with partner Richard M. Cohen, creating an annual publication updated each spring. He broadened his research to include basketball and football encyclopedias, but it is his precise and painstaking baseball investigations which established his reputation.
David W. Smith is the president and founder of Retrosheet.org, a nonprofit organization dedicated to the collection, computerization, and free distribution of play-by-play accounts of major-league games. He joined SABR in 1977 and was the recipient of the Bob Davids Award in 2005 and the Henry Chadwick Award in 2012. He is a past co-chair of SABR's Statistical Analysis Committee and an Emeritus Professor of Biology after 40 years of service at the University of Delaware.
Moderator: John Thorn was named as MLB's Official Historian by Commissioner Bud Selig in 2011, succeeding the late Jerome Holtzman. He is a longtime SABR member who was the recipient of the Society's highest honor, the Bob Davids Award, in 2006 and the Henry Chadwick Award in 2013. He is the author and editor of numerous books, including most recently Baseball in the Garden of Eden: The Secret History of the Early Game.
MLB Umpires Panel
9:15-10:15 a.m., Saturday, June 29
Gerry Davis is in his 35th season as an umpire in Major League Baseball. He served as the crew chief during the World Series in 2009, 2012, and 2017, as well as the 2012 All-Star Game in Kansas City. He has also been selected to umpire during the 1989, 1997, and 2002 All-Star Games, and the World Series in 1996, 1999, and 2004, and ten League Championship Series beginning in 1990. He has worked 143 career postseason games, the most all-time among major-league umpires.
Mike Port was Major League Baseball's Vice President of Umpiring from 2005 to 2011, where he supervised all major-league umpires and led the implementation of new technologies to evaluate umpire performance. He has also served as a rules analyst on Fox Sports during the MLB postseason. Previously, he spent 13 seasons in the Boston Red Sox front office, including a stint as the interim General Manager in 2002 and as Vice President of Baseball Operations during the club's 2004 World Series championship season. He also served as GM of the California Angels from 1984 to 1991 and was the first president of the Arizona Fall League.
Moderator: Fred Rodgers is General Manager for West Vest Inc., which distributes top-of-the-line equipment designed and developed by umpire Joe West to major-league umpires. Fred is a past president of the Ted Williams Chapter and helped organize the 1993 SABR convention in San Diego. He has been a SABR member since 1974. Currently retired and living in Houston, he was editor of Baseball Gold, the San Diego Padres' Official Newspaper, from 1982-86, and a business partner with Kurt Bevacqua.
Early California Baseball History Panel
1:00-2:00 p.m., Saturday, June 29 
Carlos Bauer is a prolific baseball historian whose specialities include early California baseball and the minor leagues. He has contributed to three volumes of SABR's Minor League History Journal; The Historical Register: The Complete Major & Minor League Record of Baseball's Greatest Players; The All-Time Japanese Baseball Register; and most recently, San Diego's First Padres and "The Kid." He is also a former chairman of SABR's Minor Leagues Research Committee.
Angus Macfarlane is a San Francisco-based "baseball treasure hunter" who focuses on the pre-history of the game in the Bay Area. He is a regular contributor to Protoball.org and Base Ball: A Journal of the Early Game, including articles on baseball's West Coast postseason in 1879 and the Knickerbockers, San Francisco's first baseball team. He grew up in what was then a little-known neighborhood called Haight-Ashbury and is a lifelong resident of San Francisco.   
Moderator: Bill Swank is an award-winning author of numerous articles and books on San Diego baseball history, including Baseball in San Diego: From the Plaza to the Padres and the second volume, From the Padres to Petco, along with Echoes From Lane Field. After retiring as a probation officer with San Diego County in 1994, he has become known as "Baseball Santa" in San Diego. For many years, he has volunteered his time as Santa Claus at Balboa Park and for charitable organizations during the holidays.

Oral History: Steve Garvey
2:15-3:15 p.m., Saturday, June 29
Steve Garvey played 19 seasons in Major League Baseball and was one of the most popular players in the game for two decades. He hit arguably the most iconic home run in San Diego Padres history, a game-winning blast off Hall of Fame closer Lee Smith to win Game 4 of the 1984 NLCS. He won MVP honors in that series for leading the Padres to their first World Series and his No. 6 was the first ever retired in franchise history. He also helped lead the Los Angeles Dodgers to four World Series and he was selected as the MVP for the National League in 1974. He made 10 All-Star teams, won four Gold Glove awards at first base, and his streak of 1,207 consecutive games played is still the most ever in National League history. 
Moderator: John McMurray is Chair of SABR's Deadball Era Committee and Oral History Committee. He is a past chair of SABR's Larry Ritter Award subcommittee, which annually presents an award to the best book on Deadball Era baseball published during the year prior. He serves on the selection panels for both the Ritter Award and the Ron Gabriel Award, and is a co-director of SABR's Jack Graney Chapter in Cleveland.
For more coverage of SABR 49, visit SABR.org/convention.