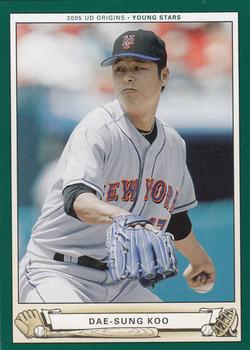 May 21, 2005: Mr. Koo's wild ride
---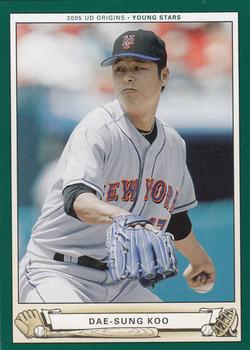 Korean pitcher Dae-Sung Koo spent just 140 days in the majors; this was his finest. The 35-year-old lefty struck out all three batters he faced that afternoon. What made the game memorable, though, was the batting and base running of "Mr. Koo" (as he was fondly known in New York). Koo amazed the baseball world by blasting a long double off Hall of Famer Randy Johnson, then scoring from second base on a sacrifice bunt with a daring headfirst slide.1
Koo's feats were most improbable. He spent the first 12 years of his professional career in the Korea Baseball Organization (KBO) and the Japanese Pacific League, where the designated hitter is used. With the Mets, as a situational reliever, Koo's at-bats were naturally rare. Indeed, if this Subway Series game had taken place at Yankee Stadium rather than Shea Stadium, the DH would have been in effect, and he'd have had just one at-bat in the majors. George Vecsey of the New York Times later wryly described that prior token appearance as "anti-batting."2
It came at Shea on May 16. New York was comfortably ahead of Cincinnati, 9-2, so manager Willie Randolph let Koo bat in the eighth inning. He just stood and watched as Reds righty Todd Coffey retired him on four pitches. On Fox Sports New York's TV broadcast, Mets announcer Ted Robinson said, "Mr. Koo … I don't think he's hit since he was eight years old." Robinson and color man Fran Healy also noted that Koo was standing so far away, he'd have had trouble reaching the ball, or at least the outer half of the plate.
"They [his teammates] gave me a lot of heat," said Koo. He vowed to swing if he ever got another chance.3 Five days later, Koo got that chance—and made it count before a full house and a national TV audience.
The starting pitcher for the Mets against the Yankees that sunny Saturday was Kris Benson. The Mets gave him a 2-0 lead by scoring in the second and third innings. It could have been more; against a lineup made up entirely of righty batters, Johnson gave up hits to nine of the first 16 men he faced. Benson was much sharper, allowing just two hits and three walks in six innings. Though two Yankees reached base in the sixth, he escaped when Hideki Matsui lined into a double play.
However, Alex Rodriguez singled to lead off the top of the seventh. With lefty swinger Tino Martinez coming up, Randolph called for Koo. The 1-and-1 pitch squirted away slightly from catcher Mike Piazza. Rodriguez broke for second, got trapped, and was thrown out trying to return to first.4 Koo proceeded to strike out Martinez and Jorge Posada.
He then led off the bottom of the seventh. One wonders why, with a slim lead, Randolph did not send up a pinch-hitter. Possibly he was looking ahead to the eighth, when another lefty hitter, Robinson Canó, was due to lead off for the Yankees. The matchup of Koo vs. the fearsome Johnson prompted this exchange on Fox's national TV broadcast:
Joe Buck: "How comfortable do you think Dae-Sung Koo is going lefty on lefty against Randy Johnson?"
Tim McCarver: "Not very."
It was ironic that at the end of 2004, the Yankees had denied interest in Koo and that at the time, they were pursuing a deal for Johnson. After the game, through an interpreter, Koo said, "Randy Johnson is very famous in Korea. He's well-known all over the world. I was really going up there thinking of who I had to face." As Koo went up, slugger Piazza turned to David Wright in the dugout and said, "If he gets a hit, I'll donate a million dollars to charity."5
Again, Koo stood well off the plate. He took The Big Unit's first two offerings. McCarver said, "Thus far in this young season, this is the biggest give-up at-bat."
Even as McCarver was finishing his line, Koo laid into the 1-and-1 pitch, a low fastball down the middle. The fly soared beyond center fielder Bernie Williams, who was playing shallow and shaded to left. With the wind blowing straight in, the ball landed just short of the warning track and bounced twice, reaching the wall in right-center. Koo thought about a triple but held up with an easy double. In the Mets' dugout, while Marlon Anderson hopped excitedly, Wright shrieked in delight and disbelief and pointed at Piazza. Piazza, shoulders shaking, laughed into a towel. After the game, he amended his gift to charity, saying, "It's going to be a significant amount over the next 20 years."6
As for Johnson, he said simply, "You throw the ball over the plate, and anybody that comes up there has a chance of getting a base hit."7
Yet the fun had just started. The next batter, José Reyes, laid down a neat sacrifice bunt. It was toward the first-base side, so Rodriguez broke to cover third. Catcher Posada fielded it and threw to second baseman Canó, covering at first. Canó had to reach and backhand the soft flip. After making the putout, he squatted and bounced. Meanwhile, Koo—clad in a warm-up jacket despite the balmy day—had slowed down after rounding third. But then he noticed that the plate was vacated. Acting on his own, the none-too-speedy pitcher chugged for home.
"I didn't think anything," said third-base coach Manny Acta. "I was in shock. I wanted to grab him when he took off." Johnson was still near the mound and so was first baseman Martinez, who said, "I should have been there. It was my play." Posada, whose momentum had carried him well down the line, said that it was "obviously" Johnson's responsibility.8
In their absence, the catcher retreated, called for the ball, turned, and dived for the plate with mitt extended. Also diving, Koo curved his body to the right, seeking to avoid the tag and touch home. That was further complicated because Reyes' bat was in the way. It was an extremely close play. Posada may well have tagged Koo before Koo found the plate, and at best Koo's left hand barely grazed its apex. Nonetheless, home-plate umpire Chuck Meriwether gave the safe call, and Posada put up only a mild argument.
As he returned to the dugout, Koo was wincing, in part because he was winded—but he was also rubbing his left leg. He had landed on top of the weighted warm-up ball that he'd left in his jacket pocket!9 His teammates continued to celebrate; first baseman Doug Mientkiewicz fanned Koo with a towel.
The next batter, Miguel Cairo, homered to make it 4-0; one out later, Paul Quantrill relieved Johnson. In the top of the eighth, Koo struck out Canó. He then gave way to Roberto Hernández. The Mets fans shouted his name lustily (Yankee fans were probably silent). Koo exchanged bows in the dugout.
After Hernández retired the two men he faced, the Mets added three more runs off Buddy Groom. The Yankees got one in the ninth off Braden Looper, but that was all they managed.
George Vecsey's dry humor continued in his postgame writeup. "When was the last time he [Koo] made a hit? 'High school.' When was the last time he slid? 'High school.' When was the last time he scored a run? 'Junior high school.' This only shows the international damage done by the designated-hitter rule, not allowing the inner athlete in Dae Sung Koo to shine through."10
It turned out that Koo also hurt his pitching shoulder on that dive into home. After four shaky outings, an MRI revealed a bruised rotator cuff; he went on the disabled list on June 2. Yet Koo said, "I have no regrets about what I did that day. I was doing whatever I could that would help my team win and that's the most important thing right now. I would do it again if I needed to. . . you can't look ahead and say, 'Man, I wish I had never done that.'"11
Sources
In addition to the sources cited in the Notes, the author accessed the YouTube.com, Baseball-Reference.com, and Retrosheet.org websites.
Notes
Additional Stats
New York Mets 7
New York Yankees 1
---
Shea Stadium
New York, NY
Box Score + PBP:
Corrections? Additions?
If you can help us improve this game story, contact us.
Tags
http://sabr.org/sites/default/files/Koo-Dae-Sung.jpg
600
800
admin
/wp-content/uploads/2020/02/sabr_logo.png
admin
2016-11-07 18:38:57
2020-04-17 10:25:59
May 21, 2005: Mr. Koo's wild ride