---
"He's that baseball dude who got banned for steroids or something, which makes him more than famous. He's like infamous, and dangerous, and a kind of cool, a cross between Babe Ruth and Count Dracula."1 – J.R. Moehringer, writing of Alex Rodríguez in 2015.
What is fame? "I'm not too sure but I'll know it when I see it!" That sounds like something that may have been said or attributed to Yogi Berra, but when a person has a presence, be it on the ball field, at the television studio, or in any room he enters, and if his short, four-letter hyphenated nickname is all that is needed to identify him, and only him, A-Rod has fame. His celebrity, much like that of Babe Ruth, Muhammad Ali, and Tiger Woods, has transcended sport.
The mention of Alex Rodríguez conjures up images favorable and unfavorable. For almost three decades, his image has been in the public eye, often for all the wrong reasons. In an era of "you love him or you hate him" personalities, there are times when he seems to be the most loved, and others when he is the most vilified. His record-high salary in 2001 at the age of 25 was the envy of many, but his 156 home runs over the next three seasons seemed to validate all that money. Eight years later, in 2009, he was at the center of a scandal, largely of his own making.
Propelled into the national spotlight during his senior year of high school at the age of 17, Alex Rodríguez was destined for a baseball life that would make him one of the premier players in the game for two decades. With that spotlight would come a scrutiny that would entangle him in controversy for the final years of his baseball career, and beyond, as his name would be linked to the steroid abuse that regrettably defined the late twentieth and early twenty-first centuries. Never lacking in confidence, he confronted each situation from gunning out runners with a rifle arm to using his sweeping swing to hit 696 home runs during a major-league career that extended, with a very public interruption, from 1994 through 2016.
Alexander Enmanuel Rodríguez was born on July 27, 1975, in New York City. His parents, Victor and Lourdes (Navarro) Rodríguez, were Dominican immigrants who lived in the Washington Heights section of Manhattan. They owned a shoe store in the neighborhood. The business was run by his father, and his mother worked in a GM assembly plant just north of New York City.
Alex's father had been married previously, from 1955 until 1961, and in 1960, Victor and his wife, Pouppe Martinez, had a son named Victor Rodríguez Jr. Alex did not get to know his older brother when he was growing up, as Victor, who was raised by his mother, joined the Marines when Alex was three years old. In 2003, Victor, by then a lieutenant colonel in the Air Force, reunited with Alex.2
Alex was raised along with a half-brother and half-sister, Joe and Suzy Dunand, children from his mother's first marriage. When Alex was four years old his parents moved back to the Dominican Republic. The family owned a pharmacy there for several years, during which they enrolled Alex at an Americanized school in Santo Domingo. They struggled to make the business successful but eventually it failed.
The family moved back to the United States and settled in Miami when Alex was nine. Shortly after their return, his father left the family. In a 1998 interview, Rodríguez said, "From talking with Mom, I found out that Miami wasn't fast-paced enough for Dad, that he wanted to go back to New York and Mom didn't. They talked but couldn't agree. So, he split."3
Alex's mother raised the three children by herself. She worked two jobs to provide for the family. She eventually owned two businesses, an immigration office and a Latin American restaurant. Rodríguez later said that his mother's work ethic made a big impression on him. "My mom is hard-working and smart. She is also a good businesswoman. I wanted to give her $10,000 once to go away on a great vacation to rest, so as to thank her for all she had done for us. She said she would invest the money instead."4
Although Alex was born in New York and his early education came at an Americanized school in the Dominican Republic, Spanish was spoken at home, and his English comprehension was at a level below that of his classmates when he entered school in the United States.5 But his mastery of the language of baseball opened doors as he overcame the absence of a father and eventually acquired the skills to effectively communicate with the American audience.
His interest in baseball started on the streets of Santo Domingo and fully developed after he met Juan Diego Arteaga, who coached a youth-league team at Alex's elementary school in Miami. Arteaga invited Alex to join his team when they were short a player, and Arteaga, who also coached his son J.D. Jr., on the team, ended up being a second father to Rodríguez.
"[Arteaga] didn't really have a preference for one boy over the other, he treated them both as equals and rode them pretty hard. That's why they were so disciplined," said Juan Pascual, another coach in the league. Arteaga took Alex to school with his son, enrolled him on travel teams and tournaments, and even had him eat with his family when Alex's mother was working. "I'm telling you that without J.D. Arteaga, there would have been no Alex Rodríguez," said Pascual.6
Rodríguez started high school at Christopher Columbus High School in Miami but thanks to Arteaga, he earned a scholarship to Westminster Christian School in Miami after his freshman year. He played shortstop on the baseball team and quarterback on the football team for the next three years.
Rodríguez thrived at Westminster, becoming one of the best high-school players in the country. "By his junior year, I was predicting big-league success for him and first-round draft status before most people did," said his coach, Rich Hofman.7 Rodríguez batted .505 with 9 home runs, 36 RBIs, and 35 stolen bases in 1993, his senior year. He was American Family Insurance ALL-USA High School Baseball Player of the Year that year as well.
Rodríguez had committed to attending the University of Miami. Shortly after his high-school graduation, the Seattle Mariners made him the first pick in the first round of the June 1993 amateur draft. On the eve of his first university class, Rodríguez signed a professional contract with the Mariners. He received a $1 million signing bonus and a three-year, $1.3 million contract.
Taking a leading role in the negotiations (along with agent Scott Boras) with the Mariners was Alex's sister, Suzy Durand-Silva, who had become an attorney.
"We think he's a special player. The last time we had the No. 1, we got a very special player in Ken Griffey Jr. We're not trying to put pressure on Alex, but we feel he deserved to be the top pick," said Mariners President Chuck Armstrong.8
Rodríguez quickly moved up the minor-league ladder of the Mariners organization, advancing from Class A to the majors in a matter of months. He started the 1994 season with the Appleton Foxes of the Class A Midwest League. He hit .319 with 14 home runs and 55 RBIs in 65 games there. After playing 17 games with the Double-A Jacksonville Suns, he was called up to the Mariners in July.
Rodríguez made his major-league debut, batting ninth, at Boston on July 8, 1994, just three weeks before his 19th birthday. He became the youngest position player to start since 18-year-old Brian Milner took the field for the Toronto Blue Jays in 1978. After batting just .204 in 17 games, Rodríguez was sent back down at the end of July, and he spent the rest of the season with the Triple-A Calgary Cannons (Pacific Coast League). The demotion proved fortuitous as the major-league players went out on strike on August 12. In 32 games with Calgary, Rodríguez regained his hitting stride, finishing with a .311 batting average while stroking seven doubles and six home runs.
Rodríguez split time between the Mariners and the Triple-A Tacoma Rainiers (PCL) in 1995. He spent the first month of the season with Tacoma and was there for another stint in August, batting .360 with 15 home runs and 45 RBIs for the year in Triple A. He told a Tacoma sportswriter that he "was still trying to find my stroke. I know it's going to take some time, but it's something I'm always working on." He went on to say that "Any time you're up here, you feel a little more comfortable."9 Rodríguez ended up getting into 48 games with the Mariners that season, batting .232 with 5 home runs and 19 RBIs. The first of his 696 big-league homers came on June 12 against Tom Gordon of the Kansas City Royals in a 10-9 Seattle loss at the Kingdome.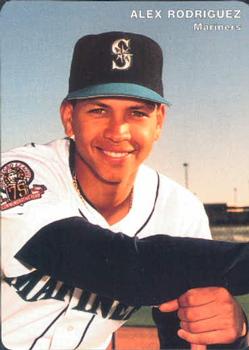 The Mariners made Rodríguez their everyday shortstop in 1996, the year in which he began to be called A-Rod. Per author Selena Roberts, during the spring of 1996, Rodríguez took to writing "A-ROD" on his equipment bag and before long teammates and media personalities were using the term,10 arguably one of the most recognized nicknames in big-league history.
When told of his being named the everyday shortstop, he said, "It's time. There is no doubt in my mind that I'm ready. None whatsoever. I can bring the team good defense, energy, speed, and some power."11 Rodríguez had an outstanding 1996 season, finishing with a league-best .358 batting average. It made him, at 21, the third youngest batting leader behind Al Kaline in 1955 and Ty Cobb in 1907, who were each 20 when they won their titles.
Rodríguez was selected for his first All-Star Game that year and entered the game as a pinch-hitter in the top of the seventh inning. In the bottom of the inning, he went into the game at shortstop, replacing Cal Ripken Jr. When the season ended, he had set major-league records for a shortstop in runs scored (a league-leading 141), hits (215), and extra-base hits (91). Rodríguez finished second in the balloting for the MVP award, just three points behind Juan Gonzalez of the Texas Rangers. When asked about the results, Rodríguez said, "How can I be considered the MVP of the league when I'm not even the MVP in this room?" — a reference to his teammate Ken Griffey Jr. who finished fourth in the voting.12
In 1997 Rodríguez's productivity was affected when he suffered a rib injury. On June 11 he collided with the Red Sox' Roger Clemens at home plate, spent two weeks on the disabled list, and was hampered for the balance of the season. He had been batting .320 through his team's first 63 games, including a game in Detroit on June 5 when he hit for the cycle. After returning, he batted .283 for the balance of the season. While he batted .300 for the season with 29 homers and 84 RBIs, the numbers were well below expectations.
Over the next three years, Rodríguez resumed his record-setting pace with the Mariners. He became the third major leaguer to hit 40 home runs and steal 40 bases in the same season when he homered against Jack McDowell of the Anaheim Angels on September 19, 1998. That season, his only 40/40 campaign, he batted .310 with 42 homers, 124 RBIs, and 46 stolen bases, while playing in all of his team's games, but the Mariners, despite a wealth of offensive talent, finished in third place in the AL West with a 76-85 record. The team finished below .500 again in 1999, but Rodríguez continued to flourish, batting .285 with 42 homers and 111 RBIs, and receiving his third Silver Slugger award. The Mariners, who moved into Safeco Field on July 15 of that season, finished third again, at 79-83. Rodríguez went on to eclipse the 40-homer mark in each season through 2003.
After Seattle traded Griffey to Cincinnati before the 2000 season, Rodríguez became the team leader. Scott Boras, his agent, said, "This begins the Alex Rodríguez era there. He's going to be called upon to do a great deal more than his personal performance. Alex wants to bring a team attitude to the Mariners."13 Rodríguez had another successful season, becoming the first shortstop to record at least 100 RBIs, 100 runs scored, and 100 walks in the same season. His 41 homers gave him three straight seasons at the 40-homer plateau and were a major factor in Seattle's improving to 91-71. Their record secured them a second-place division finish and a wild-card berth in the playoffs.
In the three-game sweep over the Chicago White Sox in the American League Division Series, Rodríguez batted .308 (4-for-13) with two RBIs.
Rodríguez led his team in the Championship Series, batting .409 with two home runs and five RBIs, but the Mariners lost to the Yankees in six games. He finished third in the voting for the American League MVP.
When Rodríguez became a free agent after the 2000 season, his services were sought by several teams. He eventually signed the largest contract ever given to a professional athlete, $252 million over 10 years, to play with the Texas Rangers. Rangers owner Tom Hicks was quoted as saying that he "'fell in love' with Rodríguez and told Rodríguez's agent that he would do whatever was necessary to sign him."14
With the Rangers in 2001, Rodríguez had one of his best seasons. He played in all of his team's games, hitting 52 home runs, scoring 133 runs, and amassing 393 total bases, each the best in the American League. He pounded a career-high 57 home runs in 2002 to again lead the league, and his 142 RBIs and 389 total bases were also the best in the league. Rodríguez won his first Gold Glove that year. His .987 fielding percentage was the highest of his career to that point.
Rodríguez married Cynthia Scurtis in 2002. They had two children, Natasha, born on November 18, 2004, and Ella, born on April 21, 2008. In July 2008, Cynthia filed for divorce in a highly publicized proceeding that focused on Alex's infidelity.
Rodríguez earned his first MVP award in 2003. His 47 home runs were the best in the American League for the third consecutive year. Rodríguez also led the league in runs scored (124) and slugging percentage (.600). Despite his success at the plate, the Rangers failed to make the playoffs in each of A-Rod's three years with the team, finishing below .500 in each season. And there was "an elephant" in the clubhouse. The identification of that problem, years later, would overshadow A-Rod's success. It would bring into question the legitimacy and authenticity of any and all of the achievements by him, his teammates, and their adversaries.
After the 2003 season, Texas began to look for a way to trade Rodríguez. In December the Rangers reached an agreement to send A-Rod to the Boston Red Sox, but the Players Association vetoed the deal because it would have required a restructuring of Rodríguez's contract with the Rangers.15 After Yankees third baseman Aaron Boone injured his ACL on January 16 and it was determined that he would miss the entire 2004 season, New York went shopping for a replacement. On February 16 Rodríguez was traded to the Yankees for Alfonso Soriano and a player to be named later (Joaquin Arias).16 The Rangers agreed to pick up $67 million of the remaining $179 million of Rodríguez's contract to facilitate the trade.17
Scott Boras said that Rodríguez was looking forward to playing in New York. "He really is excited about the idea of going to the park every day as part of a winning environment, a team of that caliber, being a part of it. First base, center field, third base, just to be part of it would be worthwhile," Boras said.18
Rodríguez had worn number 3 on his uniform throughout his career in Seattle and Texas, but that number was unavailable with the Yankees. Babe Ruth's iconic number had been retired in 1948. Rodríguez chose 13, quarterback Dan Marino's number with the Miami Dolphins. He explained his choice saying, "Thirteen was my number when I played quarterback [in high school] and carrying the legacy of Dan Marino and my roots in Miami to the Bronx was pretty cool."19
Rodríguez moved to third base after joining the Yankees. Derek Jeter was established as New York's shortstop, having played the position regularly since 1996. Yankees general manager Brian Cashman said at the time, "You go with the man who brought you to the dance, and Derek Jeter continues to get us to the dance at that position. This move would not happen if Alex Rodríguez would not agree to switch positions and play third base."20
The reunion of Jeter and Rodríguez was bittersweet. They had become the closest of friends after they first met in the spring of 1993 at a Michigan-Miami baseball game in Florida.21 The close friendship of the two of the three premier shortstops in the game (they shared the cover of a Sports Illustrated issue in February 1997) was fractured in 2001 when Rodríguez, in an interview with Esquire magazine, said, "Jeter's been blessed with great talent around him. He's never had to lead. He can just go and play and have fun. And he hits second – that's totally different than third or fourth in a lineup. You go into New York, you wanna stop Bernie and O'Neill. You never say, 'Don't let Derek beat you.' He's never your concern."22
In 2004 Rodríguez batted .286 with 36 home runs, 106 RBIs, 112 runs scored, and 28 stolen bases. It was the seventh consecutive season that he had hit at least 30 home runs, scored at least 100 times, and batted in 100 or more runs.
When the Yankees reached the postseason in 2004, Rodríguez played well in both the Division and Championship Series. He batted against .421 when New York eliminated the Twins three games to one in the ALDS. In the decisive fourth game, the score was tied 5-5 after nine innings and was not decided until the 11th inning. With one out, Rodríguez hit his second double of the game, stole third base, and scored on a wild pitch by Kyle Lohse.
In the ALCS, Rodríguez also hit well as the Yankees played the Red Sox for the American League crown. In Game Three, he tied the single-game postseason record when he scored five runs as the Yankees romped to a 19-8 win and were poised to return to the World Series in quest of their 27th Series championship. In Game Four, a third inning two-run homer by Rodríguez gave New York an early 2-0 lead. But after the lead had changed hands twice, the Red Sox tied the score in the bottom of the ninth and forced Game Five when David Ortiz homered in the bottom of the 12th inning. The Red Sox went on to win the series in seven games. A-Rod's quest for a World Series ring went unfulfilled one more time.
Rodríguez had another outstanding season in 2005. He led the league in home runs (48), runs scored (124), and slugging percentage (.610). When he hit two home runs against the Brewers at Milwaukee on June 8, the second off Jorge De La Rosa in the eighth inning, he became the youngest player to reach the 400-home-run plateau. "It was a very special day for me, especially if you do it in a win that we needed most desperately," he said.23 The 12-3 win broke a three-game losing streak and brought the team's record to 29-30. They went on to post a 95-67 record, tying them for first place with the Red Sox and securing their 11th of what was to become 13 consecutive postseason berths.
The Yankees' postseason lasted only five games as they fell to the Los Angeles Angels in the best-of-five ALDS. Rodríguez was not a factor in the series, batting just .133 with two hits.
He won his second MVP award, becoming one of five players to win the award with two different teams. When asked how he narrowly beat David Ortiz for the award, the outspoken Rodríguez said, "There are probably like 15 or 16 offensive categories, if you want to be a baseball junkie. I'm not sure, but I think I won in 10 or 12 of those. But I think defense, for the most part, and being a balanced player and also taking away a lot of runs on the defensive side was a major factor."24
Rodríguez played in the inaugural World Baseball Classic in March 2006 as part of Team USA. Although the team, managed by Buck Martinez, was eliminated from the tournament in the second round (finishing eighth of the 16 teams entered) Rodríguez felt that he benefited from the experience of being part of the team. "To me, I got a little bumps and chills when I saw my uniform, No. 13, Rodríguez, and I saw the USA, the red, white, and blue, as corny as it sounds. This is an enormous deal. Nobody's here for the money. You're here for the pride, and to represent the U.S., and I like that part of it."25
Rodríguez notched his 2,000th hit on July 21, 2006. It was also the 450th home run of his career and came off A.J. Burnett in a 7-3 loss at Toronto. Coming during what was to be a three-month batting and fielding slump, Rodríguez said, "In a week of so much criticism, it's good to get a little reminder that you've done some special things in this game from an early age. I think it's pretty cool."26 He was named to the All-Star team for the 10th time in 11 seasons, but a World Series ring with the Yankees remained elusive.
The Yankees failed to get past the Division Series for the second consecutive year. Rodríguez got just one hit in the series as the Tigers came back to win three straight after losing the opener. When A-Rod was criticized for his 2006 performance, rumors circulated that he might opt out of his contract.27
But he told the press on November 15 that he was committed to staying in New York and improving. "There's no question last year was a very challenging year for me personally, but I think New York wants to see people have a tough time and come out of it and fight through it," Rodríguez said.28
The challenges of 2006 to which A-Rod referred stemmed from on-field frustrations which, in New York, were amplified by an always-present media onslaught. In what was considered an off-year by A-Rod standards, he batted .290 with 35 home runs and 121 RBIs. As Tom Verducci noted in Sports Illustrated, "his (year-end) statistics (couldn't) erase the pain he felt during his three-month slip into a dark abyss, when he lost his confidence, withered under media and fan pressure, and, some teammates believe(d), worked a little too hard at keeping up appearances, displaying, per teammate Jason Giambi, 'a false confidence.'"29
For three months, A-Rod had underperformed. From June 1 through August 30, he batted only .257. On defense, his fielding woes were amplified. On July 17, in a game at Yankee Stadium, he made three errors while going 0-for-4. Although the Yankees won the game, 4-2, there was a sense of frustration, and the headline in the New York Daily News, "E-Rod's Night a Mess," distracted from the win that kept the team within one-half game of the division-leading Red Sox.30
When Rodríguez showed up for spring training in 2007, he had lost 12-14 pounds and was down to about 225 pounds. He also worked on his swing with the new Yankees hitting coach, Kevin Long, over the winter. Rodríguez "shortened his swing, examined video, tried to cut down on upper- and lower-body movement, worked on trying to swing less forcefully and with a more technical approach."31
Rodríguez started the season on a tear, and it was clear that his hard work had paid off. By the end of April, he had 14 homers and 34 RBIs. When asked about Rodríguez on April 19, by which time Rodríguez had 10 homers, including two of the walk-off variety, Jeter said, "I haven't seen anything like it before. It's like everything he hits is a home run."32 The Yankee captain added, "It's fun to watch. Everyone should enjoy it."33
A year later, when asked to contribute a memory or two to Yankee Stadium: The Official Retrospective, Rodríguez remembered the April 7 walk-off grand slam against Baltimore:
"You dream of situations like that. To be able to come through and have the Stadium go crazy was pretty special. Bottom of the ninth, two strikes (the count was 1-2), bases loaded – that's as good as it gets. I was the happiest guy in the Stadium. Sixty thousand people, and I was the happiest one. Right when I hit it, I knew it was a home run. It's a feeling you get."34
Rodríguez's success continued through the rest of the season. He hit his 500th home run on August 4 off Kyle Davies of Kansas City to become the youngest player, at age 32, to reach that milestone. "I acted like a goofball running around the bases, but you only hit 500 once," he said. "It was awesome and then you kind of get that high school reception when you hit a home run and all of the guys are out of the dugout. Pretty cool."35
Rodríguez ended up leading the American League in runs scored (143), home runs (54), RBIs (a career-high 156), and slugging percentage (.645). The Yankees lost in the first round of the playoffs for the third consecutive year. Rodríguez batted .267 (4-for-15), including one home run in the best-of-five Division Series as New York lost to the Cleveland Indians in four games.
Rodríguez earned his third MVP award in 2007. He noted that there was still something missing. "There's definitely a huge hole in the resume. It's my third MVP and I'm here to say that I would trade all three for one world championship. I wouldn't think twice about it."36
Throughout the 2007 season, Rodríguez had told the press that he wanted to remain with the Yankees even though he could opt out of his contract. But during the fourth game of the World Series, Scott Boras announced that Rodríguez would not return to the Yankees, causing an uproar due to the timing of the announcement.
Bob Dupuy, MLB's chief operating officer, said, "We were very disappointed that Scott Boras would try to upstage our premier baseball event of the season with his announcement. There was no reason to make an announcement last night other than to try to put his selfish interests and that of one individual player above the overall good of the game."37 Rodríguez eventually signed a new 10-year contract with the Yankees. He severed his relationship with Boras in the process.
Rodríguez had another solid season in 2008. He batted .302 with 35 home runs, 103 RBIs, and a league-leading .573 slugging percentage. But it was not enough to help the Yankees reach the postseason, as they finished in third place in the AL East under new manager Joe Girardi.
Rodríguez's name became linked to steroid use in early 2009. Sports Illustrated published a story on its website saying that he tested positive for the anabolic steroid Primobolan in 2003 while with the Texas Rangers.38 Although Rodríguez had, as early as a December 17, 2007, interview on 60 Minutes, denied using steroids,39 he eventually said in an ESPN interview that "[w]hen I arrived in Texas in 2001, I felt an enormous amount of pressure. I felt like I had all the weight of the world on top of me and I needed to perform and perform at a high level every day. I wanted to prove to everyone that I was worth being one of the greatest players of all time. I did take a banned substance. And for that, I am very sorry and deeply regretful."40
On March 4, 2009, Rodríguez was diagnosed with a torn labrum and cyst in his right hip that required surgery41 and forced him to miss the World Baseball Classic (he was scheduled to play for the Dominican Republic) and the first month of the season. After he returned, Rodríguez continued to set records. By the end of the season, he had hit 583 home runs, placing him 10th on the all-time list. Despite playing in only 124 games, Rodríguez was second on the Yankees in homers (30) and RBIs (100).
The Yankees returned to the postseason in 2009. They swept the Division Series against the Minnesota Twins and, in the ALCS, beat the Los Angeles Angels in six games to return to the World Series for the first time in eight years. Rodríguez excelled in both series. He was 5-for-11 against the Twins with a pair of homers including a seventh-inning blast in the third game that gave the Yankees their first run of the game. Against the Angels, he went 9-for-21 with three home runs and six RBIs.
The Yankees faced the Philadelphia Phillies in the World Series and won the championship in six games. Rodríguez played important roles in New York's wins in Games Three and Four. In Game Three, his two-run homer in the fourth inning put the Yankees on the scoreboard, and they went on to gain an 8-5 win. The next day, he came to bat in the top of the ninth inning with the score tied, 4-4. There were two outs and runners on the corners. His double scored Johnny Damon with the lead run and the Yankees went on to win the game, 7-4.
Rodríguez was chosen by the New York Chapter of the Baseball Writers Association of America as postseason MVP. Upon receiving the organization's Babe Ruth Award, he said, "I've been to these dinners a couple of times to receive MVP awards and those, I'm very proud of those accomplishments. But none of those accomplishments will ever compare to the feeling you get from being part of a team that won a world championship."42
Rodríguez continued to produce in 2010, and, in the last season in which he drove in more than 100 runs, he reached another major milestone. He hit his 600th home run on August 4, the third anniversary of his 500th homer, becoming the youngest player to have done it. The two-run first-inning homer came off Toronto's Shaun Marcum in a 5-1 win at Yankee Stadium. Rodríguez had 30 homers and 125 RBIs in 2010. It was the 13th year in a row that he had at least 30 homers and 100 RBIs, something no other player had ever accomplished. In postseason play, the Yankees defeated the Twins in the division championship before bowing in six games to the Rangers in the ALCS.
In 2011 the 35-year-old Rodríguez batted .276 with just 16 home runs and 62 RBIs, his lowest totals since 1995. He missed 38 consecutive games from July 8 through August 20 after arthroscopic surgery during which, per writer J.R. Moehringer, "the doctor sanded and shaved the ball joint of his left leg, to help it fit more smoothly into the hip socket."43 Rodríguez played in only 99 games for the season, missing half his team's games after his return. The Yankees returned to the postseason but fell to Detroit in the best-of-five ALDS, with Rodríguez managing only two singles in 18 at-bats.
Rodríguez, fully recovered from his surgery, played in 94 of his team's first 97 games in 2012. For the first time in his career, he had significant time as a DH. In those first 94 appearances, 26 were as a DH and three were as a pinch-hitter. On July 24 at Seattle, he was hit on his left hand by a pitch thrown by Felix Hernandez of the Mariners. He suffered a nondisplaced fracture44 and missed 36 games, returning to action on September 3. But his production remained low. At the time of his injury, he was batting only .276 and had hit 15 homers in 352 at-bats (one per 23.47 at-bats), well off his career pace of one homer per 14.62 at-bats.
In 2012, for the second time since 1999, A-Rod failed to be named to the American League All-Star team. The then 36-year-old Rodríguez batted only .272 for the season with 18 homers and 57 RBIs. In the postseason, the Yankees defeated Baltimore in the ALDS before falling to Detroit in the ALCS. Rodríguez again had a bad postseason, batting only .120 (3-for-25) in the two series.
Rodríguez had further surgery on his left hip on January 16, 2013, to bring back flexibility in his body. Years of stress on his 6-foot-3-inch, 230-pound frame had resulted in a calcium buildup that could be remedied only by what was termed a "miracle surgery" by Dr. Bryan Kelly.45 After six months of rehabilitation, he prepared to return to the Yankees in July. Two days before he was scheduled to join the Yankees, he injured his quadriceps muscle. He finally rejoined the Yankees in August and was in their starting lineup on August 5.
During his recovery from the second surgery, newspaper accounts linked Rodríguez to Biogenesis, a Florida company that was being investigated for providing performance-enhancing substances to baseball players.46
On August 5, the day that Rodríguez returned to the Yankees lineup, MLB announced that 13 players, Rodríguez among them, had been suspended. He received the longest suspension, 211 days (each of the others received a 50-day suspension), and immediately announced that he was going to fight it.47
The 2013 season was Rodríguez's least productive to date. While contesting his suspension, he played in 44 games, batted .244, and hit only seven home runs to go with 19 RBIs. The only meaningful highlight of that tumultuous season came when he hit his 24th grand slam on September 20 to break Lou Gehrig's major-league record. He would end his career with 25 grand slams, still, as of 2021, the major-league record.
Early in 2014, Rodríguez confronted the reality of his situation and realized that pursuing the fight against his suspension was only hurting him. He accepted his fate.
Rodríguez's suspension was upheld, and he missed the entire 2014 season. Late in 2014, newspaper stories detailed Rodríguez having, in testimony given early in the year, admitted to using PEDs starting in 2010.48 Rodríguez met with Commissioner Bud Selig in early 2015. Shortly thereafter, he released a letter to baseball fans saying:
"I take full responsibility for the mistakes that led to my suspension for the 2014 season. … I accept the fact that many of you will not believe my apology or anything that I say at this point. I understand why and that's on me. … I'm ready to put this chapter behind me and play some ball. This game has been my single biggest passion since I was a teenager. When I go to Spring Training, I will do everything I can to be the best player and teammate possible, earn a spot on the Yankees and help us win."49
Rodríguez was in the Yankees' lineup in 2015, but he was used primarily as a designated hitter. The time off had not slowed down his offense. Although Rodríguez struggled in the final two months of the season, he finished with a team-best 33 home runs. The Yankees lost to the Houston Astros in the wild-card game; Rodríguez did not get a hit in the game, his last postseason competition.
The highlight of his season came when he reached the 3,000-hit milestone on June 19 with a home run off Detroit's Justin Verlander in a 7-2 Yankee win. "I'm grateful. I'm extremely appreciative to the Yankees for giving me an opportunity to put the uniform back on. There were days last year I never thought I would sometimes get that uniform back on, to be able to play in this stadium in front of these fans," he said after the game. "Everything about this year has been a surprise. I've never enjoyed the game as much as I have this year."50
Rodríguez struggled again in 2016. He spent most of May on the disabled list with a strained hamstring in his right leg, and when he returned, he never could find his stride at the plate. His final home run, the 696th of his career, came on July 18 against Kevin Gausman in a 2-1 win against the Orioles. It put him fourth on the all-time list for career homers and first among American League right-handed batters.
Rodríguez had hit only nine home runs with 29 RBIs when he stated, on August 7, 2016, that his final game would be on August 12. The Yankees also announced that he would become a special adviser to the club. "This is a tough day," Rodríguez said. "I love this game, and I love this team, and today I am saying goodbye to both. I do want to be remembered as someone who was madly in love with the game of baseball. I also will hopefully be remembered as someone who tripped and fell a lot but kept getting up."51
Rodríguez's ledger as a player was complete: a career batting average of .295 with 3,115 hits, 696 homers, 2,086 RBIs, 329 stolen bases, three MVP Awards, 14 All-Star Game appearances, 10 Silver Slugger Awards, two Golden Gloves, and one championship World Series ring.
His legacy as a man was far from complete.
After his playing days, Rodríguez involved himself in broadcasting. He joined Fox Sports as a baseball analyst in 2017 after two stints working the postseason for the network. The following year Rodríguez joined ESPN for its Sunday Night Baseball broadcasts, an assignment he still had as of 2021. His analyses during broadcasts reveal him to be a keen observer of the game.
Rodríguez, who had been romantically linked with performer Madonna at the time of his divorce in 2008, was often seen dating prominent and beautiful women including actresses Kate Hudson and Cameron Diaz. He began dating singer and actress Jennifer Lopez in February 2017. The couple announced their engagement on March 9, 2019, but on April 15, 2021, the relationship came to an end.52 As of 2021, the main ladies in A-Rod's life were his daughters, Natasha, who was 16 in 2021, and Ella, 13.
During the time that he was engaged to Jennifer Lopez, the couple was involved in many business enterprises, among them being, in 2020, an attempt to buy the New York Mets. They eventually lost out in the bidding to billionaire Steve Cohen.53
On May 14, 2021, it was announced that Rodríguez and investment partner Marc Lore had purchased the Minnesota Timberwolves of the National Basketball Association and the Minnesota Lynx of the WNBA. Final approval from the NBA Board of Governors was pending in 2021.54
His celebrity should not cause even the most casual observer to forget that over the course of a big-league career that began in 1994 and ended in 2016, Rodríguez was one of the most exciting players of his generation. But his image became tarnished and his legacy uncertain when his steroid use was publicized and subsequently acknowledged.
After the 2021 season Rodríguez's name will appear on the Hall of Fame ballot for the first time. Others on the ballot include Barry Bonds, Roger Clemens, Sammy Sosa, Curt Schilling, and former MVP rival David Ortiz.
As noted by Andrew Simon of the MLB Network, "The 2022 voting cycle is likely to be just the beginning of a protracted conversation about Rodríguez's candidacy and baseball legacy."55 It is, in truth, a conversation that began with the "elephant" in the Texas Rangers' clubhouse two decades earlier.
Regardless of the Hall of Fame balloting, A-Rod's legacy, like that of Babe Ruth, will in large part be forged by his impact on youngsters. For many of them, his achievements as a player have been matched by his philanthropy. While in New York, he became involved with the United Youth Baseball League in the Bronx, where the kids looked up to him. He also involved himself in philanthropic pursuits in Miami.
In 2009, on the day after the Yankees had clinched the American League championship, Alex Rodríguez visited a parochial school in the Bronx serving at-risk kids. As told by Ray Negron, he traded high fives with the kids seated along the sides of the center aisle of the school's auditorium as he walked to the stage. Any fatigue from the night before disappeared as he stood on the stage and spoke to the audience. He gave an impassioned speech about the importance of reading. As the kids cheered wildly, the observer could see that Alex understood the magnitude and importance of what he meant to them.56
That understanding, despite some well-documented ups and downs, has continued to grow.
Last revised: July 14, 2021
Acknowledgments
Preliminary research and identification of sources was done by Thomas J. Brown Jr. This biography was reviewed by Warren Corbett, fact-checked by Carl Riechers, and edited by Len Levin.
Sources
In addition to the sources cited in the Notes, the author used Baseball-Reference.com and the following:
Berman, Len. The 25 Greatest Baseball Players of All Time, (Naperville, Illinois: Sourcebooks, 2010), 120-125.
Elfrink, Tim, and Gus Garcia-Roberts. Blood Sport: Alex Rodriguez, Biogenesis, and the Quest to End Baseball's Steroid Era (New York: Dutton, 2014).
Posnanski, Joe. "The End of an Era," Sports Illustrated, February 16, 2009. https://vault.si.com/vault/2009/02/16/the-end-of-an-era
Notes
1 J.R. Moehringer, "The Education of Alex Rodriguez: Six Months, Four Cities, Two Coasts and One Batman Suit – We Chronicle the Fallen Slugger's Winding Road Back to Pinstripes," ESPN, The Magazine, February 18, 2015. https://www.espn.com/espn/feature/story/_/id/12321274/alex-rodriguez-return-new-york-yankees.
2 Jack Curry, "Matching Pinstripes with Camouflage, Alex Rodriguez and Half-Brother Are Years and Worlds Apart," New York Times, September 4, 2007: D1, D5; Arnie Starks, "Alex Rodriguez Thinks His Half Brother Victor's Career Is 'Far More Impressive' Than His Own," Sportscasting.com, June 12, 2020. https://www.sportscasting.com/alex-rodriguez-thinks-his-half-brother-victors-career-is-far-more-impressive-than-his-own/.
3 Bob Finnigan, "Missing Dad – In the 13 Years Since His Father Left, Alex Rodriguez Has Found Fortune and Fame in Seattle, but Has Been Unable to Reconcile with the Man Who Vanished," Seattle Times, March 22, 1998. D-1.
4 Finnigan.
5 Ian O'Connor, The Captain, The Journey of Derek Jeter (New York: Houghton Mifflin Harcourt Publishing, 2011), 129.
6 Quotation from Julie K. Brown, "Before He Was A-Rod," Miami Herald website, August 3, 2013. Retrieved from "A Look Back at A-Rod's Ties to Miami," Miami Herald website, August 7, 2016. https://www.miamiherald.com/sports/mlb/article94243292.html.
7 "#TBT to When Alex Rodriguez Was ALL-USA Player of the Year in High School," USA Today.com, August 11, 2016. https://usatodayhss.com/2016/tbt-to-when-alex-rodriguez-was-all-usa-player-of-the-year-in-high-school.
8 Associated Press, "M's Rodriguez Glad That Long Contract Hassle Is Over," Longview (Washington) Daily News, August 31, 1993: D1; Mike Phillips, "Rodriguez Gets 'Record' Deal," Miami Herald, August 31, 1993: D1, D5.
9 Corey Brock, "Rodriguez Has No Doubt He Should Stay in Seattle," Tacoma News Tribune, reprinted in Spokane Spokesman Review, June 15, 1995: C4.
10 Selena Roberts, A-ROD: The Many Lives of Alex Rodriguez (New York: Harper-Collins, 2009), 91.
11 Associated Press, "M's Give Shortstop Job to Alex Rodriguez," Longview Daily News, February 24, 1996: B3.
12 Laura Vecsey, "Junior, Not Gonzalez, Beats Out Rodriguez," Seattle Post-Intelligencer, reprinted in Spokane Spokesman Review, November 17, 1996: C10.
13 Associated Press, "M's A-Rod Won't Be Traded This Season," Longview Daily News, March 9, 2000: B3.
14 Murray Chass, "Rodriguez Strikes It Rich in Texas," New York Times, December 12, 2000: D1.
15 Ken Davidoff and Jon Heyman, "Trade Interrupted: Union Rejects Rodriguez Ramirez Deal," Newsday, December 18, 2003: A84.
16 Ken Davidoff and Jon Heyman, "A Wild Pitch to A-Rod," Newsday, February 16, 2004: A2, A3.
17 Ian O'Connor, The Captain, The Journey of Derek Jeter, 246.
18 Bill Madden and Anthony McCarron, "World A-Waits," New York Daily News, February 16, 2004: 53.
19 Alfred Santasiere III, "Yankees Magazine: Crossing Routes: Alex Rodriguez and Dan Marino – Legends of Baseball and Football – Caught up with Each Other in Miami," MLB.com, March 28, 2016. https://www.mlb.com/news/yankees-a-rod-nfl-s-marino-legends-in-miami-c169449928.
20 Joh Delcos, "Deal Is Done – Questions Just Starting," White Plains (New York) Journal News, February 17, 2004: C1.
21 Ian O'Connor, The Captain, The Journey of Derek Jeter, 123-126, 129.
22 Scott Raab, "Jackpot," Esquire, April 1, 2001. https://www.esquire.com/news-politics/a1578/alex-rodriguez-esquire-2001/.
23 "Around the American League: At 29, A-Rod Youngest to Reach 400 Home Runs," Chicago Tribune, June 9, 2005: Section 4, 4.
24 Jack Curry, "Rodriguez Is the Complete M.V.P.," New York Times, November 15, 2005: D1, D6.
25 Bob Baum, "Star-Studded U.S. Team Begins Practice," Reno Gazette Journal, March 4, 2006: B3.
26 Sam Borden, "A-Rod's Blast-A," New York Daily News, July 22, 2006: 52.
27 Ken Davidoff, "Time for A-Rod to Go," Newsday, October 8, 2006: B8.
28 Tyler Kepner, "Rodriguez Says He's Committed to Yankees," New York Times, November 16, 2006: D2.
29 Tom Verducci, "A-Rod Agonistes," Sports Illustrated, September 25, 2006. https://vault.si.com/vault/2006/09/25/arod-agonistes.
30 Filip Bondy, "E-Rod's Night a Mess: Field of Screams Ends After Three Hours, Bad Toe," New York Daily News, July 18, 2006: 62-63.
31 Associated Press, "A-Rod's Amazing April," Poughkeepsie (New York) Journal, April 23, 2007: 5C.
32 "A-Rod's Amazing April."
33 Barbara Barker, "How Bizarre! Hot Streak Turning A-Rod from Reviled Superstar into Fan Favorite," Newsday, April 20, 2007: 84-85.
34 Mark Vancil and Alfred Santasiere III, Yankee Stadium: The Official Retrospective (New York: Simon and Schuster, 2008), 173.
35 Associated Press, "Rodriguez Becomes Youngest in Baseball History to Hit 500 Home Runs," ESPN.com, August 4, 2007. https://www.espn.com/mlb/story?id=2961185&src=desktop.
36 Ronald Blum (Associated Press), "A-Rod Wins Third MVP," Binghamton Press and Sun Bulletin, November 20, 2007: 1C.
37 "Yankees Bid Farewell to A-Rod After Likely MVP Opts Out," ESPN.com, October 29, 2007. https://www.espn.com/mlb/news/story?id=3085166.
38 Selena Roberts and David Epstein, "Sources Tell SI Alex Rodriguez Tested Positive for Steroids in 2003," SI.com, February 7, 2009. https://www.si.com/mlb/2009/02/07/alex-rodriguez-steroids
39 "Eye to Eye: A-Rod Speaks Out," 60 Minutes, December 17, 2007, https://www.youtube.com/watch?v=oVcqLt9sJLs.
40 "A-Rod Admits, Regrets Use of PEDs," ESPN.com, February 9, 2009. https://www.espn.com/mlb/news/story?id=3894847; https://www.youtube.com/watch?v=g8zy1mW1QHI.
41 Mark Feinsand and Corky Siesmaszko, "He Should Be Okay-Rod: 'No Surprises' as Yankee Slugger Gets Hip Fix in Colo.," New York Daily News, March 10, 2009: 5.
42 Associated Press, "Rodriguez Chokes up During Speech," ESPN.com, January 24, 2010. https://www.espn.com/mlb/news/story?id=4853444.
43 J.R. Moehringer, "The Education of Alex Rodriguez."
44 Tim Booth (Associated Press), "With Rodriguez on Shelf, Chavez Gets Opportunity," Franklin (Indiana) Daily Journal. July 26, 2012: B2.
45 Cork Gaines, "Alex Rodriguez is on Fire at Age 39, and a 'Miracle Surgery' He Had in 2013 Is a Huge Reason Why," Business Insider, August 20, 2015. https://www.businessinsider.com/alex-rodriguez-arod-surgery-mlb-yankees-2015-4.
46 Jane Woodridge, "A Year of Transformation for Miami's Alex Rodriguez," Miami Herald, October 31, 2015. https://www.miamiherald.com/article42080511.html.
47 Andrew Seligman, "Yankees' Rodriguez Digs in for His Appeal," Rochester (New York) Democrat and Chronicle, August 6, 2013: 3D.
48 Jim Weaver, "A-Rod's Confession," Miami Herald, November 6, 2014: 1A, 2A.
49 Russell Berman, "A-Rod's Desperate Search for Authenticity," The Atlantic, February 18, 2015. https://www.theatlantic.com/entertainment/archive/2015/02/arods-apology-handwritten-letter-fans-authenticity/385591/.
50 Tyler Kepner, "Alex Rodriguez at No. 3,000, with Bullet and Asterisk," New York Times, June 20, 2015: D1.
51 David Waldstein, "Alex Rodriguez to Retire and Join Yankees as an Adviser," New York Times, August 8, 2016: D1.
52 Frank Lovece, "J-Rod: We Are Better as Friends," Newsday, August 16, 2021: A18; Madeleine Marr, "It's Official: Jennifer Lopez and Alex Rodriguez Have Split: For Real, This Time," Miami Herald, April 18, 2021: 4D.
53 Dennis Young, "Thanks a Billion: Cohen Reaches Agreement to Buy Mets at Last," New York Daily News, September 15, 2020: 32.
54 Marc Stein, "Alex Rodriguez and Partner Reach Deal on Timberwolves and Lynx," New York Times, May 14, 2021. https://www.proquest.com/usmajordailies/docview/2526924755/fulltext/C68A4A4DB3EF48AFPQ/1?accountid=46995.
55 Andrew Simon, "Storylines to Watch on '22 Hall of Fame Ballot," MLB.com, January 26, 2021. https://www.mlb.com/news/hall-of-fame-ballot-2022-storylines#:~:text=While%20the%202022%20ballot%20won,Jonathan%20Papelbon%20and%20Ryan%20Howard.
56 Ray Negron and Sally Cook, Yankee Miracles: Life with the Boss and the Bronx Bombers (New York: Liveright Publishing, 2012), 202.
Full Name
Alexander Enmanuel Rodríguez
Born
July 27, 1975 at New York, NY (USA)
If you can help us improve this player's biography, contact us.
https://sabr.org/wp-content/uploads/2020/10/Rodriguez-Alex-600x400-1.jpg
400
600
admin
/wp-content/uploads/2020/02/sabr_logo.png
admin
2021-07-13 01:07:53
2021-09-17 01:26:43
Alex Rodríguez