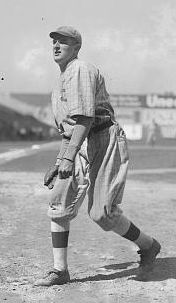 October 11, 1920: Duster Mails shuts out Brooklyn to bring Cleveland to verge of championship
---
"Brooklyn will be lucky to get a foul off me today. If Spoke [Cleveland player-manager Tris Speaker] and the boys will give me one run, Cleveland will win." — Cleveland pitcher Duster Mails1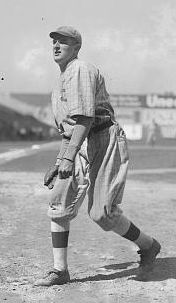 The Cleveland Indians' starting pitcher in Game Six of the 1920 World Series, John Walter Mails, certainly did not have an issue with his confidence. He was commonly referred to as Duster Mails, a moniker given to him for his erratic behavior on and off the mound.2 But Mails preferred to be called The Great Mails, and his 1920 regular-season record would certainly give credence to that preference.
Mails was an ex-Robin. He broke into professional baseball with Seattle of the Northwestern League in 1914. Next year, he was 24-18, with 250 strikeouts in 348 innings of work. Brooklyn bought his contract, but he was seldom used in his two seasons in Flatbush.
The left-handed starter was a newcomer to the Indians. Cleveland had acquired him from Sacramento of the Pacific Coast League on August 21, only five weeks before this World Series start. He was recommended to Indians manager Tris Speaker by Frank Chance. The former great first baseman had seen Mails pitch while managing in the PCL, declared that Mails was the best left-handed hurler in the PCL, and one of the best in the current game.
Mails lived up to the lofty billing, posting a 7-0 record between September 1 and October 1 with a 1.85 ERA. One of his key performances came on September 24, when he shut out the White Sox on a three-hitter, 2-0. The victory pushed Cleveland to a 1½-game lead over Chicago with the regular season coming down to the wire. That he outdueled Red Faber, who had won 23 games that year, in such a crucial game made his feat even more astounding.
Mails' opposing pitcher in Game Six was Sherry Smith. The left-handed twirler (11-9, 1.85 ERA in the regular season) was the winner of Game Three. He went the distance, scattering three hits and striking out two in the 2-1 Robins' win. The run Smith surrendered was unearned. The Robins desperately needed a repeat performance if they were to turn the tide in the Series, which Cleveland led three games to two. Mails had also made an appearance in Game Three, pitching 6-2/3 scoreless innings in relief of Ray Caldwell.
As in the previous two games at League Park, fans began entering the bleachers section of the park at 9:30 A.M. for the 3 P.M. start. An hour later, rooftops along Lexington Avenue began to fill, as small boys scaled large trees to gain a bird's eye view. As part of the pregame ceremonies, Cleveland Mayor Ed FitzGerald presented watch fobs to Bill Wambsganss and Elmer Smith for their stellar play in Game Five. Wamby had pulled off an unassisted triple play and Smith smacked the first grand slam in World Series history. (So had Cleveland's complete-game winning pitcher Jim Bagby.)
One person who was not at the ballpark for the early festivities was Rube Marquard. The Brooklyn pitcher was having his day in court to respond to the ticket-scalping charges levied against him before Game Four. The National Commission, the governing body of baseball, decided to withhold any share Marquard might receive from his participation in the World Series. Marquard pleaded with Judge Samuel Silbert in Common Pleas Court to have the hearing moved to after the Series. Silbert acquiesced and moved the court date to October 15, with a stern warning that Marquard be present. National League President John Heydler was also in attendance and remarked that any action forthcoming against Marquard would "be plenty stiff enough to make Mr. Marquard wish he's never seen a world's series ticket."3
Both starters pitched out of trouble in the second inning. Brooklyn loaded the bases on a single by Ed Konetchy and errors by shortstop Joe Sewell and third baseman Larry Gardner. But Mails got his mound opponent Smith to fly to center field to end the threat.
In the bottom of the inning, George Burns led off with a walk. Gardner forced him at second base, but Joe Wood singled to left, taking second base on the throw to third. But Robin's second baseman Pete Kilduff fielded Sewell's grounder and pegged Gardner out at home. Steve O'Neill grounded out to end the inning.
Both Smith and Mails were breezing through the innings without much trouble. Cleveland put a run on the scoreboard in the sixth inning. Tris Speaker singled to left field and came home on Burns's long double to left-center. The Tribe led 1-0 after six innings.
Would Mails deliver on his boast? In the top of the eighth it appeared as if Indians third baseman Gardner was the only fielder on the diamond. Smith grounded out to Gardner for the first out. Ivy Olson lined one just inside the third-base line and into the corner for a double, but Jack Sheehan popped to Gardner for the second out. Then Gardner fielded pinch-hitter Ernie Kreuger's grounder and tagged Olson, who was on his way to third.
The game ended with a 1-0 Cleveland victory. The Indians took a commanding 4 games to 2 lead over Brooklyn, with one home game left to play. Smith pitched well, scattering seven hits over eight innings of work. It was his second hard-luck loss in a World Series. In 1916 he pitched into the 14th inning in Game Two, only to lose to Babe Ruth and the Boston Red Sox, 2-1.
For Mails, his prediction rang true. He shut out the Robins on a three-hitter, striking out four. "All I can say about Walter Mails is that he is a wonderful pitcher," said Speaker. "I do not know of a better left-hander in the business. His fastball is something that no hitter can fool with. He has been a great find for us and will be one of our best pitchers next season. It was a tough spot he was in this afternoon, the toughest of the Series and yet he came through. He was given the acid test if ever a young player was and proved 18 carats fine."4
The Cleveland player-manager said of Burns, "You might say that George Burns was one of our substitutes this year. He has played first base in very few games, being used mostly as a pinch-hitter. As such, he has won a few games for us this year, but has he ever rose to the occasion any more successfully he did today when he rapped one of Sherrod Smith's best offerings to the center-field bleachers for two bases and scored me all the way from first? The best of it was he told me he was going to do it."5
After his success in 1920, Mails had another good season, going 14-8 in 1921. But he won only 11 more major-league games after that and was out of the majors by 1926, when he began a long career pitching in the Pacific Coast League.
Joe Evans of the Indians was the only player to tally multiple hits with three, but none were involved in the scoring. The announced attendance was 27,194, not counting the rooftop gawkers. The ballgame was played at a sprinter's pace, as it was completed in 1:34.
Sources
In addition to the sources mentioned in the Notes, the author consulted baseball-reference.com, mlb.com, and retrosheet.org.
Notes
Additional Stats
Cleveland Indians 1
Brooklyn Robins 0
WS, Game 6
---
League Park
Cleveland, OH
Box Score + PBP:
Corrections? Additions?
If you can help us improve this game story, contact us.
Tags
http://sabr.org/sites/default/files/Duster_Mails.jpg
600
800
admin
/wp-content/uploads/2020/02/sabr_logo.png
admin
2016-09-12 18:57:35
2020-04-17 13:34:07
October 11, 1920: Duster Mails shuts out Brooklyn to bring Cleveland to verge of championship