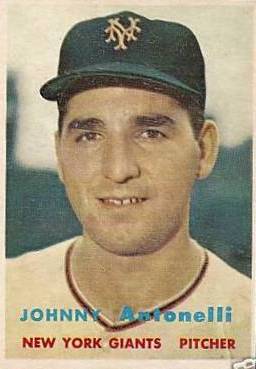 September 30, 1954: Giants look unbeatable after Johnny Antonelli wins Game 2
---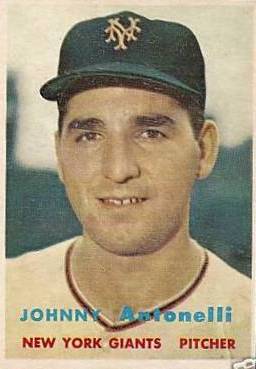 The last time Johnny Antonelli's team appeared in a World Series he was a clubhouse pariah.
The Boston Braves signed the 18-year-old out of high school in June 1948. Because of the size of his bonus, reportedly more than $50,000, the Braves were required to keep him on the major-league roster for two years.
Antonelli's teammates resented his contract and, indeed, his very presence. He pitched just four innings, the club left him off the World Series roster, and after the Braves lost to Cleveland his teammates cut him out of a share of the World Series money.
Antonelli put in two more tough seasons in Boston, spent two years in the Army, and pitched decently for the Braves for one season after they moved to Milwaukee. However, a trade to the New York Giants in February 1954 changed everything. Antonelli won 21 games that year, led the majors with a 2.30 ERA, and was tabbed to start Game Two of the World Series, with his team up one game to none over the Cleveland Indians.
It was an unseasonably warm early autumn day in New York. Rain had fallen all night and much of the morning, but the weather cleared about an hour before the first pitch. The sun was in and out all afternoon. The humidity made it uncomfortable for the entire game but those stretches when the sun peeked through were downright oppressive.
Antonelli was fortunate to survive the first inning. Al Smith blasted his first pitch over the wall in left field, just inside the foul pole, becoming just the third player to lead off a World Series game with a home run. After retiring the next two batters, Antonelli walked Al Rosen and Vic Wertz, bringing Wally Westlake to the plate.
Westlake, a star with the Pirates in the late 1940s who was enjoying a career resurgence in Cleveland, rapped a sharp single to center field. Rosen, playing with a sore right thigh that was heavily taped, held up at third as Willie Mays unleashed a perfect strike to the plate. On the national radio broadcast, Indians' play-by-play man Jimmy Dudley suggested that even a healthy Rosen might not have been able to make it home, but Rosen himself disagreed. "Ordinarily, I would have scored on such a hit. Willie Mays would have needed more than an arm to throw me out at the plate. But I couldn't even try to go all the way around today."1
With the bases loaded and Antonelli laboring, manager Leo Durocher visited the mound and Jim Hearn began throwing the Giants' bullpen. The next batter was light-hitting George Strickland, who worked the count to 2-and-1 before lifting a pop fly to first baseman Whitey Lockman to end the inning. Cleveland, which had left 13 runners on base in Game One, had to settle for a 1-0 lead.
The game proceeded along these lines for Antonelli throughout the early innings. He survived a leadoff double by Jim Hegan in the second, stranded two more in the third, and left a runner on in both the fourth and fifth. If not for a brilliant play by third baseman Hank Thompson on a shot down the line by Bobby Avila to end the fourth, Cleveland might have scored again. Although Antonelli walked four through the first four innings, he insisted he felt fine. "There was nothing really wrong with my control. I was just being careful," he said.2 Meanwhile, Cleveland starter Early Wynn was in total command, plowing through the first 12 New York batters in order.
Those wasted chances bit Cleveland in the bottom of the fifth. Mays became the first Giant to reach, drawing a walk and then dashing to third on Thompson's single. Durocher sensed an opportunity and went to his bench early, summoning Dusty Rhodes to bat for Monte Irvin, who was drowning in an 0-for-22 slump. Rhodes was the hero of Game One when, batting for Irvin in the bottom of the 10th, he hit a game-winning three-run homer just over the 258-foot right-field wall. This time, he lofted a pitch — "a knuckler that didn't knuckle," as Wynn described it — toward Larry Doby in center field. It hung in the air forever.3 "I ran and ran and ran," Doby groaned, "but the longer I ran the farther away the ball seemed to be."4 The ball fell just in front of him. Mays scored the tying run and Thompson made it to third just ahead of Doby's throw, while Rhodes sneaked into second.
Wynn struck out Davey Williams and walked Wes Westrum, which loaded the bases for Antonelli, who could cause some trouble at the plate. His groundball to second looked like an inning-ending double play, but Westrum crashed hard into Strickland, whose relay to first was barely late. Thompson scored and the Giants took a 2-1 lead.
As the steamy afternoon wore on and Antonelli's pitch count mounted, the game slowed to a relatively glacial pace. The left-hander remained effective when he had to be, as Cleveland's futility with men on base continued. The Indians wasted Wynn's two-out double in the sixth when Smith fouled out to first. ("After that first fastball over the roof, I was swinging for home runs but I didn't see another one over the plate all day," Smith said.5) Then, with one away in the seventh, Avila was erased after he inexplicably broke for third on a groundball back to the mound. After a walk to Wertz, Antonelli again escaped when Westlake grounded to short.
New York added on when Rhodes, on his way to becoming a World Series folk hero, led off the bottom of seventh with his second home run of the Series, a blast that landed on the right-field roof, to make the score 3-1.
Antonelli set down the Giants in order for the first and only time in the eighth inning and entered the ninth having thrown 127 pitches. Smith led off the ninth with a single off Antonelli's leg, and then Avila followed with a sharp base hit to left. Hoyt Wilhelm was warming up in a hurry as Doby stepped in.
With an 0-and-1 count, Doby, who led the AL with 32 home runs and 126 RBIs, tried unsuccessfully to lay down a sacrifice bunt. Two pitches later, he struck out for the third time. Rudy Regalado, who entered as a pinch-runner for the hobbling Rosen in the seventh, grounded to Alvin Dark at short. Dark's flip to second retired Avila, but Regalado just beat the throw to first to keep the Indians alive, with Smith advancing to third base.
That set the stage for Wertz, who probably was the last person the Giants wanted to see. Although he is remembered as the victim of Mays' sensational over-the-shoulder catch in Game One, that was one of the only times the Giants had gotten him out. He was 5-for-7 with two walks in the series and he faced Antonelli with the tying run aboard. Wertz worked the count full and then fouled off two more pitches. Finally, on the ninth pitch of the at-bat, and Antonelli's 150th pitch of the game, Wertz hit a ball hard to deep left field but right at Rhodes, who snatched it to seal a dramatic 3-1 victory and a 2-0 Series lead.
Antonelli walked six and allowed eight hits, but struck out nine as Cleveland stranded 13 men for the second day in a row. "I was tired at the end," Antonelli conceded, "but I still felt that I had my good stuff."6 His catcher, Westrum, agreed. "Antonelli was great. He was a little wild in the early innings but from the fourth inning on, his fast stuff was his best and we went for that."7
Through the first two games, Cleveland was 2-for-27 with runners in scoring position. Afterward, in the sweltering clubhouse, manager Al Lopez, normally a quite genial man, was showing his frustration. A writer asked him to identify the turning point in the game. Lopez asked him to repeat the question, so the writer got to the point, suggesting Doby might have been playing too deep on Rhodes' game-tying single in the fifth. "What are you doing, asking the questions and answering them at the same time?" Lopez snapped.8 "It was just a bloop, that's all. Nobody could have caught it. Not even Willie Mays."9
Lopez also revealed a planned shakeup of his lineup for Game Three, which included benching the hobbling Rosen. Asked if he was dissatisfied with Rosen's performance, Lopez again lost his patience. "There's no dissatisfaction. The man's injured — you can't expect him to do more than he can."10
Cleveland had been considered the overwhelming favorite, thanks largely to a dominant pitching staff that shredded the rest of the American League. However, the Giants could pitch, too, as the Indians had quickly discovered. Suddenly, it was New York that looked unbeatable as the World Series headed to Cleveland for Game Three.
Sources
In addition to the newspaper sources cited in the Notes, the author used Baseball-Reference.com and Retrosheet.org.
baseball-reference.com/boxes/NY1/NY1195409300.shtml

retrosheet.org/boxesetc/1954/B09300NY11954.htm
Some game details, including Antonelli's unofficial pitch count, are derived from the original radio broadcast from the Mutual Broadcasting System, available at: archive.org/details/classicmlbbaseballradio.

Notes
1 Louis Effrat, "Tribe's 2 Losses in Row Attributed to Lack of Timely Hitting and Speed," New York Times, October 1, 1954: 29.
2 Roscoe McGowen, "Westrum Is Credited With Major Role in Success of Antonelli and Giants," New York Times, October 1, 1954: 28.
3 Ibid.
4 Ibid.
5 Dan Cordtz, "Lopez Expected to Bench Rosen," Cleveland Plain Dealer, October 1, 1954: 1, 26.
6 McGowen.
7 Ibid.
8 Effrat.
9 Dan Cordtz, "Tribe Hits Come in Wrong Spots," Cleveland Plain Dealer, October 1, 1954: 26.
10 Cordtz, "Lopez Expected to Bench Rosen."
Additional Stats
New York Giants 3
Cleveland Indians 1
Game 2, WS
---
Polo Grounds
New York, NY
Box Score + PBP:
Corrections? Additions?
If you can help us improve this game story, contact us.
Tags
http://bioproj.sabr.org/bp_ftp/images3/AntonelliJohnny.jpg
600
800
admin
/wp-content/uploads/2020/02/sabr_logo.png
admin
2019-08-05 03:12:25
2020-04-17 13:33:58
September 30, 1954: Giants look unbeatable after Johnny Antonelli wins Game 2