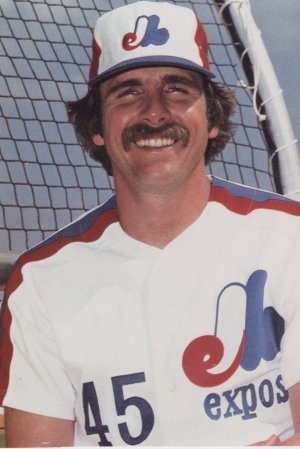 October 11, 1981: Steve Rogers leads Expos to NLCS
---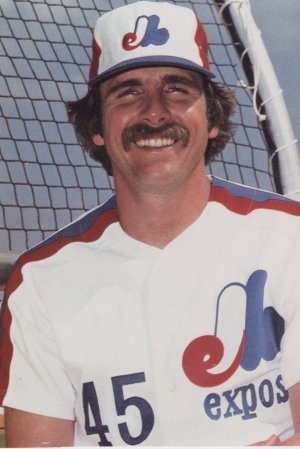 For Game Five of the 1981 mini-series playoff between the Montreal Expos and the Philadelphia Phillies, Expos manager Jim Fanning unleashed his best pitching weapon, Steve Rogers. He also unleashed his secret offensive weapon — Steve Rogers?
The 1981 major-league season was interrupted by a 50-day midseason players' strike that divided the campaign into two halves. In order to determine the division champions, Major League Baseball decided that the division leaders at season's end would meet the teams that led when the strike started in best-of-five mini-series.1 In the National League East, this arrangement pitted first-half winner Philadelphia against second-half leader Montreal.
This setup suited the Expos just fine because they wanted revenge for October 4, 1980, when the Phillies' Mike Schmidt blasted an 11th-inning home run that eliminated Montreal from the pennant race and vaulted Philadelphia to the World Series title. It was payback time.
Montreal won the first two games at Olympic Stadium by identical 3-1 scores. When the series moved to Veterans Stadium, Philadelphia rebounded to even the series with 6-2 and 6-5 wins. With the series tied at two games apiece, it all came down to a winner-take-all matchup between the teams' aces. Rogers had gone 12-8 in the truncated campaign, while Steve Carlton was 13-4. Rogers went 8⅓ innings in besting Carlton in Game One, so he had every reason to be confident going into this pressure-packed finale.
Carlton and the Phillies weren't ready to concede anything, either, despite the distraction of rumors that manager Dallas Green was moving on to the Chicago Cubs after the season. (He took over as Cubs general manager on October 15, 1981, four days after the Phillies were eliminated.) "Actually, the Expos thought they had the division title iced when they left Montreal with a two-games-to-none lead over Philadelphia," wrote Steve Wulf in Sports Illustrated. "They should have known about Phillie Ball, though. Last year's champs play best when they haven't a prayer."2
The Lord may work in mysterious ways, but so did Carlton's slider, as he struck out the Expos' Warren Cromartie, Jerry White, and Andre Dawson to lead off the game. Pitching dominated the first four innings, which were not only scoreless, but included some bizarre baserunning. After leading off the second with a single to left, the Expos' Gary Carter tried to steal second off his opposite number, Phillies catcher Bob Boone. Now, the Expos had a lot of fast players in 1981; they even led the league in stolen bases with 138. Carter, however, contributed only one steal and was caught stealing five times. If he was trying to catch Boone off guard, it didn't work, because Boone gunned him down.
Doing the unexpected was clearly behind Phillies third-base coach Lee Elia's decision to wave Gary Matthews home in the fourth inning. After singling with two out, Matthews was off with the crack of the bat on a single to center by Manny Trillo. Perhaps sensing that runs would be at a premium that day, Elia channeled his internal Tasmanian Devil, wildly waving his right arm as a signal for Matthews to head for home instead of stopping at third. Dawson, meanwhile, corralled the ball and gunned it to cutoff man Jerry Manuel, who rifled it to Carter in time for the out at home.
"I thought he had a good shot at it, and I was going with the element of surprise," Elia explained.3
If Carter wasn't already having a rough enough day after getting caught stealing, it got worse during the play at the plate because instead of sliding, Matthews ran into him in an attempt to knock the ball out of his hand. In doing so, Matthews elbowed Carter in the head, which caused the Expos catcher to play the next three innings with blurred vision.
"I thought it was pretty dirty when it happened," Carter said. "Later, he apologized. I have no hard feelings. I commend him. You have to play hard like that when everything is on the line."4
The Expos broke through in the fifth. Larry Parrish led things off with a single and went to second when Carlton walked Tim Wallach. Chris Speier reached on a fielder's choice that erased Wallach and moved Parrish to third. Manuel walked to load the bases for Rogers. The career .138 hitter used his self-described "bail and wail" hitting style to smack a hanging slider up the middle – his second hit of the game – to bring Parrish and Speier home with, as it turned out, all the runs he would need.5 Of course they didn't know that at the time, so the Expos padded their lead in the sixth when Dawson singled and scored on a Parrish double.
Philadelphia made some noise in the bottom of the sixth with Montreal leading 3-0. Leadoff hitter Lonnie Smith singled and moved to second on a walk to Pete Rose. George Vukovich hit into a fielder's choice that forced Rose at second, and brought up the ever-dangerous Schmidt with one out and runners on first and third. Schmidt hit 57 career home runs against Montreal, and had popped one the previous day off of Scott Sanderson. He caused the Expos so much concern that they walked him intentionally in Game Two, even though that meant breaking the cardinal rule of not putting the tying run on base. This time, though, Rogers pitched to him and got him to hit into a double play, ending the threat.
Schmidt, Matthews, and Trillo batted for Philadelphia in the bottom of the ninth. Schmidt and Matthews lined out quickly. With the count 1-and-1 on Trillo, the right-handed-hitting Phillies second baseman lined the ball toward right, but Cromartie jumped up, grabbed it for the third out, then ran to the hugfest convening at the mound as Expos players piled on top of Rogers and one another in celebration. Then he wandered over toward the Phillies dugout, took a Canadian flag from a Montreal fan and waved it in the air. The Philadelphia fans, infamous for once booing Santa Claus, responded as would be expected.
"I made the last out of the playoff game [a reference to his putout on Trillo's liner] and I think holding up the Canadian flag after we won was kind of [memorable] for me," Cromartie said.6
The series win was also a vindication of sorts for Rogers, who was often criticized by former Expos manager Dick Williams for not being able to pitch well under pressure. He defeated one of the all-time great left-handers twice in the series, pitching two complete games and allowing only one earned run in 17⅔ innings against the team that scored the most runs (491) in the National League that season.
"Rogers has pitched two games just about as well as any pitcher can pitch against the Philadelphia Phillies," said Tom Seaver, the NBC color commentator for the series.7
This article appeared in "Au jeu/Play Ball: The 50 Greatest Games in the History of the Montreal Expos" (SABR, 2016), edited by Norm King. To read more articles from this book, click here.
Sources
In addition to the sources listed in the notes, the author consulted:
Baseball-almanac.com.
Baseball-reference.com.
Usereau, Alain. The Expos in Their Prime: The Short-Lived Glory of Montreal's Team 1977-1984 (Jefferson, North Carolina: McFarland & Company, 2013).
Box scores for this game can be found on baseball-reference.com, and retrosheet.org at:
http://www.baseball-reference.com/boxes/PHI/PHI198110110.shtml
http://www.retrosheet.org/boxesetc/1981/B10110PHI1981.htm
Notes
Additional Stats
Montreal Expos 3
Philadelphia Phillies 0
---
Veterans Stadium
Philadelphia, PA
Box Score + PBP:
Corrections? Additions?
If you can help us improve this game story, contact us.
Tags
https://sabr.org/sites/default/files/images/RogersSteve.jpg
600
800
admin
/wp-content/uploads/2020/02/sabr_logo.png
admin
2017-10-10 15:05:09
2020-04-17 13:34:05
October 11, 1981: Steve Rogers leads Expos to NLCS