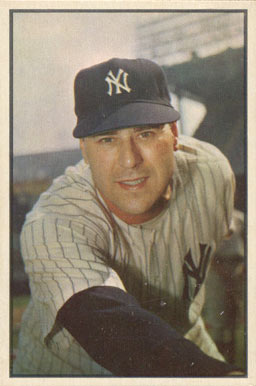 October 4, 1950: Yankees' Vic Raschi shuts out Phillies on two hits in World Series opener
---
Philadelphia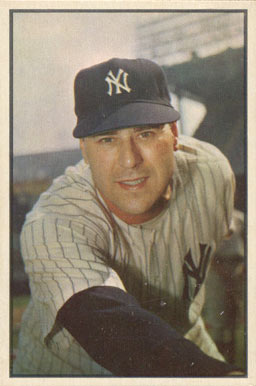 Phillies manager Eddie Sawyer faced a dilemma. Who would pitch the first game of the World Series? His ace, Robin Roberts, had started three games in five days, including a 10-inning pennant-clinching effort on the last day of the season. He needed rest. Curt Simmons, whose 17 wins in the league were second only to Roberts, was with his National Guard unit, called to active duty in September. Ken Heintzelman's 3-9 record and Bob Miller's and Bubba Church's ineffectiveness because of injuries hardly inspired Sawyer's sense of confidence.
If he sought guidance in selecting a pitcher, Sawyer needed look no further than his American League counterpart in Philadelphia, Connie Mack. Under slightly similar circumstances, Mack had named little-used Howard Ehmke to pitch the opener for the 1929 World Series, which proved a successful gamble. (Ehmke defeated the Chicago Cubs, 3-1, and struck out a then-record 13 batters.) Sawyer was inspired by this action and decided to call on Jim Konstanty, his top reliever to begin the game. Konstanty had not started in the majors since May 13, 1946.1 While giving Roberts rest, Sawyer also felt that Konstanty's off-speed pitching might run counter to the Yankees' preference for fastballers. Ehmke's slow pitching had befuddled the Chicago Cubs 21 years earlier, a factor not lost on Sawyer.2
Konstanty had pitched 74 games in relief during the season, setting a major-league record for appearances. Along the way he won 16 games and saved 22 (then an unrecorded statistic).3 Sawyer's faith in Konstanty was furthered by having managed him in 1948 while both were with the Toronto Maple Leafs of the International League. Konstanty had started 14 games, including many of the seven-inning short games in doubleheaders, and done well. Sawyer intended to just let Konstanty go as long as he was effective.4
Konstanty faced a daunting challenge. Odds were heavily stacked against Philadelphia; 2 to 5 in favor of the Yankees.5 In this, much consideration was based on their records. New York mustered 914 runs scored with 159 home runs; Philadelphia just 722 runs with 125 home runs. New York had won 98 games vs. Philadelphia's 91 victories. These numbers plus the Yankees' postseason experience gave credence to the odds offered.
This was New York's 17th appearance in the World Series and they had won 12 of the previous 16. Of the 18 men on their roster who played in the World Series, 14 had previously appeared in the fall classic. A significant missing face was veteran Tommy Henrich, whose season-long injuries prompted his replacement by late-season waiver pickup Johnny Hopp.6
The Phillies had not appeared in a World Series since 1915, when they were defeated in five games by the Boston Red Sox. Of the 19 men on their current roster who would play in the Series, only two, Dick Sisler and Dick Whitman, had appeared previously in a World Series and both only as pinch-hitters.
When told that Konstanty was going to pitch, Yogi Berra in one of the early malapropisms attributed to him, commented, "Yes he probably will, but who's gonna start for the Phils?" As for Konstanty, he observed, "It seemed funny warming up in public."7Sawyer's selection of Konstanty took attention away from his mound opponent, 31-year-old Vic Raschi. Raschi, in his fifth season with New York, had compiled a 21-8 record in 1950 with a league-leading .774 winning percentage. It was his second of three 20-win seasons built on a formidable fastball that gave rise to the West Springfield, Massachusetts, native's nickname, the Springfield Rifle. This was Raschi's third World Series.
Attendance for the first game was 30,746, including Pennsylvania Governor James Duff and Grace Coolidge, widow of the former president. She was a devoted fan of baseball; a serious Red Sox fan who, while first lady, had attended the 1924 World Series between the Washington Senators and the New York Giants. Also on hand at 41-year-old Shibe Park were baseball luminaries Dizzy Dean, Ralph Kiner, and Pie Traynor as well as figures from the entertainment world including actor William Frawley, soon to gain fame for his role as Fred in the I Love Lucy series.8
Missing from those in attendance was the Phillies' all-time greatest player, Grover Cleveland "Pete" Alexander. Unlike more contemporary times when retired players are invited to appear at games to honor a team's legacy, Philadelphia gave no thought to inviting the man whose 31 wins were crucial to winning their sole pennant in 1915.
Half-hearted efforts had been made by various entities to bring the ill and impoverished 63-year-old Alexander to the series, but the attempts had fallen through. Last-minute efforts by friends and a Chicago radio station, however, financed his trip back east, one interrupted by illness and delayed flights. As the series began Ol' Pete was on his way.
A vision of what might have been took place before the game started. Simmons had received a last-minute furlough from the service to be at the Series. Despite the opportunity to place him on the roster, Sawyer took a pass. Simmons had not pitched competitively for several weeks and wasn't deemed in shape for the Series. But he did pitch batting practice. Phillies fans could only wonder what if.9
Before the game began, all were reminded of life beyond baseball. The World Series began three months after the Korean War commenced. Prior to the first pitch, fans and players stood for a 30-second prayer for peace. The gesture was instigated by Commissioner Happy Chandler, who then threw out the first pitch.
The Series was broadcast nationwide on television to an estimated 35 million viewers, the second year in a row it was shown coast to coast. Radio was still king, however, attracting an estimated 70 million listeners.10
Once the game began, it quickly developed into a tight contest with both pitchers in top form. The Yankees started off the first in a promising manner as left fielder Gene Woodling led off with a walk and shortstop Phil Rizzuto singled him to second. Konstanty bore down on the heart of the order to retire Berra, Joe DiMaggio, and Johnny Mize and end the threat. Raschi singled to open the third and Woodling walked, but again Konstanty managed to get out of the inning successfully. Meanwhile Raschi shut down the Phillies in order over the first four innings.
In the top of the fourth, Yankees third baseman Bobby Brown, who had come into the game sporting a .600 batting average in previous Series competition, opened the frame with a double to left, the third time Konstanty had allowed the leadoff batter in an inning to reach base. The Yankees were not to be denied this time as successive fly balls off the bats of Hank Bauer and Jerry Coleman plated Brown for the first and only score of the game.
The next inning Raschi's string of 13 straight outs ended with third baseman Willie Jones's single. One batter later, catcher Andy Seminick singled Jones to second but Raschi struck out second baseman Mike Goliat to end the threat.
And that was the ballgame. Except for a walk to first baseman Eddie Waitkus in the sixth, no other member of the Phillies reached base. Konstanty held the Yankees scoreless the rest of the way before giving way to Russ Meyer in the ninth, but the damage had been done as New York took the game, 1-0.
It was the third straight year the World Series opened with a 1-0 score. In 1948 Cleveland bested the Boston Braves by a similar score. The following year the lone tally gave New York a victory over the Brooklyn Dodgers.
Konstanty had pitched well, giving up just four hits. But Raschi, whom Yankees manager Casey Stengel considered the best pitcher he had ever managed, had given up just two. Raschi's pitching was masterful but an emerging presence that would play a large role in the Yankees' continued success also contributed. After the game Raschi told Berra, "Yogi, you called a perfect game. I didn't shake you off once. Thank you." It was the ultimate compliment for the 25-year-old catcher.11 While Raschi and Berra were a formidable duo, they also benefited from the Phillies' opening game jitters. After the game, Phils shortstop Gran Hamner observed, "We may have been a little nervous and swung at some bad pitches from Raschi."12
Stengel's crew won but despite the Yankees being considered heavy favorites, they knew that the Series was going to be harder than forecast. Sawyer's gamble in starting Konstanty had almost paid off. The next day, New York had to face Philadelphia's best pitcher, Robin Roberts, on his home field.
For Raschi the day ended on less than a perfect note. Thieves broke into his hotel room while he was dueling Konstanty. They stole his wife's jewelry and tickets for games at Yankee Stadium being held for friends. He was robbed, but then the Phils could have said the same thing.13
This article appears in "The Whiz Kids Take the Pennant: The 1950 Philadelphia Phillies" (SABR, 2018), edited by C. Paul Rogers III and Bill Nowlin. Click here to read more stories from this book at the SABR Games Project.
Notes
1 Robin Roberts and C. Paul Rogers III, The Whiz Kids and the 1950 Pennant (Philadelphia: Temple University Press, 1996), 340.
2 Sol Gittleman, Reynolds, Raschi and Lopat: New York's Big Three and the Yankee Dynasty of 1949-1953 (Jefferson, North Carolina: McFarland & Company Publishers, 2007), 86.
3 For his efforts Konstanty would be selected the National League's Most Valuable Player.
4 Roberts and Rogers, 340.
5 Jack Hand, "Yankees as Usual Favored to Win," Spokane Daily Chronicle, October 2, 1950: 49.
6 Hopp was obtained from the last-place Pittsburgh Pirates on September 5. He was second in the National League in hitting with a .340 average.
7 "First Game Gossip," The Sporting News, October 11, 1950: 10.
8 "Seats Left Empty in Ticket Mix-up," New York Times, October 5, 1950: 51.
9 "First Game Gossip."
10 Gittleman, 86.
11 Gittleman, 87.
12 Roscoe McGowen, "Browns Hit Draws Praise from Loser," New York Times, October 5, 1950: 51.
13 Dan Daniel, "Raschi Hotel Room rifled of Jewelry, Series Tickets," The Sporting News, October 11, 1950: 9.
Additional Stats
New York Yankees 1
Philadelphia Phillies 0
Game 1, WS
---
Shibe Park
Philadelphia, PA
Box Score + PBP:
Corrections? Additions?
If you can help us improve this game story, contact us.
Tags
https://sabr.org/sites/default/files/images/RaschiVic.jpg
600
800
admin
/wp-content/uploads/2020/02/sabr_logo.png
admin
2018-11-29 12:42:15
2022-10-20 16:48:12
October 4, 1950: Yankees' Vic Raschi shuts out Phillies on two hits in World Series opener