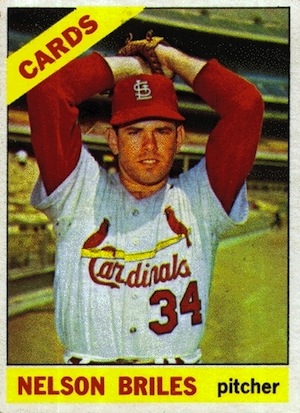 October 7, 1967: World Series gets 'a little warm' as Cardinals win Game 3
---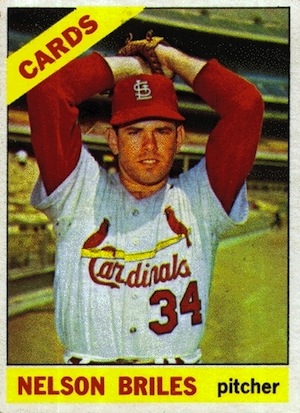 The lineups remained unchanged for Game Three of the 1967 World Series. Two right-handers were assigned mound duties. Boston's hard-throwing Gary Bell (12-8, 3.16) faced curveballer Nelson Briles, who sparked the St. Louis staff after Gibson's broken leg. Briles (14-5, 2.43 ERA) finished the year winning nine straight decisions after August 1.
Though he'd had a very good 1967 season, Bell was out to disprove his career label as a mediocre pitcher. Briles aimed to set the stage in St. Louis and stop Boston. Both were in the limelight for the first time in their careers.
But the big news of the day concerned the Redbirds' hostility towards the Red Sox before their anticipated Game Three matchup against the rejuvenated Red Sox at Busch Stadium in St. Louis.
In the eyes of the Cardinals faithful, "Gentleman" Jim Lonborg he was no more.
"You bush so and so" were amongst the Cards version of mid-60's expletives directed to Lonborg from the normally cordial Midwesterners.1 Lonborg had admittedly unleashed a rising close-shave fastball under Lou Brock's chin in Game Two, which could have portended a donnybrook of a Series.
"Tell the Red Sox we can play it [the inside game], too," Curt Flood announced. "And we're not going to get Petrocelli or someone like that.We're gonna get Yastrzemski."2 The Lonborg "duster" represented the line drawn in the sand.
Bell proved ineffective, lasting just two innings after giving up five hits and three runs, while Briles went on to pitch a complete-game seven-hitter. In both innings, the Cardinals struck early with their first two batters hitting safely each time. Lou Brock had tripled to lead off the game, and Curt Flood singled him in. In the second inning, Tim McCarver singled and Mike Shannon homered.
There were few highlights for the Red Sox this day, but Gary Waslewski's effort would not go unrecognized. He looked sharp replacing Bell, mowing down the Cards with three perfect innings.
Brock's speed continued to raise havoc for the Red Sox.He led off the sixth with a drag bunt single. He proceeded to third base on a wild pick-off throw to first base and later scored on a Roger Maris single. That made it 5-1, St.Louis.
The Cards scored their final run in the eighth when Orlando Cepeda, who previously had gone hitless in 10 at-bats, doubled to score Maris.
Briles was stellar. Referred in the newspapers as "Choir Boy" for his interest in singing, the right-hander shut down the Red Sox through the fifth inning.In the top of the sixth, Mike Andrews singled, pinch-hitting for reliever Waslewski. Dalton Jones knocked in Andrews with his second hit of a three-hit day. The Sox managed only one more run, a seventh-inning solo home run by centerfielder Reggie Smith, whom Briles had agitated earlier with a brushback.
During this game, brushback episodes made it appear that retaliation was in order for the Lonborg/Brock Game Two duster. Trouble loomed from the onset. The bitterness that carried over resulted in outbreaks in three separate innings, while arguments loomed in between.
Briles drilled Carl Yastrzemski on the leg with his first pitch to him in the first inning with two outs and none on. Captain Carl glared at Briles. Dick Williams charged out, complaining to home-plate umpire Frank Umont. The umpire notified both managers that he would deal with any situation that arose.
Red Smith wrote that Williams' protest hurt his own team, because Bell became perhaps skittish about throwing inside.3And Reggie Smith said after the game, "We wanted to beat him so bad that I think we all got fouled up. Everybody was over-anxious and not waiting for good pitches. I just hope we get another shot at that bush-leaguer."4
Yaz subsequently went hitless, grounding out weakly to second in each of his next three at-bats. As the Cardinals established in Game One, if they could beat Yaz, their odds improved. The following day's Boston Globe headline echoed a similar theme, "YAZ GOES DOWN; SOX GO TUMBLIN' AFTER."5
In the second inning Scott was called out on a close play and Williams again came out to argue.
Then an inside pitch upset rookie Reggie Smith who finger-pointed a challenge to Briles, with whom he had a previous run-in in minor-league ball. Scott came running to help Smith, with the Cards' Cepeda also entering the scene. Will McDonough, "A lot of bad blood has been boiling between the dugouts and the verbiage exchanged hasn't been polite." He quoted Mike Andrews: I don't think you can print even one of the words in the paper."6
Calmness appeared restored, until the top of the ninth with one out and Smith at bat. With what Boston Globe writer Harold Kaese described as "the most overt sign of belligerency," the short-tempered Smith lowered and dug his shoulder into catcher Tim McCarver's chest protector as he attempted to catch a high foul pop-up towards first base.7 McCarver doubled over. The home-plate umpire immediately called Smith out for interference on the play as first baseman Cepeda came in and caught the fly. Jerry Adair then popped out to third base for the game's final out.
Afterwards, the Red Sox shared their thoughts about Briles. In the Red Sox locker room, Smith stated, "He's a big mouth, pop-off."8 Dick Williams said, "I don't THINK Briles was trying to hit him. I KNOW he was trying to hit him."9
Lonborg had admitted he'd brushed back Brock in Game Two. But when the soft-spoken, articulate Briles was questioned about hitting the Red Sox captain, he professed innocence: "I held the ball way too tight and it got away. The same thing happened with Reggie Smith. Why did Yaz say anything?"10
Tony Conigliaro was furious in the column he wrote: "What if he broke Yaz' knee, or his leg?"11
In a game highlighted more by bitterness and controversy than great play, the Cardinals defeated the Red Sox 5-2, taking a two-games-to-one Series lead.
The Bushwhack was completed as "Choir Boy" avenged the "Gentleman."
"This thing is starting to get a little warm, isn't it?" observed Dick Williams.12
This article appears in "The 1967 Impossible Dream Red Sox: Pandemonium on the Field" (SABR, 2017), edited by Bill Nowlin and Dan Desrochers. To read more stories from this book, click here.
Sources
In addition to the sources mentioned in the Notes, box scores for this game can be found on baseball-reference.com, and retrosheet.org at:
https://www.baseball-reference.com/boxes/SLN/SLN196710070.shtml
http://www.retrosheet.org/boxesetc/1967/B10070SLN1967.htm
Notes
Additional Stats
St. Louis Cardinals 5
Boston Red Sox 2
Game 3, WS
---
Busch Stadium
St. Louis, MO
Box Score + PBP:
Corrections? Additions?
If you can help us improve this game story, contact us.
Tags
http://sabr.org/sites/default/files/images/BrilesNelson.jpg
600
800
admin
/wp-content/uploads/2020/02/sabr_logo.png
admin
2017-09-19 15:51:15
2020-04-17 13:34:05
October 7, 1967: World Series gets 'a little warm' as Cardinals win Game 3