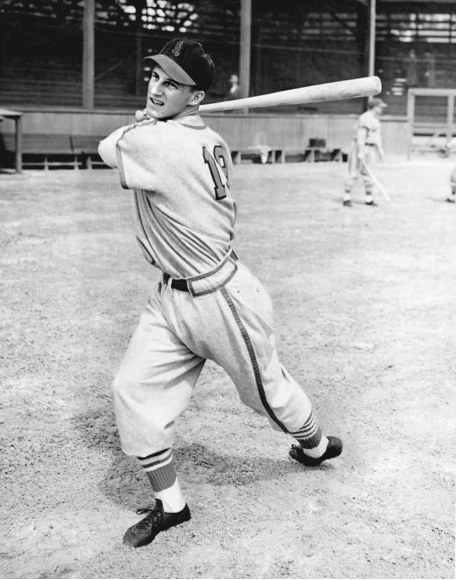 September 17, 1941: Stan Musial makes his major-league debut
---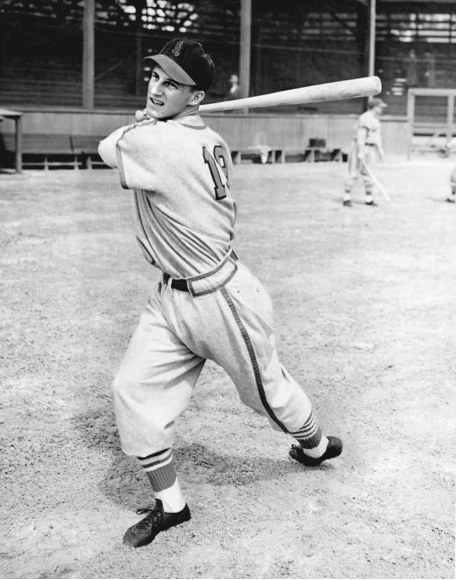 In spring training before the 1941 season, the St. Louis Cardinals listed Stan Musial on the roster as a pitcher.1 His numbers from the previous year would suggest this was sensible. Although he also played the outfield on days he was not on the mound and had finished among the top 10 hitters in the Florida State League with his .311 average, he also ranked among the best hurlers in the circuit, leading the league in won-loss percentage with an 18-5 record and ranking in the top 10 in victories and ERA (2.62) among pitchers with at least 100 innings on the mound.2
Hidden in those statistics, however, was an arm injury Musial suffered diving for a fly ball in August that kept him out of 20 games.3 Early in the 1941 preseason, the injury's effect was evident in several abysmal outings that made Musial a candidate for release.4
However, Ollie Vanek, manager of the Cardinals' Class-C Western Association team in Springfield, Missouri, had once managed a Redbirds farm team near Musial's hometown of Donora, Pennsylvania, and had seen him work out for scouts before the Cardinals signed him. Mindful of his performance at the plate in 1940, Vanek asked the organization if it would allow him to add Musial to his roster.5
Given that second chance, Musial caught fire immediately. For the first two months of the season his batting average hovered around.400.6 By late July he was running away from the rest of the league in nearly every offensive category, hitting .379 with 26 home runs, 94 RBIs, and a .739 slugging average. The Cardinals promoted him to Double-A Rochester in the International League, where he batted .326 over the last six weeks of their season, helping the team run off a streak of 16 wins in its final 20 games that put the team in the International League playoffs.
Once the playoffs ended, St. Louis called Musial up to the big leagues. The news received relatively modest attention in the press. The St. Louis Post-Dispatch, for example, reported that the team had added Musial to the roster, summarizing his season's statistics, but giving considerably more attention in the article to first baseman Ray Sanders, who had finished second in the American Association in RBIs and among the leaders in batting average and home runs.7 St. Louis's other major daily paper, the Globe-Democrat, gave Musial even less ink, merely listing his name along with four other players the team had brought up.8
As it turned out, Sanders did not play for the Cardinals until the next season, while a week after the press reported his recall, Musial found himself in the starting lineup for a team fighting for the pennant.
When Musial joined the club, it was in second place, 1½ games behind Brooklyn, and struggling through an offensive dry spell: Over the previous 15 games, the team had hit a combined .218 and had managed to go 8-6-1 over that stretch largely on the strength of its pitching.9
It was because of this slump and Billy Southworth's desire for outfield reinforcement through the last two weeks of the pennant chase that the Cardinals decided to bring Musial up in September rather than wait until the next spring.10
He reported to Sportsman's Park on Tuesday, September 16. His arrival was marked by a photo session, for which he and fellow call-up Erv Dusak posed for an AP photographer admiring each other's new Cardinals white home uniforms.11 Musial already wore what would become one of the most iconic numbers in baseball history, 6, which clubhouse attendant Butch Yatkeman had given him simply because the number was available and the jersey fit.12
He made his major-league debut the next day, in the second game of a doubleheader against the lowly Boston Braves, who were in seventh place among eight teams, 32 games out of first. The Cardinals had taken the opener, 6-1, thanks to five unearned runs in the eighth, to keep pace with Brooklyn, which had won its game against the Pittsburgh Pirates to hold onto a 1½-game lead over St. Louis.
For the nightcap, Southworth shuffled his outfield. He rested center fielder Terry Moore, who had returned to the team only three days earlier from a month's layoff after being hit in the head by a pitch; moved Johnny Hopp from left field to center, shifted Estel Crabtree from right field to left, and started Musial in right and batted him third.13 He sent southpaw Max Lanier, 8-8, against the Braves' Jim Tobin, a right-handed knuckleballer who had the misfortune of being a good pitcher on a bad team: he ended the year among the top 10 in several key statistical categories and, despite finishing 12-12, earned a handful of votes for MVP.
It was a pleasant afternoon, in the high 80 degrees and the sky clear as a ladies-day special drew 7,713 fans to the park. After Lanier set down the Braves in order in the top of the first, the Cards put their leadoff hitter on base when Jimmy Brown singled, but he was doubled off when Braves center fielder Gene Moore made a spectacular catch on a Hopp line drive to the wall and Brown couldn't get back to first before the throw.14 That brought Musial to the plate for his first major-league at-bat.
In his 1964 autobiography, Stan Musial: The Man's Own Story, which he wrote with sportswriter Bob Broeg the year after he retired as a player, Musial described his debut: "[The] first knuckleball I'd ever seen. It fluttered up the plate, big as a grapefruit but dancing like a dust devil. Off-stride, fooled, I popped up weakly to Sibby Sisti, playing third base for Boston."15
Although he'd been flummoxed in the first, by the time Musial came to the plate again, in the bottom of the third of a still-scoreless game, with two outs and runners on first and second thanks to an infield single by Lanier and a walk to Hopp, he'd figured out how to hit the pitch. As he said in his autobiography: "I learned to delay my stride, cut down on my swing and just stroke the ball."16
Fittingly for the player who, when he retired 22 years later, held the National League record for doubles, Musial laced the ball to the wall in right-center for a two-base hit, driving in the first two of what would eventually be 1,951 career RBIs and giving the Cardinals a 2-0 lead.17
Tobin settled in after that and held the Cards to only one hit – a single by Musial – between the fourth inning and the eighth. Lanier, meanwhile, was limiting the Braves to two hits through the first six.
In the top of the seventh, however, two defensive lapses by St. Louis allowed Boston to tie the score. With one out, Creepy Crespi misplayed a groundball and Eddie Miller followed it with a drive to right that Musial, "who appeared nervous … didn't play too well," allowing the Braves to get on the board.18 Boston added its second run on a single by Moore.
In the ninth Boston threatened. Carvel Rowell led off with a double and first baseman John Dudra bunted along the first-base line but rather than advance, Rowell stayed put. The Globe-Democrat account of the game said Rowell's decision likely cost his team a run because shortstop Marty Marion had to range far to his left to snag a groundball by Frank Demaree that would have plated Rowe had he advanced.19 Marion's play effectively ended the threat as Lanier retired the side on a groundout by Johnny Cooney.
That set up a sudden and dramatic finish in the bottom of the inning. Leading off, Crabtree watched the first pitch go by for a ball and then drove the second, a low knuckler, to the pavilion roof "with the ease of Ben Hogan lofting a No. 9 iron."20 The win moved the Cards to within a game of Brooklyn.
In the aftermath, the headlines went, rightly so, to Crabtree, a 37-year-old reclamation project for St. Louis that year; the team had plucked him out of the minors, where he had played the last seven-plus seasons after spending three years in the major leagues. Not only had he hit the walk-off winner in the second game of the afternoon, he had also homered in the opener.
But Musial, too, earned ink. Southworth told reporters he was "impressed" by his performance.21 The Post-Dispatch noted that, without his play, Lanier would have been saddled with a disappointing loss.22
In the end, the Cardinals fell short of the pennant, finishing 2½ games behind Brooklyn, but Musial made plain through his play that he would be a force in the game. That September he appeared in a dozen games, hitting .426 and driving in seven runs. It was impressive enough that, despite his limited résumé that season, he earned votes for the Rookie of the Year award.23
This article appears in "Sportsman's Park in St. Louis: Home of the Browns and Cardinals at Grand and Dodier" (SABR, 2017), edited by Gregory H. Wolf. Click here to read more articles from this book online.
Photo Caption
Stan Musial — pictured wearing a number 19 jersey during spring training 1942 in St. Petersburg, Florida — hit .426 in 12 games as a rookie call-up in September 1941. (National Baseball Hall of Fame Library)
Sources
In addition to the sources cited in the Notes, the author also accessed Retrosheet.org, Baseball-Reference.com, and SABR.org.
Notes
1 "East Coast Breezes," The Sporting News, March 13, 1941: 8.
2 Unless otherwise noted, all statistics are from Baseball Reference: baseball-reference.com/players/m/musiast01.shtml.
3 Jan Finkel, "Stan Musial," Society for American Baseball Research Biography Project. sabr.org/bioproj/person/2142e2e5. Accessed September 19, 2016.
4 James Giglio, Musial from Stash to Stan the Man (Columbia: University of Missouri Press, 2001), 39.
5 George Vecsey, Stan Musial: An American Life (New York: Ballantine Books, 2011), 77
6 "Latest Batting and Pitching Averages," The Sporting News, July 3, 1941: 12.
7 "Cardinals Buy Sanders from Columbus Farm," St. Louis Post-Dispatch, September 10, 1941: 15.
8 "Pollet and Lanier Face Braves Today," St. Louis Globe-Democrat, September 17, 1941: 4B.
9 "Good Pitching Helps Birds Win Twin Bill from Braves," St. Louis Post-Dispatch, September 18, 1941: 15.
10 "Cards Send Hurry Call for Musial and George Kurowski," Dunkirk (New York) Evening Observer, September 16, 1941: 12.
11 "They're Redbirds Now," St. Louis Post-Dispatch, September 17, 1941: 11.
12 Vecsey, 84.
13 "Lanier and Tobin Hurl Nightcap," St. Louis Post-Dispatch, September 17, 1941: 11.
14 Martin J. Haley, "Birds One Game Behind After 6-1, 3-2 Triumphs," St. Louis Globe-Democrat, September 18, 1941: 3B.
15 Stan Musial and Bob Broeg, Stan Musial: "The Man's" Own Story, as Told to Bob Broeg (Garden City, New York: Doubleday & Company, 1964), 49.
16 Ibid.
17 James P. Dawson, "Cardinals Subdue Braves, 6-1, 3-2; Crabtree's Homer Takes Nightcap," New York Times, September 18, 1941: 32.
18 W. Vernon Tietjen, "Cards, Game Behind, to Start Cooper Today," St. Louis Star-Times, September 18, 1941: 22.
19 Haley.
20 Ibid.
21 Ibid.
22 "Good Pitching."
23 "Pete Gets Big Pat from 'Chi' Writers," The Sporting News, December 25, 1941: 5.
Additional Stats
St. Louis Cardinals 3
Boston Braves 2
---
Sportsman's Park
St. Louis, MO
Box Score + PBP:
Corrections? Additions?
If you can help us improve this game story, contact us.
Tags
https://sabr.org/sites/default/files/MusialStan.PNG
600
800
admin
/wp-content/uploads/2020/02/sabr_logo.png
admin
2018-11-13 14:58:55
2020-04-17 10:23:47
September 17, 1941: Stan Musial makes his major-league debut