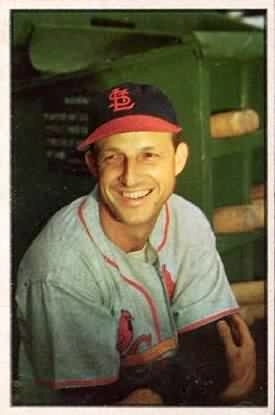 ---
"How good was Stan Musial? He was good enough to take your breath away." — Vin Scully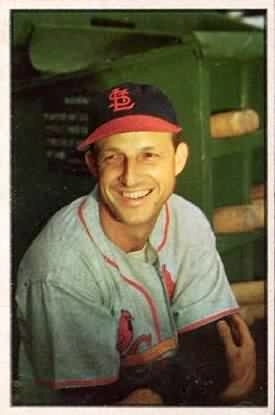 About twenty-five miles south and a bit east of Pittsburgh, roughly along the Monongahela River (Western Pennsylvanians call it the Mon and the Mon Valley), lies the town of Donora. Donora and the surrounding communities used to be a fairly thriving multi-ethnic area comprised of Italians, Eastern Europeans, and African-Americans that turned out steel, zinc, and world-class athletes. The Depression and management chicanery took care of the steel industry. A thermal inversion finished off zinc. Many of the young people left before conceiving children, athletic or otherwise.
It was glorious while it lasted, though. Dan Towler went to nearby Washington and Jefferson College and then to the old Los Angeles Rams, where he once led the National Football League in rushing. Arnold Galiffa quarterbacked Red Blaik's undefeated 1948 and 1949 teams at Army. Buddy Griffey didn't make it to the top, but his son (Ken) and grandson (Ken Jr.) did rather well. And Stan Musial stood out above them all.
According to writer James Giglio, Lukasz Musial, age 19, left "the [Polish] village of Mojstava in the province of Galicia, at that time part of Austria-Hungary" in January 1910. He sailed on the President Grant out of Hamburg on January 24, landing at Ellis Island six days later. Claiming to be 5'7″ and 150 pounds but deemed much smaller by people who knew him, Lukasz went straight from New York to Donora, where he worked at a variety of unskilled jobs. Among other things, he was what was called a "'machine helper'" and a porter at the Public Hotel. Early on he met Mary Lancos, 14 years old and the daughter of Czech immigrants (who had a Hungarian surname) from the Austro-Hungarian Empire. One of ten children, Mary, born in New York, was close to six feet tall, big-boned, and although untrained, probably athletic. Not unusual for the time and place, she had become a housekeeper when she was eight.
Mary and Lukasz married in Donora on April 14, 1913; he was almost 23, she 16. The marriage certificate said she was 21, suggesting that she likely hadn't received her parents' permission to marry, as was the law in Pennsylvania for people under 21. They had four daughters (Ida, Victoria, Helen, and Rose or Rosella as she is listed in the 1920 census) in six years, and then Stanley Francis came along on November 21, 1920. Lukasz named him Stanislaus and gave him the Polish nickname Stashu, which was quickly shortened to Stash, usually pronounced "Stush." Once he entered public school, Stash's name was Anglicized to Stanley (or Stan) Frank. Worth noting is that family and locals pronounced Musial "Mu-shill" as opposed to "Mu-si-al," as Stan came to be known. A brother, Ed, was born two years after Stan, completing the family.
Going through the public schools in Donora, taking the non-academic curriculum, and by his own admission not studying much, Stan was no better than an average student, although his constant winning smile and easy disposition made him popular with one and all. He excelled in wood shop, but for the most part he just wasn't that interested in schoolwork. His real passion was sports, and in high school he was beginning to make a name for himself in basketball and baseball, playing not only on school teams but also on local clubs. A frequently told story in the Musial legend has it that the University of Pittsburgh, coached by the legendary Dr. Henry C. "Doc" Carlson, offered Stan a basketball scholarship. The story goes on further that Lukasz tried to force his son, who wanted to play baseball professionally, to take the scholarship. Only after tears and lamentations on Stan's part and Mary's dramatic intercession ("Lukasz," she reportedly said, "this is America, and he has the right not to go to college.") in true Hollywood fashion, did the stern father relent and give his son his blessing to pursue his dream.
It's a fine story, but it's more likely that Lukasz wasn't pleased with his son's playing basketball, baseball, or any sport. From his point of view, he was making a tremendous concession in allowing the boy to finish high school (Stan was the only one of the six Musial children to graduate from high school) before going into the mills to work a real job. Moreover, as James Giglio has shown, Stan was already a professional ballplayer even before high school play, having "signed a contract with the St. Louis Cardinals' Monessen ball club of the Class D Penn[sylvania] State League [Association] on September 29, 1937, several months before the start of the … high school basketball and baseball season and about two months before his seventeenth birthday."
The signing wasn't made public until the following February. In addition, while he promised considerable potential, he hadn't really shown what he could do on the basketball floor, so a scholarship probably wasn't yet in the offing. Of course, his having signed the contract would have rendered him ineligible to play basketball at Pitt or any other college.
At the same time, Stan's having signed the contract by no means ended the maneuvering, much or most of it on his part. In the first place, he had some misgivings about the Cardinals organization after Commissioner Kenesaw Mountain Landis, having found Cardinal general manager Branch Rickey's machinations (among other things, owning more than one ball club in the same minor league) illegal, ordered the release and free agency of 74 players in St. Louis' farm system. To make matters worse, Musial worked out with the Pirates and waited for what he thought would be a tryout with the Yankees. Then again, he thought he might just stay home and pitch for the local zinc works team.
The fiasco ended in the late spring of 1938 when Stan reported to the Williamson (West Virginia) Colts of the Class D Mountain State League. He could have gone to the nearby Greensburg Green Sox of the Class D Pennsylvania State Association but chose Williamson, likely for two reasons. First, Greensburg (the Monessen team ceased to exist after the 1937 season) was managed by Ollie Vanek, who had signed him and in the bargain had incurred the wrath of Mrs. Musial, who never failed to remind him that he hadn't given Stan enough money. Second, and perhaps just as important, Williamson was farther away from home in case he failed.
Musial's first year with Williamson didn't presage a brilliant career on the mound or at bat. As a pitcher, he finished 6-6 with an ERA of 4.66 in 20 games, 7 of them complete. What stuck out, and not well, were 114 hits, 80 walks, and 66 strikeouts in 110 innings. Things weren't much better at the plate, 16 hits in 62 trips to the plate for a .258 average, with 3 doubles, a homer, 7 strikeouts, and only 3 walks. He was just 17 years old and was nowhere near his full height or weight, so that he might have been overmatched comes as no surprise.
Even though he was already playing minor league ball, Stan was also playing for Donora High. The Donora coach was Michael (Ki) Duda, a man wise enough to know what he didn't know, and that happened to be baseball. Duda brought in Charles (Chuck) Schmidt, himself just a few years out of high school but a fine ballplayer, to help coach the team. Musial and Schmidt remained friends until Schmidt's death.
Musial, says Schmidt, "was a born natural." "Even then," he told interviewer Greg Ryhal, "you could tell he was going to be one of the greats." Asked what made Musial so good, he answers simply, "God." Perhaps, but Musial deserves some of the credit, too. Curt Flood, a teammate late in Musial's career, describes a man who worked to develop his inherent talents: "Musial also helped — mainly by working as hard as he did on his own perfect swing. If this immortal felt the need for frequent extra practice, how could I hope to prosper on less effort?" The picture that emerges — one not often seen by the public — is of a Musial with raw, bleeding hands, the result of time spent in the batting cage honing his "natural" abilities.
Not all of Stan's time was taken up with sports. He was, of course, playing good basketball in the winter and pitching well in the spring and summer, helping lead his teams to regional championships, not to mention dazzling everyone at the Ping-Pong table and on the dance floor. Not surprisingly, someone had caught his attention. In her last year at Donora High, a year ahead of Stan, was a petite brunette named Lillian Labash. She was of Russian ancestry, one of eight children, and called "Shrimp" by her family; her father, Sam, ran a grocery store. None of this attracted Stan. That she was beautiful might have had something to do with it.
Some things had changed when Stan returned to Williamson in 1939. No longer the Colts, the Williamson nine was now the Red Birds and part of the Cardinals' organization. Too, Musial was a year older, maturing nicely, and possessing more confidence. With a better team behind him, he improved to 9-2 in just 13 games, 12 of them starts, and 7 of them complete, but some signs suggested that he might not have a great future as a pitcher. The 4.30 ERA in 92 innings was tempered by his surrendering only 71 hits; while his 86 strikeouts looked good, his 85 walks could have pleased nobody. He was now playing the outfield when he wasn't pitching, and his .352 average (25-for-71) was almost 100 points better than his 1938 performance. He showed some extra-base power with 3 doubles and 3 triples but again had just 1 home run. Two red flags emerged from the numbers: 16 strikeouts and 1 walk. The young man clearly had a lot to learn.
Now 19, Musial was eager for the 1940 season to begin. Having graduated from high school, he'd be able to play a full season for the first time. It wouldn't be easy, of course, as Giglio shows in his description of the circle of events that spring: "The Albany ball club, which owned his contract and had optioned him to Williamson in 1939, now sold him to Asheville, North Carolina, of the Class B Piedmont League. Following spring training for Cardinal Class B and C clubs at Columbus, Georgia, Asheville optioned him to the Class D team in Daytona Beach, Florida. His salary rose from seventy to one hundred dollars a month, but the demotion proved a disappointment to Musial, who, believing he could pitch at B level, felt that he was given no chance of making the Asheville club."
Disappointment aside, 1940 would be a pivotal year, and a blessing, to the young man, who would come under the wing of one of the great benefactors of his life, Daytona Beach manager Dick Kerr. As a rookie southpaw in 1919, Kerr had won two games for the White Sox in the World Series, no mean feat since three-quarters of his infield and two-thirds of his outfield had conspired to throw games. Kerr, a small man, brought to managing the same backbone that had helped him in the Series, and combined it with insight, wisdom, patience, and compassion. He and Musial hit if off from the start.
Kerr and his wife Cora took such a shine to the young man that they stood up as witnesses when Stan and Lil were married in St. Paul's Roman Catholic Church in Daytona Beach on May 25, 1940. The young Musials' son Richard (named after Kerr) was born within a year and was followed by sisters Geraldine (Gerry), Janet, and Jean.
Musial gave everything he had under the watchful eye of the fatherly Kerr and improved dramatically. He finished 18-5 with a 2.62 ERA in 223 innings with 19 complete games, but there were danger signs. Although he had given up only 179 hits while striking out 176, he had also surrendered 145 walks and 43 unearned runs. Nevertheless, he was the top southpaw in the Florida State League. Since the team had only 14 men on the roster, Stan — and the other pitchers — would play in the field when he wasn't pitching. It was there that his talents really began to show. Hitting line drives all over the field, he batted .311 in 113 games, striking out just 28 times in 405 at-bats. Ten triples and 70 RBI balanced out his meager 17 walks and single home run.
Everything came crashing down on August 11 in the second game of a doubleheader against Orlando. Playing center field, Musial went after a low, sinking line drive to left center, and attempted a somersault catch, something he'd been able to do from an early age. This time, though, his spikes caught, sending him shoulder-first to the ground. The pain and swelling in his shoulder were almost immediate, and it was soon determined that Musial was finished as a pitcher. Missing more than 20 games and trying to pitch only once, he played out the season as best he could, and finished what should have been a joyful year with a wife, impending fatherhood, and a dead arm.
Fortunately for all concerned, Kerr and Branch Rickey before him had seen the obvious: Stan Musial was not a pitcher, he was an outfielder. Because of the injury, his throwing arm would prevent him from becoming a so-called "five-tool player" (he could certainly hit, hit for power, run, and field), but he would compensate for the weakness by getting rid of the ball quickly and accurately.
Musial's stance was all his own, one he'd adopted because he believed it allowed him to cover the outside of the plate. Writing in the Baseball Research Journal of 2001, Paul Warburton describes it vividly:
A lefty, he dug in with his left foot on the back line of the batter's box, and assumed a closed stance with his right foot about twelve inches in front of his left. He took three or four practice swings and followed up with a silly-looking hula wiggle to help him relax. He crouched, stirring his bat like a weapon in a low, slow-moving arc away from his body. As the pitcher let loose with his fling, "The Man" would quickly cock his bat in a steady position and twist his body away from the pitcher so that he was concentrating at his adversary's delivery out of the corner of his deadly keen eyes. He would then uncoil with an explosion of power. His line drives were bullets."
Early in Musial's major-league career, teammate Harry Walker looked at him and said he'd never last with his stance. Hall of Fame pitcher Ted Lyons likened his plate appearance to a kid peeking around the corner to see if the cops were coming, a description that writers of the day would like; opposing pitchers thought he looked more like a coiled rattlesnake. Whatever Musial looked like, he would become a great hitter at the age of 21.
The Musial that the world came to know emerged in the 1941 season. His work under Kerr had brought him a promotion to Springfield, Missouri, in the Class C Western Association, where he was reunited with Ollie Vanek, the man primarily responsible for signing him. Free from pitching and now a full-time outfielder, Musial proceeded to tear the circuit apart with a league-leading .379 average, 27 doubles, 10 triples, a league-best 26 homers, 94 RBI, and 100 runs scored in a mere 87 games. Promoted after a July 20 doubleheader to Rochester in the Class AA International League, he kept up the pace, hitting .326 with 3 homers and 21 RBI in 54 games. Clearly ready for the big leagues, he made his debut with the Cardinals on September 17, getting his first hit, a double, as St. Louis swept a doubleheader from Boston, 6-1 and 3-2. In 12 games he hit .426, nailed his first home run, a two-run shot off Pittsburgh's Rip Sewell at Forbes Field in the second game of a doubleheader on September 23, and as a bonus struck out just once in 47 at-bats. In spite of Musial's contributions, the Cardinals came up 2.5 games short of the pennant-winning Dodgers in a wild finish to a close race.
Given Musial's performance, it is difficult to see why the Cardinals waited until mid-September to bring him up. Talking to Donald Honig for Baseball When the Grass Was Real, Johnny Mize provided a cynical explanation for the delay:
"In '41 [Enos] Slaughter collided with Terry Moore, and Slaughter broke his shoulder. Here we're fighting the Dodgers for a pennant. [Branch] Rickey said we didn't have anybody in the minor leagues to help us. Then in September he brings up Musial. Why didn't he bring Musial up earlier? That's what all the players wanted to know. We might have gone ahead and won the pennant. I'll tell you what the talk used to be about Rickey: Stay in the pennant race until the last week of the season, and then get beat. I heard some talk to the effect that that was what he preferred. That way he drew the crowds all year, and then later on the players couldn't come in for the big raise for winning the pennant and maybe the World Series. I don't know if it's true or not, but that was the talk."
That Musial rose from Class C to the majors in one season is certainly unusual. However, lending credence to Mize's reading of the situation is the fact that after the season Rickey traded him to the Giants, a move that some might see as an effort to weaken the Cardinals just enough to keep them out of the throne room in 1942.
Even without Mize, the 1942 Cardinals were so good that they stormed the National League, winning 106 games to finish two games ahead of the Dodgers. They then polished off the Yankees, winners of 103 games themselves, in a five-game Series that was considered an upset at the time. Musial made a solid impact with 10 homers, 72 RBI (tenth in the league), and a .315 average that was second to Slaughter's league-best .318. (Some sources list Boston's Ernie Lombardi with a .330 average as league leader, but he had only 309 at-bats.) He started the season in April batting second. By mid-May he was hitting third. After some shuffling around in the third through sixth spots in the lineup for about a month, Musial settled into the cleanup spot in late June, remaining there the rest of the season and through the World Series.
The Cardinals' confidence was well placed. Stan's 32 doubles and 10 triples (third in the league) — the first of seven consecutive years he would reach double figures in that department — showed that he got out of the box fast even with his unique peekaboo stance.
Musial didn't have a good Series against the Yankees, hitting just .222 with a double and a Series-best four walks. He was of no help in Game One, a 7-4 loss which the Cardinals almost pulled out with a furious rally in the bottom of the ninth, making the first and third outs of the inning. However, he drove in the winning run in the bottom of the eighth in Game Two, as the Cardinals rallied from a deficit to win, 4-3.
With many stars off fighting the war in 1943, Musial established himself as the premier player in the National League if not the whole game. Stan led the league in hitting (.357), slugging (.562), on-base percentage (.425), hits (220) doubles (48), triples (20), and various other categories in what would be the first of a string of years amassing eye-popping statistics. Not surprisingly, Musial's performance on another pennant-winning team led to his first Most Valuable Player award. Once again, though, he didn't fare well in the Series, as the Yankees took the Cardinals in five games. He batted just .278 with no extra-base hits.
During the off-season, Musial took part in the war effort, working for the American Steel & Wire Co. back in Donora. In addition, he and some other players went on a goodwill trip to the Aleutians to visit the troops. The War Department had canceled a scheduled trip to the Pacific in September of 1943. Although no evidence suggests that Musial sought or received any special treatment concerning the draft, coming from an area that had a large number of draft-age males along with being a father kept him out of military service for most of the war.
For Musial and the Cardinals the 1944 season was largely a repeat of the previous two. The Cardinals won 100 games for the third straight year, a feat previously achieved only by the 1929-1931 Athletics and later duplicated by the 1969-1971 Orioles and 2002-2004 Yankees. Musial hit .347 and led the league in hits (197), doubles (51), on-base percentage (.440), and slugging (.549) while increasing his RBI to 94 and walks to 90. And shortstop Marty Marion became the third consecutive Cardinal to be named Most Valuable Player following Mort Cooper and Musial.
Meanwhile, the St. Louis Browns, perennial doormats of the American League and landlord of Sportsman's Park, which they shared with the Cardinals, sneaked past the war-decimated powers of the league to win their first (and last) pennant of the twentieth century. Musial had his best Series as the Cards defeated the Browns in six games. He tied for the Series lead with 7 hits that included 2 doubles and his only Series home run while hitting .304. More important, he turned the Series around in Game Four after the Browns had surprisingly taken two of three games. His two-run homer over Sportsman's Park's right field pavilion off Sig Jakucki in the first inning gave Harry Brecheen all the runs he needed in a complete game 5-1 win.
Musial enlisted and entered the Navy on January 22, 1945, spending the next thirteen or so months in the service. Luckily — "luck" is a word he used frequently — he was able to spend much of his stint playing ball and never saw combat; indeed, at Pearl Harbor he played in an eight-team league that was largely staffed with major-leaguers. Accordingly, even though he missed the 1945 season, he didn't suffer the loss of career numbers that older contemporaries — Bob Feller, Joe DiMaggio, Ted Williams, Hank Greenberg, and Johnny Mize, among others — experienced.
Assigned to Bainbridge, Maryland, for basic training, Musial got into a few games and played first base for the first time, not knowing it would become his second position. Upon completion of basic, he was sent to Shoemaker, California, Naval Base, a place he didn't like at all. Assigned to Special Services, he was shipped to Honolulu to serve with a ship repair unit in the 14th Naval District. As Thomas E. Allen explains, "His job was to run a liberty launch transporting men and officers from the dock out to the ships needing repair and back. He did this in the morning and played ball in the afternoons. He was named to the 14th Naval District's all-star team while playing for the ship repair unit team. Musial was still stationed in Hawaii when VJ Day occurred." One aspect of Musial's wartime service had an impact on his later career: Since his fellow sailors wanted to see home runs, he made a slight adjustment to his stance that gave him more power. Many a National League pitcher must have wished Musial had spent the war at home.
Later in the year Lukasz became gravely ill, and Musial's mother requested and received an emergency leave for Stan. Lukasz survived, but Musial remained in the States, having been transferred to the Philadelphia Navy Yard to work in another ship repair unit. He didn't repair any ships in Philadelphia, either, asking for and receiving a transfer when he was assigned to help take apart a destroyer, a task for which he had no training or experience. Musial was honorably discharged from the Navy on March 1, 1946, at Bainbridge, thus coming full circle.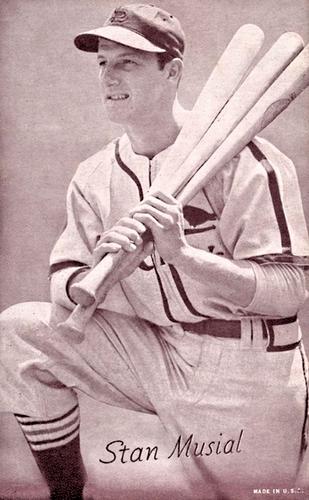 Back from the war, his skills undiminished, Musial approached spring training in St. Petersburg in 1946 in his usual fine shape. Devoted to keeping in condition during the off-season, he never had a problem maintaining his weight, having started his career at 175 and perhaps weighing in at 180 in his last seasons. Not everything was rosy, though. Slipping on some sandy soil that spring, he strained the ligaments in his left knee, causing a problem that would bother him throughout his career.
Moreover, as the season progressed, it was becoming evident that rookie Dick Sisler wasn't developing at first base, prompting manager Eddie Dyer to ask Musial to move there temporarily from his left field position. The move wouldn't be as temporary as originally thought, as Musial wound up playing more than a thousand games at first base, making him the first player to appear in at least a thousand games at two different positions. Warming to the position and being a first-rate athlete, he became a solid first baseman, almost as comfortable there as he was in the outfield.
Distractions abounded off the field, too. The reserve clause that eternally bound players to their team, combined with a lack of bargaining power and the absence of either a minimum wage or a retirement plan, led to discontent if not outright anger in the players, especially those who had sacrificed a large portion of their careers to the war effort. The prospects of change and unionization were in the air. So, too, was temptation from south of the border with the Mexican League, the brainchild of importer-exporter Jorge Pasqual and his five brothers. Musial took a cautious approach to the former and seriously considered the latter, which was sweetened by a $50,000 signing bonus. Fortunately for Musial, he stayed put, as the players who went south were punished to the tune of five-year suspensions.
Things went much better for Musial on the field. Showing National League pitchers he'd lost nothing by being away, he led the league with a .365 average, a .587 slugging percentage, and 228 hits. Fifty doubles and 20 triples showed he was off and running from the batter's box, and was still the Donora Greyhound. In addition, he topped the hundred-RBI plateau for the first of many times with 103. It all added up to his second Most Valuable Player award and another pennant for the Cardinals, their fourth in the four full years he'd been with the club, a run equaled only by the DiMaggio Yankees of 1936-1939. The Cards took the Series from the Red Sox in a seven-game thriller, but the anticipated head-to-head match-up between league MVPs Musial and Ted Williams didn't materialize as the two stars hit .222 and .200, respectively.
The legendary Red Barber described the 1947 season as the "year all hell broke loose in baseball." Barber, of course, was referring to the arrival of Jackie Robinson and the integration of baseball. As hard as it is to understand the furor many decades after the fact, the advent of Jackie Robinson was traumatic both in and out of baseball, certainly in St. Louis, as the Cardinals' enormous radio network that covered the whole South made them America's "southern" team. St. Louis didn't have a monopoly on bigotry, but some players and fans there were particularly virulent, and rumors have long since persisted of a possible player strike.
James Giglio notes that although Stan wasn't impressed with what he saw as Robinson's "short, choppy swing and his lack of grace in the field," Musial seems to have remained aloof from the ugliness, and became supportive. In the first place, illness had left him too sick to get involved. Moreover, he'd had African-American teammates Buddy Griffey and Grant Gray back in Donora and had stuck up for them in difficult times. Then again, he was the biggest star in the National League and had no reason to feel threatened by Robinson or anyone else. Indeed, Robinson himself mentioned Musial and Hank Greenberg as two of the players who had encouraged him during that terrible, courageous year.
All hell was breaking loose for Musial, too, so much so that he would refer to the season as "that lousy year." Starting off the season slowly, he had a miserable April, hitting .146. Something was obviously wrong, the culprit turning out to be an inflamed appendix (and tonsillitis) diagnosed on May 9 by St. Louis physician and surgeon Robert F. Hyland, whom Commissioner Landis had dubbed "the surgeon general of baseball." Hyland "froze" Musial's appendix, a procedure that allowed him to finish out the year before having his appendix and tonsil removed during the off-season.
Stan took five days off before returning to the field, but his recovery was slow. He was down to .140 on May 19 after a streak of 22 hitless at-bats. He didn't reach .200 until mid-June and did not get to .300 until recording five hits in an August 10 doubleheader. Finally starting to hit, Musial finished up at .312 (his lowest average since his first full year) with 19 homers and 95 RBI. His on-base average of .398 and slugging percentage of .504 were good but certainly not up to the high standard he had set. The tear that got Musial to .312 included a five-hit game in an 11-1 win over the Cubs on September 3. Nevertheless, given Musial's final numbers, it's hard to work up much sympathy for his "lousy" year.
At the same time, however, the Cardinals were beginning a slightly perceptible decline, finishing in second place five games behind the energized Dodgers and remaining in the bridesmaid's position through 1948 and 1949 before falling all the way to fifth in 1950 (albeit with a 78-75 mark). Nobody would have guessed it at the time, but the Cardinals wouldn't return to the World Series during Musial's career.
His appendix and tonsils removed, unquestionably stronger than he'd been in a long time, and apparently feeling that his "lousy" 1947 season was better than most players' good ones (Joe DiMaggio had won the American League MVP Award with very similar numbers: .315-20-97), Musial held out, finally signing on March 4 for $31,000. Teammate Harry Brecheen and the Cardinals would agree on a $16,500 package the next day. As it turned out, Musial and Brecheen were bargains with Brecheen finishing 20-7 with a 2.24 ERA and Musial putting together not only his greatest season but one of the greatest seasons anyone ever had.
To begin with, he more than doubled his previous highest home run output, belting 39, one behind Ralph Kiner and Johnny Mize, who tied for the league lead with 40 homers. At that, he lost one and possibly two homers, one to a rainout, another on a strange play that Peter Golenbock quotes from Musial: "'In '48 I came within one home run of the Triple Crown. I had one home run rained out, actually, and Red Schoendienst reminded me that I hit another ball in Shibe Park in Philadelphia that hit the speakers of the PA system above the fence, and Frank Dascoli called it a two-base hit. Red said it should have been a home run, or else I'd have led the league in everything.'" (Schoendienst or Musial's memory may have been off because no such play can be found in The Sporting News or The New York Times.) Had Musial been awarded a homer in either case, he would have achieved the Triple Crown with his career-best .376 average and 131 RBI. In addition, he led the league in hits (230), total bases (429), doubles (46), triples (18), runs (135), on-base percentage (.450), and slugging (.702) — every significant batting category except home runs.
Nobody before or since has ever so thoroughly dominated a major league. His dominance included four games in which he picked up five hits (April 30, May 19, June 22, and September 22), tying Ty Cobb's twentieth-century record for five-hit games in one season. For the havoc he raised in Ebbets Field that year, Dodger fans on the receiving end of four Musial hits and a 13-4 Cardinal beating on May 20 christened him "Stan the Man," the name by which he'll always be known.1 The day was no fluke, as he hit .522 with on-base and slugging percentages of .560 and 1.022 in Brooklyn that year and improved (.523/.632/1.114) in 1949. To the surprise of no one, he picked up his third Most Valuable Player award. But his magnificent season wasn't enough to push the Cardinals over the hump, as they came in second once again, a decisive 6.5 games behind the Braves, who were led by former Cardinal manager Billy Southworth.
Not every moment of the season was wonderful for Musial, however. The September 7 game in Pittsburgh was one such exception. In the top of the first, with Fritz Ostermueller on the mound, Red Schoendienst and Marty Marion reached base for the Cardinals. With the runners moving, Musial lined a 3-2 pitch to Pirate shortstop Stan Rojek for the first out. Rojek stepped on second to double up Schoendienst, then threw to first baseman Johnny Hopp (a Cardinal from 1939 to 1945), who nabbed Marion to complete the triple play. It was St. Louis' first and last gasp, as the Pirates won, 6-2.
The year ended on a sad note for the Musials personally. A thermal inversion at the zinc mill in October unleashed smog over Donora that literally left people dropping in the street. Among the many affected was Lukasz Musial, who at 58 years old had been retired for four years and had already had several strokes. He and Mary moved in with Stan and Lil in St. Louis to escape the deadly air, but it didn't help. Lukasz had another stroke on December 17, fell into a coma, and died on December 19.
For the next ten years, 1949 to 1958, Musial was extraordinarily consistent, putting together seasons that were essentially interchangeable. His average season would consist of a .335 average, .428 on-base percentage, .583 slugging percentage, 194 hits, 39 doubles, 7 triples, 30 home runs, 107 runs, and 108 RBI. Not surprisingly, he led the league in all these categories except homers at least once. As would be expected, he always placed high in voting for the Most Valuable Player award. (Bill James has pointed out — before the emergence of Barry Bonds — that Musial exceeded any other player's shares in Most Valuable Player voting.)
During these years there were, of course, some remarkable days, and at least one humorous one. On September 28, 1952, he took the mound for the only time in his major-league career. He'd already sewn up the batting title and faced off against Frank Baumholtz of the Cubs, who was comfortably second in the batting race. Baumholtz, a lefty hitter, switched to the right side and reached base on an error. A gracious Musial maintained that it was as clean a hit as he ever saw. Baumholtz was the only batter Musial faced that day, or any other day in the major leagues.
Musial's greatest single day on the baseball field came on May 2, 1954, in a doubleheader in St. Louis against the eventual pennant and World Series winners, the New York Giants. He went 4-for-4 in the first game with three homers, including the game-winner, a three-run shot off Jim Hearn, and 2-for-4 in the second game (a Cardinals loss) with two more homers. Coincidentally, witnessing the five homers was an eight-year-old named Nate Colbert, who as a San Diego Padre would equal Stan's record of five home runs in a doubleheader, in Atlanta on August 1, 1972.
The All-Star Game was a showcase for The Man, who played in 24 of them. The 1955 game was particularly special. The National League had fallen behind, 4-0, when he was inserted in the fourth inning. The deficit reached 5-0 before Musial's mates rallied to send the game into extra innings. Finally, in the twelfth inning Stan took the Red Sox' Frank Sullivan's first pitch deep in Milwaukee's County Stadium to win the game, 6-5. It was his fourth of a record six homers in the All-Star Game.
Not only was Musial stellar, he was durable, playing in his 823rd consecutive game on June 12, 1957, breaking Gus Suhr's National League consecutive-game record. The streak would end at 895 on August 27, as he would tear a muscle and chip a bone swinging at a pitch in the fourth inning of a 2-1 loss in Pittsburgh.
On May 13, 1958, he pinch-hit a double off Moe Drabowsky in Wrigley Field to become the eighth player (and the first since Paul Waner in 1941) to reach the 3,000-hit mark. The milestone hit helped the Cardinals to a 5-3 win. It seemed appropriate, too, that Number 3,000 would be a double, since in the eyes of more than a few fans the image of Musial is a hard-hit double off the wall.
After 17 years dominating National League pitchers, the decline came quickly for Musial. His batting average fell all the way to .255 in 1959, and he bettered it to .275 and .288 in 1960 and 1961. He had a brief resurgence in 1962 with marks of .330-19-82 but fell back to .255 as he finished his brilliant career in 1963.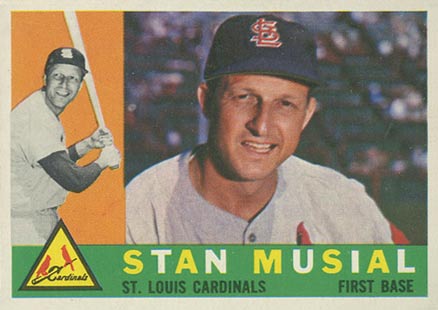 Despite the low numbers, he had some good moments in that last season. On September 10, after waiting up all night for the birth of his and Lil's first grandchild, he homered in his first at-bat to become the first grandfather ever to homer in the majors. On September 25 Cardinals owner August Busch Jr. named Musial a vice-president of the team and announced that his number 6 would be retired. He bowed out on September 29 with two hits against Cincinnati, the first a single in the fourth inning past a rookie second baseman named Pete Rose and the second a ground ball single in the sixth off twenty-three-game-winner Jim Maloney to drive in his last run before leaving for a pinch runner.
Musial's career numbers are stunning: .331 average, .417 on-base percentage, .559 slugging percentage, 3630 hits, 725 doubles, 177 triples, 475 homers, 1949 runs, and 1951 RBI. He's the only player to finish his career in the top 25 in all these categories and owns or did own a number of records. Several of his records stand out. For example, he had 1,815 hits at home and 1,815 on the road, a feat that must have required years of planning. He hit .336 at home, .326 on the road, a barely significant difference. Of his 475 home runs, 252 came at home with 223 away, in a total of 12 ballparks. He hit 320 of his homers off righthanders, 155 off southpaws, a very high percentage that dispels any notion that he may have had problems with lefties. Indeed, his favorite victim was Warren Spahn, arguably the greatest lefthander over the long haul, 17 of whose pitches he helped to leave the ballpark. It all gives the impression that Musial didn't care who was pitching or where he was hitting: he just hit. Even though he never led the league in homers, his 12 game-ending home runs are equaled by (as of 2021) only Jimmie Foxx, Mickey Mantle, Albert Pujols, Frank Robinson, and Babe Ruth — and topped only by Jim Thome's 13.
The triple, that rarest of all hits, was something of a sub-specialty for Musial. He holds several National League records for triples: most with the bases loaded (7, Shano Collins has the American League record with 8); most seasons leading his league in triples (5); and is tied with many other National League players for twice unloading at least 20 triples in a season (he's also the last, having done so in 1943 and 1946).
Musial received the ultimate reward for his magnificent career at the earliest possible date, on January 21, 1969, with election to the Hall of Fame on the first ballot. Named on 92.3% of the ballots (317 of 340), he was the first player to receive 300 votes on a Hall of Fame ballot; one can only wonder what 23 presumably knowledgeable writers were thinking.
Musial remained in the Cardinals' front office for a number of years. He was named general manager on January 23, 1967, but resigned the position in less than a year, on December 5. (He's the only general manager of a team that won the World Series in his only year on the job.) One gets the impression, though, that he was never comfortable in management, once remarking, "I have a darn good job, but please don't ask me what I do."
It was said of Ty Cobb when he retired that he left the game with more money and fewer friends than anyone before him. The line on Musial was that he left the game with more money and more friends than anyone before him. And his friends weren't just any friends, either. Having been somewhat active in Democratic politics at the state and local levels through his friendship with activist and businessman Julius "Biggie" Garangani, he became acquainted with President John F. Kennedy. Indeed, Kennedy presented Musial with a PT-109 pin, prompting The Man afterward to refer to the President as "my buddy." Although they didn't see each other often, the two men seem to have been genuinely friendly. Lyndon B. Johnson, having succeeded Kennedy, in the spring of 1964 named Musial his physical fitness adviser, an appropriate choice since Musial had always kept himself fit during and after his playing days.
Moreover, having been advised well and making many connections in the St. Louis area, Musial became active in business. His interests were diversified, but his primary focuses were on real estate and "Stan and Biggie's," the steak and seafood restaurant he and Garangani owned. In essence, Garangani ran the business while Stan made himself available to the patrons. Longtime friends, Musial and Garangani were also involved in several other restaurants, a bowling alley, and the Ivanhoe Hotel in Miami Beach.
Too, Musial stayed in the public eye, going to major sports events like the Kentucky Derby and the Indianapolis 500 while maintaining his connection with the game that made him famous. He went to spring training to work with Cardinals hitters and promote good will talking to fans and signing autographs. He even joined the Society for American Baseball Research (SABR), in which he must be the only member to list his expertise as "Hitting a Baseball"! That may seem arrogant to some, but anyone who's ever seen Stan's ever-present smile and laughing eyes knows it's his private little joke. Besides, it happens to be true.
As a general thing (to paraphrase Missourian Huck Finn), the years treated the Musials well. As would anyone in his financial position, Stan was involved in a number of deals and investments, most of which worked out nicely, a few of which didn't. There were the inevitable health problems. Lil spent much of her time confined to a wheelchair, the result of heart trouble and arthritis. Stan suffered through a gastric ulcer (1983) and prostate cancer (1989) but recovered completely; he walked with a limp, though, owing to the removal of ligaments from his left knee. He made it to Cooperstown for most Hall of Fame inductions, serving for many years on the Veterans Committee, always smiling, and entertaining all with his harmonica. Well into their eighties, Stan and Lil lived comfortably, reconnecting with Donora while enjoying their extensive family in the city where he achieved fame and the adulation of baseball fans everywhere.
Lillian Musial died in St. Louis on May 3, 2012, survived by four children, 11 grandchildren, and 12 great-grandchildren. She and Stan had been married for almost 72 years. A funeral mass celebrating her life was held in the Cathedral Basilica in St. Louis on May 7. 
Ravaged by Alzheimer's and under hospice care, Stan Musial died in St. Louis on January 19, 2013.
The statue of Stan outside Busch Stadium reminds all who go to Cardinals games that he was "the perfect warrior  .  .  .  the perfect knight" — a fitting tribute to the Western Pennsylvania native, the son of Eastern European immigrants, the embodiment of the American dream. 
Acknowledgments
Paul Warburton kindly informed me of my error concerning Musial's five-hit games in 1948.
 
Sources
Allen, Thomas E. If They Hadn't Gone: How World War II Affected Major League Baseball. Springfield: Southwest Missouri State University, 2004.
Ancestry.com. www.ancestry.com
Benson, John. "Stan Musial-1948." John Benson and Tony Blengino, eds. Baseball's Top 100: The Best Individual Seasons of All Time. Wilton, Connecticut: Diamond Library, 1995.
Broeg, Bob. "The Mystery of Stan Musial." The Saturday Evening Post August 28, 1954.
Bullock, Steve. "The Statistical Impact of World War II on Position Players." The National Pastime: A Review of Baseball History. 23 (2003), 97-105.
Burnes, Bob. "On the Field or Off, Stan Musial Is Everybody's Favorite." Catholic Boy. May 1963.
Burnes, Robert L. "Story infuriates Musial." St. Louis Globe-Democrat. July 14, 1980.
Cobb, Ty, with Joe Reichler. "Here's Why Musial Tops 'Em All!" Baseball Stars. 1953.
Crichton, Kyle. "Ace in the Hole." Collier's. September 13, 1947.
Flood, Curt, with Richard Carter. The Way It Is. New York: Pocket Books, 1972.
Giglio, James N. Musial: From Stash to Stan the Man. Columbia and London: University of Missouri Press, 2001.(Scholarly and thorough, especially on Musial's youth and for its exhaustive detail, this book is indispensable.)
Golenbock, Peter. The Spirit of St. Louis: A History of the Cardinals and Browns. New York: Avon Books, 2000.
Honig, Donald. A Donald Honig Reader. New York, London, Toronto, Sydney, Tokyo: Simon & Schuster, Inc., 1988. (Contains the full texts of Baseball When the Grass Was Real and Baseball Between the Lines and excerpts from The October Heroes and The Man in the Dugout.)
Huard, Kevin. "Stan 'The Man' Musial." Sports Collectors Digest. March 15, 1991.
Johnson, Lloyd, and Miles Wolff, eds. The Encyclopedia of Minor League Baseball. 2nd ed. Durham, North Carolina: Baseball America, Inc., 1997.
Kahn, Roger. "The Man: Stan Musial Is Baseball's No. 1 Citizen." Sport. February 1958.
Lansche, Jerry. Stan the Man Musial: Born to Be a Ballplayer. Dallas: Taylor Publishing Company, 1994.
Mead, William B. "The Surgeon General of Baseball." The National Pastime: A Review of Baseball History. 22 (2002), 95-98.
Miles, Jack. "Milestones in Sports: Stan the Man." Catholic Boy. October 1967.
Musial, Lillian (Mrs. Stan). "My Life with Stan." Parade. July 13, 1958.
Musial, Stan, as told to Bob Broeg. "The Man behind The Man." Look. April 21, 1964.
Musial, Stan, as told to Bob Broeg. The Man Stan Musial: …Then and Now. St. Louis: Bethany Press, 1977.
Musial, Stan, Jack Buck, and Bob Broeg. We Saw Stars. St. Louis: Bethany Press, 1976.
Newman, Mark, and John Rawlings. "Man to Man." The Sporting News. July 28, 1997. (Conversation on the art and craft of hitting with Musial and Tony Gwynn.)
O'Neil, Paul. "Sportsman of the Year: For 1957 the Editors of Sports Illustrated Choose Stan Musial." Sports Illustrated.
Peary, Danny, ed. We Played the Game: 65 Players Remember Baseball's Greatest Era, 1947-1964. New York: Hyperion, 1994.
Reichler, Joe. "Stan Musial's Ten Greatest Days." Sport. October 1954.
Robinson, Ray. Stan Musial: Baseball's Durable "Man." New York: G. P. Putnam's Sons, 1963.
Ryhal, Gregory. Interview with Charles (Chuck) Schmidt at Beverly Healthcare of Bloomington, Indiana. October 6, 2003.
Selter, Ron. "Sportsman's Park's Right-Field Pavilion and Screen." The Baseball Research Journal. 32(2004), 77-80.
Stan Musial files at the National Baseball Hall of Fame and Museum in Cooperstown, New York.
Stockton, J. Roy. "Rookie of the Year." Saturday Evening Post September 12, 1942.
"That Man." Time. September 5, 1949.
Treder, Steve. "War Begone." The Hardball Times (www.hardballtimes.com). March 8, 2005. (Web article projecting missed season statistics for Musial and other World War II veterans and Willie Mays.)
Vaughn, Gerald F. "Jorge Pascual and the Evolution of the Mexican League." The National Pastime: A Review of Baseball History. 12 (1992), 9-13.
Vincent, David, Lyle Spatz, and David W. Smith. The Midsummer Classic: The Complete History of Baseball's All-Star Game. Lincoln and London: University of Nebraska Press, 2001.
Warburton, Paul. "Stan Musial"s Spectacular 1948 Season." Baseball Research Journal. 30 (2001), 99-104.
Listed above is a mere sampling of the most useful material on Musial. Several Internet-based sources have been invaluable, thanks to the Society for American Baseball Research (SABR): Paper of Record for its access to the archives of The Sporting News; ProQuest (http://proquest.com) for access to the archives of The New York Times, The Washington Post, The Chicago Tribune, and The Los Angeles Times; and Heritage Quest (http://www.heritagequestonline.com) for access to the United States Federal Census for 1920 and 1930. Indispensable and available to everyone is Retrosheet (http://www.retrosheet.org). Equally indispensable and also available to everyone is The Baseball Index (http://www.baseballindex.org) for its exhaustive bibliography of Stan Musial as well as anything pertinent to baseball.
Notes
1 As often happens with things mythical and legendary, the origins are cloaked in mystery. This seems to be the prevailing view, but longtime St. Louis sportswriter Bob Broeg remembered Brooklyn fans conferring the epithet on Musial in June 1946 after he had ravaged the Dodgers with an 8-for-12 performance in a three-game series. In a similar vein, Joe Morgan told ESPN viewers that the name had come from Chicago fans after Musial had beaten up on the Cubs. Morgan's is a minority view in that all other accounts give Brooklynites the honor. What is clear is that in baseball — as in the days of Homer, Virgil, and the medieval romancers — titles are earned.
Born
November 21, 1920 at Donora, PA (USA)
Died
January 19, 2013 at Ladue, MO (USA)
If you can help us improve this player's biography, contact us.
http://bioproj.sabr.org/bp_ftp/images5/MusialStan.jpg
600
800
admin
/wp-content/uploads/2020/02/sabr_logo.png
admin
2012-01-04 20:00:37
2022-11-29 14:38:50
Stan Musial