This Week in SABR: August 21, 2015

Welcome to "This Week in SABR!" Click here to view this week's newsletter on the web. Here's what we've been up to as of August 21, 2015:
---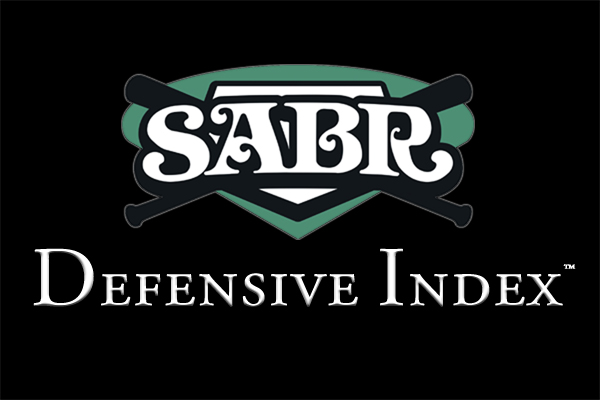 Tampa Bay center fielder Kevin Kiermaier has extended his commanding lead in the AL and San Francisco shortstop Brandon Crawford has taken over the NL's top spot in the SABR Defensive Index™ rankings through games of August 16, 2015.
The SABR Defensive Index is used to help select the winners of the Rawlings Gold Glove Award® and Rawlings Platinum Glove Award™, presented by SABR.
The SABR Defensive Index draws on and aggregates two types of existing defensive metrics: those derived from batted ball location-based data and those collected from play-by-play accounts. The three metrics representing batted ball data include Defensive Runs Saved from Baseball Info Solutions, Ultimate Zone Rating developed by noted sabermetrician Mitchel Lichtman, and Runs Effectively Defended based on STATS Zone Rating and built by SABR Defensive Committee member Chris Dial. The two metrics included in the SDI originating from play-by-play data are Defensive Regression Analysis, created by committee member Michael Humphreys, and Total Zone Rating.
The SABR Defensive Index accounts for approximately 25 percent of the Rawlings Gold Glove Award selection process that was added to the votes from the managers and coaches.
Kiermaier's SDI of 21.8 is the best in the game among all qualified defenders, ahead of Baltimore third baseman Manny Machado (10.3), Detroit left fielder Yoenis Cespedes (9.9 — AL numbers only), Toronto center fielder Kevin Pillar (9.0), and Texas center fielder Leonys Martin (8.8).
Crawford's SDI of 14.0 through August 16 is the top figure in the NL, ahead of Colorado third baseman Nolan Arenado (11.9), San Francisco catcher Buster Posey (10.0), Miami shortstop Adeiny Hechavarria (9.5), and Arizona shortstop Nick Ahmed (9.0).
The SDI results were released today by the Society for American Baseball Research.
Updated SDI results will be released periodically throughout the rest of the 2015 season at SABR.org. The SDI is compiled by the SABR Defensive Committee, which includes SABR President Vince Gennaro, Sean Forman of Baseball-Reference.com, Ben Jedlovec of Baseball Info Solutions, SABR Director F.X. Flinn, author and defensive metrics expert Chris Dial, and author Michael Humphreys.
Click here to view full SDI rankings by position, through games of August 16, 2015.
For more information on the SDI and its role in the Rawlings Gold Glove Award process, visit SABR.org/SDI.
---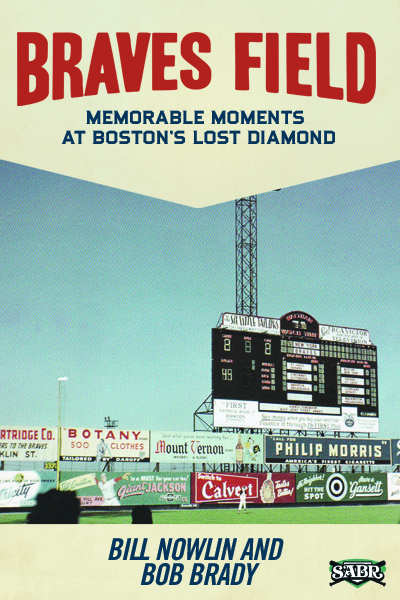 Celebrate the 100th anniversary of Braves Field by adding the newest title from the SABR Digital Library:
Braves Field: Memorable Moments at Boston's Lost Diamond
Edited by Bill Nowlin and Bob Brady
Associate Editors: Greg Erion and Len Levin
$9.99 e-book; $19.95 paperback
ISBN (e-book): 978-1-933599-92-2
ISBN (paperback): 978-1-933599-93-9
277 pages
From its opening on August 18, 1915 to the sudden departure of the Boston Braves to Milwaukee just weeks before the start of the 1953 baseball season, Braves Field was home to Boston's National League baseball club. The ballpark hosted many other events, from college and NFL football to major-league soccer to championship boxing, and the facility lives on as Boston University's Nickerson Field. Many of the most memorable moments to occur in Braves Field history are portrayed here, providing a look back at a ballpark often overlooked even in Boston today.
Braves Field: Memorable Moments at Boston's Lost Diamond combines the collaborative effort of 43 members of the Society for American Baseball Research (SABR), including Alan Cohen, Bob Brady, Bob Goodof, Bob LeMoine, Bob Ruzzo, Brian Davenport, C. Paul Rogers III, Cecilia Tan, Chip Greene, Dan McCloskey, David C. Southwick, Donna L. Halper, Douglas Chapman, Eric Aron, Gerald E. Beirne, Greg Erion, Gregory H. Wolf, Harvey Soolman, Herb Crehan, Jack Zerby, Jim Kaplan, Jim Prime, Joe Schuster, Joe Wancho, John Delmore, John DiFonzo, Len Levin, Lyle Spatz, Mark Pestana, Mark S. Sternman, Mike Lynch, Mike Richard, Mort Bloomberg, R.E. McMillin, Raymond Miller, Richard "Dixie" Tourangeau, Rick Schabowski, Saul Wisnia, Scott Ferkovich, Thomas Mason, Tim Goehlert, Tom Hufford, Tyler Ash, W. G. Nicholson, and Warren Corbett.
SABR members, get this e-book for FREE!
SABR members will get discounted rates for all Digital Library publications, including many for free. Find all past titles at SABR.org/ebooks.
Having trouble downloading our e-books? To view PDF files on your computer, click here to download the free Adobe Reader software. Having trouble downloading e-books to your Kindle, Nook, Sony Reader or iPad? Click here for additional help.
---
SABR's Student Group Affiliate Membership program, established in 2014, will provide students with access to many of the electronic benefits that SABR members enjoy, including "This Week in SABR," e-book editions of the Baseball Research Journal and The National Pastime, free SABR e-books, and access to the members-only section of SABR.org. This membership will not include any printed publications or voting rights.
In order to make the Student Group Affiliate Membership affordable for groups to join, here are the options we offer:
College/University groups/classes: For an annual fee of $250, a group of up to 25 students can receive a one-year electronic SABR affiliate membership.
High School/Middle School groups/classes: For an annual fee of $100, a group of up to 20 students can receive a one-year electronic SABR affiliate membership.
Any educational class or student group at the middle school, high school or college/university level is eligible for a SABR affiliate membership, as long as a faculty member, teacher, or advisor is an active SABR member (or registers to join.) The teacher/advisor will be listed as the group contact on the SABR website.
The teacher/advisor will be asked to collect the money, names and e-mail addresses for all students wishing to join, and submit those to the SABR office at one time. In addition, the advisor/instructor must be an active SABR member or sign up for a regular SABR membership; annual dues are $65, with discounts available for adults under the age of 30 or over 65.
To sign up for a Student Group Affiliate Membership, or if you have any questions about how it might work for your group or class, please contact SABR Director Dr. Leslie Heaphy at Lheaphy@kent.edu or (330) 244-3304.
---
The Society for American Baseball Research is seeking Fall 2015 interns to work in our office in Phoenix, Arizona.
An internship with SABR will involve responsibilities across a variety of disciplines, possibly including:
Working on-site at a local SABR conference, such as the SABR Arizona Fall League Conference
Working with our Membership Director or Director of Operations on organizational duties, membership renewal drives, customer service
Working with our Web Editor to help publish and/or produce content for our website at SABR.org
Interested candidates should be able to demonstrate basic office-related computer skills. HTML knowledge is a plus.
A working knowledge of baseball — and an awareness of the game's general history and basic statistics — is required.
The internship is an educational opportunity that may count toward college credit, covering 15-20 hours per week (flexible schedule), at the SABR office in Phoenix, Arizona. The internship will be for a fixed period of time and is designed to provide the intern with skills and training that may be applicable to working in a nonprofit research environment or in other research-based organizations. No housing assistance will be provided.
Please send a resume and cover letter in PDF form to mappleman@sabr.org or jpomrenke@sabr.org by 5:00 p.m. MST Friday, September 4, 2015.
---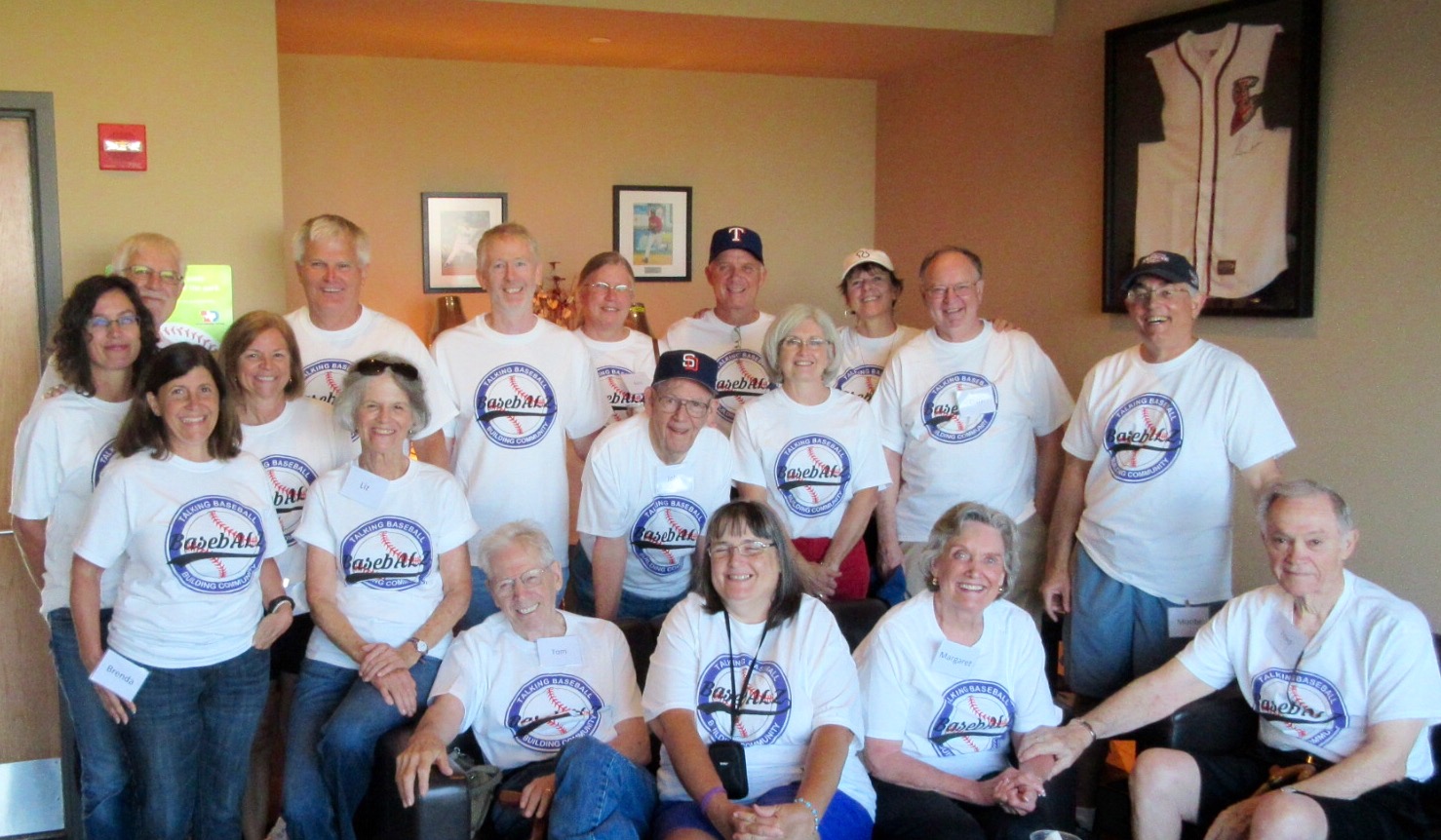 The Capital of Texas Chapter of the Alzheimer's Association and the SABR Rogers Hornsby Chapter have teamed up to provide a baseball-themed program for Central Texas residents with early-stage Alzheimer's.
This program, nicknamed BasebALZ, uses baseball as a topic for reminiscence therapy. Reminiscence therapy is an approach to improving the well-being of Alzheimer's patients by invoking and discussing their memories of the past. The effort here in Central Texas is based upon a highly successful baseball-themed program, the Cardinals Reminiscence League (CRL), developed by the Alzheimer's Association in St. Louis. Some information on the CRL and supporting resources can be found here.
For our program here in Austin, Texas, we adopted the general framework of the St. Louis CRL and modified it to fit our community, baseball history, and the interests of our early-stage Alzheimer's participants. We developed a "season" of six bi-weekly meetings, held for 90 minutes and including lunch. The audience included early-stage Alzheimer's participants and their care-givers. Volunteers included local SABR members and spouses, led by chapter member Jim Kenton, as well as existing Alzheimer's volunteers with an interest in baseball.
In addition to a regular agenda, an occasional "guest speaker" was invited. Former Texas Longhorns and MLB pitcher Calvin Schiraldi joined us for one of the sessions.
Feedback regarding BasebALZ has been very positive. Participants and their caregivers enjoyed the sessions and the fellowship. The volunteers found the experience very rewarding. Everyone couldn't wait for the next session! As a result of the great response, we're planning a second BasebALZ "season" for Fall 2015, beginning in mid-September and lasting through November.
We encourage local SABR chapters to consider teaming with their local Alzheimer's Associations and major- or minor-league baseball clubs to investigate a volunteer program such as BasebALZ. It'll truly be a rewarding experience; and after all, what's more enjoyable for a SABR member than talking baseball?
Click here to learn more about BasebALZ.
— Monte Cely
---
The Bob Broeg St. Louis SABR Chapter will hold its inaugural chapter Research Conference from 2:00-4:30 p.m. on Saturday, August 22 at the Sachs branch of the St. Louis County Library (16400 Burkhardt Pl., Chesterfield, MO.) This will take the place of the chapter's usual monthly meeting in August.
At this conference we'll be awarding the Jim Rygelski Research Award to the best presentation. This award includes a $200 cash award. The second- and third-best papers will also receive cash awards of $100 and $50, respectively.
The judging will be done by an independent panel and the criteria used to judge the presentations will include:
Quality of the oral presentation
Quality of the paper
Originality of research
Knowledge of research topic
Thoroughness of the research, including sources and potential impact
We will also submit the winning paper(s) to SABR for publication in the Baseball Research Journal if the author wishes.
All baseball fans are invited to attend. For more information, please contact Brian Flaspohler.
Related link: We've got some more great events on the SABR calendar this weekend in Houston, Las Vegas, Denver, Boston, and the Bay Area. Visit SABR.org/events for details. Hope you'll join us!
---
The Doug Pappas Award-winning research presentation "Little League Home Runs in MLB History," written and presented by Chuck Hildebrandt at SABR 45, was the first known attempt to categorize and catalog the play known as the "Little League Home Run," as it has been referred to for decades now.
The play, defined during the presentation as one in which two or more errors are committed and the batter ends up scoring, has by this definition occurred 258 times across the 148,390 major league games for which there are play-by-play data available. The complete list of Little League Home Runs can be viewed by clicking here.
An article version of the presentation, complete with video and audio of Little League Home Runs in action, was published at FanGraphs.com this past week in three parts:
The third part was cut from the original presentation because of time limits, but is an important piece because it's possible we still need to finalize the definition. Do we have it right the way it is? Or are we missing something? Is it defined too broadly? Too narrowly?
This is where YOU can help! We have posted a poll you can take in which you can help us determined exactly how a Little League Home Run should be defined:
https://www.surveymonkey.com/r/LLHR2015
You will have a hand in establishing a new baseball statistic, but your real reward will be watching several hilarious examples of the greatest players on the planet throwing the ball around like Little Leaguers. (Well, not like the players in the Little League World Series. Those kids are really, really good.)
So click on the link above and go vote in the Little League Home Run poll today!
---
In this week's installment of our "Working the Game" series of interviews for SABRMedia.org — revealing what it is like to work as a baseball media professional on a day-to-day basis — we feature Chuck Freeby, the radio play-by-play announcer for Notre Dame baseball. This interview was conducted by SABR member Steve Krah.
Freeby has been the play-by-play voice of Notre Dame baseball since 2009. A graduate of Elkhart (Indiana) Central High School and the University of Notre Dame, Freeby has been in sports media in the South Bend area for more than three decades. Since 2004, he has served as sports director at WHME, a part of LeSea Broadcasting, and is a contributor at WNIT. He was a sportscaster for WNDU for 17 years.
Read the full interview here: http://sabrmedia.org/2015/08/21/working-the-game-an-interview-with-chuck-freeby-notre-dame-radio-play-by-play/
---
We hope you'll consider a tax-deductible donation to SABR's new 19th Century Baseball Grave Marker Project, which identifies 19th-century baseball notables who either lack a grave marker or whose headstone is in dire disrepair, and then rectifies those issues.
The 19th Century Baseball Grave Marker Project Committee is chaired by SABR member Bob Gregory, who coordinates this project closely with the SABR office in Phoenix.
The first site chosen for this undertaking is that of an original New York Knickerbocker, James Whyte Davis, one of the Founding Fathers of baseball. Efforts are already under way for the Davis marker to be placed on his unmarked grave in the historic Green-Wood Cemetery in Brooklyn, New York. Donations are now being accepted specifically for the Davis grave site and/or the 19th Century Grave Marker Project in general. To learn more about James Whyte Davis at John Thorn's "Our Game" blog, click here.
Donations may be made in any amount, large or small, but to help initiate the project, a $25 donation is suggested; approximately the equivalent of one dollar at the time of Davis' passing in 1899. Thank you in advance for your generosity.
This project requires some real field research in many places (perhaps near you) to verify if a 19th-century baseball notable is in a marked grave or unmarked grave and to be part of the excitement of dedicating a grave marker. SABR's Nineteenth Century Committee has developed a list of all 19th-century players and managers, along with a number of umpires, sportswriters, and pre-professional players. If you are interested in helping, the committee can provide you with a list in your area for a cemetery visit to confirm the location, note if it is marked, and supply other information on the plot. Please contact Bob Gregory (mgregory128@hotmail.com) or a member of SABR's Nineteenth Century Committee for more details.
SABR is a 501(c)(3) organization and all donations to SABR are tax-deductible to the extent allowed by law. To learn more, visit SABR.org/donate.
---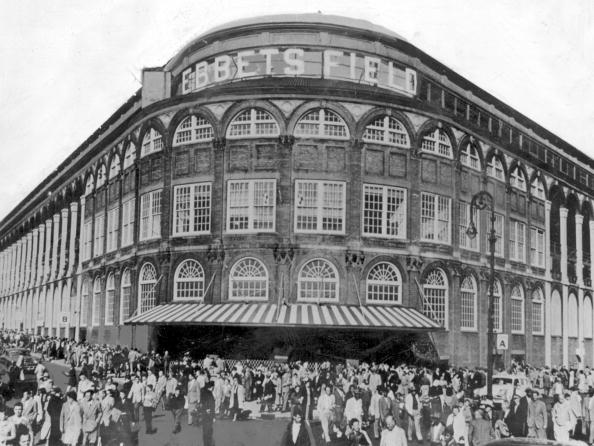 SABR is now accepting submissions for the 2016 Ron Gabriel Award, which annually honors the author(s) of the best research, published or unpublished, on the subject of the Brooklyn Dodgers completed during the present year.
Eligible works include but are not limited to magazine and journal articles, unpublished chapters or articles or other books with multiple authors, unpublished research papers, written versions of oral presentations, database and websites.
To make a nomination, please contact Gary Sarnoff at runtowin89@hotmail.com.
---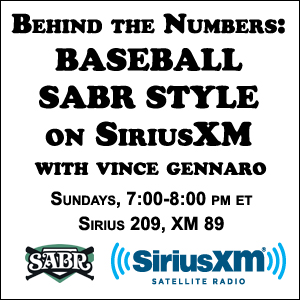 We invite you to listen to Behind the Numbers: Baseball SABR Style on SiriusXM, a new radio show hosted by SABR President Vince Gennaro, on Sunday nights on MLB Network Radio.
Baseball SABR Style focuses on examining and interpreting the statistical analysis that plays a critical role in baseball today. It will air weekly throughout the year on MLB Network Radio, available to subscribers nationwide on XM channel 89, Sirius channel 209, and on the SiriusXM Internet Radio App. (Recent shows are available afterward in the "on-demand" section of the SiriusXM app or website.)
For more information, click here.
---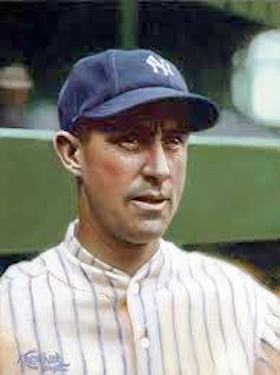 Seven new biographies were posted this week as part of the SABR Baseball Biography Project, which brings us to a total of 3,326 published biographies. Here are the new bios:
All new biographies can be found here: http://sabr.org/bioproj/recent
You can find the SABR BioProject at SABR.org/BioProject.
Bios on more than just ballplayers: The ambitious goal of the SABR Baseball Biography Project is to publish a full-life biography of every major league player in history. But SABR members write about a lot more than just ballplayers. In addition, we have pages for Ballparks, Broadcasters, Executives, Managers, Scouts, Spouses, Umpires and a lot more on the BioProject website. You can browse all of these categories at http://sabr.org/bioproj/browse. So if you've ever thought, "Hey, that person (or ballpark) should get the full BioProject treatment" — write the story and we'll publish it!
Get involved! If you'd like to help contribute to the SABR BioProject, visit our BioProject Resources page or read the FAQs section to get started. We're also looking to expand the BioProject to include all "encyclopedic" articles on baseball-related subjects from past SABR publications or committee newsletters. If you come across an article you think should be included in the SABR "baseball repository" at the BioProject, send a copy or link to markarmour04@gmail.com or jpomrenke@sabr.org.
1901 Boston Americans bios now posted: The team now known as the Boston Red Sox played its first season in 1901. The Boston Americans played in a new ballpark — the Huntington Avenue Grounds — literally on the other side of the railroad tracks from the Beaneaters and they out-drew the established National League team by more than 2-1, in part because they had enticed some of the more popular players: player/manager Jimmy Collins, pitcher Cy Young, and slugger Buck Freeman. Their stories and many more are included in New Century, New Team: The 1901 Boston Americans, edited by Bill Nowlin and published by the SABR Digital Library in 2013. The SABR BioProject biographies that appeared in that book can now be read online by clicking here.
---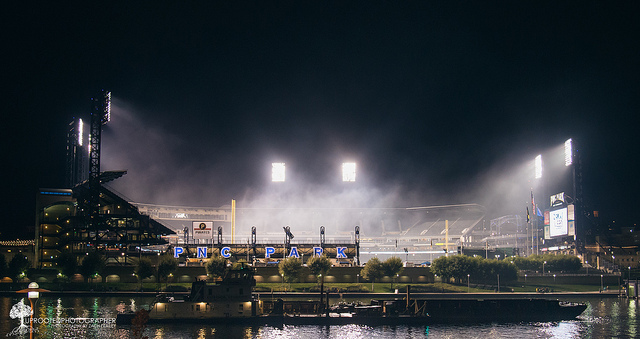 The SABR Baseball Games Project was launched in 2014 to research and write articles on major-league and Negro League regular, postseason, and All-Star Games. These game accounts will complement Retrosheet and Baseball-Reference box scores as well as BioProject essays on the players involved.
You can now find all recent articles published in the SABR Games Project, including essays from Inventing Baseball: The 100 Greatest Games of the 19th Century, on one page:
http://sabr.org/gamesproject/recent
Games Project articles are not intended to be mere play-by-play summaries, nor should they be first-person narratives. Rather the goal is to put each game in historical context — whether that history is of a particular player, team, season, or something even broader.
Visit the Games Project website at SABR.org/gamesproject.
---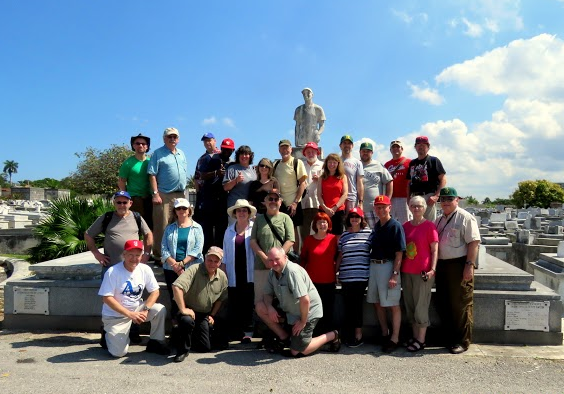 This is the last call for Cubaball XIV. The October 17-24, 2015, tour is led by Cubaball founder Kit Krieger and Peter Bjarkman, SABR's foremost authority on Cuban baseball.
The tour will feature the following:
5 or 6 games of the 55th Cuban National Series with games in Havana, Pinar del Rio, Cienfuegos, Matanzas and Artemesa. We will see eight of the sixteen teams in the National Series
Meetings with current player and league officials, including Victor Mesa, superstar of the 1980s and 1990s and former manager of the Cuban National team.
Meeting with veteran players, including Luis Zayas, the last surviving member of the fabled Havana Sugar Kings in Cuba.
Visit to La Tropical Stadium, the home of the Cuban Winter League from 1940-46
Visit to the baseball monuments in Havana's Cristobal Colon cemetery where Jose Mendez, Adolfo Luque, Mike Gonzales and other Cuban immortals were interred.
Visit to Cruces and the grave of Martin Dihigo accompanied by Martin Jr., former player in the Cincinnati organization and teammate of Pete Rose and Tony Perez. We will visit a remarkable exhibit on Dihigo in the Cruces municipal museum.
Visit to La Finca Vigia, Hemingway's estate in San Francisco de Paola.
Meeting with Sigfredo Barros, the baseball beat writer for Granma, the national newspaper of Cuba.
Visit to a baseball academy
Seminars on Cuban-American relations
I expect that this may be the last Cubaball tour. The normalization of Cuban-American relations and the influx of American tourists to Cuba is making travel to Cuba increasingly expensive. The unique Cuban baseball system will surely be changed due to normalization.
The tour costs $2,749 based on double occupancy. There is a $400 single supplement. The price includes transfers, hotel accommodation, most meals, admission to all scheduled itinerary events, land-travel in an air-conditioned bus, the services of bilingual tour guides and a license from the US Treasury Department.
The price does not include return airfare (we will arrange), beverages (some meals include one complementary drink), gratuities, and a $30 US Cuban airport tax paid upon departure.
The tour is limited to 25 registrants. A $500 deposit will reserve your spot. Contact Kit Krieger (ejkrieger@shaw.ca) to reserve your spot.
— Kit Krieger
---
We've heard your feedback: Some of you have said you look forward to "This Week in SABR" every Friday, but sometimes there are just too many compelling articles and announcements to read every week. We're not complaining — hey, keep up the great work! — but we know the feeling. So in an effort to make the length of this newsletter more manageable to read, we'll summarize some of the repeating/recurring announcements in a special "In Case You Missed It (ICYMI)" section of "This Week in SABR".
Here are some major headlines from recent weeks that we don't want you to miss:
All previous editions of This Week in SABR can be found here: http://sabr.org/content/this-week-in-sabr-archives.
---
We'd like to welcome all of our new SABR members who have joined this week. You can find all Members-Only resources at members.sabr.org and the New Member Handbook can be downloaded here.
Please give these new members a warm welcome and help them make the most of their membership by giving them the opportunity to get involved in their local chapter or a research committee.
You can find contact information for any SABR member in the online membership directory (SABR.org/directory).
| Name | Hometown | | | Name | Hometown |
| --- | --- | --- | --- | --- | --- |
| Thomas Auchter | Durham, NC | | | Jeffrey Howard | Aberdeen, SD |
| Albert Berke | Anchorage, AK | | | Floyd Johnson | Ambler, PA |
| Jim Considine | Baltimore, MD | | | Adam Klinker | Omaha, NE |
| Steve Cummings | Seattle, WA | | | Chris Rawls | Fort Leavenworth, KS |
| Michael Cuthbert | Somerville, MA | | | Brian Spoonheimer | Stamford, CT |
| Jay Fetyko | Minneapolis, MN | | | James St. Clair | Medford, MA |
| Chris Garber | Powell, OH | | | Matthew Stewart | Rockdale, TX |
| Daniel Gilmore | Aurora, IL | | | Warren Turner | Chelmsford, MA |
| Gage Godfrey | LaGrange, GA | | | Terry Yates | Lynchburg, VA |
---
Here are the new SABR research committee updates this week:
Statistical Analysis: At SABR 45 in Chicago, the committee began a project to compile a bibliography/list/guide for newcomers to sabermetrics. The SABR Guide to Sabermetric Research at SABR.org/sabermetrics is more of an explanation of what sabermetrics is than a "Sabermetrics 101" that would allow people to get an understanding of actual sabermetric knowledge. Committee chair Phil Birnbaum has set up a Yahoo! discussion group where you can submit your ideas for the bibliography. Click here to sign up. For more information, contact Phil at

birnbaum@sympatico.ca

.
Find all SABR research committee newsletters at SABR.org/research.
---
Here are the new regional chapter updates this week:
Connecticut Smoky Joe Wood Chapter monthly breakfast recap (August 15; Hamden, CT)
Pee Wee Reese Chapter meeting recap (August 15; Louisville, KY)
Rogers Hornsby Chapter-North inaugural meeting: RSVP now for the inaugural meeting of the Rogers Hornsby Chapter-North on Saturday, September 19 in Waco, Texas. All baseball fans are welcome to join us. Please reserve your spot now to David Skelton at dsbaseballfan@yahoo.com. Expected speakers include: former major-leaguer Lindy McDaniel, author John Wood, Texas League historian David King, Eric Robinson on Negro League history in Central Texas, Eugene Baker, David Lintz, Robert Gamboa, and Charlie Vincent. Click here for more details.
Combined tri-chapter minor-league meeting in Lancaster, PA: We hope you'll join us on Saturday, September 19 at a Lancaster Barnstormers game for a tri-chapter regional meeting hosted by the Bob Davids Chapter, Connie Mack Chapter, and Babe Ruth Chapter. Tickets are $40 per person (includes dinner) and limited to the first 25 people who register. Click here for more details and a registration form.
Visit SABR.org/chapters for more information on SABR regional chapters.
---
Here is a list of upcoming SABR events:
All SABR meetings and events are open to the public. Feel free to bring a baseball-loving friend … and make many new ones! Check out the SABR Events Calendar at SABR.org/events.
---
Here are some recent articles published by and about SABR members:
Read these articles and more at SABR.org/latest.
---
This Week in SABR is compiled by Jacob Pomrenke. If you would like us to include an upcoming event, article or any other information in "This Week in SABR," e-mail jpomrenke@sabr.org.
Have trouble reading this e-mail? Click here to view this week's newsletter on the web.
Are you receiving our e-mails? "This Week in SABR" goes out by e-mail to all members on Friday afternoons. If they're not showing up, try adding "sabr.notes@sabr.org" to your contact list to ensure they show up in your inbox (and not the spam folder.)
---
Originally published: August 21, 2015. Last Updated: April 3, 2020.
https://sabr.org/wp-content/uploads/2020/03/research-collection4_350x300.jpg
300
350
jpomrenke
/wp-content/uploads/2020/02/sabr_logo.png
jpomrenke
2015-08-21 15:00:00
2020-04-03 14:39:14
This Week in SABR: August 21, 2015