This Week in SABR: January 10, 2014
Welcome to "This Week in SABR!" Here's what we've been up to as of January 10, 2014:
---
The fifth annual SABR Day is coming up soon: Saturday, January 25, 2014. SABR Day is an annual Hot Stove event that brings together SABR members and friends on the same day, regardless of where they live.
We're compiling details now on 2014 SABR Day chapter meetings throughout the land. Full details can be found at SABR.org/sabrday.
Chapter leaders, please send your SABR Day plans to Jacob Pomrenke at jpomrenke@sabr.org.
Here are 2014 SABR Day meetings we have listed so far on Saturday, January 25:
Arlington, TX
Boston, MA
Charlotte, NC
Columbus, OH
Denver, CO
Des Moines, IA
Fort Wayne, IN
Houston, TX
Indianapolis, IN
Kansas City, MO
Kenosha, WI (joint meeting of Chicago/Milwaukee chapters)
Knoxville, TN
Little Rock, AR
Los Angeles, CA
Louisville, KY
Middletown, CT
Minneapolis, MN
Montreal, QC
Nashville, TN
New Orleans, LA
New York, NY
Philadelphia, PA
Phoenix, AZ
Pittsburgh, PA
Rochester, NY
St. Petersburg, FL
Washington, DC
In addition, some chapters are holding their SABR Day meetings on other days because of conflicts with team FanFests or preferred venues.
San Marcos, TX (Saturday, January 11)
St. Louis, MO (Saturday, January 18)
San Francisco, CA (Sunday, January 26)
Seattle, WA (Sunday, January 26)
Cleveland, OH (Saturday, February 1)
Detroit, MI (Saturday, February 1)
San Diego, CA (Saturday, February 15)
Click here to view all SABR Day 2014 events on our Google map.
Or visit http://bit.ly/SABR-Day-2014-spreadsheet to view all SABR Day 2014 events in spreadsheet format.
Regional SABR meetings are open to all baseball fans and are usually free to attend, so bring a friend! Guest speakers often include current and former baseball players, managers, umpires, executives, scouts, writers and authors.
Visit SABR.org/sabrday for more information on a SABR Day meeting close to you.

---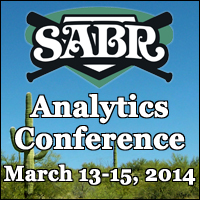 SABR has a long and storied history with baseball statistical analysis, evidenced by the link between our name and sabermetrics. While SABR is a multi-faceted organization involved in virtually every aspect of baseball, we have taken a major step to re-connect with our beginnings by producing and hosting the third annual:
SABR Analytics Conference
March 13-15, 2014
Hyatt Regency Phoenix
Phoenix, Arizona

Once again, we're bringing together the top minds of the baseball analytic community under one roof to discuss, debate and share insightful ways to analyze and examine the great game of baseball.
The schedule will consist of a combination of Guest Speakers, Panels and Research Presentations — plus the unique Diamond Dollars Case Competition, in which undergraduate, graduate and law school students from across the country analyze and present a real baseball operations decision.
Early registration rates:
— SABR members: $395 early rate; $595 full rate.
— Non-SABR members: $495 early rate; $695 full rate. If you are not a SABR member, click here to join.
— Students: $350; includes one-year membership to SABR. Must be a currently enrolled high school or college student. Please e-mail Deb Jayne with a photocopy of your student ID to receive the registration promo code.

Please note: Lunch is included with your registration on Friday, March 14 and Saturday, March 15. The mixer/welcome reception is included with your registration on Thursday, March 13. Specify any special dietary needs when you register.

Hotel: The 2014 SABR Analytics Conference will be held at the Hyatt Regency Phoenix, 122 N. 2nd St., Phoenix, AZ 85004. Click here to book your hotel room at the special SABR group rate of $169/night (plus tax.) Or call (602) 252-1234 and mention that you're with the SABR Analytics Conference.

Complimentary wireless Internet is available in all rooms booked under the SABR block. The cutoff date to book your room is February 18, 2014. The SABR group rate is only available for the nights of March 10 to March 18, 2014, based on availability. Book your room today!
Featured speakers and panelists are expected to include: Jack Zduriencik, Executive Vice President and General Manager of the Seattle Mariners; Brian Kenny of MLB Network; Aaron Boone, Buster Olney and Jon Sciambi of ESPN; SABR President Vince Gennaro; Rob Neyer of Baseball Nation; Dave Cameron of FanGraphs; Ben Lindbergh of Baseball Prospectus; Dr. Glenn Fleisig of the American Sports Medicine Institute; Jonathan Mayo, Bernie Pleskoff and Jim Callis of MLB.com; and more to be announced soon! We hope you'll join us in March for this spectacular event.

Some of the topics we are planning to cover include:
General Managers Panel on how analytics shapes front-office decisions
Player Panel – how major league players take advantage of analytics
Clubhouse Confidential Panel – with panelists from MLB Network's signature sabermetrics program
Prospect Analysis Panel – on using analytics to evaluate prospects NEW!
Biometrics/Injury Prevention Panel NEW!
International Baseball Panel NEW!
Check back soon at SABR.org/analytics as we announce more featured speakers, panels and presentations!
For complete coverage of the 2013 SABR Analytics Conference, visit SABR.org/analytics/2013.
---

A special treat is in store for SABR 44 attendees this summer in Houston.
On Saturday, August 2, SABR convention attendees will have the opportunity to visit Minute Maid Park for an exclusive ballpark session with Houston Astros executives and players.
Before the Astros' 6:05 p.m. game against the Toronto Blue Jays, two SABR 44 panel discussions will take place inside the ballpark's Champions Pavilion, just above center field on the Mezzanine Level at Minute Maid Park. Guest speakers and more details will be announced soon.
Purchase of SABR 44 conference registration AND a game ticket will be required to attend this special session in the Champions Pavilion. Registration for the 2014 SABR Convention will be available at SABR.org/convention beginning in February.
SABR 44 will be held July 30-August 3, 2014, at the Royal Sonesta Hotel in Houston.
Because of this special arrangement with the Astros for Saturday night's game, the SABR 44 Trivia Contest semifinals and finals will be moved to Friday night. The Awards Luncheon will still take place on Friday afternoon and the Donor Breakfast on Saturday morning, as usual.
For more information on SABR 44, visit SABR.org/convention.
---
As SABR member Bill Francis writes at BaseballHall.org:
For only the second time since the first National Baseball Hall of Fame class in 1936, the Baseball Writers' Association of America elected three players in their first year of eligibility to the Hall of Fame in balloting verified by Ernst & Young.

Pitchers Greg Maddux and Tom Glavine and designated hitter-first baseman Frank Thomas all cleared the 75-percent plurality threshold to gain election to the Hall of Fame and will be inducted in ceremonies July 25-28 at Cooperstown, N.Y.

Maddux was the leading vote getter with 555 votes of the 571 ballots, including one blank, cast by senior members of the BBWAA, writers with 10 or more consecutive years of service. That represented 97.2 percent of the vote. Glavine received 525 votes (91.9 percent) and Thomas 478 (83.7). It marked the first time that three first-ballot nominees were elected since Nolan Ryan, George Brett and Robin Yount in 1999. …

Maddux and Glavine are the first pair of 300-game winners elected in the same year since 1973 – Warren Spahn (363) and Mickey Welch (307) — and the first pair of longtime teammates elected by the BBWAA in the same year since 1974, when Whitey Ford and Mickey Mantle were elected.

The only other time two 300-game winners were elected in the same year was in 1936 when the BBWAA chose Walter Johnson (417) and Christy Mathewson (373). Maddux and Glavine are the first pair of living 300-game winners elected to the Hall of Fame in the same year.
Former Houston Astros star Craig Biggio just missed the cutoff with 74.8 percent of the writers' vote, appearing on 427 of 571 ballots cast. As SABR member Christopher Kamka notes, only four other players are members of the "74% Club" in BBWAA voting and all are now Hall of Famers: Nellie Fox, 1985 (74.7%); Bert Blyleven, 2010 (74.2%); Jim Bunning, 1988 (74.2%); and Billy Williams, 1986 (74.1%).
Here are some more articles by SABR members about the Hall of Fame election results that we thought you might enjoy:
---
We're happy to announce the creation of a great new SABR endeavor: The SABR Baseball Games Project.
This is being spawned by the popular and successful Baseball Biography Project, and will live within our committee for now. However, once it is up and running, I hope that it will behave more as a sibling than as an offspring.
What is it? It is just like the BioProject except that the articles will be about games rather than people. The stories will not be first-person recollections or recitations of play-by-play. They will be stories that help bring a game to life. The articles will be smaller than a biography (500 to 1,500 words) and much easier to research. For those of you intimidated by researching a person, perhaps this project will be to your liking.
If you want to get involved in researching and writing, but don't know if you are ready to tackle a full life story, this might be the perfect project for you. Do you want to write about your first game? Do you want to write about each of the games in the 1964 World Series? Or Babe Ruth's final game? Or all of the perfect games? Or when Rick Monday saved the flag, or the Homer in the Gloamin', or Gil McDougald KO-ing Herb Score, or The Ruth is Mighty and Shall Prevail, or Jim Creighton's final game, or DiMaggio's 39th in a row, or Matty Alou's first game? Find a few game stories and you're ready.
To learn more about the Baseball Games Project, click here.
— Mark Armour
---
SABR's Board of Directors approved the formation of a new regional chapter this week.
The Italy Chapter, based in Sorrento, will serve SABR members in Italy. The chapter chair is Michele Pepe.
The Italy Chapter is the third new international chapter approved in the last few months, joining the Luis Castro/Latin America Chapter and the Korea Chapter. New chapters in Fort Wayne, Indiana, and Rochester, New York, were also approved last year.
SABR's 64 regional chapters cover 34 U.S. states, Puerto Rico and Washington, D.C.; plus international chapters in Canada (Quebec, Ontario, and British Columbia), Japan, South Korea, Italy, Latin America and the United Kingdom. For a list of all SABR chapters or to sign up for e-mail announcements from any chapter, visit SABR.org/chapters. A calendar of upcoming SABR meetings can be found at SABR.org/events.
Find your regional chapter: Does your area have a regional chapter of its own? If not, it's easy to organize a new chapter — all you need is an interested group of SABR members. Click here for details.
---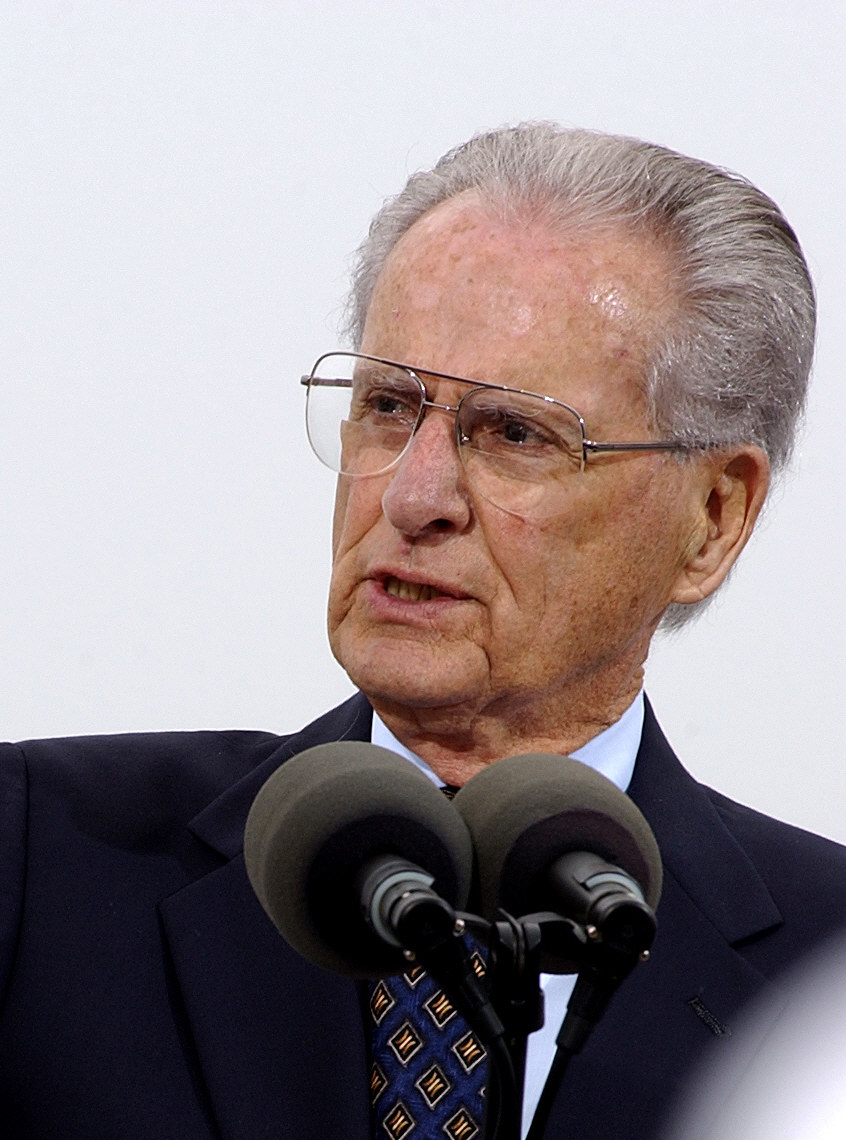 We were saddened to learn of the death of Jerry Coleman, 89, on Sunday, January 5. The 2005 Ford C. Frick Award recipient was a decorated war veteran, four-time World Series champion with the New York Yankees as a player, and beloved broadcaster with the San Diego Padres for more than four decades. He also managed the Padres in 1980.
Coleman was a longtime friend of SABR and the Ted Williams Chapter in San Diego. He made his final appearance at a SABR chapter meeting on August 9, 2013, in San Diego as part of the "Padres Memorable Moments" event. (Watch "Padres Memorable Moments" on YouTube here.)
We also dug up a transcript of the SABR Oral History interview of Jerry Coleman by Walter Langford, recorded on Tuesday, May 10, 1988, in the Adam's Mark Hotel in St. Louis. You can read the interview or listen to the audio here:
http://sabr.org/latest/sabr-archives-conversation-jerry-coleman
---
This game summary is from the Retroactive All-Star Game Project. Voting was conducted to select retroactive MLB All-Star teams from the 1924 season and the games were simulated using Out of the Park 14.
The National League copped its second straight All-Star game with an easy 6-1 win over the Americans at Cubs Park. Leading the way for the senior circuit were Brooklyn Robins Zack Wheat, Dazzy Vance and Burleigh Grimes, but there are plenty of huzzahs to go around, as the NL rapped out 14 hits and held the AL to only six.
The series is now tied at 4-4 heading to Philadelphia's Shibe Park, home of the Athletics since 1909. Widely considered the first all concrete-and-steel ballpark (the upper deck of the grandstand was wood on steel girders), the yard will boast new seats next year to accommodate the 1925 Midsummer Classic, increasing its capacity from 20,000 to 33,500.
Highlights and outstanding players from this year's game include:
Zack Wheat belting a homer, driving in two runs and scoring twice.
Dazzy Vance holding the AL to only one hit in three innings and fanning Babe Ruth.
Babe Pinelli going 3 for 4 and scoring a run.
Walter Johnson tossing three scoreless innings.
Eddie Collins going 2 for 4 with a rare tape-measure blast to center field.
Eddie Rommel throwing two hitless innings in relief.
You can find a full account of the game, box score, game log and stats here.
Learn more about the Retroactive All-Star Game Project by clicking here.
— Mike Lynch
---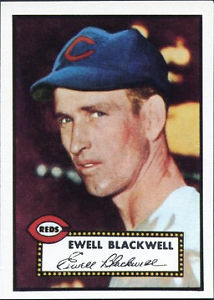 Four new biographies were posted as part of the SABR Baseball Biography Project, which brings us to a total of 2,620 published biographies. Here are the new bios:
All new biographies can be found here: http://sabr.org/bioproj/recent
You can find the SABR BioProject at SABR.org/BioProject.
1984 Tigers bios posted online: Biographies from Detroit Tigers 1984: What a Start! What a Finish!, edited by Mark Pattison and David Raglin — from Jack Morris to Alan Trammell, from Willie Hernandez to Lou Whitaker, from Aurelio Lopez to Barbaro Garbey — can now be read online by clicking here. To download your free copy of the SABR e-book, click here. (Available in PDF, Kindle/MOBI and EPUB formats.) To get a 50% discount on the paperback edition, click here.
Bios on more than just ballplayers: The ambitious goal of the SABR Baseball Biography Project is to publish a full-life biography of every major league player in history. But SABR members write about a lot more than just ballplayers. In addition, we have pages for Ballparks, Broadcasters, Executives, Managers, Scouts, Spouses, Umpires and a lot more on the BioProject website. You can browse all of these categories at http://sabr.org/bioproj/browse. So if you've ever thought, "Hey, that person (or ballpark) should get the full BioProject treatment" — write the story and we'll publish it!
Get involved! If you'd like to help contribute to the SABR BioProject, visit our BioProject Resources page or read the FAQs section to get started. We're also looking to expand the BioProject to include all "encyclopedic" articles on baseball-related subjects from past SABR publications or committee newsletters. If you come across an article you think should be included in the SABR "baseball repository" at the BioProject, send a copy or link to markarmour04@gmail.com or jpomrenke@sabr.org.
---
SABR Analytics Conference Research Awards, due 1/15/2014: The SABR Analytics Conference Research Awards recognizes baseball researchers who have completed the best work of original analysis or commentary during the preceding calendar year in the following categories: Contemporary Baseball Analysis, Contemporary Baseball Commentary, or Historical Baseball Analysis/Commentary. Results are announced and presented at the annual SABR Analytics Conference. Please send all nominations via e-mail to this address: 2014-analytics-awards@sabr.org. Include author, title, date of publication and a URL link (if applicable).

SABR Baseball Research Award, due 1/31/2014: The SABR Baseball Research Award (formerly the Sporting News-SABR Baseball Research Award) honors those whose outstanding research projects completed during the preceding calendar year have significantly expanded our knowledge or understanding of baseball. To submit a nomination for the 2013 awards, please contact Bill Felber at bfelber@att.net.
McFarland-SABR Baseball Research Award, due 2/15/2014: The McFarland-SABR Baseball Research Award honors the authors of the best articles on baseball history or biography completed or published during the preceding calendar year. To submit a nomination for the 2013 awards, please contact Len Levin at lenlevin5@hotmail.com.
---
We've heard your feedback: Some of you have said you look forward to "This Week in SABR" every Friday, but sometimes there are just too many compelling articles and announcements to read every week. We're not complaining — hey, keep up the great work! — but we know the feeling. So in an effort to make the length of this newsletter more manageable to read, we'll summarize some of the repeating/recurring announcements in a special "In Case You Missed It (ICYMI)" section of "This Week in SABR".
Here are some major headlines from recent weeks that we don't want you to miss:
All previous editions of This Week in SABR can be found here: http://sabr.org/content/this-week-in-sabr-archives.
---
For those of you whose memberships expired recently, there's still a little time left to renew and be a part of the SABR community again in 2014. If you've already renewed, we thank you for your support and look forward to another exciting year ahead.
Renew now to receive the Spring 2014 edition of the Baseball Research Journal, plus discounts on registration to the 2014 SABR Analytics Conference and SABR 44 in Houston, and a lot more! We MUST receive your dues by February 28, 2014, in order for you to receive the upcoming BRJ.
Renew your membership for 1 year or 3 years online — or select our new 5-year, digital-only membership rate — at the SABR Store; by phone at (602) 343-6450; or by mailing this downloadable PDF form and your payment to the SABR office at 4455 E. Camelback Road, Ste. D-140, Phoenix, AZ 85018.
We're excited about the upcoming year ahead of us and we hope you'll take advantage of all the membership benefits offered to SABR members in 2014 and beyond.
---
We'd like to welcome all of our new SABR members who have joined this week. You can find all Members-Only resources at members.sabr.org and the New Member Handbook can be downloaded here.
Please give these new members a warm welcome and help them make the most of their membership by giving them the opportunity to get involved in their local chapter or a research committee.
| Name | Hometown | | | Name | Hometown |
| --- | --- | --- | --- | --- | --- |
| Ed AuBuchon | Waterloo, IL | | | Robert Mayone | Canton, OH |
| John Azevedo | San Francisco, CA | | | Jeffrey Mertens | Joplin, MO |
| David Baldner | Lubbock, TX | | | Alex Milam | Pearland, TX |
| Craig Baugh | Chicago, IL | | | Mark Mulvany | Sealy, TX |
| Ben Boley | Washington, DC | | | Devin Murphy | Seattle, WA |
| Michael Boucher | Phoenix, AZ | | | Craig Nielsen | Colleyville, TX |
| Eli Brazell | Sleepy Hollow, NY | | | William O'Leary | Rensselaer, NY |
| Bryan Clark | Hicksville, NY | | | Brian Pace | Manassas, VA |
| Joe Collins | Lake Zurich, IL | | | Tim Parachojuk | Beverly, MA |
| Harry Conley | Riverview, FL | | | Reid Perry | Berea, OH |
| William Costanza | Alpharetta, GA | | | Joseph Perry | Smyrna, TN |
| Jeff Craig | Orlando, FL | | | Michael Phillips | Plano, TX |
| Victor Dadras | Little Neck, NY | | | Robert Pike | Fort Worth, TX |
| Jeremy Deckard | Topeka, KS | | | Jason Pozarowski | Holmdel, NJ |
| William Dickerson III | Atlanta, GA | | | Ron Prentice | Toronto, ON |
| Bryan Elliott | E. Rochester, NY | | | Troy Reynolds | Ore City, TX |
| Joseph Fafara | Philadelphia, PA | | | James Robinson | Philadelphia, PA |
| Jim Falkler | Bristow, VA | | | Joshua Rombro | Hermosa Beach, CA |
| Brian Geiger | Herndon, VA | | | Brandt Ross | Atlanta, GA |
| Jaclyn Glick | Fort Worth, TX | | | Jim Russell | Newcastle, ON |
| Terry Gratz | Kansas City, MO | | | Harold Sakamoto | Tempe, AZ |
| Austin Haataja | Athens, AL | | | Dan Sargeant | Framingham, MA |
| Frederick Haupricht | Farmington Hills, MI | | | Damon Savage | Kennesaw, GA |
| Caitlin Hawks | Seattle, WA | | | Lucian Schulte | Edmonton, AB |
| Jim Hawks | Eagle, ID | | | Jack Sripoona | Thousand Oaks, CA |
| Jackie Howell | Orange, VA | | | Josh Sullivan | Tomball, TX |
| Marcus John | Clementon, NJ | | | Gale Suwalski | Pittsburgh, PA |
| Jongmin Jung | San Angelo, TX | | | Tom Thrash | Poughquag, NY |
| Roger Kathmann | Cincinnati, OH | | | Zachary Turinsky | Short Hills, NJ |
| Marc Kell | Columbia, MD | | | Matthew Turnage | Jackson, MS |
| Joe Lenda | Highlands Ranch, CO | | | Joseph Van Amburg | Lee's Summit, MO |
| Matthew Lineberger | Wilmington, DE | | | Suzyn Waldman | Croton on Hudson, NY |
| Robin Lund | Waterloo, IA | | | Madison Wegner | St. Louis, MO |
| Marie Red Mahoney | Houston, TX | | | Susan Wilson-Gahan | Shailer Park, AUS |
| Steven Maire | Willowick, OH | | | Max Yuhas | Baltimore, MD |
| Michael Malgieri | S. Orange, NJ | | | Frank Zaccardo | Frisco, TX |
| Patrick Margolis | Washington, DC | | | Jeff Zimmerman | Mulvane, KS |
| Robert Marrone | Grand Rapids, MI | | | Kevin Zimmerman | Alameda, CA |
---
Here are the new SABR research committee newsletters published this week:
Latino Baseball: We'd like to welcome Anthony Salazar as the new chair of the Latino Baseball Committee, approved this week by the SABR Board of Directors. Anthony, a resident of Seattle, Washington, has been a SABR member since 1998. To learn more about the Latino Baseball Committee, visit http://sabr.org/research/latino-baseball-research-committee.
Find all SABR research committee newsletters at SABR.org/research.
---
There were no new chapter meeting recaps published this week.
Visit SABR.org/chapters for more information on SABR regional chapters.
---
Here is a list of upcoming SABR events:
All SABR meetings and events are open to the public. Feel free to bring a baseball-loving friend … and make many new ones! Check out the SABR Events Calendar at SABR.org/events.
---
Here are some recent articles published by and about SABR members:
Read these articles and more at SABR.org/latest.
---
This Week in SABR is compiled by Jacob Pomrenke, and sent out to all SABR members on Fridays. All previous editions of This Week in SABR can be found here: http://sabr.org/content/this-week-in-sabr-archives. If you would like us to include an upcoming event, article or any other information in "This Week in SABR", e-mail jpomrenke@sabr.org.
Find exclusive Members' Only resources and information here: http://members.sabr.org
Did you know you can renew your membership at any time? 1- and 3-year SABR memberships are available by clicking "Renew" at http://members.sabr.org. Please also consider a donation to SABR to support baseball research at SABR.org/donate.

Are you following us on Twitter or Facebook? Get SABR updates every day at @SABR or by searching "SABR" on Facebook.

Replying to this e-mail goes to an undeliverable address. If you would like to contact the SABR office, please visit: http://sabr.org/about/contact-sabr
---
Originally published: January 10, 2014. Last Updated: April 3, 2020.
https://sabr.org/wp-content/uploads/2020/03/research-collection4_350x300.jpg
300
350
jpomrenke
/wp-content/uploads/2020/02/sabr_logo.png
jpomrenke
2014-01-10 14:18:46
2020-04-03 14:39:36
This Week in SABR: January 10, 2014