This Week in SABR: July 24, 2015

Welcome to "This Week in SABR!" Click here to view this week's newsletter on the web. Here's what we've been up to as of July 24, 2015:
---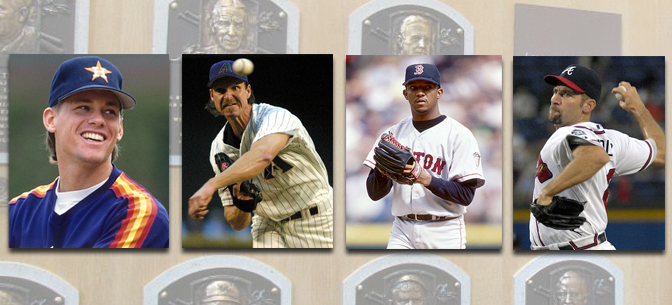 As the Baseball Hall of Fame gears up for Induction Weekend in Cooperstown, you can read SABR Baseball Biography Project articles for the entire 2015 induction class at the links below:
You can find all of our published biographies of Baseball Hall of Fame inductees on this page.
Are you heading to Cooperstown for the induction ceremonies? All baseball fans are welcome to attend our annual Induction Day meeting of SABR's Cliff Kachline Chapter, 6 p.m. on Sunday, July 26 at Tillapaugh's, 28 Pioneer Street in downtown Cooperstown. Guest speakers include Ed and Chris Lucas, "Seeing Home: The Ed Lucas Story;" Bill Deane, "Finding the Hidden-Ball Trick;" Jim Walsh of Baseball Prospectus; and Cooperstown mayor Jeff Katz, author of Split Season 1981. For more information, contact Jeff Katz.
*****
Want to write a Hall of Fame biography for the SABR BioProject?
SABR Director Emily Hawks is launching a new BioProject initiative for biographies of players who are likely to be on the 2016 Hall of Fame ballot later this year. Note that these biographies will be assigned with a MUCH shorter timeline, with the aim of all editing and fact-checking to be complete by the time the Hall of Fame voting "debate season" begins in November. As such, we need completion by October 1, 2015. In addition, we will be checking in more frequently to try to head off bios that are in danger of not being finished. All of these are famous people, so the research should be easier than many of our more obscure bios.
If you are interested in writing a SABR biography for one of these players, please contact Emily Hawks at emilyhawks@gmail.com:
Sammy Sosa
Mark McGwire
Trevor Hoffman
Jeff Bagwell
Edgar Martinez
Larry Walker
Jeff Kent
Mike Mussina
Nomar Garciaparra
Jason Kendall
Jim Edmonds
Find all published SABR biographies at SABR.org/BioProject.
---
SABR is seeking a full-time Manager of Chapter/Partner Relations to work in its Phoenix office.
E-mail your resume and letter of interest in PDF format to jobs@sabr.org by August 10, 2015. No phone calls, please.
Responsibilities:
Will serve as a liaison between the SABR national office and our 70 regional chapters. Will work closely with chapter leaders to brainstorm and help implement programming for chapter events, special SABR events, and SABR Day. Will work with chapters to bring in new members and to retain members.
Will serve as the liaison to SABR's partners. Goal is to make SABR's partners aware of SABR's historical and current content and to deliver and help promote that content. Will work with partners on SABR conferences and events.
Will work closely with SABR's Student Group Affiliate Members (colleges, high schools, middle schools).
Skills:
Self-starter, innovative, good problem solver.
Adept at multitasking and project management.
Good communication and organizational skills.
Strong written and computer skills.
Working knowledge of baseball and a strong passion for the game.
This full-time, salaried position will be based at the SABR headquarters in Phoenix, Arizona, and include health/dental and retirement benefits. SABR is an equal-opportunity employer.
For more information, click here.
---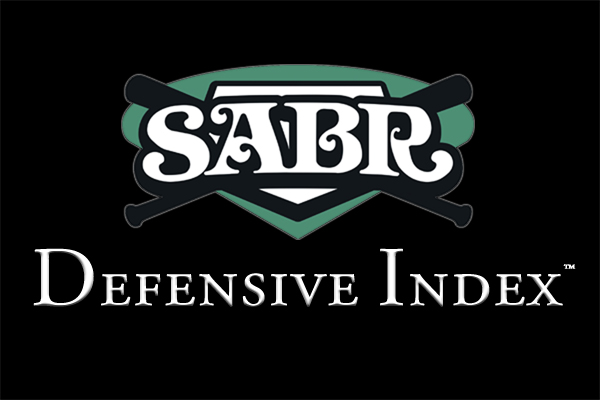 Tampa Bay center fielder Kevin Kiermaier and Colorado third baseman Nolan Arenado have opened commanding leads in the SABR Defensive Index™ rankings through the first half of the 2015 season.
The SABR Defensive Index is used to help select the winners of the Rawlings Gold Glove Award® and Rawlings Platinum Glove Award™, presented by SABR.
The SABR Defensive Index draws on and aggregates two types of existing defensive metrics: those derived from batted ball location-based data and those collected from play-by-play accounts. The three metrics representing batted ball data include Defensive Runs Saved from Baseball Info Solutions, Ultimate Zone Rating developed by noted sabermetrician Mitchel Lichtman, and Runs Effectively Defended based on STATS Zone Rating and built by SABR Defensive Committee member Chris Dial. The two metrics included in the SDI originating from play-by-play data are Defensive Regression Analysis, created by committee member Michael Humphreys, and Total Zone Rating.
The SABR Defensive Index accounts for approximately 25 percent of the Rawlings Gold Glove Award selection process that was added to the votes from the managers and coaches.
Kiermaier's SDI of 15.0 is the best in the game among all qualified defenders, ahead of Baltimore third baseman Manny Machado (8.3), Detroit second baseman Ian Kinsler (8.2), Toronto third baseman Josh Donaldson (8.0), and Detroit left fielder Yoenis Cespedes (7.0).
Arenado's SDI of 10.9 through July 12 is the top figure in the NL, ahead of Washington second baseman Danny Espinosa and Atlanta shortstop Andrelton Simmons, both with 8.1. Rounding out the top five are Colorado second baseman D.J. LeMahieu (7.8), along with Miami shortstop Adeiny Hechavarria and New York right fielder Curtis Granderson (tied at 6.6).
The SDI results were released today by the Society for American Baseball Research.
Updated SDI results will be released periodically throughout the rest of the 2015 season at SABR.org. The SDI is compiled by the SABR Defensive Committee, which includes SABR President Vince Gennaro, Sean Forman of Baseball-Reference.com, Ben Jedlovec of Baseball Info Solutions, SABR Director F.X. Flinn, author and defensive metrics expert Chris Dial, and author Michael Humphreys.
Click here to view full SDI rankings by position, through games of July 12, 2015.
For more information on the SDI and its role in the Rawlings Gold Glove Award process, visit SABR.org/SDI.
---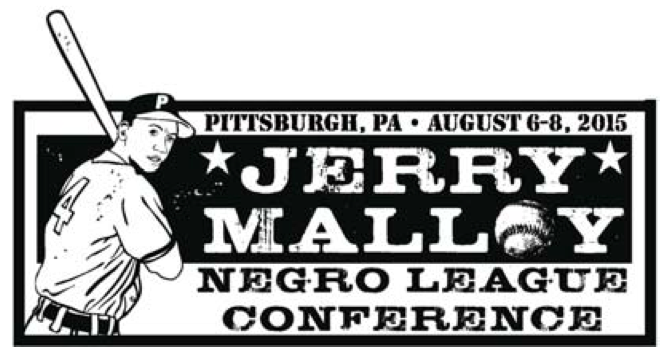 The 18th annual Jerry Malloy Negro League Conference will be held August 6-8, 2015, at the Wyndham Grand Pittsburgh Downtown in Pittsburgh, Pennsylvania. The conference is open to all baseball, history and sports fans of all ages.
Register today!

Click here to register online at the SABR Store

. Or click here to download a registration form and information packet (PDF); please mail your check or money order before July 31 to SABR Malloy Conference, Cronkite School at ASU, 555 N. Central Ave. #416, Phoenix, AZ 85004. Regular registration is $175 for an adult rate (includes all activities) or $125 for a student rate. Single-day registration for Friday or Saturday is $100. The rate for the Thursday education forum only is $20. Optional sessions are also available.
Book your hotel room: Visit Wyndham.com or call (412) 391-4600 to book your hotel room at the Wyndham Grand Pittsburgh Downtown. The discounted SABR group rate of $189/night (plus tax) is no longer available. Click here to download the information packet to learn more about the hotel.
The 2015 Jerry Malloy Negro League Conference will celebrate the rich history of black baseball in Pittsburgh. We welcome proposals for oral and poster presentations from all research fields. Previous presenters have included college faculty, public school teachers, graduate students, and independent scholars. Presentations may focus on any topic related to the theme, "Baseball's Best: the Grays and the Crawfords," or other Negro Leagues issues. Some possibilities include: Josh Gibson, Pittsburgh Crawfords, Gus Greenlee, Cum Posey, Vic Harris, Cool Papa Bell, the Crawford Grill, and many others.
Visit SABR.org/malloy for information on the 2015 Call for Papers, Essay Contest, Art Contest, and Library Grant Program.
---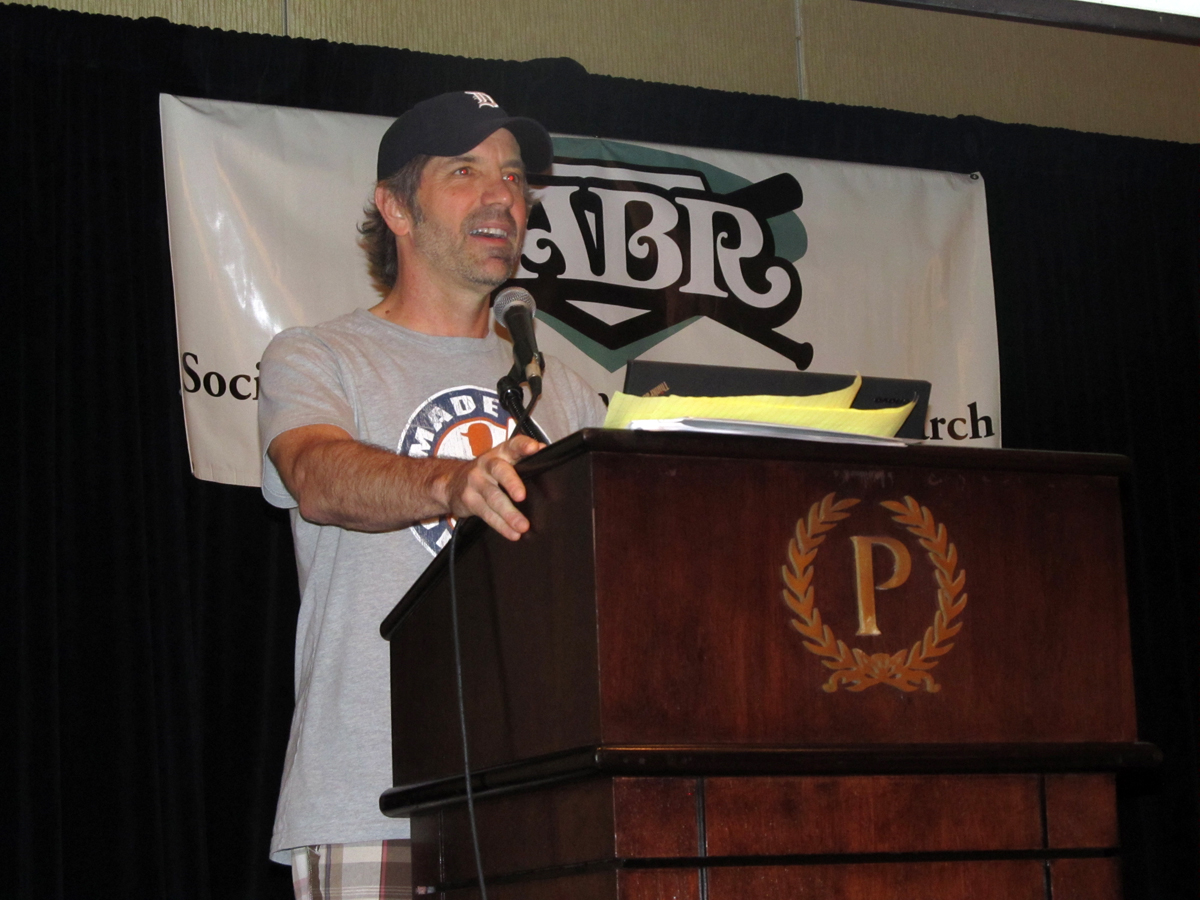 Couldn't make it to Chicago for SABR 45? We have complete coverage of our 45th annual convention in the Windy City online at SABR.org/convention.
Audio highlights from select SABR 45 research presentations are now available online by clicking here.
You can also listen to more audio clips from SABR 45 Chicago by clicking on a link below:
---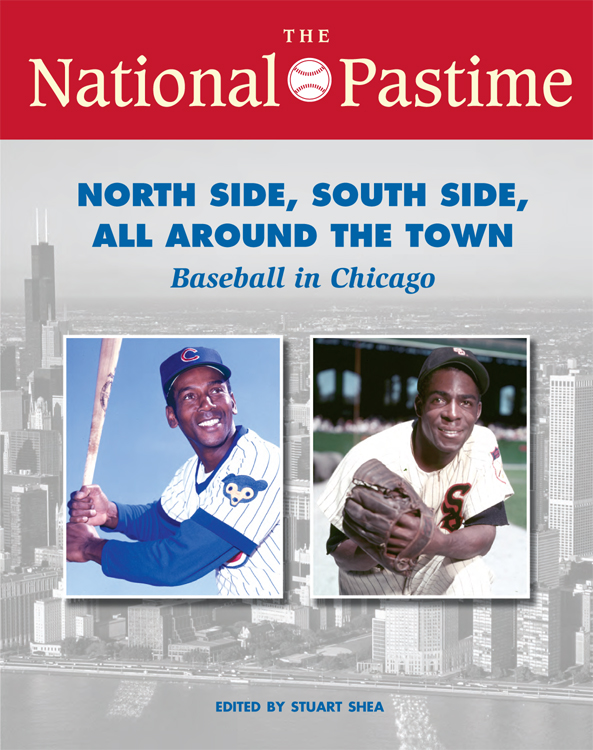 Since 2009, The National Pastime has served as SABR's convention-focused publication. Published annually, this research journal provides in-depth articles focused on the respective geographic region where the national convention is taking place in a given year.
The SABR 45 convention took place recently in Chicago, and we have dedicated the theme of The National Pastime to baseball in Chicago. All SABR members receive a free expanded e-book copy of The National Pastime as part of their membership benefits, while attendees of the national convention also received a souvenir print edition in their goody bags. This year we had such a surplus of fantastic articles and contributions that the e-book edition contains 45 contributions (the print edition just 25).
If you weren't able to attend the convention in Chicago, please enjoy this issue of The National Pastime as your virtual trip to the Windy City. Happy reading!
To learn more about contributing to a future SABR publication, click here.
— Cecilia M. Tan, editor
Having trouble downloading our e-books? To view PDF files on your computer, click here to download the free Adobe Reader software. Having trouble downloading e-books to your Kindle, Nook, Sony Reader or iPad? Click here for additional help.
---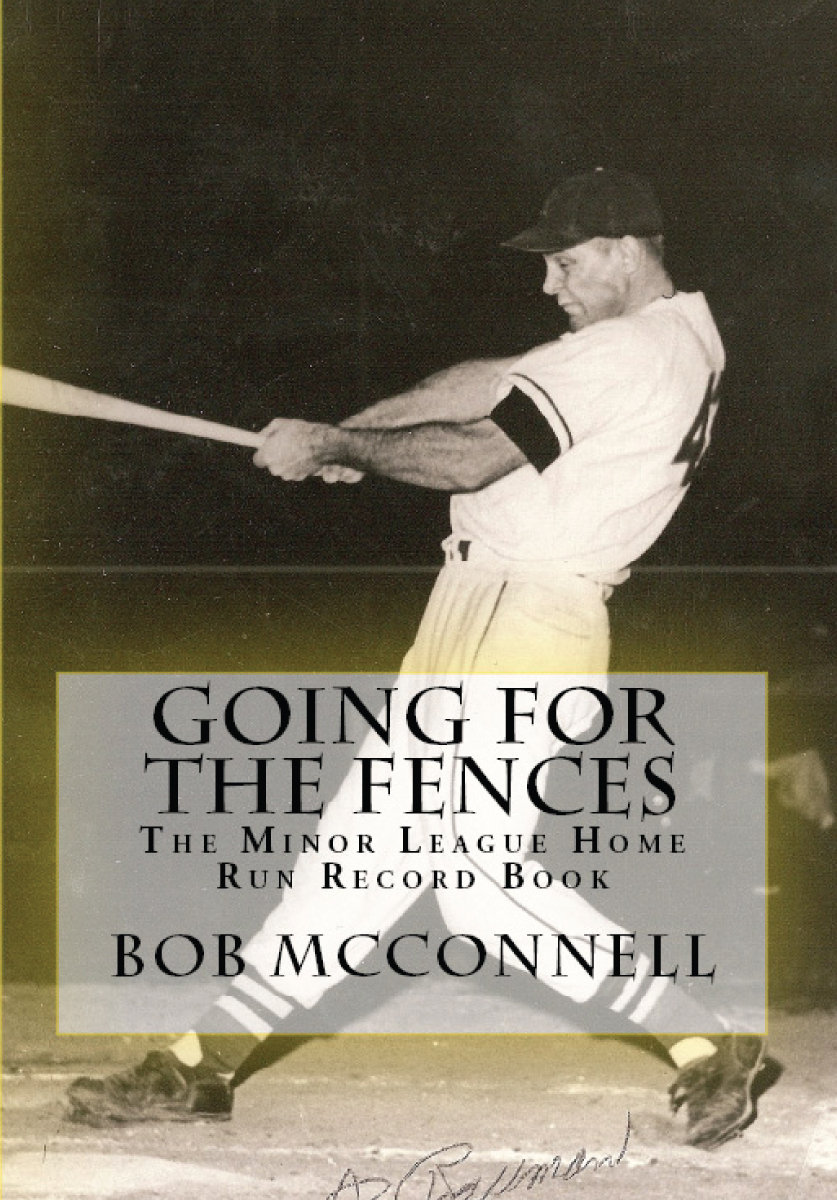 Mike Hessman is best known as a modern-day Crash Davis — and like the fictional character from the classic film Bull Durham, he's closing in on the all-time career home run record in Minor League Baseball.
The 37-year-old Toledo Mud Hens first baseman cracked his 431st career home run on Wednesday, July 22, in a game against the Lehigh Valley IronPigs. Hessman is now one home run away from tying Buzz Arlett atop the all-time list for minor leaguers. Arlett was a Pacific Coast League legend who was once named as the greatest minor-league player in baseball history in a survey of SABR members.
You can view Hessman's career statistics in the SABR Minor League Database, which has been licensed to Baseball-Reference.com. Hessman began his professional career in 1996, when he was selected by the Atlanta Braves in the 15th round of the amateur draft. He reached the major leagues in 2003, and hit .188 with 14 home runs in 109 games over parts of five seasons with the Braves, Detroit Tigers, and New York Mets.
For the record, four other minor-league players from the Mexican League have also hit more home runs than Arlett. The Mexican League joined Organized Baseball in 1955, but it is not part of the U.S.-based affiliated minor-league system. Hector Espino holds the all-time minor-league record in North America with 484 home runs; he surpassed Arlett during the 1977 season.
A comprehensive list of minor-league home run records can be found in Going for the Fences: The Minor League Home Run Record Book, edited by the late SABR founding member Bob McConnell and published by SABR in 2009. (Click the link to download the free PDF e-book.) In Going for the Fences, McConnell painstakingly compiled statistics, facts, and stories about home run records in the minor leagues from the 19th century through 2008 — the only reference work dedicated to minor-league home runs. Records in more than 50 categories are listed, and helpful annotation throughout enables the researcher or casual fan to place these statistics in context.
To purchase a paperback version of Going for the Fences, click here to visit Createspace.com. SABR members, visit our Research Resources page for a coupon code to get a 50% discount on the paperback edition at Createspace.
---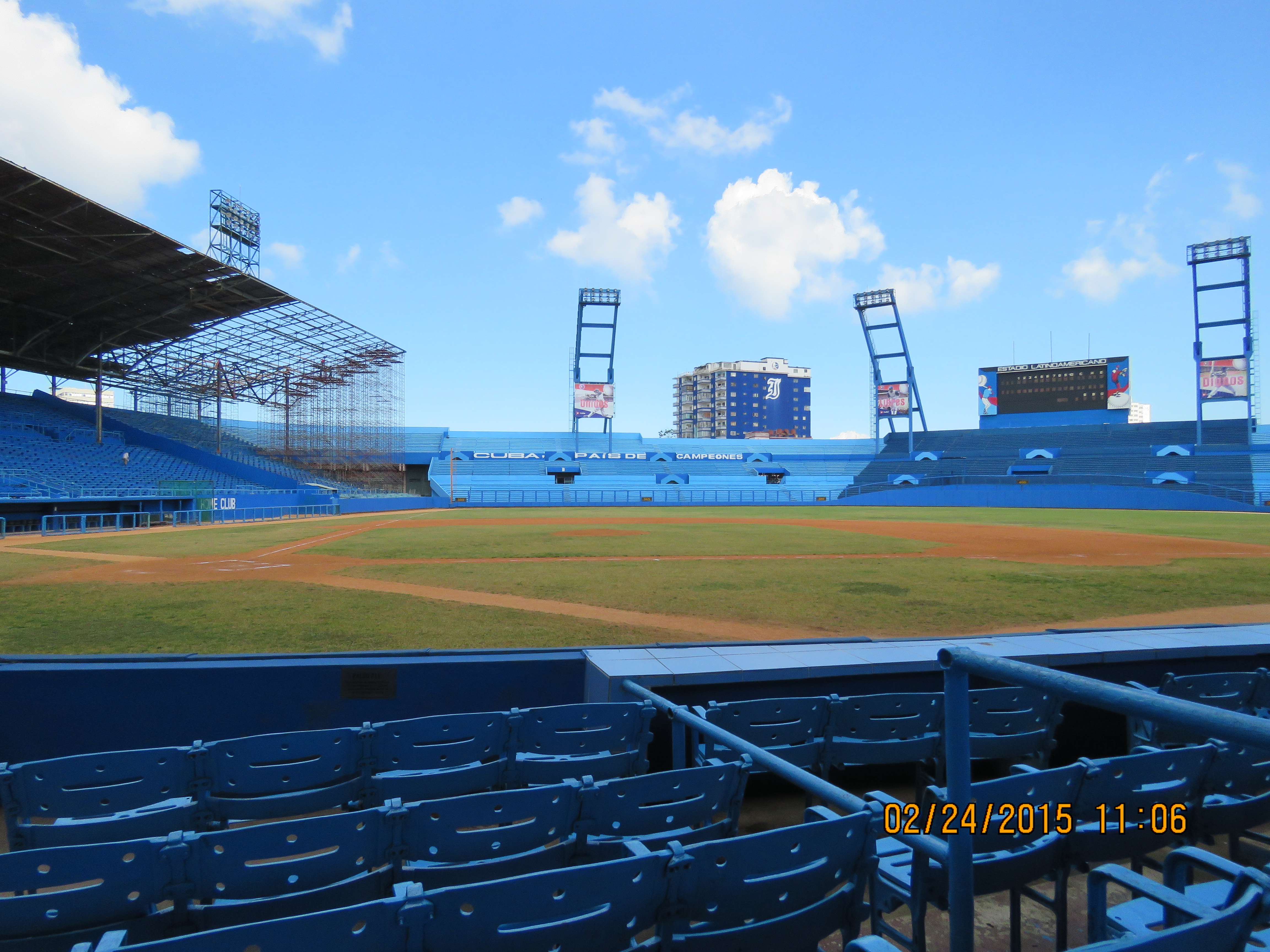 In February 2015, Donald Plavnick of Arlington, Virginia, attended the annual Cubaball baseball tour led by SABR member Kit Krieger. Here is a personal account of his experiences, posted this week at SABR.org:
It had been a lifelong ambition to visit Cuba and now with the opportunity to attend Kit Krieger's Cubaball tour and the prospect to see Cuban baseball firsthand — it was an experience that I could not miss. This was especially true as American citizens who travel with legal authority are not permitted to attend sporting events there. It was with a sense of changing times that I wanted to visit Cuba in its present state before the influx of American tourists turns the island into another South Miami Beach. …

When the average American thinks of Cuba, the thought that often comes to mind is that it is noted for good rum, good cigars, and Fidel Castro. Ask the average U.S. baseball fan about Cuban baseball and he or she will most likely cite Cuban-born stars such as Yasiel Puig and Aroldis Chapman, or Livan Hernandez and his half-brother Orlando "El Duque" Hernandez. Older fans will remember Sandy Amorós, Bert Campaneris, Jose Canseco, Mike Fornieles, Minnie Minoso, Tony Oliva, Rafael Palmeiro, Camilo Pascual, Tony Perez, Pedro Ramos, Luis Tiant, and Zoilo Versalles.

Only a true student of the island's rich baseball history, dating from the 1860s, is familiar with the Cuban legends of Martin Dihigo, perhaps the greatest all-around player of the Negro Leagues who starred at eight positions; he is not only in the U.S. Baseball Hall of Fame but in the baseball halls of fame in four countries. Also, Adolfo Luque, who was a star in the U.S. major leagues, winning 27 games for the 1923 Cincinnati Reds.

It was, therefore, a learning experience of a virtually unknown but rich aspect of "our" national game for those of us making this enlightening journey to our neighbor to the south. In all, through the 2014 season, some 138 Cuban-born players have played in the U.S. major leagues (or Grandes Ligas), including 31 during the 2014 season. The list of major-league and Negro League stars that played winter ball in Cuba in the decades prior to the 1960s would fill anyone's Hall of Fame, not to mention several Havana teams that were part of the U.S. minor leagues at various levels.

— Donald Plavnick
Read the full article here: http://sabr.org/latest/plavnick-my-experience-cubaball-tour
To view an extensive photo gallery from Plavnick's trip, click here.
---
In this week's installment of Chuck Hildebrandt's "Working the Game" series of interviews for SABRMedia.org — revealing what it is like to work as a baseball media professional on a day-to-day basis — we feature Gregor Chisholm, who has covered the Toronto Blue Jays for MLB.com since 2011.
Chisholm's first regular job in journalism was at St. Francis Xavier University in Antigonish, Nova Scotia, where as an undergraduate he was the sports editor of the student newspaper. Upon his graduation he moved to Toronto, where he received an advanced degree in Journalism from Ryerson University. Chisholm first started with MLB.com as an associate reporter in 2007. After this internship position he worked at the Toronto Sun as a copy editor before moving to the associate national sports editor position. He returned to MLB.com in 2011 to become the Toronto Blue Jays beat writer.
Read the full interview here: http://sabrmedia.org/2015/07/24/working-the-game-an-interview-with-gregor-chisholm-mlb-com-beat-writer/
---
The Baseball Research Journal is open to research by all SABR members.
If you presented a research presentation at SABR 45, or if you've published a recent article in a SABR committee newsletter, and have been thinking about writing it up as a more formal article, please consider submitting an article (with proper format and citations/footnotes) for the upcoming Fall 2015 edition of the BRJ.
The BRJ is interdisciplinary, meaning that we define "baseball research" very broadly. So everything from physics to physiology might find its way into our pages. Economics, history, sociology, game theory, etymology, architecture, psychology, records, biomechanics, meteorology: if it's "research" we are open to being queried about it.
If you're interested in writing for the Fall 2015 edition of the BRJ, a query is the simplest way to start: send me an email at ctan@sabr.org describing your idea for an article, a few sentences about your topic, a rough idea of where you expect the investigation or analysis to go, and if possible give a guess as to the length. (BRJ articles are typically 2,000 to 6,000 words long, but this is not a hard limit by any means.) Please also include in your query how you became interested in the topic and any qualifications you have to research it, and what sources you might draw on to complete the research.
If you have a completed paper or near-completed manuscript, please write me for the author guidelines which will give you more information on how to format the submission and where to email it (hint: JournalSubs@sabr.org). We look forward to your submissions.
— Cecilia M. Tan
---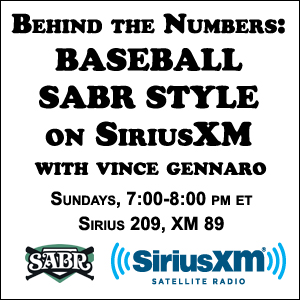 We invite you to listen to Behind the Numbers: Baseball SABR Style on SiriusXM, a new radio show hosted by SABR President Vince Gennaro, on Sunday nights on MLB Network Radio.
Baseball SABR Style focuses on examining and interpreting the statistical analysis that plays a critical role in baseball today. It will air weekly throughout the year on MLB Network Radio, available to subscribers nationwide on XM channel 89, Sirius channel 209, and on the SiriusXM Internet Radio App. (Recent shows are available afterward in the "on-demand" section of the SiriusXM app or website.)
For more information, click here.
---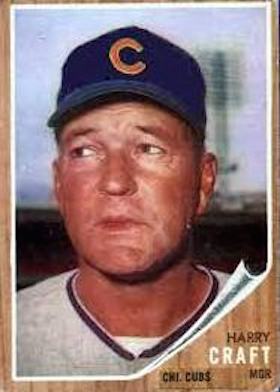 Twelve new biographies were posted this week as part of the SABR Baseball Biography Project, which brings us to a total of 3,301 published biographies. Here are the new bios:
All new biographies can be found here: http://sabr.org/bioproj/recent
You can find the SABR BioProject at SABR.org/BioProject.
Bios on more than just ballplayers: The ambitious goal of the SABR Baseball Biography Project is to publish a full-life biography of every major league player in history. But SABR members write about a lot more than just ballplayers. In addition, we have pages for Ballparks, Broadcasters, Executives, Managers, Scouts, Spouses, Umpires and a lot more on the BioProject website. You can browse all of these categories at http://sabr.org/bioproj/browse. So if you've ever thought, "Hey, that person (or ballpark) should get the full BioProject treatment" — write the story and we'll publish it!
Get involved! If you'd like to help contribute to the SABR BioProject, visit our BioProject Resources page or read the FAQs section to get started. We're also looking to expand the BioProject to include all "encyclopedic" articles on baseball-related subjects from past SABR publications or committee newsletters. If you come across an article you think should be included in the SABR "baseball repository" at the BioProject, send a copy or link to markarmour04@gmail.com or jpomrenke@sabr.org.
---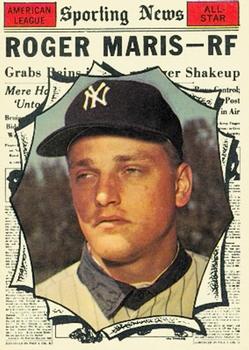 Three new game stories were posted this week as part of the SABR Games Project. Here are the new game stories:
The SABR Baseball Games Project was launched in 2014 to research and write articles on major-league and Negro League regular, postseason, and All-Star Games. These game accounts will complement Retrosheet and Baseball-Reference box scores as well as BioProject essays on the players involved.
The articles are not intended to be mere play-by-play summaries, nor should they be first-person narratives. Rather the goal is to put each game in historical context — whether that history is of a particular player, team, season, or something even broader.
Visit the Games Project website at SABR.org/gamesproject.
---
Minutes from the Board of Directors meetings during SABR 45, including the Annual Business Meeting, have now been posted on the SABR website.
You can view all past minutes of SABR Board meetings by going to the page below:
http://sabr.org/content/sabr-board-minutes
Or you can go to the Members' Info page and click on "Org. files", then "Board Minutes" to view the minutes.
---
We've heard your feedback: Some of you have said you look forward to "This Week in SABR" every Friday, but sometimes there are just too many compelling articles and announcements to read every week. We're not complaining — hey, keep up the great work! — but we know the feeling. So in an effort to make the length of this newsletter more manageable to read, we'll summarize some of the repeating/recurring announcements in a special "In Case You Missed It (ICYMI)" section of "This Week in SABR".
Here are some major headlines from recent weeks that we don't want you to miss:
All previous editions of This Week in SABR can be found here: http://sabr.org/content/this-week-in-sabr-archives.
---
We'd like to welcome all of our new SABR members who have joined this week. You can find all Members-Only resources at members.sabr.org and the New Member Handbook can be downloaded here.
Please give these new members a warm welcome and help them make the most of their membership by giving them the opportunity to get involved in their local chapter or a research committee.
You can find contact information for any SABR member in the online membership directory (SABR.org/directory).
| Name | Hometown | | | Name | Hometown |
| --- | --- | --- | --- | --- | --- |
| David Alderson | Franklin, TN | | | Bob Hart | South Bend, IN |
| Michael Anton | Atlanta, GA | | | Mikey Hernandez | Mooresville, NC |
| Sean Bunn | Raleigh, NC | | | Linda Kassof | Lake Mary, FL |
| Ray Dunlap | Atlanta, GA | | | Ron Murphy | Rio Rancho, NM |
| Steven Eck | San Marcos, CA | | | Trevor Pereira | Eau Claire, WI |
| Kelsey Field | New York, NY | | | Daniel Petri | Arlington, VA |
| Scott Goode | Searcy, AR | | | John Reid | Lake Hiawatha, NJ |
| Judy Gordon | Idaho Falls, ID | | | Ray Rossi | Mesquite, TX |
| David Hart | Overland Park, KS | | | Dave Trautman | Charleston, SC |
---
Here are the new SABR research committee updates for this week:
Concessions: Bennett Jacobstein is seeking submissions for the new committee's inaugural quarterly newsletter starting in October 2015. If you are interested in contributing with media articles relating to ballpark food or your own interesting or insightful experiences with concessions at your local ballpark, please contact Bennett at bjacobstein@gmail.com.
Find all SABR research committee newsletters at SABR.org/research.
---
Here are the new regional chapter updates this week:
Visit SABR.org/chapters for more information on SABR regional chapters.
---
Here is a list of upcoming SABR events:
All SABR meetings and events are open to the public. Feel free to bring a baseball-loving friend … and make many new ones! Check out the SABR Events Calendar at SABR.org/events.
---
Here are some recent articles published by and about SABR members:
Read these articles and more at SABR.org/latest.
---
This Week in SABR is compiled by Jacob Pomrenke. If you would like us to include an upcoming event, article or any other information in "This Week in SABR," e-mail jpomrenke@sabr.org.
Have trouble reading this e-mail? Click here to view this week's newsletter on the web.
Are you receiving our e-mails? "This Week in SABR" goes out by e-mail to all members on Friday afternoons. If they're not showing up, try adding "sabr.notes@sabr.org" to your contact list to ensure they show up in your inbox (and not the spam folder.)
---
Originally published: July 24, 2015. Last Updated: April 3, 2020.
https://sabr.org/wp-content/uploads/2020/03/research-collection4_350x300.jpg
300
350
jpomrenke
/wp-content/uploads/2020/02/sabr_logo.png
jpomrenke
2015-07-24 15:00:00
2020-04-03 14:39:14
This Week in SABR: July 24, 2015