This Week in SABR: June 26, 2015

Live from Chicago, welcome to "This Week in SABR!" Click here to view this week's newsletter on the web. Here's what we've been up to as of June 26, 2015:
---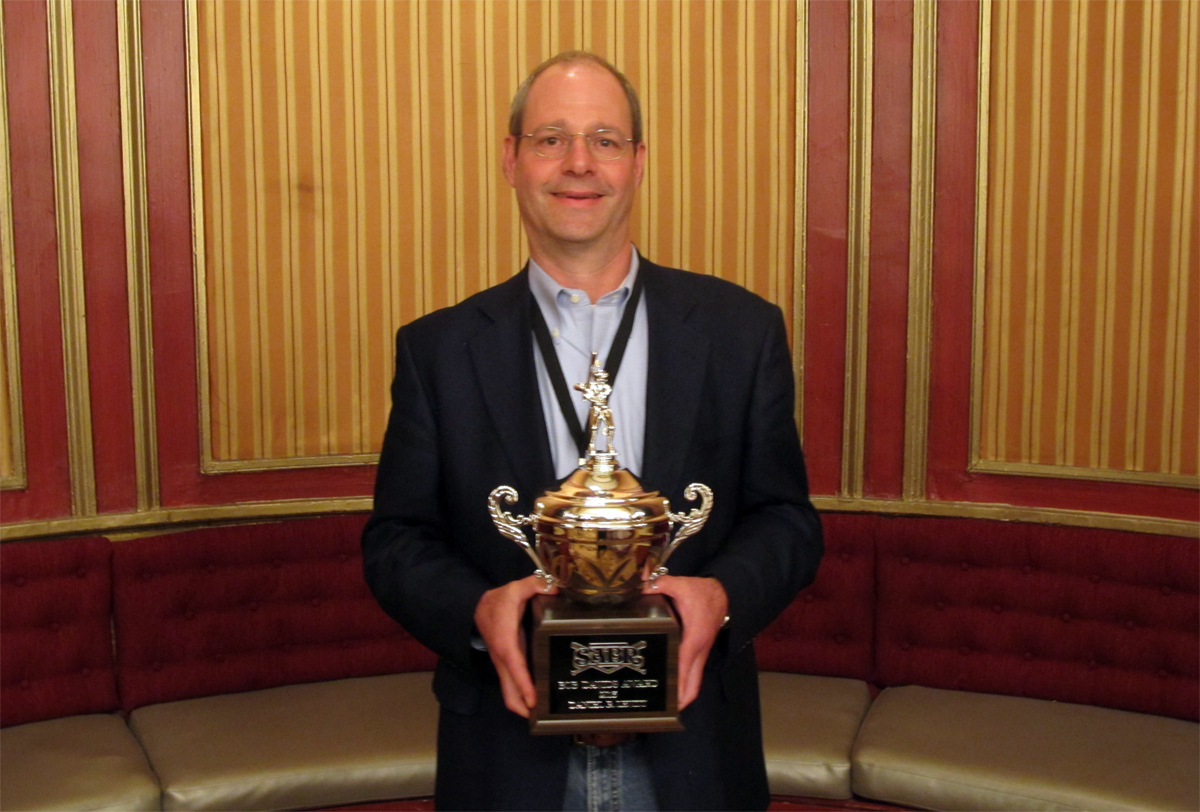 Daniel R. Levitt, an award-winning author and past president of SABR's Halsey Hall Chapter in Minnesota, was announced as the winner of the Bob Davids Award during the SABR 45 Awards Luncheon on Friday, June 26 in Chicago.
The award — which is the Society's highest honor — honors SABR members whose contributions to SABR and baseball reflect the ingenuity, integrity, and self-sacrifice of the founder and past president of SABR, L. Robert "Bob" Davids.
"Wow, this is just overwhelming," Levitt said after the announcement was made. "I could never give back to SABR everything I've gotten from being part of this organization. I've made so many great friends here, so many connections, and learned so much."
Levitt is the author of four fine books: Paths to Glory: How Great Baseball Teams Got That Way (with Mark Armour; winner of the 2004 Sporting News-SABR Baseball Research Award); Ed Barrow: The Bulldog Who Built the Yankees' First Dynasty (a 2009 Seymour Medal finalist); The Battle That Forged Modern Baseball: The Federal League Challenge and Its Legacy (which won the 2013 Larry Ritter Award); and In Pursuit of Pennants: Baseball Operations from Deadball to Moneyball, published this spring with Mark Armour.
His research has been published in the Baseball Research Journal, and he has produced a number of biographies for the SABR BioProject. For many years, Dan served on the SABR Board of Directors election nominating committee. He served as editor of The National Pastime convention journal in 2012, focusing on baseball in Minnesota. He has been President and Officer of the Halsey Hall Chapter. On occasion he can be found in left field for the chapter's Vintage baseball team.
"The criteria for the Bob Davids Award place great emphasis on two factors: service to the organization and doing the research that is the core of our existence. Dan Levitt best personified those two criteria," said Dick Beverage, a Bob Davids Award recipient in 2013 who served on the award selection committee along with Jan Finkel and Mark Rucker.
Levitt studied at the University of Wisconsin but migrated north and is a Gopher at heart. In his other life Dan is a Vice-President for Ryan Companies US, Inc. Dan manages the capital markets for Ryan-owned properties where, Beverage said, "he has developed a fine reputation for thoroughness, clarity, creative problem solving, and presentation skills."
Previous Bob Davids Award winners in attendance Friday at the SABR 45 Awards Luncheon were: Bill Carle (1993), Len Levin (1997), Lyle Spatz (2000), Larry Gerlach (2001), David W. Smith (2005), John Thorn (2006), Andy McCue (2007), Mark Armour (2008), Tom Ruane (2009), Mark Rucker (2010), Bill Nowlin (2011), Jan Finkel (2012), Beverage (2013), and Leslie Heaphy (2014).
The Bob Davids Award was established by the Board of Directors in 1985, and is awarded each year at the annual convention. Click here to view previous winners.
---
SABR 45 attendees were treated to one of the most memorable sessions — and certainly the loudest — at any SABR convention during a special concert with the rock 'n' roll supergroup The Baseball Project on Thursday, June 25 at the Palmer House Hilton in Chicago.
Veteran rockers Scott McCaughey, Steve Wynn, Linda Pitmon, and Mike Mills took the stage in the Palmer House's elegant Grand Ballroom on Thursday night and delivered an energetic 90-minute performance of baseball-themed songs that tapped into their shared kindred spirit with SABR members' passion for the game — a perfect match of artist and audience.
The show, attended by nearly 300 SABR members and guests, was highlighted by old Baseball Project favorites like "Box Scores" and "Ted ****ing Williams," along with rousing renditions of "Buckner's Bolero" and "¡Hola America!"; an updated version of "Harvey Haddix" about perfect games; and the live debut of a new Mills song, "Stuff," about the many foreign substances that have been applied to the baseball by crafty pitchers.
Click here to check out a photo gallery from Thursday's show at SABR 45.
---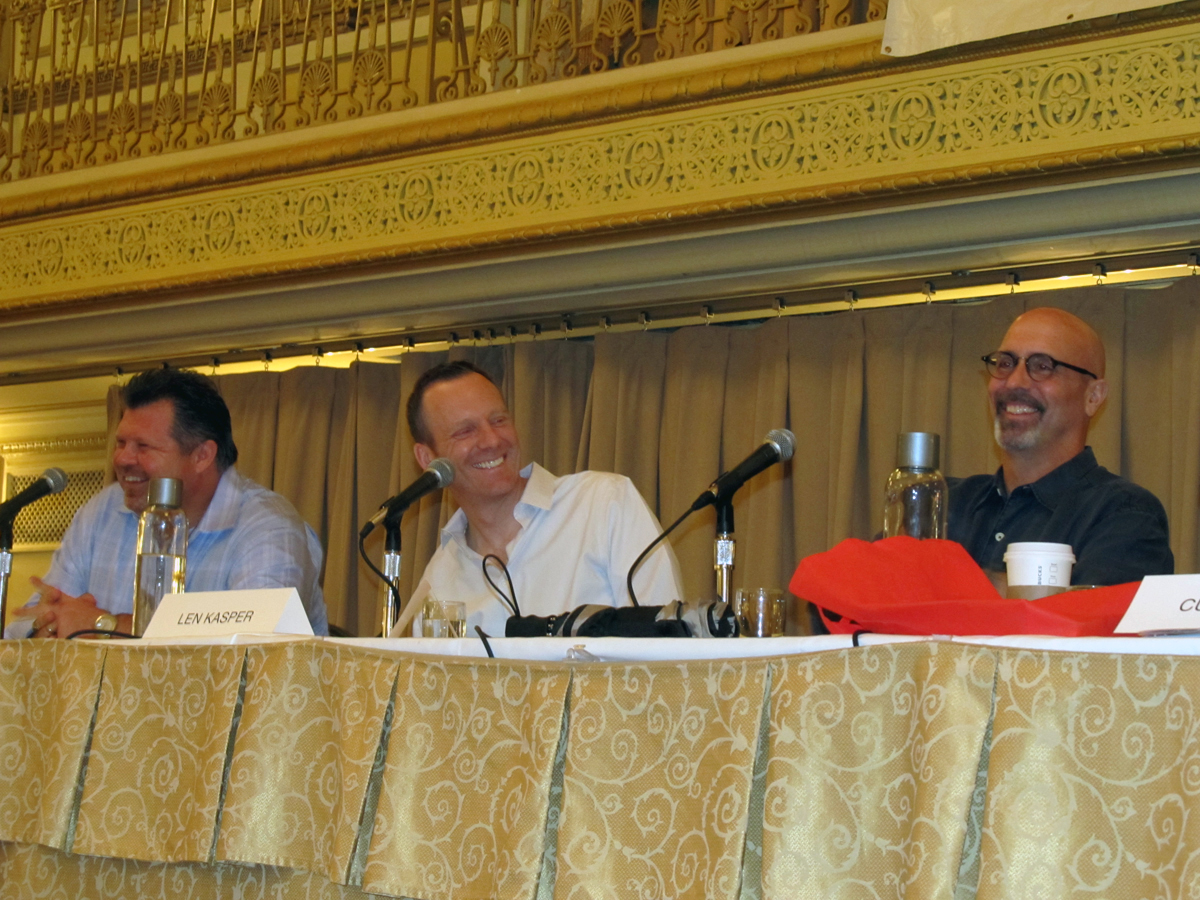 At the SABR 45 Broadcasters Panel on Thursday, June 25 at the Palmer House Hilton, Chicago Cubs announcers Len Kasper, Jim Deshaies, and Ron Coomer, along with moderator Curt Smith, discussed their careers and experiences in baseball. Here are some highlights:
Ron Coomer, on the Cubs' change in clubhouse culture: "You don't win championships … without great leadership. I think Joe Maddon from Day 1 when he walked into the Cubby Bear and started talking about what expected from the Chicago Cubs. The 'Lovable Losers' thing has gone out the window. … There's an accountability factor that we haven't had in Chicago in quite some time."
Len Kasper, on Chicago's embrace of its hometown announcers: "I think this city not only allows, but almost requires, you to be yourself. It's a profession, but a lot of the names you mentioned (Jack Brickhouse, Harry Caray, et al), they were very much that person on and off the air. … We all emulated or studied the great broadcasters when we got into this business; I wanted to be Ernie Harwell. … But for a broadcaster, there's nothing better than being allowed to be yourself. … And when you look at the history of Chicago broadcasting … and I would go to the South Side with Hawk Harrelson, too. Hawk is Hawk all the time. Whether you like him or not, Hawk is Hawk. And I think this city embraces that."
Jim Deshaies, on the use of social media: "I think we all use it a little bit differently. Len's very active on Twitter and he has his Twitter feed up during the game. I use it … just to get good information if you follow a lot of baseball people, like writers and other broadcasters around the game. So in the course of a broadcast, especially if it's a bad game, you might be banging your head against the wall and … you can find something to talk about sometimes. 'Oh, hey, so-and-so has a no-hitter going on in Washington tonight.' For me, that's where it's most valuable, to keep up with what's going on."
Click here to read more or to listen to audio highlights from the SABR 45 Broadcasters Panel.
---
Can't make it to Chicago for SABR 45? Check out some early coverage from the 2015 convention festivities by visiting SABR.org/convention.
And stay tuned for more coverage next week from SABR 45 at the Palmer House Hilton!
---
We steadfastly maintain that there is nothing trivial about baseball trivia. The world-famous SABR Trivia Contest finals will be taking place Saturday night at SABR 45 in Chicago, and it's always an entertaining and competitive battle to crown the individual and team champions.
We invite you to follow along with us live on Twitter beginning at 7:30 p.m. CDT/8:30 p.m. EDT on Saturday, June 27 by visiting Twitter.com and searching for the hashtag #SABR45. We'll be live-tweeting questions (and answers if everyone gets stumped!), and you'll have your chance to test your knowledge online with other SABR members and friends.
The SABR Trivia Contest is moderated by D. Bruce Brown, co-chair of Horsehide Trivia with T. Scott Brandon and president of the Bob Davids Chapter in Washington, D.C. The questions are written and edited by Brown and Brandon, who also assembles the game boards, illustration, and animation of the semifinal and final rounds.
The questions are presented in ascending difficulty. The early-round questions will be at a relatively easy starting point, while the late-round questions, though more difficult, will still interest casual fans.
You can view all past Trivia Contest winners by clicking here.
For more coverage of SABR 45, visit SABR.org/convention.
Note: For those attending the SABR 45 in Chicago, the Trivia Contest preliminaries will take place at 7:30 tonight at the Palmer House Hilton. To participate, just show up with your thinking cap on and follow the instructions.
---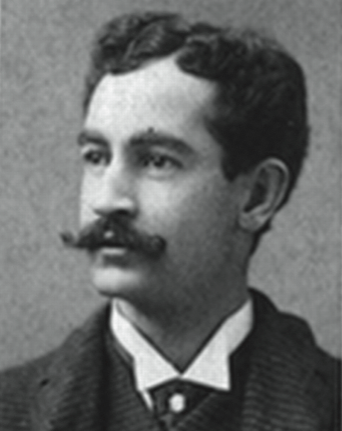 Anthony John "Tony" Mullane has been selected as SABR's Overlooked 19th Century Baseball Legend for 2015. The announcement was made Friday, June 26 at the Nineteenth Century Committee's annual business meeting held at SABR 45 in Chicago.
In May, members of SABR submitted their votes for the 2015 Overlooked 19th Century Base Ball Legend — a 19th-century player, manager, executive or other baseball personality not yet inducted into the National Baseball Hall of Fame in Cooperstown, New York.
To read a biographical profile of Adams written by SABR member Adam Darowski, who chairs the Overlooked Legends project, click the link below:
http://sabr.org/latest/sabr-45-tony-mullane-selected-overlooked-19th-century-baseball-legend-2015
Previous Overlooked Legends were Pete Browning in 2009, Deacon White in 2010, Harry Stovey in 2011, Bill Dahlen in 2012, Ross Barnes in 2013, and Doc Adams last year. White became the first Overlooked Legend to be inducted into the Hall of Fame in 2013.
For more information on the Overlooked 19th Century Baseball Legends Project, visit SABR.org/overlooked-19th-century-baseball-legends or contact Project Chairman Adam Darowski.
---
Single-day registration for SABR 45 in Chicago can still be purchased on-site at the Palmer House Hilton during convention registration hours this weekend.
The single-day rate of $99 — which is available for Friday, June 26 and/or Saturday, June 27 — includes admission to all convention panels, research presentations, and committee meetings at the Palmer House Hilton. It can be purchased on-site via cash, check, or credit card (sorry, no American Express accepted.)
Please note: Admission to the SABR 45 Awards Banquet on Friday or the Donors Breakfast on Saturday is not included.
Click here for complete information on SABR 45 registration.
---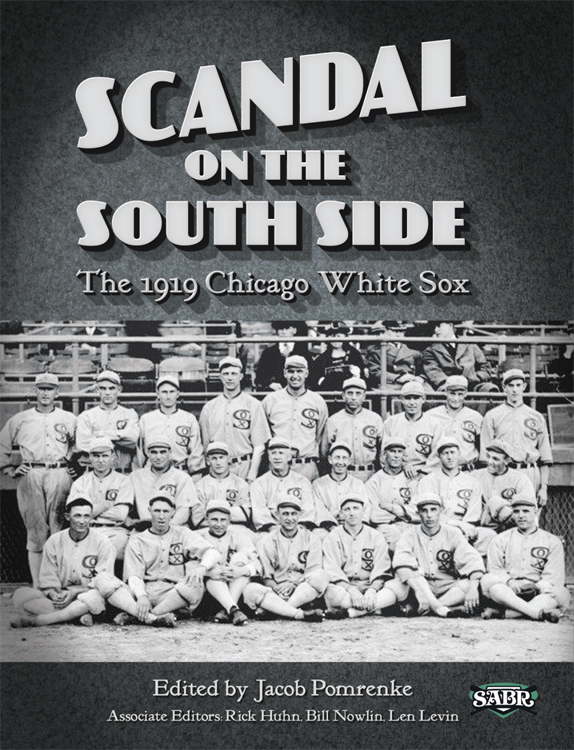 Add a salacious baseball book to your collection with the newest book from the SABR Digital Library:
Scandal on the South Side:
The 1919 Chicago White Sox
Edited by Jacob Pomrenke
ISBN (paperback): 978-1-933599-95-3
ISBN (e-book): 978-1-933599-94-6
$19.95 paperback; $9.99 e-book
8.5″ x 11″, 324 pages
The Black Sox Scandal is a cold case, not a closed case.
When Eliot Asinof wrote his classic history about the fixing of the 1919 World Series, Eight Men Out, he told a dramatic story of undereducated and underpaid Chicago White Sox ballplayers, disgruntled by their low pay and poor treatment by team management, who fell prey to the wiles of double-crossing big-city gamblers offering them bribes to lose the World Series to the Cincinnati Reds. Shoeless Joe Jackson, Buck Weaver, Eddie Cicotte, and the other Black Sox players were all banned from organized baseball for life. But the real story is a lot more complex.
We now have access to crucial information that changes what we thought we knew about "baseball's darkest hour" — including rare film footage from that fateful fall classic, legal documents from the criminal and civil court proceedings, and accurate salary information for major-league players and teams. All of these new pieces to the Black Sox puzzle provide definitive answers to some old mysteries and raise other questions in their place.
However, the Black Sox Scandal isn't the only story worth telling about the 1919 Chicago White Sox. The team roster included three future Hall of Famers, a 20-year-old spitballer who would go on to win 300 games in the minor leagues, and even a batboy who later became a celebrity with the "Murderers' Row" New York Yankees in the 1920s.
All of their stories are included in Scandal on the South Side, which has full-life biographies on each of the 31 players who made an appearance for the White Sox in 1919, plus a comprehensive recap of Chicago's pennant-winning season, the tainted World Series, and the sordid aftermath.
This book isn't a rewriting of Eight Men Out, but it is the complete story of everyone associated with the 1919 Chicago White Sox. The Society for American Baseball Research invites you to learn more about the Black Sox Scandal and the infamous team at the center of it all.
Contributors include: Bruce Allardice, Russell Arent, Steve Cardullo, Brian Cooper, James E. Elfers, David Fleitz, David Fletcher, Daniel Ginsburg, Irv Goldfarb, John Heeg, Rick Huhn, Bill Lamb, Len Levin, Dan Lindner, Adrian Marcewicz, Brian McKenna, Steven G. McPherson, Paul Mittermeyer, Jack Morris, Peter Morris, Rod Nelson, James R. Nitz, Bill Nowlin, Jacob Pomrenke, Kelly Boyer Sagert, Jim Sandoval, Richard Smiley, Lyle Spatz, Steve Steinberg, Brian Stevens, Andy Sturgill, and Gregory H. Wolf.
SABR members, get this e-book for FREE!
Having trouble downloading our e-books? To view PDF files on your computer, click here to download the free Adobe Reader software. Having trouble downloading e-books to your Kindle, Nook, Sony Reader or iPad? Click here for additional help.
---
Entries are now being accepted for the SABR Jerry Malloy Negro League Conference's 2015 Youth Art Contest.
The theme for this year's contest is "Black Baseball Life" and the deadline for entries is June 30, 2015.
Cost: $10 per three entries. No maximum number per school.
For more information on criteria and guidelines, click here.
The 18th annual Jerry Malloy Negro League Conference will be held August 6-8, 2015, at the Wyndham Grand Pittsburgh Downtown in Pittsburgh, Pennsylvania. The conference is open to all baseball, history and sports fans of all ages. Visit SABR.org/malloy for registration or more information.
---
The 18th annual Jerry Malloy Negro League Conference will be held August 6-8, 2015, at the Wyndham Grand Pittsburgh Downtown in Pittsburgh, Pennsylvania. The conference is open to all baseball, history and sports fans of all ages.
Register today!

Click here to register online at the SABR Store

. Or click here to download a registration form (PDF); please mail your check or money order before July 31 to SABR Malloy Conference, Cronkite School at ASU, 555 N. Central Ave. #416, Phoenix, AZ 85004.

Regular registration is $175 for an adult rate (includes all activities) or $125 for a student rate. Single-day registration for Friday or Saturday is $100. The rate for the Thursday education forum only is $20. Optional sessions are also available.
The 2015 Jerry Malloy Negro League Conference will celebrate the rich history of black baseball in Pittsburgh. We welcome proposals for oral and poster presentations from all research fields. Previous presenters have included college faculty, public school teachers, graduate students, and independent scholars. Presentations may focus on any topic related to the theme, "Baseball's Best: the Grays and the Crawfords," or other Negro Leagues issues. Some possibilities include: Josh Gibson, Pittsburgh Crawfords, Gus Greenlee, Cum Posey, Vic Harris, Cool Papa Bell, the Crawford Grill, and many others.
Visit SABR.org/malloy for information on the 2015 Call for Papers, Essay Contest, Art Contest, and Library Grant Program.
---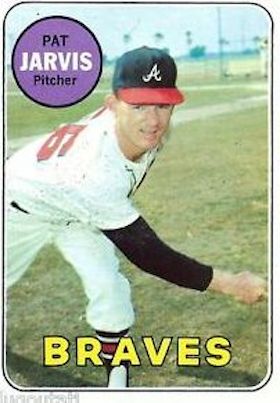 Five new biographies were posted this week as part of the SABR Baseball Biography Project, which brings us to a total of 3,267 published biographies. Here are the new bios:
All new biographies can be found here: http://sabr.org/bioproj/recent
You can find the SABR BioProject at SABR.org/BioProject.
Bios on more than just ballplayers: The ambitious goal of the SABR Baseball Biography Project is to publish a full-life biography of every major league player in history. But SABR members write about a lot more than just ballplayers. In addition, we have pages for Ballparks, Broadcasters, Executives, Managers, Scouts, Spouses, Umpires and a lot more on the BioProject website. You can browse all of these categories at http://sabr.org/bioproj/browse. So if you've ever thought, "Hey, that person (or ballpark) should get the full BioProject treatment" — write the story and we'll publish it!
Get involved! If you'd like to help contribute to the SABR BioProject, visit our BioProject Resources page or read the FAQs section to get started. We're also looking to expand the BioProject to include all "encyclopedic" articles on baseball-related subjects from past SABR publications or committee newsletters. If you come across an article you think should be included in the SABR "baseball repository" at the BioProject, send a copy or link to markarmour04@gmail.com or jpomrenke@sabr.org.
---
I am happy to announce a semiannual update of the Retrosheet website (Retrosheet.org). Here is an update of what is new:
1933 (both leagues), a total of 992 of the 1,226 games played (81%).
1932 (both leagues), a total of 928 of the 1,233 games played (75%)
1930 (both leagues), a total of 922 of the 1,234 games played (75%)
Deduced games to complete the 1947 and 1946 seasons
Many new games have been added to previously released seasons
All related player pages have been updated as well, including transactions, ejections, and replays.
I completed the proofing of the 1933, 1932 and 1930 event files and their additions means that we now have a contiguous block of 85 seasons (1930-2014) with play-by-play data. Hopefully by this fall I can complete 1929 and 1928 so that gap will be filled.
The ongoing project to deduce plausible play by play accounts from newspaper stories for games lacking true play by play coverage continues in a robust fashion. Several people have contributed this year: Tom Thress, Richard Weston, John Gabcik, Mark Pankin, Stew Thornley, Jim Wohlenhaus, and Christopher Phillips. Tom Thress began in earnest this year and has created excellent accounts for over 650 games, usually completing one a day! This is extraordinary given the amount of work and special care that must be taken in the deduction process. The 1947 and 1946 seasons have now been completed, giving us complete play-by-play coverage of the past 69 consecutive seasons.
Many people have worked to enter game accounts from scorebooks and newspapers for our previously released seasons. The two biggest acquisitions for this year were the scorebooks of James Isaminger (Philadelphia 1907-1940) and Tom Swope (Cincinnati 1914-1962). David Vincent, Dick Cramer, Gary Frownfelter, Cliff Blau and Howard Johnson have entered nearly 2,000 games from these sources and it is great to have them on our site. In addition, Jim Herdman, Mark Pankin, Pete Cottrell, Howard Johnson, Doug Burks, Bob Kapla, and Sheldon Miller have done a large amount of other game entry. We continue to improve our already released seasons.
For full details of Retrosheet's June 2015 updates, click here.
— David W. Smith
---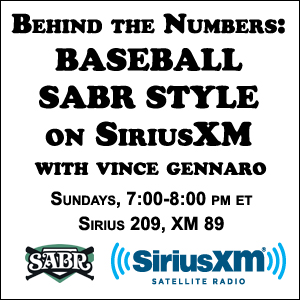 We invite you to listen to Behind the Numbers: Baseball SABR Style on SiriusXM, a new radio show hosted by SABR President Vince Gennaro, on Sunday nights on MLB Network Radio.
Baseball SABR Style focuses on examining and interpreting the statistical analysis that plays a critical role in baseball today. It will air weekly throughout the year on MLB Network Radio, available to subscribers nationwide on XM channel 89, Sirius channel 209, and on the SiriusXM Internet Radio App. (Recent shows are available afterward in the "on-demand" section of the SiriusXM app or website.)
For more information, click here.
---
We've heard your feedback: Some of you have said you look forward to "This Week in SABR" every Friday, but sometimes there are just too many compelling articles and announcements to read every week. We're not complaining — hey, keep up the great work! — but we know the feeling. So in an effort to make the length of this newsletter more manageable to read, we'll summarize some of the repeating/recurring announcements in a special "In Case You Missed It (ICYMI)" section of "This Week in SABR".
Here are some major headlines from recent weeks that we don't want you to miss:
All previous editions of This Week in SABR can be found here: http://sabr.org/content/this-week-in-sabr-archives.
---
We'd like to welcome all of our new SABR members who have joined this week. You can find all Members-Only resources at members.sabr.org and the New Member Handbook can be downloaded here.
Please give these new members a warm welcome and help them make the most of their membership by giving them the opportunity to get involved in their local chapter or a research committee.
You can find contact information for any SABR member in the online membership directory (SABR.org/directory).
| Name | Hometown | | | Name | Hometown |
| --- | --- | --- | --- | --- | --- |
| Lawrence Eckman | San Leandro, CA | | | Jay Kostman | Allentown, NJ |
| Michael Eden | Riverside, IA | | | David Mikulskis | Darien, IL |
| James Flatness | Falls Church, VA | | | Sawyer Ocheltree | Casey, IA |
| Danny Gallagher | Pickering, ON | | | Jack Robinson | Cincinnati, OH |
| Egidio Garay | Pasadena, CA | | | Fred Shoken | Baltimore, MD |
| Kent Gregory | Denver, CO | | | David Silverman | Wesley Chapel, FL |
| George Grice | Chicago, IL | | | Arun Venkataraman | Hillsboro, OR |
| Brian Kelley | Naperville, IL | | | Jeffrey Zahnen | Daytona Beach, FL |
---
Here are the new SABR research committee updates this week:
Find all SABR research committee newsletters at SABR.org/research.
---
Here are the new regional chapter updates this week:
Visit SABR.org/chapters for more information on SABR regional chapters.
---
Here is a list of upcoming SABR events:
All SABR meetings and events are open to the public. Feel free to bring a baseball-loving friend … and make many new ones! Check out the SABR Events Calendar at SABR.org/events.
---
Here are some recent articles published by and about SABR members:
Read these articles and more at SABR.org/latest.
---
This Week in SABR is compiled by Jacob Pomrenke. If you would like us to include an upcoming event, article or any other information in "This Week in SABR," e-mail jpomrenke@sabr.org.
Have trouble reading this e-mail? Click here to view this week's newsletter on the web.
Are you receiving our e-mails? "This Week in SABR" goes out by e-mail to all members on Friday afternoons. If they're not showing up, try adding "sabr.notes@sabr.org" to your contact list to ensure they show up in your inbox (and not the spam folder.)
---
Originally published: June 26, 2015. Last Updated: April 3, 2020.
https://sabr.org/wp-content/uploads/2020/03/research-collection4_350x300.jpg
300
350
jpomrenke
/wp-content/uploads/2020/02/sabr_logo.png
jpomrenke
2015-06-26 15:00:00
2020-04-03 14:39:15
This Week in SABR: June 26, 2015