This Week in SABR: June 30, 2017

Live from New York, welcome to "This Week in SABR!" Click here to view this week's newsletter on the web. Here's what we've been up to as of June 30, 2017:

---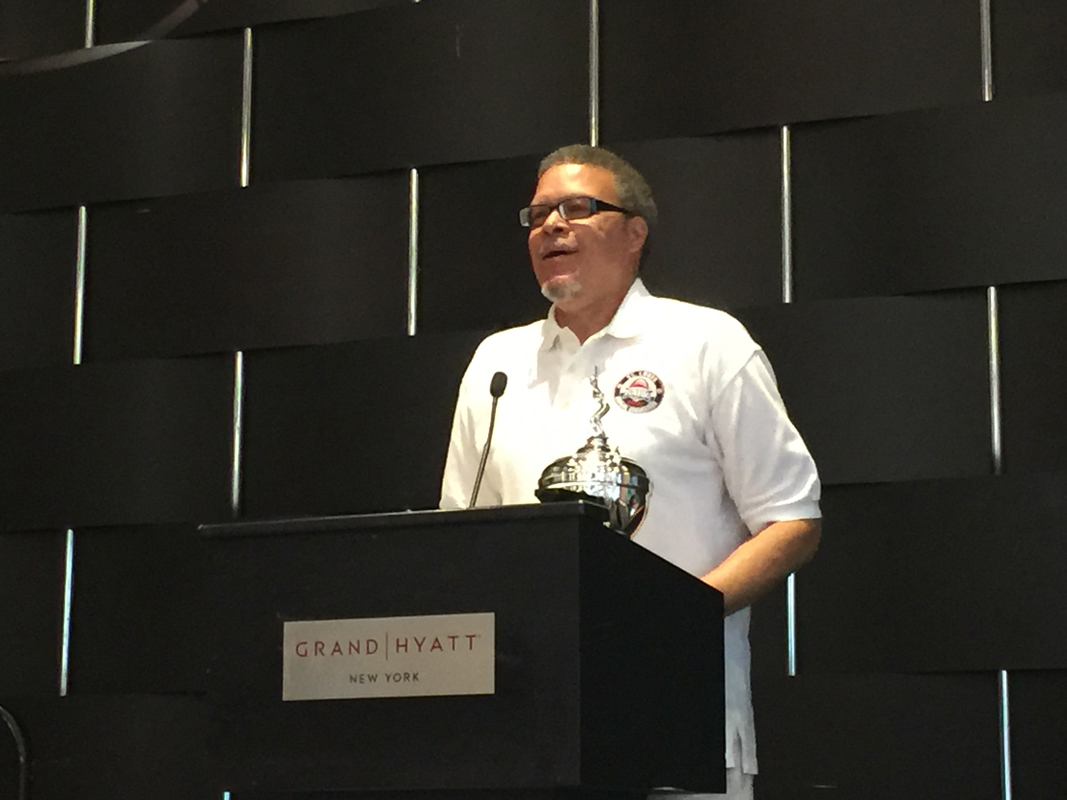 Larry Lester, an esteemed Negro Leagues historian, was announced as the winner of the Bob Davids Award during the SABR 47 Awards Reception on Thursday, June 29 in New York.
The award — which is the Society's highest honor — honors SABR members whose contributions to SABR and baseball reflect the ingenuity, integrity, and self-sacrifice of the founder and past president of SABR, L. Robert "Bob" Davids.
"I am thankful for so many people in this room who showed me how to do research and how to make it right," Lester said after receiving the award. "I owe a debt of gratitude to my mentor Dick Clark — who I dedicate this to, who's no longer with us — one of the most honest and humble men I have ever met in my life. And I give honor and praise to my mentors, [sports writers] Wendell Smith, Sam Lacy, Shirley Povich, and Lester Rodney. Thank you for this great honor."
Click here to read the full story at SABR.org.
The Bob Davids Award was established by the Board of Directors in 1985, and is awarded each year at the annual convention. Click here to view previous winners.
---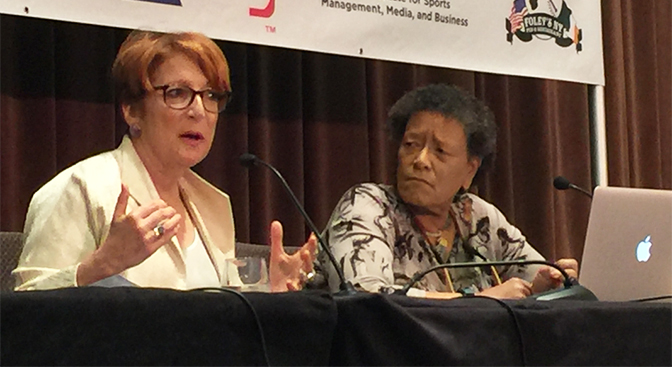 At SABR 47 on Thursday, June 29, we were joined by two iconic baseball figures, New York Yankees Senior Vice President/Assistant General Manager Jean Afterman and ESPN's Claire Smith, the 2017 J.G. Taylor Spink Award winner.
Smith moderated a one-on-one interview with Afterman, talking about her life and career in baseball and with the New York Yankees. Click here to listen to more highlights at SABR.org:
ON THE DREAM OF WORKING IN BASEBALL
"Never in a million years. … It was never in my mind. I was fortunate that I was in the right place in the right time to launch into baseball in a different way and here I am. … I went to law school at a later age, in my thirties, and that made all the difference for me."
ON LIFE AS A PLAYER AGENT
"The geography for agents is just not good. You are constantly defending yourself against other agents stealing your clients, and it's also not 'Jerry Maguire.' You don't make millions of dollars and you travel across the country on your own dime, and sometimes you can be let go because you only got six free pairs of shoes instead of seven for somebody. … But even in our personal lives, it's very difficult to advocate for yourself. It's much easier to advocate for a friend or a family member. But everyone needs an advocate. An agent is very important to have distance between the person you're negotiating with and yourself."
ON THE LACK OF FEMALE EXECUTIVES IN BASEBALL
"I do want to make the point that George Steinbrenner and Brian Cashman are, around the world, the only owner and GM who have hired not one but two female assistant GMs [Jean and Kim Ng]. And I'm very proud of that and very proud of the Yankees. … Really, the only requirement to be a front-office executive is brains. You have to be smart. And smart is something that's gender-blind. That doesn't matter [if you're] male, female, or undeclared. If you use your mind, if you have a brain, you can achieve anything. … I do think there will be women moving up in the ranks, but they have to have the opportunities. … So I do think that's going to change, I hope sooner rather than later."
Click here to read the full story at SABR.org.
---
For the second year in a row and third time in four years, SABR presents "A Day at the Ballpark" before the New York Mets game tonight at Citi Field.
The pregame ballpark session will be held from 3:00-5:00 p.m. this afternoon at Citi Field, followed by the game between the Mets and the Phillies. Our guest speakers are expected to include:
Mets general manager Sandy Alderson, in a one-on-one session moderated by MLB.com's Barry Bloom
Mets manager Terry Collins, also in a one-on-one interview with Bloom
Mets Broadcasters Panel with
Josh Lewin, New York Mets radio play-by-play announcer
Wayne Randazzo, New York Mets pregame and postgame show host
Steve Gelbs, New York Mets field reporter
Mets Analytics Panel with
T.J. Barra, New York Mets' Director of Baseball Research and Development
Joe Lefkowitz, Senior Manager, Baseball Systems & Development for the Mets
Pat Roessler, Assistant Hitting Coach for the Mets
Moderator: Marc Appleman, SABR CEO
Note: Purchase of either full SABR 47 conference registration or Friday single-day registration AND a Mets game ticket is required to attend this special session. Visit SABR.org/convention to learn more.
For anyone just going to the Mets game on Friday, June 30 and not attending the SABR 47 ballpark session at Citi Field, there is a group leaving the hotel together in the late afternoon at 4:30 p.m., led by Evelyn Begley, and taking the subway to the ballpark. More details are posted on the bulletin board near the SABR registration area at the Grand Hyatt.
---
Can't make it to New York for SABR 47? Check out more early coverage from the 2017 convention festivities by visiting SABR.org/convention.
And stay tuned for more coverage next week from SABR 47 at the Grand Hyatt New York!
---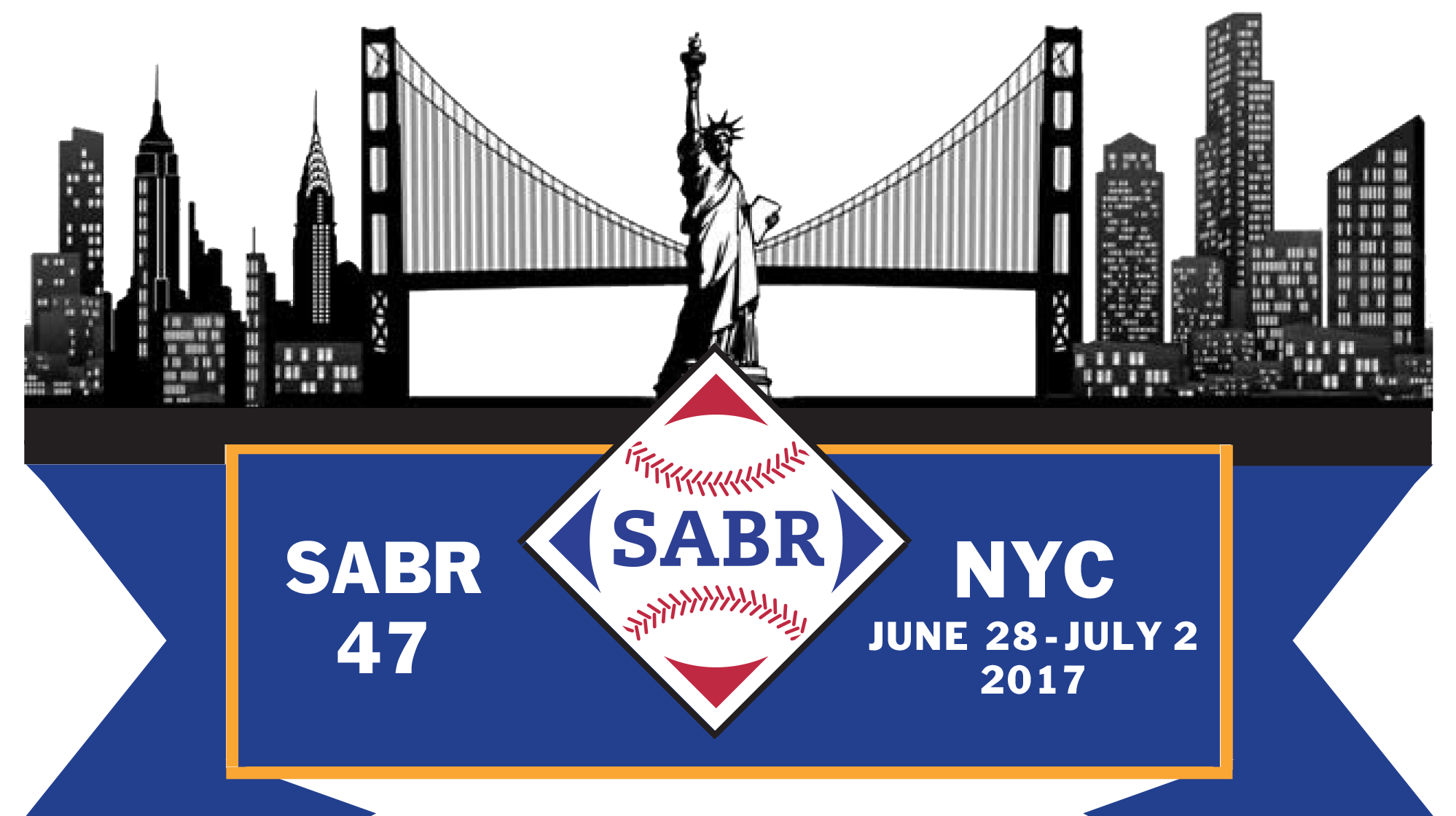 We steadfastly maintain that there is nothing trivial about baseball trivia. The world-famous SABR Trivia Contest finals will be taking place Saturday night at SABR 47 in New York, and it's always an entertaining and competitive battle to crown the individual and team champions.
We invite you to follow along with us live on Twitter beginning at 7:30 p.m. EDT on Saturday, July 1 by visiting Twitter.com and searching for the hashtag #SABR47. We'll be live-tweeting questions (and answers if everyone gets stumped!), and you'll have your chance to test your knowledge online with other SABR members and friends.
The SABR Trivia Contest is moderated by D. Bruce Brown, co-chair of Horsehide Trivia with T. Scott Brandon and president of the Baltimore Babe Ruth Chapter. The questions are written and edited by Brown and Brandon, who also assembles the game boards, illustration and animation of the semifinal and final rounds.
The questions are presented in ascending difficulty. The early-round questions will be at a relatively easy starting point, while the late-round questions, though more difficult, will still interest casual fans.
You can view all past Trivia Contest winners by clicking here.
For more coverage of SABR 47, visit SABR.org/convention.
---
Single-day registration for SABR 47 in New York can still be purchased on-site at the Grand Hyatt during convention registration hours this weekend.
The single-day rate of $149 — which is available for Saturday, July 1 — includes admission to all convention panels, research presentations, and committee meetings at the Grand Hyatt New York. It can be purchased on-site via cash, check, or credit card (sorry, no American Express accepted.)
Please note: Admission to the Donors Breakfast on Saturday is not included.
Click here for complete information on SABR 47 registration.
---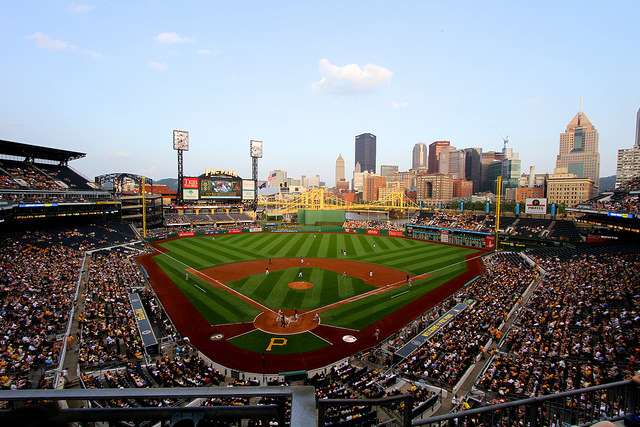 Save the date! SABR will be returning to the Steel City for our 48th national convention on June 20-24, 2018, at the Wyndham Grand in downtown Pittsburgh, Pennsylvania. Registration information will be available at SABR.org/convention in early 2018. The convention location is contingent on a Pirates' homestand that weekend.
The Wyndham Grand is conveniently located within walking distance from PNC Park and a light rail station, many downtown cultural amenities, and right across the street from the picturesque 36-acre Point State Park where the three rivers converge.
SABR 48 will be our second convention held in Pittsburgh and first since 1995. Our 25th annual convention that year featured a keynote speech from former Pirates manager Chuck Tanner and panel discussions commemorating the 1960 and 1971 World Series champions. Learn more about SABR's convention history by clicking here.
SABR's 2018 national convention will be our 48th annual gathering; the organization's founding in Cooperstown in 1971 is counted as the first.
For more information on the SABR convention, visit SABR.org/convention.
---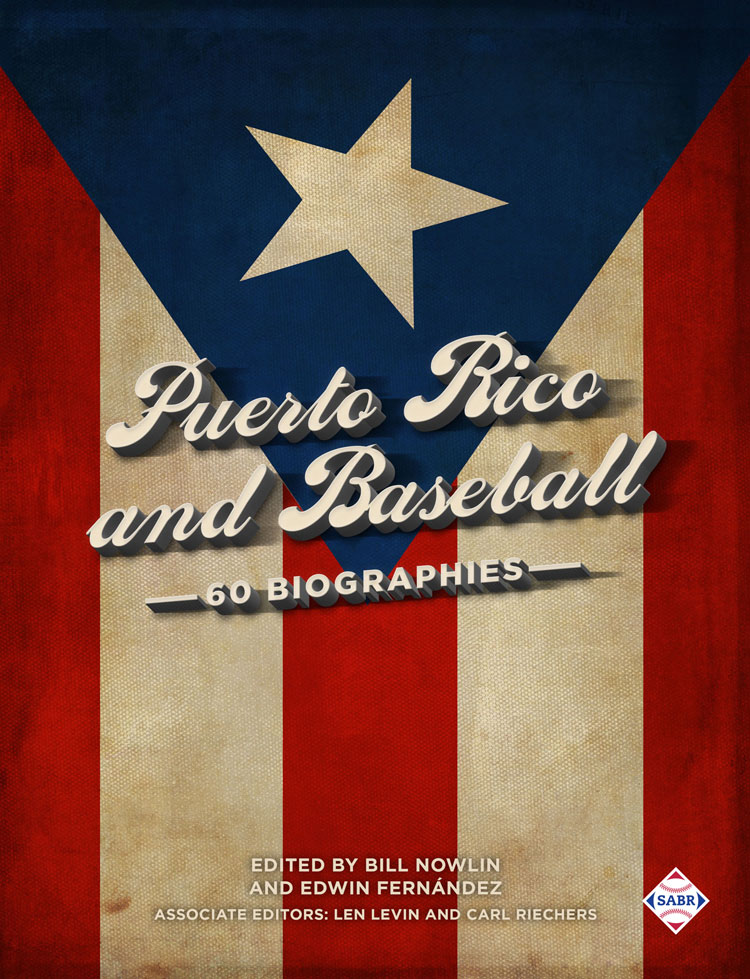 Celebrate la vida béisbol, and add this new baseball book from the SABR Digital Library to your collection:
Puerto Rico and Baseball: 60 Biographies
Edited by Bill Nowlin and Edwin Fernández
Associate Editors: Len Levin and Carl Riechers
ISBN (paperback): 978-1-943816-53-8, $21.95
ISBN (ebook): 978-1-943816-52-1, $9.99
8.5 x 11″, 430 pages
Click here to read the full description at SABR.org.
SABR members, get this e-book for FREE!
Having trouble downloading our e-books? To view PDF files on your computer, click here to download the free Adobe Reader software. Having trouble downloading e-books to your Kindle, Nook, Sony Reader or iPad? Click here for additional help.
SABR members will get discounted rates for all Digital Library publications, including many for free. Visit SABR.org/ebooks to download your free copy of dozens of SABR e-books.
---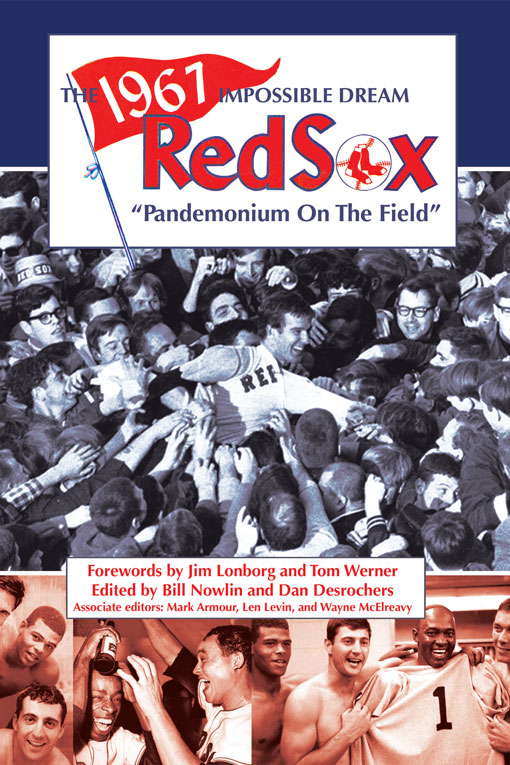 It's the 50th anniversary of the Impossible Dream, so add this new baseball book from the SABR Digital Library to your collection:
The 1967 Impossible Dream Red Sox: Pandemonium on the Field
Edited by Bill Nowlin and Dan Desrochers
Associate Editors: Mark Armour, Len Levin, and Wayne McElreavy
ISBN (paperback): 978-1-943816-49-1, $21.95
ISBN (ebook): 978-1-943816-48-4, $9.99
8.5 x 11″, 521 pages
Click here to read a full description of this book at SABR.org.
SABR members, get this e-book for FREE!
Having trouble downloading our e-books? To view PDF files on your computer, click here to download the free Adobe Reader software. Having trouble downloading e-books to your Kindle, Nook, Sony Reader or iPad? Click here for additional help.
SABR members will get discounted rates for all Digital Library publications, including many for free. Visit SABR.org/ebooks to download your free copy of dozens of SABR e-books.
---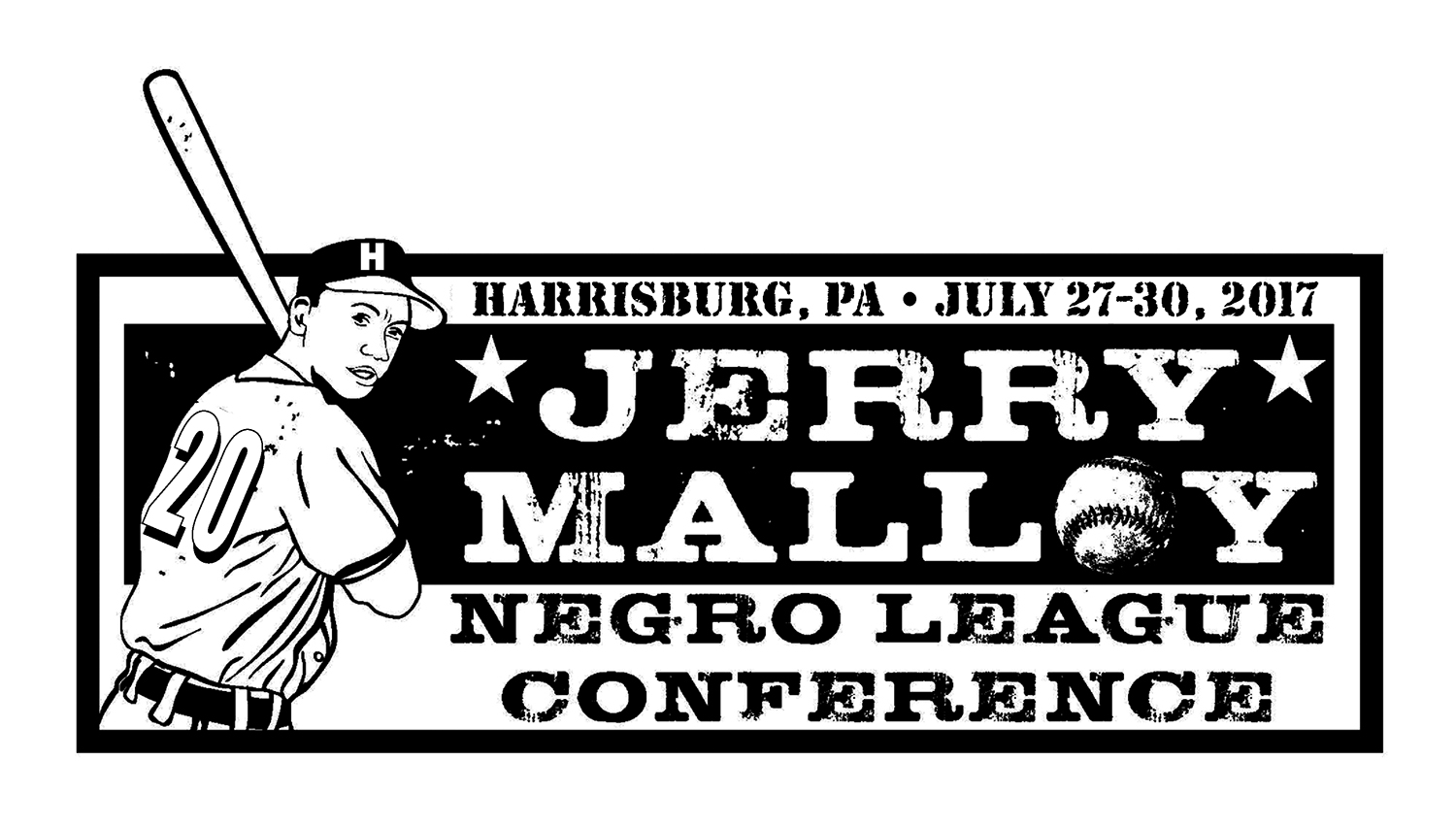 The 20th annual Jerry Malloy Negro League Conference, hosted by SABR's Negro Leagues Research Committee, will be returning to its roots on July 27-30, 2017, in Harrisburg, Pennsylvania, site of the first Negro League conference in 1998.
The Malloy Conference promotes activities to enhance scholarly, educational, and literary objectives. For the past 19 years, the event has been the only symposium dedicated exclusively to the examination and promotion of black baseball history. The conference is open to baseball and history fans of all ages. Each year, monies are targeted to donate books to schools or libraries; raise funds for the Negro Leagues Baseball Grave Marker Project; and award scholarships to high school seniors in a nationwide essay contest and a nationwide art contest.
Visit SABR.org/malloy to learn more about the 2017 Malloy Conference essay contest and scholarships, art competition, and school library grants.
---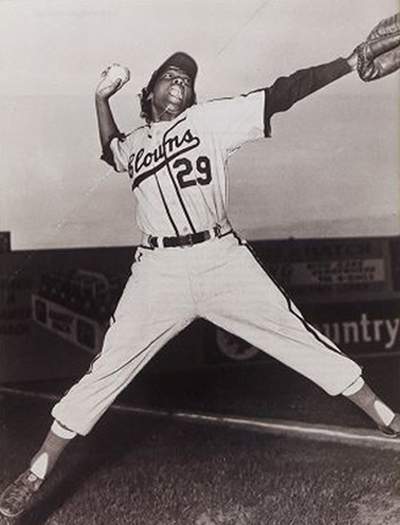 SABR's Women in Baseball Committee will award one $500 scholarship to a high school senior in its inaugural Women in Baseball Essay Contest in 2017.
Students must write an essay of 1,500 words or less addressing the following question: "Choose one person or event in women's baseball history that you believe has made a significant impact on the game and explain the importance."
Click here to download the 2017 SABR Women in Baseball Scholarship application and style guidelines (PDF)
All applications must be e-mailed or postmarked by August 14, 2017, and sent to Dr. Leslie Heaphy at Lheaphy@kent.edu or Kent State University at Stark, 6000 Frank Rd., North Canton, OH 44720. The winner will be notified by July 1.
Click here for more details and eligibility requirements.
---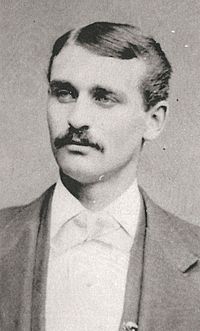 SABR members David Stalker and Gary Passmonte are pleased to announce a monument dedication ceremony for 19th-century baseball legend Ross Barnes that will take place at 11 a.m. on Saturday, August 19, 2017, in Mount Morris, New York.
This will be at a small park in the village center. The Barnes memorial will be placed next to an old refurbished fountain and a memorial to Francis Bellamy, the author of the "Pledge of Allegiance." Barnes was selected as SABR's Overlooked 19th Century Legend in 2013.
SABR members and the public are invited to attend. Immediately following the dedication, a couple of vintage base ball teams from the Rochester, New York, area will play an exhibition.
Click here to read the full article at SABR.org.
---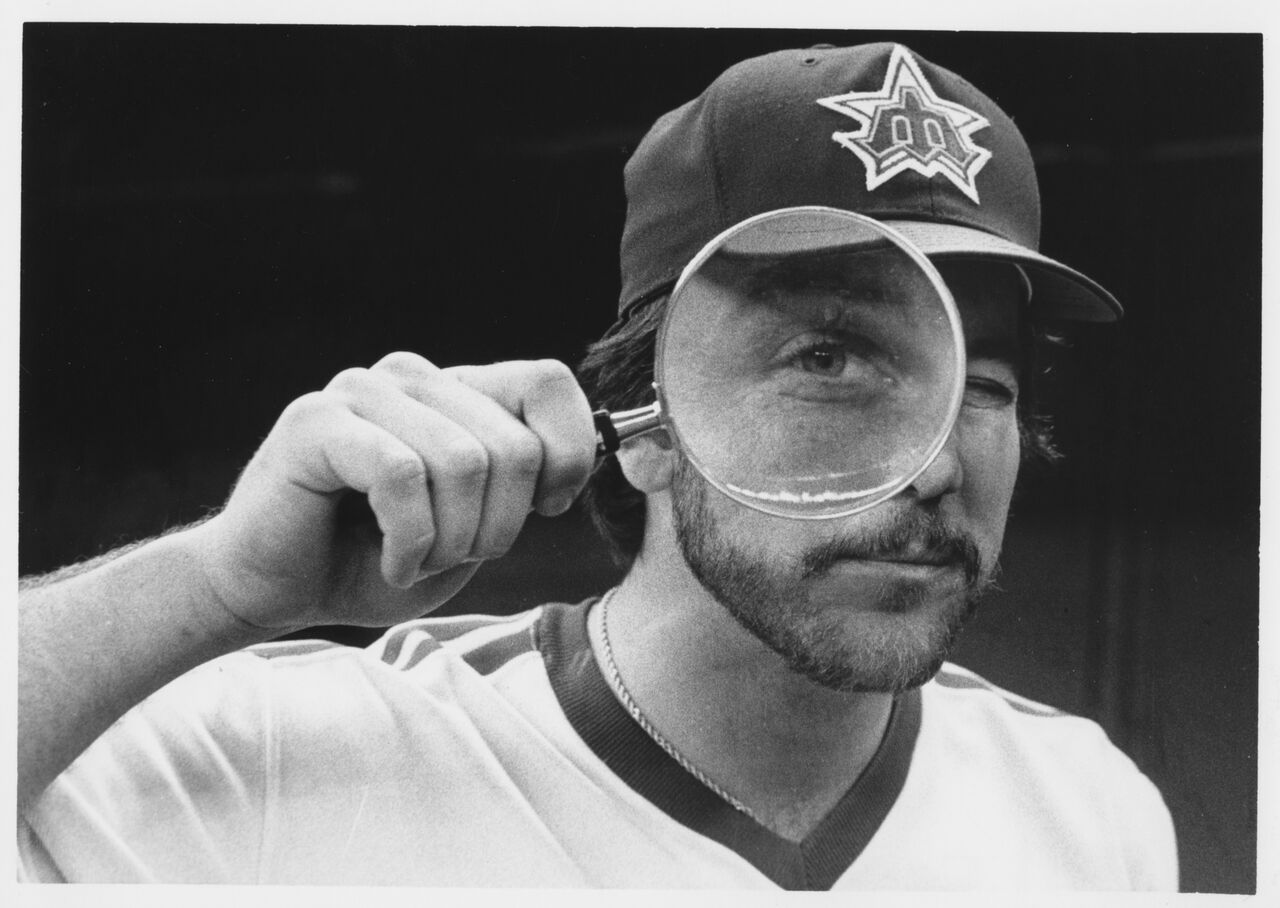 Two new biographies were posted this week as part of the SABR Baseball Biography Project, which brings us to a total of 4,088 published biographies. Here are the new bios published this week:
All new biographies can be found here: SABR.org/bioproj/recent
Search for any SABR biography: You can now visit sabr.org/bioproj_search to search for any player — or manager, executive, scout, spouse, broadcaster, or umpire — who appears in the SABR BioProject. You can also browse all of these BioProject categories and a lot more, including 300-game winners, Hall of Famers, 1960s All-Stars, or Negro Leaguers, at our Browse page: sabr.org/bioproj/browse.
1951 New York Giants bios now posted online: In SABR's The Team That Time Won't Forget: The 1951 New York Giants, edited by Bill Nowlin and C. Paul Rogers III and published in 2015, we focused on a team that will forever be in baseball public's consciousness. But of course, there is much more to the story of that famous team than Bobby Thomson's dramatic home run (albeit the most famous and probably the most dramatic home run in baseball history) and sign stealing.

The SABR BioProject biographies that appeared in our 1951 Giants book can now be read online. You can also download the e-book for free or purchase the paperback edition at 50% off by clicking here. SABR members can download all SABR Digital Library e-books for free at SABR.org/ebooks.
---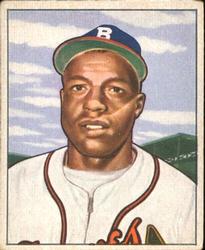 Five new game stories were posted this week as part of the SABR Games Project. Here are the new game stories:
New Games Project stories can be found at SABR.org/gamesproject/recent. Find all published Games Project articles at SABR.org/GamesProject.
If you have any questions about the Games Project, please contact Greg Erion. If you want to know if a game is available to write about, please contact Bruce Slutsky. After the article has been completed in accordance with our Authors' Guidelines, please submit it to Len Levin, who will initiate the editing process and get your story started toward publication.
Get involved: Have memories of a game you attended? Or a game you watched that caught your interest? Write about it! Writing for the Games Project is an easy way to get involved as a SABR member. Find out how by reading the Games Project FAQs section or checking out the Authors' Guidelines. We have editors and fact checkers who are willing to help you write your first article.
Contributor Release Form: As of January 1, 2017, all writers publishing articles (biographies, essays, game pieces, etc.) are being asked to sign a Contributor Release Form which can be sent via email to jpomrenke@sabr.org or hard copy to SABR, 555 N. Central Ave., Suite #416, Phoenix, AZ 85004. The form only needs to be filed once for all future SABR publications. Click here to download the form.
Seeking volunteers to help enhance Games Project articles on website: Any volunteer who is willing to assist with linking player biographies in previously published Games Project stories on the SABR website, please contact Jacob Pomrenke. No experience necessary. Must be comfortable working in Drupal, WordPress or other standard content management systems.
---

SABR member David W. Smith is pleased to announce Retrosheet's semi-annual update to its website for Summer 2017. Here are the highlights:
We have had many updates to event files, along with updated game logs and transaction data. The major inputters to the play by play (event) files have been Dick Cramer, Jim Herdman, Cliff Blau, David Vincent, Doug Burks, Gary Frownfelter, and Howard Johnson. Many seasons have seen additional games added to the event files and the 1928 season has been released for the first time with full accounts for 996 of the 1,231 games played that year (81% of the total). The Most Wanted list on our website has been updated to reflect our progress across all seasons.

In addition to the 1928 season with its 81% completion, we have finished deductions for 1943 and 1942 for those games lacking scorecards or play by play accounts from newspapers. With these deduced games in hand and online, we now have plausible — my favorite way to describe the deduced games — play by play accounts online for 100% of games for all seasons from 1942-2016.
Click here to read the full article at SABR.org.
---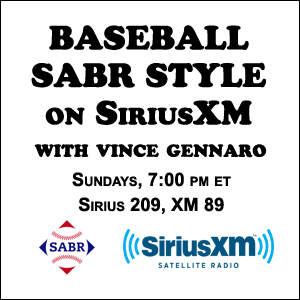 Behind the Numbers: Baseball SABR Style on SiriusXM, a radio show hosted by SABR President Vince Gennaro will air at its regular time from 7:00-8:00 p.m. ET this Sunday on MLB Network Radio.
On this week's show, listen to more highlights from the SABR 47 convention in New York City.
You can also listen to archives of recent episodes on-demand on the SiriusXM Internet Radio App, and you can watch video highlights of Behind the Numbers: Baseball SABR Style on SiriusXM on MLB.com. Click here to watch more video highlights of Baseball SABR Style from MLB.com.
Behind the Numbers: Baseball SABR Style on SiriusXM focuses on examining and interpreting the statistical analysis that plays a critical role in baseball today. It airs weekly throughout the year on MLB Network Radio, available to subscribers nationwide on XM channel 89, Sirius channel 209, and on the SiriusXM Internet Radio App.
---
We've heard your feedback: Some of you have said you look forward to "This Week in SABR" every Friday, but sometimes there are just too many compelling articles and announcements to read every week. We're not complaining — hey, keep up the great work! — but we know the feeling. So in an effort to make the length of this newsletter more manageable to read, we'll summarize some of the repeating/recurring announcements in a special "In Case You Missed It (ICYMI)" section of "This Week in SABR".
Here are some major headlines from recent weeks that we don't want you to miss:
All previous editions of This Week in SABR can be found here: /content/this-week-in-sabr-archives.
For more information, click here.
---
We'd like to welcome all of our new SABR members who have joined this week. You can find all Members-Only resources at members.sabr.org and the Membership Handbook can be downloaded here.
Please give these new members a warm welcome and help them make the most of their membership by giving them the opportunity to get involved in their local chapter or a research committee.
You can find contact information for any SABR member in the online membership directory (SABR.org/directory).
| Name | Hometown | | | Name | Hometown |
| --- | --- | --- | --- | --- | --- |
| Christopher Arroyo | Providence, RI | | | Hugh Jarrett | Teaneck, NJ |
| Samuel Berry | San Antonio, TX | | | William Larson | Forest Park, IL |
| Charles Bonfanti | Taos, NM | | | John Marinelli | Staten Island, NY |
| Laurie Boris | Ulster Park, NY | | | Giuseppe Mottillo | Blewitt Springs, AUS |
| Ted Chastain | New York, NY | | | James Proctor | Delray Beach, FL |
| Herbert Degens | Rotterdam, NLD | | | Justin Seurer | Minnetonka, MN |
| Andrew Ertl | New York, NY | | | William Skehan | Chicago, IL |
| Jeff Gartzman | Atlanta, GA | | | Scott Wilson | Silver Spring, MD |
| Julia Hernandez | San Diego, CA | | | | |
---
Here are the new SABR research committee updates this week:
Find all SABR research committee newsletters at SABR.org/research.
---
Here are the new regional chapter updates this week:
Visit SABR.org/chapters for more information on SABR regional chapters.
---
Here is a list of upcoming SABR events:
All SABR meetings and events are open to the public. Feel free to bring a baseball-loving friend … and make many new ones! Check out the SABR Events Calendar at SABR.org/events.
---
Here are some recent articles published by and about SABR members:
Read these articles and more at SABR.org/latest.
---
This Week in SABR is compiled by Jacob Pomrenke. If you would like us to include an upcoming event, article or any other information in "This Week in SABR," e-mail jpomrenke@sabr.org.
Have trouble reading this e-mail? Click here to view this week's newsletter on the web.
Are you receiving our e-mails? "This Week in SABR" goes out by e-mail to all members on Friday afternoons. If they're not showing up, try adding "sabr.notes@sabr.org" to your contact list to ensure they show up in your inbox (and not the spam folder.)
---
Originally published: June 30, 2017. Last Updated: April 3, 2020.
https://h2j7w4j4.stackpathcdn.com/wp-content/uploads/2020/03/research-collection4_350x300.jpg
300
350
admin
/wp-content/uploads/2020/02/sabr_logo.png
admin
2017-06-30 15:00:00
2020-04-03 14:38:43
This Week in SABR: June 30, 2017