This Week in SABR: March 30, 2018

Welcome to "This Week in SABR!" Click here to view this week's newsletter on the web. Here's what we've been up to as of March 30, 2018:
---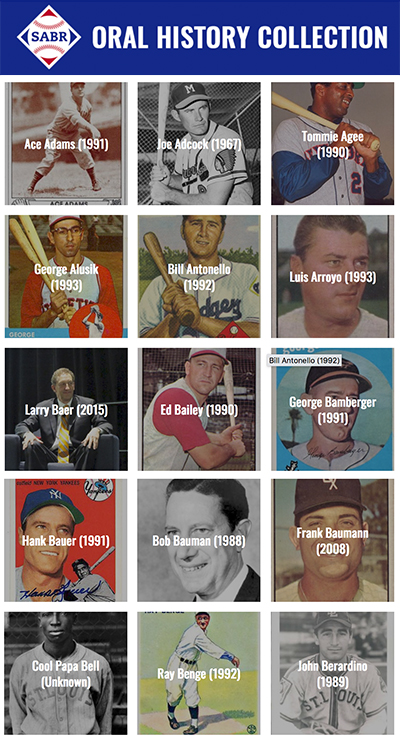 From Carl Hubbell to Buck O'Neil, Johnny Vander Meer to Harvey Haddix, and Richie Ashburn to Jimmy Zinn, the SABR Oral History Collection includes interviews with some of the most memorable players in baseball history.
And now you can listen to those players tell stories in their own voices with our new SABR Oral History Collection website at oralhistory.sabr.org.

The SABR Oral History Collection includes more than 500 audio files of interviews conducted with ballplayers (Major Leagues, Minor Leagues, Negro Leagues, AAGPBL), executives, scouts, authors, writers, broadcasters, and other figures of historical baseball significance.
These interviews, some of which date back more than 50 years, were conducted by members of SABR's Oral History Research Committee; many of these recordings were digitized through a collaboration with the National Baseball Hall of Fame Library.
The SABR collection not only includes interviews with prominent players such as Frank Robinson and Yogi Berra, but also special sessions from SABR events, such as Buck O'Neil's inspiring talk during the 1996 SABR Convention in Kansas City, a Seattle Pilots panel with Jim Bouton during SABR 36 in Seattle, and Hall of Fame manager Tony La Russa's one-on-one interview at the 2015 SABR Analytics Conference. We're also proud to make available some interviews conducted by longtime SABR member and former Major League Baseball commissioner Fay Vincent for his series of oral history books, We Would Have Played for Nothing, The Only Game in Town, and It's What's Inside the Lines That Counts.
You can also find special pages for Oral History interviews in our collection with Hall of Famers, Negro Leaguers, broadcasters, writers and researchers, and special interviews from SABR's annual convention.
Special thanks to the following individuals for their assistance and support in making this collection available: Sean Aronson, Jason Best, Peter Garver, Jim Gates, John McMurray, Dave Paulson, Tucker Ring, Paul Ringel, Bailey Smith, and Anne Wootton.
To view the new SABR Oral History Collection, visit oralhistory.sabr.org.
---
SABR members, pay attention to the e-mail address that you have on file with SABR; you will receive a message on Tuesday, April 10, 2018, with a link to vote online in the 2018 SABR Board of Directors election. The poll will close at 11:59 p.m. Mountain Standard Time on Tuesday, April 24, 2018.
You can read the candidate biographies, along with full descriptions of the positions and responses the candidates made to a series of questions, in the 2018 SABR Election Guide which is available for download below:
Download the 2018 SABR Election Guide here (PDF)
When you vote, you will find four items on the 2018 Board of Directors ballot: a proposed by-laws revision regarding changing the organization's name; and the election of the SABR Vice President, Secretary, and one (1) Director position — please rank the Director candidates in order of preference. The candidates are:
For Vice President
Leslie Heaphy (incumbent)
For Secretary
Todd Lebowitz (incumbent)

For Director (1)

Mark Armour
Barry Bloom
John McMurray
George Skornickel
The only way to vote online is through the link you will receive by e-mail. All e-mails will come from the address tellers@sabr.org; if you wish to add it to a whitelist in your e-mail client, that may help ensure that you will receive the e-mails. You will receive at least one more voting email between April 10 and April 24 with active voting links.
Members who do not have an e-mail address on file with SABR as of April 1, 2018, will receive a paper ballot in the mail. Please do not vote online and send in the paper ballot; if you do, the paper ballot will be discarded, and only the online vote will count.
If you would like to register your e-mail address on file with SABR so you can vote online (and also receive our "This Week in SABR" newsletter on Fridays), please contact Membership Director Deb Jayne at djayne@sabr.org.
---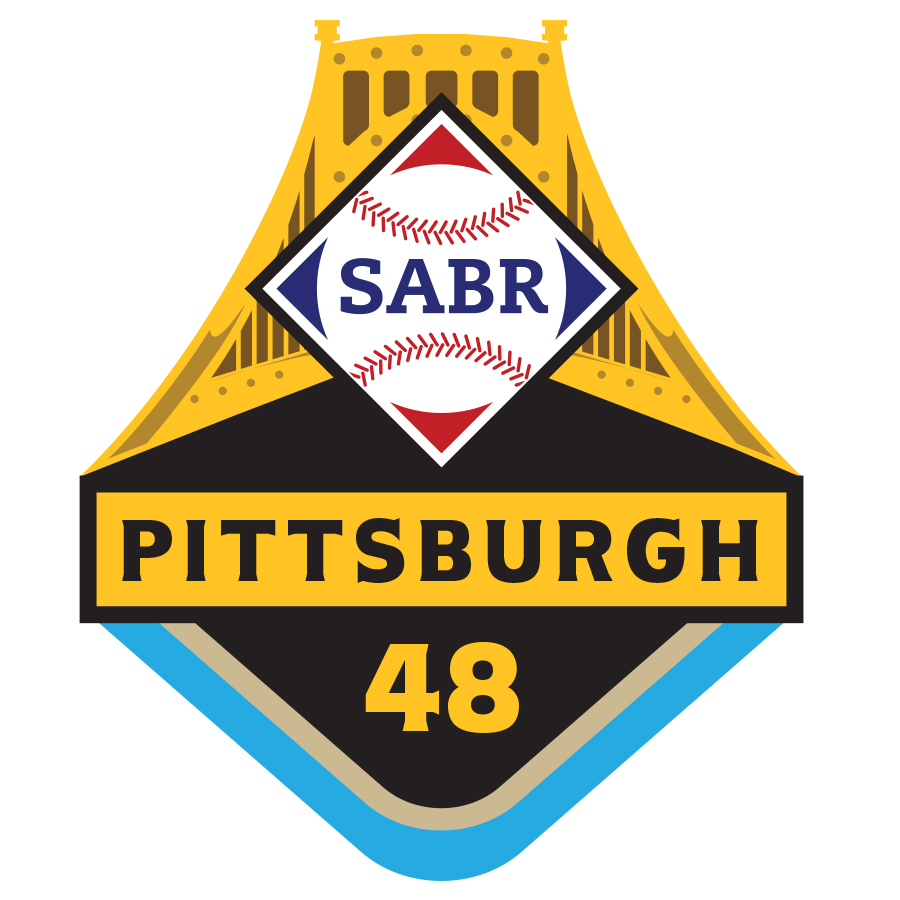 We hope you'll join us for what promises to be a spectacular SABR 48 convention on June 20-24, 2018, at the Wyndham Grand Pittsburgh in Pittsburgh, Pennsylvania.
Early registration is now available at SABR.org/convention; all baseball fans are welcome to attend. Click here for more information on SABR 48 registration rates, all-inclusive packages, and optional sessions. Or click here to register for SABR 48.
The Wyndham Grand Pittsburgh is conveniently located within walking distance from PNC Park and a light rail station, many downtown cultural amenities, and right across the street from the picturesque 36-acre Point State Park where the three rivers converge.
Click on a link below for more information about SABR 48.
Registration: We're again offering a special all-inclusive rate for the annual SABR convention. For $319, a savings of $30 off the regular rate, SABR members can get:
— Full registration to SABR 48 in Pittsburgh (early-bird: $249; regular rate: $279)
— 1 ticket in the Corner Box (LF) section to the Pirates vs. Diamondbacks game on Friday, June 22 — includes special "A Day at the Ballpark" pregame session at PNC Park ($40 value)
— 1 ticket to the Awards Luncheon on Friday, June 22 ($60 value)
Non-members can pay $394 for the all-inclusive rate. The deadline to register with the all-inclusive rate is Friday, May 18, 2018. Click here for complete information on SABR 48 registration rates, all-inclusive packages, and optional sessions. Or click here to register for SABR 48!
Hotel: The special SABR group rate at the Wyndham Grand Pittsburgh of $149/night (plus tax) is only available to registered convention attendees for the nights of Wednesday, June 20 through Saturday, June 23. After you register for the SABR 48 convention, you will receive an e-mail confirmation with details on how to book your hotel room at the SABR group rate. There are a limited number of rooms in our group block, so be sure to register for SABR 48 early! The Wyndham Grand Pittsburgh is located at 600 Commonwealth Place, Pittsburgh, PA 15222.
Awards Luncheon: SABR will host a special Awards Luncheon on Friday, June 22 at the Wyndham Grand Pittsburgh. The Awards Luncheon, which includes a full meal, will feature the announcement of SABR's annual awards — including the Bob Davids Award, our highest honor. One ticket to the Awards Luncheon is included in the all-inclusive package or guest tickets are available for $60 when you register for SABR 48.
A Day at the Ballpark: For the third year in a row and fourth time in five years, SABR will present "A Day at the Ballpark" before the Pittsburgh Pirates game against the Arizona Diamondbacks on Friday, June 22 at PNC Park. Special thanks to the Pirates for this great opportunity and for offering us a large block of tickets in the Corner Box (LF) section at an affordable price of $40 for SABR members ($45 for non-members). Purchase of SABR 48 conference registration AND a game ticket will be required to attend this special session. Guests and spouses can get in the ballpark early with purchase of a special SABR 48 Ballpark Session pass ($25) and a Pirates game ticket. Click here for more details.
Research presentations: SABR invites all members to present their research findings to their colleagues attending SABR 48. The deadline to submit your abstract was Sunday, February 25, 2018. Click here for complete details and application form.
Yoseloff Scholarship: Students, click here to learn more about a Yoseloff Scholarship to attend SABR 48 in Pittsburgh. The deadline to apply is Friday, April 13, 2018.
All SABR 48 attendees will also receive a souvenir print edition of The National Pastime, our annual convention journal, focusing on baseball teams, players and events in the Pittsburgh area. All SABR members, whether you attend the convention or not, will receive the e-book edition of The National Pastime in their inboxes later this summer.
Stay tuned for more featured speakers and the complete schedule to be announced in the coming months. Visit SABR.org/convention to learn more.
We hope to see you this summer in Pittsburgh!
---
With generous funding from The Anthony A. Yoseloff Foundation, Inc., SABR will award up to four scholarships to high school or college students to attend SABR 48 on June 20-24, 2018, in Pittsburgh. This scholarship will pay for registration, transportation and lodging (double occupancy) up to a total value of $1,250.
The objective of this scholarship fund is to encourage high school and college-level student engagement with baseball research and to engender an active interest in baseball and SABR. The Yoseloff scholarship is to assist young researchers who want to attend SABR's annual convention and to introduce them to fellow SABR members. Through this fund, SABR hopes to inspire future baseball research, expose students to high-quality research and build the research capability of interested students.
All applications must be postmarked or e-mailed to Jeff Schatzki at jschatzki@sabr.org no later than FRIDAY, APRIL 13, 2018.
Click here for complete details and criteria.
---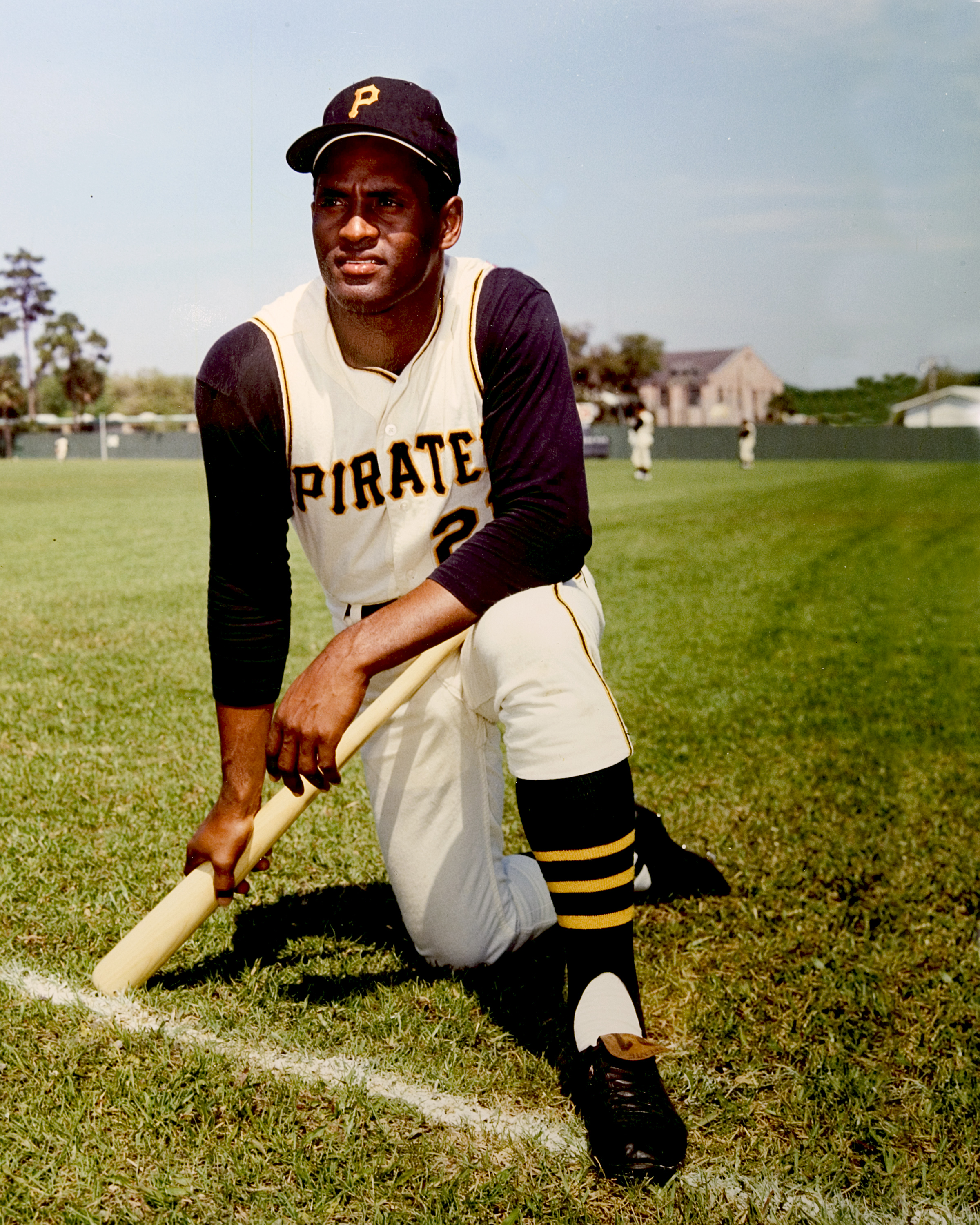 SABR 48 attendees have a special opportunity to visit the Roberto Clemente Museum this summer, but there are only a handful of spots available for the tours. The museum will host four tours at $20 per person on Wednesday, June 20. Space is extremely limited, and reservations will only be made on a first-come, first-serve basis. Please call the museum at (412) 621-1268, Ext. 2, to reserve your space. No reservations can be made online; payment is due on-site when you arrive for the tour.
The tours last about 1.5 hours and the start times on Wednesday, June 20 are as follows (subject to availability):
10:00 a.m. (9 spots still open)
12:15 p.m. (5 spots still open)
2:30 p.m. (SOLD OUT!)
5:00 p.m. (9 spots still open)
Transportation to and from the museum is on your own; the museum is about 3.5 miles from the convention hotel and is accessible via taxi/rideshare or by several Port Authority bus lines in the city. All questions and inquiries should be directed to the Clemente Museum at the main number above.

The Clemente Museum is housed in historic Engine House 25, 3339 Penn Avenue, in the revitalized Lawrenceville section of Pittsburgh. Executive Director and Curator Duane Rieder has meticulously renovated Engine House 25 to showcase the world's largest exhibited collection of baseball artifacts, works of art, literature, photographs, memorabilia, and related materials which focus on Roberto Clemente, his teammates, his personal life, and his humanitarian causes. For more information, visit clementemuseum.org.

---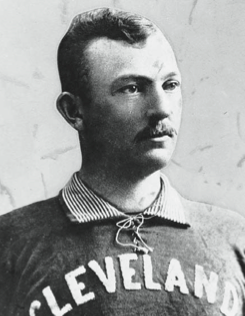 Save the date! Join us for the SABR Cleveland 19th Century Baseball Interdisciplinary Symposium, which will take place on Saturday, November 10, 2018, from 10:00 AM-5:00 PM. There will also be an optional nearby activity the following day, Sunday, November 11th from mid-morning to early afternoon.
The symposium will be held at the majestic Main Branch of the Cleveland Public Library (CPL) in the heart of downtown Cleveland. The optional Sunday event will be a guided visit to the Baseball Heritage Museum, located only 15 minutes from downtown on the grounds of historic League Park (1891-1946).
The day-long Saturday symposium will be devoted to 19th-century baseball as it was played and evolved in Cleveland and its greater region of northeastern Ohio. A keynote luncheon address (interdisciplinary history) will provide a look at late 19th-century Cleveland with a particular understanding of one of that city's most important and powerful forces, its transportation system. In addition to the on-site luncheon, there will be both an early morning and mid-afternoon coffee and refreshments service.
To date, we have assembled a partial list of program participants, including: John Thorn, MLB's Official Historian; John Skrtic, Director of Public Services, CPL; Jeremy Feador, Cleveland Indians, Historian & Curator; David Goldberg, Professor of History, Cleveland State University of Ohio; and three SABR researchers and authors with specific focus on elements of 19th-century Cleveland area baseball: David Fleitz, John McMurray, and Joseph Wancho, and others to be announced.
Watch for the publication of the complete Program & Schedule and Registration Information in early July on the SABR website. All of this at a very reasonable cost. We hope to see you there!
— Peter Mancuso
---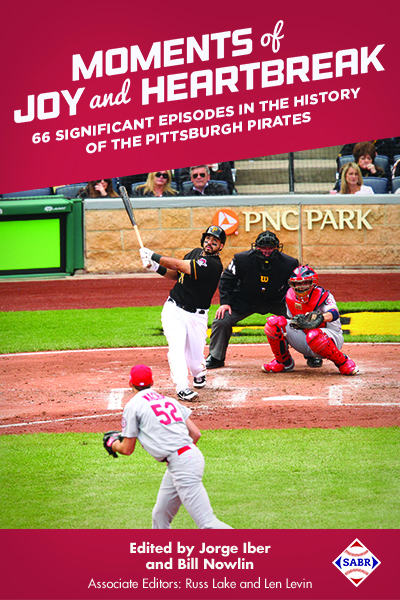 As we gear up for the SABR 48 convention this summer in Pittsburgh, add this new baseball book from the SABR Digital Library to your collection:
Moments of Joy and Heartbreak: 66 Significant Episodes in the History of the Pittsburgh Pirates
Edited by Jorge Iber and Bill Nowlin
Associate Editors: Russ Lake and Len Levin
ISBN (paperback): 978-1-943816-73-6, $19.95
ISBN (e-book): 978-1-943816-72-9, $9.99
201 pages, 8.5″ x 11″
Click here to read the full description of this book at SABR.org.
SABR members, get this e-book for FREE!
Having trouble downloading our e-books? To view PDF files on your computer, click here to download the free Adobe Reader software. Having trouble downloading e-books to your Kindle, Nook, Sony Reader or iPad? Click here for additional help.
SABR members will get discounted rates for all Digital Library publications, including many for free. For a full list of SABR Digital Library titles, visit SABR.org/ebooks.
---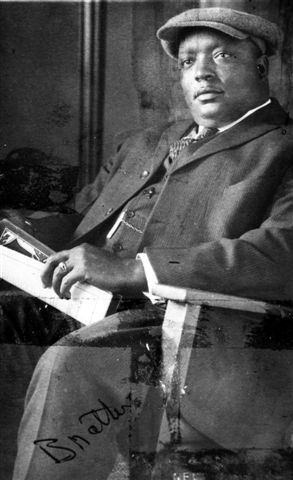 SABR's Negro Leagues Committee will award $1,000 scholarships to high school seniors in its 10th annual Thomas R. Garrett Scholarship essay contest in 2018. Students must write a 1,200-word essay answering a question related to one of the Negro League figures who are the namesakes of the scholarships.
Click on a link below to learn more about each scholarship or to download an application. The deadline to apply is April 16, 2018.
The Jimmie Crutchfield Memorial Scholarship will honor one high school senior with a $1,000 prize and give out one $500 award for special recognition. The deadline to apply is May 4, 2018.
Each year, the SABR Negro Leagues Committee targets monies to donate books to schools or libraries; raise funds for the Negro Leagues Baseball Grave Marker Project; and award scholarships to high school seniors in a nationwide essay contest and a nationwide art contest. Visit SABR.org/malloy for full eligibility criteria and submission details.
---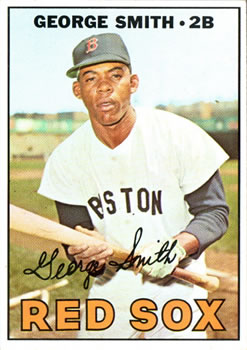 Five new biographies were posted this week as part of the SABR Baseball Biography Project, which brings us to a total of 4,488 published biographies. Here are the new bios published this week:
All new biographies can be found here: SABR.org/bioproj/recent
Search for any SABR biography: You can now visit sabr.org/bioproj_search to search for any player — or manager, executive, scout, spouse, broadcaster, or umpire — who appears in the SABR BioProject. You can also browse all of these BioProject categories and a lot more, including 300-game winners, Hall of Famers, 1960s All-Stars, or Negro Leaguers, at our Browse page: sabr.org/bioproj/browse.
Read bios from SABR's No-Hitters book: In SABR's No-Hitters, edited by Bill Nowlin and published in 2017, we focused on pitchers who threw no-hitters and the no-hitters they threw. Naturally, we couldn't present biographies of everyone who ever threw a no-hitter nor could we present Games Project accounts of all of them. From around 300 no-hitters thrown in the majors (out of over 213,000 games), we have selected 59 no-hitters to include, along with the biographies of the men who threw them. All of the biographies — from Hall of Famers such as Bob Feller, Sandy Koufax, and Randy Johnson to more obscure pitchers such as Larry Corcoran, Charlie Robertson, and Dallas Braden — that appeared in No-Hitters can now be read online at the SABR BioProject. More game summaries from the No-Hitters book will be posted at the SABR Games Project soon. You can also download the No-Hitters e-book for free or purchase the paperback edition at 50% off by clicking here.
---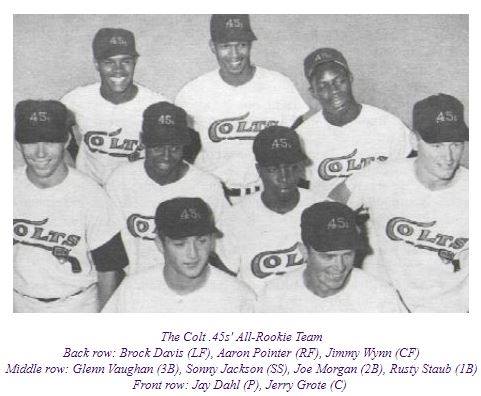 Twenty-one new game stories were posted this week as part of the SABR Games Project. Here are the new game stories:
Many of these stories appeared in From the Braves to the Brewers: Great Games and Exciting History at Milwaukee's County Stadium (SABR, 2016), edited by Gregory H. Wolf. To read more stories from this book at the SABR Games Project, click here.
New Games Project stories can be found at SABR.org/gamesproject/recent. Find all published Games Project articles at SABR.org/GamesProject.
If you have any questions about the Games Project, please contact Mike Huber. To request an assignment, please contact Steven C. Weiner. After the article has been completed in accordance with our Authors' Guidelines, please submit it to Len Levin, who will initiate the editing process and get your story started toward publication.
Get involved: Have memories of a game you attended? Or a game you watched that caught your interest? Write about it! Writing for the Games Project is an easy way to get involved as a SABR member. Find out how by reading the Games Project FAQs section or checking out the Authors' Guidelines. We have editors and fact checkers who are willing to help you write your first article.
Read stories from Tiger Stadium greatest games book: In SABR's Tigers by the Tale: Great Games at Michigan and Trumbull, edited by Scott Ferkovich and published in 2016, we told the stories of memorable moments at one of baseball's most famous corners: Detroit's Tiger Stadium. All of the stories that appeared in this book are now available to be read online at the SABR Games Project by clicking here.
---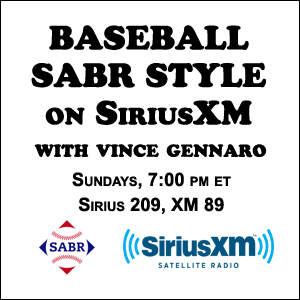 Behind the Numbers: Baseball SABR Style on SiriusXM, a radio show hosted by SABR President Vince Gennaro, is back for the 2018 season at its regular time: 7:00-8:00 p.m. ET on Sundays, on MLB Network Radio.
This week's guests are Russell Carleton of Baseball Prospectus and SABR member Ben Jedlovec of MLB Advanced Media.
You can listen to archives of recent episodes on-demand on the SiriusXM Internet Radio App, and you can watch video highlights of Behind the Numbers: Baseball SABR Style on SiriusXM on MLB.com. Click here to watch more video highlights of Baseball SABR Style from MLB.com.
Behind the Numbers: Baseball SABR Style on SiriusXM focuses on examining and interpreting the statistical analysis that plays a critical role in baseball today. It airs weekly throughout the year on MLB Network Radio, available to subscribers nationwide on XM channel 89, Sirius channel 209, and on the SiriusXM Internet Radio App.
---
We've heard your feedback: Some of you have said you look forward to "This Week in SABR" every Friday, but sometimes there are just too many compelling articles and announcements to read every week. We're not complaining — hey, keep up the great work! — but we know the feeling. So in an effort to make the length of this newsletter more manageable to read, we'll summarize some of the repeating/recurring announcements in a special "In Case You Missed It (ICYMI)" section of "This Week in SABR".
Here are some major headlines from recent weeks that we don't want you to miss:
All previous editions of This Week in SABR can be found here: https://sabr.org/content/this-week-in-sabr-archives.
For more information, click here.
---
We'd like to welcome all of our new SABR members who have joined this week. You can find all Members-Only resources at members.sabr.org and the Membership Handbook can be downloaded here.
Please give these new members a warm welcome and help them make the most of their membership by giving them the opportunity to get involved in their local chapter or a research committee.
You can find contact information for any SABR member in the online membership directory (SABR.org/directory).
| Name | Hometown | | | Name | Hometown |
| --- | --- | --- | --- | --- | --- |
| Kenneth Brickman | Des Moines, IA | | | Tony Muzi | Lawrenceville, NJ |
| John Cobb | Arlington, VA | | | Rob Pendell | Manchester, CT |
| Aaron Davis | Fairfax | | | Paul Phillips | Durham, NC |
| J. Phillip Draughon | Barrington, IL | | | Greg Schuelke | Katy, TX |
| Larry Ho | Tustin, CA | | | Tim Sobieszczanski | Holland, OH |
| Barry Iio | Houston, TX | | | Jeffrey Stansberry | Westerville, OH |
| Robert Jirovec | Las Vegas, NV | | | Michael Thiesing | Plymouth, MA |
| Antonio Medina | Melrose Park, IL | | | | |
---
Here are the new research committee updates this week:
Find all SABR research committee newsletters at SABR.org/research.
---
Here are the new regional chapter updates this week:
Visit SABR.org/chapters for more information on SABR regional chapters.
---
Here is a list of upcoming events on the SABR calendar:
All SABR meetings and events are open to the public. Feel free to bring a baseball-loving friend … and make many new ones! Check out the SABR Events Calendar at SABR.org/events.
---
Here are some recent articles published by and about SABR members:
Read these articles and more at SABR.org/latest.
---
This Week in SABR is compiled by Jacob Pomrenke. If you would like us to include an upcoming event, article or any other information in "This Week in SABR," e-mail jpomrenke@sabr.org.
Have trouble reading this e-mail? Click here to view this week's newsletter on the web.
Are you receiving our e-mails? "This Week in SABR" goes out by e-mail to all members on Friday afternoons. If they're not showing up, try adding "sabr.notes@sabr.org" to your contact list to ensure they show up in your inbox (and not the spam folder.)
---
Originally published: March 30, 2018. Last Updated: April 3, 2020.
https://sabr.org/wp-content/uploads/2020/03/research-collection4_350x300.jpg
300
350
admin
/wp-content/uploads/2020/02/sabr_logo.png
admin
2018-03-30 15:00:00
2020-04-03 14:38:42
This Week in SABR: March 30, 2018