This Week in SABR: May 9, 2014

Welcome to "This Week in SABR!" Here's what we've been up to as of May 9, 2014:
---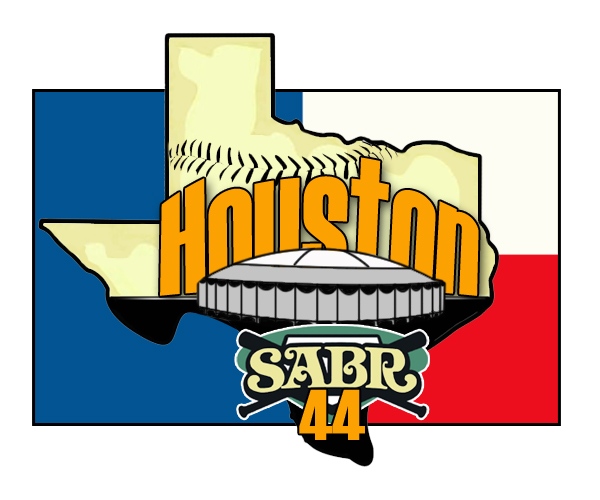 Are you planning to come to SABR 44 this summer in Houston? There's only a few weeks left to sign up at the discounted all-inclusive rate! Join us July 30-August 3, 2014, at the Royal Sonesta Houston for a full week of baseball fun at SABR 44.
Register today for the SABR 44 all-inclusive package which includes full registration to SABR 44, 1 ticket to the Astros vs. Blue Jays game (including access to our exclusive SABR 44 ballpark session at Minute Maid Park), and 1 ticket to the SABR 44 Awards Luncheon.
The SABR 44 all-inclusive rate expires on Friday, May 30, so sign up today! Click here for more information on SABR 44 registration rates, all-inclusive packages and optional sessions.
But that's not all! Here's what else we've got planned for SABR 44 in Houston:
All-Star lineup of guest speakers: Guest speakers at SABR 44 are expected to include: Reid Ryan, the Astros' President of Business Operations; Jeff Luhnow, General Manager for the Houston Astros; Tal Smith, former Astros President and former SABR Director; Jimmy Wynn, original Colt .45 and Astros legend; Larry Dierker, longtime Astros player, broadcaster and manager; Bill Brown, Astros TV broadcaster; Pam Gardner, former Astros President of Business Operations; Dr. Bobby Brown, former American League President; Buck Martinez, former player and current Toronto Blue Jays broadcaster; Bob Watson, former player and general manager for the Astros; Bill Virdon, former player and manager for the Astros; Eddie Robinson, longtime player, general manager and baseball executive; Bob Aspromonte, original Colt .45 and former Brooklyn Dodger; Mickey Herskowitz, noted baseball author and sportswriter; Marie "Red" Mahoney, alumnus of All-American Girls Professional Baseball League; Jim Gilligan, Lamar University baseball coach with more than 1,000 career wins; and many more!
Exclusive ballpark session at Minute Maid Park: A special treat is in store for SABR 44 attendees this summer. On Saturday, August 2, SABR convention attendees will have the opportunity to visit Minute Maid Park for an exclusive ballpark session with Houston Astros executives and players. Before the Astros' 6:05 p.m. game against the Toronto Blue Jays, two SABR 44 panel discussions will take place inside the ballpark's Champions Pavilion, just above center field on the Mezzanine Level at Minute Maid Park. Guest speakers and more details will be announced soon.
Complimentary Houston baseball book: All SABR 44 convention attendees will also receive complimentary copies of Houston Baseball: The Early Years 1861-1961, edited by Mike Vance and produced by SABR's Larry Dierker Chapter; and The National Pastime, our annual convention journal focusing on baseball in the Houston area.
Sugar Land Skeeters game: We'll visit brand-new Constellation Park, home of the Atlantic League's Sugar Land Skeeters, about 20 miles southwest of downtown Houston for a game between the Skeeters and the Bridgeport Bluefish. Before the game, former Houston Astros president and SABR member Tal Smith will welcome SABR 44 attendees before the game, and an optional all-you-can-eat buffet will be served. And hey, you might even get to see former NBA All-Star Tracy McGrady pitch for the Skeeters, too.
Historical Ballparks Site Tour:

Our tour will include stops at the sites of the three minor league and two former major league ballparks that hosted professional baseball in Houston from the 1870s until 1999. There will also be drive-bys of a few semi-pro baseball locations where former major leaguers stayed in the game after their days in the majors had ended. The tour culminates with a visit to the Astrodome, the most architecturally significant stadium in America.

Houston City History Walking Tour: Get a taste of Bayou City history. Tour guide Mike Vance, a SABR member and Executive Director of Houston Arts and Media, is one of the top historians and storytellers in Houston. He will have dozens of stories to share along the walk. Participants will see the site of an early capitol of the Republic of Texas, now a historic hotel where JFK stayed the day before he was assassinated. There will be stops to see stellar art deco architecture and gleaming modern skyscrapers mixed in with tales of dueling, Civil War murder and oil barons.
Research presentations, committee meetings, and the SABR Trivia Contest: No SABR Convention is complete without a full slate of groundbreaking baseball research and a chance to talk baseball all week with the most passionate international community of fans around.
Sign up for SABR 44 today! You can register online for SABR 44 at SABR.org/convention or by phone at (602) 343-6450. Contact Deb Jayne at djayne@sabr.org if you have any questions.
Click here to book your room at the Royal Sonesta online. The deadline to book your room at the special SABR group rate of $129/night (plus tax) is Monday, July 14, 2014. The Royal Sonesta is at 2222 W Loop S Fwy., Houston, TX 77027, in the heart of the Galleria, just minutes from downtown and Minute Maid Park. If you have any questions about your reservation, please call the hotel at (713) 627-7600.
And don't forget to donate! Did you know that anyone who donates $100 or more to SABR gets admitted to a special Donors Breakfast at the annual convention? Membership dues allow SABR to survive; it is donations from people like you that help us thrive. (A donation of $200 or more entitles the donor to one additional ticket.)
We look forward to seeing you in Houston this summer!
---

Periodically throughout the year, SABR.org publishes listings of new books that are received at the SABR office. This feature is called The SABR Bookshelf, continuing a popular section from the old SABR Bulletin.
Here are The SABR Bookshelf listings for Spring 2014:
http://sabr.org/content/sabr-bookshelf-spring-2014
Click the link above for more detailed information on each of these books:
The Fight Of Their Lives: How Juan Marichal And John Roseboro Turned Baseball's Ugliest Brawl Into A Story Of Forgiveness And Redemption, by John Rosengren
Wrigley Field: The Long Life & Contentious Times of the Friendly Confines, by Stuart Shea
Baseball On Trial: The Origin of Baseball's Antitrust Exemption, by Nathaniel Grow
Early Professional Baseball and the Sporting Press: Shaping the Image of the Game, by R. Terry Furst
Baseball Prodigies: Best Major League Seasons by Players Under 21, by Charles F. Faber
Baseball's Comeback Players: Forty Major Leaguers Who Fell and Rose Again, by Rick Swaine
A's Bad as it Gets: Connie Mack's Pathetic Athletics of 1916, by John G. Robertson and Andy Saunders
The Great Eight: The 1975 Cincinnati Reds, edited by Mark Armour
Pitching to the Pennant: The 1954 Cleveland Indians, edited by Joseph Wancho
Jackie & Campy: The Untold Story of Their Rocky Relationship and the Breaking of Baseball's Color Barrier, by William C. Kashatus
Throwing Hard Easy: Reflections on a Life in Baseball, by Robin Roberts with C. Paul Rogers
Bring In the Right-Hander! My Twenty-Two Years in the Major Leagues, by Jerry Reuss
The Chalmers Race: Ty Cobb, Napoleon Lajoie, and the Controversial 1910 Batting Title That Became a National Obsession, by Rick Huhn
The Continental League: A Personal History, by Russell D. Buhite
The Bilko Athletic Club: The Story of the 1956 Los Angeles Angels, by Gaylon H. White
Pitching Around Fidel: A Journey into the Heart of Cuban Sports, by S.L. Price
The Cubs Quotient: How The Chicago Cubs Changed The World, by Scott Rowan
Down To The Last Pitch: How the 1991 Minnesota Twins and Atlanta Braves Gave Us the Best World Series of All Time, by Tim Wendel
1954: The Year Willie Mays And The First Generation Of Black Superstars Changed Major League Baseball Forever, by Bill Madden
Mover and Shaker: Walter O'Malley, The Dodgers, and Baseball's Westward Expansion, by Andy McCue
Called Out But Safe: A Baseball Umpire's Journey, by Al Clark with Dan Schlossberg
How to Speak Baseball: An Illustrated Guide to Ballpark Banter, by James Charlton and Sally Cook
Shane Victorino: The Flyin' Hawaiian, by Alan Maimon
Wrigley Field Year by Year: A Century at the Friendly Confines, by Sam Pathy
Black Baseball, Black Business: Race Enterprise and the Fate of the Segregated Dollar, by Roberta J. Newman and Nathan Rosen
Thar's Joy in Braveland! The 1957 Milwaukee Braves, edited by Gregory H. Wolf
The Ashippun Trap, by Doug Welch
A Tribe Reborn: How The Cleveland Indians Of The '90's Went From Cellar Dwellers To Playoff Contenders, by George Christian Pappas
Baseball in Hawai'i, by Jim Vitti
Minnesota Twins Baseball: Hardball History On The Prairie, by Stew Thornley
The Best Seat In Baseball, But You Have To Stand!: The Game As Umpires See It, by Lee Gutkind
Star Spangled Baseball: True Tales Of Flags And Fields, by James Breig
To get your NEW book listed on The SABR Bookshelf, make sure a review copy is sent to: The SABR Bookshelf, Society for American Baseball Research, 4455 E. Camelback Rd., Ste. D-140, Phoenix, AZ 85018. An e-book file will also suffice; please send the e-book in PDF, EPUB or Kindle/MOBI format to jpomrenke@sabr.org.
To ensure a listing in The Baseball Index — SABR's online catalog of baseball research materials at www.baseballindex.org — make sure a review copy is sent to The Baseball Index, 4025 Beechwood Pl., Riverside, CA 92506.
Bolded names indicates that the author(s) is a SABR member. Click here for a list of publishers found in the SABR Bookshelf, along with their contact information.
All new SABR Bookshelf listings can be purchased at the SABR Bookstore, powered by Amazon.com. In addition, check out new books published by SABR at SABR.org/ebooks (free for SABR members!)

---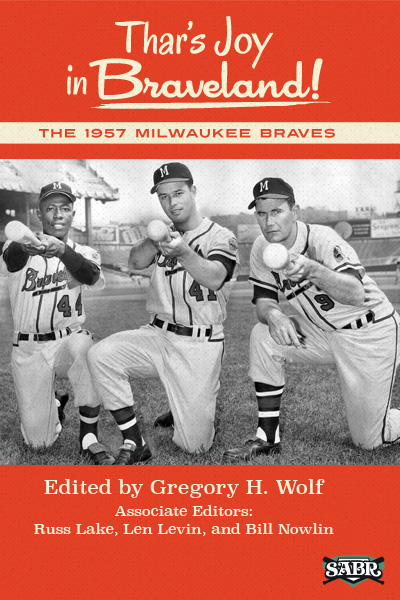 Add a championship baseball book to your collection with the newest title in the SABR Digital Library:
Thar's Joy in Braveland! The 1957 Milwaukee Braves
Edited by Gregory H. Wolf
Associate Editors: Russ Lake, Len Levin, and Bill Nowlin
$19.95 paperback, $9.99 ebook
ISBN (paperback): 978-1-933599-71-7
ISBN (e-book) 978-1-933599-72-4
"You talk about destiny, well, you can't rule that out. We were hard-nosed and that showed up in 1957." — Braves catcher Del Crandall
Few teams in baseball history have captured the hearts of their fans like the Milwaukee Braves of the 19505. During the Braves' 13-year tenure in Milwaukee (1953-1965), they had a winning record every season, won two consecutive NL pennants (1957 and 1958), lost two more in the final week of the season (1956 and 1959), and set big-league attendance records along the way.
This book celebrates the Milwaukee Braves' historic 1957 World Series championship season. Led by the bats of National League Most Valuable Player Henry Aaron and slugging third baseman Eddie Mathews and the "Big Three" pitching trio (Cy Young Award winner Warren Spahn, Lew Burdette, and Bob Buhl) the Braves won 95 games. The team enjoyed standout seasons by shortstop Johnny Logan, outfielder Wes Covington, and catcher Del Crandall And GM John Quinn pulled off the biggest trade of the summer, acquiring All-Star second baseman Red Schoendienst from the New York Giants. The Braves cemented their place in history by defeating the New York Yankees in the World Series. In one of the greatest performances in the history of the fall classic, crafty Lew Burdette tossed his second consecutive shutout (and third complete game) to defeat the Bronx Bombers in Game Seven, in Yankee Stadium.
A collaborative effort of 32 members of the Society for American Baseball Research (SABR), Thar's Joy in Braveland! The 1957 Milwaukee Braves portrays that memorable team with life stories of all of the roster players, the manager and coaching staff, the owner, the general manager, and sportswriters and radio announcers. Summaries of the regular season and World Series re-create the magic of that unforgettable season.
SABR members, get this e-book for FREE!
To view all books in the SABR Digital Library, visit SABR.org/ebooks.
Having trouble downloading our e-books? To view PDF files on your computer, click here to download the free Adobe Reader software. Having trouble downloading e-books to your Kindle, Nook, Sony Reader or iPad? Click here for additional help.
---
SABR members, you should have received an e-mail from tellers@sabr.org on Wednesday, May 7 with a link to vote in the 2014 SABR Board of Directors election. Please note: You will receive one more reminder next week to vote in the 2014 election.
If you did not receive your voting e-mail from tellers@sabr.org, please contact Jacob Pomrenke to have the ballot re-sent.
The poll will close at 11:59 p.m. Mountain Standard Time on Thursday, May 15. The only way to vote online is through the link you will receive by e-mail. All e-mails will come from the address tellers@sabr.org. (If you do not have an e-mail address on file with SABR, the ballot has been sent to you by mail. Please return it to the SABR office at 4455 E. Camelback Rd., Ste. D-140, Phoenix, AZ 85018 by Thursday, May 15.)
This year's election includes five ballot items: the election of the SABR Vice President, Treasurer, one Director's position, and two By-Laws amendment changes. The candidates up for election in 2014 are:
For Vice President
For Treasurer

For Director
Chris Dial
Mike Dugan
Emily Hawks (incumbent)
George R. Skornickel
Bryan Soderholm-Difatte
You can read the proposed By-Laws changes, candidate biographies, along with full descriptions of the positions and responses the candidates made to a series of questions, in the 2014 SABR Election Guide below:
For more information on the 2014 SABR election, click here.
---
With generous funding from The Anthony A. Yoseloff Foundation, Inc., SABR will award up to four scholarships to high school or college students to attend SABR 44 on July 30-August 3, 2014, in Houston, Texas. This scholarship will pay for registration, transportation and lodging up to a total value of $1,250.
The objective of this scholarship fund is to encourage high school and college-level student engagement with baseball research and to engender an active interest in baseball and SABR. The Yoseloff scholarship is to assist young researchers who want to attend SABR's annual convention and to introduce them to fellow SABR members. Through this fund, SABR hopes to inspire future baseball research, expose students to high-quality research and build the research capability of interested students.
Students must be currently enrolled in a high school, college undergraduate or graduate program, and be between 18 and 29 years of age at the time of the conference. All applications must be postmarked or e-mailed to Jeff Schatzki at jschatzki@sabr.org no later than June 6, 2014.
For more information on the SABR 44 Yoseloff Scholarships, along with eligibility requirements, click here.
---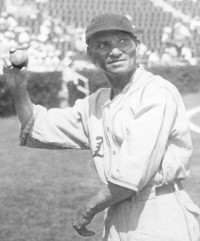 The Frederick Douglass Memorial Park and the Negro Leagues Baseball Grave Marker Project proudly invite the public to the Grave Marker Dedication of Baseball Hall of Famer King Solomon "Sol" White.
Join us at 12 p.m. on Saturday, May 10 at Frederick Douglass Memorial Park, 3201 Amboy Rd., Staten Island, NY. A pioneer in Negro Leagues baseball, White was a player, manager, owner and writer connected to baseball for more than six decades. SABR member John Thorn, Official Historian of Major League Baseball, said, "Sol White wasn't just a sure-handed, line-drive-hitting infielder in black baseball of the nineteenth century; he was one of its founding fathers, and its historian." Read his SABR biography here, written by Jay Hurd.
The Negro Leagues Baseball Grave Marker Project is committed to identifying the graves of players and significant figures of Negro Leagues baseball. It was founded in 2004 by SABR member Jeremy Krock of Peoria, Illinois, and is supported by SABR's Negro Leagues Research Committee.
If a gravesite is discovered unmarked, the Project raises the necessary funds to place a grave marker on the player's final resting place. To date, the Negro Leagues Baseball Grave Marker Project has facilitated the placement of 30 grave markers throughout the United States. White is the second of three Hall of Famers who have had markers placed by the Project.
Join them, along with some very special guests, as they celebrate the life of one of the most important contributors to black baseball history. Like so many players from his era, White died penniless. For the last 60 years, he has rested in an unmarked grave. Celebrate the correction of that error on May 10 with stories by and about Sol White, as well as performances by local musicians and a reading of essays about the heroes of the Negro Leagues by students of Staten Island.
For more information, contact (347) 705-9596 or Freddougmemorialpark@gmail.com.
Related links:
---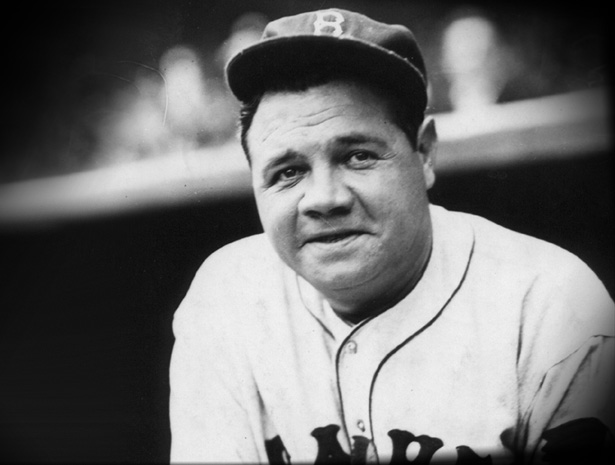 Five new biographies were posted as part of the SABR Baseball Biography Project, which brings us to a total of 2,818 published biographies. Here are the new bios:
All new biographies can be found here: http://sabr.org/bioproj/recent
You can find the SABR BioProject at SABR.org/BioProject.
1964 St. Louis Cardinals bios now online: By 1964, the storied St. Louis Cardinals had gone 17 years without so much as a pennant. Things began to turn around in 1953, when August A. Busch Jr. bought the team and famously asked where all the black players were. Under the leadership of men like Bing Devine and Johnny Keane, the Cardinals began signing talented players regardless of color, and slowly their star started to rise again. Drama and Pride in the Gateway City: The 1964 St. Louis Cardinals, edited by John Harry Stahl and Bill Nowlin and published as part of SABR's "Memorable Teams" series with the University of Nebraska Press, commemorates the team that Devine built, the 1964 team that prevailed in one of the tightest three-way pennant races of all time and then went on to win the World Series, beating the New York Yankees in the full seven games. All the players, executives, coaches, and broadcasters from that special Redbirds team come alive in these pages — from Bob Gibson to Curt Flood, from Lou Brock to Ernie Broglio, from Harry Caray to Bob Uecker — along with the dramatic events that made the 1964 Cardinals such a memorable club in a memorable year. The SABR BioProject biographies that appeared in that book can now be read online at: http://sabr.org/category/completed-book-projects/1964-st-louis-cardinals.
Bios on more than just ballplayers: The ambitious goal of the SABR Baseball Biography Project is to publish a full-life biography of every major league player in history. But SABR members write about a lot more than just ballplayers. In addition, we have pages for Ballparks, Broadcasters, Executives, Games, Managers, Scouts, Spouses, Umpires and a lot more on the BioProject website. You can browse all of these categories at http://sabr.org/bioproj/browse. So if you've ever thought, "Hey, that person (or ballpark) should get the full BioProject treatment" — write the story and we'll publish it!
Get involved! If you'd like to help contribute to the SABR BioProject, visit our BioProject Resources page or read the FAQs section to get started. We're also looking to expand the BioProject to include all "encyclopedic" articles on baseball-related subjects from past SABR publications or committee newsletters. If you come across an article you think should be included in the SABR "baseball repository" at the BioProject, send a copy or link to markarmour04@gmail.com or jpomrenke@sabr.org.
---
Want to write about the Wizard of Oz, the Big Hurt or Doctor K? SABR is looking for your help!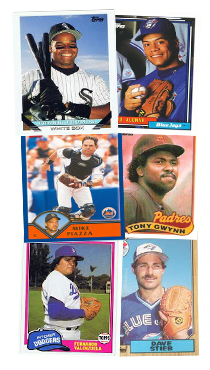 SABR Director Emily Hawks is spearheading an effort to write SABR biographies on baseball stars from the 1980s and '90s as part of the Baseball Biography Project.
You can write about your favorite players from the final seasons of the 20th century: Ozzie Smith, Frank Thomas, Dwight Gooden, Fernando Valenzuela, Mike Schmidt, Darryl Strawberry, Tony Gwynn, Mike Piazza, Roberto Alomar, or many more.
Or write about the memorable figures who helped make that era special: Tom Browning, Dave Stieb, Karl "Tuffy" Rhodes, the San Diego Chicken, or some 6-foot-6 minor league outfielder for the Birmingham Barons.
Your subject can be anyone who played in the major leagues; any manager, executive, umpire, scout, or broadcaster; or anyone else who had an impact on the game. To see a list of which baseball biographies have already been published or assigned, visit SABR.org/BioProject. (Please note: SABR biographies are assigned on a first-come, first-serve basis.)
High school or college students can also use the BioProject as an opportunity to write a research paper on a particular player and use their SABR bio as a published clip. Your paper would go through the full BioProject editing process and should conform to SABR's formatting and style guidelines.
Writing a biography for the BioProject is an easy way to get involved as a SABR member. Find out how by visiting our BioProject Resources page or reading the FAQs section.
If you are already a SABR member, you are fully qualified to participate in the Biography Project. (If you're not yet a SABR member, click here to join. Any baseball fan can sign up for a SABR membership.) Some of our writers are seasoned pros, but many are first-timers. We can work with you to help you turn your research into a worthy biography. Most authors enjoy the process and come back to write another one.
Sign up for a SABR biography today! To learn more, contact SABR Director Emily Hawks at emilyhawks@gmail.com or BioProject Director Mark Armour at markarmour04@gmail.com.
---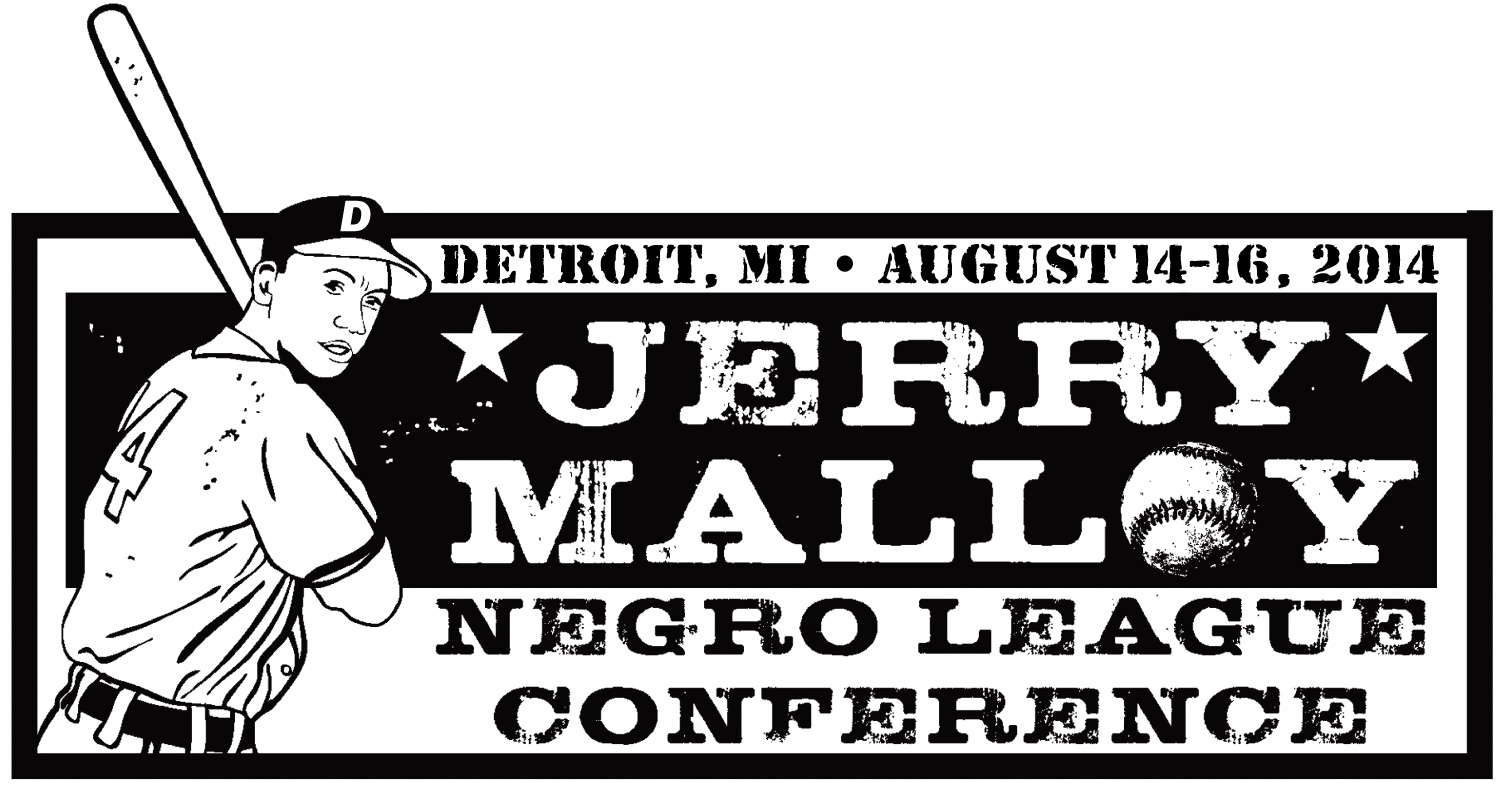 The 2014 Jerry Malloy Negro League Conference will be held August 14-16, 2014, at the Marriott Courtyard Downtown (333 E. Jefferson Avenue) in Detroit, Michigan. The conference is open to all baseball, history and sports fans of all ages.
The conference theme is "Turkey Stearnes and Black Baseball in Michigan." Black baseball has a long history in Michigan, especially centered in the Motor City. Among the original entrants to the Negro National League in 1920 was Tenny Blount's Detroit Stars, managed by Pete Hill and anchored by Big Bill Gatewood on the mound. The Detroit Wolves and Motor City Giants also played in Mack Park and Hamtramck stadium. In addition to the well-known Turkey Stearnes other star players included catcher Bruce Petway, the speedy Jimmie Lyons and the powerful Edgar Wesley.
The 17th annual Jerry Malloy Negro League Conference will celebrate this rich baseball history. In addition to two days of research presentations and player/author panels, attendees will also enjoy special presentations about local parks as well as a Tigers game against the Seattle Mariners.
To learn more, visit SABR.org/malloy.
---
Each year, Ohio University's E.W. Scripps School of Journalism awards the Herb Moss Business of Baseball Scholarship to students who submit an essay on any topic related to the business of baseball.
Moss is a longtime SABR member and a 1968 graduate of the Scripps school. He established the scholarship to recognize the importance of business and economic news, and to follow his love of baseball. Moss is VP at UBS investments, which specializes in financial services.
The winning essay for 2014 is being republished in its original form at SABR.org with the permission of Herb Moss. You can read it below:
For more information on the Ohio University E.W. Scripps School of Journalism, visit scrippsjschool.org.
---
From SABR member Terry Cannon at BaseballReliquary.org:
The Board of Directors of the Baseball Reliquary, Inc., a Southern California-based nonprofit organization dedicated to fostering an appreciation of American art and culture through the context of baseball history, is pleased to announce the 16th class of electees to the Shrine of the Eternals.
Dizzy Dean, Don Zimmer, and Rachel Robinson were elected upon receiving the highest number of votes in balloting conducted during the month of April 2014 by the membership of the Baseball Reliquary. The three electees will be formally inducted into the Shrine of the Eternals in a public ceremony on Sunday, July 20, 2014 at the Donald R. Wright Auditorium in the Pasadena Central Library, Pasadena, California.
Of the 50 eligible candidates on the 2014 ballot, Dizzy Dean received the highest voting percentage, being named on 37% of the ballots returned. Following Dean were Don Zimmer with 33% and Rachel Robinson with 31%. Runners-up in this year's election included Bo Jackson (29%), Glenn Burke (27%), Sy Berger (26%), Effa Manley (25%), Charlie Brown (24%), Bob Costas (24%), Ernie Harwell (24%), Steve Bilko (23%), and Rocky Colavito (23%).
For more information on the winners, click here or visit BaseballReliquary.org.
---
Students, the deadline to submit research papers for the Jack Kavanagh Memorial Youth Baseball Research Award is June 1, 2014.
The Kavanagh Award may be presented each year for either a research presentation given at the SABR National Convention (papers must accompany any oral presentation), or for a research paper that is submitted to the awards committee no later than June 1 by a researcher in grades 6-8 (middle school category), grades 9-12 (high school category), or undergraduates 22 and under (college category.)
The winner will receive a plaque honoring their achievement and the following:
College ($200 prize and one-year membership)
High School ($200 prize and one-year membership)
Middle School ($100 prize and two-year membership)
Additionally, the winning entry shall be published on the SABR website and may be published in either The National Pastime or the Baseball Research Journal. All finalists (3) shall receive one-year SABR memberships.
The Jack Kavanagh Memorial Youth Baseball Research Award was established in 1999 in recognition of Kavanagh's writing and research achievements and his contributions to SABR. The Award was presented for the first time at the 2000 SABR National Convention in West Palm Beach, Florida.
For details on submission guidelines and eligibility requirements, click here. For questions, please contact Leslie Heaphy at Lheaphy@kent.edu.
---
We've heard your feedback: Some of you have said you look forward to "This Week in SABR" every Friday, but sometimes there are just too many compelling articles and announcements to read every week. We're not complaining — hey, keep up the great work! — but we know the feeling. So in an effort to make the length of this newsletter more manageable to read, we'll summarize some of the repeating/recurring announcements in a special "In Case You Missed It (ICYMI)" section of "This Week in SABR".
Here are some major headlines from recent weeks that we don't want you to miss:
All previous editions of This Week in SABR can be found here: http://sabr.org/content/this-week-in-sabr-archives.
---
We'd like to welcome all of our new SABR members who have joined this week. You can find all Members-Only resources at members.sabr.org and the New Member Handbook can be downloaded here.
Please give these new members a warm welcome and help them make the most of their membership by giving them the opportunity to get involved in their local chapter or a research committee.
| Name | Hometown | | | Name | Hometown |
| --- | --- | --- | --- | --- | --- |
| Steve Abramowitz | Houston, TX | | | Carroll Mackay | Bar Harbor, ME |
| Charles Dymeck | Philipsburg, PA | | | Michael McInerney | Granite City, IL |
| Lon Enloe | Colorado Springs, CO | | | Rod Mickleburgh | Vancouver, BC |
| Anne Enos | Scottsdale, AZ | | | Dan Patterson | Hattiesburg, MS |
| David Herring | Hursy, TX | | | Jim Reed | Houston, TX |
| Barry Levine | Philadelphia, PA | | | Kent Searle | Hayward, CA |
| Scott Lindholm | Davenport, IA | | | David Zaro | Ocean, NJ |
| John Lovell | Sacramento, CA | | | | |
---
There were no new SABR research committee newsletters published this week.
Find all SABR research committee newsletters at SABR.org/research.
---
Here are the new chapter meeting recaps published this week:
Visit SABR.org/chapters for more information on SABR regional chapters.
---
Here is a list of upcoming SABR events:
All SABR meetings and events are open to the public. Feel free to bring a baseball-loving friend … and make many new ones! Check out the SABR Events Calendar at SABR.org/events.
---
Here are some recent articles published by and about SABR members:
Read these articles and more at SABR.org/latest.
---
This Week in SABR is compiled by Jacob Pomrenke. If you would like us to include an upcoming event, article or any other information in "This Week in SABR," e-mail jpomrenke@sabr.org.
Are you receiving our e-mails? "This Week in SABR" goes out by e-mail to all members on Friday afternoons. If they're not showing up, try adding "sabr.notes@sabr.org" to your contact list to ensure they show up in your inbox (and not the spam folder.)
---
Originally published: May 9, 2014. Last Updated: April 3, 2020.
https://sabr.org/wp-content/uploads/2020/03/research-collection4_350x300.jpg
300
350
jpomrenke
/wp-content/uploads/2020/02/sabr_logo.png
jpomrenke
2014-05-09 08:00:00
2020-04-03 14:39:36
This Week in SABR: May 9, 2014