This Week in SABR: November 13, 2015

Welcome to "This Week in SABR!" Click here to view this week's newsletter on the web. Here's what we've been up to as of November 13, 2015:
---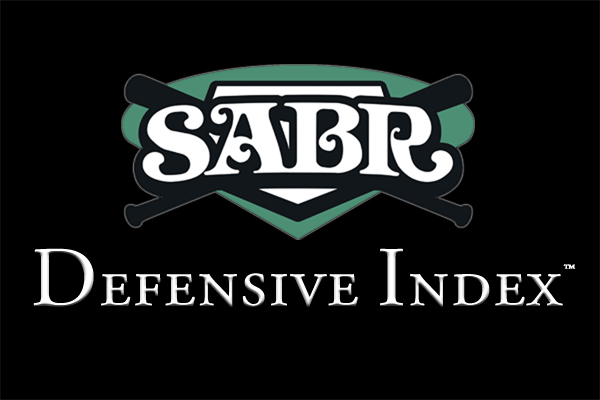 For the third consecutive season, the SABR Defensive Index™ was used to help select the winners of the Rawlings Gold Glove Award and Rawlings Platinum Glove Award™, presented by SABR. The SABR Defensive Index accounts for approximately 25 percent of the Rawlings Gold Glove Award selection process that was added to the votes from the managers and coaches.
The Gold Glove winners were announced on ESPN2's "Baseball Tonight" on Tuesday, November 10. Click here to view the winners of the 2015 Rawlings Gold Glove Awards.
The final SABR Defensive Index rankings for the 2015 season were also released this week. Click here to view the final 2015 SDI rankings.
The SDI is compiled by the SABR Defensive Committee, which includes SABR President Vince Gennaro, Sean Forman of Baseball-Reference.com, Ben Jedlovec of Baseball Info Solutions, SABR Director F.X. Flinn, author and defensive metrics expert Chris Dial, and author Michael Humphreys.
Voting for Rawlings Platinum Glove Award, presented by SABR, was conducted online at Rawlings.com this week and the winner will be announced tonight at the Rawlings Gold Glove Award Ceremony in New York.
Learn more about the SABR Defensive Index and its role in the Rawlings Gold Glove Award process at SABR.org/SDI.
Related links:
---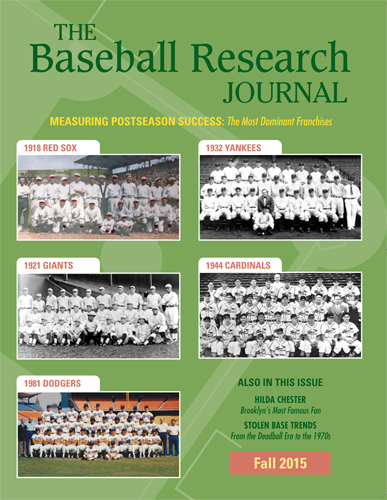 Good news! The Fall 2015 edition of the Baseball Research Journal has been mailed out to all SABR members.
Those of you who receive the print edition should find your BRJ arriving in the next two to four weeks, although we hear many have already arrived. For digital subscribers, the e-book edition was delivered to your inboxes on November 4.
To learn more about contributing to a future SABR publication, click here.
Having trouble downloading our e-books? To view PDF files on your computer, click here to download the free Adobe Reader software. Having trouble downloading e-books to your Kindle, Nook, Sony Reader or iPad? Click here for additional help.
We hope you enjoy reading the Fall 2015 Baseball Research Journal!
---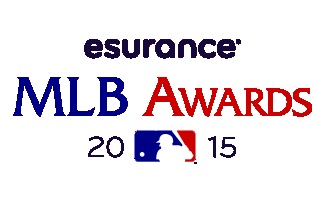 Once again, SABR members have the opportunity to play a key role in selecting the winners of the 2015 Esurance MLB Awards. The votes from SABR members will be equal to each of the other four categories.
SABR members (20%)
MLB.com fans (20%)
Front office personnel (20%)
Retired players (20%)
Media (20%)
Please see below for details on casting your SABR vote. Voting will remain open through 11:59 p.m. ET on Friday, November 13.
This year's Esurance MLB Awards will feature nominees in two dozen categories. Individual awards will go to the Best Major Leaguer, Best Starting Pitcher, Everyday Player, Rookie, Defensive Player, Breakout Player, Bounceback Player, Manager, Executive, Social Media Personality and postseason performer. Winners will also be recognized for the year's best offensive play, defensive play, Moment, single-game performance, Social Media Post, Celebrity Fan, Fan Catch, Interview, TV call, radio call, Player-Fan Interaction, Video Board Moment and Trending Topic.
To cast your SABR vote in the 2015 Esurance MLB Awards:
Log in to your MLB.com account in the upper-right corner or register for a free account at MLB.com using your primary e-mail address on file with SABR. (See this screenshot for details.)
Vote for your top selections in any award category. The deadline to cast your SABR vote is 11:59 p.m. PST on Friday, November 13. You can still cast a fan vote without logging in through the end of the public voting period on MLB.com.
Visit mlb.com/awards to learn more. Winners will be announced live on MLB Network and MLB.com on November 20, 2015.
---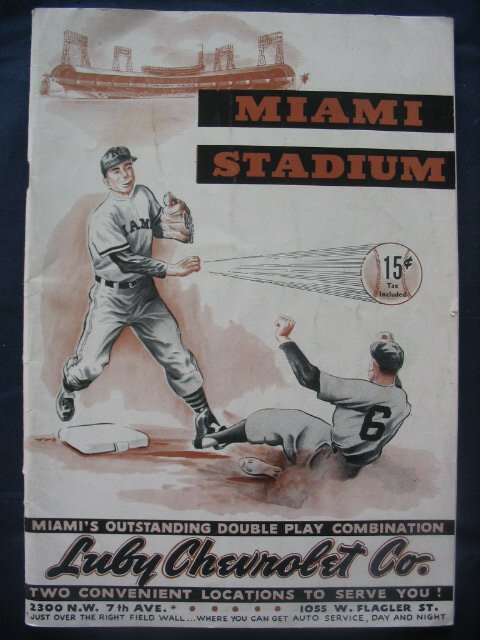 The 46th annual SABR national convention will take place July 27-31, 2016, in Miami, Florida.
To coincide with the convention, the summer 2016 issue of The National Pastime will focus on Florida and particularly Miami-area baseball. Florida has had a long relationship with Major League Baseball as the home of the Grapefruit League spring training, as well as various minor leagues, college baseball powerhouses, and two current major-league expansion franchises.
This issue of The National Pastime will be edited by publications director Cecilia Tan. She will be taking queries and abstracts until November 15, 2015, and will make assignments no later than December 1. First drafts of articles will be due no later than March 1, 2016, and rewrites (if needed) will be due by April 15.
Remember that every article must include proper citation of sources and present a clear thesis, and to be published in a SABR journal, your SABR membership must be current.
Note also that the TNP will have both a print edition (given out to SABR 46 convention attendees) and an expanded e-book version that will be sent to all SABR members. Some, but not all, of the articles will be selected to appear in the print edition, while more will appear in the electronic edition.
---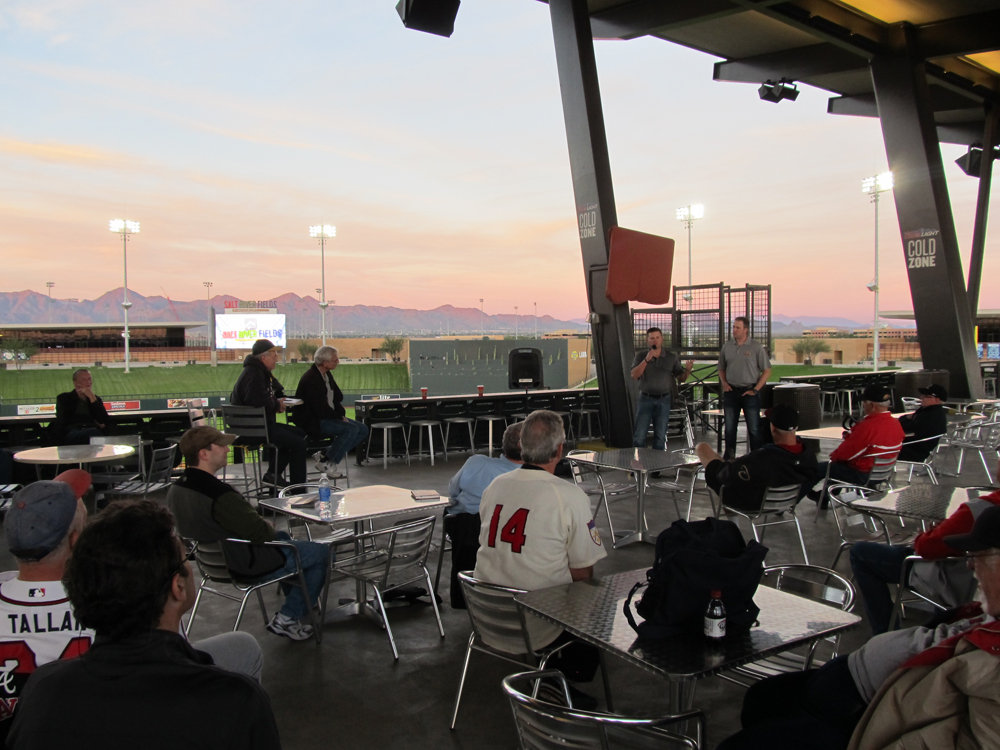 The seventh annual SABR Arizona Fall League Experience — with a new name, but same great experience — was held November 5-7, 2015. The event featured four AFL games showcasing baseball's top prospects, including games at Scottsdale Stadium and Camelback Ranch, our first trip to Glendale; dinner at Don and Charlie's in Scottsdale, home to one of the great sports memorabilia collections you will ever see, and a ballpark dinner at Salt River Fields at Talking Stick, along with the Fall Stars Game.
On Thursday, November 5, conference attendees took in a game between the Peoria Javelinas and Scottsdale Scorpions at Scottsdale Stadium. Giants outfield prospect Mac Williamson doubled and drove in two runs in the Scorpions' 5-2 win. On Thursday evening, AFL umpires Clint Fagan and Nicholas Lentz spoke to the SABR group about the challenges of a professional umpiring career and learning the new "pace of play" rule changes.
On Friday, November 6, AFL Experience guests attended a game between the Mesa Solar Sox and Glendale Desert Dogs at Camelback Ranch. Dodgers catcher/infielder Kyle Farmer homered and had four RBIs in the Desert Dogs' 7-6 victory. The game was followed by a special dinner at Don and Charlie's in Scottsdale, where Arizona Major League Alumni president Lou Klimchock, who spent 12 years in the big leagues, and his grandson Mitch Nay, now a minor-league infielder in the Toronto Blue Jays organization, talked about the "generation gap" and the differences in their experiences in pro ball.
On Saturday, November 7, attendees joined members of SABR's Flame Delhi Chapter for their regional fall meeting, with guest speakers Barry Bloom and Bernie Pleskoff of MLB.com. Bloom spoke about his recent trip to the World Series and his thoughts on offseason moves by the San Diego Padres and Arizona Diamondbacks, while Pleskoff gave his scouting report on which players to watch at the Fall Stars Game. Chapter member Chuck Johnson made a presentation on Dernell Stenson, the former Cincinnati Reds outfielder and AFL prospect who was killed in 2003. A sportsmanship award is presented in his honor to a fall league player each year. Jacob Pomrenke also spoke about new developments in the Black Sox Scandal, the fixing of the 1919 World Series, subject of a new SABR e-book, Scandal on the South Side.
The SABR AFL Experience concluded with the nationally televised Fall Stars Game from Salt River Fields at Talking Stick. Yankees catcher Gary Sanchez won MVP honors with a two-run homer and an impressive throw to catch the Giants' Christian Arroyo attempting to steal. The Pirates' Austin Meadows and the Reds' Alex Blandino also homered for the West team in an 8-3 win in front of a Fall Stars Game-record 6,793 fans.
---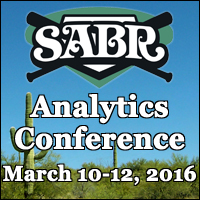 SABR has a long and storied history with baseball statistical analysis, evidenced by the link between our name and sabermetrics. While SABR is a multi-faceted organization involved in virtually every aspect of baseball, we continue to build on our legacy by producing and hosting the fifth annual SABR Analytics Conference.
Once again, we're bringing together the top minds of the baseball analytic community under one roof to discuss, debate and share insightful ways to analyze and examine the great game of baseball.
The schedule will consist of a combination of Guest Speakers, Panels and Research Presentations — plus the unique Diamond Dollars Case Competition, in which undergraduate, graduate, and law school students from across the country analyze and present a real baseball operations decision.
Conference registration is available now at the SABR Store.

Click here to register!

The conference is open to all baseball fans. The early registration rate is $395 for SABR members and $495 for nonmembers, or $350 for currently enrolled high school or college students (includes one-year membership to SABR).
Book your hotel room: The 2016 SABR Analytics Conference will be held Thursday, March 10 through Saturday, March 12 at the Hyatt Regency Phoenix, 122 N. 2nd St., Phoenix, AZ 85004. Click here to book your hotel room at the special SABR group rate of $179/night (plus tax) for double occupancy. Or call

(602) 252-1234 and mention that you're with the SABR Analytics Conference.
Check back soon at SABR.org/analytics as we announce some of our featured speakers, panels and presentations for the 2016 SABR Analytics Conference!
Related links:
---
With generous funding from The Anthony A. Yoseloff Foundation, Inc., SABR will award up to four scholarships to high school and college students who wish to attend the 2016 SABR Analytics Conference on March 10-12, 2016, in Phoenix, Arizona. This scholarship will pay for registration, air transportation and lodging up to a total value of $1,250.
The objective of this scholarship fund is to encourage student engagement with baseball analytics, and to engender an active interest in baseball research and SABR. The Yoseloff scholarship is to assist young researchers who want to attend SABR's Analytics Conference and to introduce them to fellow SABR members and professionals within the baseball community. Through this fund, SABR hopes to inspire future baseball research, expose students to high-quality research and build the research capability of interested students.
Students must be currently enrolled in a high school, college undergraduate or graduate program, and be between 18 and 29 years of age at the time of the conference. Some form of age verification (photocopy of driver's license, passport, etc.) must be attached to your application. All applications must be postmarked or e-mailed to Jeff Schatzki at jschatzki@sabr.org no later than December 31, 2015.
Click here for complete details on eligibility requirements and submission details. Or Click here to download the PDF application.
---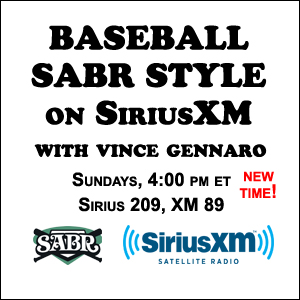 Behind the Numbers: Baseball SABR Style on SiriusXM, a new radio show hosted by SABR President Vince Gennaro, has returned from its postseason hiatus and we invite you to listen this Sunday at its new time — 4:00-5:00 p.m. ET — on MLB Network Radio.
This week's guests: Dave Cameron of FanGraphs and Michael Bentley of Blast Motion.
Baseball SABR Style focuses on examining and interpreting the statistical analysis that plays a critical role in baseball today. It airs weekly throughout the year on MLB Network Radio, available to subscribers nationwide on XM channel 89, Sirius channel 209, and on the SiriusXM Internet Radio App. (Recent shows are available afterward in the "on-demand" section of the SiriusXM app or website.)
For more information, click here.
---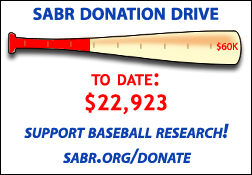 This has been a banner year for SABR, and you can help us bring 2015 to an even more successful close by making a charitable contribution to our year-end donation drive.
SABR depends upon the volunteer work of members to mount our exciting events like the SABR Convention, the Analytics Conference, and the Jerry Malloy Negro League Conference; to produce groundbreaking research through the SABR Digital Library e-book program, the Baseball Research Journal, and The National Pastime; and to expand the online resources of the research committees, regional chapters, the BioProject, the Games Project, and much more. SABR continues to offer unparalleled opportunities for involvement and benefits for members around the world.
As a 501(c)3 organization, tax-deductible donations allow SABR to expand member opportunities and to become an even larger voice in the baseball community. Many members have already become donors, and you can join them right now by making your gift online at SABR.org/donate. Please help us reach our donation drive goal!
You can also send your donation by check to: SABR, Cronkite School at ASU, 555 N. Central Ave. #416, Phoenix, AZ 85004.
All of us at SABR appreciate your support of our great organization and the game we love.
To learn more, visit SABR.org/donate.
---
For those of you whose SABR memberships expire by December 31 — you can check your current membership status here — it's almost time for you to renew! We're excited about the upcoming year ahead of us and we hope you'll take advantage of all the great membership benefits offered to SABR members in 2016. Here's a short list:
http://sabr.org/member-benefits
You can renew your membership for 1 year or 3 years online at the SABR Store; by phone at (602) 496-1460; or by mailing this downloadable PDF form and your payment to the office at: SABR, Cronkite School at ASU, 555 N. Central Ave. #416, Phoenix, AZ 85004.
Dues are the same as they have been in recent years: for this, you get two editions of the Baseball Research Journal, the expanded e-book edition of The National Pastime; 8-10 free e-books published by the SABR Digital Library; "This Week in SABR" every Friday; access to research resources such as Paper of Record (with complete archives of The Sporting News); discounts to all SABR conferences such as the National Convention (Miami 2016), the SABR Analytics Conference, the Jerry Malloy Negro League Conference, and the Frederick Ivor-Campbell 19th Century Conference; discounts to MLB.TV; and much, much more.
We believe SABR has something for everyone, from the active researcher to someone passionate about baseball. We hope you'll invite your friends, colleagues and family members to join at store.sabr.org.
Add a family member for $15: Any SABR member can add a family member in the same household for $15 per year; they will receive all electronic member benefits and access to the website, but no printed publications. To add a new family member, please contact Membership Director Deb Jayne. Note: In order to renew your existing family membership, you must log in to the SABR website under the family member's username/e-mail address, not your own.
---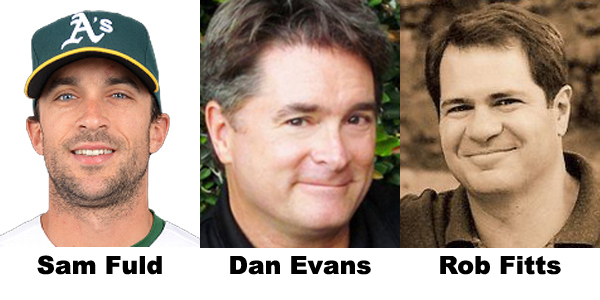 Oakland A's outfielder Sam Fuld, Toronto Blue Jays scout Dan Evans, and award-winning author Rob Fitts will serve as the featured speakers at SABR regional chapter banquets this weekend.
Fuld, a Stanford University graduate who has spent eight seasons in the majors, and Evans, a longtime SABR member and former Los Angeles Dodgers general manager, are scheduled to speak at the 18th annual Rocky Mountain Chapter banquet on Saturday, November 14 at Coors Field in downtown Denver, Colorado.
All baseball fans are welcome to attend. For more information, visit RMSABR.org.
In Atlanta, SABR member Rob Fitts, author of Mashi and Banzai Babe Ruth, will headline the Magnolia/Georgia Chapter's fall banquet on Saturday at the Holiday Inn-Atlanta Northlake (2158 Ranchwood Drive, Atlanta, GA 30345).
Other surprise guests are expected to attend, and door prizes will be given away. For more details, click here.
For information on other upcoming SABR events, visit the Events Calendar at SABR.org/events.
---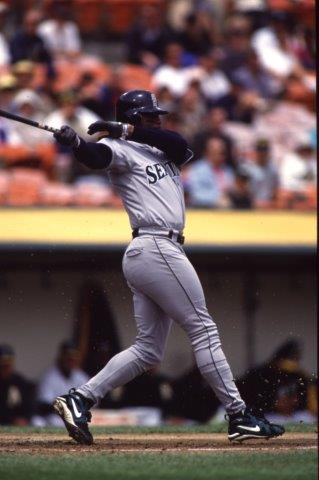 Nine new biographies were posted this week as part of the SABR Baseball Biography Project, which brings us to a total of 3,492 published biographies. Here are the new bios:
All new biographies can be found here: http://sabr.org/bioproj/recent
Help us write 2016 Hall of Fame biographies: SABR Director Emily Hawks has launched a new BioProject initiative for biographies of players who are on the 2016 Hall of Fame ballot later this year, and a few players still need biographers. If you are interested in writing a SABR biography for one of these players, please contact Emily Hawks at emilyhawks@gmail.com: Sammy Sosa, Mark McGwire, Jeff Kent, Jason Kendall, Jim Edmonds.
1957 Milwaukee Braves bios posted online: In Thar's Joy in Braveland! The 1957 Milwaukee Braves, edited by Gregory H. Wolf and published by SABR in 2014, we celebrated the Milwaukee Braves' historic 1957 World Series championship season. The SABR BioProject biographies that appeared in that book can now be read online. Click here to read all 1957 Braves bios.
---
Please note: Only ONE entry per nomination will be considered (do not submit multiple nominations for the same award). For more information on SABR Awards, click here.
---
We've heard your feedback: Some of you have said you look forward to "This Week in SABR" every Friday, but sometimes there are just too many compelling articles and announcements to read every week. We're not complaining — hey, keep up the great work! — but we know the feeling. So in an effort to make the length of this newsletter more manageable to read, we'll summarize some of the repeating/recurring announcements in a special "In Case You Missed It (ICYMI)" section of "This Week in SABR".
Here are some major headlines from recent weeks that we don't want you to miss:
All previous editions of This Week in SABR can be found here: http://sabr.org/content/this-week-in-sabr-archives.
---
We'd like to welcome all of our new SABR members who have joined this week. You can find all Members-Only resources at members.sabr.org and the New Member Handbook can be downloaded here.
Please give these new members a warm welcome and help them make the most of their membership by giving them the opportunity to get involved in their local chapter or a research committee.
You can find contact information for any SABR member in the online membership directory (SABR.org/directory).
| Name | Hometown | | | Name | Hometown |
| --- | --- | --- | --- | --- | --- |
| Doug Barker | Olympia, WA | | | Nicole Richard | Iowa City, IA |
| Darrin Beeh | Eugene, OR | | | Glenn Robertson | Tallahassee, FL |
| Mark Brown | Sheldon, IA | | | Joshua Schwam | New York, NY |
| Thomas Bucher | Smyrna, TN | | | Mark Shaw | Burlingame, CA |
| Hal Campbell | Maple Grove, MN | | | Steve Shelton | Pointe-Claire, QC |
| David Ernst | Elkhorn, NE | | | Chris Skrzypek | Palm Coast, FL |
| Greg Jackson | Grande Prairie, AB | | | Dane Terry | Henderson, NV |
| Frederic Majeur | Pointe-Claire, QC | | | Donn Thomas | Eugene, OR |
| Paul Mampreian | JBER, AK | | | | |
---
Here are the new SABR research committee updates this week:
Find all SABR research committee newsletters at SABR.org/research.
---
Here are the new regional chapter updates this week:
Visit SABR.org/chapters for more information on SABR regional chapters.
---
Here is a list of upcoming SABR events:
All SABR meetings and events are open to the public. Feel free to bring a baseball-loving friend … and make many new ones! Check out the SABR Events Calendar at SABR.org/events.
---
Here are some recent articles published by and about SABR members:
Read these articles and more at SABR.org/latest.
---
This Week in SABR is compiled by Jacob Pomrenke. If you would like us to include an upcoming event, article or any other information in "This Week in SABR," e-mail jpomrenke@sabr.org.
Have trouble reading this e-mail? Click here to view this week's newsletter on the web.
Are you receiving our e-mails? "This Week in SABR" goes out by e-mail to all members on Friday afternoons. If they're not showing up, try adding "sabr.notes@sabr.org" to your contact list to ensure they show up in your inbox (and not the spam folder.)
---
Originally published: November 13, 2015. Last Updated: April 3, 2020.
https://h2j7w4j4.stackpathcdn.com/wp-content/uploads/2020/03/research-collection4_350x300.jpg
300
350
admin
/wp-content/uploads/2020/02/sabr_logo.png
admin
2015-11-13 15:00:00
2020-04-03 14:39:14
This Week in SABR: November 13, 2015