This Week in SABR: October 13, 2017

Welcome to "This Week in SABR!" Click here to view this week's newsletter on the web. Here's what we've been up to as of October 13, 2017:
---
This has been a banner year for SABR, and your year-end charitable gift can help us bring 2017 to an even more successful close.
SABR continues to offer unparalleled opportunities for involvement and benefits for members around the world. We depend upon the volunteer work of members to mount our exciting events like the SABR Convention (in Pittsburgh next summer), the SABR Analytics Conference in Phoenix, and the Jerry Malloy Negro League Conference; to produce groundbreaking research through the SABR Digital Library e-book program (with 8-10 free e-books provided to members each year), the Baseball Research Journal, and The National Pastime; and to expand the online resources of the research committees, regional chapters, the BioProject, the Games Project, and much more. SABR continues to offer unparalleled opportunities for involvement and benefits for members around the world.
As a 501(c)3 organization, tax-deductible donations allow SABR to expand member opportunities and to become an even larger voice in the baseball community. Many members have already become donors, and you can join them right now by making your gift online at SABR.org/donate. Please help us reach our donation drive goal!
You can also send your donation by check to: SABR, Cronkite School at ASU, 555 N. Central Ave. #416, Phoenix, AZ 85004.
All of us at SABR appreciate your support of our great organization and the game we love.
To learn more, visit SABR.org/donate.
---
For those of you whose SABR memberships expire by December 31 — you can check your current membership status here — it's time for you to renew!
From the Baseball Research Journal and the SABR Digital Library to "This Week in SABR" and our extensive list of research resources — and, of course, all the memorable conferences, chapter meetings, and events — we hope you enjoyed the many benefits of SABR membership this past year.
We hope you please continue your support by renewing your SABR membership today.
Renew by mail: To pay by check or money order, mail this downloadable PDF form and your payment to the office at SABR, Cronkite School at ASU, 555 N. Central Ave. #416, Phoenix, AZ 85004.
Pay by phone: To process your credit-card payment over the phone, please call the SABR office at (602) 496-1463 during regular business hours. (We accept Visa, Mastercard, or Discover Card.)
Dues are the same as they have been in recent years: $65 for one year or $175 for three years, with discounts available to anyone under 30 or over the age of 65.
Here are some of the membership benefits that SABR members enjoyed in the past year:
Two issues of the Baseball Research Journal and The National Pastime convention journal

The SABR 47 convention in New York City, which enjoyed record-breaking attendance, entertaining panels on Jim Bouton, Yogi Berra, and Jackie Robinson, and a special trip to Citi Field
The SABR Analytics Conference during spring training in Phoenix, where we heard from Hall of Famer Randy Johnson and postseason legend Luis Gonzalez, sabermetric pioneer Bill James, and the Chicago Cubs' front office about their journey to the World Series
8-10 new e-books published by the SABR Digital Library — all FREE to members — including Puerto Rico and Baseball: 60 Biographies, The SABR Book on Umpires and Umpiring and Bittersweet Goodbye: The Black Barons, the Grays, and the 1948 Negro League World Series
Discounted registration to SABR's national events and conferences, like the Jerry Malloy Negro League Conference and the Frederick Ivor-Campbell 19th Century Base Ball Conference
Hundreds of new articles published through the SABR BioProject and the SABR Games Project
The work of our 30+ research committees and 70+ regional chapters
Free access to The Sporting News archives through Paper of Record
Want to learn more? Click here for Frequently Asked Questions about getting the most out of your SABR membership.
Please note: If you have had trouble logging in to the SABR website, please try resetting your password using this reset link. Then try logging in to renew at the link above.
Thank you for your support of SABR as we continue to strive to make SABR membership a great experience and a great value!
---
The Arizona Fall League season began play this week, and there's still time to register for the ninth annual SABR Arizona Fall League Experience, which will be held Thursday, November 2 to Saturday, November 4, 2017:
We have an exciting list of guest speakers scheduled to speak, including:
Del Unser, a 15-year major-league veteran who helped the Philadelphia Phillies win the 1980 World Series and has spent more than three decades in the organization as a hitting coach, farm director, and scout
Terry Kennedy, former major-league catcher and Chicago Cubs scout
Steve Cobb, Executive Director of the Arizona Fall League since 1993
Tony Siegle, Senior Advisor, Baseball Operations for the San Francisco Giants
John D'Acquisto, former major-league pitcher and author of Fastball John
Barry Bloom, MLB.com national columnist and president of the Hemond-Delhi Arizona SABR Chapter
Joseph A. Reaves, co-author of Ned Colletti's The Big Chair: The Smooth Hops and Bad Bounces from the Inside World of the Acclaimed Los Angeles Dodgers General Manager
Unser and Cobb are scheduled to speak at the ballpark dinner on Thursday, November 2 at Scottsdale Stadium before the Scottsdale Scorpions' game against the Peoria Javelinas. Kennedy, D'Acquisto, Bloom, and Reaves will speak at the Hemond-Delhi Arizona Chapter meeting on Saturday, November 4 at the Embassy Suites, 5001 Scottsdale Road in Scottsdale, Arizona. Please note: All speakers are subject to change depending on availability.
All of this, including transportation, is included in one low registration price. The 2017 SABR Arizona Fall League Experience is open to all baseball fans.
Register now by clicking here! Registration is $195 for all SABR members and guests.
Host hotel: SABR's recommended hotel is the Embassy Suites (5001 N. Scottsdale Rd., Scottsdale, AZ 85251) in Old Town Scottsdale. Click here to book your room online or call the hotel at (480) 949-1414 or (800) 528-1456 and mention "SABR" to book your room at our special group rate of $129/night (plus tax).
In the first eight years of the SABR AFL conference, attendees were treated to sneak peeks at Mike Trout, Bryce Harper, Buster Posey, Stephen Strasburg, Nolan Arenado, Gerrit Cole, Billy Hamilton, and Gary Sanchez before they hit the big leagues.
Visit SABR.org/AFL to sign up today or to find the full schedule.
Note: Local or visiting SABR members can purchase extra or optional tickets to the Thursday evening ballpark dinner and game ($35) at Scottsdale Stadium, the Friday afternoon game at Scottsdale Stadium ($7), the Friday night dinner at Don and Charlie's ($60), or the Fall Stars Game ($7) on Saturday night at Salt River Fields. Extra AFL Media Guides ($12) are also available for purchase while supplies last. Please contact Deb Jayne at djayne@sabr.org for details. Please note: All speakers are subject to change depending on availability.
Related links:

---
SABR and Baseball Info Solutions are excited to announce the call for presentations for the seventh annual SABR Analytics Conference, scheduled for Friday, March 9 to Sunday, March 11, 2018, at the Hyatt Phoenix Downtown.
The SABR Analytics Conference brings together the leading minds in baseball analytics to discuss and debate topics relevant to the quantitative analysis of the game of baseball, including aspects of innovation and technology. Past conferences have been attended by representatives from more than 25 MLB teams.
Abstracts of proposed research presentations should be no more than 500 words in length, and must include the abstract's title, review of previous work on the subject, a summary of the research methodology and anticipated results, and the expected contribution to the field of baseball analytics offered by this work. Please send all abstracts to this e-mail address: 2018-analytics-presentations@sabr.org.
The submission deadline for 2018 SABR Analytics Conference presentation abstracts is 11:59 p.m. MST, Friday, November 3, 2017. Please note: If your presentation abstract is accepted, you will be required to register for the conference in order to qualify for a presentation slot.
Click here for complete details and submission criteria.
---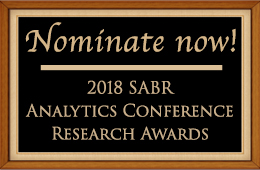 What are the best baseball analytics articles you've read in 2017?
We're seeking nominations for the 2018 SABR Analytics Conference Research Awards, which recognize baseball researchers who have completed the best work of original analysis or commentary during the preceding calendar year in the following categories:
Contemporary Baseball Analysis: Honoring the best analysis focusing on a subject related to the modern game(s), team(s) or player(s).
Contemporary Baseball Commentary: Honoring the best commentary focusing on a subject related to the modern game(s), team(s) or player(s).
Historical Baseball Analysis/Commentary: Honoring the best original analysis or commentary focusing on a subject related to a game(s), team(s) or player(s) throughout baseball history.
Please send all nominations via e-mail to this address: 2018-analytics-awards@sabr.org no later than January 5, 2018. Include author, title, date of publication and a URL link (if applicable). Click here for complete details and category criteria.
Voting for the winners will be conducted online in January-February 2018 at SABR.org, BaseballProspectus.com, FanGraphs.com, HardballTimes.com and BeyondtheBoxScore.com, with results weighted equally at 20%.
Results will be announced and presented at the seventh annual SABR Analytics Conference, March 9-11, 2018, at the Hyatt Regency Phoenix in Phoenix, Arizona. Learn more at SABR.org/analytics.
To view past award winners and finalists, click here.
---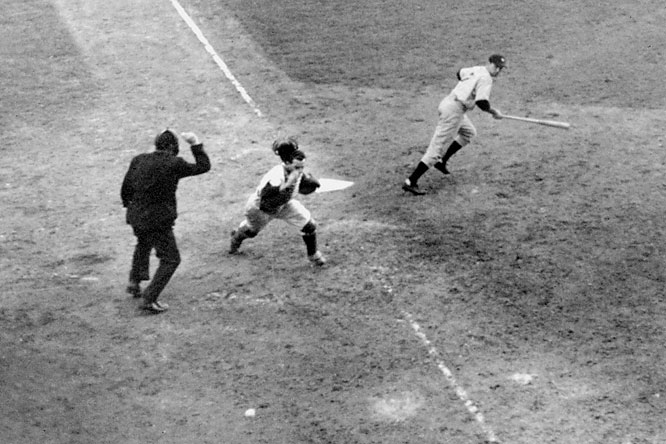 As Richard Hershberger wrote recently for the SABR Baseball Research Journal, "The dropped third strike is a peculiar rule. Three strikes and you are out seems a fundamental element of baseball, yet there is this odd exception. … This doesn't happen often, but when it does it can be costly, as the Dodgers found in the 1941 World Series, when with two outs in the ninth inning the Yankees' Tommy Henrich missed the the third strike, followed immediately by catcher Mickey Owen missing it as well, extending the inning and allowing the Yankees to score four runs to take the lead and win the game."
The obscure rule also came into play on Thursday night during a wacky Game 5 of the NL Division Series between the Chicago Cubs and Washington Nationals. In the fifth inning, Washington catcher Matt Wieters lost control of a Max Scherzer pitch to strike out Javy Baez, who reached base and later came around to score during the Cubs' go-ahead rally. That was in the middle of a bizarre sequence in which the Cubs reached base in a variety of ways: an intentional walk, a dropped third strike/passed ball, a catcher interference by Wieters, and then a hit batsman. SABR member Sean Forman of Baseball-Reference.com checked all 2.73 million half-innings in its database and found that no single half-inning in a major-league game has included those four events — let alone on four consecutive batters in a row! (How many different ways are there for a batter to reach first base? Paul Hertz examined the answer to that popular trivia question in the BRJ, too.)
As we get ready for the next round of the 2017 postseason — which begins tonight with Game 1 of the ALCS between the Houston Astros and New York Yankees — learn more about the history of the dropped third strike rule in Hershberger's article for the BRJ in the spring of 2015. "It is a quirky rule," he wrote, "seemingly without purpose, a vestige of baseball's earliest days. It is part of the charm of the game."
Related links:
---
Be a winner, and add this new baseball book from the SABR Digital Library to your collection:
20-Game Losers
Edited by Bill Nowlin and Emmet R. Nowlin
Associate Editors: Bob LeMoine, Len Levin, and Carl Riechers
ISBN (ebook): 978-1-943816-58-3, $9.99
ISBN (paperback): 978-1-943816-59-0, $21.95
8.5″ x 11″, 486 pages
Click here to read a full description of this book at SABR.org.
SABR members, get this e-book for FREE!
SABR members will get discounted rates for all Digital Library publications, including many for free. Visit SABR.org/ebooks to find all previously published books.
Having trouble downloading our e-books? To view PDF files on your computer, click here to download the free Adobe Reader software. Having trouble downloading e-books to your Kindle, Nook, Sony Reader or iPad? Click here for additional help.
---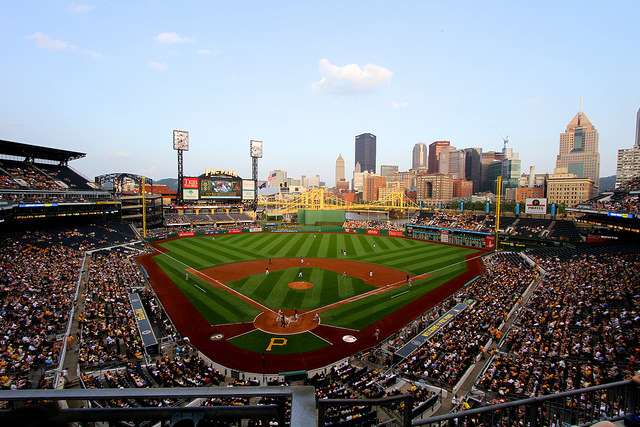 Save the date! SABR will be returning to the Steel City for our 48th national convention on June 20-24, 2018, at the Wyndham Grand in downtown Pittsburgh, Pennsylvania. Registration information will be available at SABR.org/convention in early 2018. The Pirates are scheduled to play at home against the Arizona Diamondbacks that weekend.
The Wyndham Grand is conveniently located within walking distance from PNC Park and a light rail station, many downtown cultural amenities, and right across the street from the picturesque 36-acre Point State Park where the three rivers converge.
SABR 48 will be our second convention held in Pittsburgh and first since 1995. Our 25th annual convention that year featured a keynote speech from former Pirates manager Chuck Tanner and panel discussions commemorating the 1960 and 1971 World Series champions. Learn more about SABR's convention history by clicking here.
SABR's 2018 national convention will be our 48th annual gathering; the organization's founding in Cooperstown in 1971 is counted as the first.
For more information on the SABR convention, visit SABR.org/convention.
---
SABR's Women in Baseball Committee is pleased to award two scholarships to high school senior in its inaugural Women in Baseball Essay Contest in 2017.
Due to the generous donations of committee members, the Women in Baseball Committee has awarded a $500 scholarship to Josh Staples of Chandler, Arizona, and a $250 award to Sara Tobias of New York City.
Students were asked to write an essay of 1,500 words or less addressing the following question: "Choose one person or event in women's baseball history that you believe has made a significant impact on the game and explain the importance."
Click on a PDF link below to read the winning essays:
To learn more about the winners, click here.
---
All SABR members are invited and encouraged to submit a Research Presentation Proposal Abstract on any topic of 19th-century baseball for the 2018 Frederick Ivor-Campbell 19th Century Base Ball Conference at the Baseball Hall of Fame in Cooperstown, New York. The 10th annual Ivor-Campbell Conference is scheduled for April 20-21, 2018.
The deadline for proposal Abstracts is October 31, 2017. Your abstract must be between 200-500 words for a 20- to 25-minute presentation. Please include name, title, and contact information and send your proposal as a Microsoft Word or PDF attachment to Peter Mancuso at peterplus4@earthlink.net.
---
The SABR Rocky Mountain Chapter is pleased to announce that our 20th Annual Chapter Banquet will be held on Saturday, November 11, 2017. For the third consecutive year it will be held at Coors Field, home of the Colorado Rockies. The banquet is open to all SABR members and baseball fans.
Rocky Mountain SABR welcomes several special guests to this year's event, including Keynote Speaker Patrick Saunders, Rockies beat writer for the Denver Post and current president of the Baseball Writers' Association of America (BBWAA); Featured Speaker Ryan Spilborghs, former Rockies player and Emmy Award-winning commentator for ROOT Sports, Rockies Vice President of Scouting Bill Schmidt, former Rockies GM Bob Gebhard, SABR Director Bill Nowlin, MLB.com columnist Barry Bloom, and our Master of Ceremonies for the evening, former Rockies pitcher Jason Hirsh.
As usual, we will conduct our Silent Auction of baseball memorabilia and artifacts. We will reprise last year's popular book sale and feature a special sale of Rockies baseball cards. Tickets for the banquet are $65 per person and can be purchased online by visiting RMSABR.org/banquet.html. You may also mail a check to RMSABR Banquet, 5803 Orchard Creek Lane, Boulder, CO 80301. Please make checks payable to "Rocky Mountain SABR."
For more information, visit RMSABR.org.
---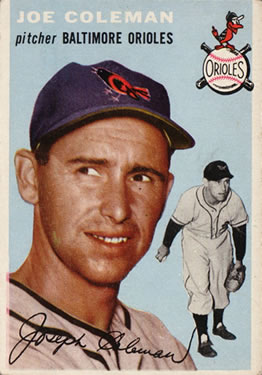 Three new biographies were posted this week as part of the SABR Baseball Biography Project, which brings us to a total of 4,290 published biographies. Here are the new bios published this week:
All new biographies can be found here: SABR.org/bioproj/recent
Search for any SABR biography: You can now visit sabr.org/bioproj_search to search for any player — or manager, executive, scout, spouse, broadcaster, or umpire — who appears in the SABR BioProject. You can also browse all of these BioProject categories and a lot more, including 300-game winners, Hall of Famers, 1960s All-Stars, or Negro Leaguers, at our Browse page: sabr.org/bioproj/browse.
1979 Pirates biographies now posted online: In SABR's When Pops Led the Family: The 1979 Pittsburgh Pirates, edited by Bill Nowlin and Gregory H. Wolf and published in 2016, we focused on a memorable team that helped define an era in baseball history.

The biographies that appeared in When Pops Led the Family can now be read online at the SABR BioProject. You can also download the e-book for free or purchase the paperback edition at 50% off by clicking here. SABR members can download all SABR Digital Library e-books for free at SABR.org/ebooks.
---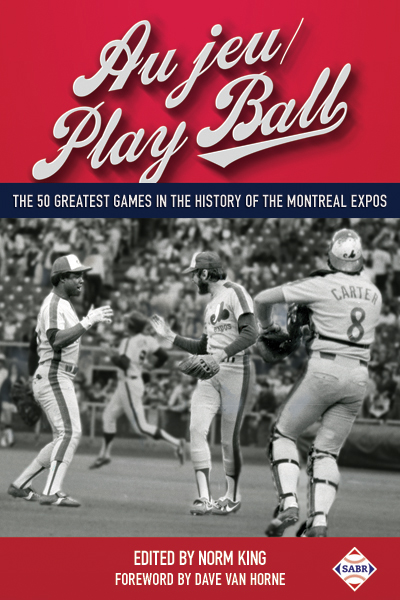 Ten new game stories were posted this week as part of the SABR Games Project. Here are the new game stories:
These articles all appeared in Au jeu/Play Ball: The 50 Greatest Games in the History of the Montreal Expos (SABR, 2016), edited by Norm King. To read more articles from this book at the SABR Games Project, click here.
New Games Project stories can be found at SABR.org/gamesproject/recent. Find all published Games Project articles at SABR.org/GamesProject.
If you have any questions about the Games Project, please contact Greg Erion. If you want to know if a game is available to write about, please contact Bruce Slutsky. After the article has been completed in accordance with our Authors' Guidelines, please submit it to Len Levin, who will initiate the editing process and get your story started toward publication.
Get involved: Have memories of a game you attended? Or a game you watched that caught your interest? Write about it! Writing for the Games Project is an easy way to get involved as a SABR member. Find out how by reading the Games Project FAQs section or checking out the Authors' Guidelines. We have editors and fact checkers who are willing to help you write your first article.
Seeking volunteers to help enhance Games Project articles on website: Any volunteer who is willing to assist with linking player biographies in previously published Games Project stories on the SABR website, please contact Jacob Pomrenke. No experience necessary. Must be comfortable working in Drupal, WordPress or other standard content management systems.
---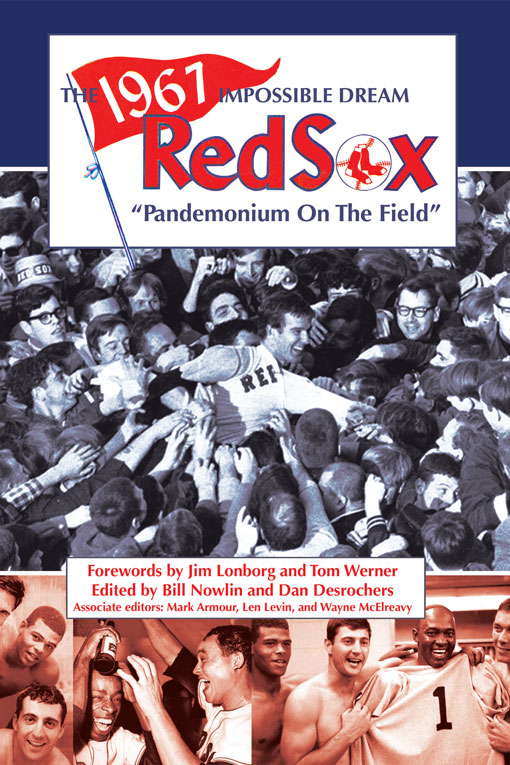 On the 50th anniversary of a pennant-winning season, more articles from The 1967 Impossible Dream Red Sox: Pandemonium on the Field (SABR, 2017), edited by Bill Nowlin and Dan Desrochers, were published recently at SABR.org. These essays include:
Click here to read all player biographies that appeared in The 1967 Impossible Dream Red Sox at the SABR BioProject.
To download the e-book version of The 1967 Impossible Dream Red Sox for free or to get 50% off the paperback edition, click here.
---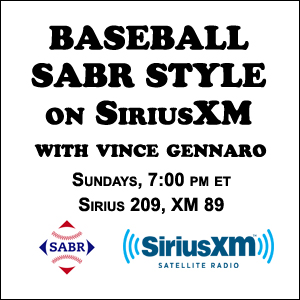 Behind the Numbers: Baseball SABR Style on SiriusXM, a radio show hosted by SABR President Vince Gennaro, will be on hiatus during the MLB postseason. After the World Series ends, the show will air again at its regular time, 7:00-8:00 p.m. ET on Sundays, on MLB Network Radio. But you can still listen to archives of recent episodes on-demand on the SiriusXM Internet Radio App.
You can also watch video highlights of Behind the Numbers: Baseball SABR Style on SiriusXM on MLB.com. Click here to watch more video highlights of Baseball SABR Style from MLB.com.
Behind the Numbers: Baseball SABR Style on SiriusXM focuses on examining and interpreting the statistical analysis that plays a critical role in baseball today. It airs weekly throughout the year on MLB Network Radio, available to subscribers nationwide on XM channel 89, Sirius channel 209, and on the SiriusXM Internet Radio App.
---
We've heard your feedback: Some of you have said you look forward to "This Week in SABR" every Friday, but sometimes there are just
too many compelling articles and announcements to read every week. We're not complaining — hey, keep up the great work! — but we know the feeling. So in an effort to make the length of this newsletter more manageable to read, we'll summarize some of the repeating/recurring announcements in a special "In Case You Missed It (ICYMI)" section of "This Week in SABR".
Here are some major headlines from recent weeks that we don't want you to miss:
All previous editions of This Week in SABR can be found here: http://sabr.org/content/this-week-in-sabr-archives.
For more information, click here.
---
We'd like to welcome all of our new SABR members who have joined this week. You can find all Members-Only resources at members.sabr.org and the Membership Handbook can be downloaded here.
Please give these new members a warm welcome and help them make the most of their membership by giving them the opportunity to get involved in their local chapter or a research committee.
You can find contact information for any SABR member in the online membership directory (SABR.org/directory).
| Name | Hometown | | | Name | Hometown |
| --- | --- | --- | --- | --- | --- |
| Dan Ashta | Fort Lauderdale, FL | | | Richard McGrath | Severna Park, MD |
| Sarah Bunton | Portland, OR | | | Jeff McVay | Oil City, PA |
| Chih-Chieh Chang | New Taipei City, TWN | | | Greg Mitchell | Nyack, NY |
| Jerry Docchio | Barto, PA | | | Holden Ralston | Phoenix, AZ |
| Paul Edwards | Waterford, MI | | | Joseph Reaves | Scottsdale, AZ |
| Dean Fenton | Hillside, IL | | | Tim Rinehart | Philadelphia, PA |
| Samuel Haag | Shakopee, MN | | | Steve Rogers | Louisville, KY |
| Lon Hildreth | Billerica, MA | | | Chase Ross | New Haven, CT |
| Aidan Hone | Yonkers, NY | | | Christopher Rouse | Fresh Meadows, NY |
| Michael Johnson | Houston, TX | | | Stephen Russell | Monongahela, PA |
| Jeffrey Leonard | Setauket, NY | | | Gerard Tarpey | Bronx, NY |
---
Here are the new SABR research committee updates this week:
Find all SABR research committee newsletters at SABR.org/research.
---
Here are the new regional chapter updates this week:

Hemond-Delhi Arizona Chapter: Check out chapter president Barry Bloom's video update for October 2017 (YouTube)
Rocky Mountain Chapter: Registration is now open for the chapter's 20th annual banquet on November 11, 2017, at Coors Field in Denver. Visit RMSABR.org/banquet.html for complete information and details.
Best Practices handbook: Chapter leaders, you can download the updated Chapter Leaders Best Practices Handbook on the Admin Tools page at admin.sabr.org. The handbook offers suggestions and guidelines for meetings, speakers, revitalizing a chapter, and getting publicity for SABR and chapter events.
Visit SABR.org/chapters for more information on SABR regional chapters.
---
Here is a list of upcoming events on the SABR calendar:
All SABR meetings and events are open to the public. Feel free to bring a baseball-loving friend … and make many new ones! Check out the SABR Events Calendar at SABR.org/events.
---
Here are some recent articles published by and about SABR members:
Read these articles and more at SABR.org/latest.
---
This Week in SABR is compiled by Jacob Pomrenke. If you would like us to include an upcoming event, article or any other information in "This Week in SABR," e-mail jpomrenke@sabr.org.
Have trouble reading this e-mail? Click here to view this week's newsletter on the web.
Are you receiving our e-mails? "This Week in SABR" goes out by e-mail to all members on Friday afternoons. If they're not showing up, try adding "sabr.notes@sabr.org" to your contact list to ensure they show up in your inbox (and not the spam folder.)
---
Originally published: October 12, 2017. Last Updated: April 3, 2020.
https://sabr.org/wp-content/uploads/2020/03/research-collection4_350x300.jpg
300
350
admin
/wp-content/uploads/2020/02/sabr_logo.png
admin
2017-10-12 16:27:29
2020-04-03 14:38:43
This Week in SABR: October 13, 2017