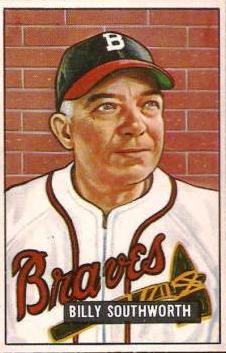 ---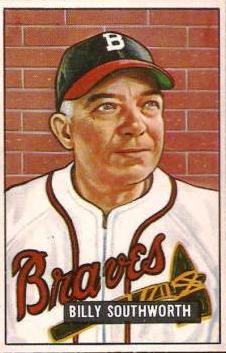 Billy Southworth was like Casey Stengel's long-lost brother from another mother. Both were born west of the Mississippi, less than three years apart. Both were outfielders in the teens and '20s. Bill James lists each as the other's most similar player. And both became hugely successful managers after long, serpentine routes to the top. They were even traded for each other in 1923. But unlike Stengel, who had no children, lived a long, happy life with a wealthy wife, and has never left the public consciousness, Southworth endured tremendous tragedy in his personal life and had been in danger of being forgotten before his 2008 election to the Hall of Fame.
Billy was born William Harold Southworth on March 9, 1893, near the hamlet of Harvard, Nebraska. According to Billy's daughter Carole Watson, William "Buffalo Bill" Cody may have been the one to nickname him "Billy the Kid" after the gunfighter. Cody was a family friend.
Two droughts and a house fire forced the family to return to Ohio (where his father, Orlando, was originally from) when Billy was about nine years old. Billy went with his younger sister and his mother, Myra Melvina Southworth, by train, while Orlando and sons Ervin, Calvin, Pressley, and Arley made the trek east in two covered wagons. Most references list Billy's given name as William Harrison Southworth; not William Harold. He did not care for either middle name, so he made no attempt to correct this error.
The Southworths settled in Saranac, not far from Columbus, where Orlando was the village blacksmith, wheelwright, and postmaster. The Southworths weren't wealthy, so they made baseballs out of Billy's socks, improvising as youngsters in poor Latin American countries do today. Young Billy cheered on his older brothers as they played for a town team from nearby Darbyville.
Around 1902, the family moved to the west side of Columbus, Ohio. Another boy growing up in the same neighborhood at this time was Eddie Rickenbacker, who was friendly with the Southworths, Arley in particular. Arley and Eddie would race handmade soapbox racers down the hills of the capital city, an early suggestion of the daredevil skills Rickenbacker would employ as both a World War I flying ace and a race car driver and designer.
Billy left school in his early teens and joined the working world. Like the rest of his family, he took a railroad job. But he also played baseball on Sundays for the Chenoweths, a team in the semipro Capital City League, which at that time included fellow future big leaguers Hank Gowdy and Wally Gerber. The young catcher soon moved up to the Kenton Reds, where a slide into third base hurt his throwing arm. Rather than lose Billy's bat for the rest of the game, the skipper moved him to the outfield. When Billy played for his first professional team — Portsmouth in 1912 — they already had two catchers, so he made his position switch permanent.
Southworth played 134 games for the Portsmouth Cobblers in the Ohio State League that year. Batting left and throwing right, he started the 1913 season for Portsmouth, too, but was purchased halfway through the season by Charles Somers, owner of the American League Cleveland Naps. Twenty-year-old Billy made one appearance with the Indians, on August 4 as a late-inning defensive replacement in left field, without either a plate appearance or a fielding chance, before being sent westward to minor league Toledo.
When Billy returned to Cleveland in 1914, he did so with the entire Toledo team. The Naps' ownership brought their farm team's whole roster of players to Cleveland to prevent the Federal League from placing a competing franchise in the city. That spring, the Boston Braves reportedly offered Somers $5,000 for Southworth's services, but were turned down. Billy was married that summer, on June 29. His bride was a preacher's daughter, Lida Brooks, of Portsmouth, where she was a soloist in the choir of her father's church, and Billy met her there as they sang duets.
Southworth played for Toledo for a year and a half. In early June of 1915, Shoeless Joe Jackson got hurt and Billy the Kid got his second shot at the big leagues. But after 60 games, in which he batted just .220, he was shipped to Portland of the Pacific Coast League, where he finished the season and also played in 1916. It was in Portland that Lida gave birth to a son, William Brooks Southworth. After the '16 season, Portland sold Southworth to Pittsburgh and the Pirates assigned him to Birmingham of the Southern League.
He played for the Birmingham Barons in 1917 (missing almost two months with a broken shoulder) and 1918. The league ended operations in June of 1918 — every other minor league folded that season — on account of World War I. Pirates manager Hugo Bezdek called up Southworth. Casey Stengel had just joined the Navy and Billy took over his right-field spot. Billy registered for the draft but was never called.
Bezdek was the only man ever to serve as a major-league manager (Pittsburgh Pirates) and an NFL head coach (Cleveland Rams), but his background wasn't baseball. It was said that his players looked forward to the games because they were easier than his practices. His training methods may have been an inspiration for Southworth's regimented spring camps during his own managerial career, and Billy certainly thrived under them. He batted .341 in 64 games with the Pirates in that war-shortened season, and returned to Pittsburgh again in both 1919 and 1920. He hit in the .280s both years and even led the league in triples, with 14, in 1919.
In January of 1921, the Braves finally snagged Southworth — one of three Pirates traded to Boston, with $15,000, for Rabbit Maranville. Billy wasn't happy to be moving from a winning team to a loser. But he wound up signing a contract a few days later and was named captain of the team. Southworth hit .308 for Boston that year. He was limited to 43 games in '22 due to a dislocated knee, but in 1923 he accumulated a career-high 611 at-bats and hit for a .319 average. After the season, however, he was part of a trade with the Giants. It was a multiplayer deal, with Casey Stengel coming to Boston along with Dave Bancroft and Bill Cunningham in exchange for Southworth and hurler Joe Oeschger. John McGraw had coveted Southworth since 1921, according to New York Times sportswriter Arthur Daley. But he waited until Billy had demonstrated that he had recovered from his knee injury.
Southworth and McGraw wound up not getting along, and with Ross Youngs ensconced in Billy's usual position of right field, Billy was shifted to center. He struggled at the plate, batting only .256. The Giants won the pennant in 1924, but Southworth saw duty in the World Series only as a late-inning outfielder in five games and made just one plate appearance (he reached on an error). His one moment of glory came as a pinch runner in the 12th inning of Game One; he scored what proved to be the winning run. His 1925 season was better (.292), but the Giants finished second.
In 1926 Billy started with a bang, and after about a month of the season he was carrying a .442 batting average. But in mid-June, McGraw was looking to strengthen the team, and traded Southworth to St. Louis for a true center fielder, Heinie Mueller. The move backfired for McGraw. Billy was already 33, but 1926 may have been his best year. Not only did he hit, but his hits were timely — including a couple of walk-off home runs a week apart in July.
On September 24, the Cardinals were at the Polo Grounds. Facing Hughie McQuillan, Billy hit an upper-deck home run to right field in the top of the second, giving the Cards a lead they never relinquished. The game-winning hit clinched the franchise's first 20th century pennant. Fifty loudspeakers were set up in downtown St. Louis to carry the radio broadcast, and when the last out was recorded, the business district went wild.
Billy's heroics continued into the '26 World Series, when he came through in the seventh inning of Game Two at Yankee Stadium before a record crowd of 65,000. With the score tied, 2-2, runners at first and third, and two outs, Southworth stepped in to face Urban Shocker and hit his second pitch on a high arc into the right-field bleachers. All told, Billy had 10 hits in the Series (batting .345) and the Cardinals defeated the Yankees in seven games.
It would prove his last great moment as a big-league player. In 1927, Southworth suffered a rib injury and was limited to 92 games. That fall, Cards general manager Branch Rickey offered him a managerial job in the St. Louis farm system. In August of '26, Billy had helped settle a feud between a couple of Redbirds that was dividing the team into two camps, and Cardinals owner Sam Breadon considered him to be a man of managerial timber.
Billy took the position, and as a player-manager with Rochester hit .361 over 124 games in 1928. The Red Wings were picked to finish last in a preseason poll of the International League writers; Rochester baseball historian Brian Bennett writes that the team consisted of young prospects, including future major-leaguer Charlie Gelbert. But after hovering around the .500 mark early in the season, Rochester caught fire, beating out Buffalo by .001 percentage point for the pennant by going 5-1 in three doubleheaders in three days against Montreal late in the year. Rochester wound up losing the Little World Series to the American Association champion Indianapolis Indians, but Southworth's leadership had turned more heads.
Making it even a more impressive managerial performance was what Billy endured in his personal life during the season. In May of that year, Southworth had had to return home when Lida had two twins die during childbirth. She was never healthy after that. His son, Billy, was 12 years old and approaching adolescence when he was accidentally shot by a playmate as they hunted sparrows that October. A button on young Billy's coat absorbed most of the bullet's impact and he suffered only a minor wound. Later, his father said that he was shaken. "He was only 12, but I looked on him as the closest friend I had," Billy said.
Branch Rickey and Sam Breadon went through managers the way Elizabeth Taylor went through husbands. Rogers Hornsby in '26. Bob O'Farrell in '27. Bill McKechnie in '28. Although he won 95 games and the NL pennant, McKechnie didn't make it until Thanksgiving after a World Series sweep by the Yankees. Southworth was named manager of the Cardinals for 1929 as part of a job swap in which McKechnie went to Rochester. Billy was surprised. He had been called to St. Louis to meet with owner Breadon, but he had assumed that the meeting would concern the Rochester club. He would be the youngest manager in the National League at the age of 36, and he found himself in over his head.
As J. Roy Stockton of the St. Louis Post-Dispatch recalled, trouble started in Florida during spring training. "Billy Southworth had been one of the gang only two springs before," he wrote, "and he hadn't ever been averse to burning a candle or two at any number of ends." Sam Breadon considered former manager McKechnie too much of a soft touch, and wanted his new pilot to "inject more fight and stricter discipline in the Cardinal team." But Southworth's former teammates didn't respect his authority.
Together with coaches Gabby Street and Greasy Neale, Southworth ran a tough camp in Avon Park, Florida. According to Brian Bell of the Atlanta Constitution, no team training in Florida worked longer hours. They even had picnic-style lunches at the ballpark instead of returning to their hotel. Southworth aggravated the players at times, such as one trip from Avon Park to Miami when Billy insisted that everyone take the train. No one was to ride with friends or family in their own cars. The team, catcher Jimmy Wilson in particular, grumbled, and gave their new manager a new nickname: Billy the Heel.
Southworth was the only playing manager in the National League at the time, but in the limited action he assigned himself he hit an anemic .188. Others did better, and the Cards were in first place as late as June 18 with a .614 winning percentage. A horrendous July, however, saw them fall to fourth place. J. Roy Stockton blamed the pitching staff, saying that it had collapsed, Jesse Haines in particular. Some felt that Southworth had mishandled Haines and the other hurlers. Years later, coach Neale told the New York Times' Arthur Daley that he thought Southworth's biggest mistake was allowing the players to decide how to pitch to opposing hitters. The Sporting News said the biggest thing that Sportsman's Park fans had against Southworth was his insistence on playing for a big inning. Whatever the cause, the Cards had a 7-15 East Coast swing in July, and when they returned home the mercurial Breadon had Southworth and McKechnie swap jobs again. Billy returned to Rochester, taking Neale with him, while Street stayed in St. Louis, eventually replacing McKechnie.
Back in the minors, Southworth led the Red Wings to another International League title. Flags followed again in 1930 and 1931, and they won the Junior World Series both seasons as well. As Charles Dexter wrote in Collier's on October 9, 1943, Billy never believed that his success was due to his own wizardry. He simply had the horses; Rickey had built up quite a farm system. In terms of big-leaguers, Rochester had Paul Derringer, Pepper Martin, and Tex Carleton on the way up, and benefited from George Sisler and Andy High on the way down.
Billy returned to Rochester in 1932, but it would prove a dismal year. The Cardinals added Columbus of the American Association to their network of farm teams. Club president Lee Lee MacPhail fired manager Nemo Leibold in July and replaced him with Southworth. The Columbus stadium was only two blocks from where Billy had played sandlot ball a little over 20 years earlier with Chenoweth of the Capital City League. He was to live at home with Lida and Billy, but Mrs. Southworth got sick, Billy started drinking heavily, and the injury-bedraggled Redbirds finished second. The Cards fired Southworth (it was the Depression era and they wanted to go with a playing manager, especially because the American Association set a $6,300-a-month salary cap), and Lida died of a cerebral hemorrhage in the fall of 1932.
Southworth wasn't out of work long. On December 21, the New York Giants announced that they had signed him as a coach for 1933. He'd be on the staff of longtime friend Bill Terry. But Billy didn't make it out of spring training. The New York Times said that Southworth suffered a knee injury one Sunday while playing in El Paso. The Sporting News ran the same story. In reality, Terry fired Southworth. They no longer got along, and Southworth's drinking may not have helped matters. Writer Tom Meany noticed an unexplained black eye that Terry sported while in Texas. Billy's daughter, Carole, suggested that Memphis Bill might have called her father by the middle name he detested, Harold.
To his credit, Billy was able to wean himself off the bottle. Daughter Carole didn't believe that her father was an alcoholic; she said he started drinking to fit in with the Giants but had a low tolerance for alcohol. Baseball briefly took a back seat in his life. He got a job with Capital City Products, Inc. as a cottonseed oil salesman, and met a Capital City bookkeeper named Mabel Stemen — a golfer, a horsewoman, and a crack shot. They hunted pheasants together and were married on January 7, 1934. Their daughter, Carole, was born in 1935.
Southworth was friends with pro football pioneer Joe Carr. Carr knew Branch Rickey (he also ran the Columbus ballclub before Lee MacPhail) and asked Rickey to give Billy a job in the Cardinals organization again. The teetotaling Mahatma was reluctant at first, but after promising reports of how Southworth comported himself, Rickey hired him to manage at Class B Asheville, North Carolina, for the 1935 season.
He finished first there, and in July 1936 moved up to replace Fred Hoffman as skipper of the Class A Memphis Chicks. As one of the early adopters of the farm system, the Cards not only developed talent for themselves, they had a surplus that helped their Memphis team profit, too. Among the players that Southworth helped develop and sell were Al Benton, Hugh Casey, Carl Doyle, and Coaker Triplett. In August, Billy's name was once again mentioned in connection with a major-league job — this time with the St. Louis Browns. But his old coach Gabby Street got the post instead, and Billy signed on for another season in Memphis.
After the 1938 season, Cardinals manager Frankie Frisch was out after a long feud with Branch Rickey. Ray Blades was promoted from Rochester, and the organization asked Southworth to return to Rochester and take Blades' spot as skipper.
1939 was the fifth full season that Southworth managed Rochester, and it was the fifth time he took them to the Junior World Series. They finished second in the International League, but won the Governor's Cup by eliminating Newark in seven games before losing to Louisville in another seven-gamer. In 1940, Rochester got a good jump out of the gate, but in the National League, the preseason favorite Cards were floundering, a game out of the cellar. As Blades had replaced Frisch, so Southworth replaced Blades. It took 11 years, but Billy the Kid was back.
The Cards were still going through managers the way Henry VIII went through wives. But Breadon hired Southworth without consulting Rickey, and Billy reported directly to the owner. Rickey's role with the Cards was diminished. No longer were players allowed to go to the front office to complain about the manager. No longer did the manager have to follow Rickey's policies.
After Billy assumed the helm, the team caught fire. The Cards were 15-29 when he took over, but went 69-40 the rest of the way. It was too little, too late, however, and they finished in third. It was in 1940 that Billy started platooning. It was a strategy that was in widespread use during his playing days, but it had fallen out of favor over the previous 15 years. In revitalizing it, he would achieve his fame — and eventually his fortune.
According to baseball writer Bill James, Southworth was a reasonable and logical man. He could be self-righteous, but he was warm, quiet, and agreeable. The dictatorial John McGraw influenced how Billy would treat players; he would try the opposite approach. Billy communicated with his athletes and didn't second-guess them. Author Fred Lieb said that Southworth's players would come to him with nonbaseball problems.
Going into the 1941 season, The Sporting News had the Cards picked for third behind Brooklyn and Cincinnati. They actually finished in second, and might have finished in first if it weren't for injuries. Perhaps taking this into account, The Sporting News named Southworth its major league Manager of the Year. He also kept his job.
By 1942, the U.S. had entered World War II. The Cardinals were unaffected that year, with the exception of drafted pitcher Johnny Grodzicki. This was the team that was known as the St. Louis Swifties. As of June 27, the Cards were in second place behind the reigning champion Dodgers, but they were off the pace by 9 1/2 games. Then, in a humdinger of a pennant race, the Cards went 43-9 in their last 52 contests to top the Dodgers by two games and reach the World Series. After losing the first game of the fall classic, 7-4, to the defending champion Yankees, the Cards went on to sweep the next four and take the title. With that victory and the one in 1926, Billy participated in the Yankees' only two World Series defeats between 1923 and 1953 (a span in which the Bombers won 16 titles).
Going into 1943, the Cards lost the services of Enos Slaughter, Johnny Beazley, and others to the armed forces. But thanks to Branch Rickey's farm system — Rickey himself was now with Brooklyn — they were able to call up capable reserves. The pennant race was a cakewalk, as the Redbirds grabbed the National League laurels with an eighteen-game lead over the circuit. They faced the Yankees once again in the World Series, but this time Joe McCarthy's men got the better of them in five games.
In 1944, the Cardinals were shooting for a third straight pennant under Southworth. The Redbird pitching was outstanding in 1943 and Billy could play more conservatively, one run at a time. He didn't expect the pitching to be as good in '44, and in March told the Associated Press that he was planning to play for the big inning. Harry Brecheen, Max Lanier, and Mort Cooper were still on the starting staff, but Howie Krist and Howie Pollet were now in the service. Southworth's new approach worked; St. Louis scored almost 100 more runs, and for the third year in a row the Cardinals won at least 105 games and the pennant. They were one of baseball's all-time dynasties, even considering the fact that they were a wartime team.
That year's AL champs were the surprising Browns, and all the World Series games were played in Sportsman's Park. The Browns skipper was Luke Sewell, and due to wartime housing shortages, the Sewells and Southworths shared an apartment. Since one team was always on the road, it was usually a convenient arrangement. Except for the World Series. Fortunately, a neighbor was going to be out of town, so he invited Southworth to use his apartment. The Cards won the Series for the second time in three years.
More dark days, however, lay ahead. On February 15, 1945, Major Billy Southworth Jr. took off from Mitchell Field on Long Island in a B-29 Superfortress. Major W.L. Anken was an observer on the bomber, situated in the top gun turret. Shortly after takeoff, he noticed smoke coming from engine one. He reported this over the intercom to Major Southworth. "Keep an eye on it" was the reply. Those were the last words of William Brooks Southworth. He tried to land at LaGuardia Field. The plane touched the runway, according to Anken, but then clipped the water and somersaulted before bursting into flames and falling into icy Rikers Island Channel of Flushing Bay. Five died in the crash, including Major Southworth. His father and stepmother flew to New York as the Navy searched for his body; it was nearly half a year before it was located. Billy was devastated, but his first questions were said to be about the safety of the five survivors.
At some point in the second half of the '40s, Southworth backslid to the bottle. His son's death may have triggered this. Normie Roy, who later played under him, said that whenever they'd go to New York to play the Giants or the Dodgers, Southworth would visit a park near the crash site and "drink and drink and drink." Young Billy's body was finally found at the confluence of the East River and Long Island Sound on Friday, August 3, and a military funeral was held in Columbus four days later. An excellent minor-league outfielder with movie star looks (who apparently had serious offers from Hollywood), Billy Jr. had been the light of his father's life; now, like his siblings and mother before him, he was gone.
In 1945 star outfielder Stan Musial joined the Navy. Despite this and injuries that befell virtually everyone on the roster except second baseman Emil Verban, the Cards kept close to the eventual pennant-winning Cubs. They finished the season only three games behind, mathematically alive until September 29, the next to last day of the season. The Cards were still a force, if not still champions.
On the opposite end of the National League spectrum were the Boston Braves. For years, the Braves were one of the laughingstocks of the senior circuit. They changed their name to the Bees for a while, but even that didn't help. They hadn't finished in the first division in more than a decade. New owner Lou Perini and his partners sought to change this. According to Richard Letarte in That One Glorious Season, Boston general manager John Quinn recommended Southworth to them. Perini and company spoke with Breadon, and were able to secure Southworth's services with a three-year contract paying around $100,000 in all. It was substantially more than the Redbirds could or would pay him. (The Braves also imported enough players from St. Louis, including Danny Litwhiler, Ray Sanders, and Johnny Hopp, that some wags called the team the Cape Cod Cardinals.)
The Braves trained in Fort Lauderdale, Florida, and Southworth brought his combination of flexible and no-nonsense training methods over from the Cardinals. In Brent Kelley's The Pastime in Turbulence, pitcher Ed Wright, one of the holdovers, said he thought that Southworth played favorites with his old Cardinals. The results, however, were immediate. The Bostons moved up from sixth place in 1945 to a driving fourth-place finish, just a game out of third. Attendance at Braves Field more than doubled to an all-time high of 969,673.
In February of 1947, managers in the Braves farm system were indoctrinated into the "Southworth System." Billy divided his team into groups and rotated them from task to task. He'd keep his players running and work them from 10:30 in the morning to well into the afternoon. In this way, he differed greatly from his contemporary Joe McCarthy, who would work his Yankees team as a group and be done in a couple of hours.
New York Times columnist Arthur Daley was high on the Braves at the start of the 1947 season. As it happened, the Braves opened the year in Brooklyn as Jackie Robinson made his historic big-league debut. Billy was able to coax an MVP season out of third baseman Bob Elliott, who had been rather indifferent as a member of Frankie Frisch's Pirates. Thanks to Elliott's clutch hitting and the pitching of Johnny Sain and Warren Spahn, the Braves wound up in third place, a good enough finish for Lou Perini to tear up Billy's contract and give him a new five-year deal valued at over a quarter of a million dollars.
The Brooklyn Dodgers were grooming Eddie Stanky for a possible managing or coaching position, but he was looking for more money and Branch Rickey was looking to move Jackie Robinson to second base in 1948. Rickey put Stanky on the trading block, and Southworth and the Braves jumped at the opportunity — picking him up for first baseman Ray Sanders and cash. The team promoted hotshot young shortstop Alvin Dark from Milwaukee of the American Association, and he became Rookie of the Year. Solid rookie pitchers Vern Bickford and Bob Hogue came up and produced immediately. Everything came together nicely.
The Braves hadn't won a pennant since 1914. By September, they (and the Red Sox) had Time magazine talking about double pennant fever. The Red Sox fell to the Cleveland Indians in a one-game American League playoff, but the Braves were able to capture the senior circuit flag. It was probably a more impressive job of managing than Southworth had ever done in St. Louis. He had only one future Hall of Famer in Spahn, but was able to win the pennant through judicious use of platooning, or "the Army game" as The Sporting News was calling it back then. Southworth just barely missed becoming Manager of the Year, getting 87 votes while Billy Meyer, the rookie skipper of the Pirates, received 89 for bringing the Bucs to a surprising fourth-place finish. The Braves lost the World Series to the heavily favored Indians in six games, most of them close.
Success for the Braves, however, would be short-lived. Cracks in the edifice were forming already in June of 1948. Boston signed a bonus baby pitcher named Johnny Antonelli for $50,000 or higher — more than most, if not all, the Braves were making. Many were veterans of World War II, including Spahn, who had received a battlefield commission during the Battle of the Bulge. Antonelli, in contrast, had just graduated from high school, so there was naturally a little resentment. Stan Musial said that over the All-Star break Johnny Sain threatened a sit-down strike, and the 24-game winner (in 1948) got a raise. And while Southworth would use his youngsters when he managed the Cardinals, he let Antonelli languish on the bench. Then again, according to Bill James, no one really played Bonus Babies except Joe McCarthy and Eddie Sawyer of the Phillies.
The March 28, 1949, edition of Life magazine had a feature on how hunky-dory things were at the Braves' training camp in Bradenton, Florida. Meanwhile, columnist Dave Egan of the Daily Record, a Boston tabloid, was writing another story, one of a ballclub in revolt. Outfielder Jimmy Russell was fined for staying out past curfew. Sain and Southworth weren't speaking. Spahn wanted to be traded and didn't care if it was to a second-division team. Worst of all, Egan described two near-fistfights involving Southworth, one with a radio announcer and one with a player who was reportedly asked to keep tabs on his teammates. Management and players denied everything, and the storm blew over — for a while.
Against Pittsburgh on July 23, things came to a head. The Braves lost a game to the Pirates as the Bucs came back in the ninth frame against a tiring Warren Spahn. Some blamed the loss on Eddie Stanky; Spahn had reached base three times, and twice Stanky signaled for a hit-and-run play, forcing the pitcher to run and slide several times. One time, Spahn was caught stealing. Southworth said he didn't approve of the strategy, while Stanky said he was allowed to put on his own hit-and-run plays. The loss was part of a bad 5-8 home stand.
August saw the defending champs still hovering around .500. Sain was ineffective, possibly from having thrown more than 300 innings the previous year. His shoulder was sore. The team had also suffered other injuries. The night of August 7, first baseman Earl Torgeson got into a fistfight with teammate Jim Russell in Chicago. Outfielder Russell suffered two black eyes, and Torgeson broke a thumb. This was just as Torgy — one of the team's top hitters — was about to return from a separated shoulder. Southworth then tried to hush up the episode, and he and the front office wound up telling conflicting stories to the press. Discussing the Torgeson-Russell fight one night, the skipper blew up over the phone at Perini. He had also been hostile to the press on that road trip, and this may have been the straw that broke the camel's back.
The Braves brain trust held a meeting on August 15. The next day, Southworth was given a "leave of absence" for the rest of the season. He was whisked away from Boston on Perini's private plane before the press could reach him. The official reason was that the Braves felt he was on the verge of a mental breakdown. Southworth was complaining about headaches, something he never had problems with before. His continued drinking probably didn't help matters. Columnist Bill Cunningham called him "…the first major casualty of the new superpowered, high speed, post-war, extravagantly bonused, high salaried, and heavily box office pressured baseball." Some thought that one reason for Southworth's downfall lay in his starting to believe his own press clippings and taking too much credit for the Braves' success in 1948. In Paths to Glory, Mark Armour and Daniel Levitt opine that Southworth may have lost the emotional energy needed to control headstrong veterans of both the war and the ballfield.
There was speculation about whether Southworth would return in 1950. An informal poll of the players conducted on August 17 was unanimously opposed. Harold Kaese of the Boston Globe mused that 10 to 12 Braves would have to leave if Billy were to return. One such player was Eddie Stanky, and Kaese mentioned the pepperpot second sacker as a possible manager for 1950. In the meantime, Johnny Cooney was the team's interim manager. One of his first moves was to scrap the platoon system, or, as some in the press called it, the Southworth Shuffle.
About a month after he took a leave of absence, Billy received a clean bill of health from a cardiologist in Columbus and said he planned to return in 1950. The Braves ended the season at 75-79 and in fourth place. Dissension may have played a role in their disappointing finish, but injuries — Sain's sore shoulder among them — didn't help. The players awarded Southworth a half-share of their fourth-place money; Bob Elliott and Tommy Holmes voted him a full share, but no one else did. Commissioner Happy Chandler overruled the Braves, using the precedent of Judge Landis awarding Rogers Hornsby a full share despite the Cubs players' wishes in 1932. But the message was clear.
At the winter meetings Southworth said that Johnny Sain and Alvin Dark would remain with the Braves. Sain did, but Dark and his outspoken mentor, Eddie Stanky, were traded to Leo Durocher's Giants for Sid Gordon, Willard Marshall, Buddy Kerr, and pitcher Sam Webb. Seven other Braves became ex-Braves over the winter: Bill Voiselle, Marv Rickert, Bill Salkeld, Jeff Heath, Red Barrett, Nelson Potter, and Ray Sanders.
The 1950 squad was younger and included 20-year-old catcher Del Crandall and Sam Jethroe, the first African-American player for either Boston team. There were also some changes to the spring training routine. Press conferences were no longer lengthy affairs at the hotel cocktail lounge; no more bed checks; golf and swimming were permitted; and sportswriters would travel separately from the team. But despite prodigious slugging by Gordon and Elliott and 59 wins from the trio of Spahn, Sain, and Bickford, the Braves finished fourth behind the Whiz Kids of Philadelphia, the Dodgers, and the Giants.
Early in the 1951 season, the Braves were proving a disappointment. One Sunday in June, Southworth called GM Quinn and president Perini, asking to resign immediately. They had him stick around for a few days before announcing his resignation a half-hour after the first pitch of a Braves-Cubs game at Wrigley Field on June 19. The players didn't know until they found out from fans around the dugout who had portable radios. After bidding a teary goodbye to his team, Billy left on the 10:45 train to Columbus with his older brother, Press.
Historian David Voigt has suggested that one factor that drove Southworth and fellow pilot Joe McCarthy from the game was the tomcatting of the postwar player. In the Life article mentioned above, there was a mention of Southworth playing marriage counselor for an unnamed player and his wife. Perhaps the wartime experiences made the players of that era less amenable to the hard-driving managerial approach of Billy the Kid's generation and more accepting of the swinging Leo Durochers of the world. Bill James believes that Frankie Frisch was another victim of postwar sexual mores. The cities were bigger. It was harder to keep tabs on players, and women were more independent and adventuresome than their mothers had been.
Southworth was still just 58, and there were rumors that he might catch on with the St. Louis Browns or Branch Rickey's Pittsburgh Pirates. These came to naught, however, and starting in 1952 he hit the road as a scout for the Braves. He also worked with young players at the minor league camp in Waycross, Georgia. Among his assignments were going to Eau Claire, Wisconsin, to look at an 18-year-old Henry Aaron and scouting the Yankees in preparation for the 1956 World Series (by then the Braves had moved to Milwaukee). In the winter of 1955 he was arrested for drunken driving but found not guilty. His scouting contract ended on December 31, 1956, and he retired to Sunbury. This gave Billy more time to pursue his hobbies, which author Frederick Lieb said included hunting, fishing, bowling, and — at least during the days his son attended the school — Ohio State football.
Although he quit smoking in the late 1940s, Southworth spent his last days battling emphysema. He died on November 15, 1969, at Riverside Hospital in Columbus, and Musial and scout Mo Mozzali represented the Cardinals at his funeral. Billy was laid to rest at Greenlawn Cemetery in Columbus. Mabel survived him for almost 30 years; passing away in 1998.
Until December 3, 2007, Southworth may have been the best manager never to make the Hall of Fame. He received some support in a couple of Baseball Writers Association elections during the 1950s, but was not close to selection. There is no record of how he fared with the Veterans Committee, their votes not becoming a matter of record until 21st century elections. Frankie Frisch dominated that committee during the 1970s. He was a teammate of Southworth's with the Giants and the Cardinals, and Billy managed him for half a season in 1929. There may have been some animosity between the two men, but that is mere speculation. It may be, as Rob Neyer suggests, that Southworth's managerial career was too brief by Hall of Fame standards. Some voters may have discounted his success during the war years. His daughter Carole believes that the untimely death of Bob Hooey in an automobile accident kept her father out of the Hall of Fame. Southworth was a modest man; not one to toot his own horn. But Hooey, a sportswriter for the Ohio State Journal in Columbus, planned to write a book on Billy. To this day, there is no book length profile of the man.
This changed in December of 2007 when a panel of the Veterans Committee elected to enshrine Southworth and Dick Williams. Tom Verducci of Sports Illustrated mentioned some points in Southworth's favor in an online column:
four pennants
six 90-win seasons
340 games above .500
fourth all-time in winning percentage for managers with over 10 years (.597)
Verducci even invoked the point system that Bill James used to rate managers based on victories and titles. Southworth is rated 19th by this measure and all the top 19 managers are immortalized in the plaque room at the Hall.
The most appropriate epitaph for Southworth is quoted by Harold Kaese (in The Milwaukee Braves), coming from the Boston Globe: "The Braves were an old club, crabby, bitter, set in their ways. Players who could no longer deliver blamed their ineptness on Southworth. Victory, which sugar-coated the bitterness underneath last season, eluded the crippled Braves and left bare the acrid taste of defeat, futility and animosity. Southworth, one of the great managers, could not cope with the situation. Perhaps he was too aloof, too domineering, too cocky, and while he did not need the friendship of his players, even he could not afford to lose their respect."
This biography originally appeared in SABR's "Spahn, Sain, and Teddy Ballgame: Boston's (almost) Perfect Baseball Summer of 1948" (Rounder Books, 2008), edited by Bill Nowlin.
Sources
Baseball Dynasties: The Greatest Teams of All Time — Rob Neyer and Eddie Epstein
The Bill James Guide to Baseball Managers — Bill James
The Man in the Dugout — Leonard Koppett
The Milwaukee Braves — Harold Kaese
The Pastime in Turbulence — Brent Kelley
Paths to Glory: How Great Baseball Teams Got That Way — Daniel Levitt and Mark Armour
That One Glorious Season: Baseball Players With One Spectacular Year, 1950-1961 — Richard Letarte
Collier's
Life
Atlanta Constitution
Boston Globe
New York Times
St. Louis Post-Dispatch
The Sporting News
Washington Post
Watson, Carole. Personal Interviews, March and April 2007.
www.baseball-reference.comwww.retrosheet.org
Photo Credit
The Topps Company
Full Name
William Harold Southworth
Born
March 9, 1893 at Harvard, NE (USA)
Died
November 15, 1969 at Columbus, OH (USA)
If you can help us improve this player's biography, contact us.
http://bioproj.sabr.org/bp_ftp/images3/SouthworthBilly.jpg
600
800
admin
/wp-content/uploads/2020/02/sabr_logo.png
admin
2012-01-04 20:39:40
2012-01-04 20:39:40
Billy Southworth